Unlike 2005 when I decided to hike Cloud's Rest at the last minute without telling Kathy beforehand, I decided well in advance of our annual Yosemite camping trip to try to hike Cloud's Rest this year. Four weeks before our trip I rode my mountain bike up Montara Mountain, about 1800 of elevation in just about 3 hours round trip. Actually I spent a considerable amount of that time pushing my bike up the very steep trail, but I got plenty of exercise nonetheless. It was a beautiful sunny day, the ride was excellent, and I felt fantastic. I could clearly see not only the Farallones, but the distant Farallones even further out to sea that I'd never spotted before. Two weeks before our trip the weather was once again fantastic and I biked up Montara Mountain again. With two recent adventures under my belt I felt confident I could hike Cloud's Rest again.
I left camp at 7:27am on July 4th. When I had hiked Cloud's Rest in 2005 I took four liters of water and ran out, so this time I started with seven liters. My backpack was WAY too heavy. The math said I only had 15 lbs or so of water but it certainly felt like more.
Nearing the first bridge I slowly caught up to a party of three young men and a woman. They moved aside to let me pass, but I let them know I had no confidence I could stay in front of them.
I again took the John Muir trail up instead of the Mist trail. There seemed to be far fewer people on the trail this time - perhaps it was because I left about half an hour earlier. I quickly started mulling the option of 'only' hiking Half Dome this time. The isolation I had experienced on the Cloud's Rest in 2005 was making me anxious, and I decided it would still be a successful hike if I 'only' hiked Half Dome.
I took a break at the junction of the Mist and John Muir trails, again resuming the hike from that spot about 2 hours after I started. As I continued through Little Yosemite Valley I leaned more and more toward switching destinations to Half Dome. I made great time, but didn't pass too many people since there were fewer people on the trail. As the trail left the valley and started up the endless climb I decided to try to make it to the junction of the Cloud's Rest trailhead before taking a another break. I failed - that wasn't a very bright idea. I forced myself to drink more water than I really wanted to get the weight off my back, but I still was carrying too much water. I didn't dare empty any containers out, since I figured I'd need it later.
By the time I reached the decision point there was no reason in my mind to go for Cloud's Rest, so I continued up Half Dome trail. Shortly after the junction of the trails a woman taking survey asked if I'd be willing to help out. I told her I'd be happy to help. but I wasn't going to break my stride, meaning I wasn't really going to help. I soon noticed lots of people with smiley face stickers on their shirts - they were the helpers, and nearly everyone seem to be helping.
I ran into a couple who warned me of a bear in the trees just ahead. I quickly got my camera out and made my way slowly ahead. Within two minutes I saw something scamper away in the trees. Just ahead on the trail I asked a man if he saw the bear and indicated he had, and that it had wandered into the trees in the area I saw movement.
Shortly after not seeing the bear I passed the foursome I had seen at the start of the hike. We exchanged friendly dialog - we were all making excellent progress. It was during this meeting that I mentioned that I was perhaps twice their age. They stopped to take a break and I continued onward.
I reached the treeline. I was struggling but still making good progress. I caught and passed several people who were doing much worse than I was. I walked alongside a struggling teenager with a German accent who asked me what time I started my hike. When I told him, he said I was fast.
Finally I reached the base of the cables. I read an article on sfgate.com last year discussing 30 minute waits at the bottom of the cables, and was greatly relieved to see no wait at all. Another article discussed how three people with the past two years had fallen to their deaths from the cables. The article discussed at length how one second a hiker was talking with his friends high on the cables, the next he was plummeting down the cliff to his death to the horror of dozens of onlookers. The base of the cables is a relatively narrow shoulder - falling from the cables would most likely mean a fall thousands of feet off the front of the dome, or falling hundreds of feet off the back of the dome. The odds of stopping a fall at the base of the cables seems quite low.
I stopped for a few minutes to catch my breath and psyche myself up for the cables. I soon heard the crowd of around 50 people around the base cry out, not in alarm, but in amusement. Someone at the top of the cables had dropped a small object - I assumed a glove - and it was slowly making its way down the rock, eventually lodging out of sight on a ledge toward the back of the dome around half way up, perhaps 20 feet from the cables.
It was noon. I grabbed a mismatched pair of gloves and took my place at the base of the cables. There was someone perhaps a third of the way up who was clearly frozen with fear, and not too many people behind him and no one in back of me, so I waited perhaps 5 minutes while he finally unfroze and came down before I started up.
The bottom third of the cables is not very steep, but it was much harder going up the cables than I had remembered. While I was waiting for the route to clear about a third of way up the cables I realized someone was free climbing out on the ledge right next to me to retrieve their lost item. The ledge system was perhaps a foot wide. I really could not believe someone would be stupid enough to risk their lives on this - a slip meant certain death. I could understand people climbing the outside of the cables to bypass all the traffic inside the cables, but not this. The last thing I wanted to see was him fall. Finally loudly stated 'whatever you dropped is not worth your life'. He didn't notice. I said it again. He still didn't reply. After a few minutes he found his lost teddy bear. holding up his prize, and the crowd cheered. He spoke in French to his friends - this explained his lack of response. What an idiot.
The second third of the way up is quite steep. I waited in relatively comfortable and secure positions for minutes at a time for people in front of me to clear the route so I could move quickly without feeling stuck. I was spent. Years of carpal tunnel from too much typing made my grip weaker than I was comfortable with. My feet were slipping too. About half way up I felt like I was really thrashing to make progress. People on their way down voiced encouragement. At that point I decided that if I had not successfully hiked up before, I would have turned around. My comfort level was way lower than I wanted. I also decided this was most likely the last time I was hiking Half Dome.
Eventually I made it past the steepest part and could see the end of the cables. I didn't have a warm fuzzy that it was any safer - I had serious exhaustion and vertigo, and I couldn't telling which sensation was stronger or scarier. I made my way on top. The foursome had caught up to me and reached the top, and I took their picture and they took mine.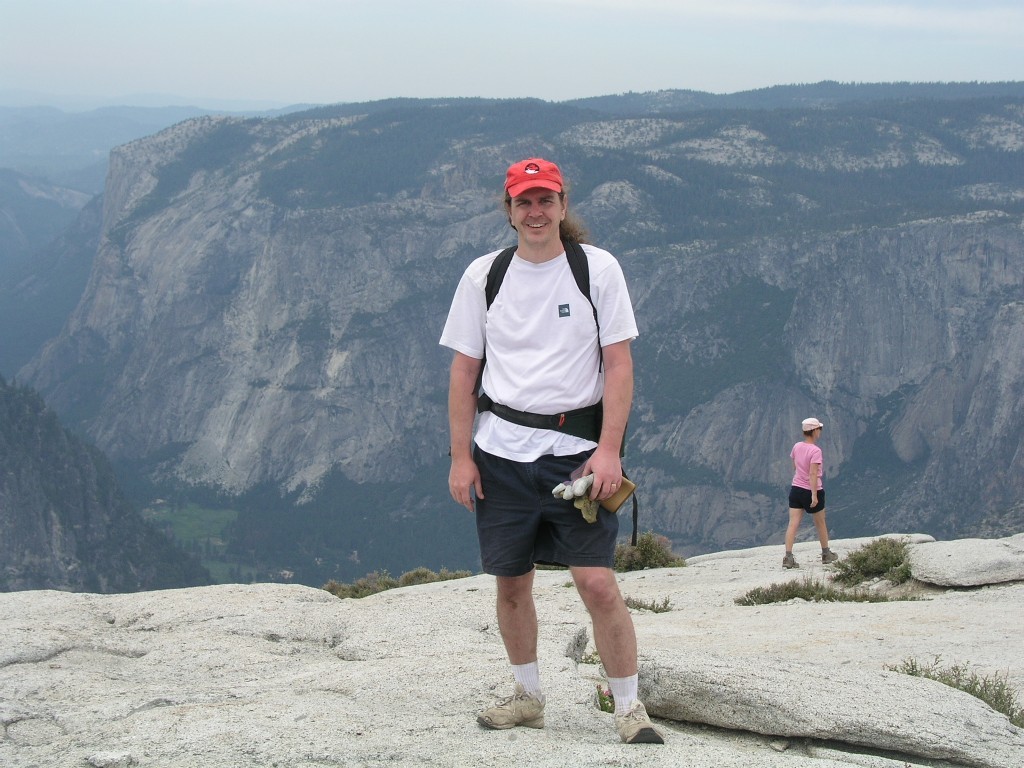 Dusty on Half Dome - July 4, 2008.
El Capitan is on the left

The sun was now hidden behind clouds, and I had a bad feeling that it might rain. I took just a couple of pictures - the light was poor, and I wanted to get off the Dome.

I waited at the top of the cables for the folks below me to make some progress, then headed down. I 'skied' down - holding both cables, facing down with both feet skidding down the rock, I simply loosened my grip to slide down Half Dome. Simple and safe :) Going down is really much easier than going up. I waited in convenient spots for folks to clear the way below me, and gave encouragement to the folks coming up. When I was almost all the way down the cables the German kid was struggling up the cables past me.

The Cables

I got back to the base of the Dome at 1pm and stopped for a few pictures. I noticed a man I'd passed earlier on the trail come down the cables in defeat, conceding to his significant other that he couldn't do it. I hadn't appreciated how many folks get to the base of the cables and turn around, and how many try the cables and fail. I would estimate a large number - perhaps 50% - of the folks who hike to the base of Half Dome don't get to the top.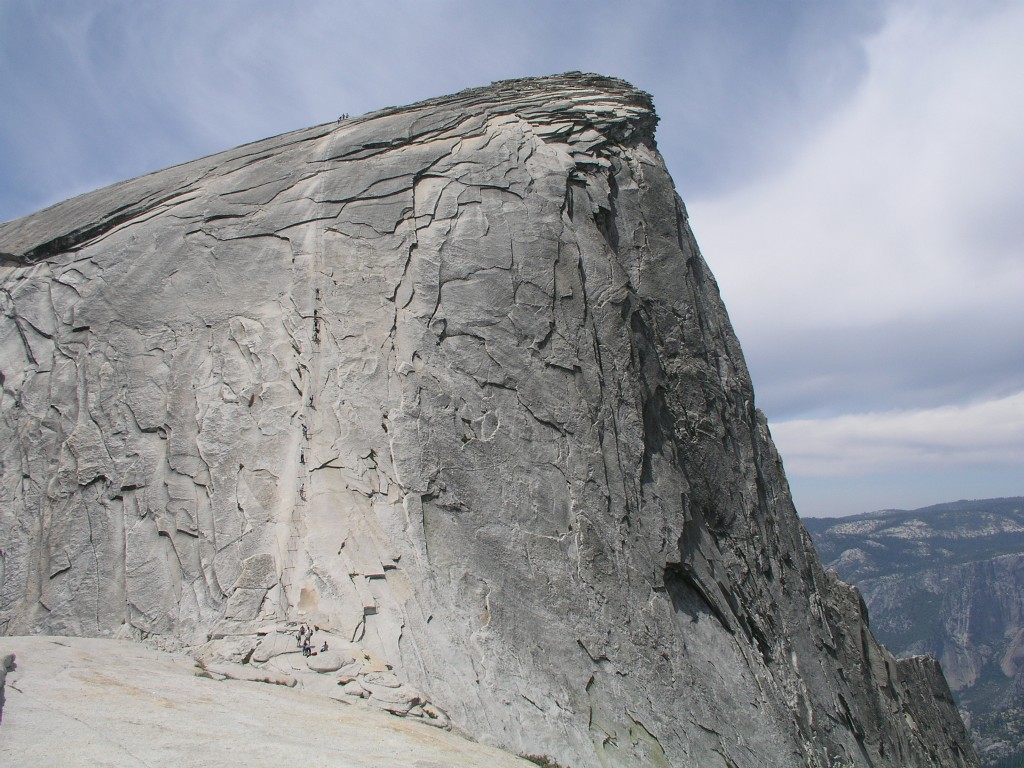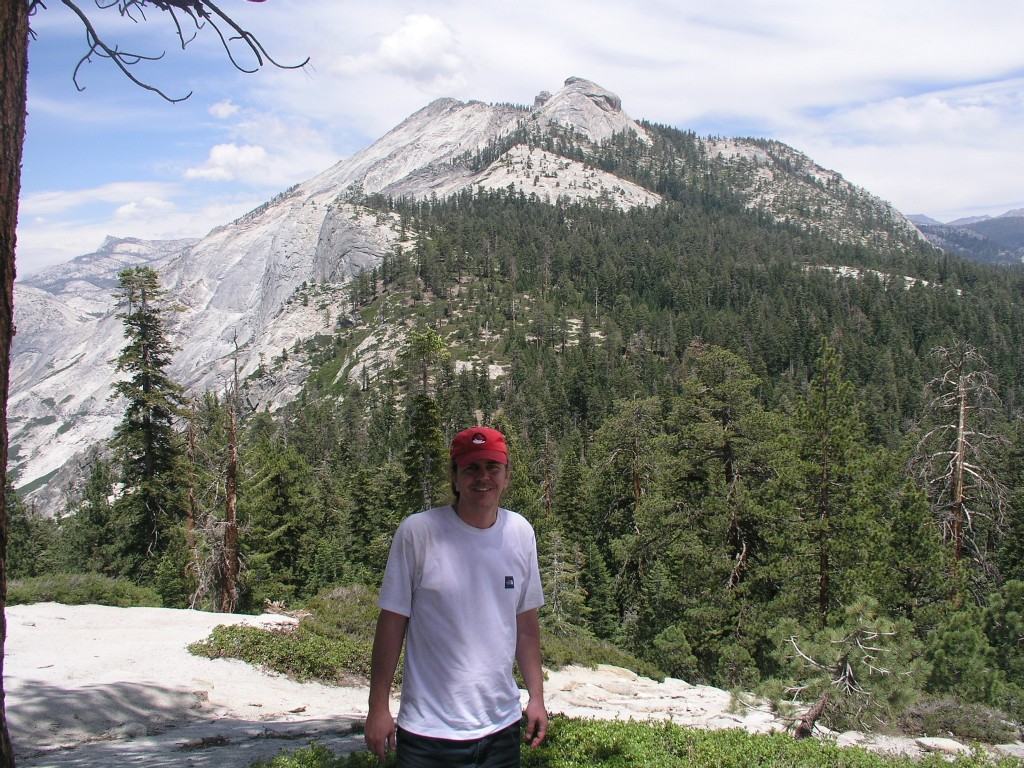 Lunch spot - Cloud's Rest is the the background

At the treeline I stopped for lunch, gazing up toward Cloud's Rest. I found the victory beer (can o' coors) that I'd neglected to drink on top. Having earned it, I drank it now. I called Ray and spent 10 minutes describing the day and my view. Eventually a party of three made their way down, and one of them pointed to the peaks across Little Yosemite Valley saying 'one of those two peaks is Cloud's Rest' I immediately pointed to the correct peak - in a quite different direction than he was facing - and told him 'that is Cloud's Rest'. 'Are you sure?' he replied incredulously. 'Yes' I replied quite confidently. I soon thought of a few more entertaining answers, like 'three years ago when I followed all the signs to Cloud's Rest, I ended up there'.

On the way down the foursome caught up to me again. We spent perhaps 15 minutes together this time. They asked where I lived. When I told them, they said they were going to do the Big Blue Adventure Race on July 26th in Half Moon Bay. They'd never kayaked before, but they were game. One of the guys asked me if I made it to the top. I pointed out that I had taken their picture on top - the rest of them remembered me being there quite well. They had come up the Mist trail and were going to head down the John Muir trail. Eventually they passed me, and I got slower, and slower, and slower.

I took an extended break at the junction of the Mist and John Muir trails, and the foursome passed me again (I wasn't sure how I had gotten ahead of them). I still had nearly 3 liters of water left when I stopped, so I let someone have a liter of my water. I proceeded down the Mist trail with a little apprehension - in 2005 I'd been stuck in an endless line of traffic headed down the trail for about 30 minutes. This trip down was less eventful. Once I finally made it to the bridge shortly below the spot where the Mist and John Muir trails split, I had been hiking for 9 hours and 30 minutes. I was determined to get back to the campsite in under 10 hours, but it would be difficult. My legs were shot. I did my best to keep up a reasonable pace. Perhaps half way back to the road the foursome ran by me, promising cold beer. I ran briefly to try to keep up with them - not for the beer, but out of pride. Fortunately they stopped running when they got to the road. I managed to keep them in site all the way back to the car, but they never turned around to realize I was still on their trail. I was greeted by a round of applause from the Ketchums and the Dan and Jennifer's family, and I had in fact completed the hike in just under 10 hours.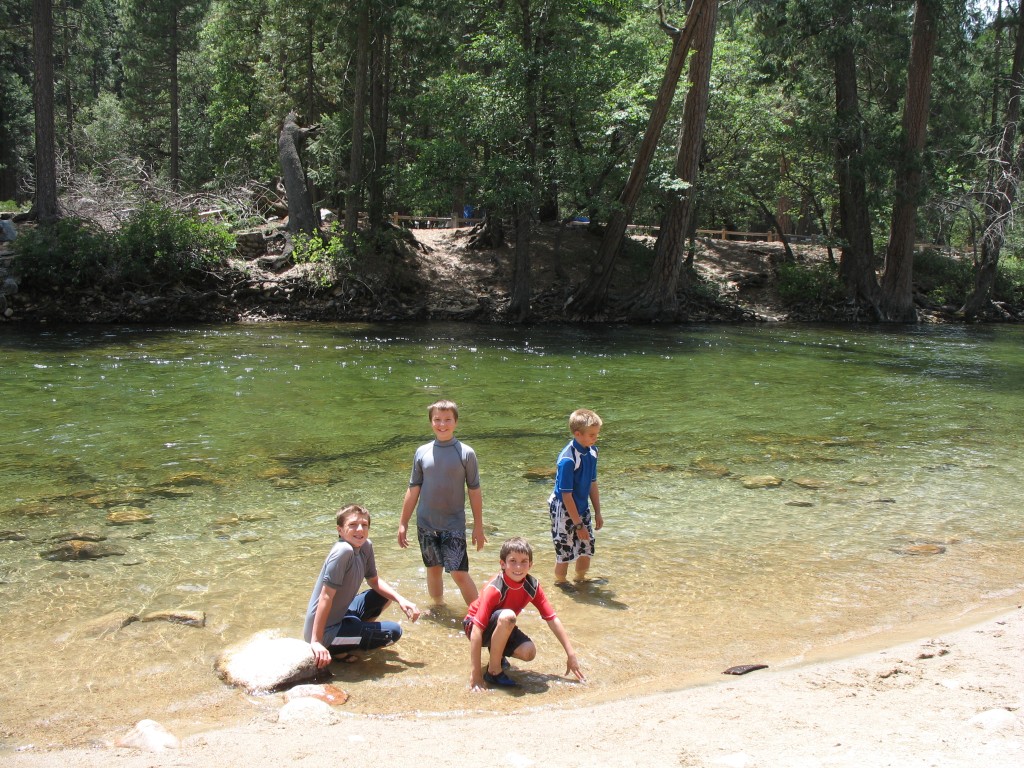 While Dusty was having lunch on the trail down from Half Dome, the kids were swimming in the Merced River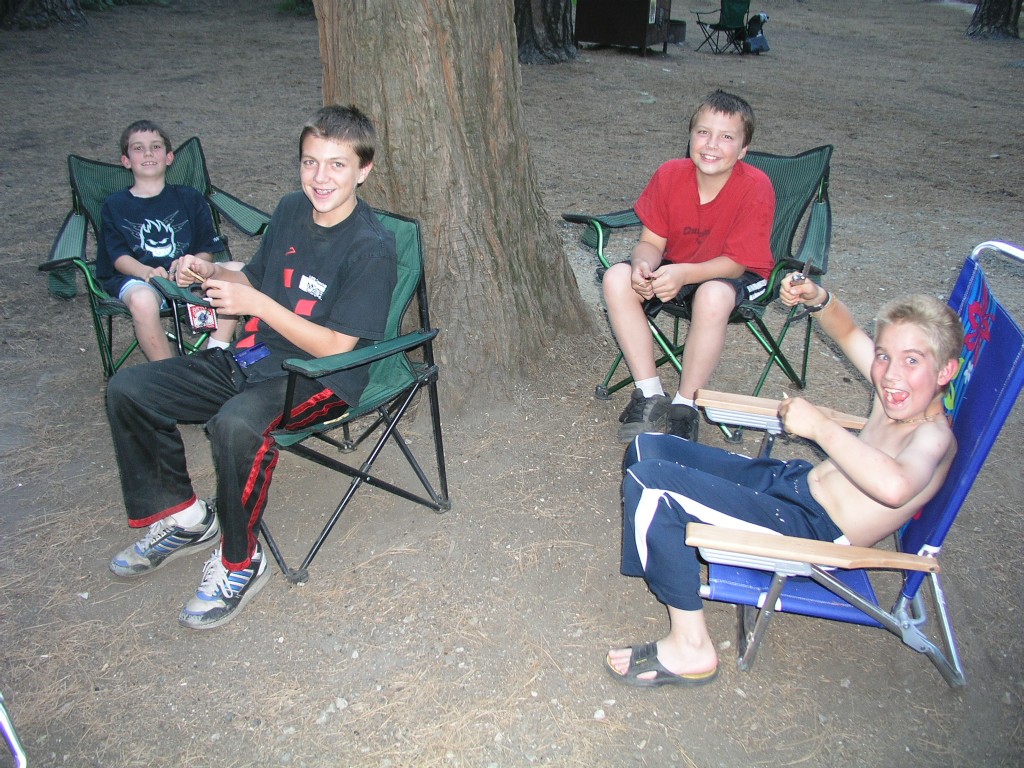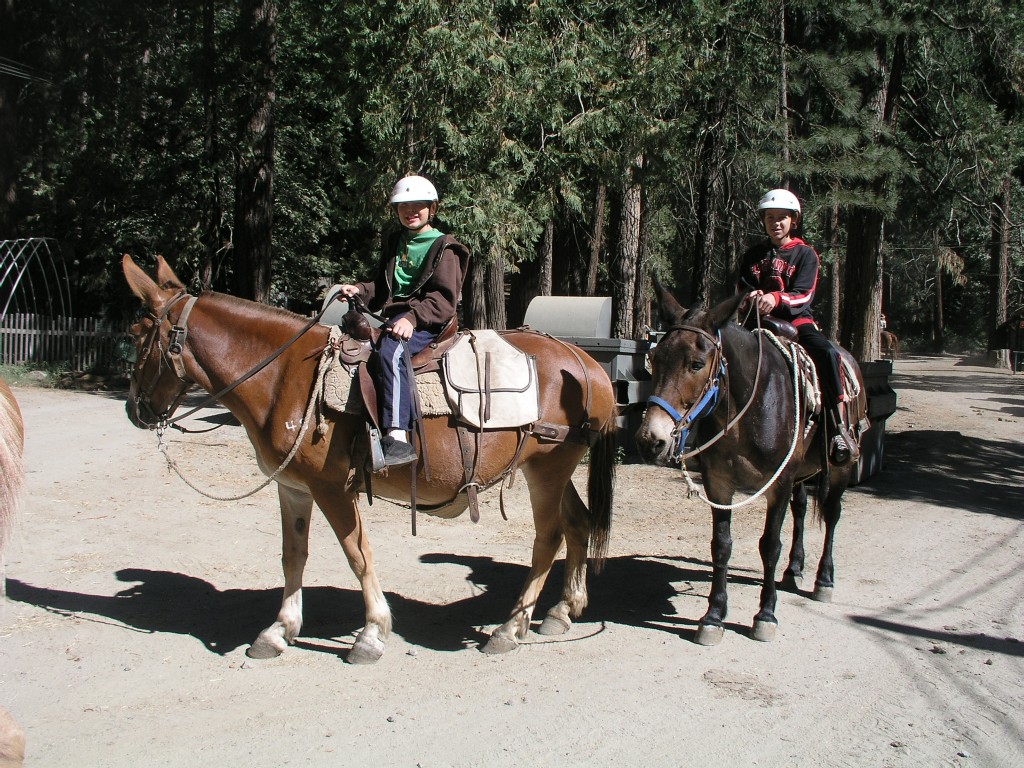 The next morning Dan and Dusty slept in while the wives and kids rode mules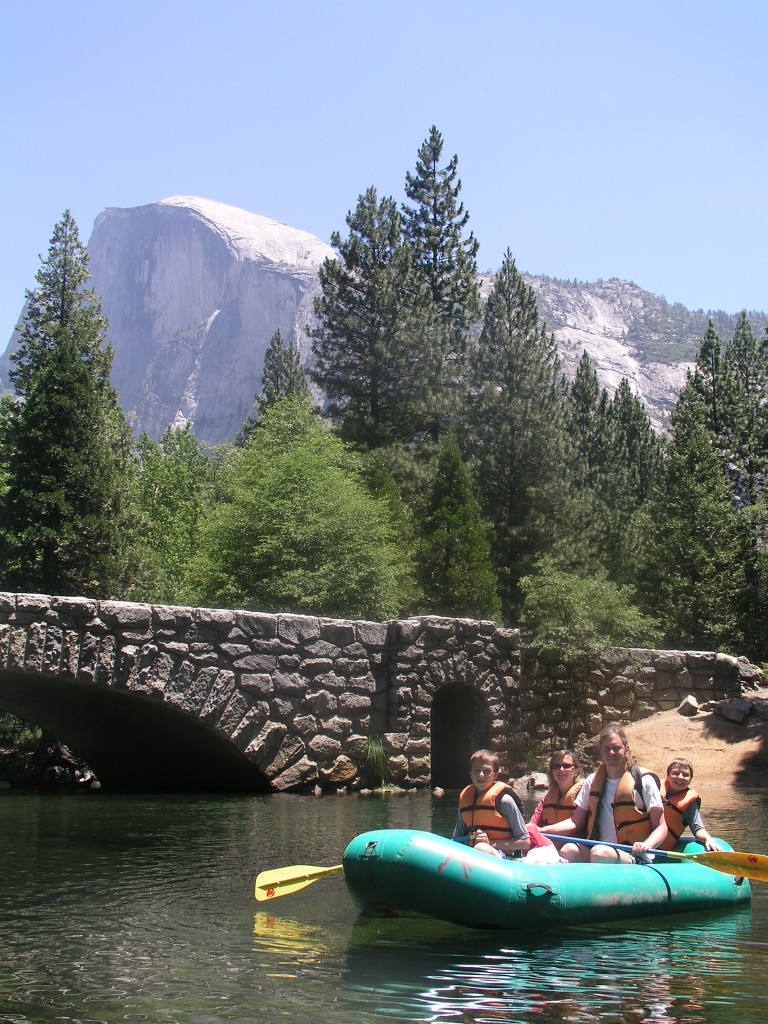 Later that day we all rented rafts and rafted the Merced