Kathy, CJ, and Robby flew out to Denver on Monday July 6, spening a few days with Grandma and Grandpa Johnson. Dusty flew out Wednesday evening. Thursday morning we packed up and headed to Copper Mountain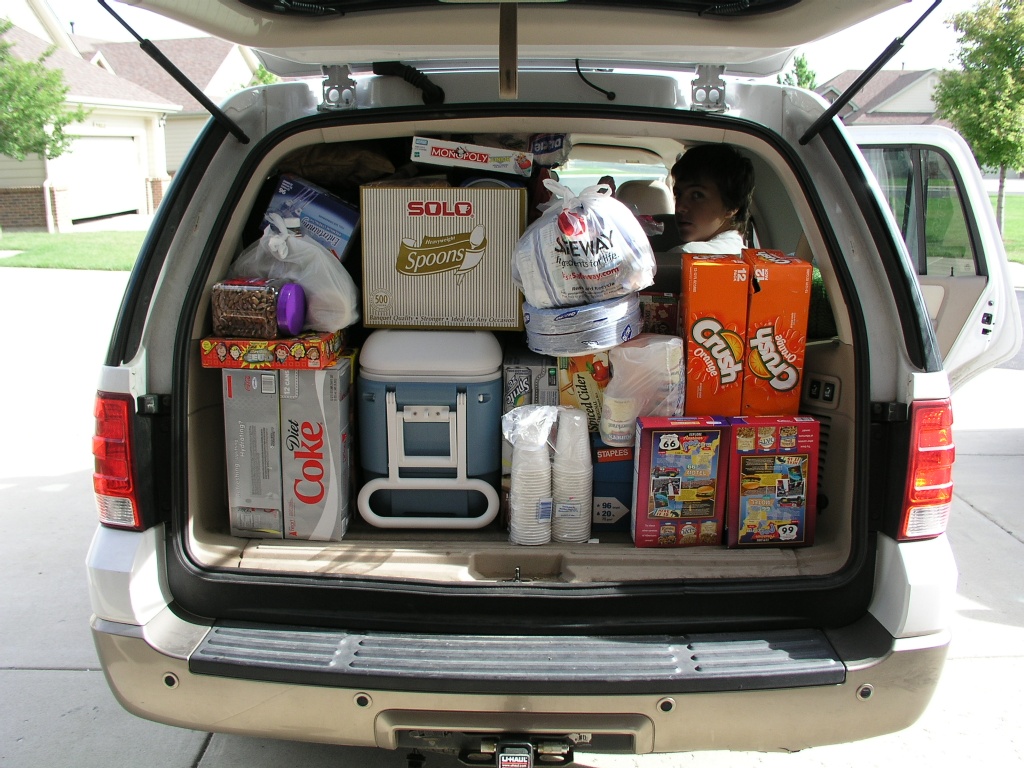 I'm sure we're forgetting something...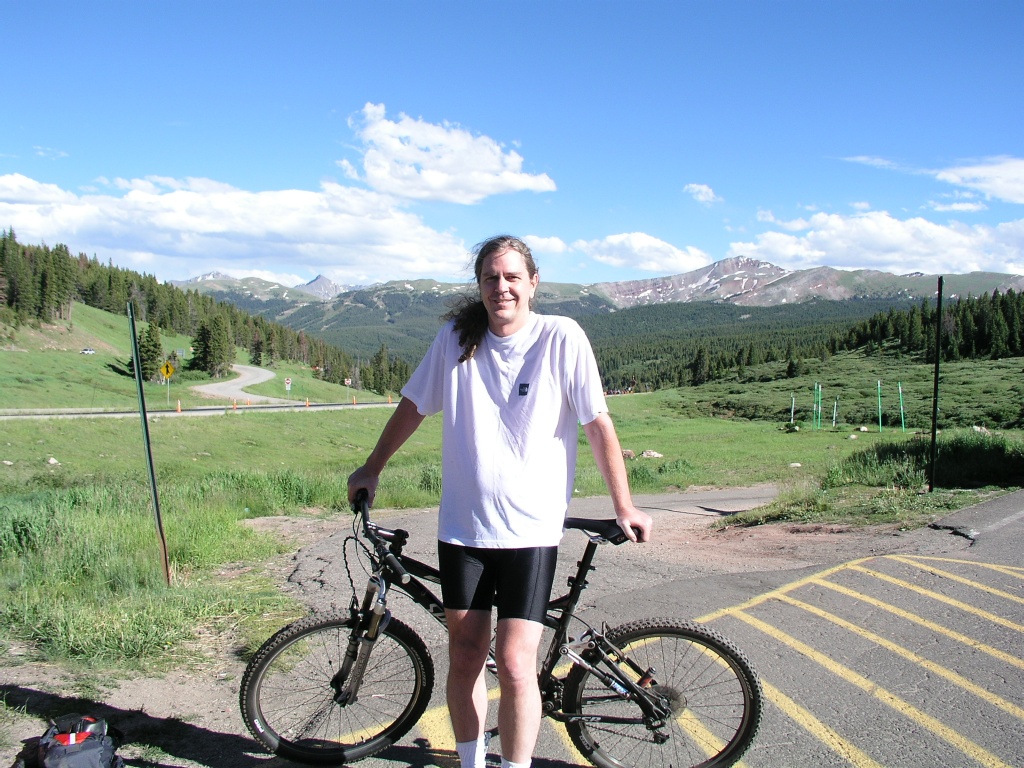 Russ was good enough to have Cindy bring his bike up to Copper. Thursday afternoon I set out to make sure it didn't get lonely.
I had researched mountain biking around Copper Mountain. There's a paved bike trail between the lanes of I-70 between Copper and Vail Pass. There's also a creek and plenty of trees, and the trail is in the bottom of the valley between the lanes, so for much of the trail you can't hear the traffic and you forget that you are in the median of the interstate.
This is the top of Vail Pass trail - 10662'. Copper Mountain is on the left, over my left shoulder.
I wanted to go all the way up to Shrine Pass, but I was nearly out of water and it was fairly hot. I had also gone from sea level to 10,000' in under 24 hours. I figured I was doing pretty well to climb up 600' over 5+ miles without passing out, so I didn't need to push it. This was my first ride with my new Camelbak and Merrills - I finally joined the 20th century.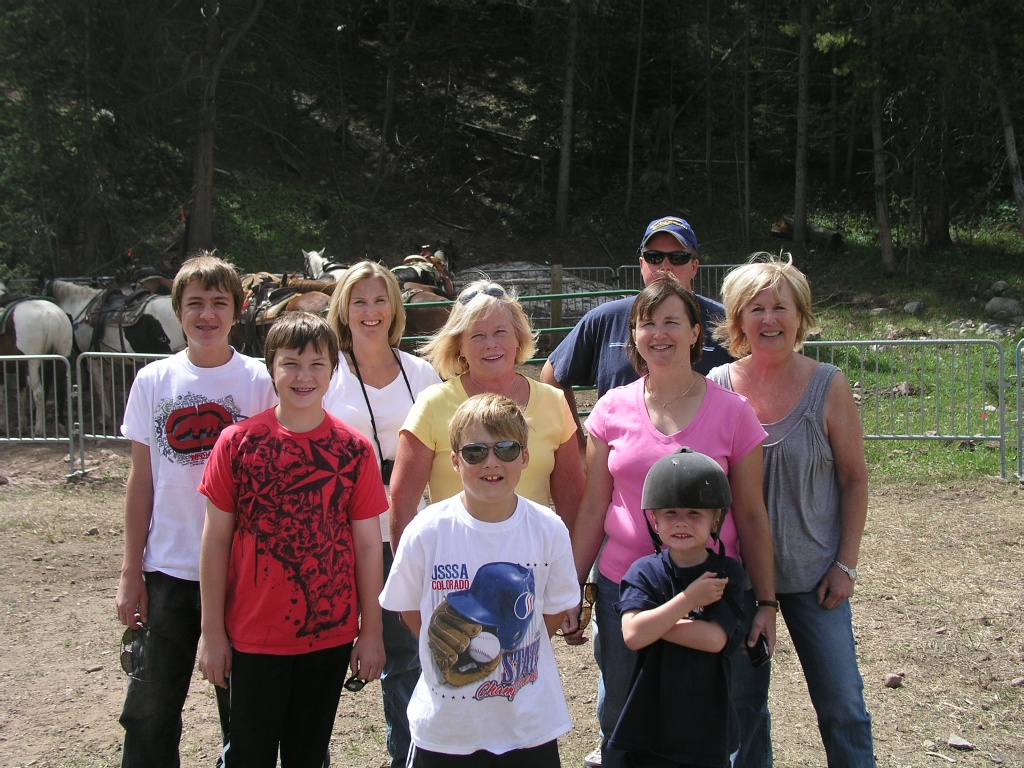 Friday morning I heard Russ had arrived and was told 'don't take his bike out since Russ is here - he may want to ride it'. I immediately took Russ' bike out. I set out to ride up the Colorado Trail. I didn't get very far at all - it was very steep and full of rocks. My family, Cindy's family, and a few others went horseback riding at the same time I was bike riding. Eventually I got to the end of the ski resort, and I heard Kathy's laugh through the trees. I figured they were up ahead of me and prepared to take pictures. Funny, they never arrived. After a while I went back down hill, trying to get pictures of them on horseback. I managed to intercept them at the end of their ride.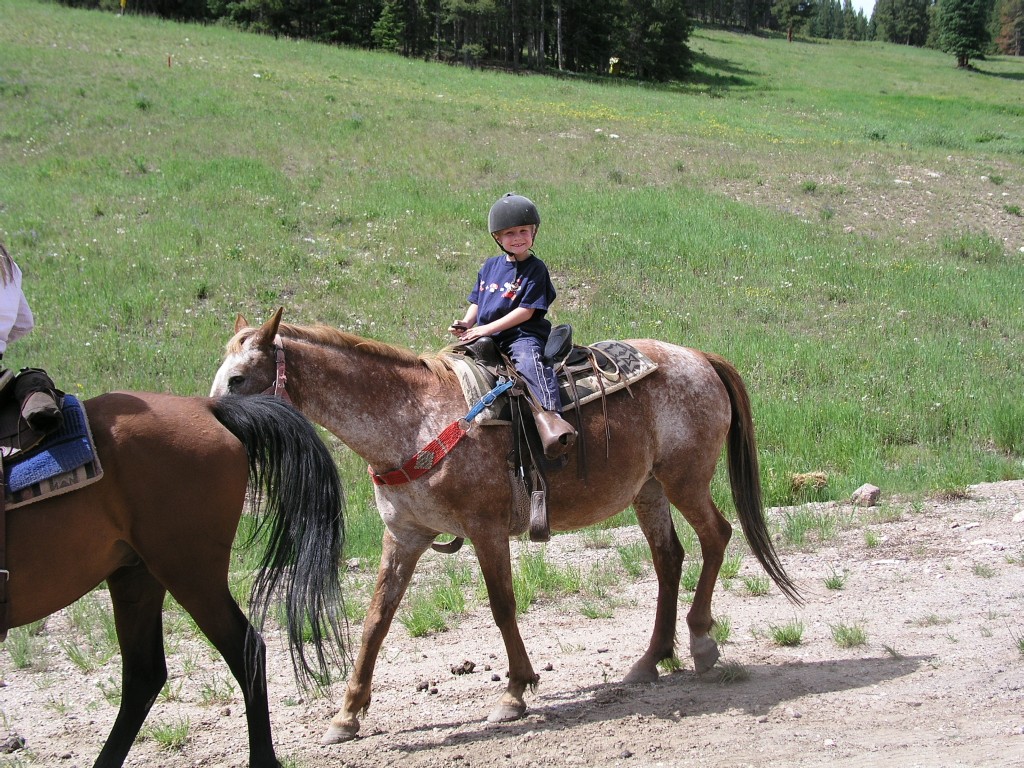 Jaden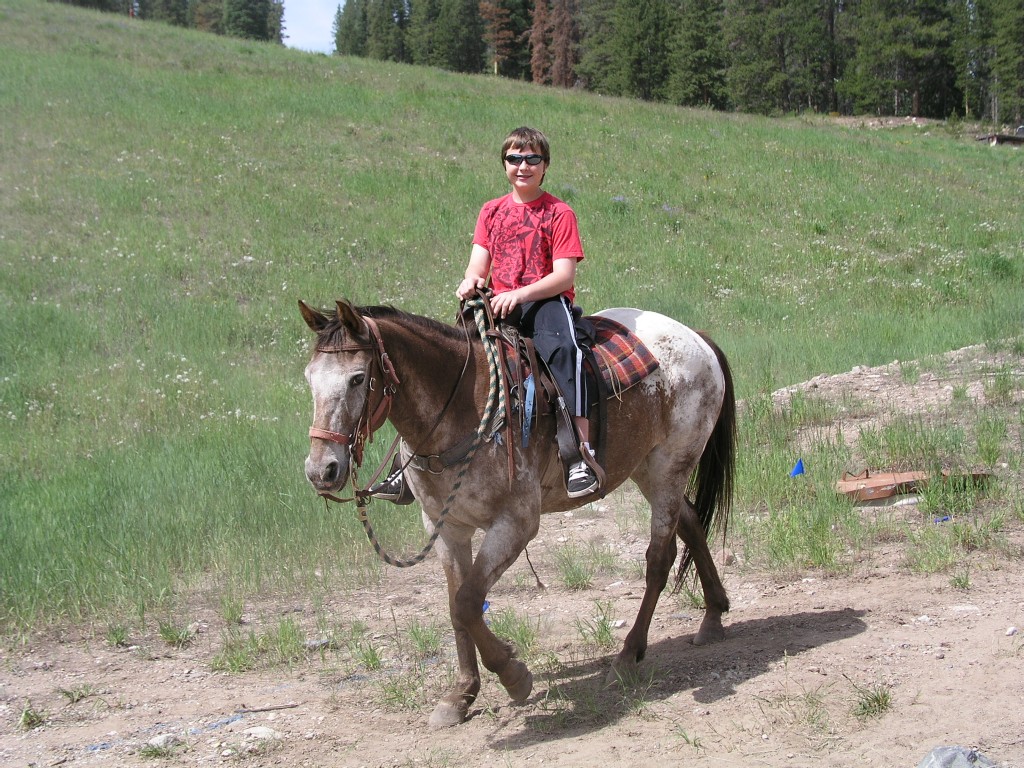 Robby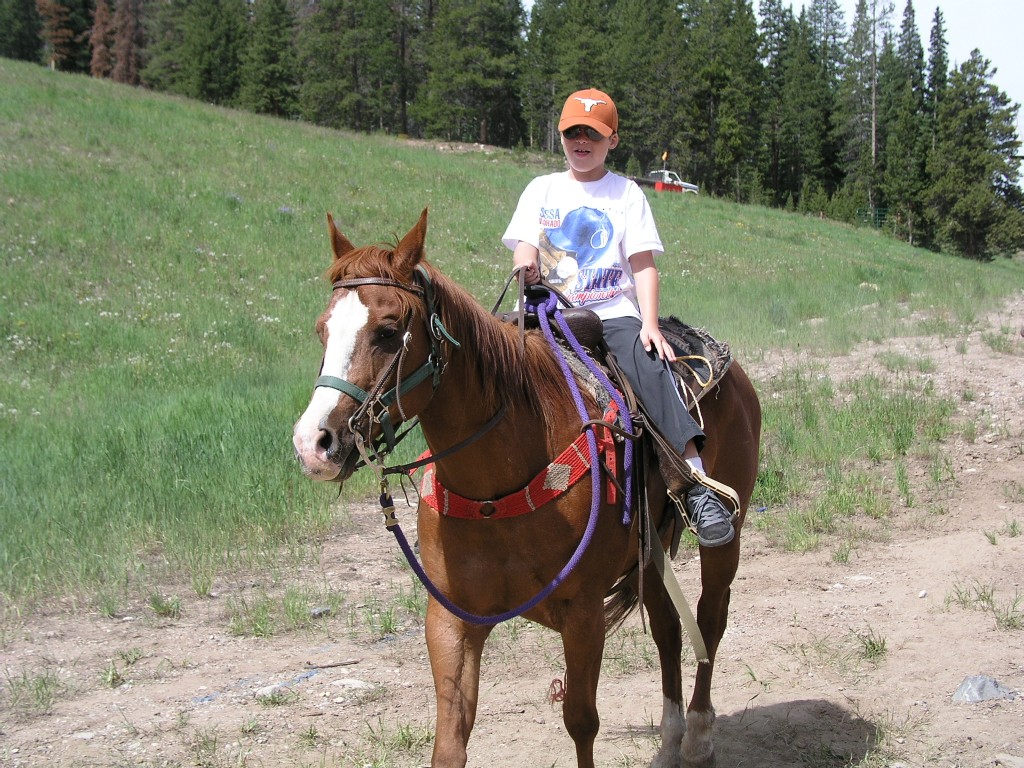 Ryan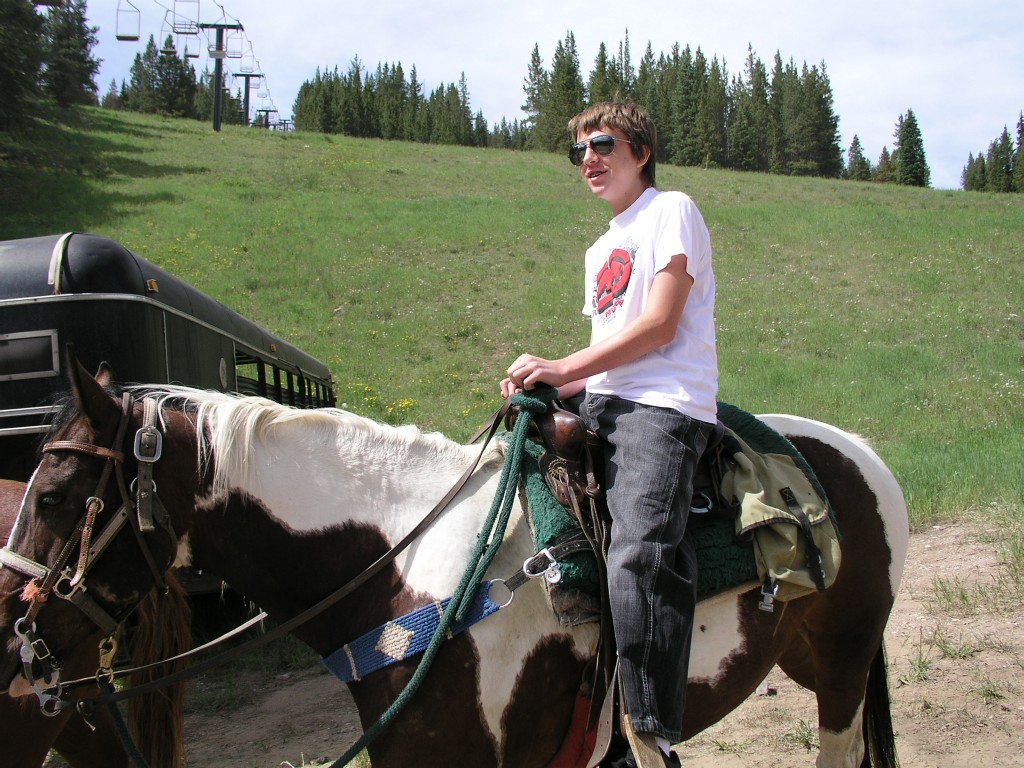 CJ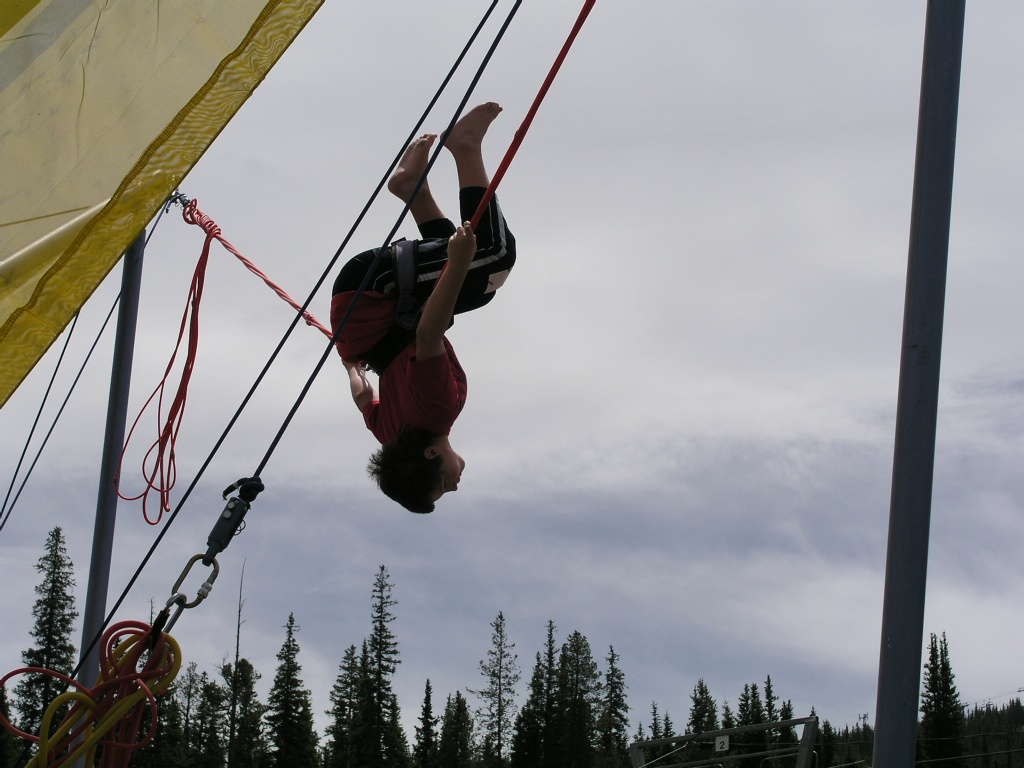 Copper Mountain had plenty of things to do.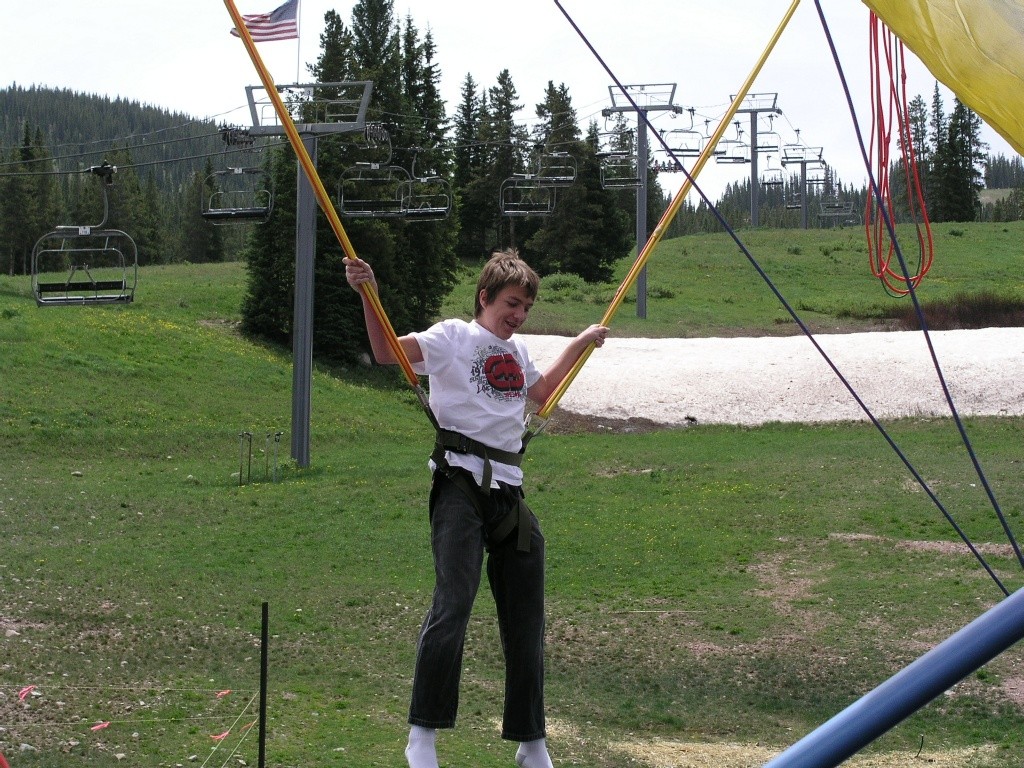 Friday afternoon we decided to go "diggling". A diggler is like a scooter with big wheels, shock, and brakes. Riding a diggler downhill is similar to riding a mountain bike, but much safer since the odds of going over the handlebars headfirst are much lower. Also, if you go over the handlebars, you are likely to land on your feet instead of your head. Kathy came down the easy way, CJ and Dusty came down the hard way.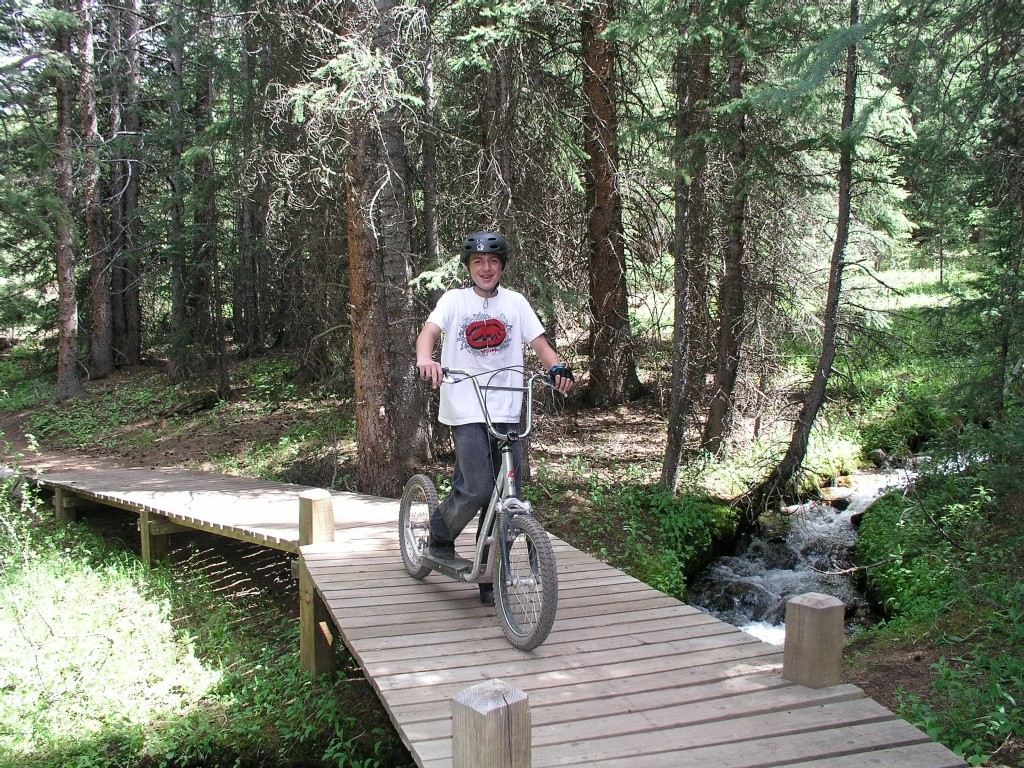 Diggling.
We later went go kart racing. All the guys went at least once; Dusty and Russ decided they needed to race. Unfortunately Russ ended up with the slowest car and Dusty had the fastest car, so Dusty's victory was quite hollow.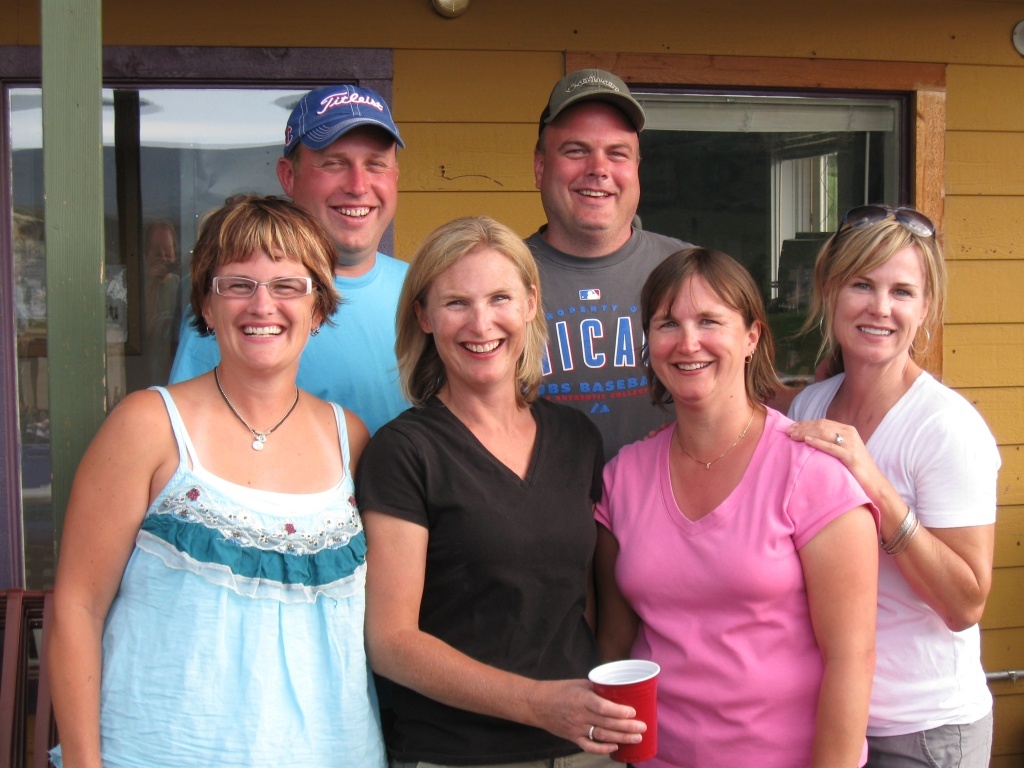 Friday night was Margarita Night. This kids quickly discovered that there were plenty of driving range golf balls in the nearby field , so they spent hours looking for golf balls.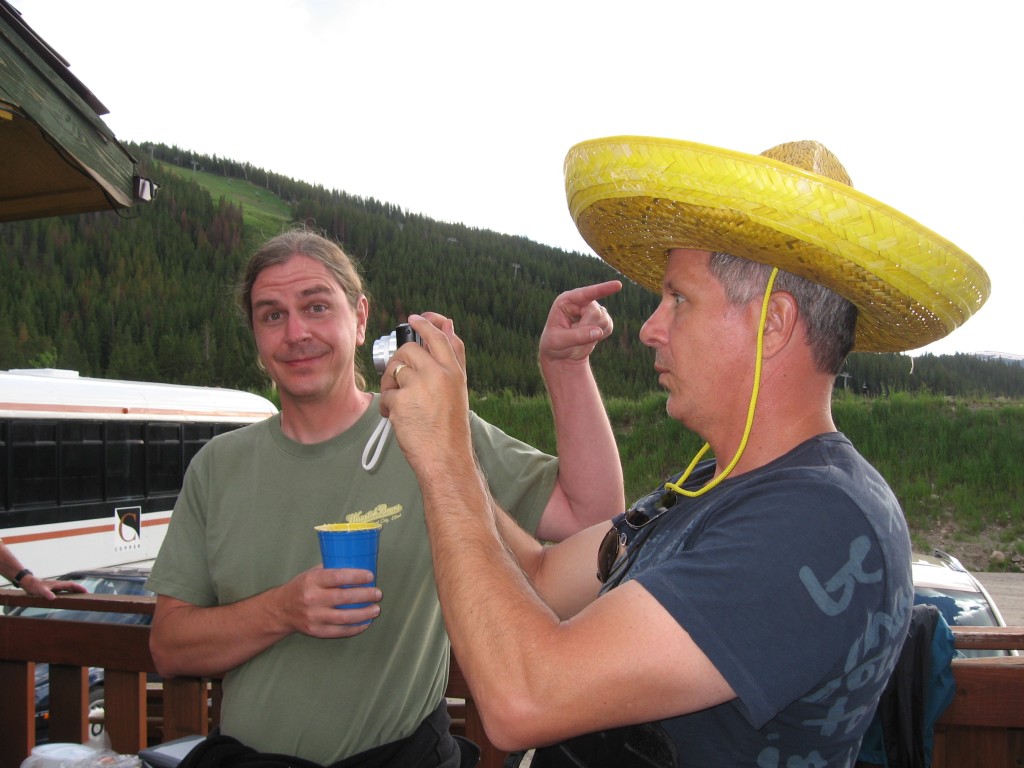 Nice Hat!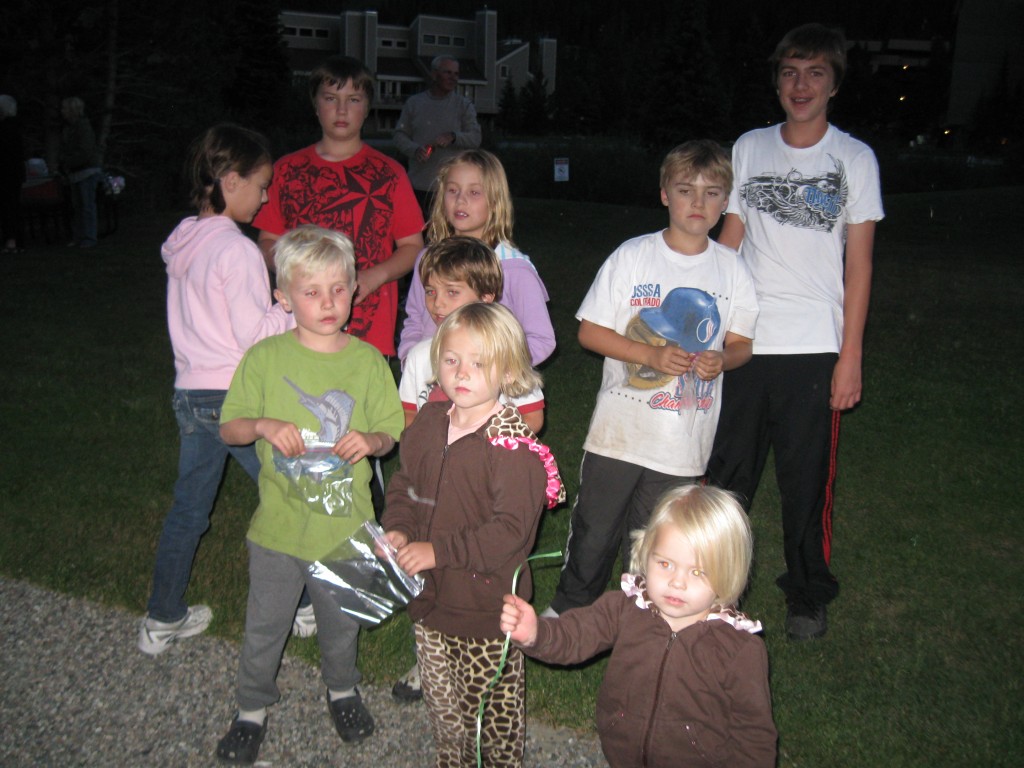 Saturday I decided to once again ride up Vail Pass. I needed to top out.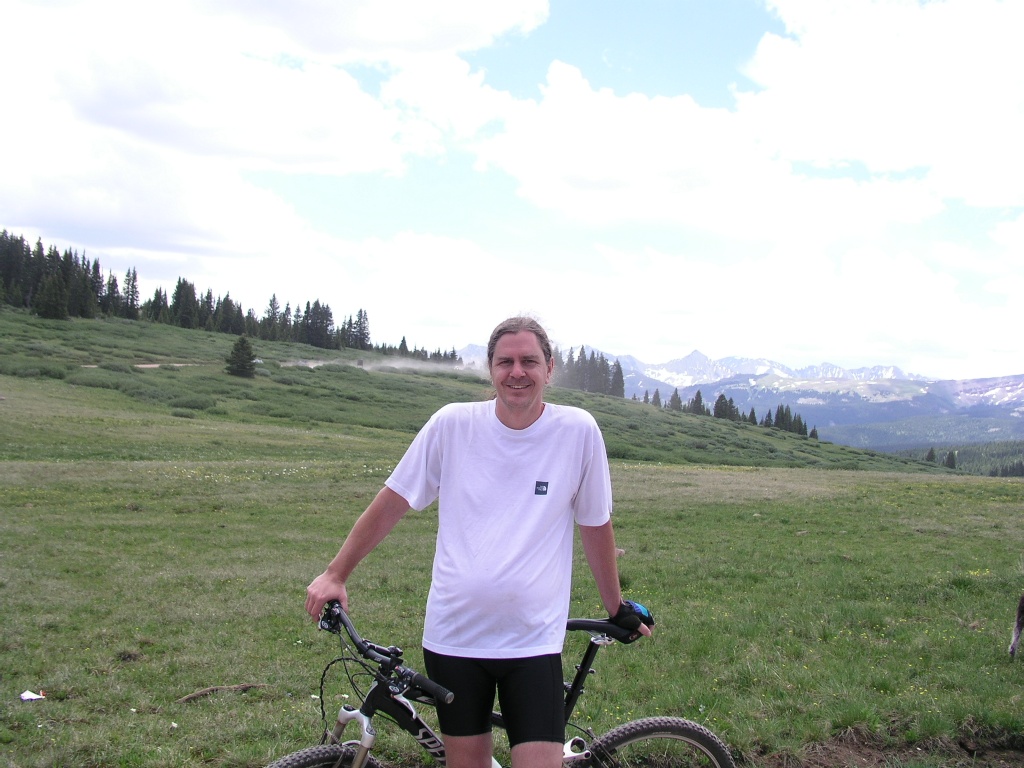 When I got to Vail Pass at around 10:30am the parking lot was set up for a road race - the Triple Bypass - 120 miles and 10,000' of elevation gain. I can't even imaging such a ride. They told me the lead riders would be arriving in around 30 minutes. I stuck around for a little while, thinking it would be cool to see the riders, then decided that I'd see plenty of cyclists anyway and continued up Shrine Pass road.

It wasn't much further past the top of Vail Pass to get to the top of Shrine Pass - 11,089'. Two guys on mountain bikes who came up the hard way from Red Cliff told me I should ride down the other side a little ways to see Mount of the Holy Cross. I had apprehension about riding down the other side, since I'd have to climb back up it, but I proceeded downhill.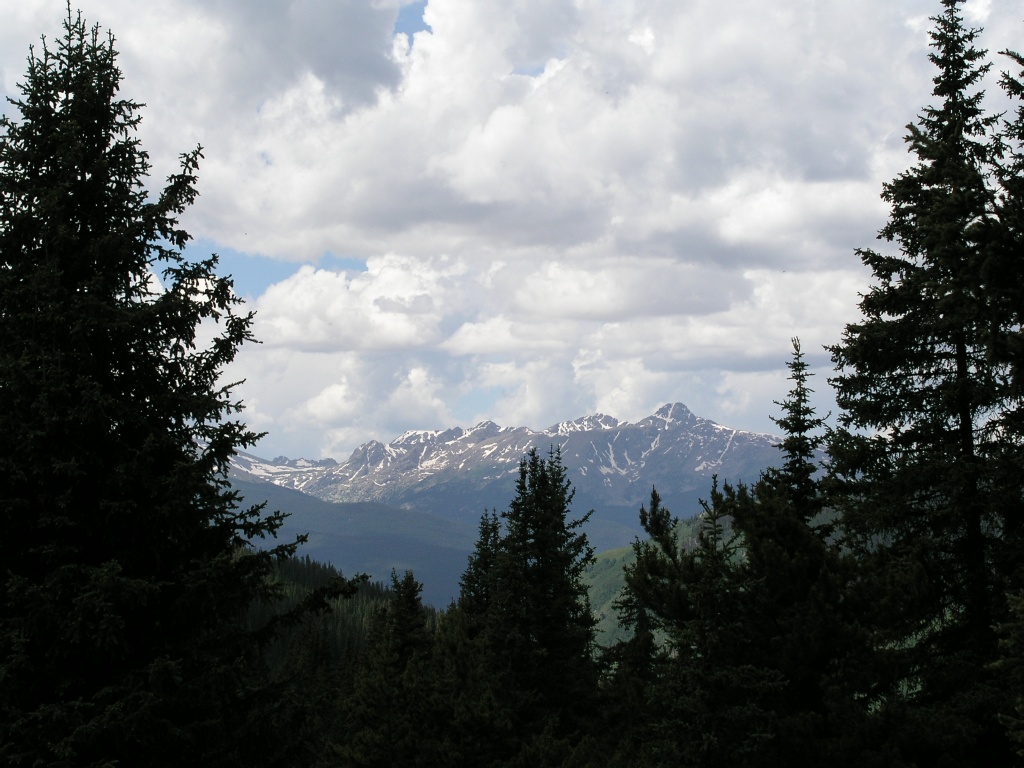 It took much longer to get to the viewpoint than the other riders had indicated.
This picture is from the turnoff to Lime Creek road.
Mount of The Holy Cross is the highest peak on the right.
If you look closely you can see the snow forms a cross on the mountain (the right bar is obscured from this angle)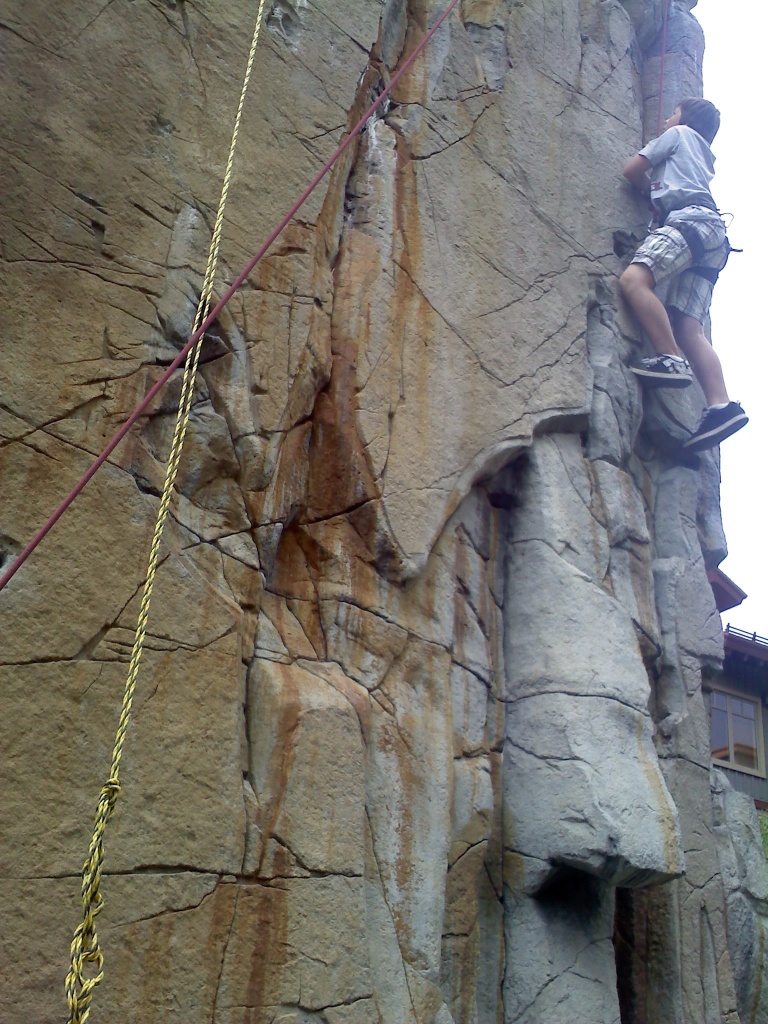 While I was on the bike much of the day, Robby went climbing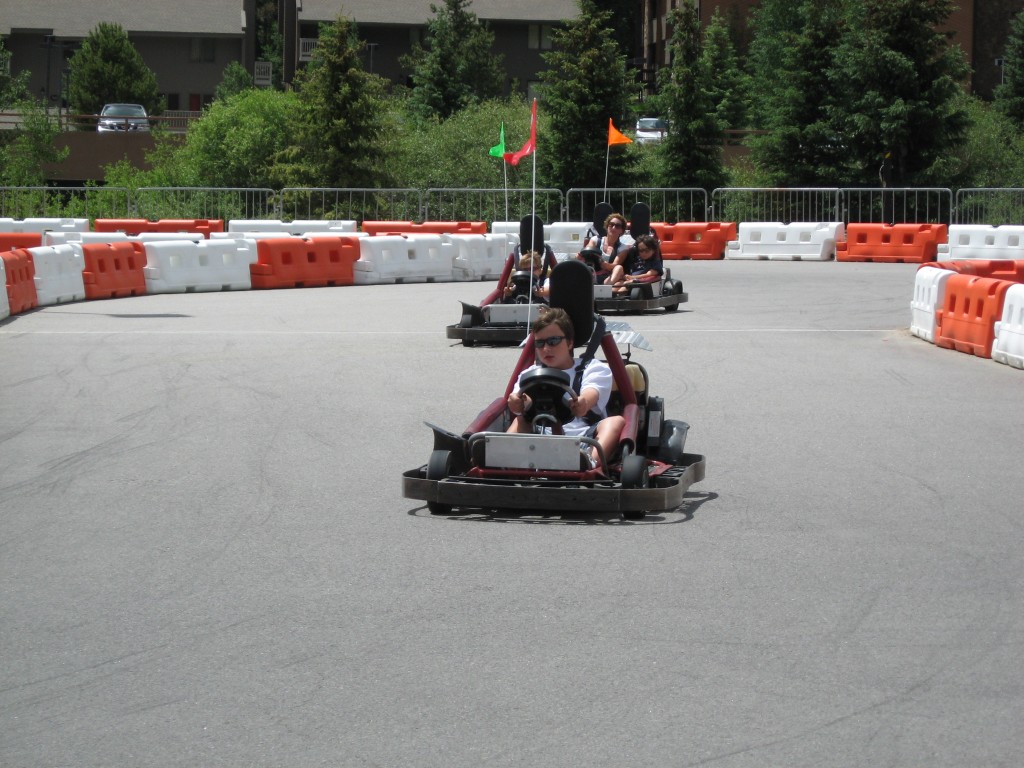 and Go Carting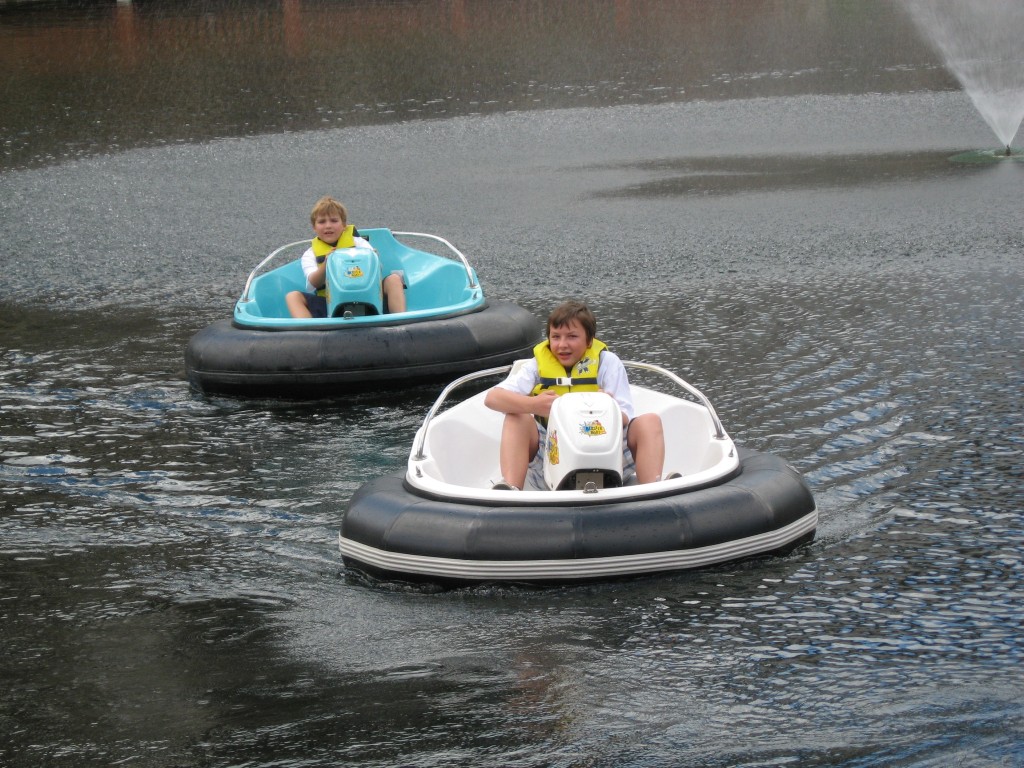 and bumper boating

After I got back from my ride, in the late afternoon, it started raining... hard... drenching the folks on the triple bypass. The kids went to the pool for a while, and we decided to move dinner to Bob and Karin's room.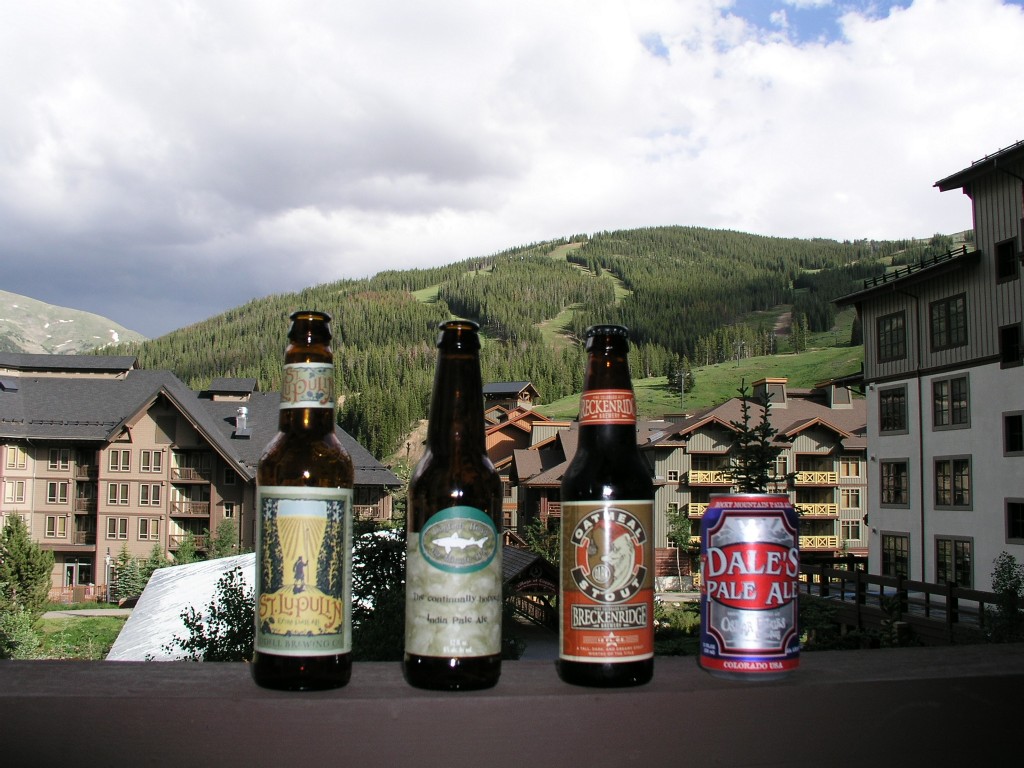 The view from our window
St Lupulin Extra Pale Ale is my new favorite beer.
I later asked Bob and Karin to buy me a case or two and bring it with them to California, but I did not realize it is a seasonal and is only available in the summer. I was crushed...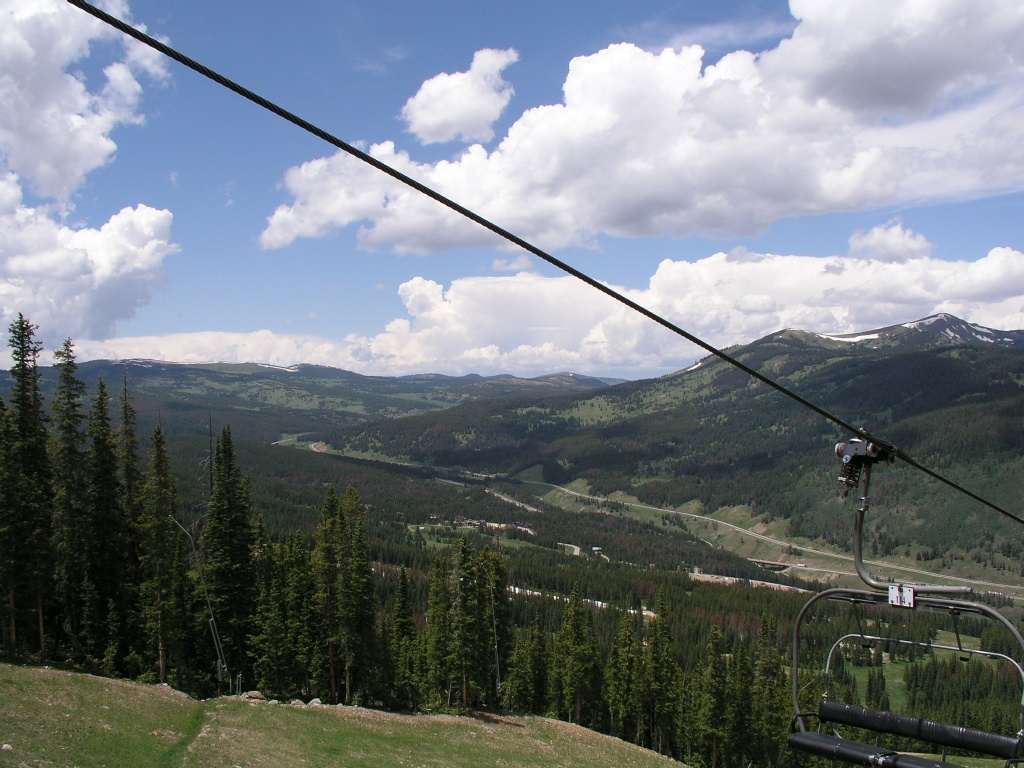 Sunday we headed up to the top.
I-70 headed up to Vail Pass. Shrine Pass is in the center background
We had lunch up top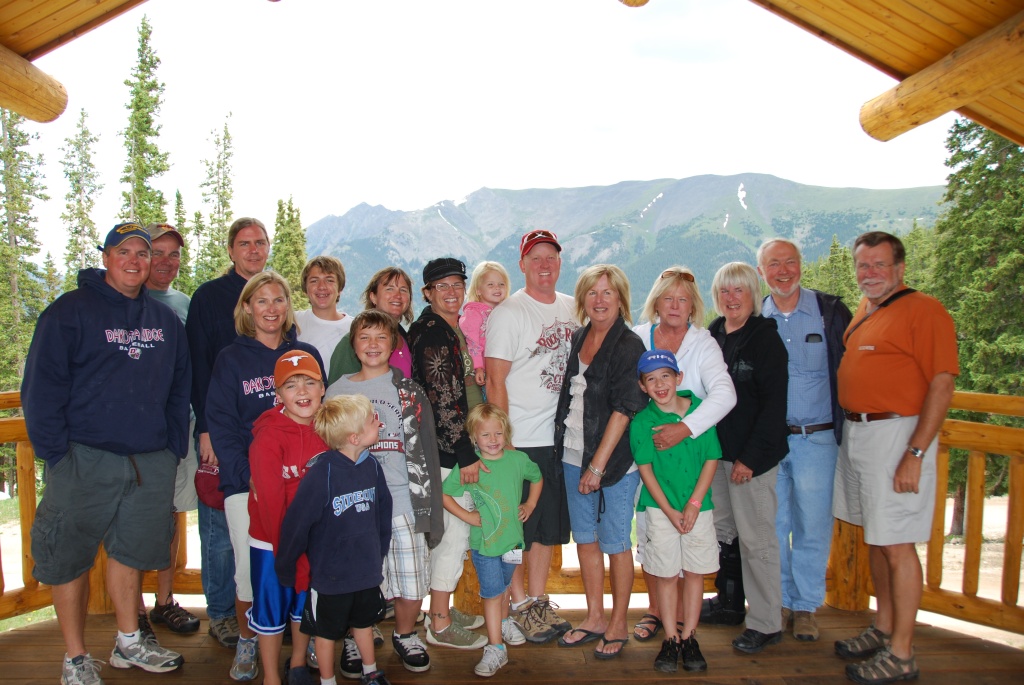 Believe it or not we're missing about a dozen people in this picture. Kris and Roger and family had to leave early to catch a plane. Our hosts John and Cindy were taking the picture. Nate and Courtney headed back up the hill early. Pam was suffering from a broken shoulder back in her room after going over the handlebars down in Breckenridge. Tim and Vicky understandably didn't want to bring Brett up the ski lift.
Monday morning the ski resort was nearly empty. We drove back to Denver and had lunch at Woody's Pizza in Golden - highly recommended! Later Monday Dusty flew back to the Bay Area, while Kathy, CJ, and Robby stayed in Denver another few days.