| | | |
| --- | --- | --- |
| | Yosemite - Fourth of July Weekend, 2011 | |
I told myself for weeks I was going to hike Clouds Rest, but I also had 3 passes to climb the cables on Half Dome, and considered it my fallback. In 2008 told myself I was going to hike Clouds Rest, but couldn't bring myself to face the extra 1000' of vertical and 'only' climbed Half Dome that day instead.

I got started at 6:40am. The Merced River is running around 4000cfm, around 4 times normal flow, an amazing and loud event. Took my first real break on the John Muir Trail (JMT) when Nevada Falls becomes visible near the second cutoff the Mist trail, perhaps 2 miles into the hike. Eventually I noticed a 50ish single male hiker behind me – it was very strange, I would hear him, see him, then turn around again and he was gone. This happened about three times, it was almost like he was a ghost. Finally after we got to the top of the ridge near Nevada Falls he caught up to me and we started talking – he was also headed for Clouds Rest. He had a thick Scandinavian accent, I sped up my pace to keep up with him for perhaps 10 minutes. He was from Merced, and we expressed mutual disgust for the new Half Dome permit system and all it entails. He recently climbed Mt Shasta and was clearly much harder core than I am. Finally he picked up the pace and took off, I told him I'd see him on the way down. This was the motivation I needed to hike Clouds Rest instead of 'just' hiking Half Dome, my fallback hike.

After Nevada Falls the trail is very very crowded. After the flats of Little Yosemite Valley I caught up to a group with a girl carrying her iPod and sharing her music with the rest of us – I was quite displeased someone would subject the rest of the hikers to such abuse. Thankfully I didn't recognize the music she was playing, and I doubled my pace to get out of earshot before her music got stuck in my head to pollute my brain all day. I forced myself to think about music I enjoyed to get her music out of my skull. A while later I caught up to another group with another iPod player. I started to reconsider the wisdom of hiking trails with so many people on them and was getting disgusted with the gabby crowds of 'hikers' on this trail. A group of 5 young women who appeared to be high school age were taking a break, asking everyone who passed by if they had extra Half Dome passes. I stopped and gave them my two extra passes – they were quite thankful, but still needed 3 more passes for their group.

I pushed myself all the way up the trail to the fork where the JMT separates from the Half Dome trail without another break, something I'd never been able to do before. Shortly after the JMT separation I saw a group of 4 young men hikers – they chatted me up, asking about Half Dome, bears, etc. The JMT runs for perhaps half a mile on fairly level ground before the turnoff up to Clouds Rest. When we got there they asked how far it was to Half Dome – I told them they missed the turnoff, and reminded them of the turnoff where we first started chatting 10 minutes prior. They turned around, thankful that they were now headed in the right direction. Never seen anyone miss such an obvious turnoff before. I took another much needed break, and watched 2 more people head up the Clouds Rest trail while I was resting.

3.8 Miles to Clouds Rest from the JMT – I had only been on this section of trail once before but had a pretty clear memory of it. I didn't recall the beginning part of it too well – steadily uphill through the trees. I saw a pair of small bright red flowers and was impressed enough to stop and take a picture – I later learned this is Snowplant aka Snowflower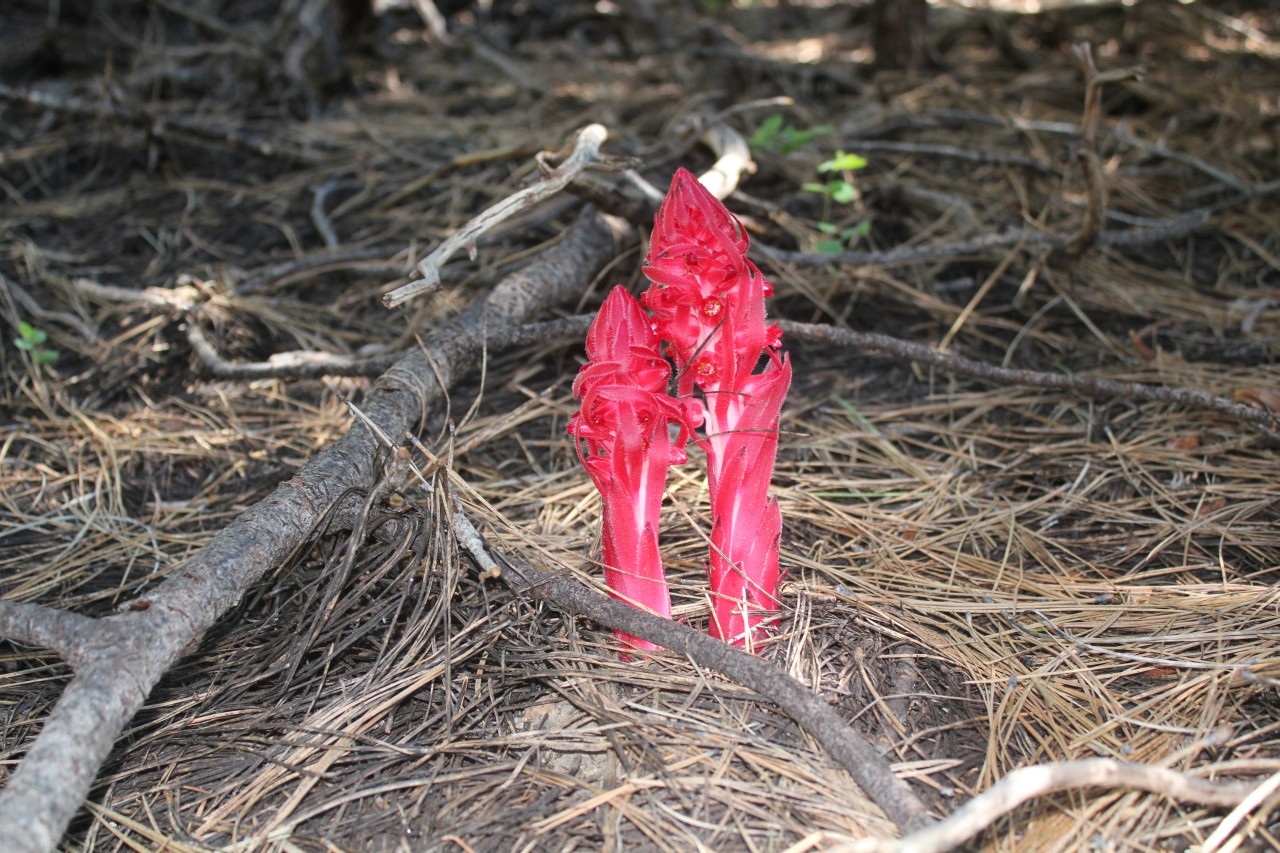 I young couple caught up to me while I was taking the picture – I followed them for perhaps five minutes before they stopped to let me pass. We were really travelling about the same pace, and I was very glad to let them set the pace for a while. They had hiked Half Dome before, but not Clouds Rest. I slowly pulled away.

After a while I caught up to one of the hikers in front of me – he was a Nature Ranger, or something like that, a guy with a name badge and radio but not a real park ranger – he indicated I had just missed a bear sow with two cubs. He had apparently chased them off the trail to take pictures, and irritated the sow enough that she huffed and shook her head at him. Didn't sound like the kind of thing they want anyone to do around bears, not sure why he was telling me this. He started hiking again and quickly left me in his dust.

Perhaps 30-45 minutes later the trees cleared out, I was treated to a view of Half Dome, and the switchbacks started. I recalled this part of the trail vividly, as

a) I was quite concerned about bears last time I hiked this trail, and I was quite alone
b) It was very warm, as there's no shade to speak of on this stretch – there are plenty of bushes but no trees.
c) There is a huge granite peak directly above that I assumed was Cloud's Rest, but it was not – it was Quarter Dome, and the trail switchbacks all the way up to the base and then continues on, up, up, and up, a nasty false peak.

The couple caught up to me while I was taking pictures of Half Dome and I informed them that the peak above was not Cloud's Rest. They were clearly disappointed, and I kind of felt bad about bursting their bubble. OTOH what was I supposed to do, not tell them? We stayed together for most of the switchbacks before I pulled away again.

The trail is steeper than I remembered – it is pretty brutal. Perhaps a mile from the top I felt my knee act up a little. I had already felt my hips a little and an ankle made itself known as well. I decided I was going to push on through the pain regardless, which I knew was not the right decision. Fortunately the aches never got too bad. I met one of the hikers who had passed me earlier jogging back down the trail - impressive. Finally I got to the last turnoff – 0.6 miles to Clouds Rest. I could see the peak through the trees. Small patches of snow blocked the trail, and eventually I lost the trail entirely. I could see the peak and I was nearly on the ridgeline, but bushwhacking is never fun or easy. After about 15 minutes I found the trail again. At the same time I saw the couple in back of me, they had clearly lost the trail too. I yelled back to them that the I had found the trail, and assume they could beeline to my position with no problem. After this point the trail is a staircase. Last time I climbed it, I recalled it being fairly exposed, and I recalled myself being beyond exhausted. I wasn't quite as spent this time but I was ready for my summit break. There were five people on the peak – a couple who had backpacked in through the snow from Sunrise, an older man who left right after I got there, the Scandinavian guy from earlier, and the Nature Ranger. The couple were camping again tonight, then planning to summit Half Dome tomorrow. They were simple amazing, I couldn't believe them. The Nature Ranger told me that the flower I had seen was Snowplant, and we chatted about all the recent deaths in Yosemite – 5 deaths on hiking trails already this season, perhaps 4 of them river related.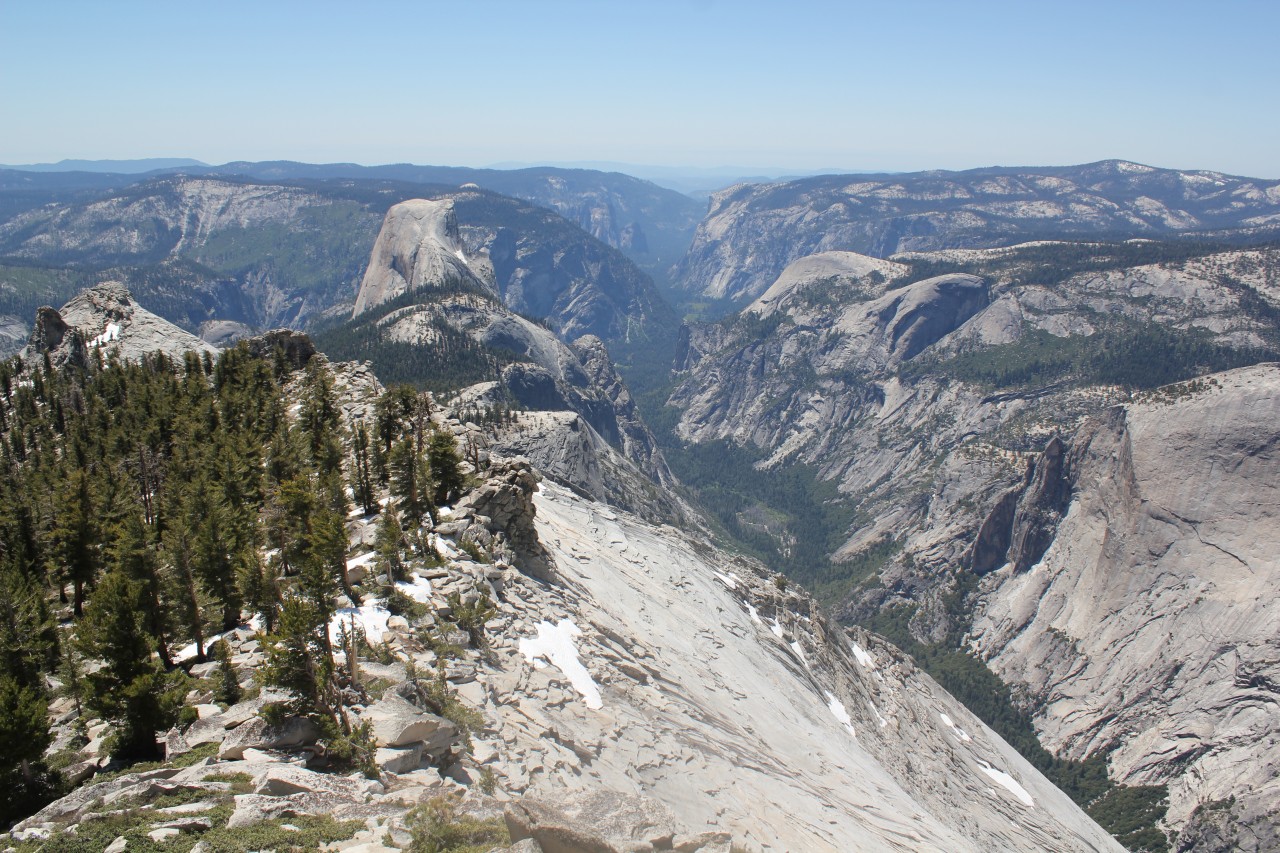 Half Dome from near the top of Cloud's Rest
The drop into Tenaya Canyon on the right isn't quite as sheer as it appears, but it's close


I took several panoramas, and had the couple take pictures of me with Half Dome in the background – the picture I have from my Cloud Rest hike in 2005 is my favorite self portrait. The pictures they took of me turned out poorly. A saw a fat marmot, the largest non-deer animal I'd seen so far on this trip.

Click here for a 360 degree panorama from near the top of Cloud's Rest. It isn't possible to take a good panorama from the top since it is too large and blocks views. Instead I've got a panorama with Cloud's Rest blocking the view to the west - go figure.

As I was getting ready to leave the summit a pair of men climbed up from the Tenaya Lake side – they expressed their thanks to whomever had postholed their way up through the snow in front of them to show them the way – that would be the backbacking couple. The two men had been fairly lost for a while and were clearly overjoyed to summit.

After just over an hour of enjoying summit bliss I opened my summit victory beer (Youngs Double Chocolate Stout, not appropriate for warm weather but the only canned beer in my stockpile at home) and headed back down the staircase, camera in one hand, beer in the other. A group of 5 hikers reached the bottom of the staircase as I was coming down it. I never did see the couple that was in back of me on the way up – I can't believe anyone could get that close to a major summit and then miss it, but apparently they did as I never saw them again.

About a mile from the top I met a pair of young male hikers struggling their way up – I told them they had just over a mile to go, and they were very thankful for any positive news that they were approaching their destination. Those were the last hikers I met coming up this trail, I estimate about a ten people made the hike from the valley floor to Cloud Rest this day.

Once I reached the main trail to Half Dome I was in a crowded mess again. I passed a pair of girls who thanked me for giving me the Half Dome passes – I hadn't even recognized them. They said they'd gotten another couple of passes but were still one short. The ranger at the checkpoint at the base of the subdome asked if they were Marshall, they said no. They indicated the group in front of them didn't have enough passes for their entire group either, and they were also waved through. It was about what I expected – the checkpoint at the base of the subdome thankfully wasn't that strict.

I started the day with 5-6 liters of water. I was now reduced to just the bladder of my 96 ounce Camelbak, which made me a little nervous cause I can't tell how much water is left. In hindsight next time I'll drink it first so I don't have that problem.

Further down the trail I saw a young male Darwin award contestant messing with a baby rattlesnake. He announced loudly but politely to all within earshot he had always wanted to handle a rattler. He soon gathered an audience of half a dozen gawkers including yours truly. I stopped hiking and started taking video, assuming I might get to watch him getting bit. The guy apparently knew a decent amount about snakes. I took about 2 minutes of video of him messing with the snake through his tshirt, then I stopped taking the video as numerous people walked by on the trail and he delayed his snake harassing. I then started taking video again, and the results of this second video are on youtube at this link.



Unfortunately the you can barely see the snake in the video. I'm not very good at taking video with the camera – or pictures, for that matter. After about 5 minutes of this foolishness I decided he probably wasn't going to get bit, and put the camera away and continued hiking down the trail. I later realized I was not taking a reporters approach to the situation, I should have stuck it out – video of someone getting bit by a rattler could be worth something to my Hollywood reality show contacts.

The rest of the hike was uneventful, and I hustled to finish in just under 12 hours.