Thursday June 21 -
Friday June 22, 2012
Flying to Venice

Next
Saturday June 23, 2012
Venice
Our flight to O'Hare was overbooked, United was offering $200 flight credits for people to volunteer to get bumped. There of course was not enough money in the world for us to volunteer. About 25 members of a girls soccer team were on our flight from SFO to O'Hare headed to Copenhagen, and we were literally surrounded by them in the back of the plane. The girls were all around 13 years old. I found it more entertaining than annoying, but Kathy felt the opposite. We had an exciting dinner of McDonalds in O'Hare. I don't think I got any real sleep on the flight to Frankfurt - it felt like I was in twilight for a few hours. In Frankfurt we quickly found Bob and Karin, and soon found there were 40 people on standby for our flight. There was a 24 hour general strike in Italy impacting all services, so all the flights prior to ours had been cancelled. We talked to a family that had been stuck overnight in the airport, and they were getting ready to buy train tickets for the 13 hour train to Venice so they could catch their cruise that departed from Venice the next day.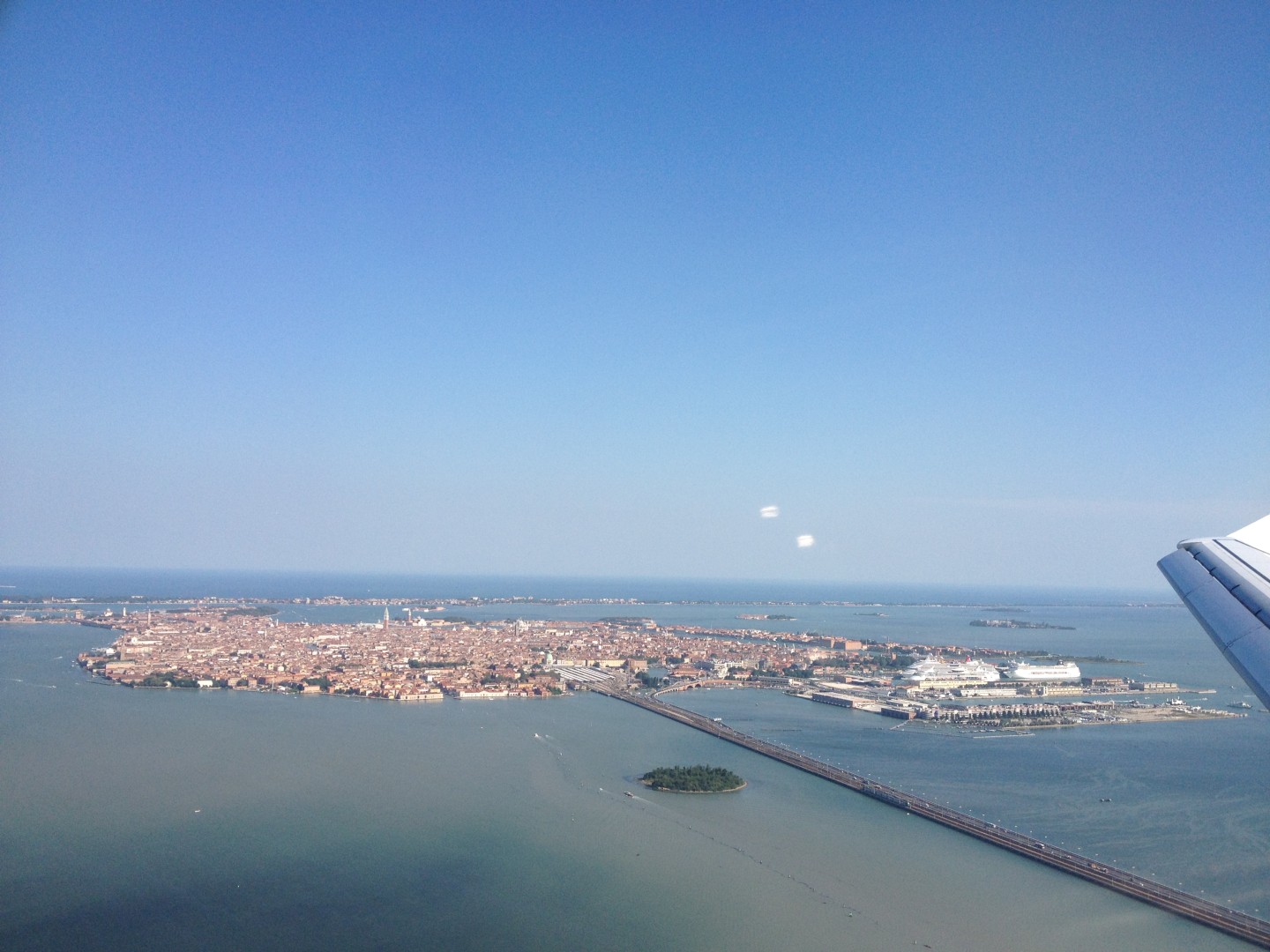 2012-06-22 17:34
Flying into Venice.
Cruise ship docks on the right
Train station central
San Marco is left center on the far side of the island



Once we got to Venice, we caught the ACTO bus onto the island, where we learned that the strike was impacting the waterbus as well – the boats were only going as far as Rialto. This was not a serious problem since our hotel was near Rialto, but it meant we had to carry out luggage over the Rialto bridge itself, which was non-trivial. We bought 72 hour passes for the boats. We quickly noticed graffiti covering the wooden shutters for the shops on the bridge – I was appalled that no one was taking care of the bridge.

Found Rick Steves recommended Pensione Guerrato with no problems. Our apartment was on the 3rd floor (which American would call the 4th floor), and she was named Nelly – 3 bedrooms, small kitchen, bathroom, and dining room. Only real problem was there was no good common area. There was also a small step into the bathroom that we kept kicking. AC units in each bedroom. Wifi worked in the dining room only, but we didn't discover that until Saturday afternoon. Wifi is available in the hotel lobby on the first floor (which an American would call the 2nd floor).

Here's the official description from their email:


A completely restored and furnished apartment with 3 bedrooms, one living room, a fully equipped kitchen (microwave, fridge) and a bathroom with shower. and air conditioning.
This apartment can comfortably accommodate 6 persons.
The rooms have plenty of space and the windows overlook the fresh fruit market (Rialto), the Grand Canal and the Ca' d'Oro palace.
This apartment is located on the third floor and there are approximately 60 steps.
Our Hotel does not have an elevator nor a bellhop to bring up luggage.
Since the building dates back to 1289 and was used as a convent until 1748, some modern conveniences such as elevators were not taken into consideration.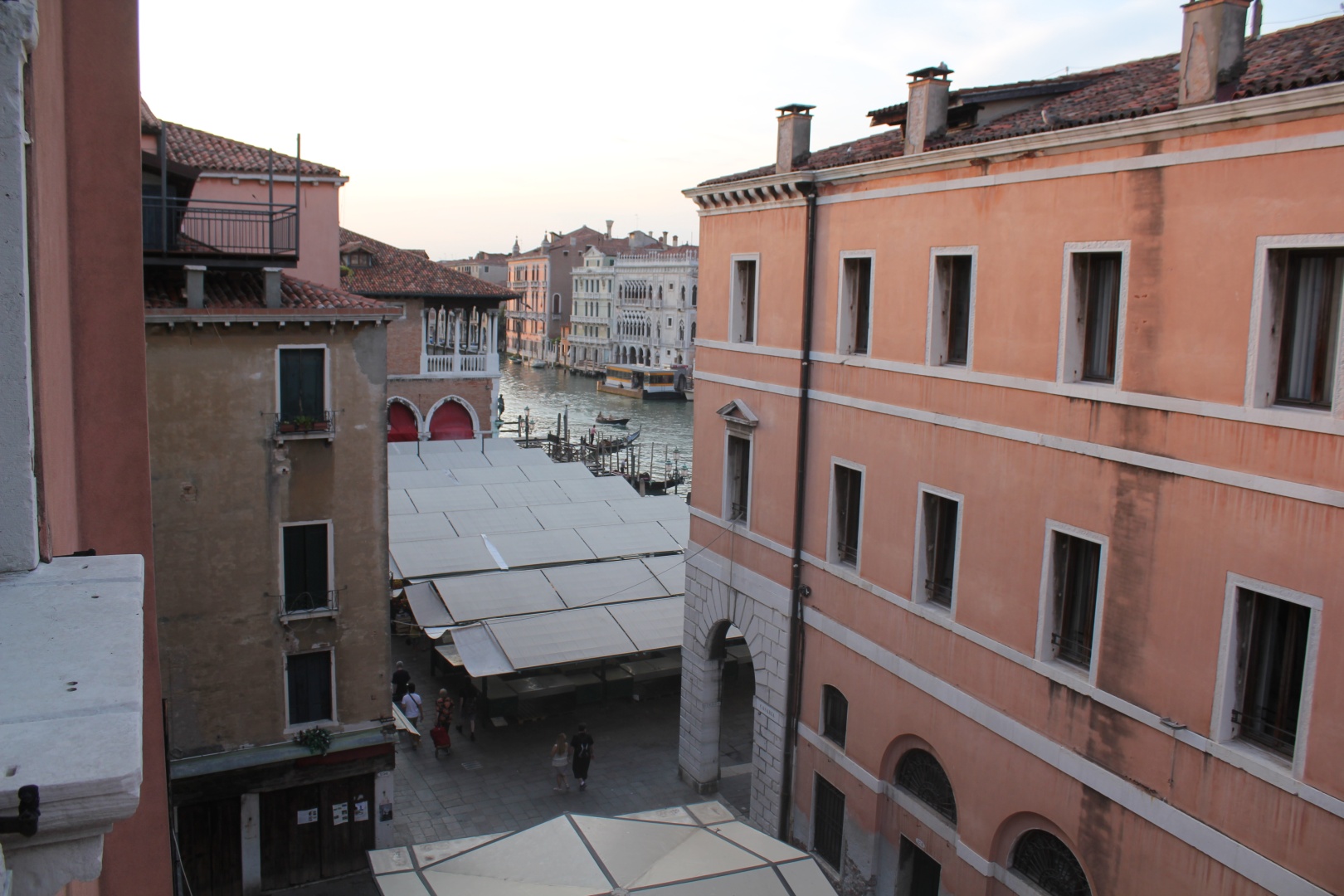 View of the fruit and vegetable market and Grand Canal from our room 'Nelly' in Pensione Guerrato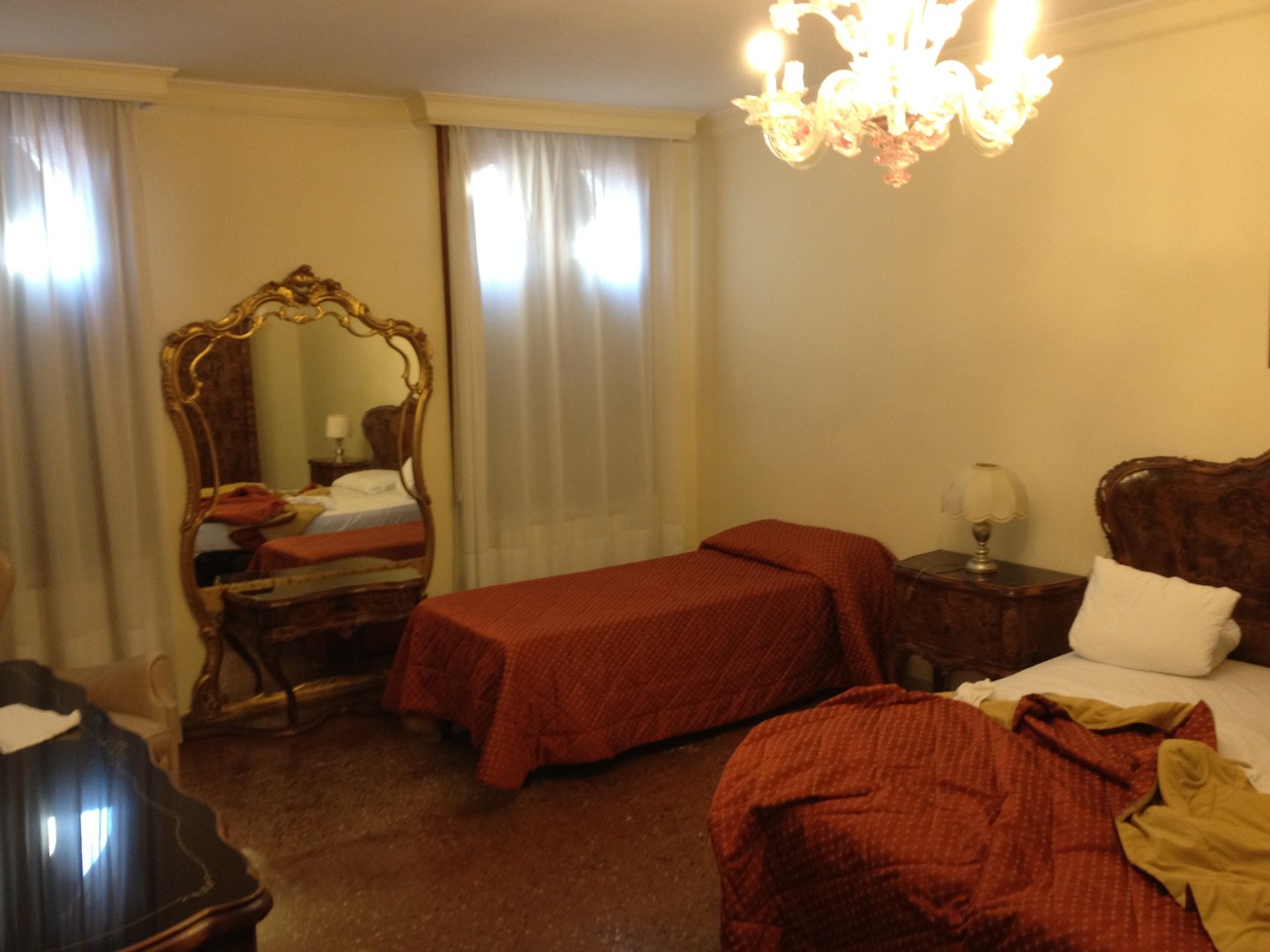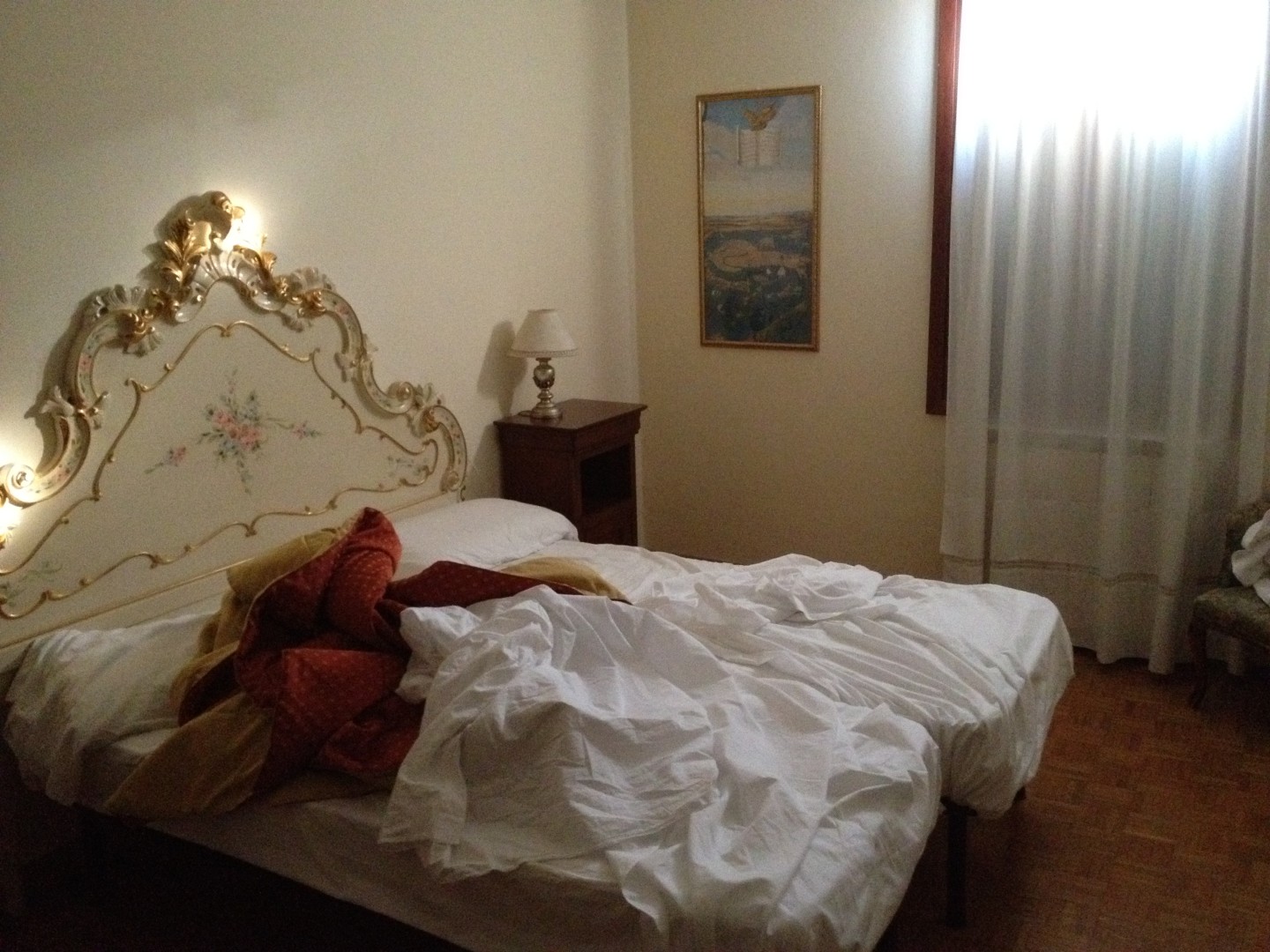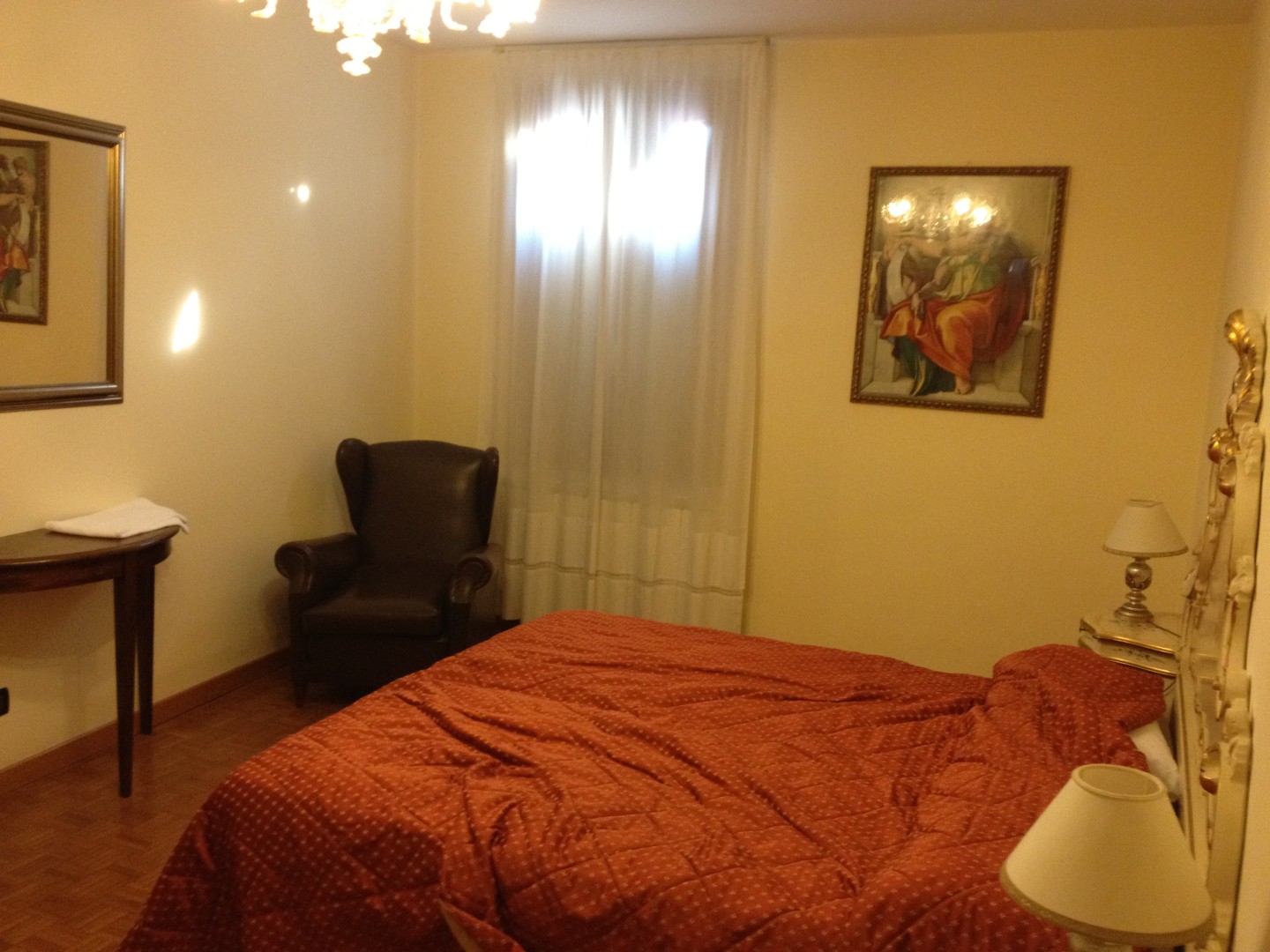 Friday night we ate in a square – pizza and lasagna.

Soccer was on TV.

The squares near our hotel were quite crowded with 20-somethings and noisy with standing room only bars.


Music played loudly until 1:30am – I could tell when the bars closed, but I was either the only one still awake or the only one to notice.



Thursday June 21 -
Friday June 22, 2012
Flying to Venice

Next
Saturday June 23, 2012
Venice