Panorama Point milepost 4.9 from the top on the South Kaibab Trail

Ray and Paul planned a down-and-out-in-a-day hike in the Grand Canyon for Saturday December 9 2018
I found relatively cheap airfare and invited myself to go along.
We used to go fairly regularly in the middle of the winter, but I haven't been in a few years...




Ray's video of the trip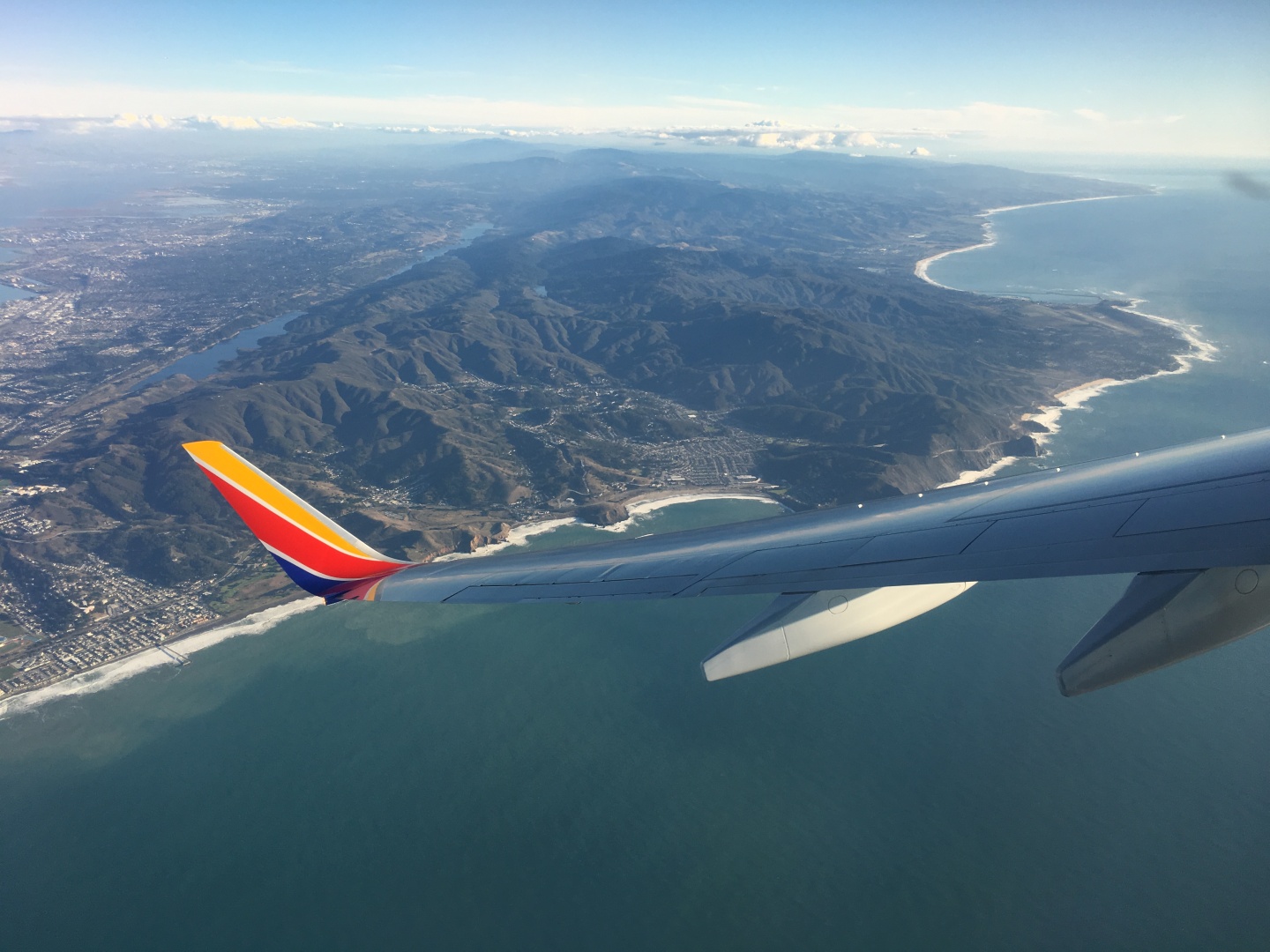 15:00

I was treated to amazing clear skies as I flew out of SFO.
Montara Mountain, where I ride semi regularly.
Pillar Point Harbor is on the left over the wing.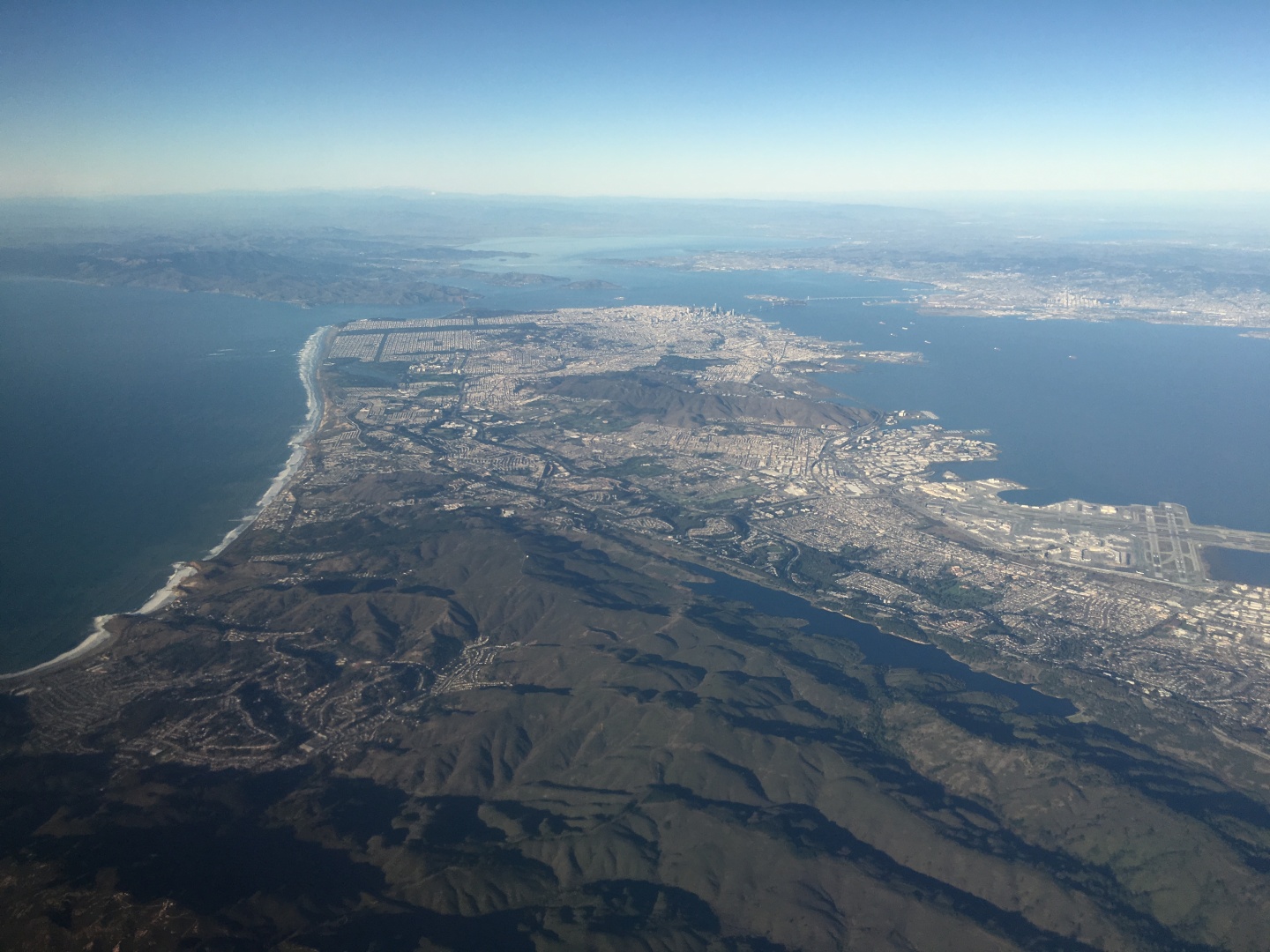 15:02

The Peninsula.
I've got a couple of decent pictures of downtown San Francisco from the air, but nothing like this.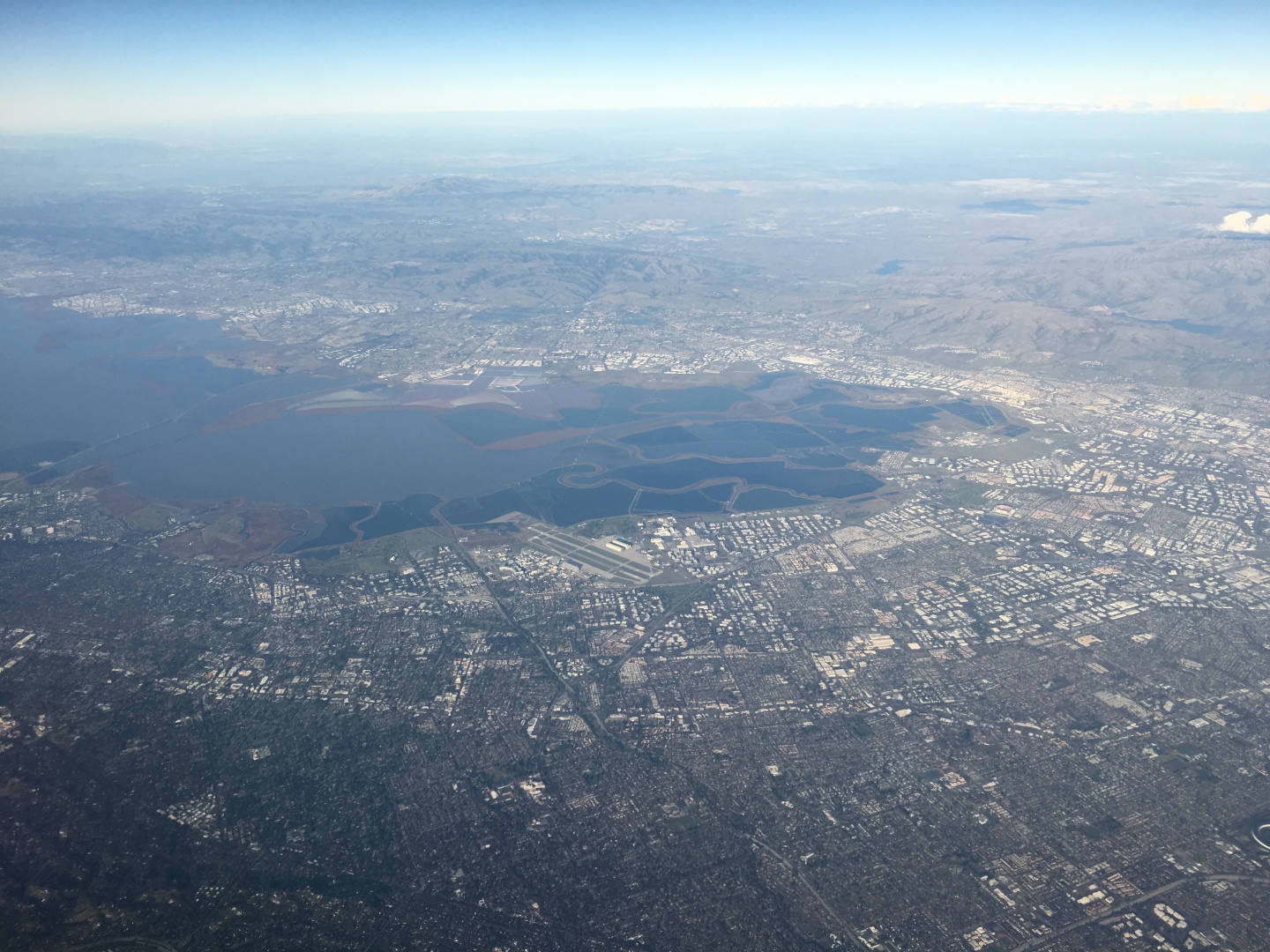 15:05

Silicon Valley and the South Bay.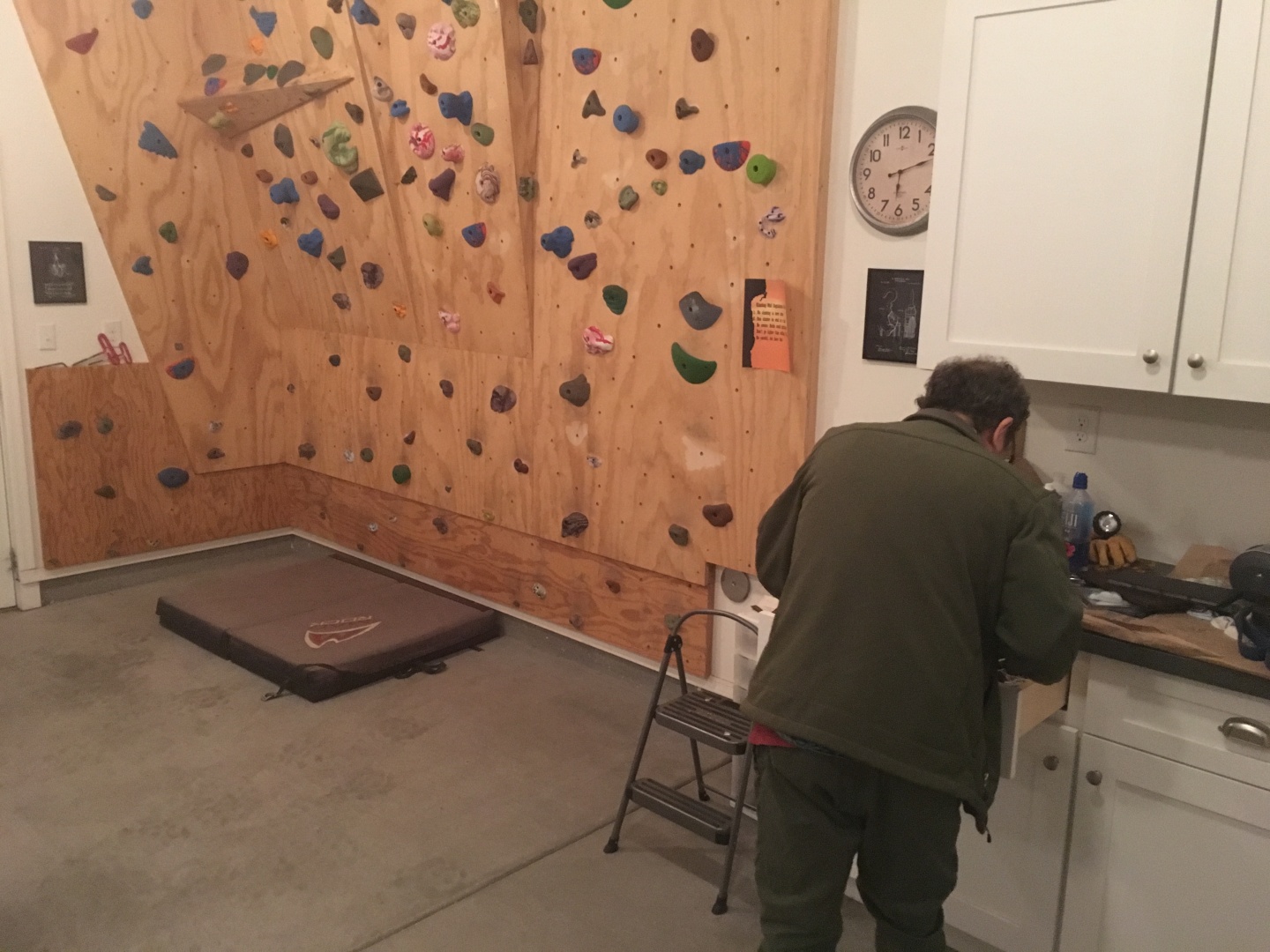 18:14

Ray picked me up at the airport, and we immediately headed back to his house to pick up the first few things he forgot to pack.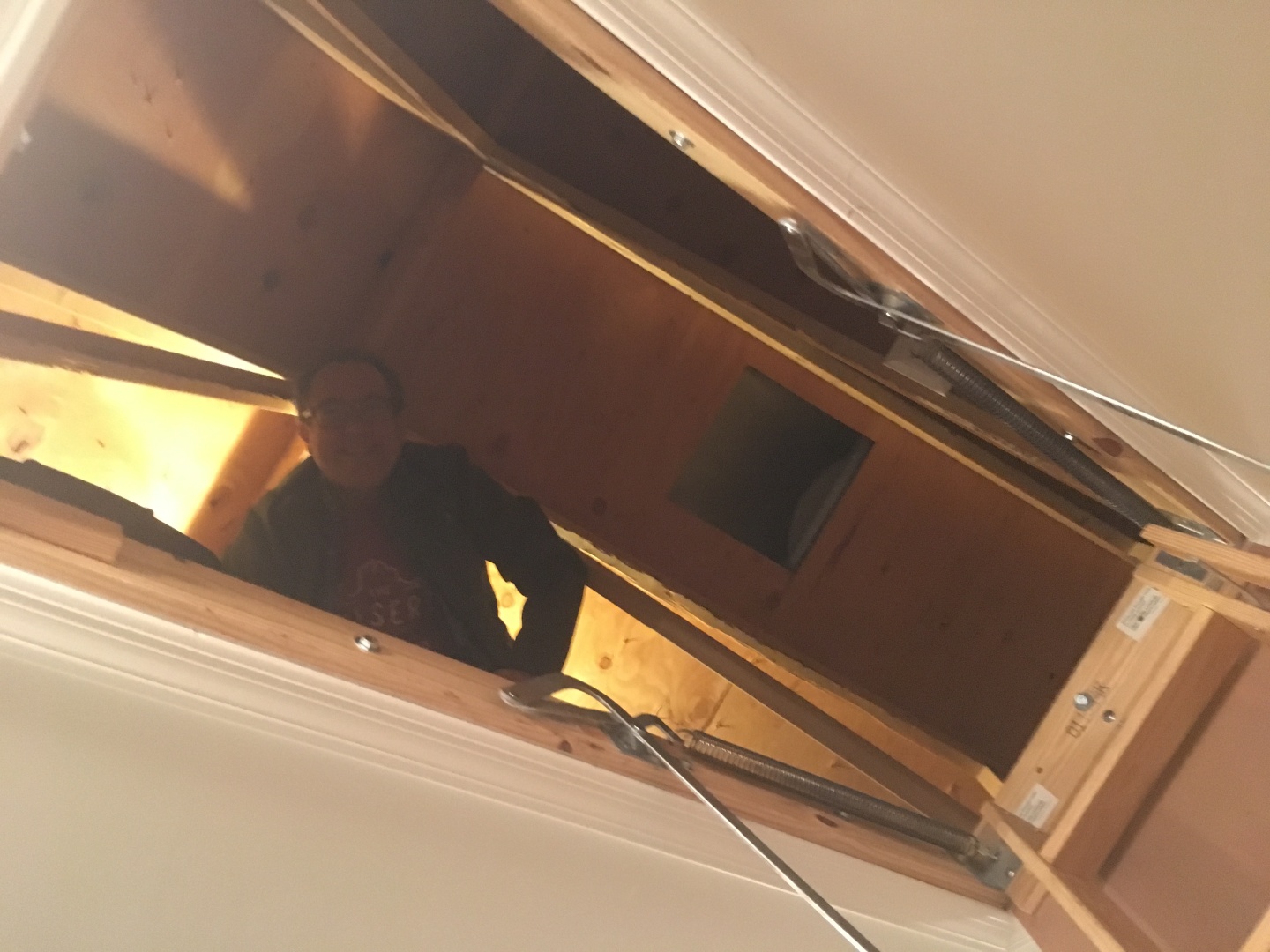 18:17

Looking for sneakers in the attic.

Eventually we met up wth Paul, drove to Flagstaff, checked in to the downtown Residence Inn, and had drinks at the Hotel Monte Vista



23:31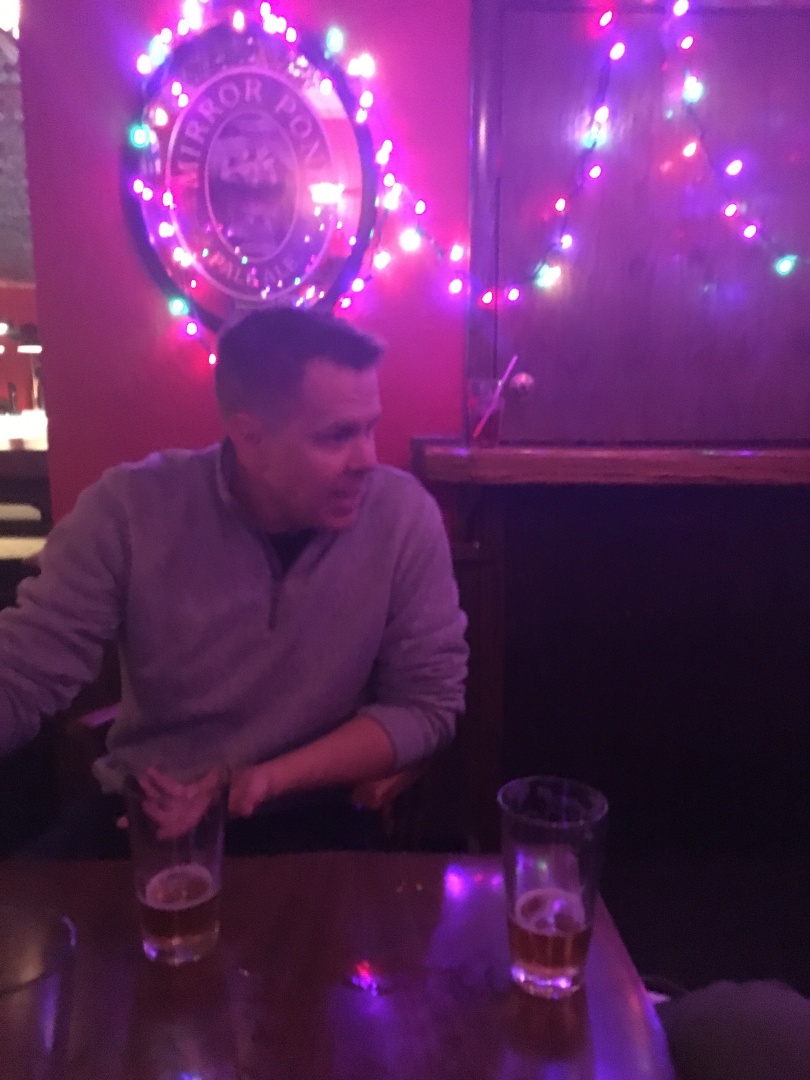 23:31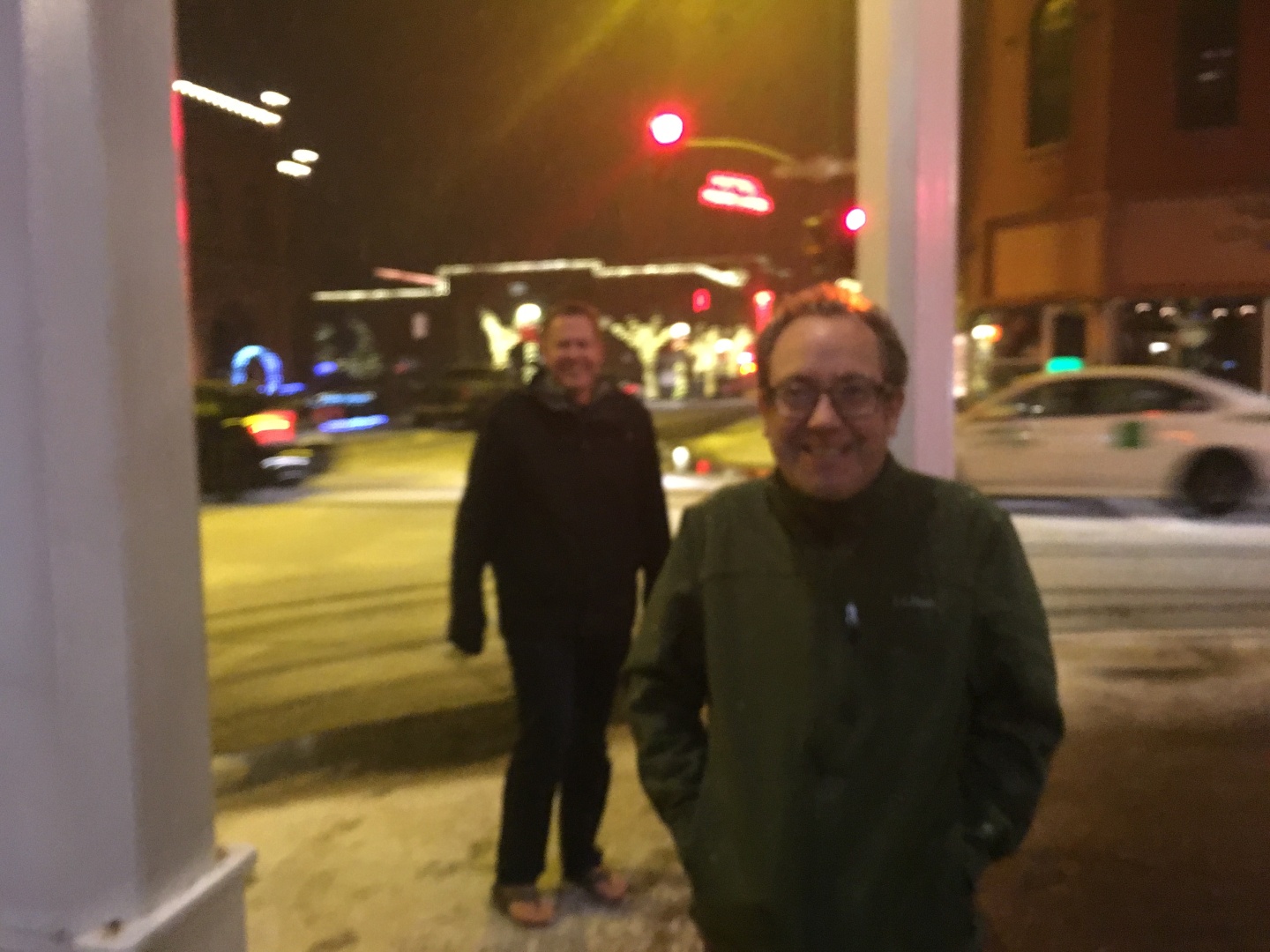 01:45

After drinking way too late at the Monte Vista we found a taqueria that was still open after 1am Friday morning and bought street tacos...

Friday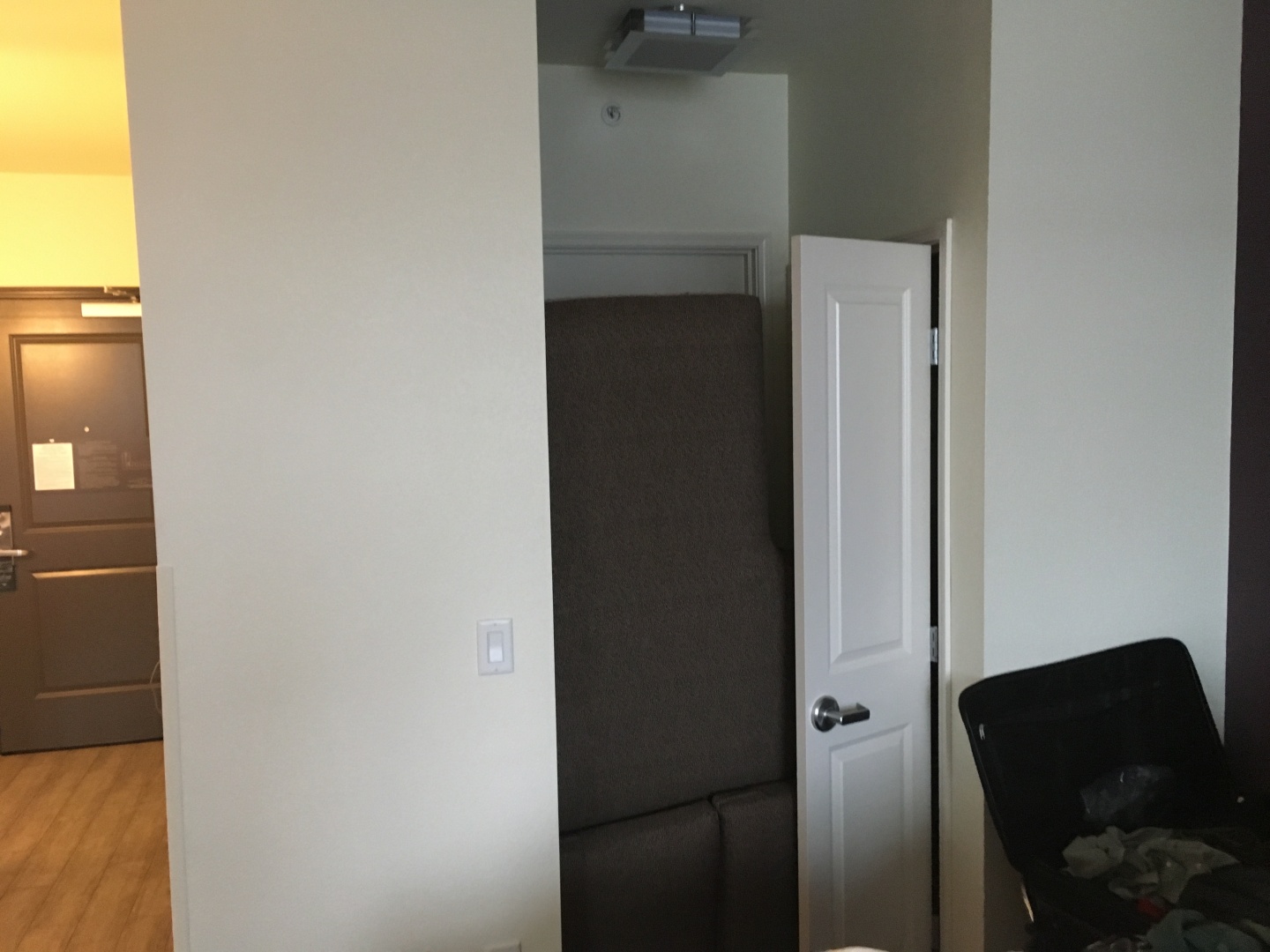 08:32

Paul trapped Ray in the bathroom with a pillow fort.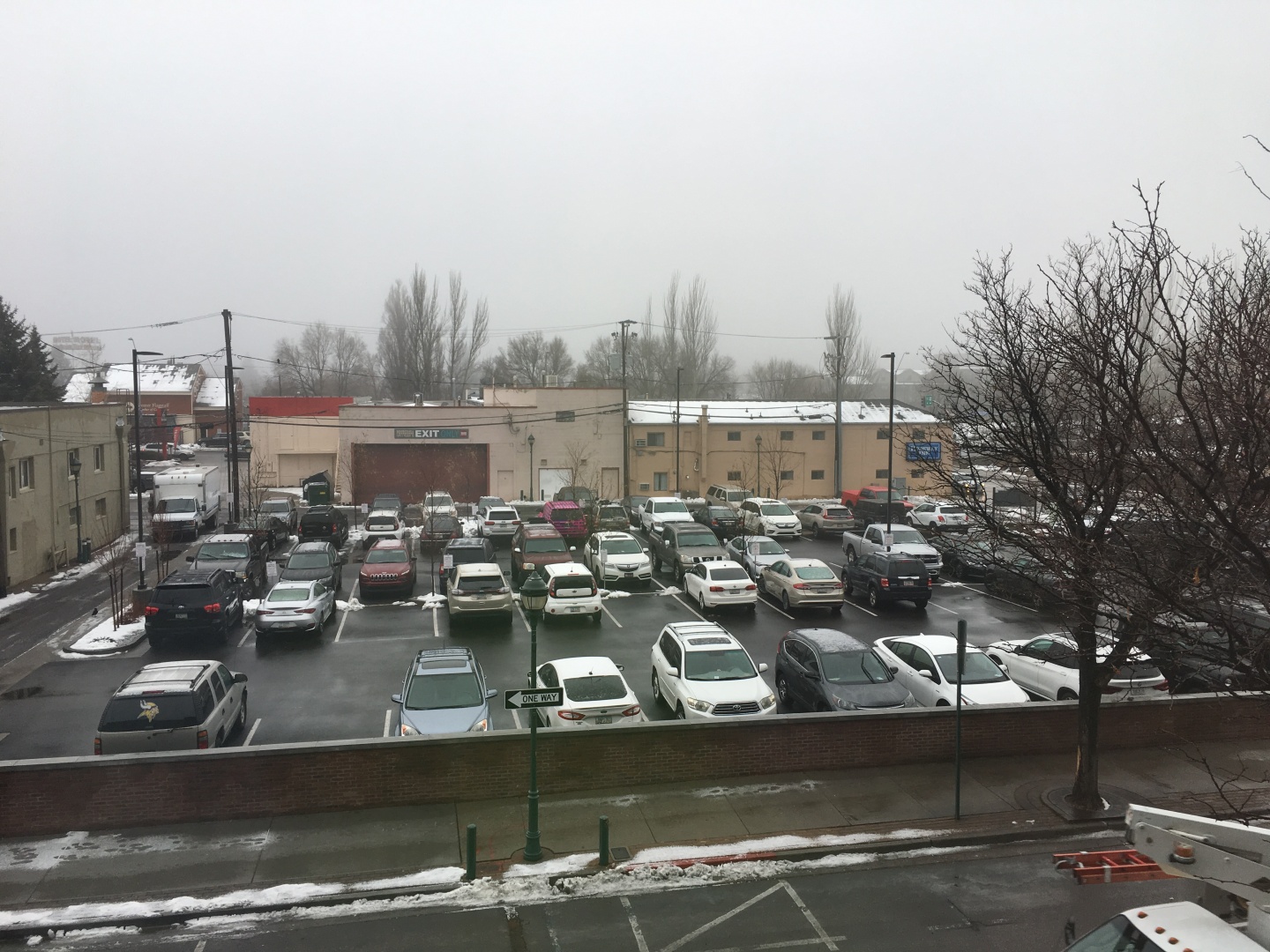 08:41

It was not sunny, warm, or inviting out.
Fortunately we were hiking tomorrow, and the weather was supposed to be better.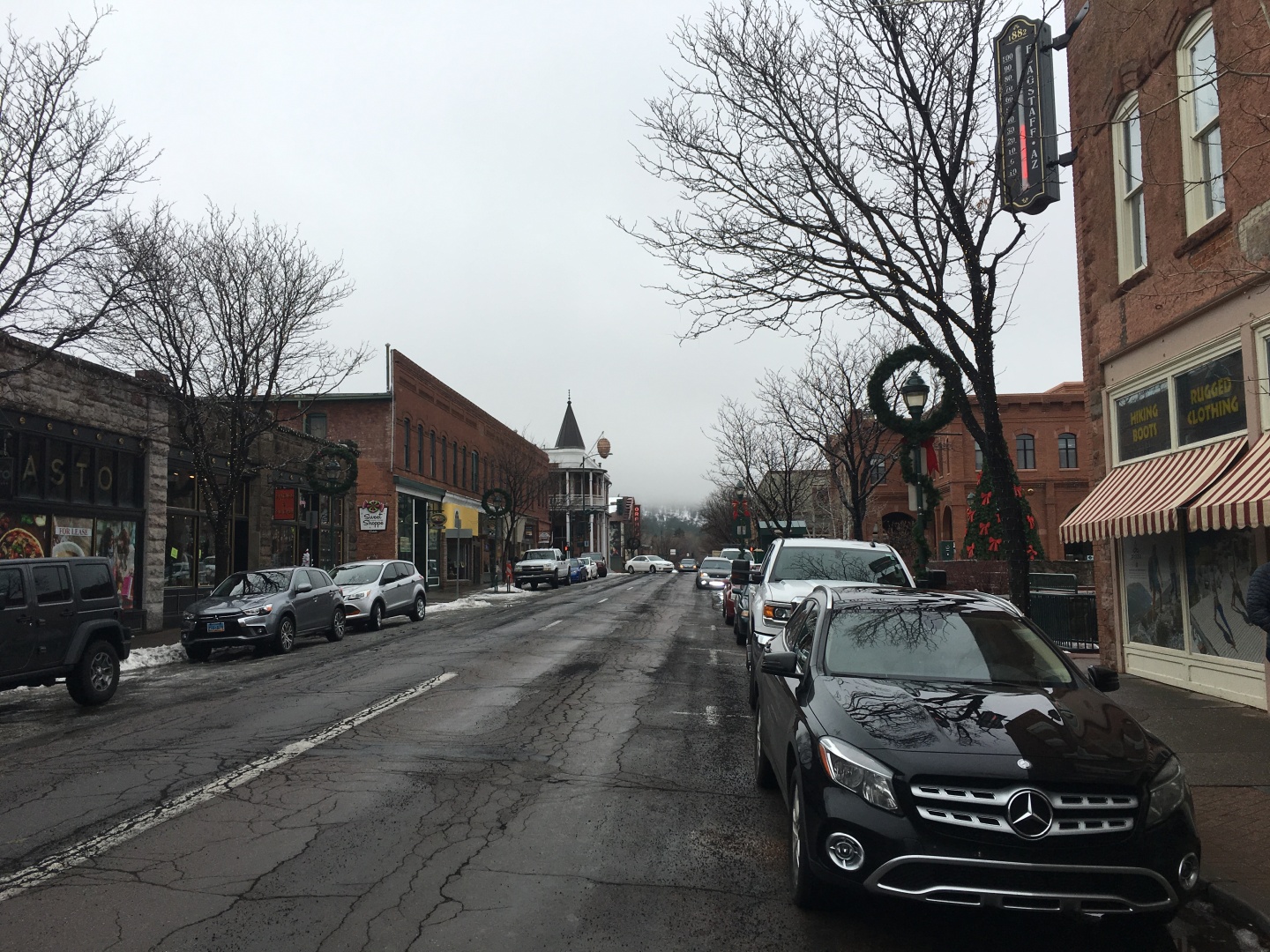 10:30

Downtown Flagstaff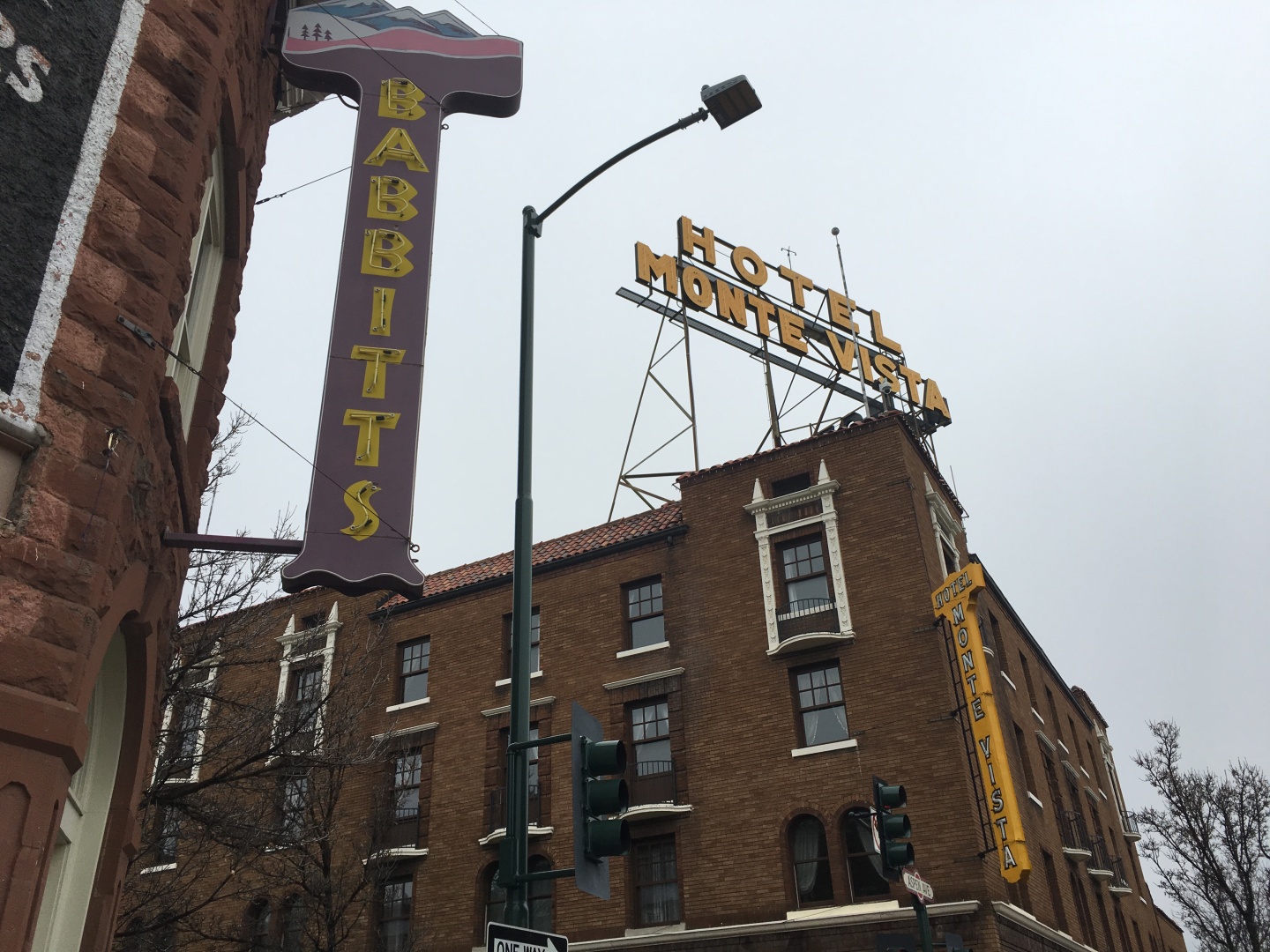 10:30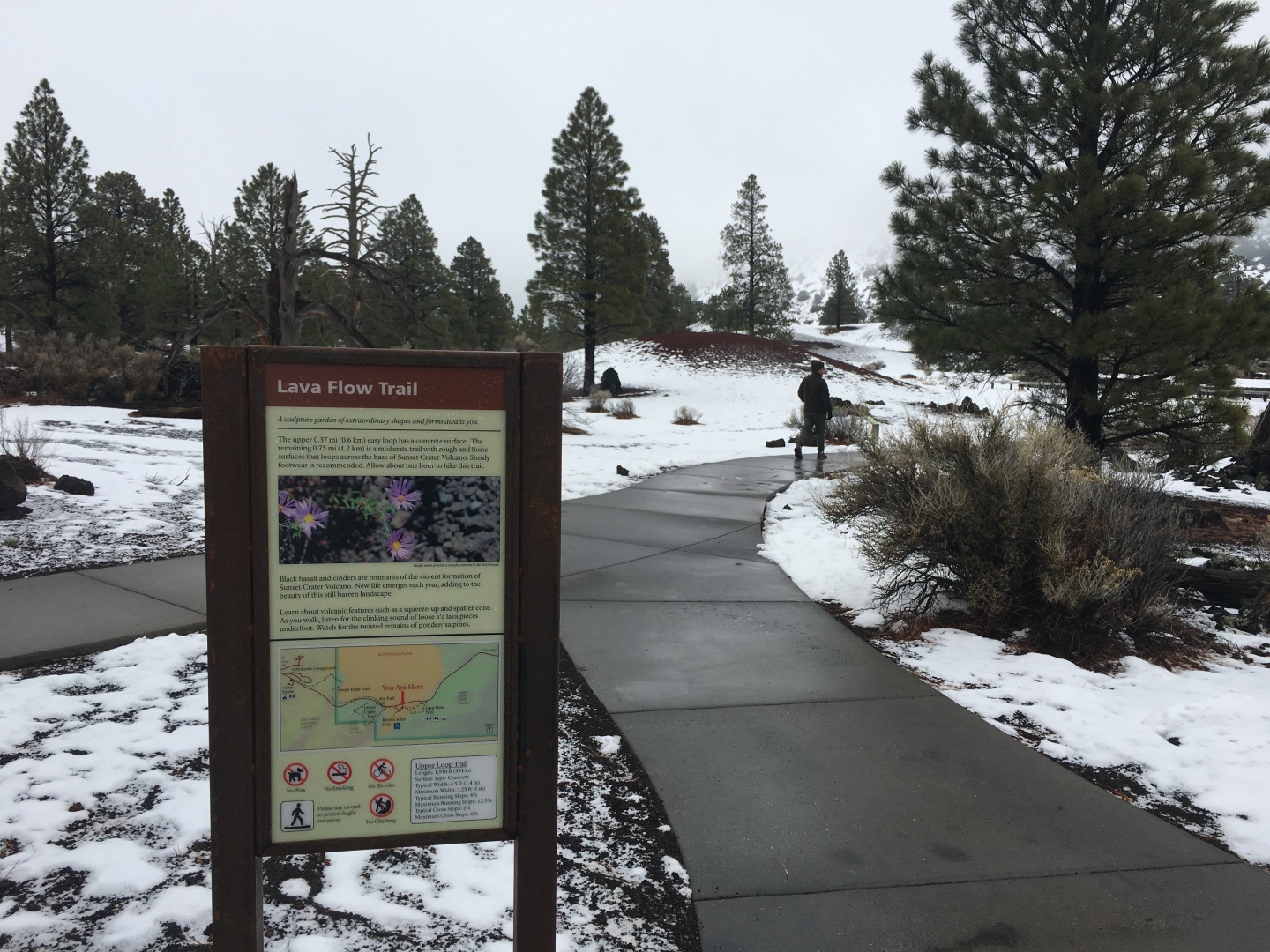 13:03

I wanted to see Waputki since I hadn't seen it in decades, and neither Paul nor Ray objected.
I had never done any hiking at Sunset Crater cause they don't let you on the crater and it didn't look too scenic.
I didn't need to hike it today, but Paul and Ray insisted.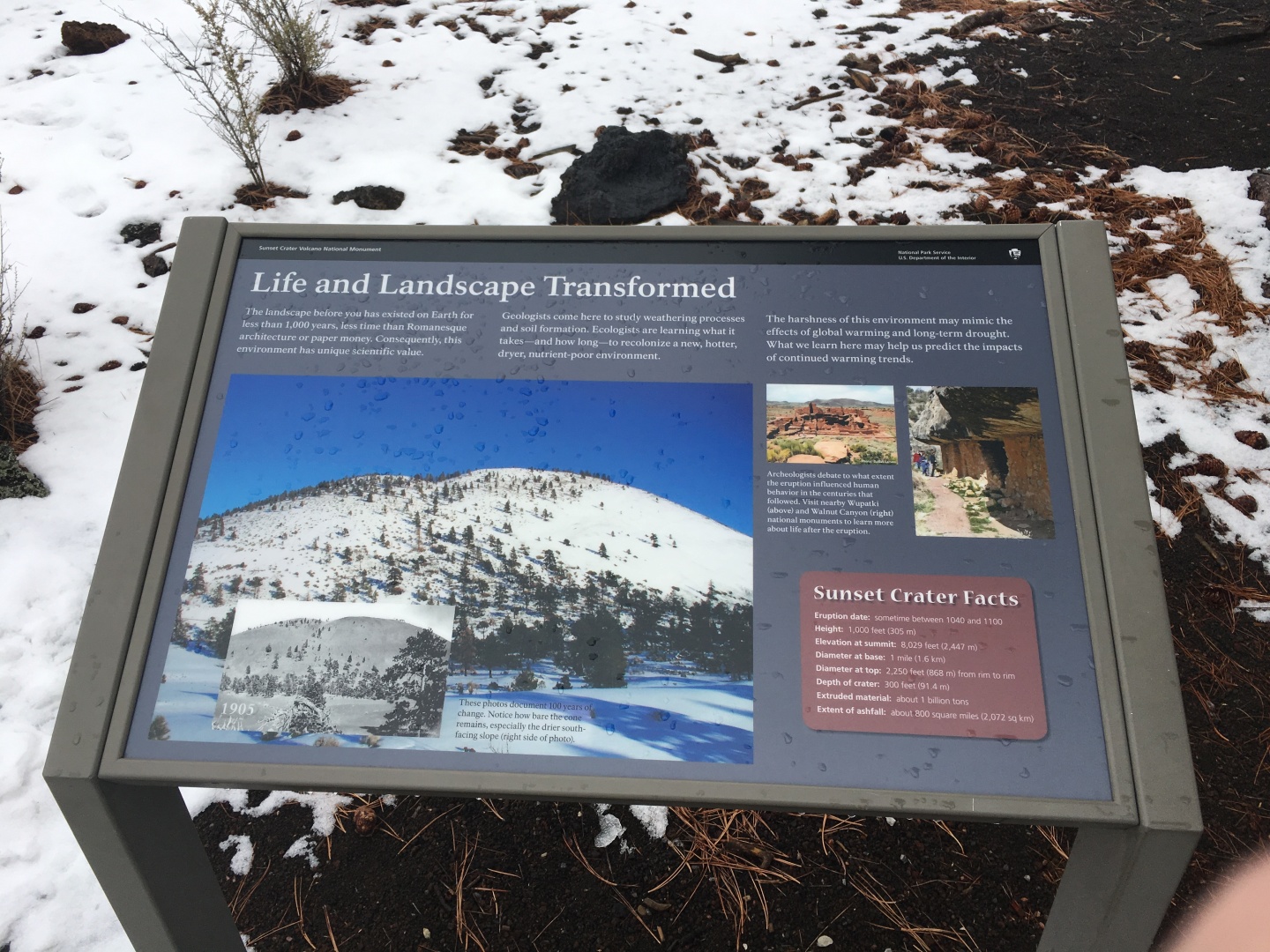 13:05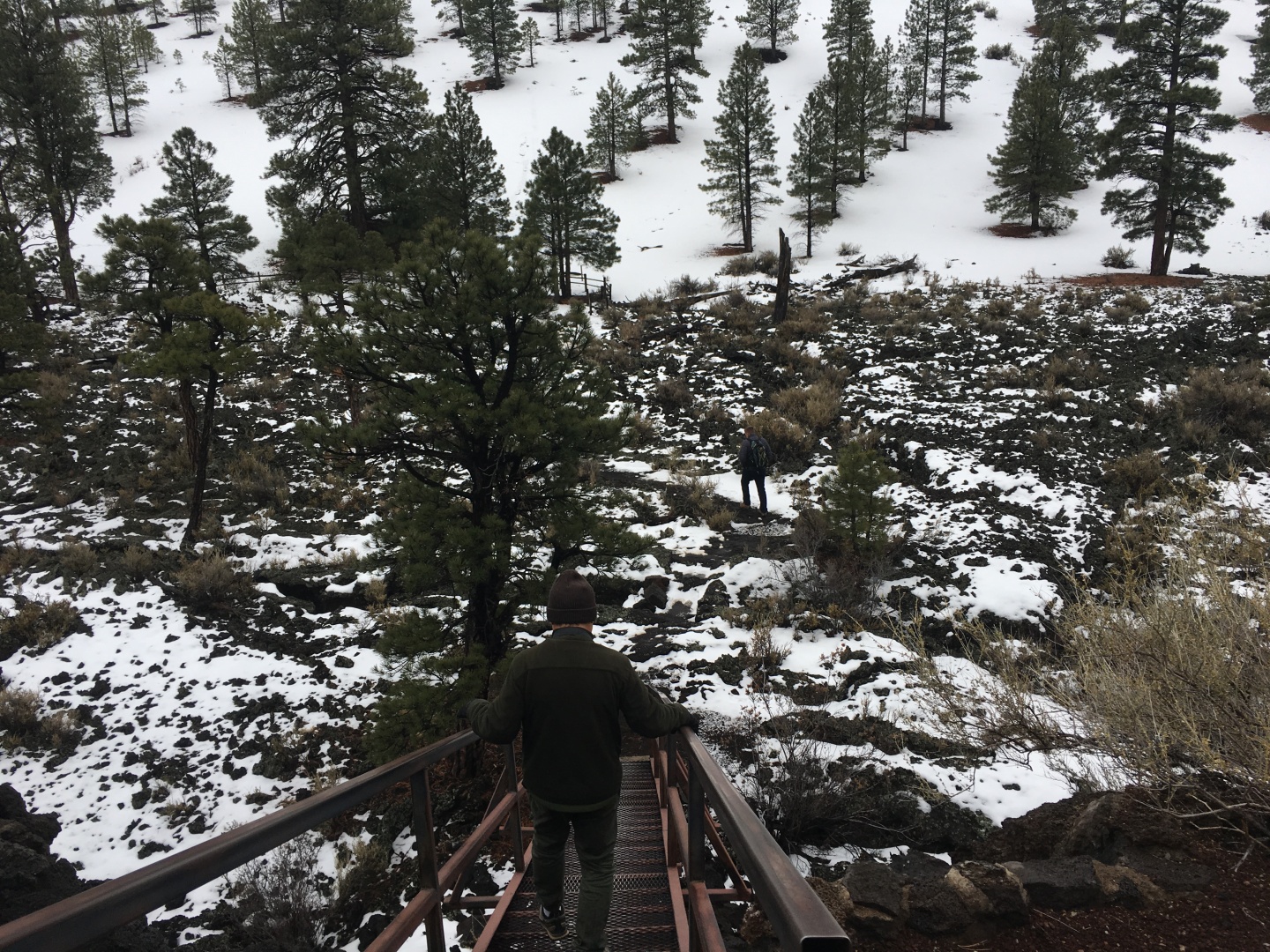 13:07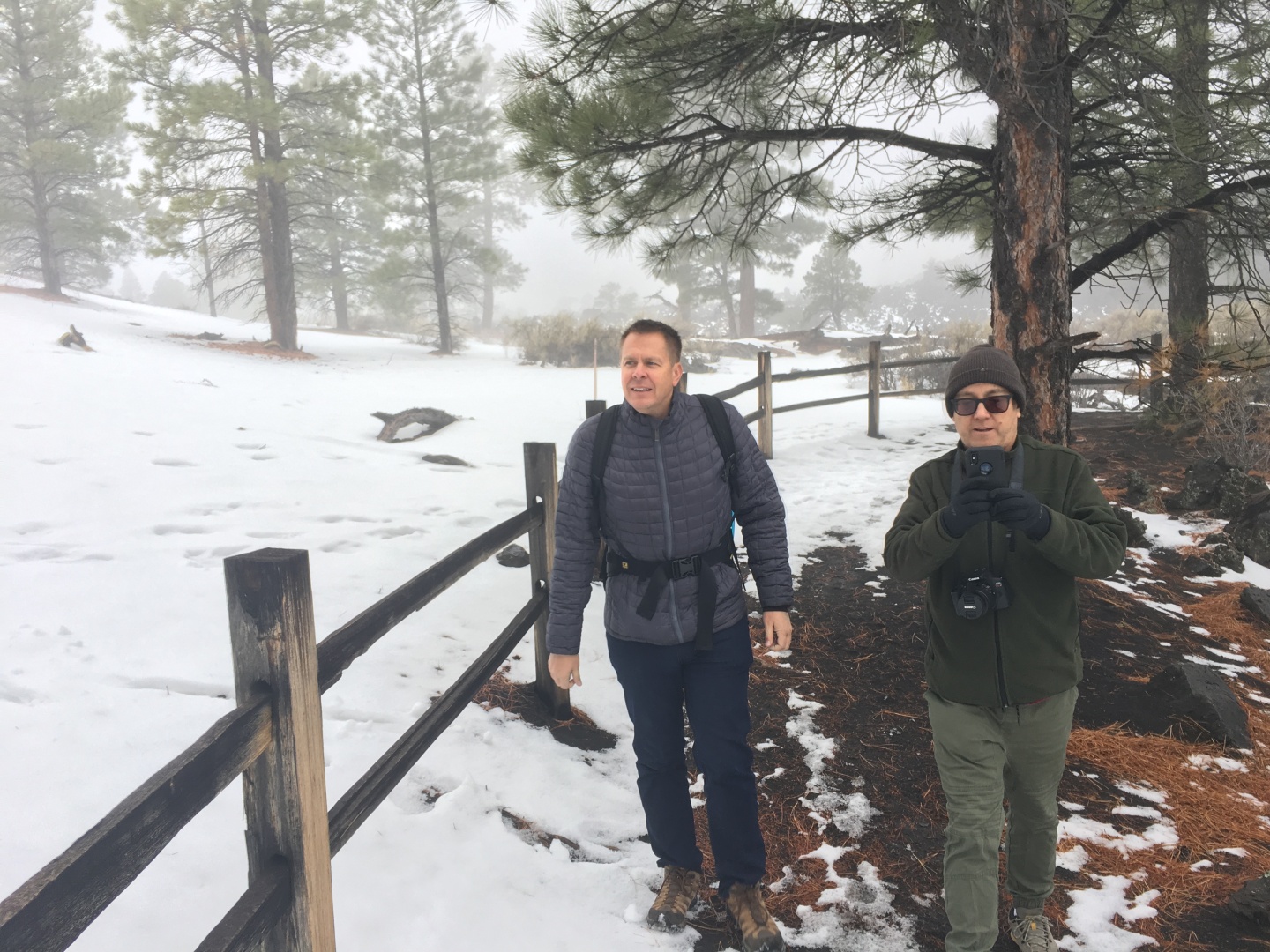 13:11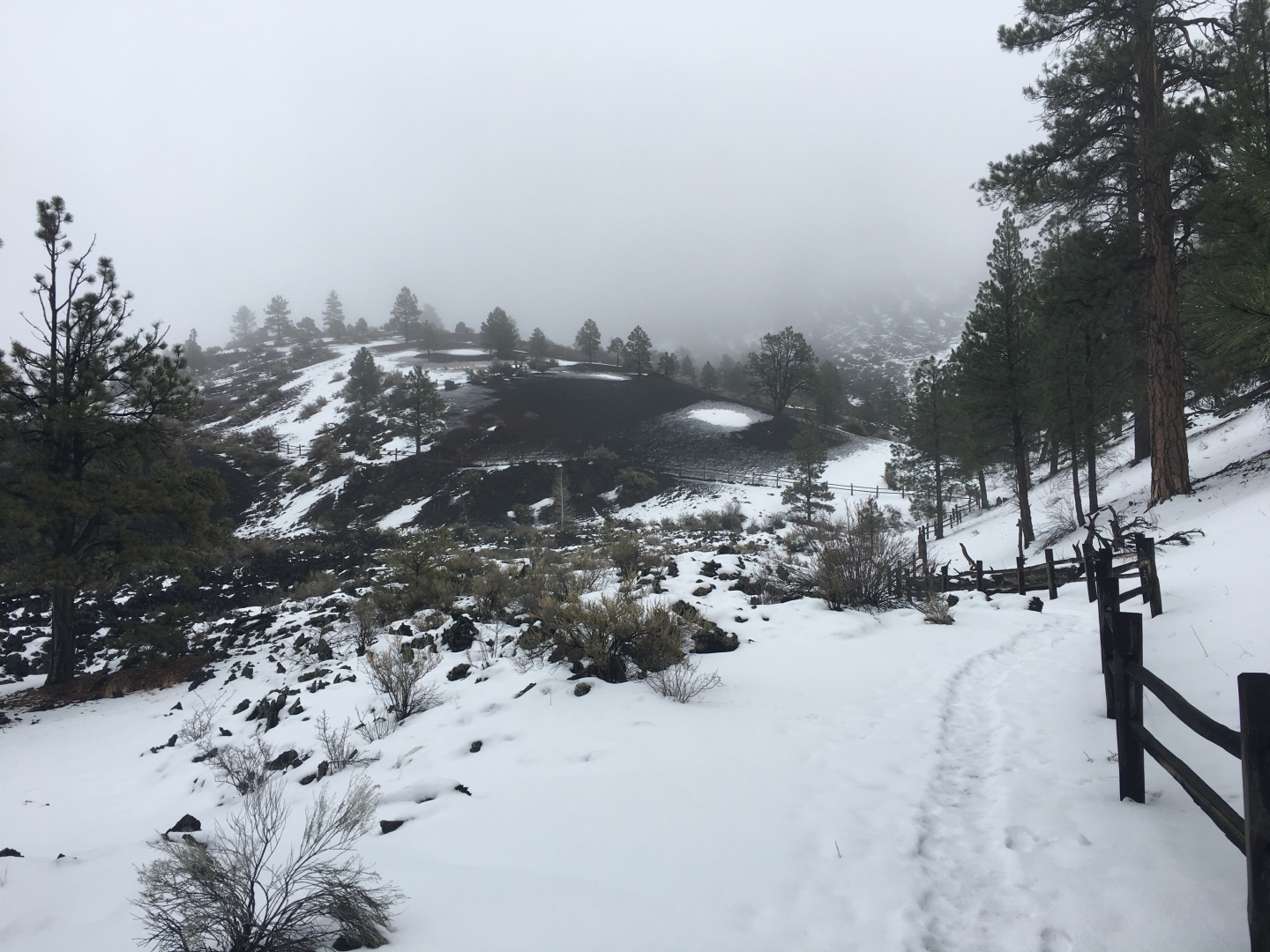 13:13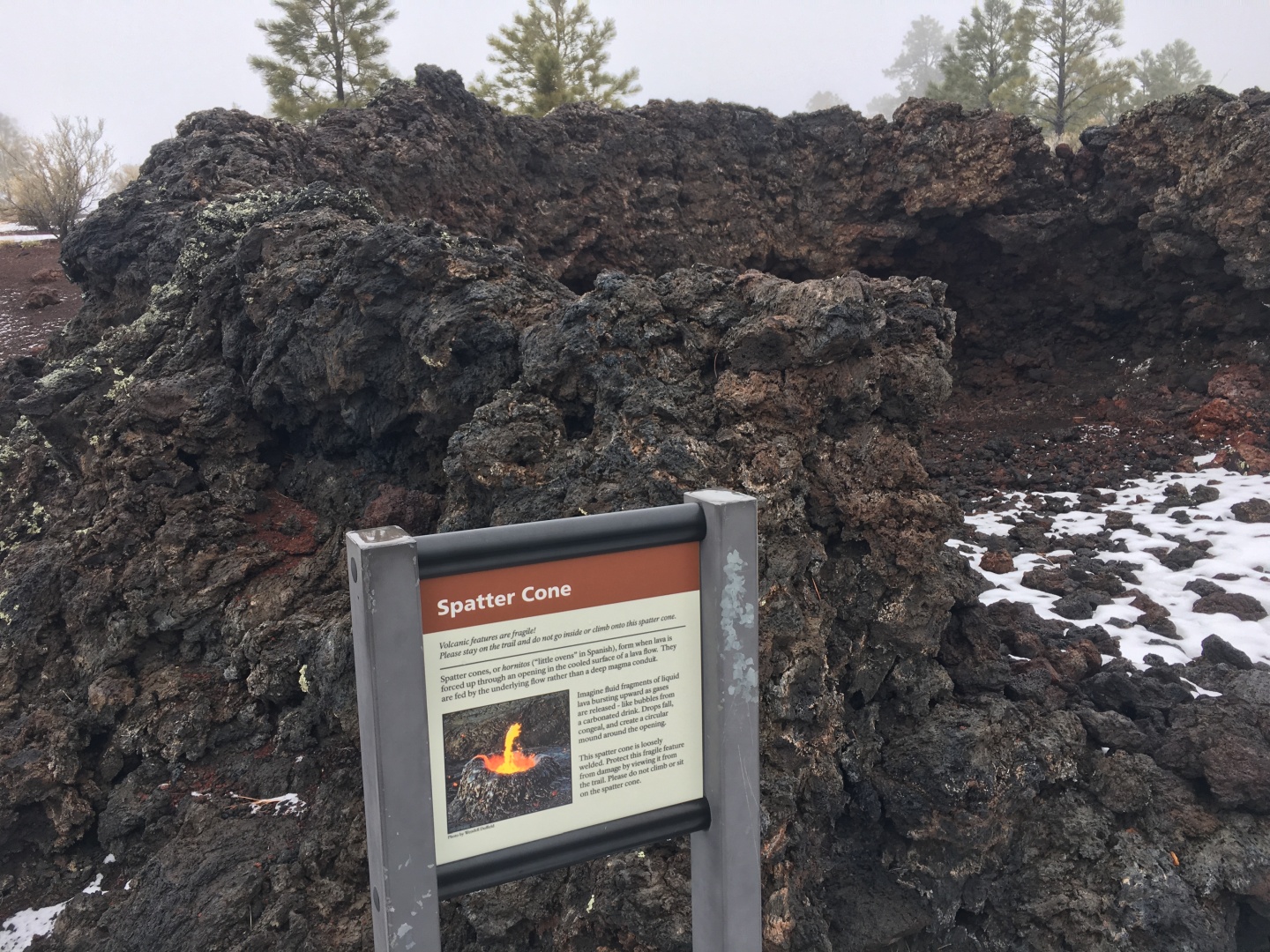 13:24

Sunset Crater is probably a little more scenic when it isn't socked in.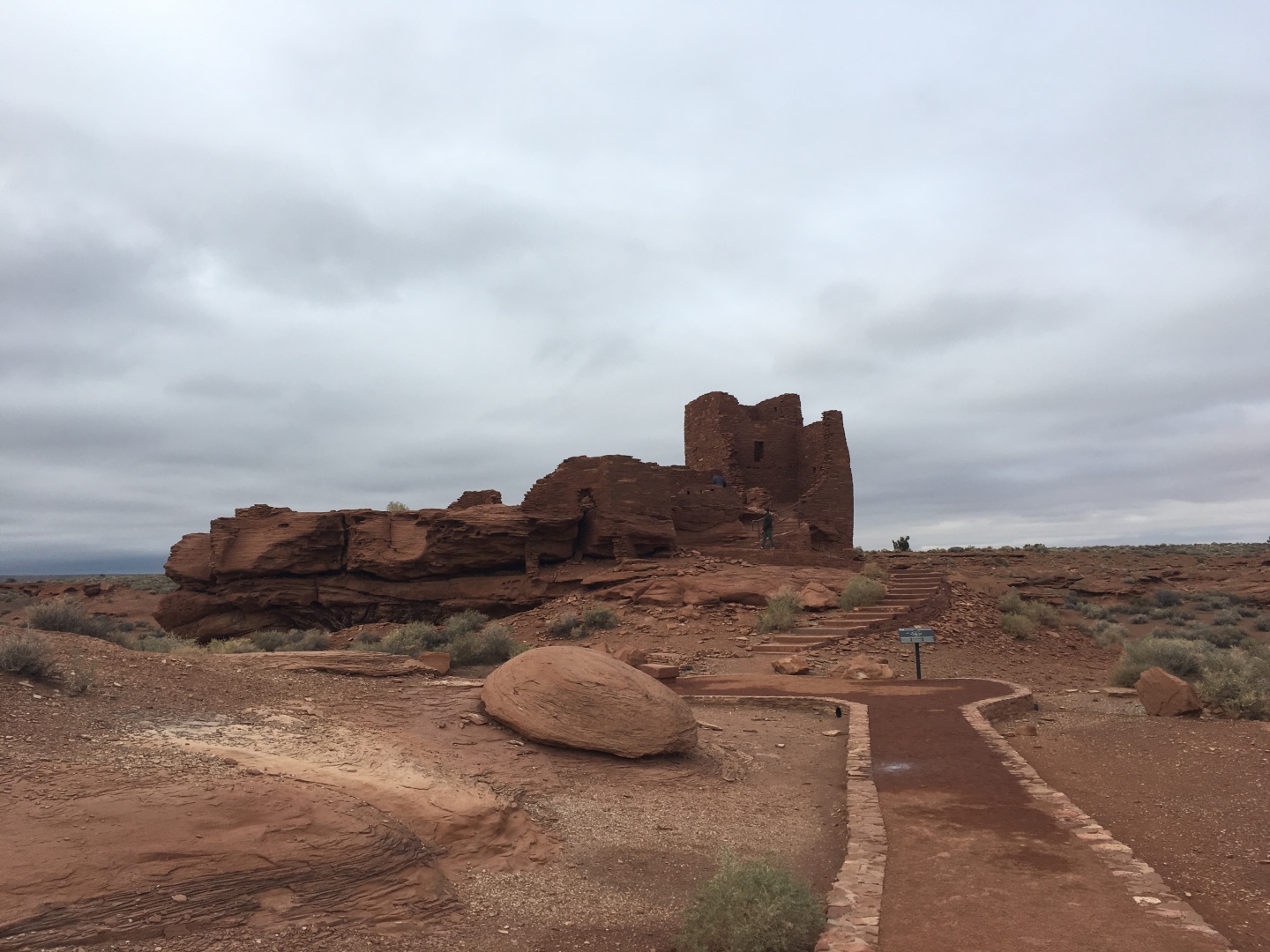 14:14

Fortunately Waputki is at a much lower elevation.
I don't think I'd ever seen Wakoki, the only ruin not on the main loop road.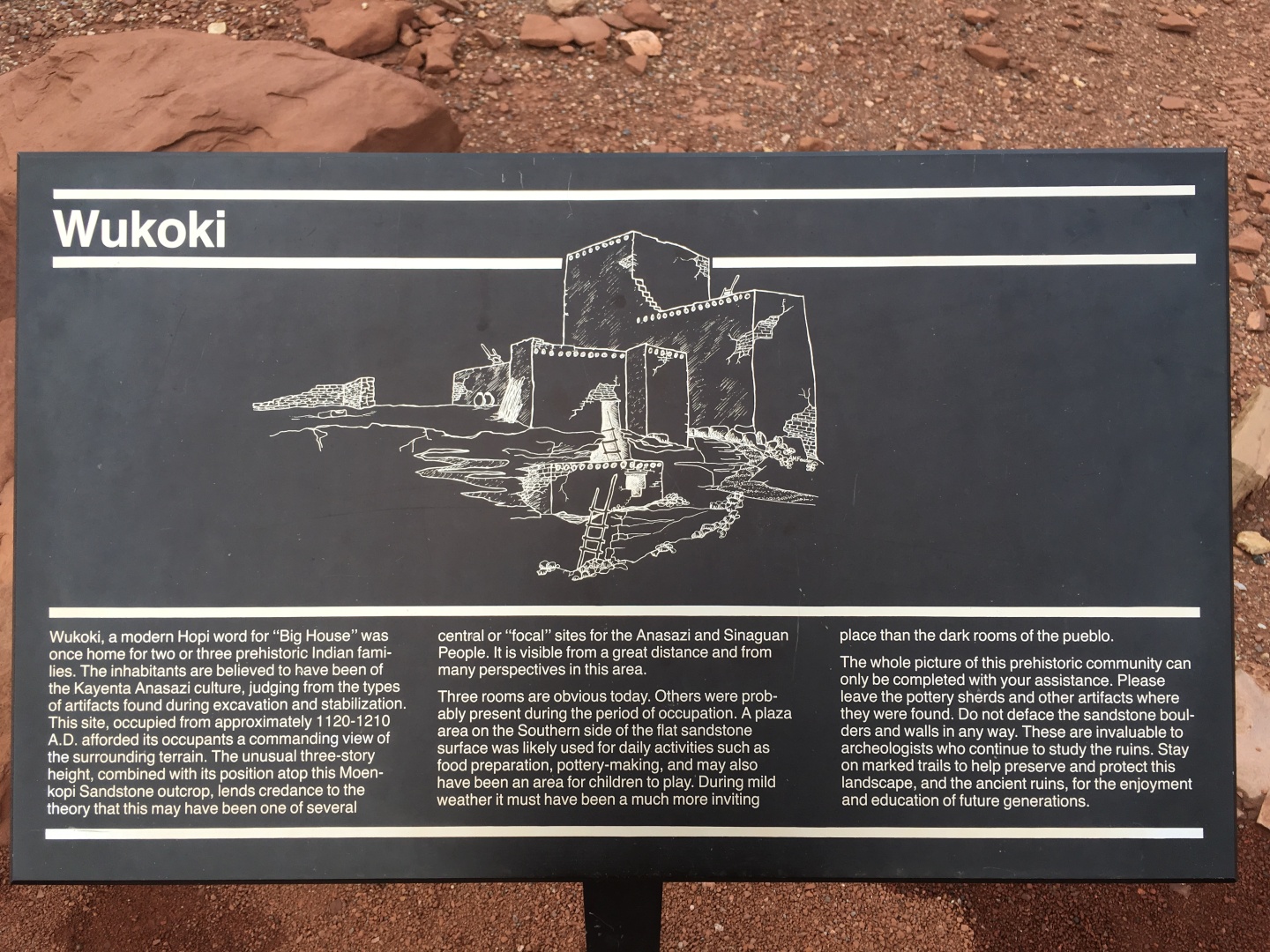 14:15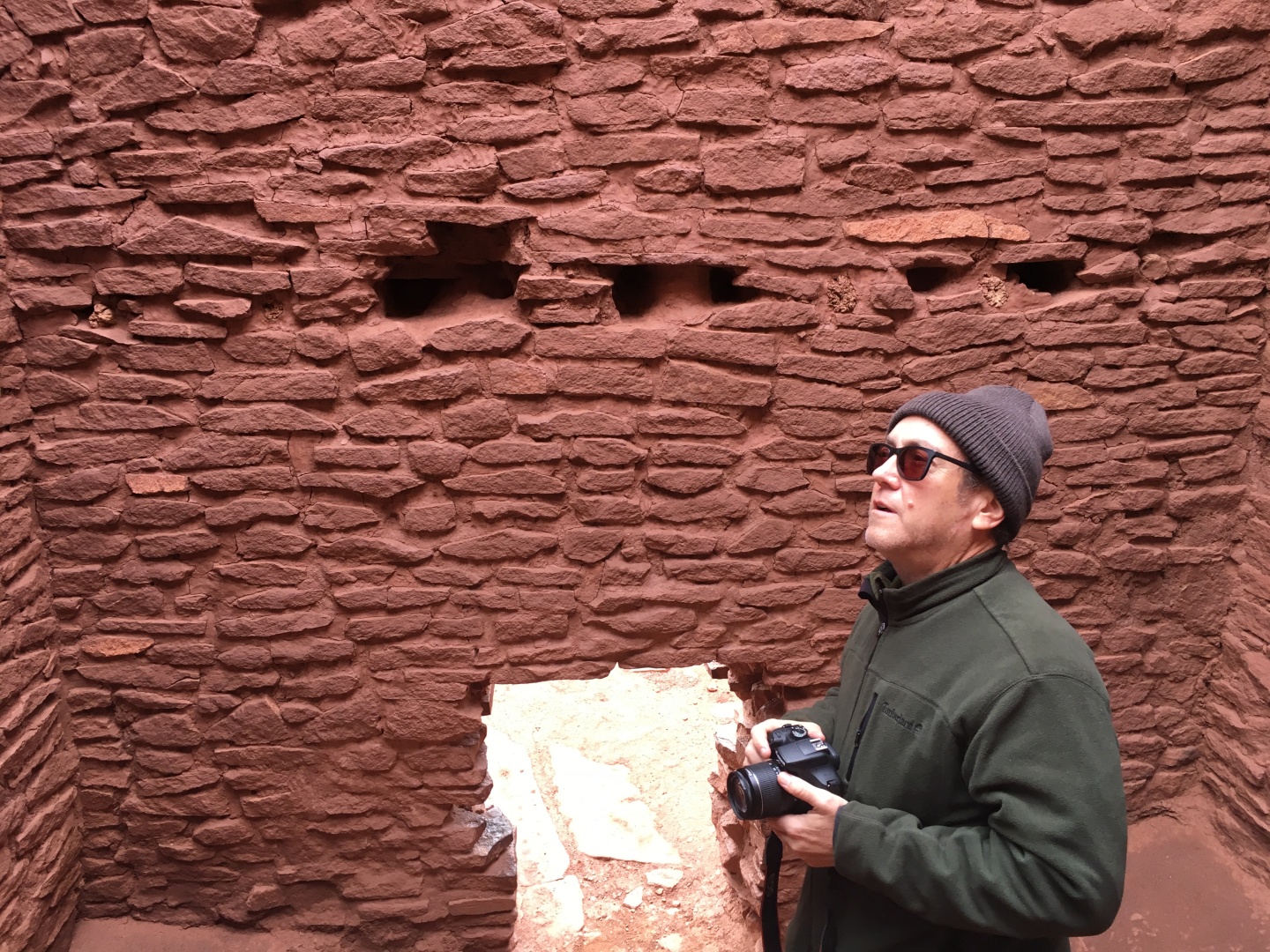 14:17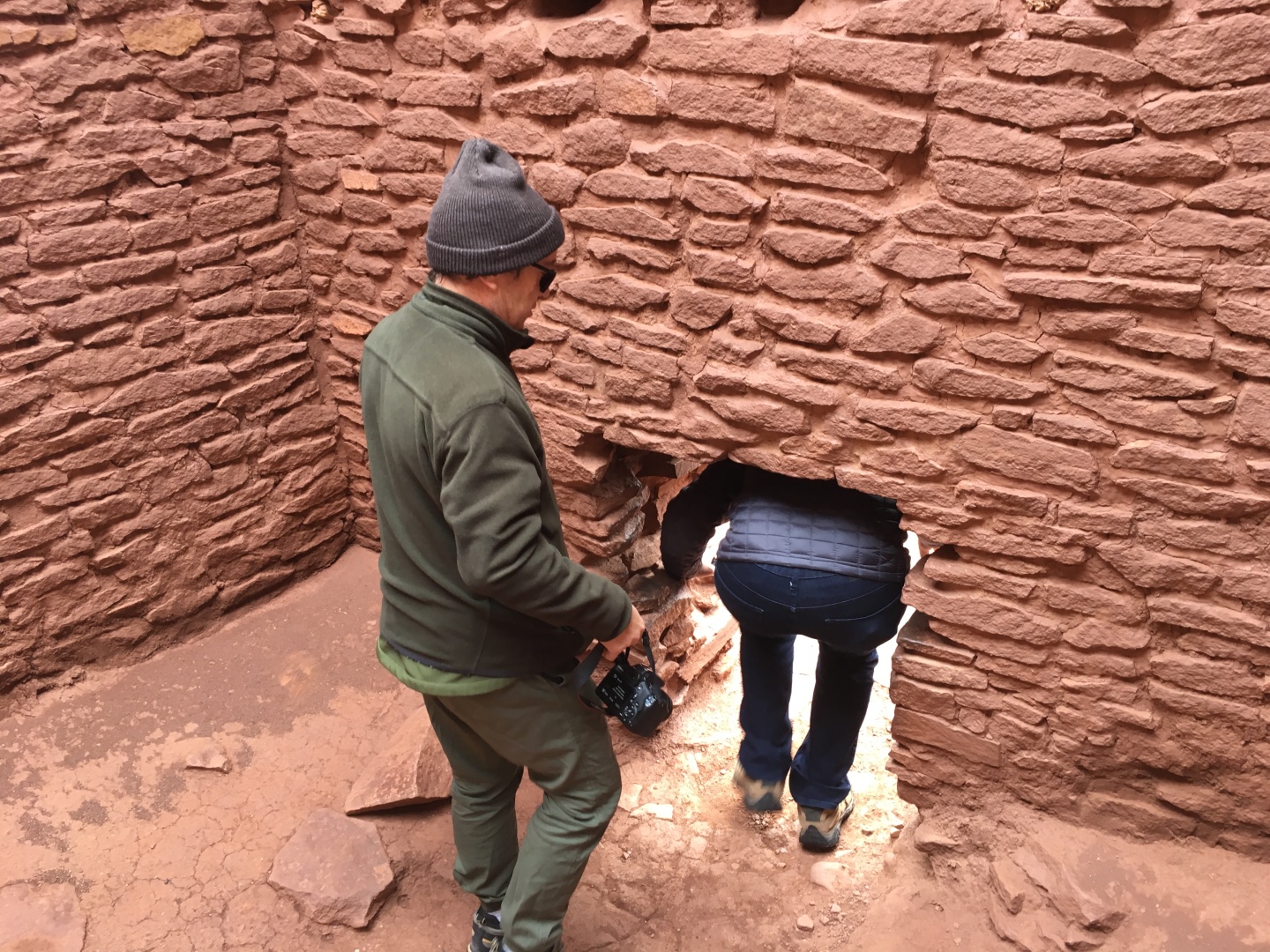 14:17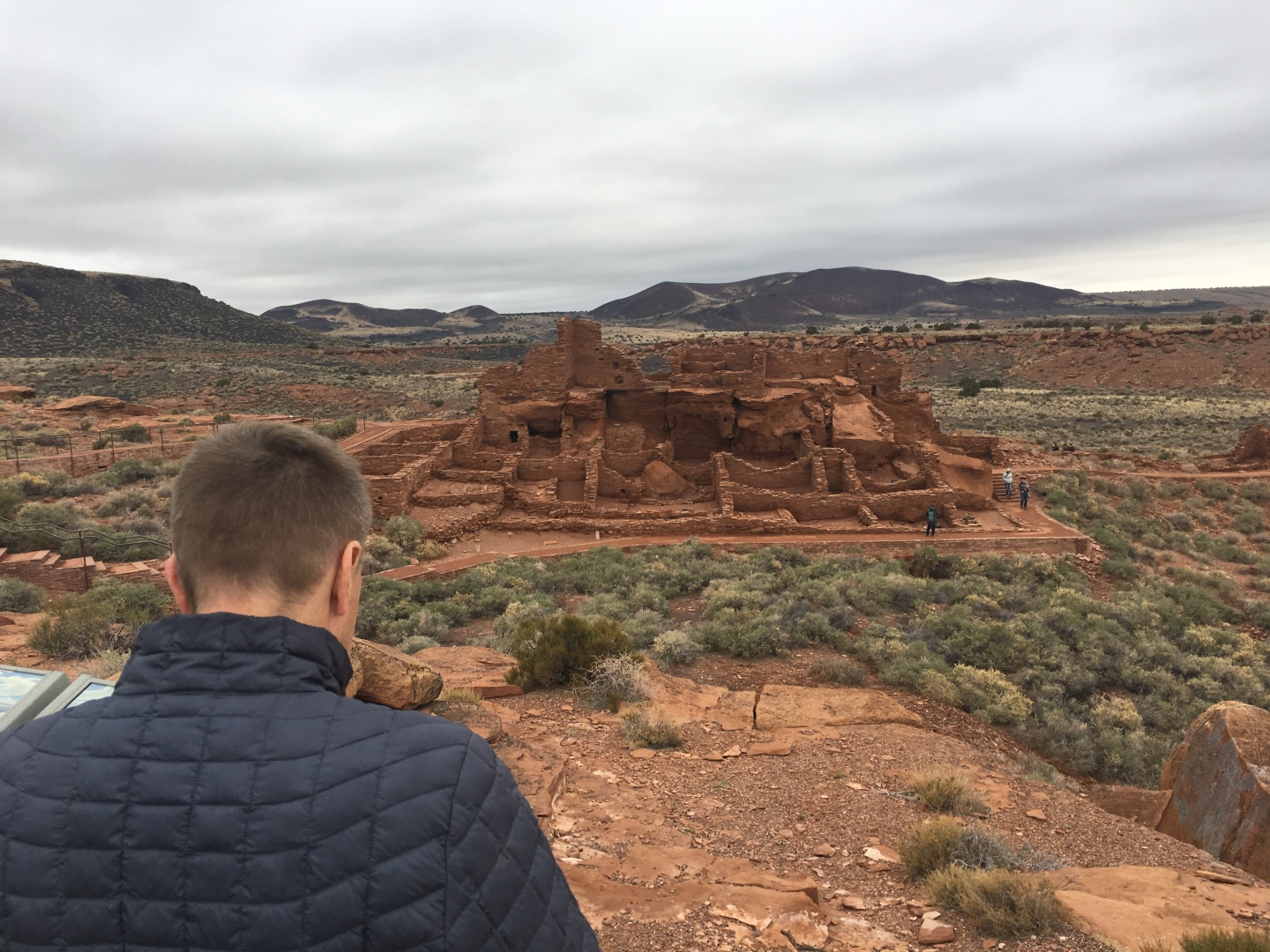 14:41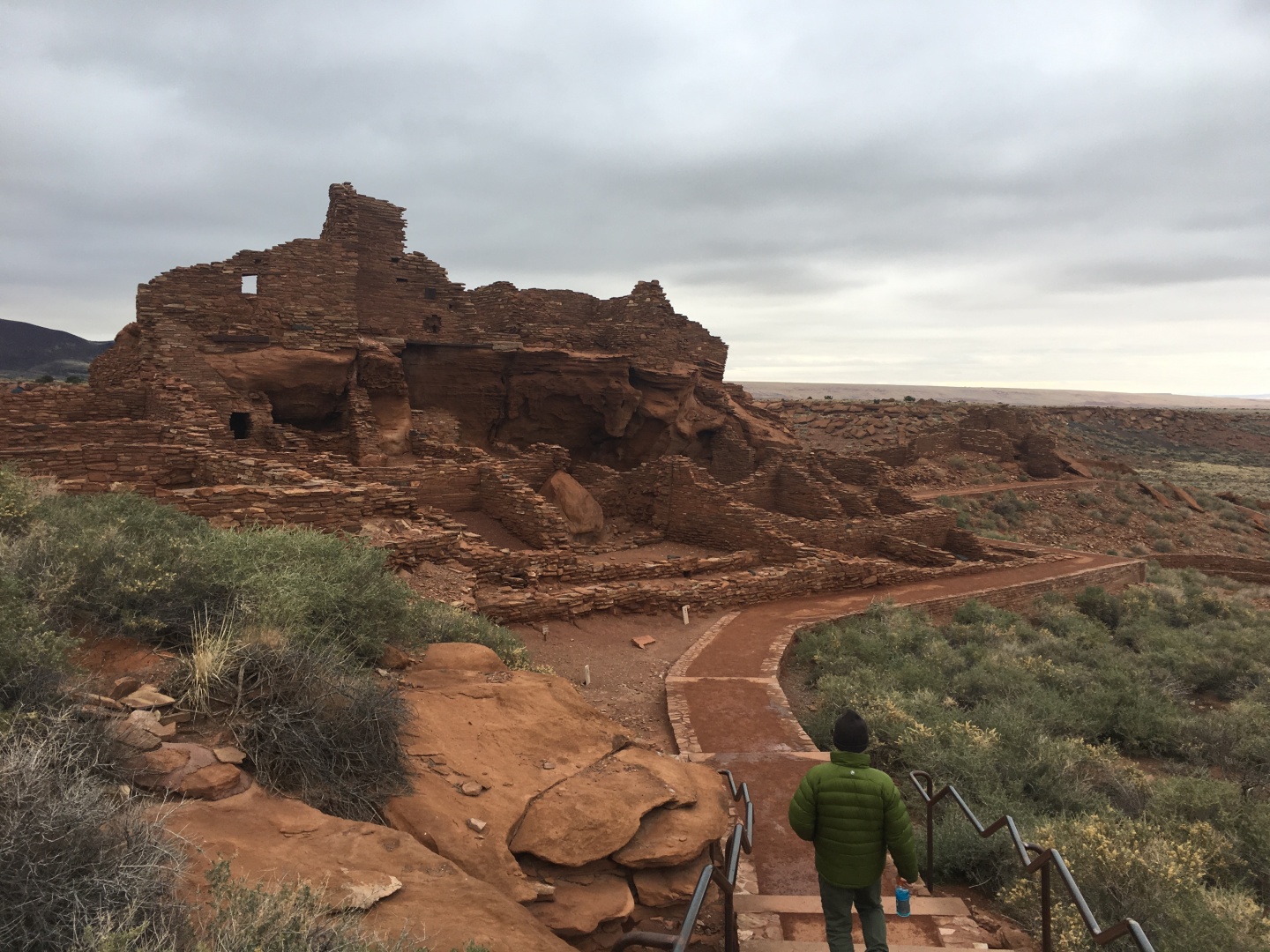 14:46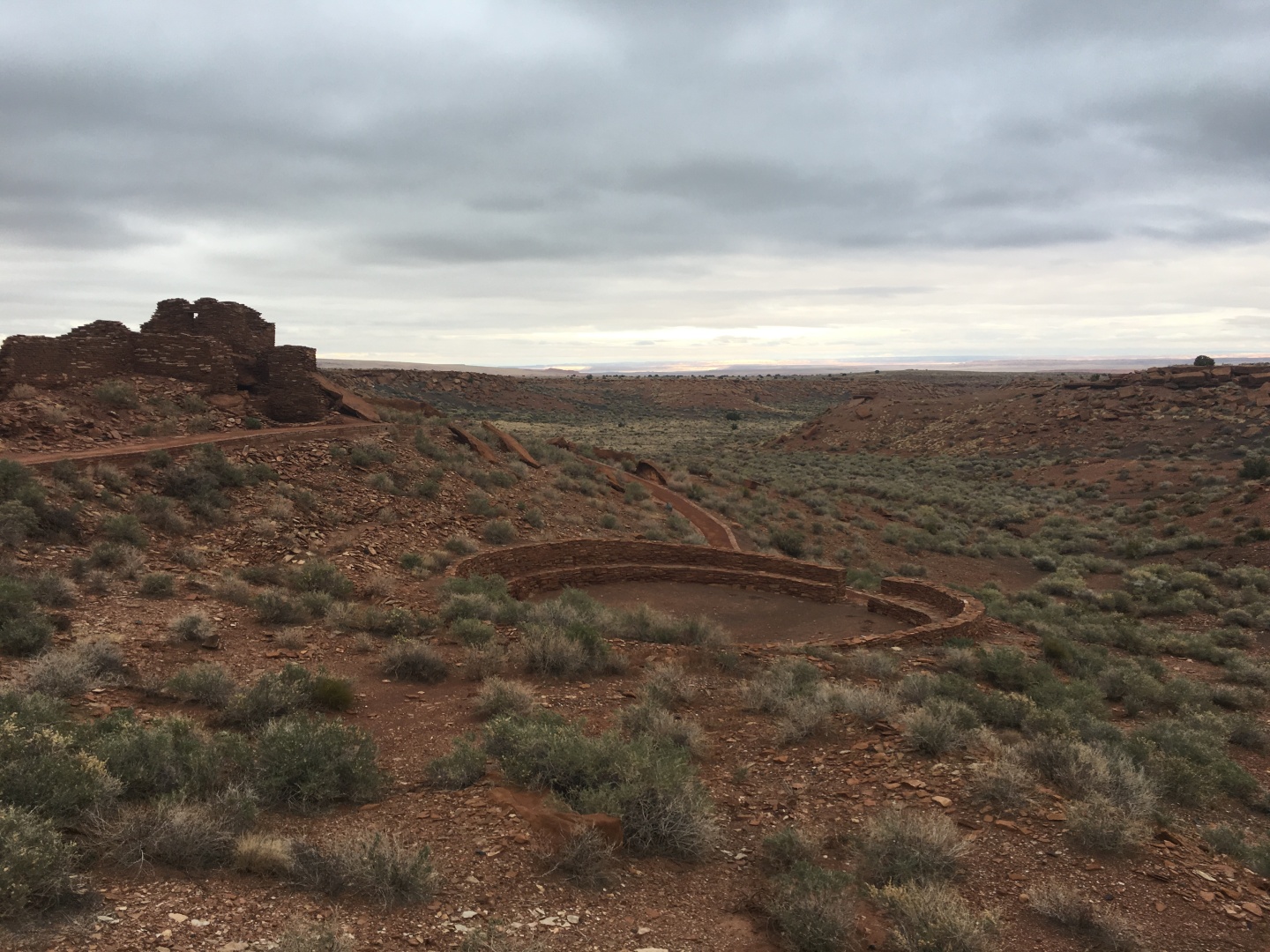 14:47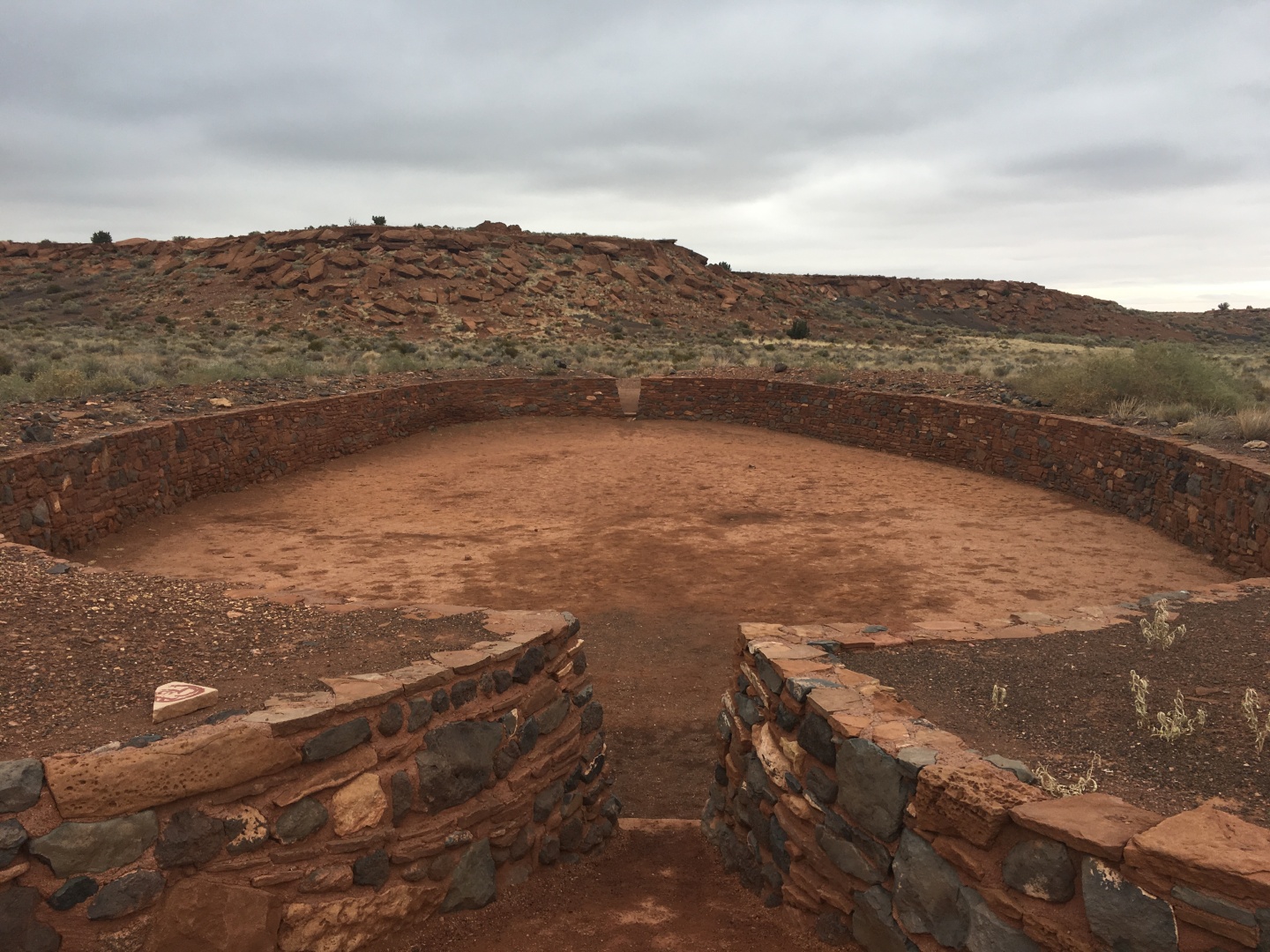 14:50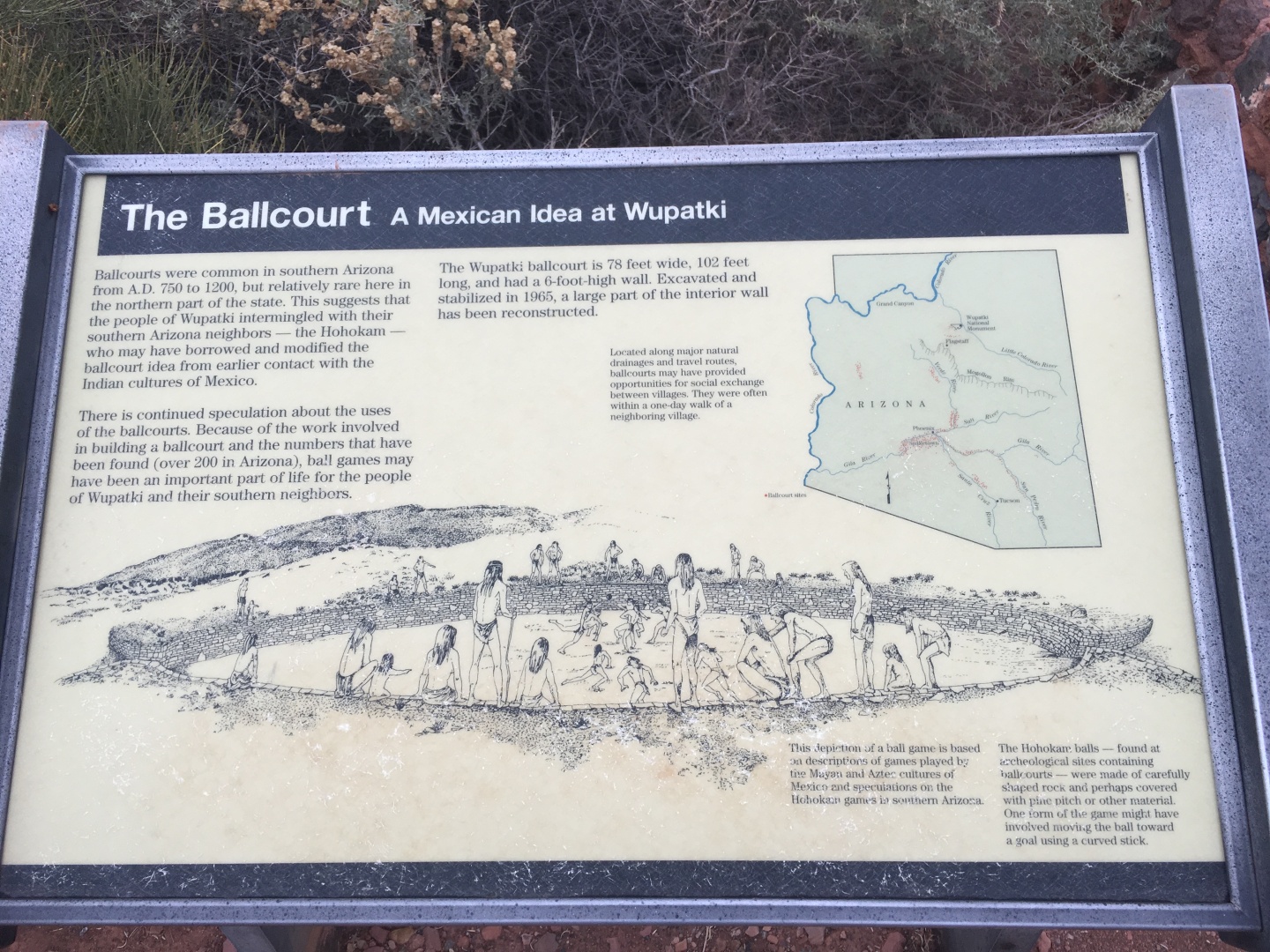 14:50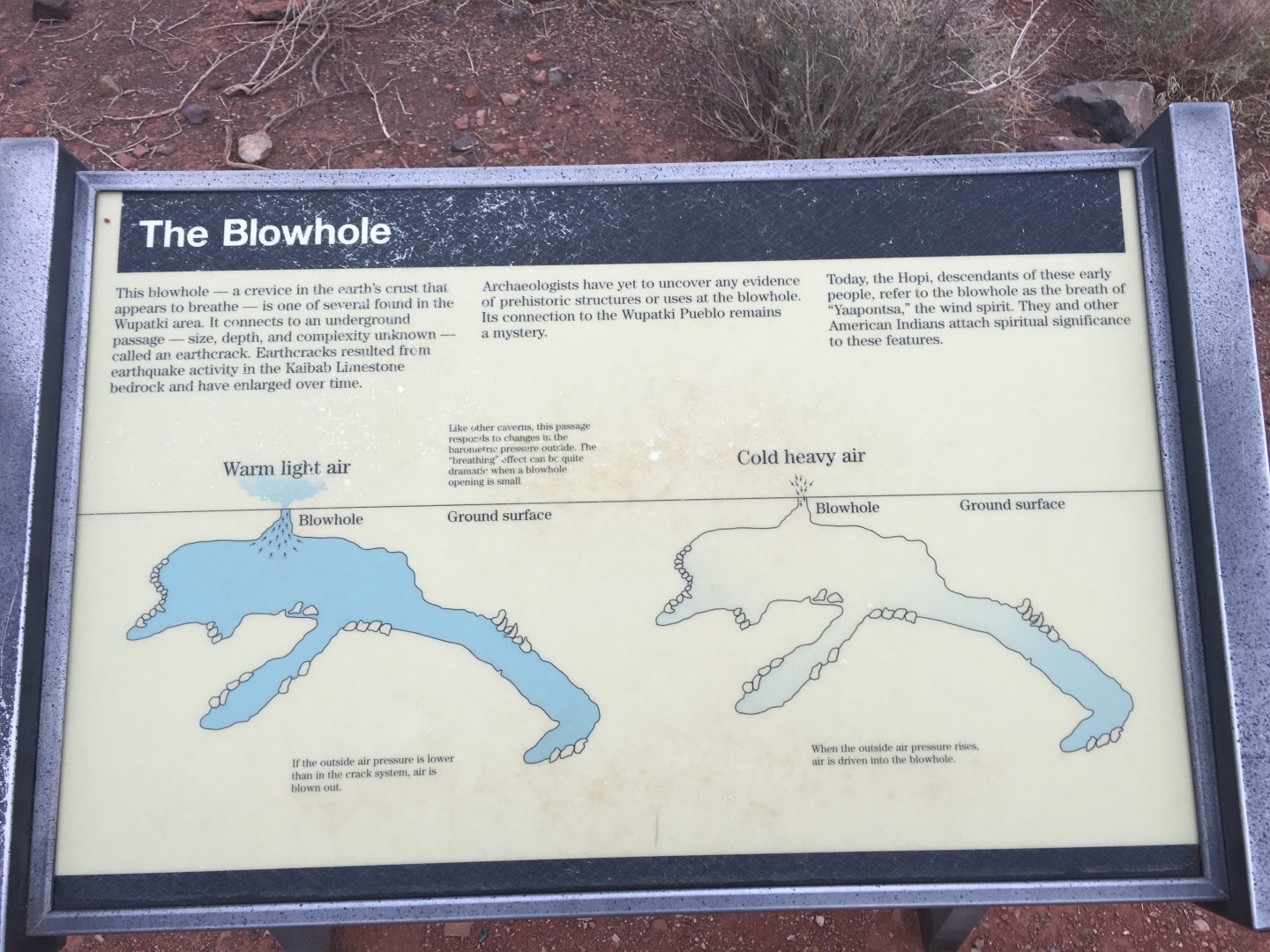 14:51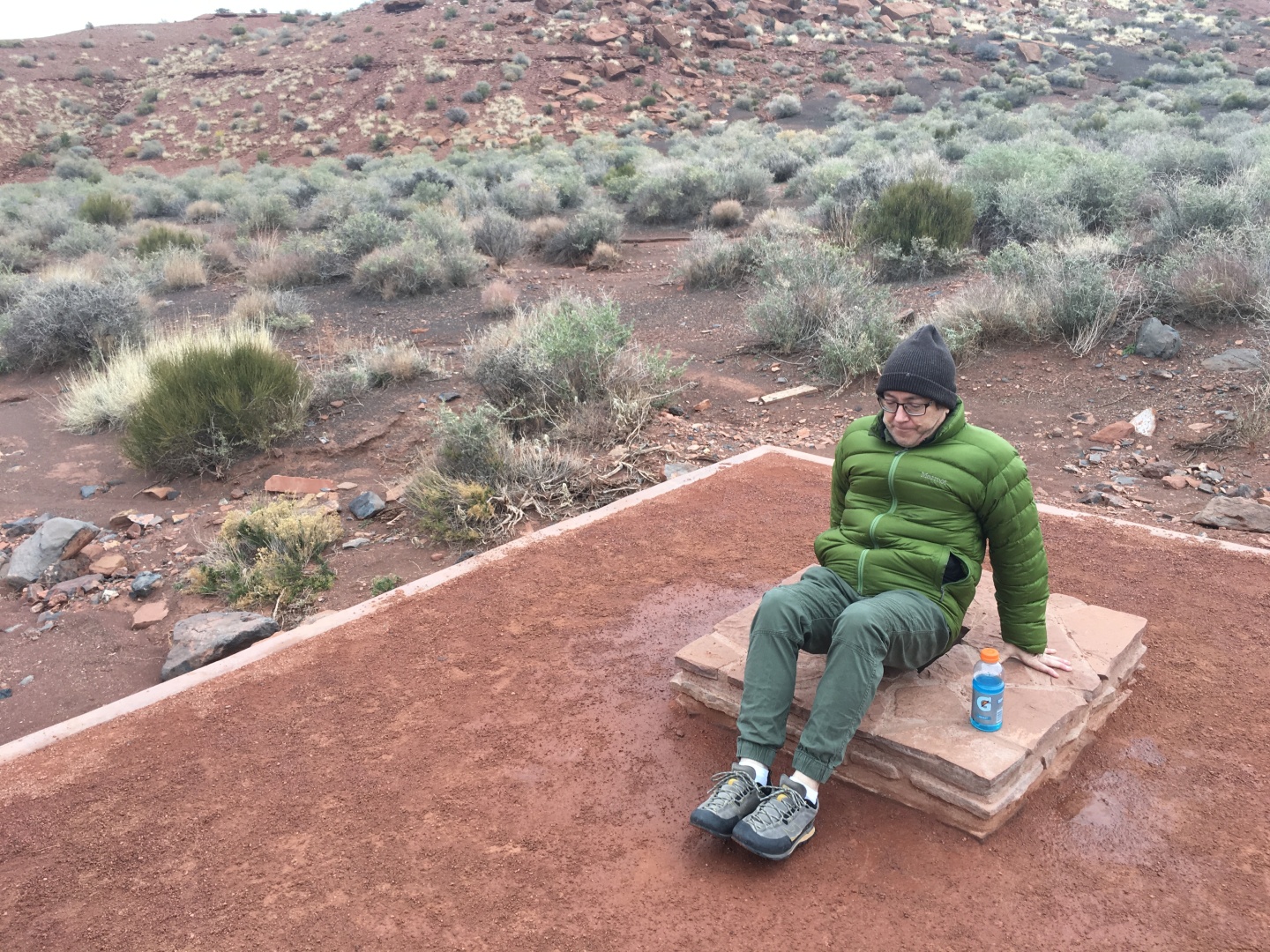 14:55

Ray tests the blowhole.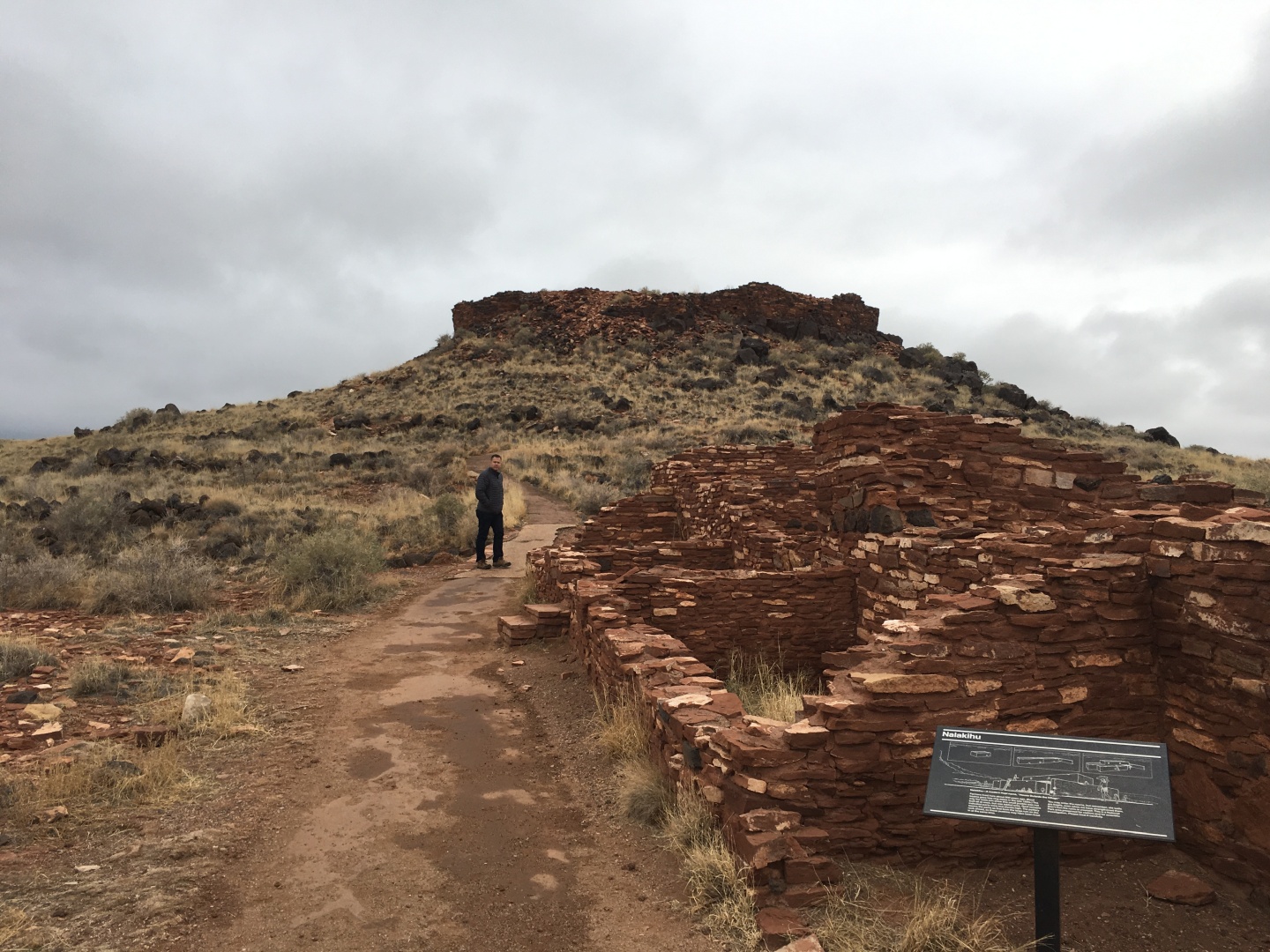 15:23

Nalakihu ruin, my favorite.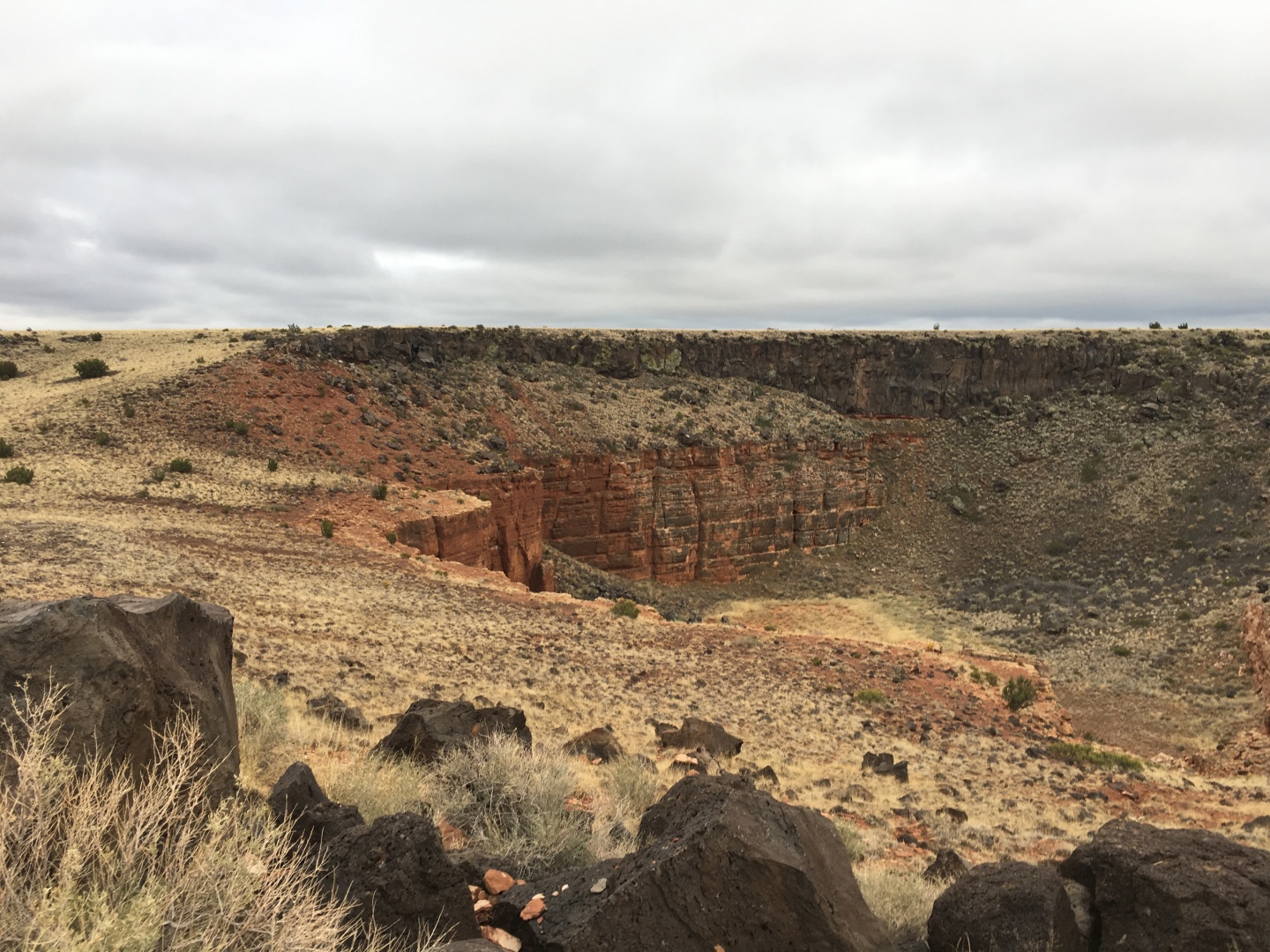 15:26




16:57

Finally we got to the South Rim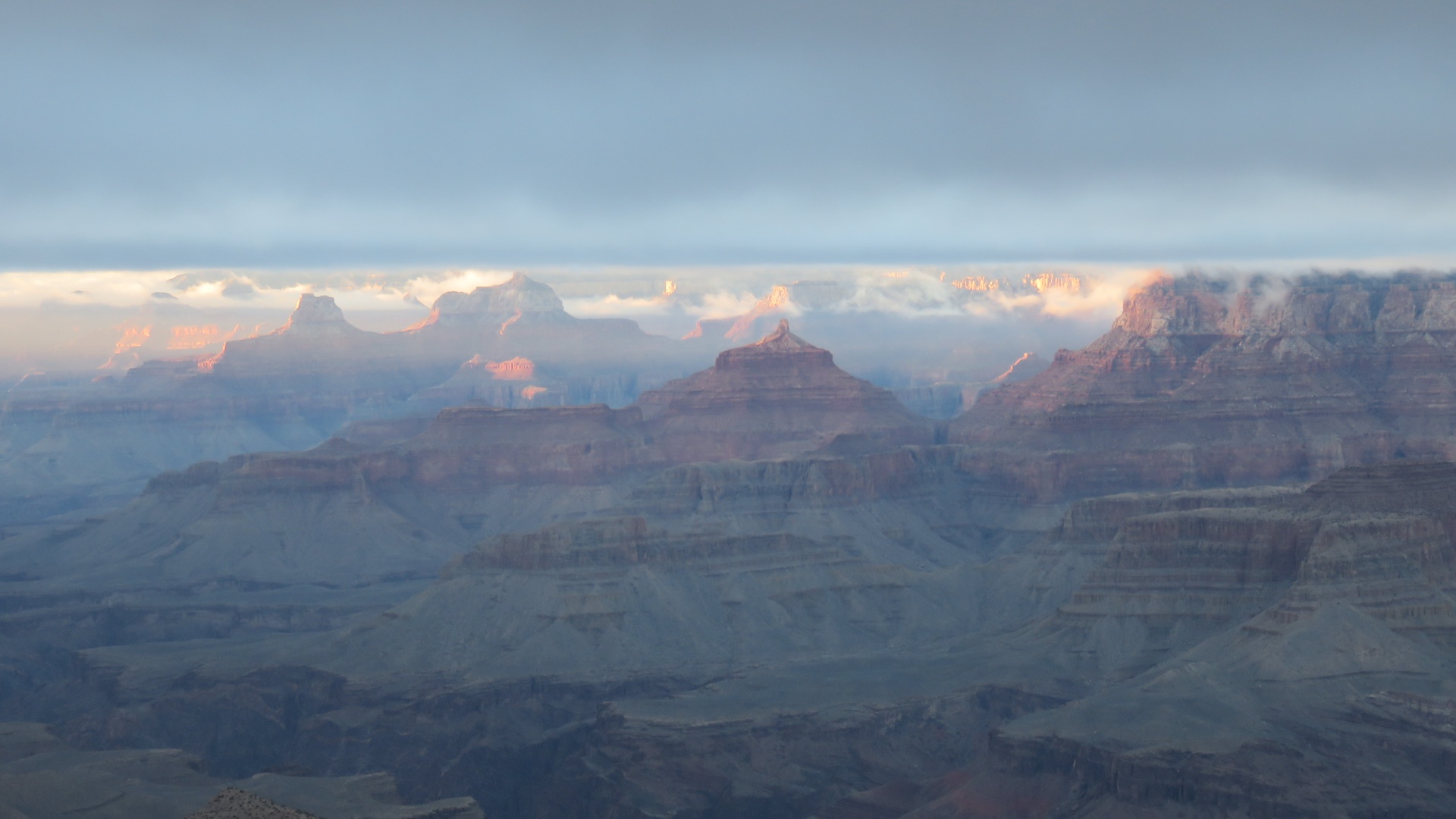 16:57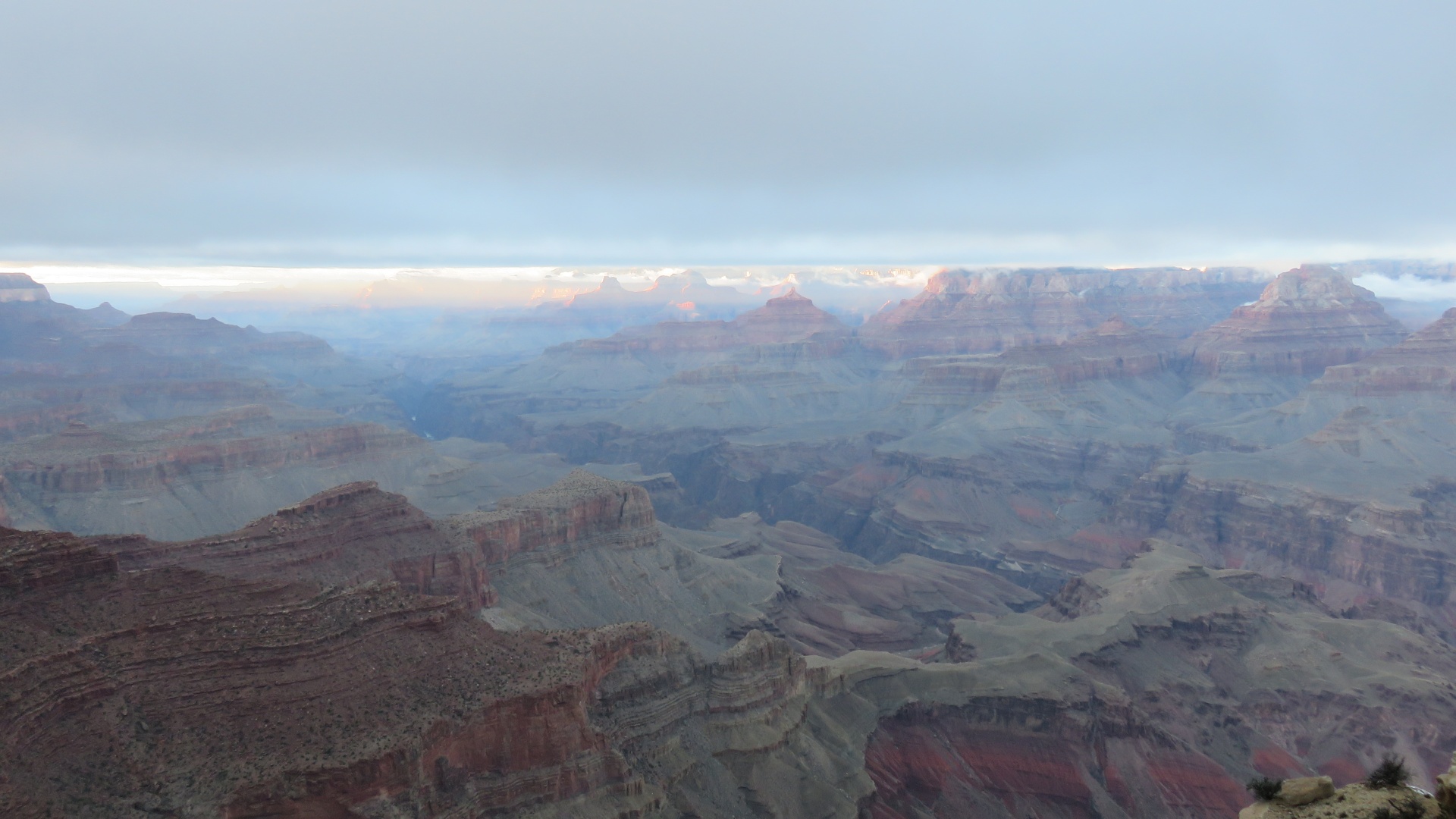 16:57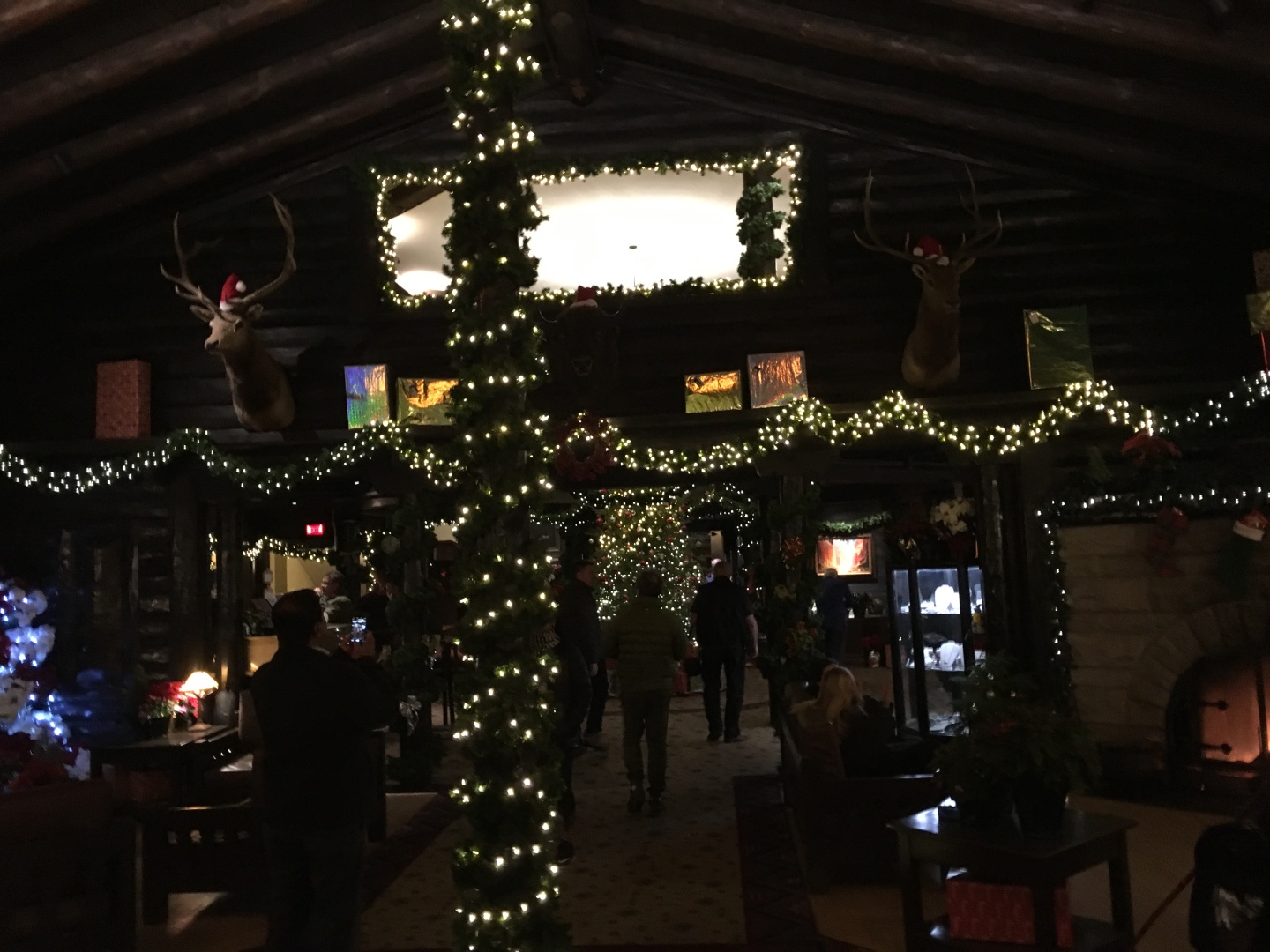 17:49

I got reservations at the El Tovar while we were at Waputki...



17:50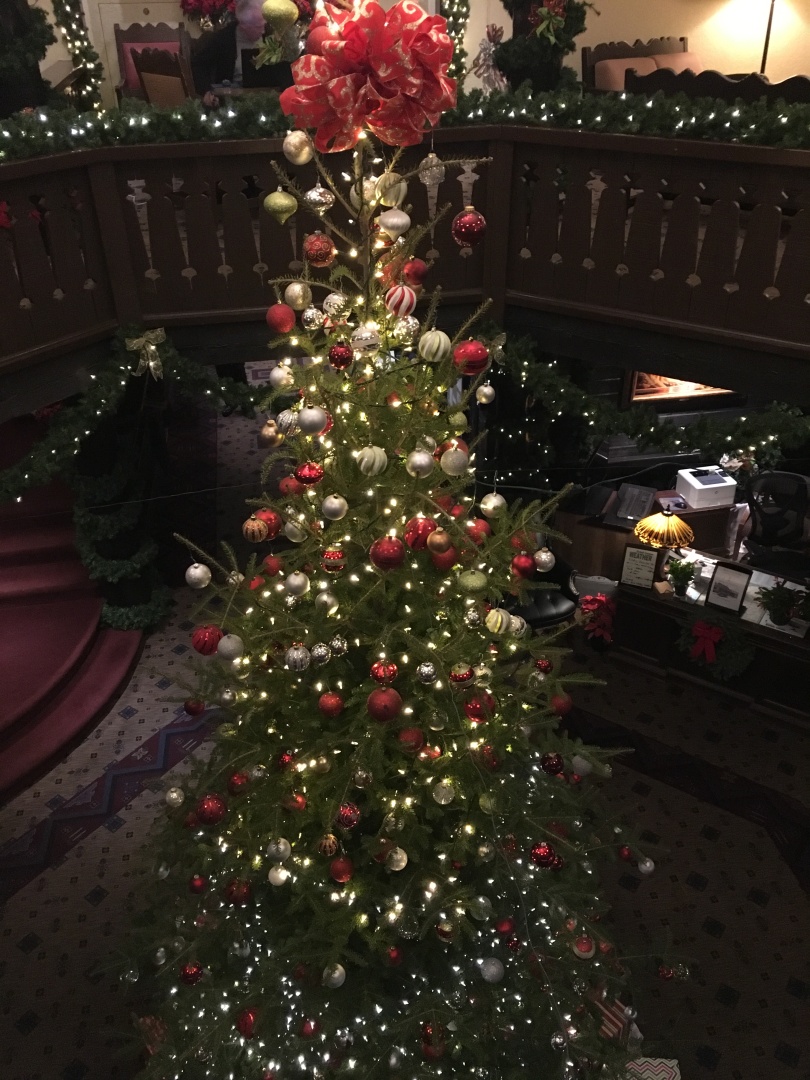 17:51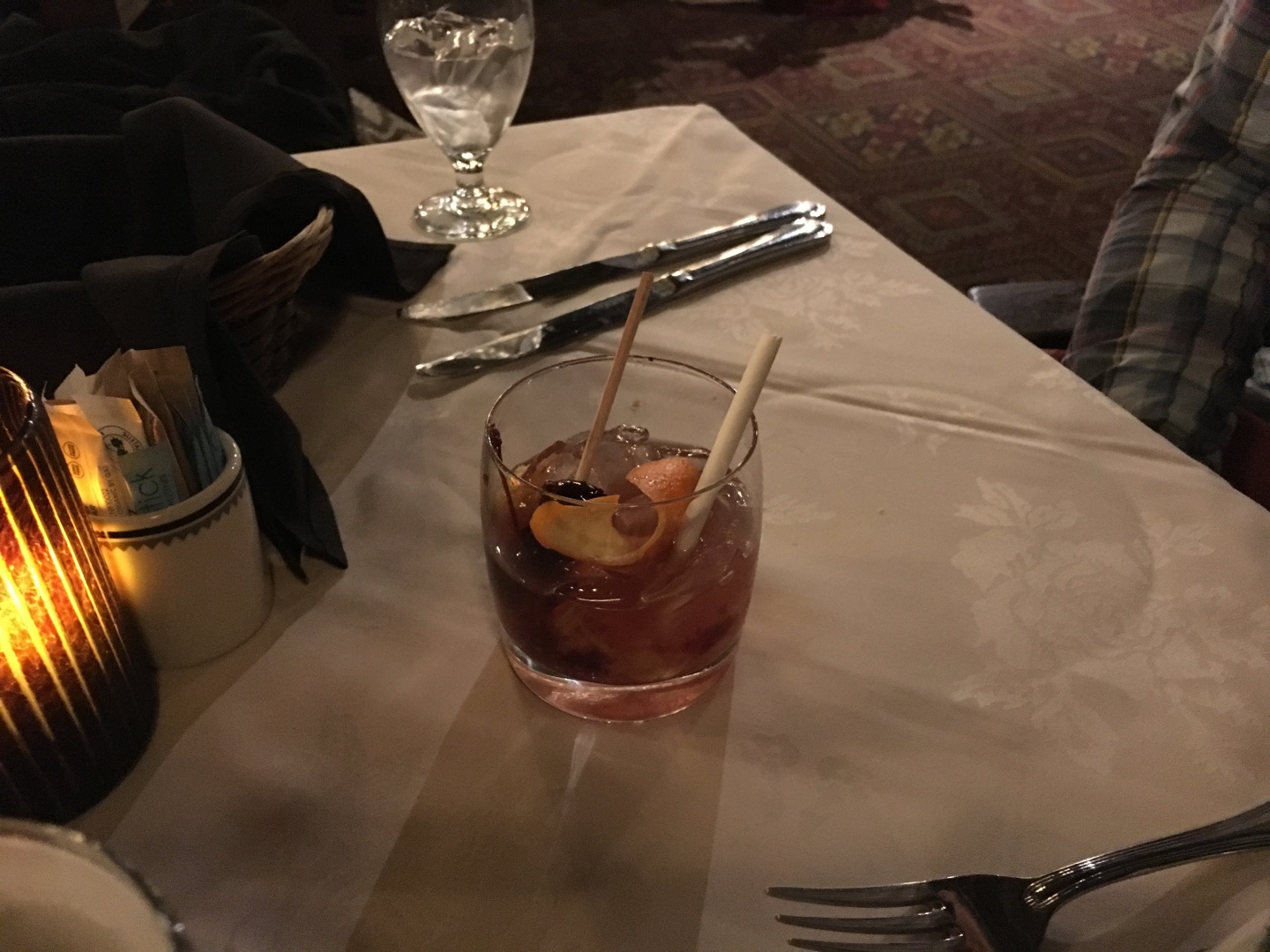 18:22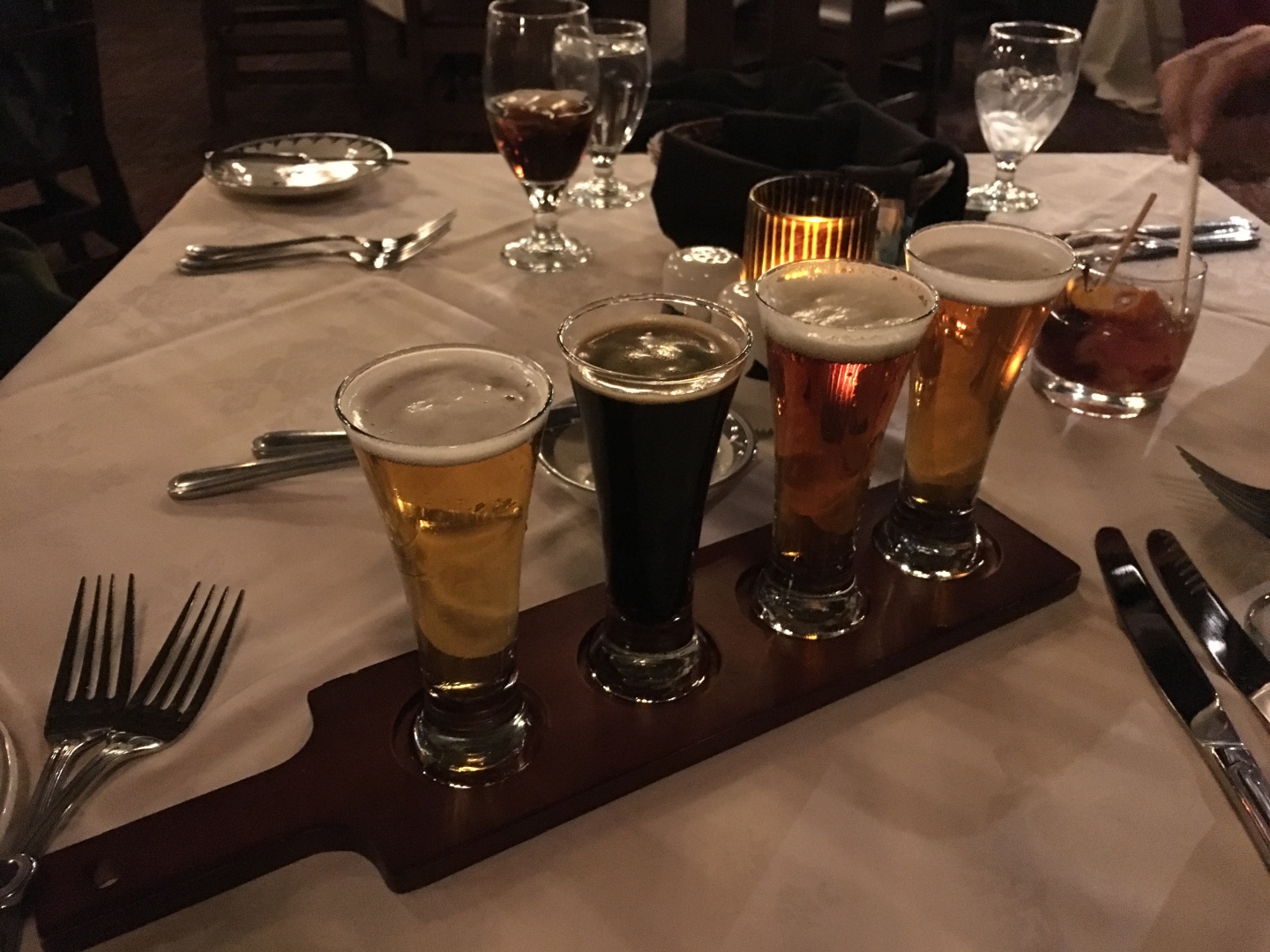 18:22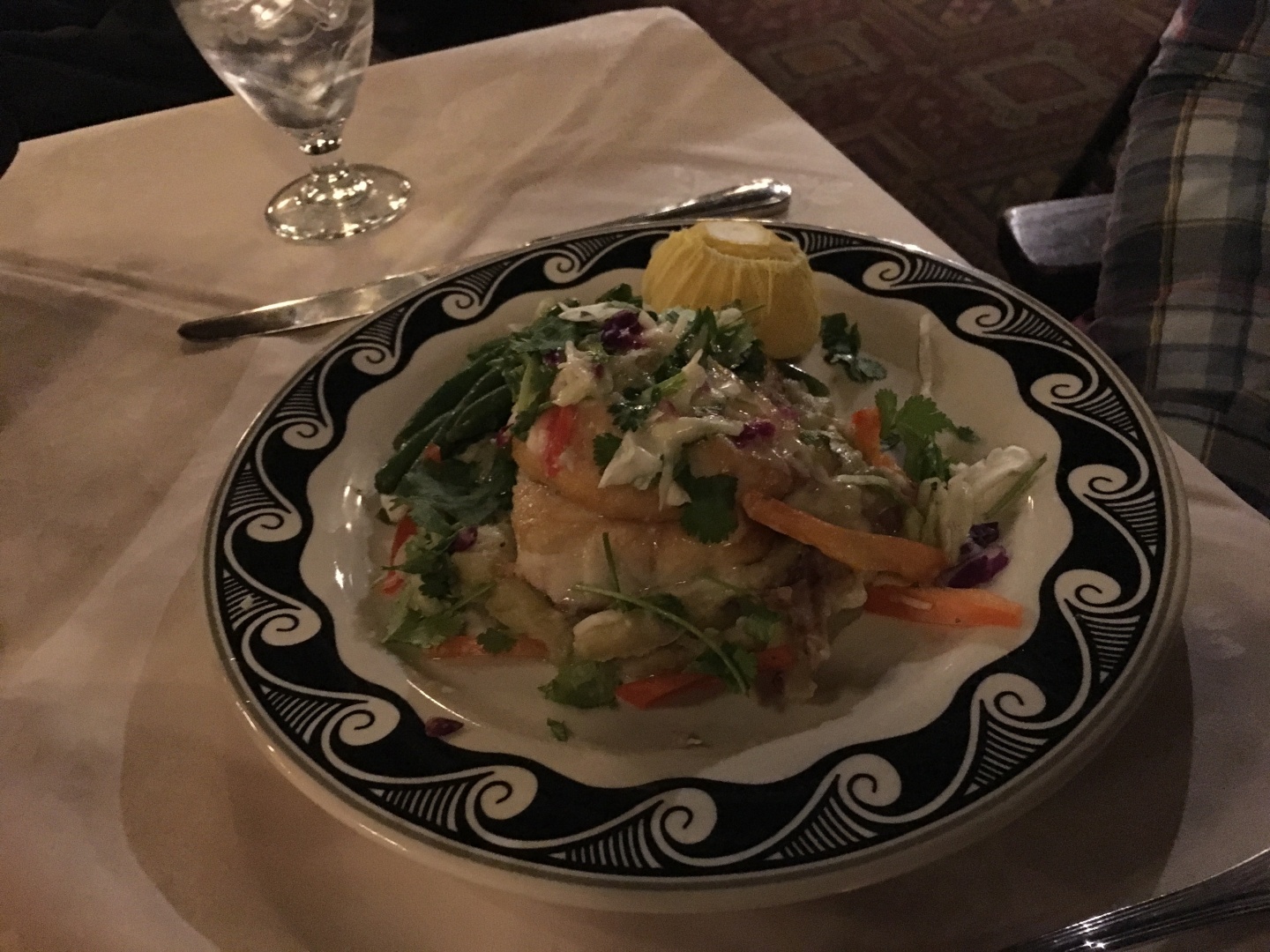 18:51

I do not remember what Paul ate and can't even tell from the menu and picture!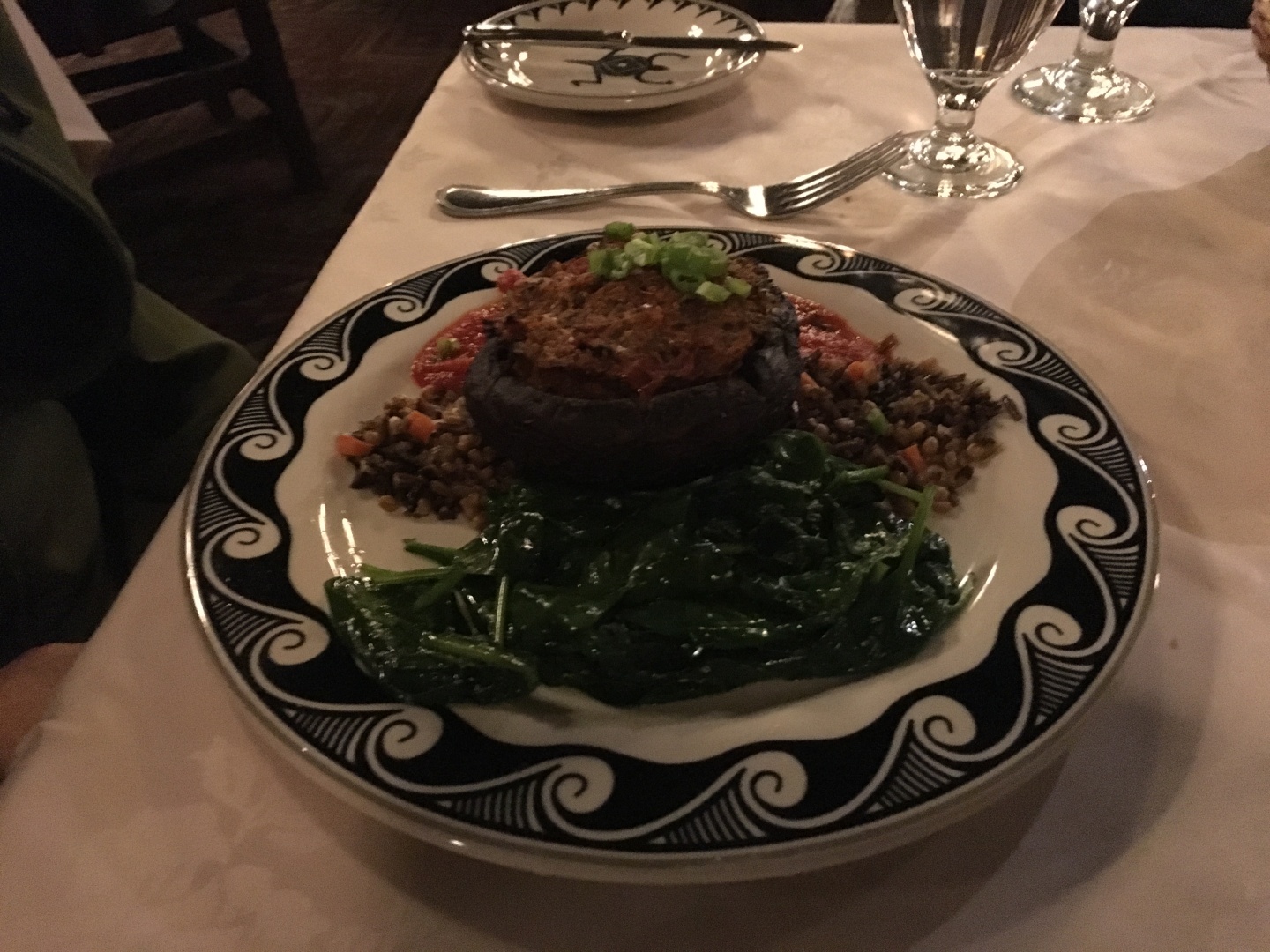 18:51

Ray's vegan portobello mushroom stuffed with baby spinach, spanish onion, artichoke hearts, roasted tomatoes, bell peppters, button mushrooms, red pepper coulis, wild brown ricw wheatberry pilaf.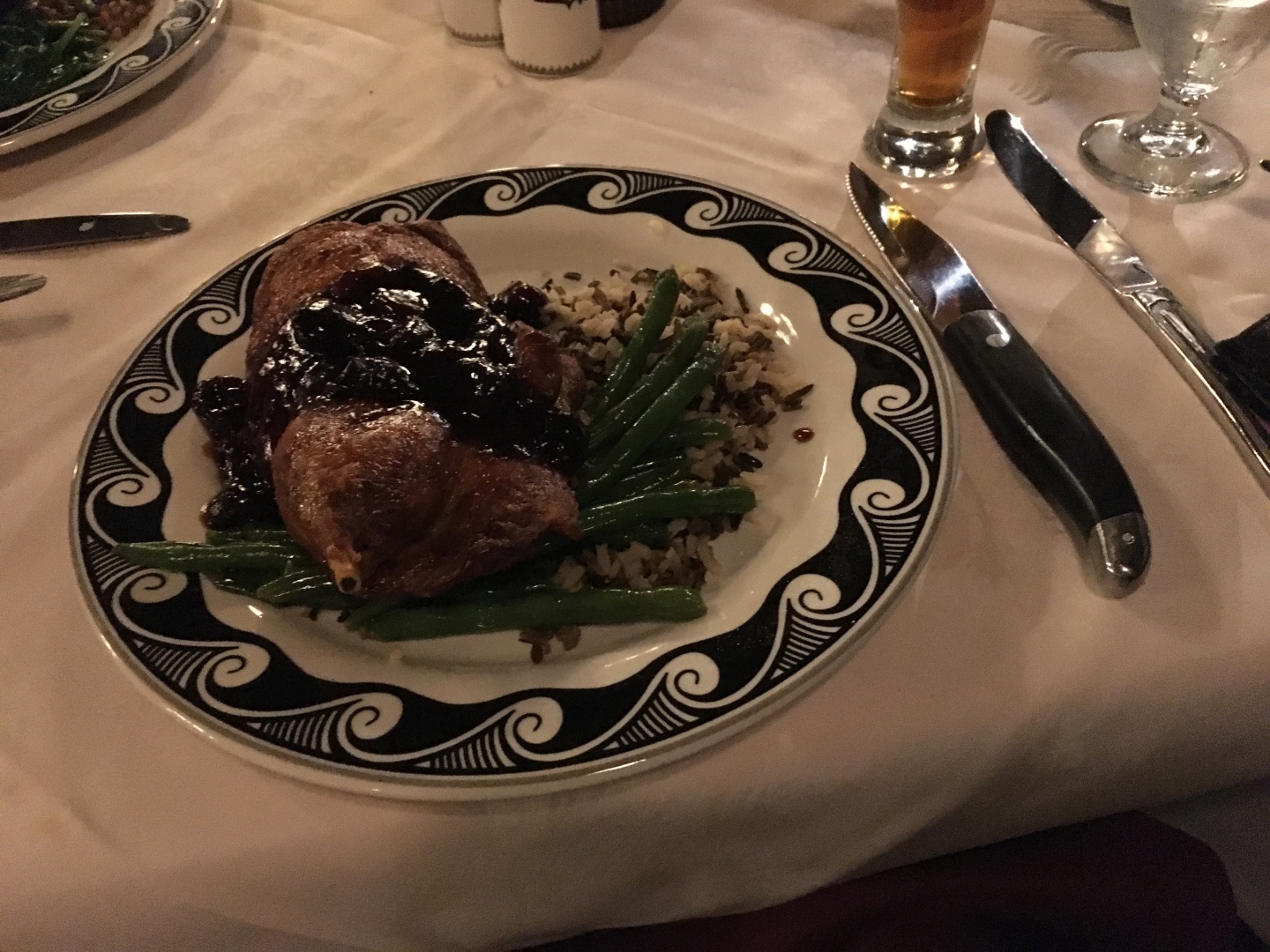 18:51

My roasted duck with chipotle cherry demi-glace, wild and brown rice pilaf, vegetables
It was fantastic.

Saturday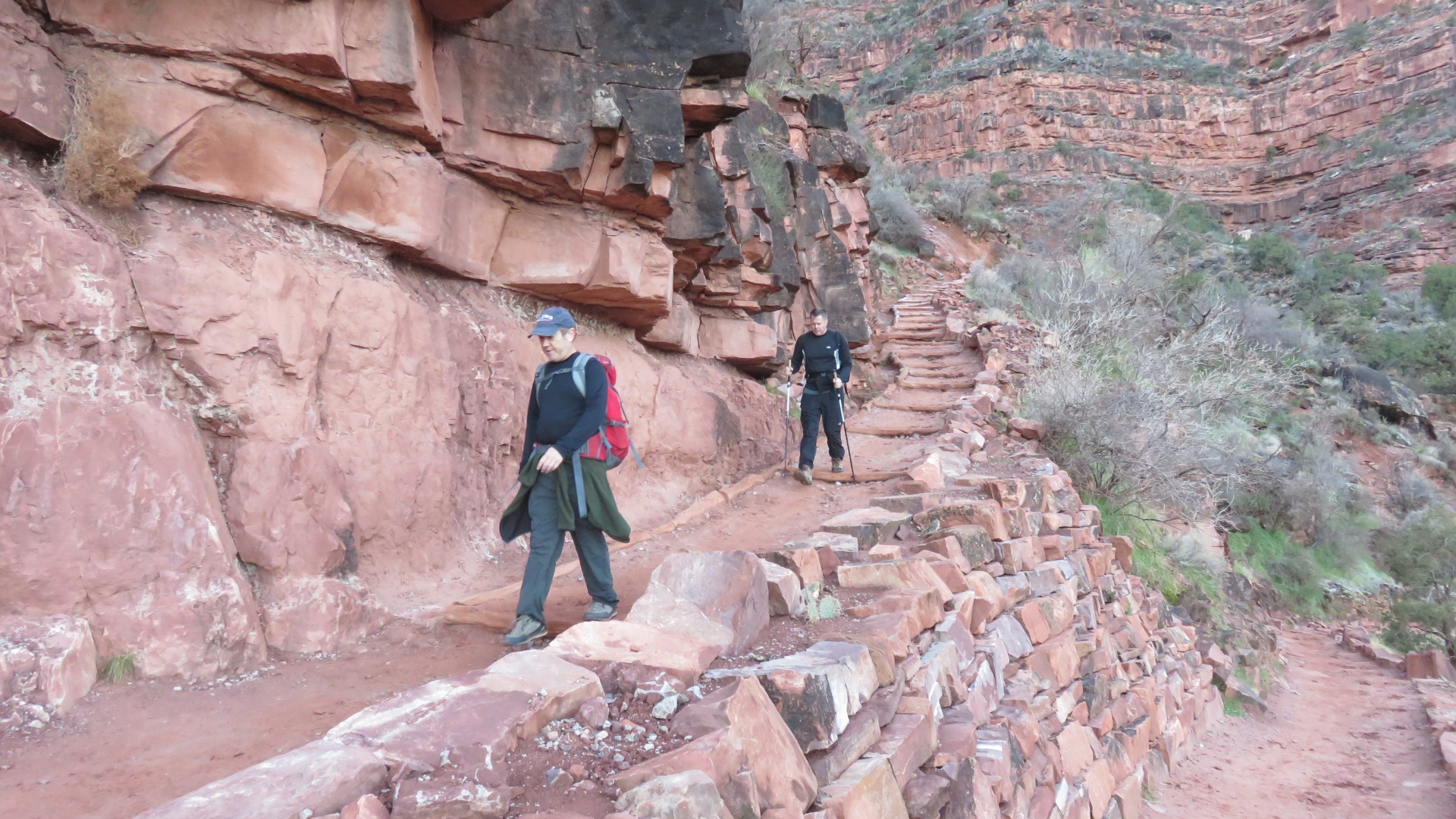 07:42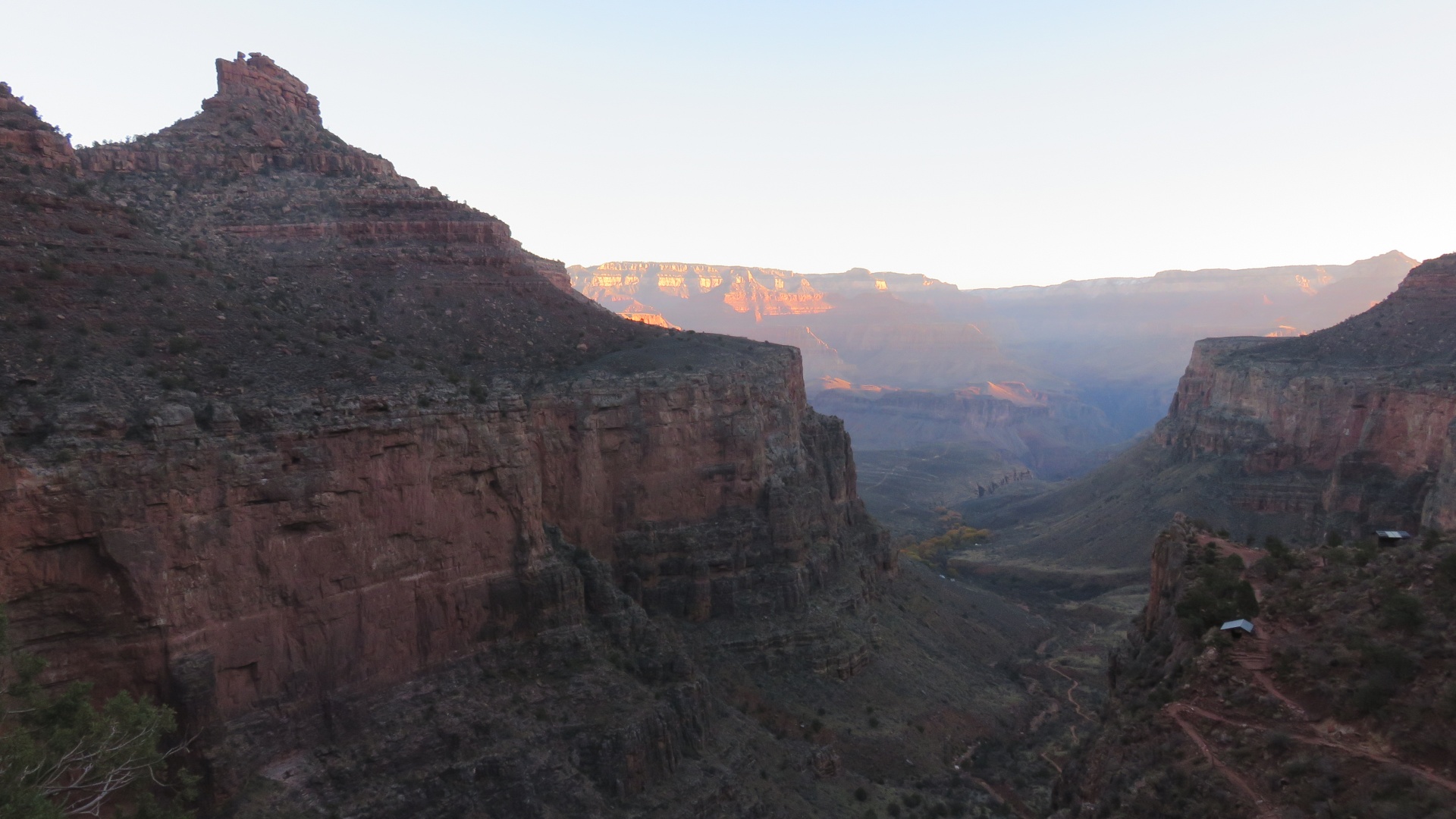 07:42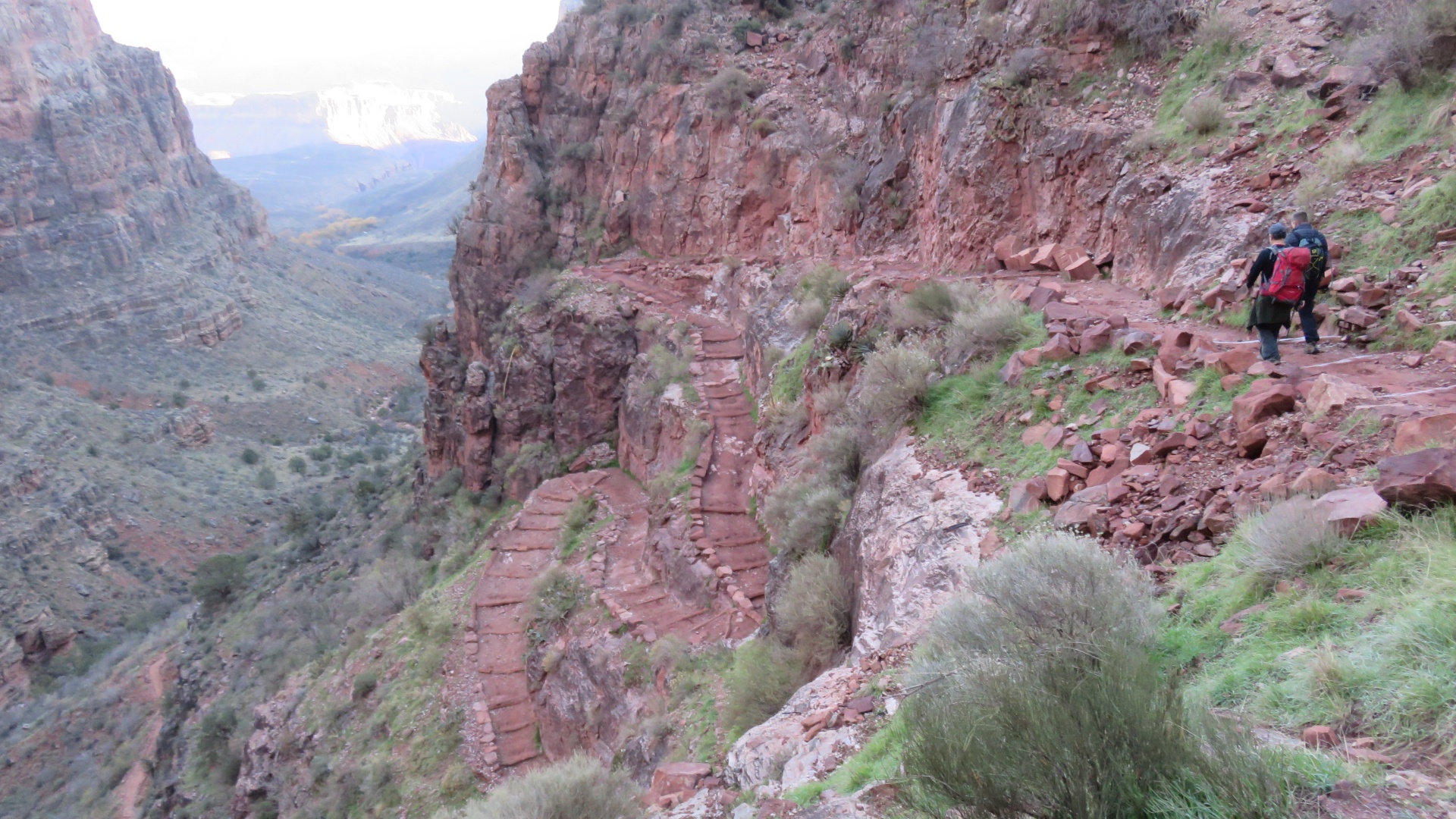 08:00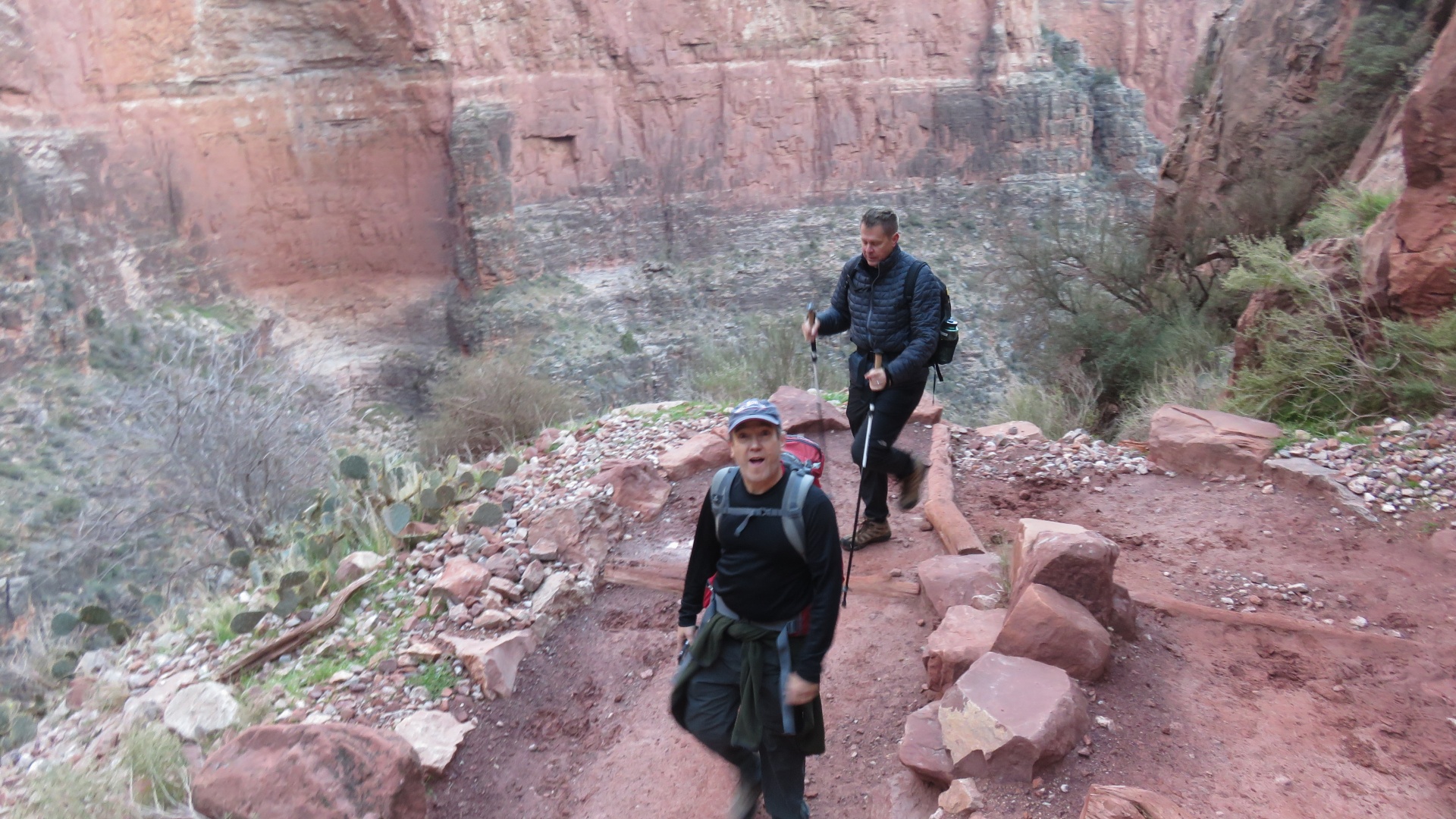 08:01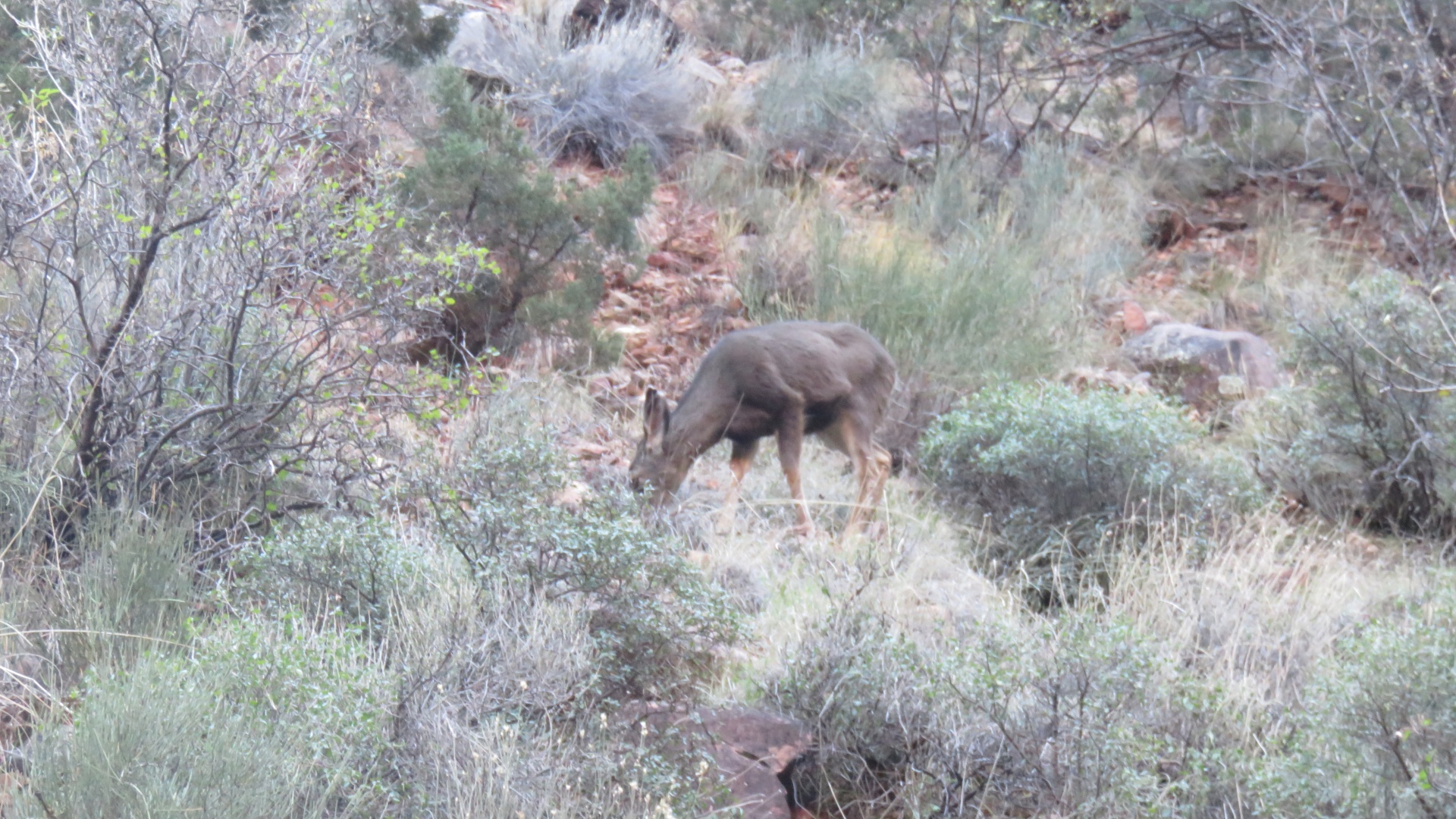 08:19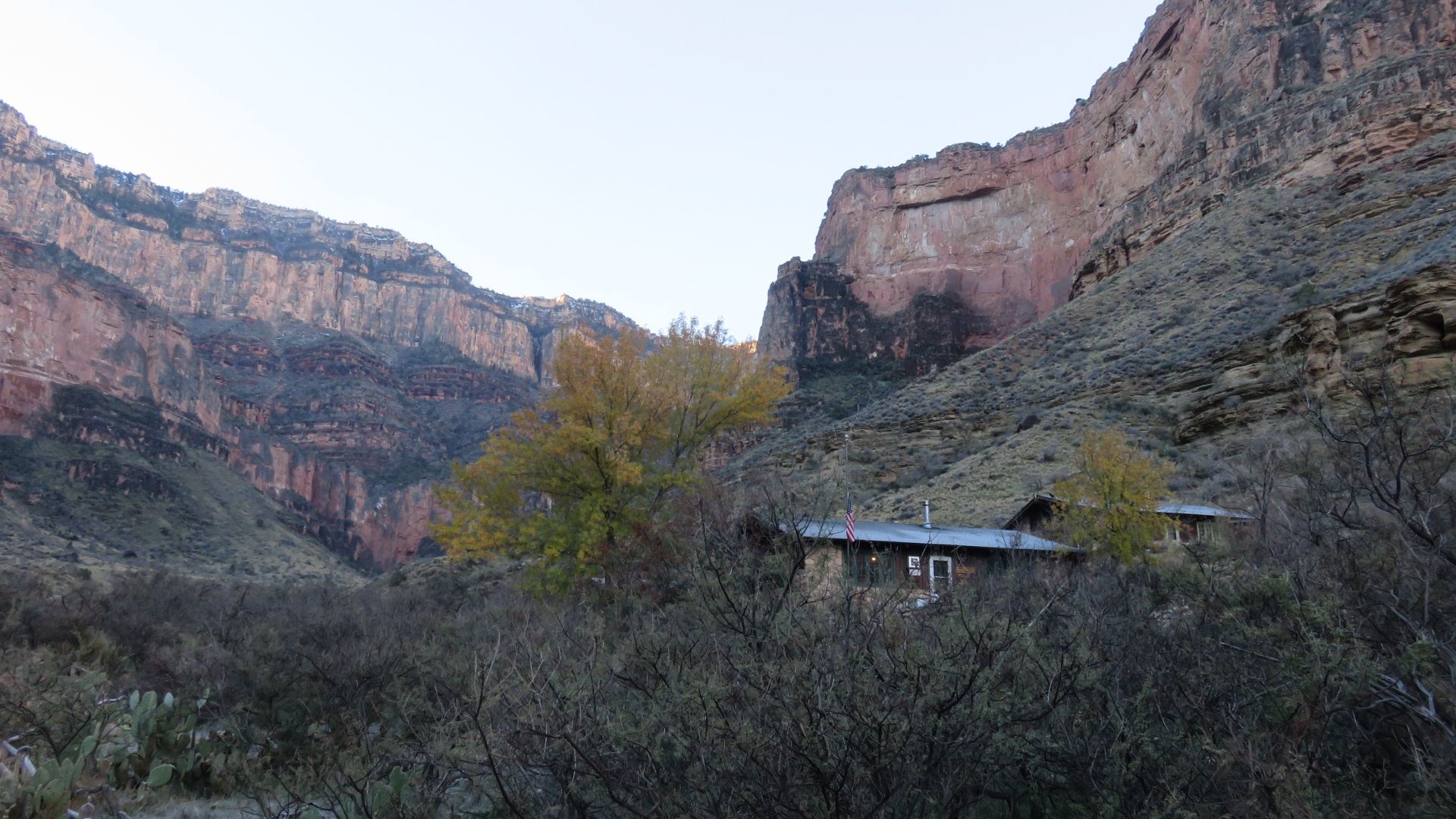 08:37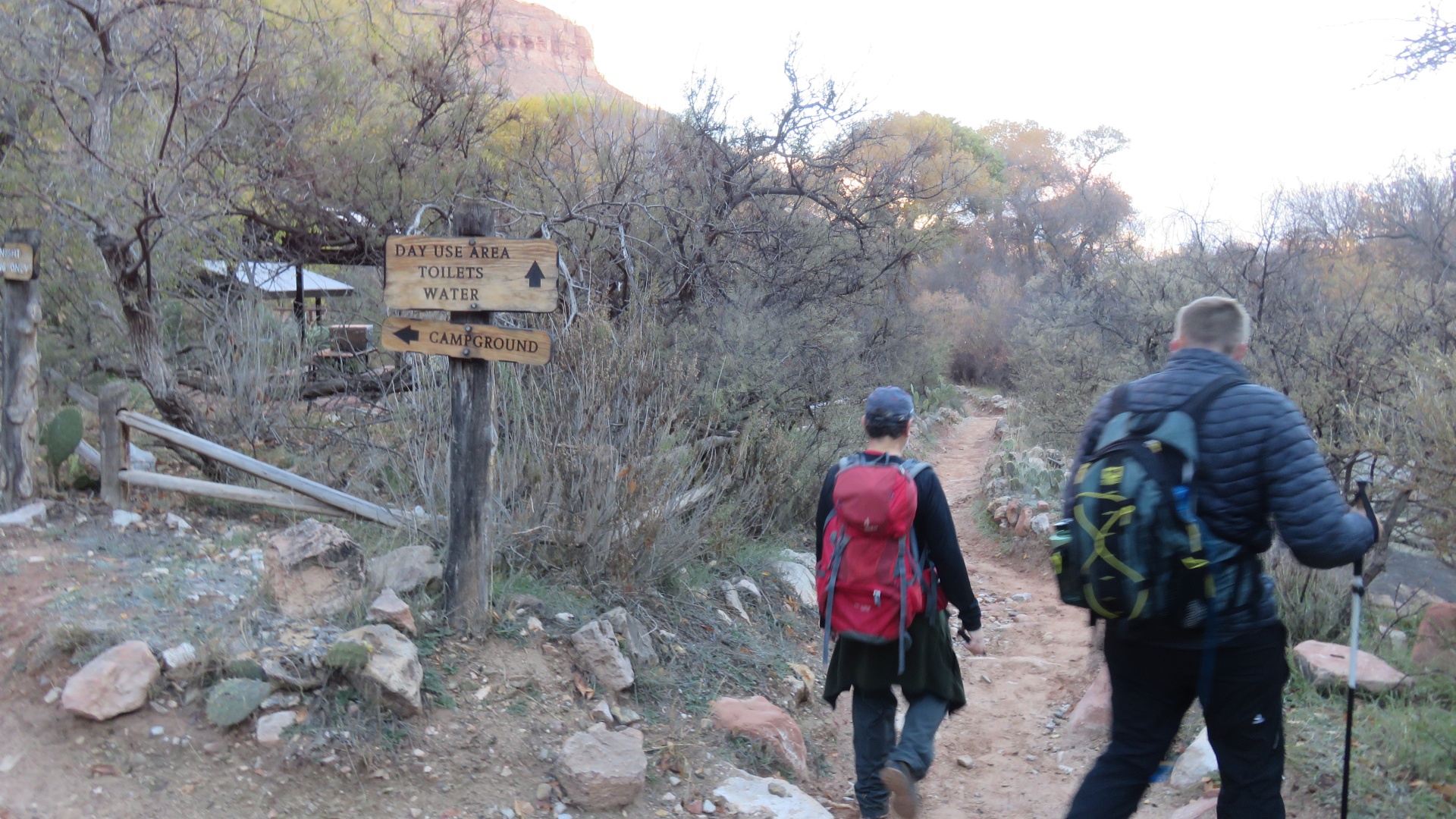 08:37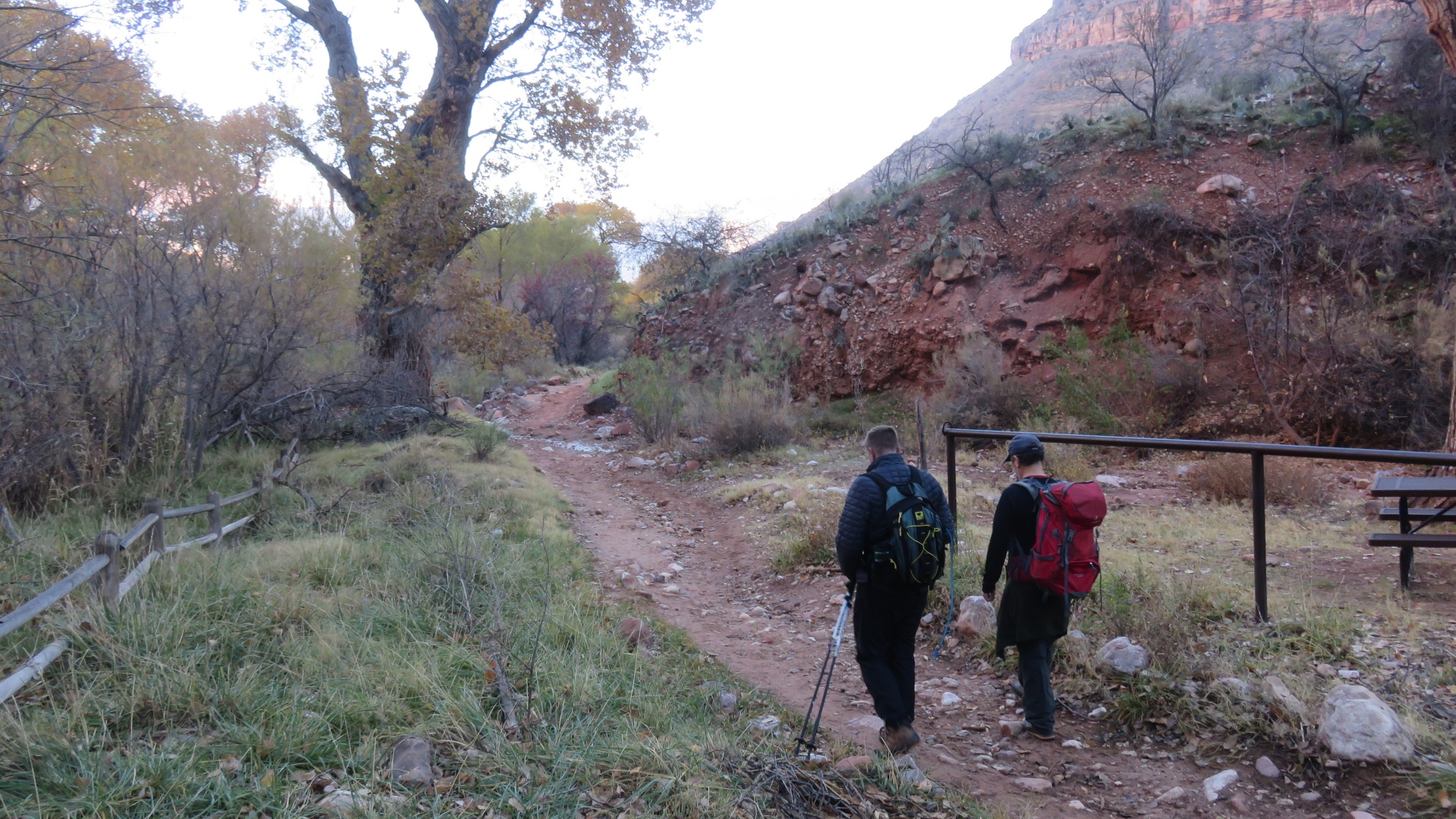 08:39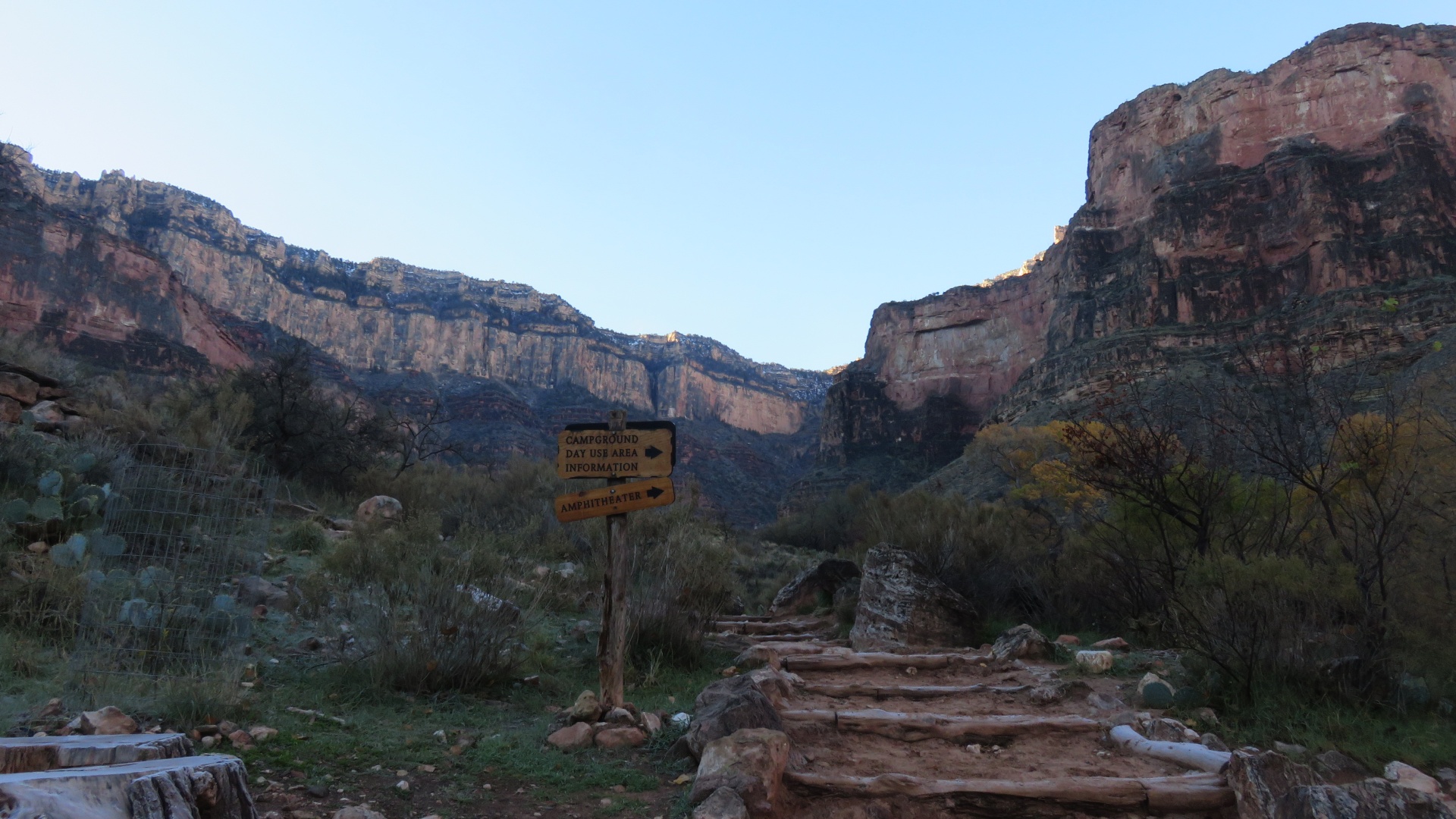 08:48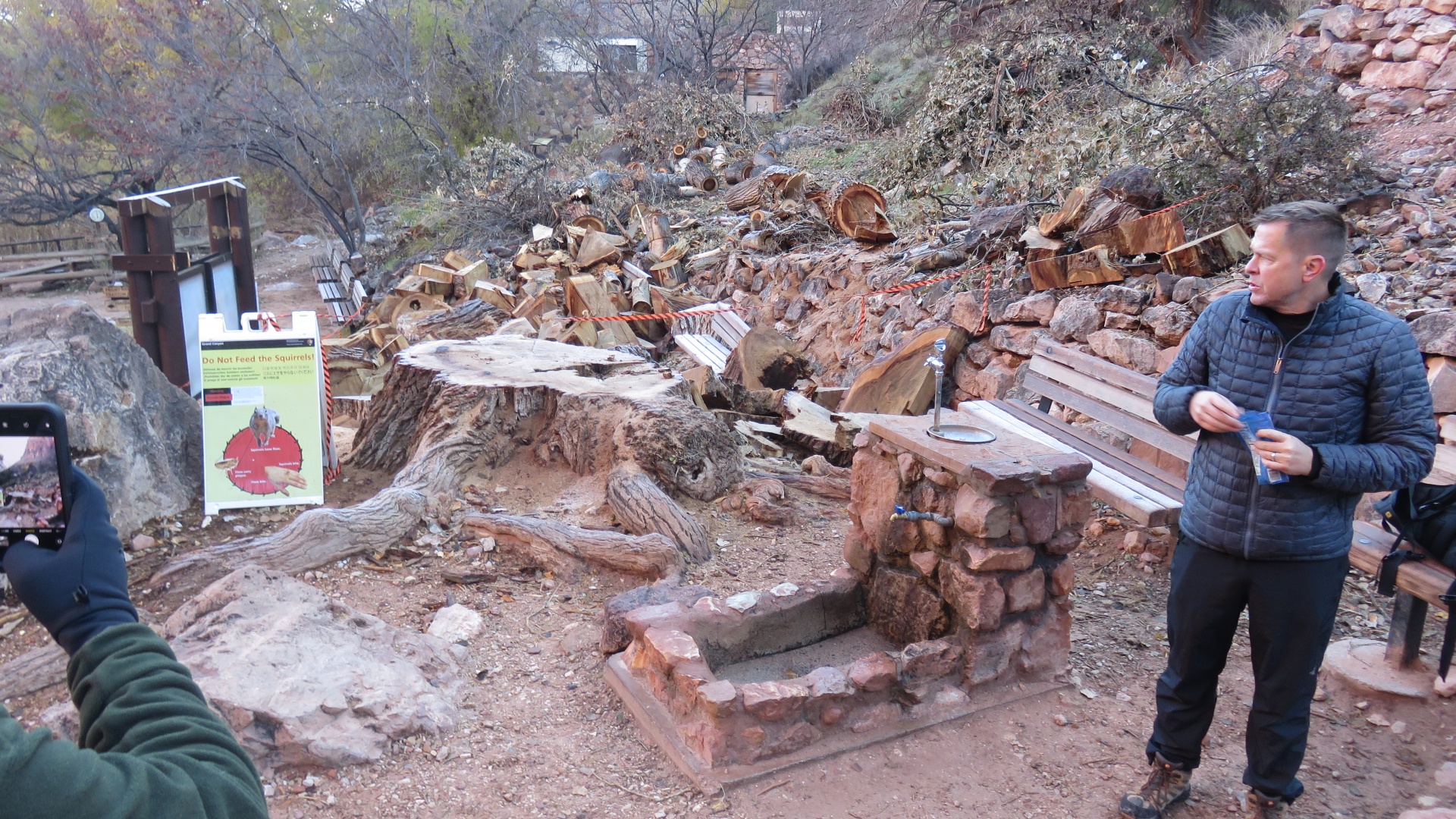 08:48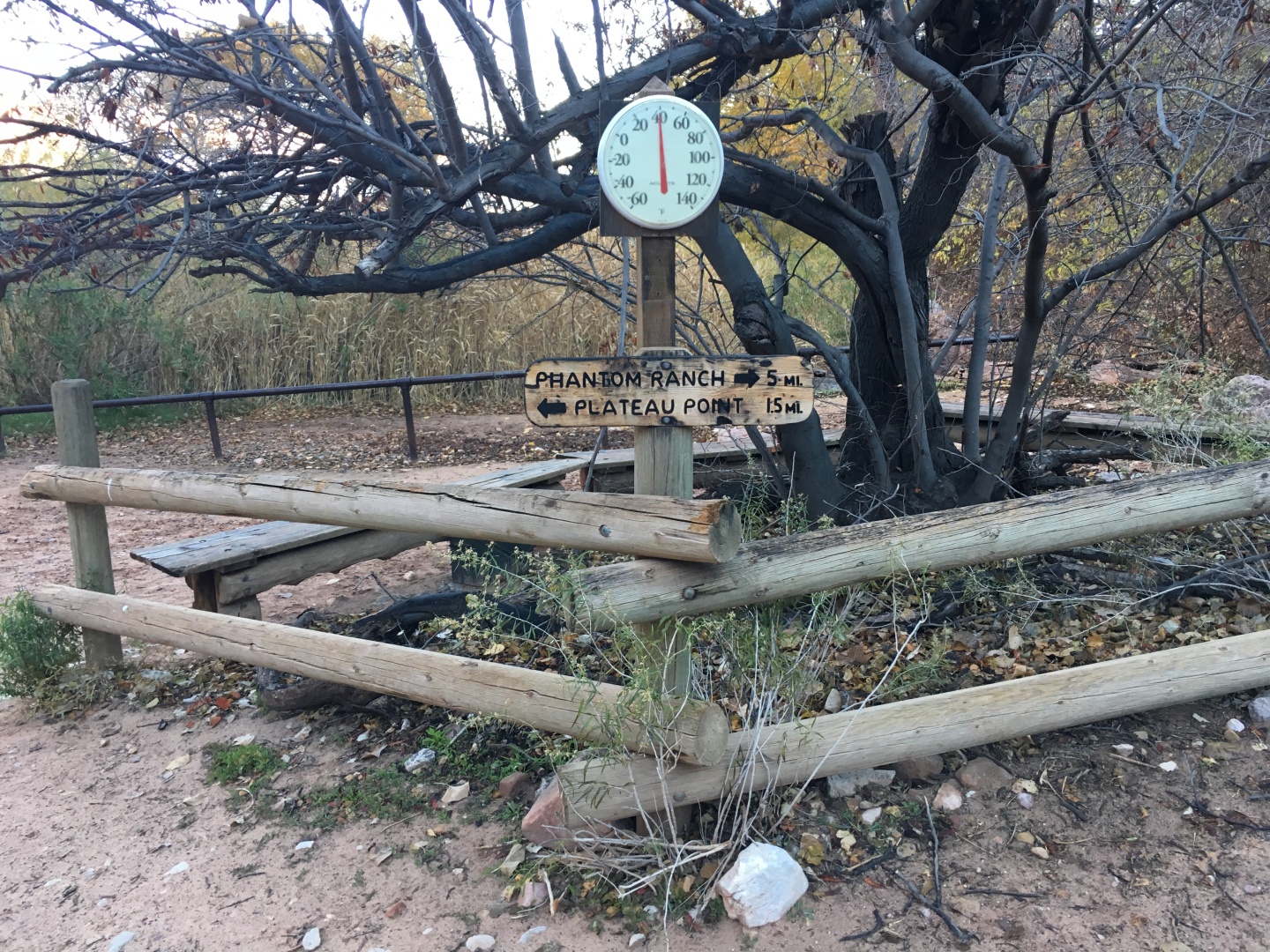 08:53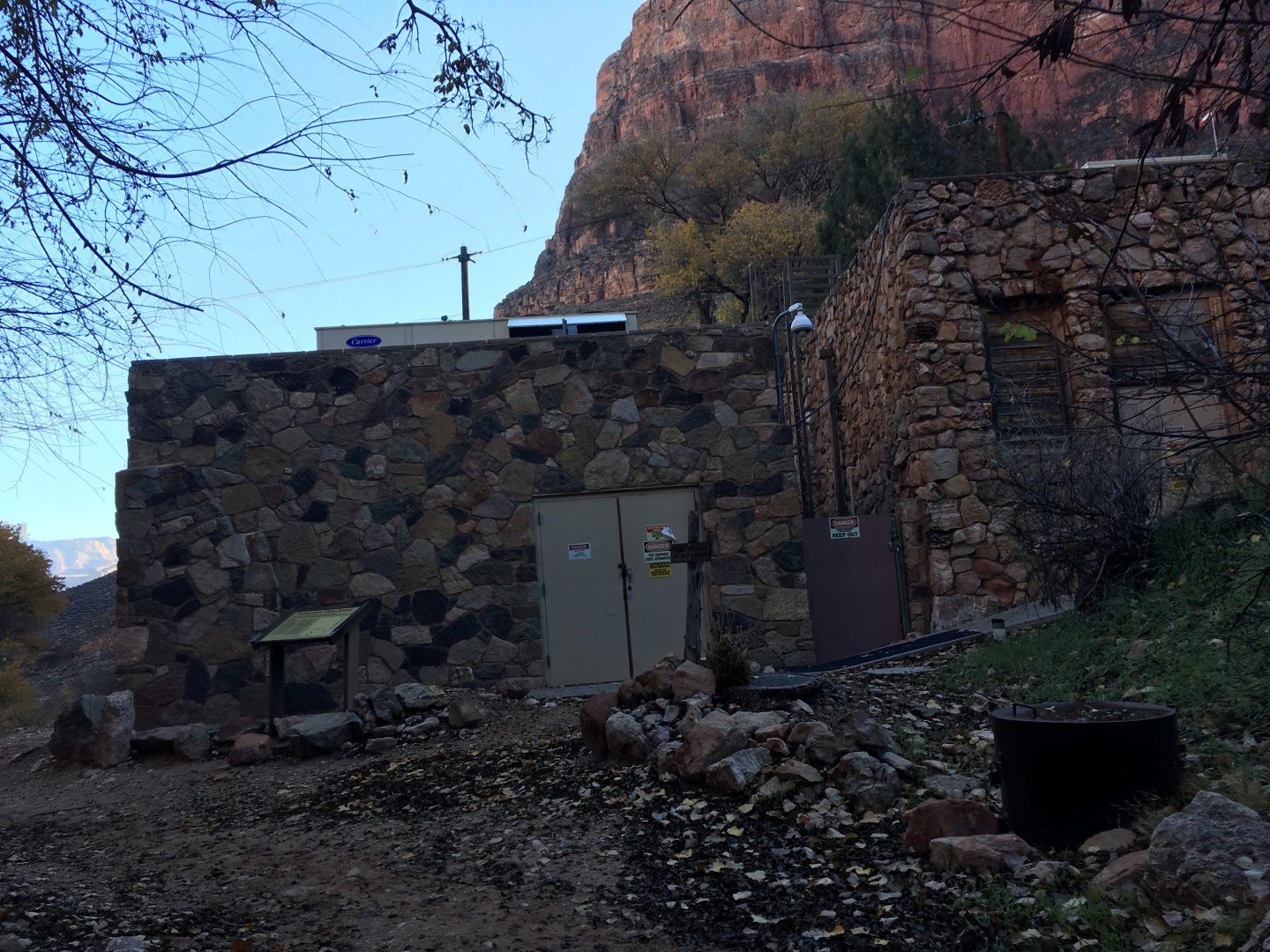 08:54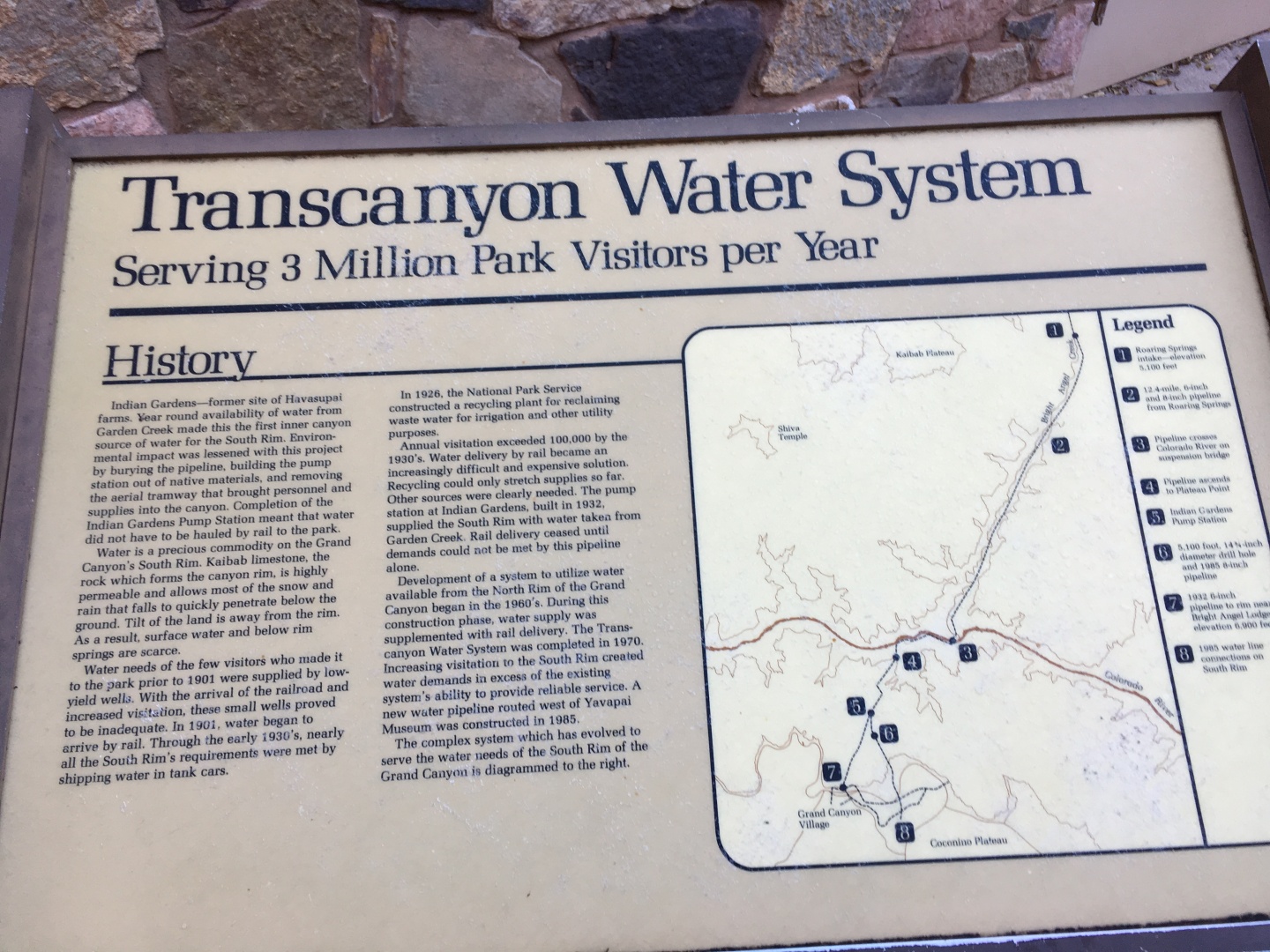 08:56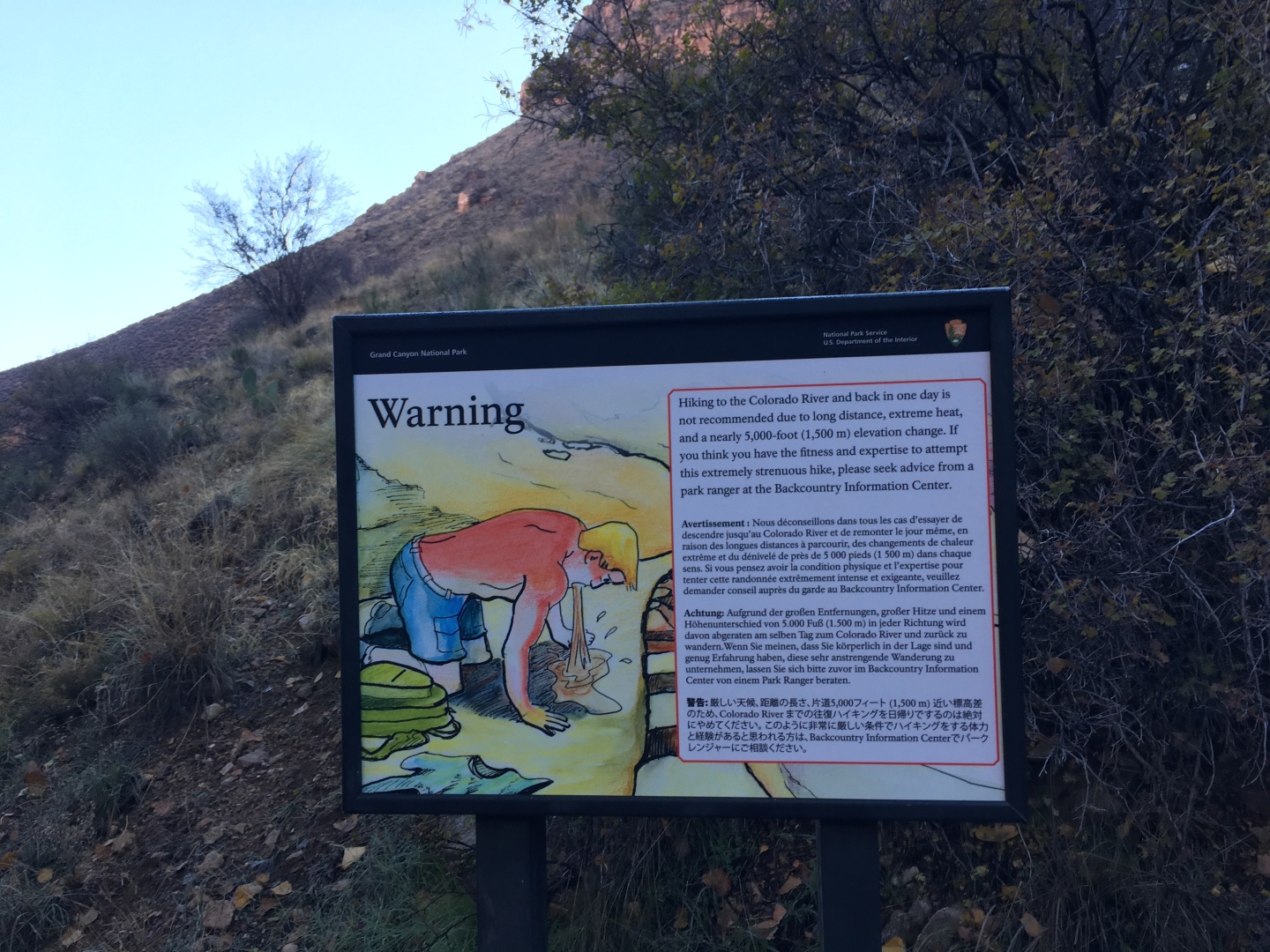 08:59

This was clearly the theme for the trip...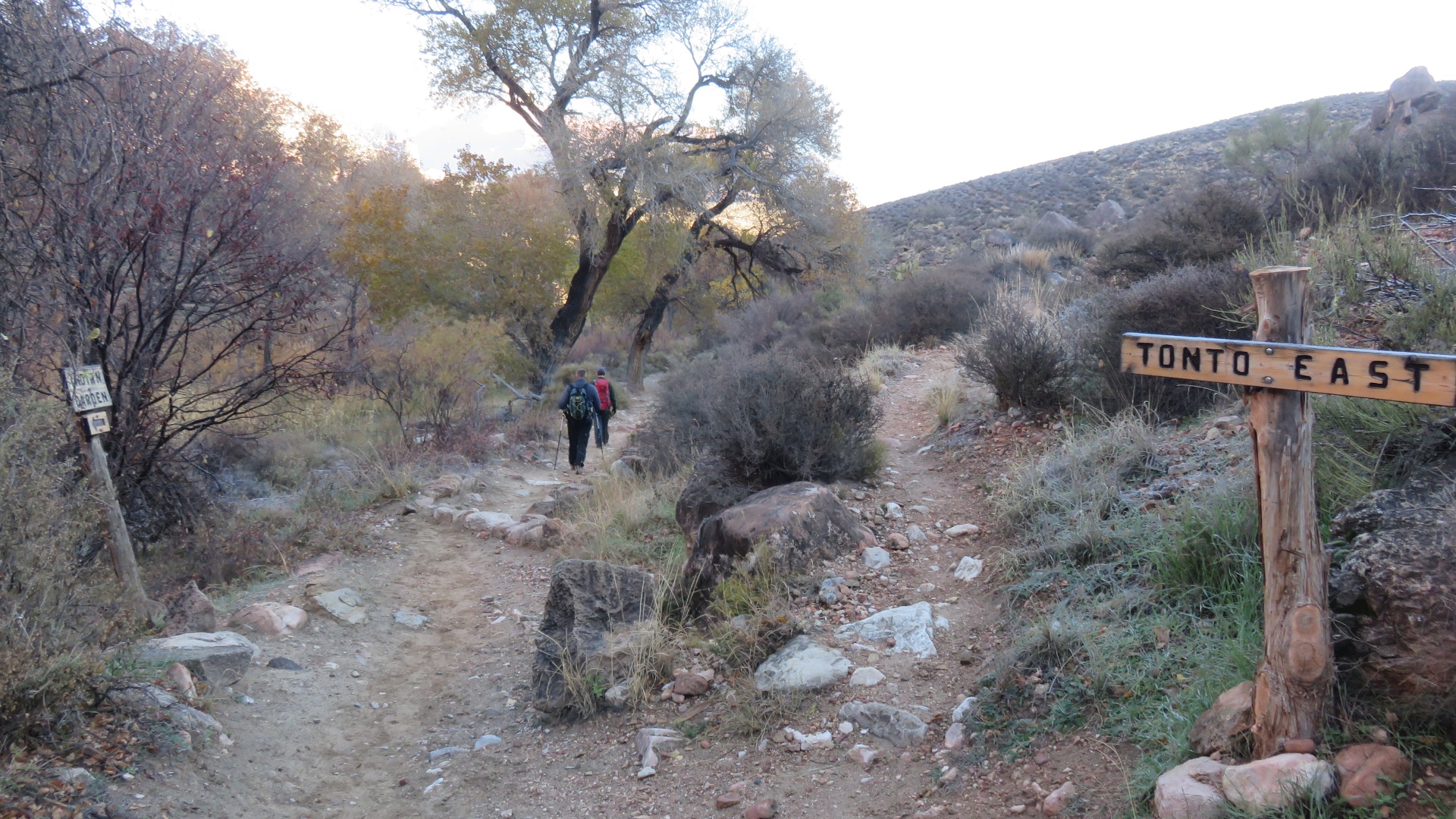 09:03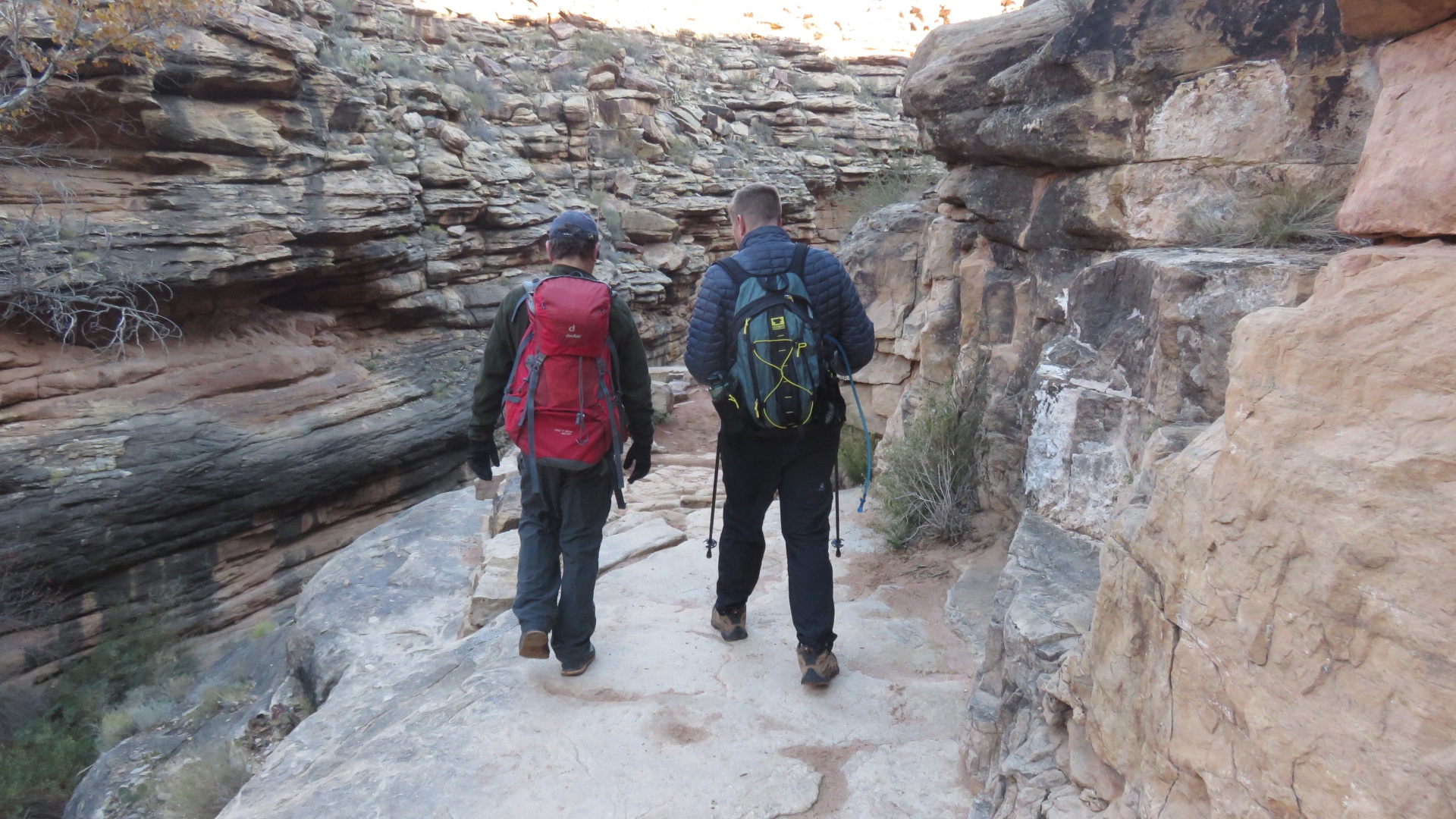 09:13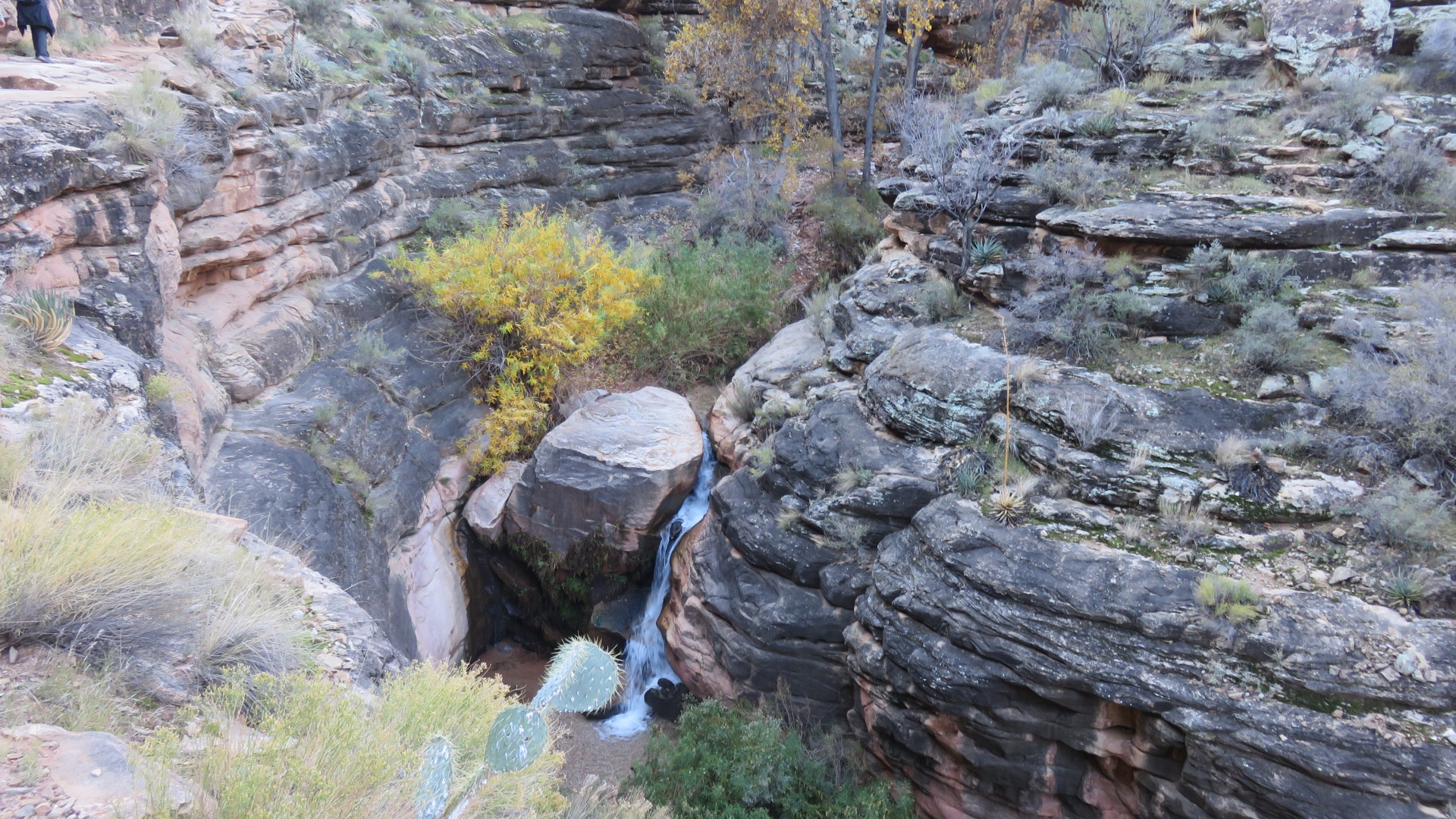 09:13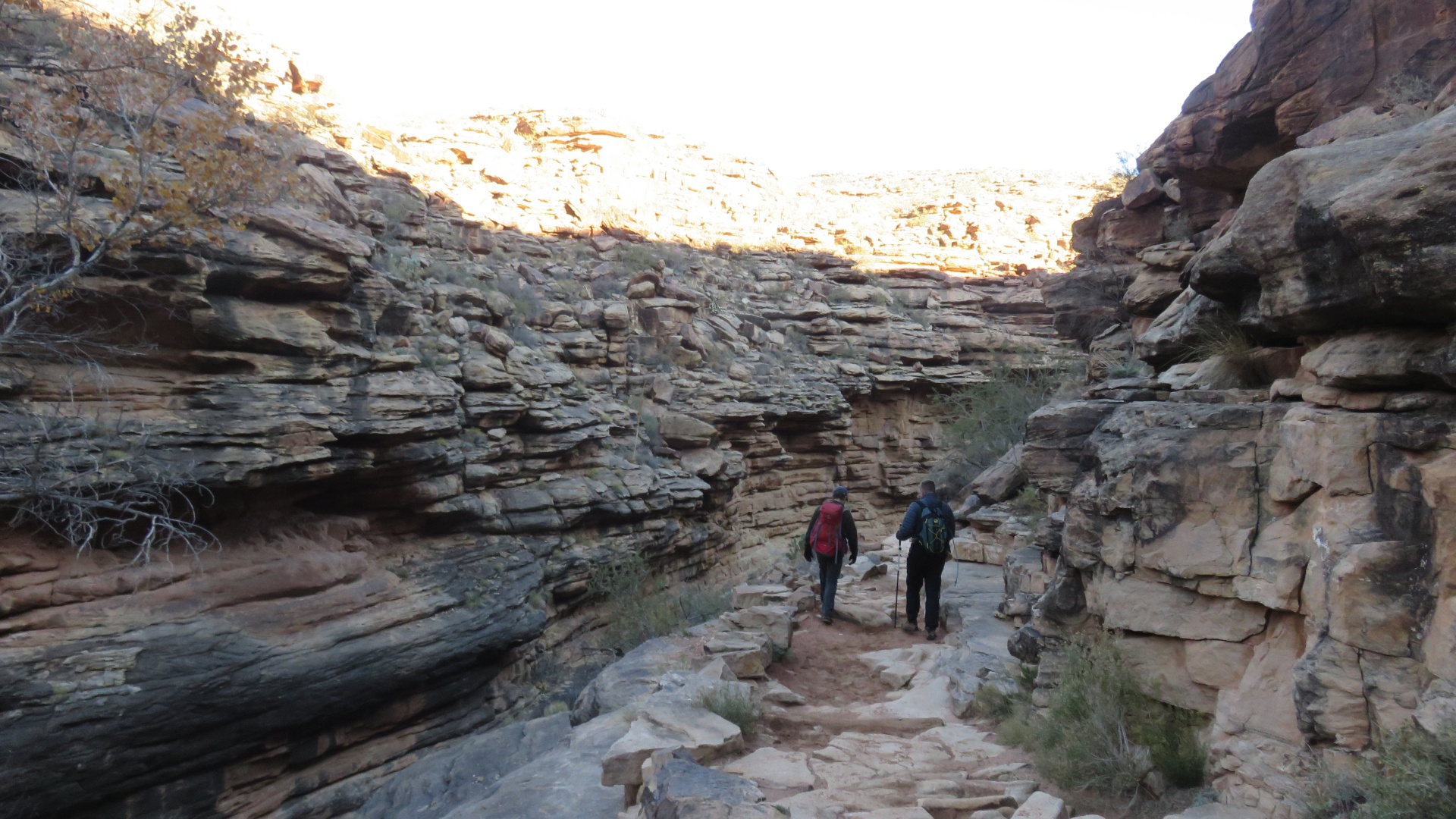 09:13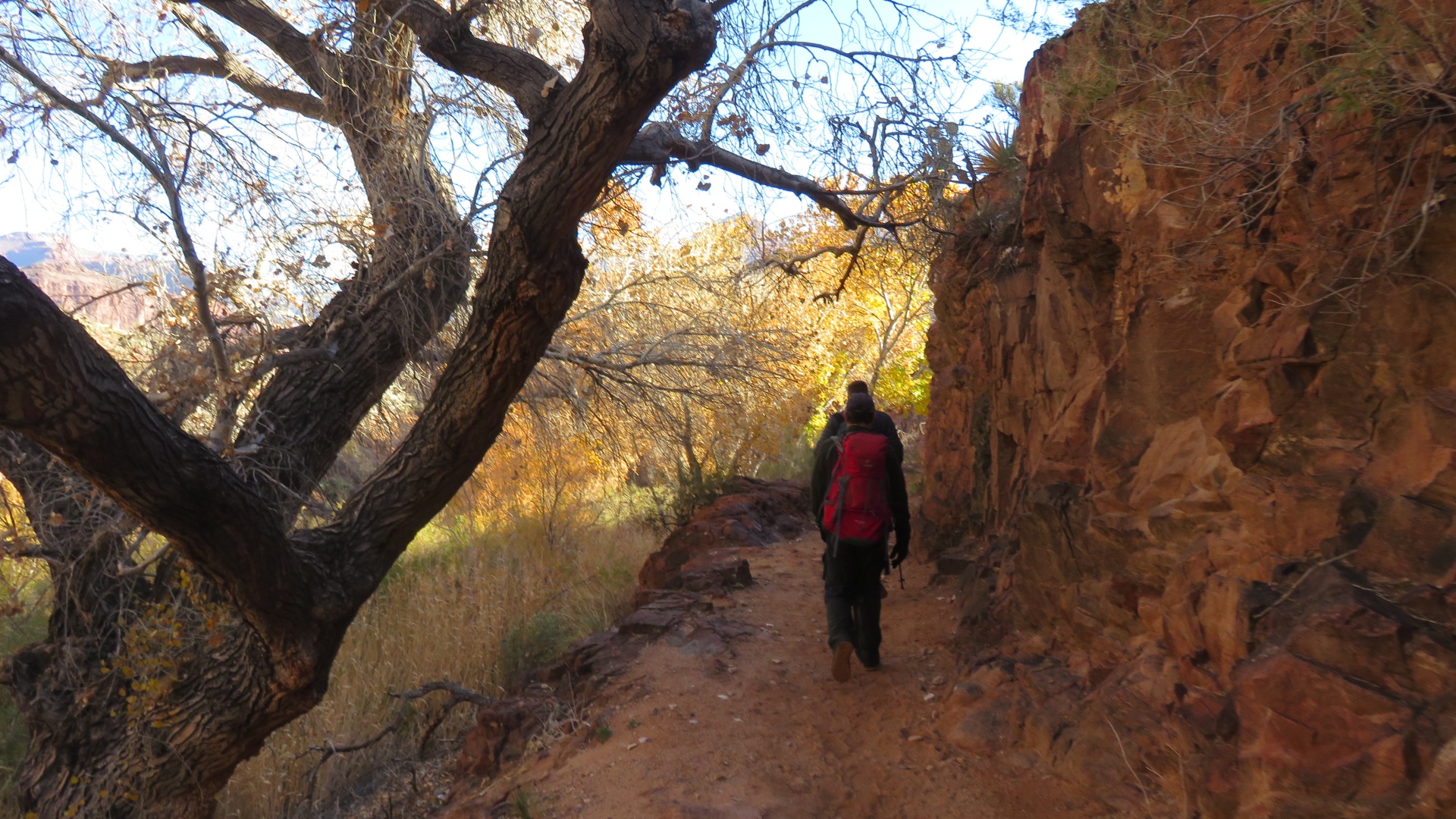 09:21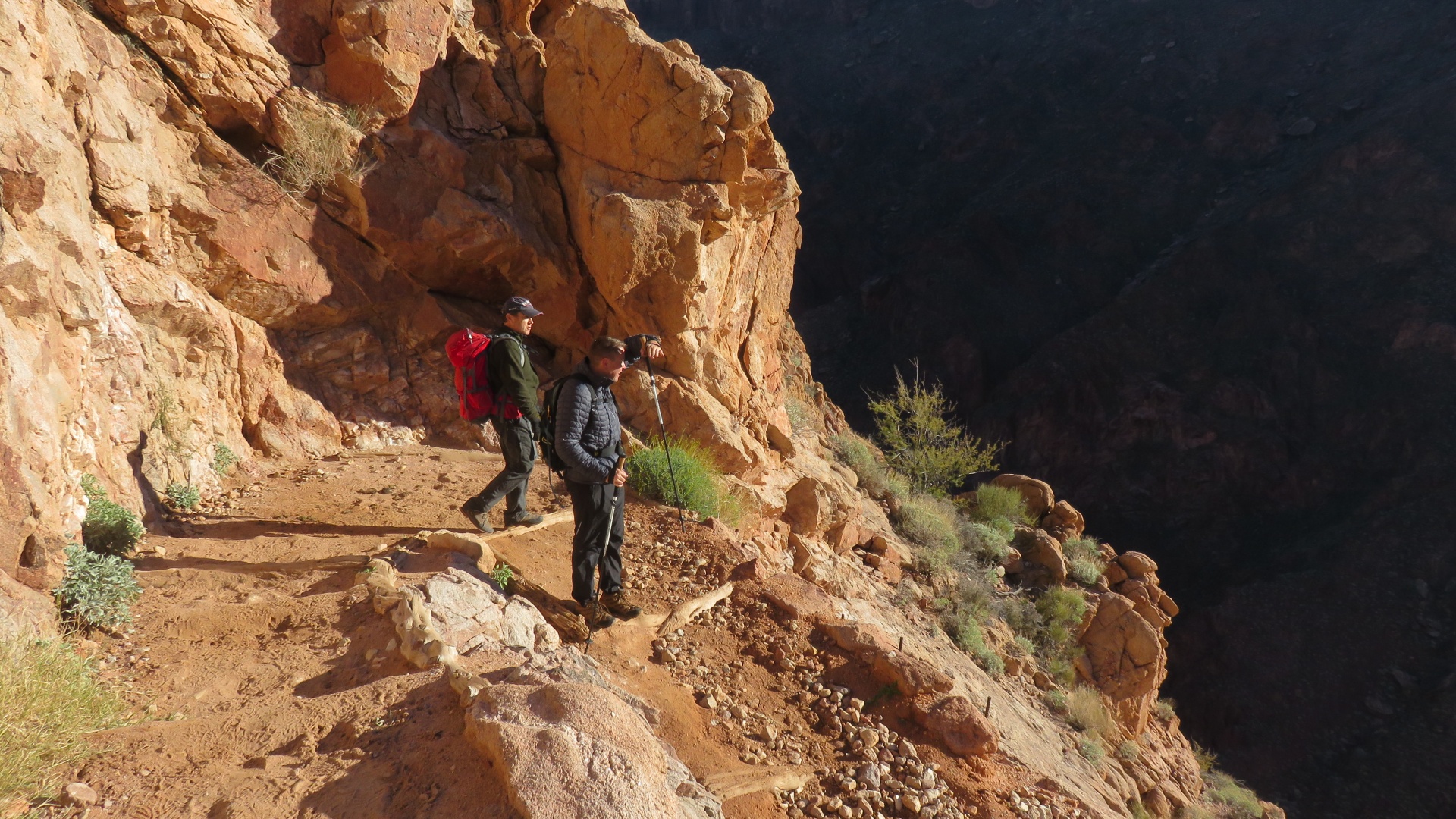 09:37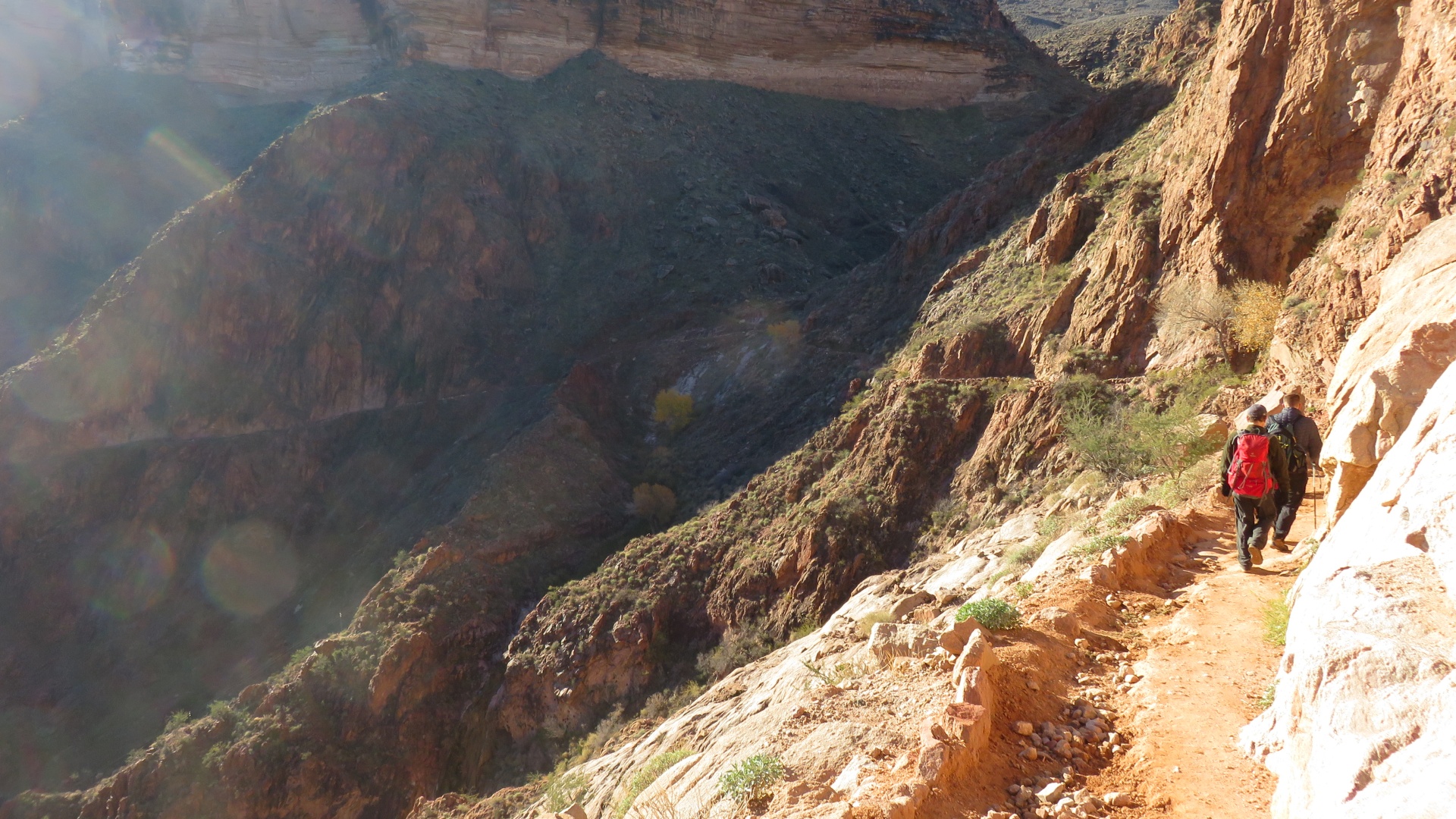 09:37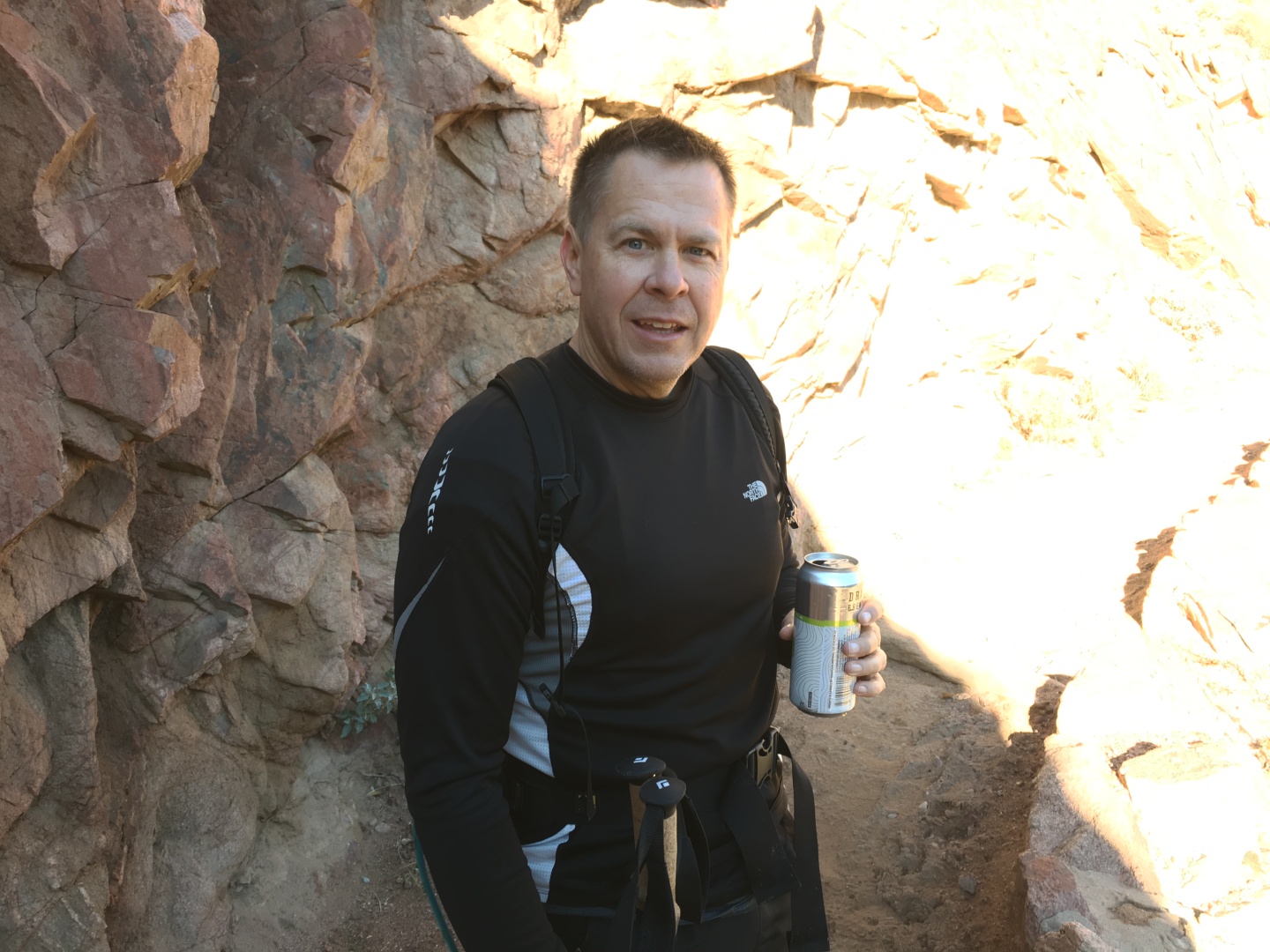 09:44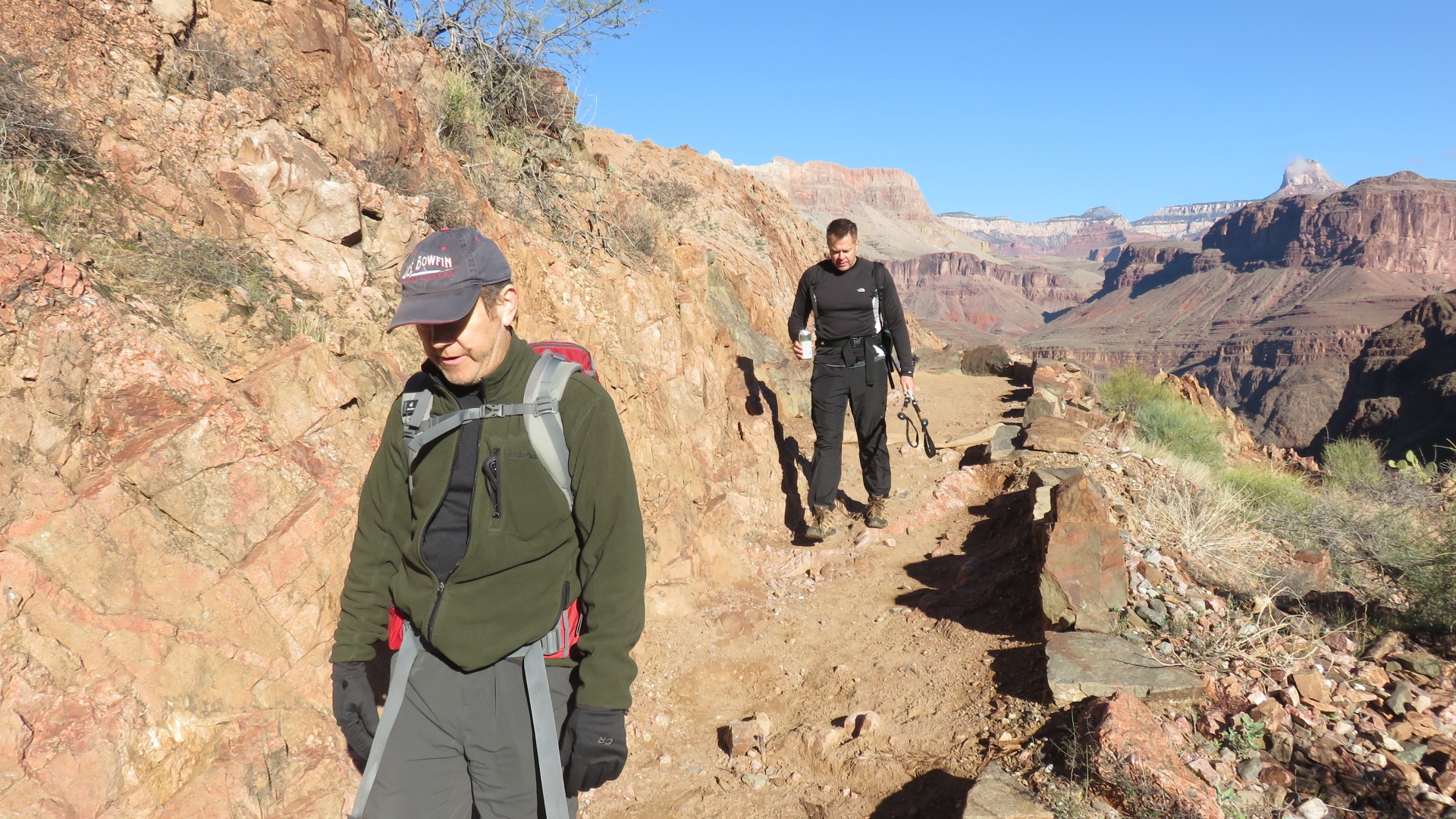 09:51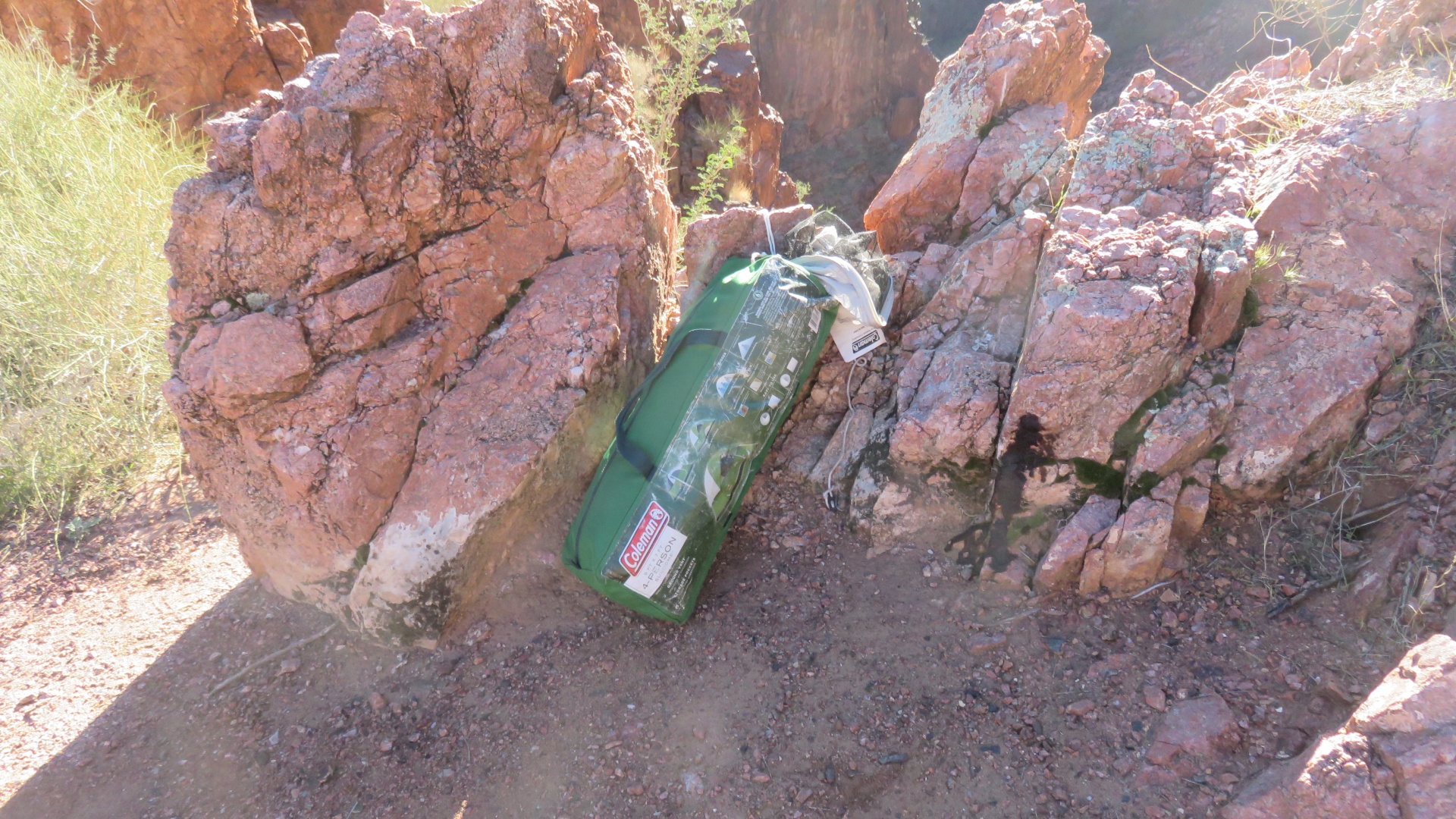 09:55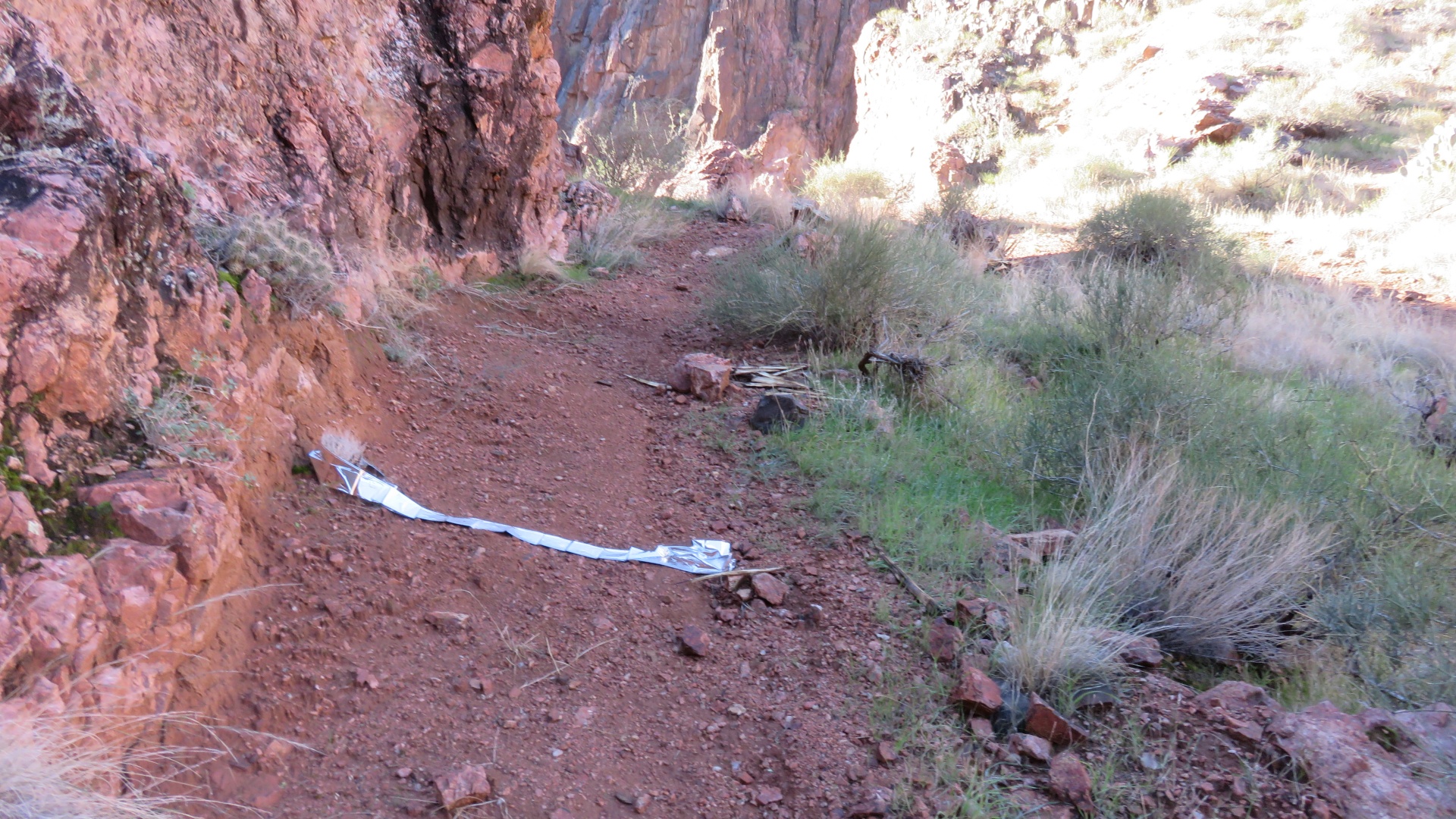 09:57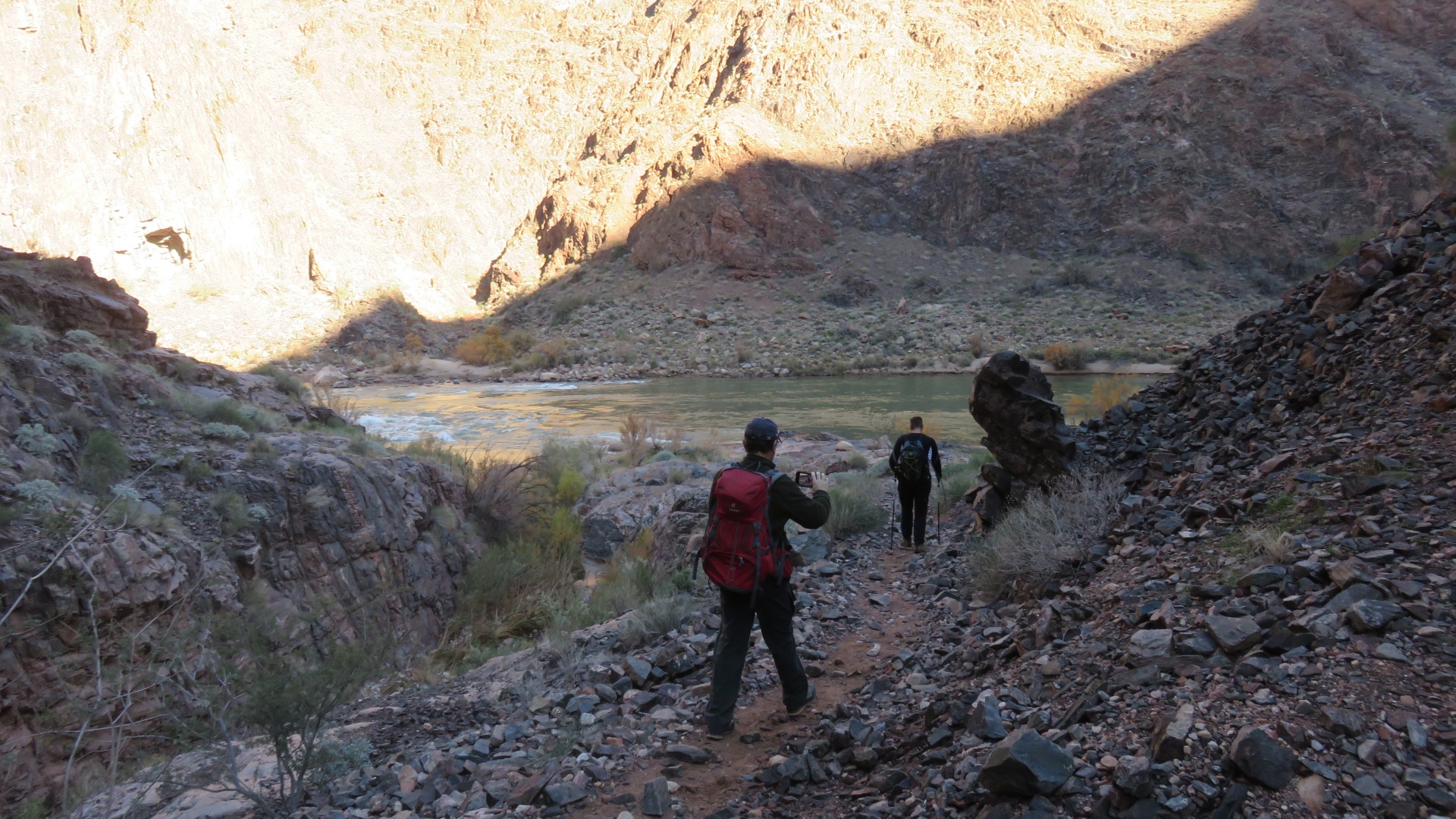 10:31

We had lunch in the shade by the river.
I could not believe we'd been in the shade all morning long except for a few minutes.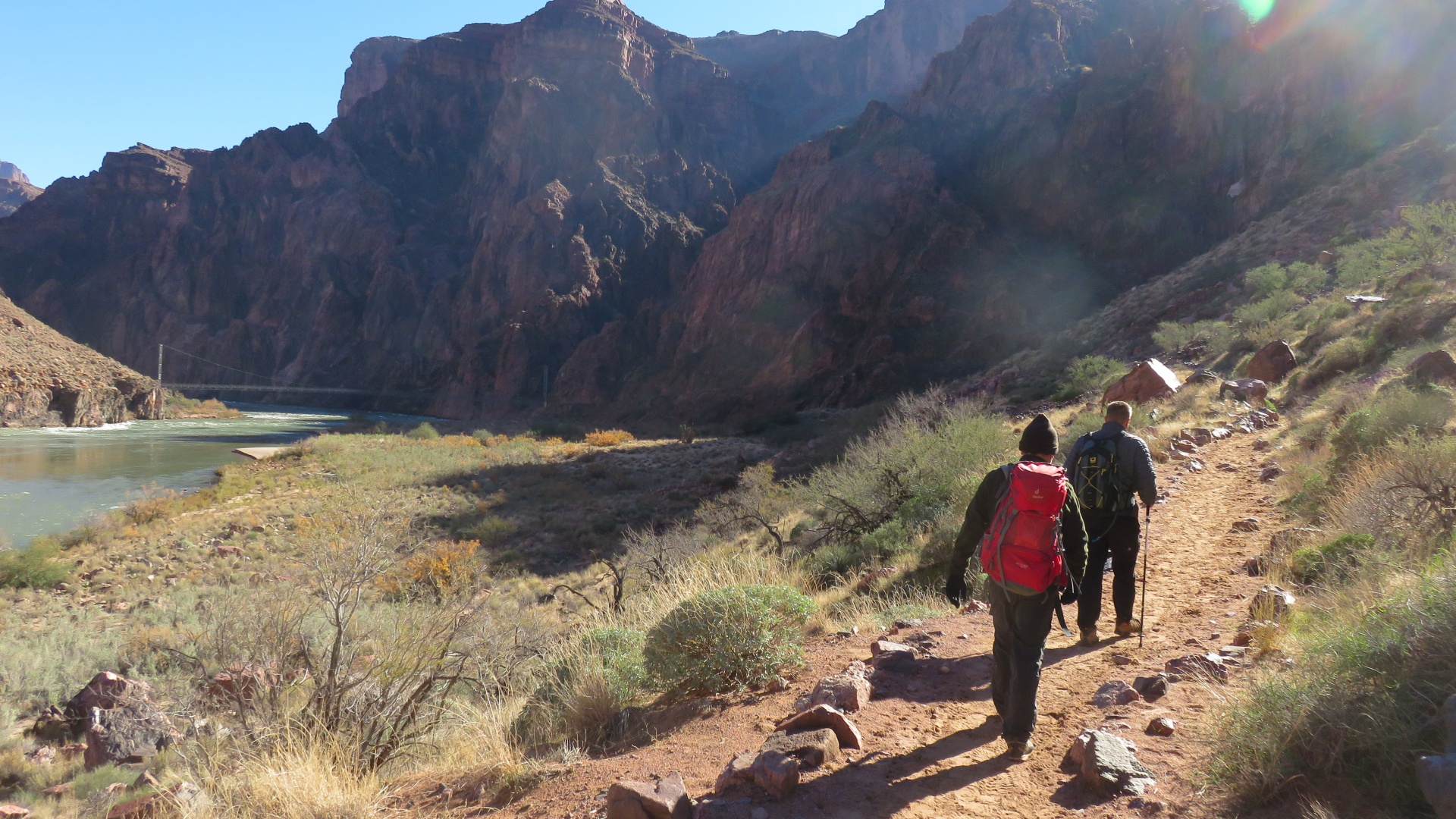 11:26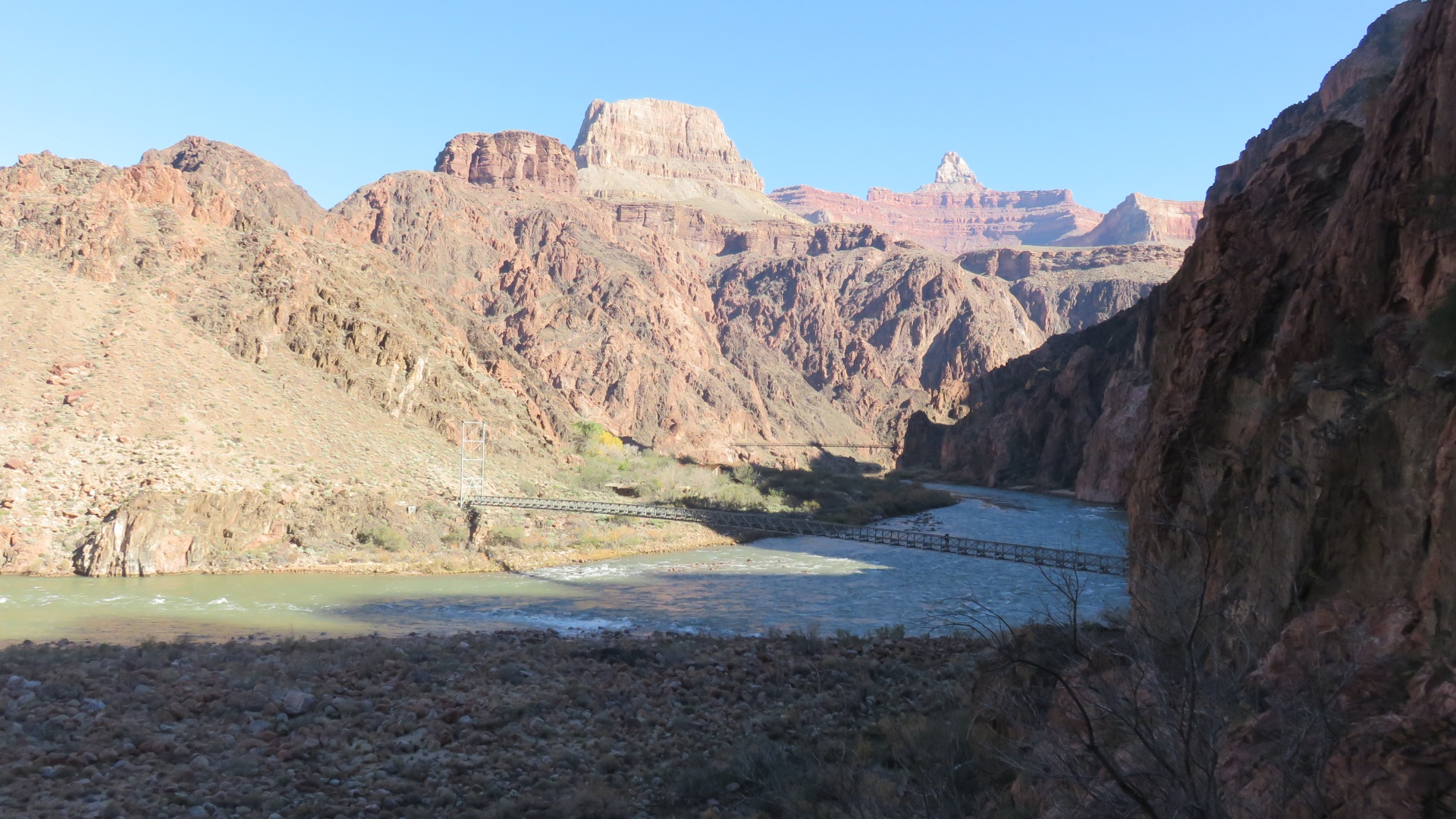 11:35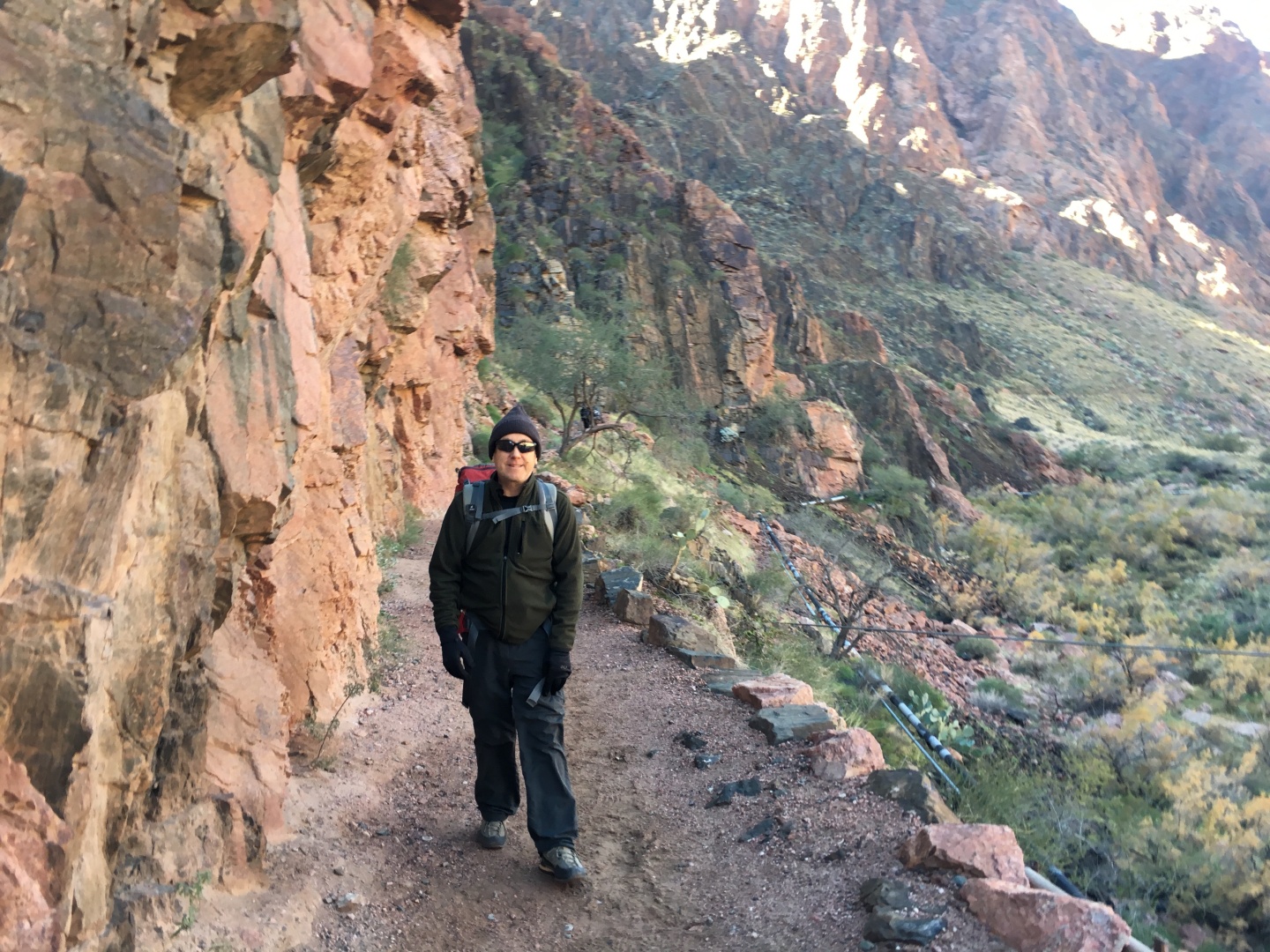 11:39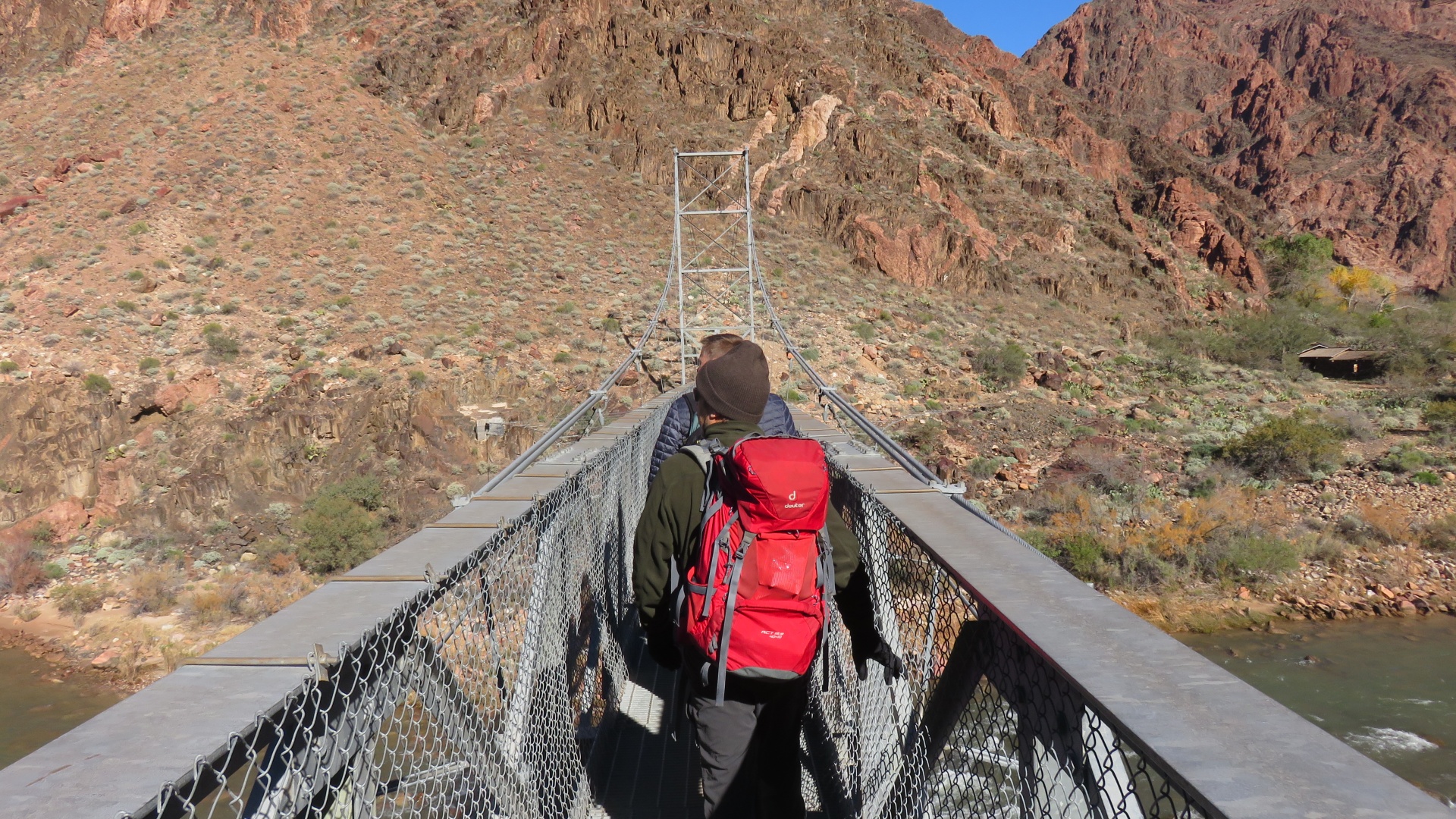 11:39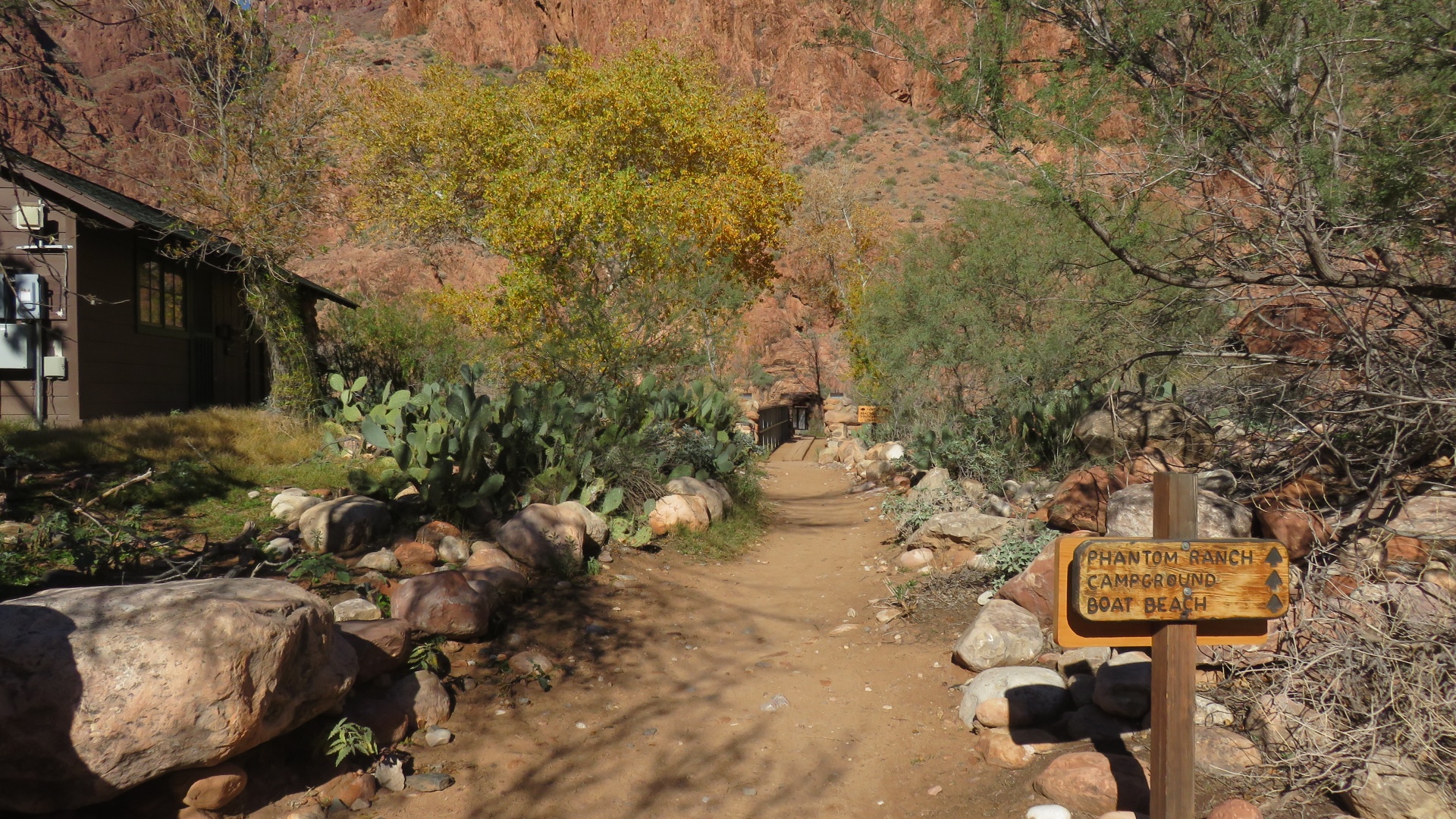 11:43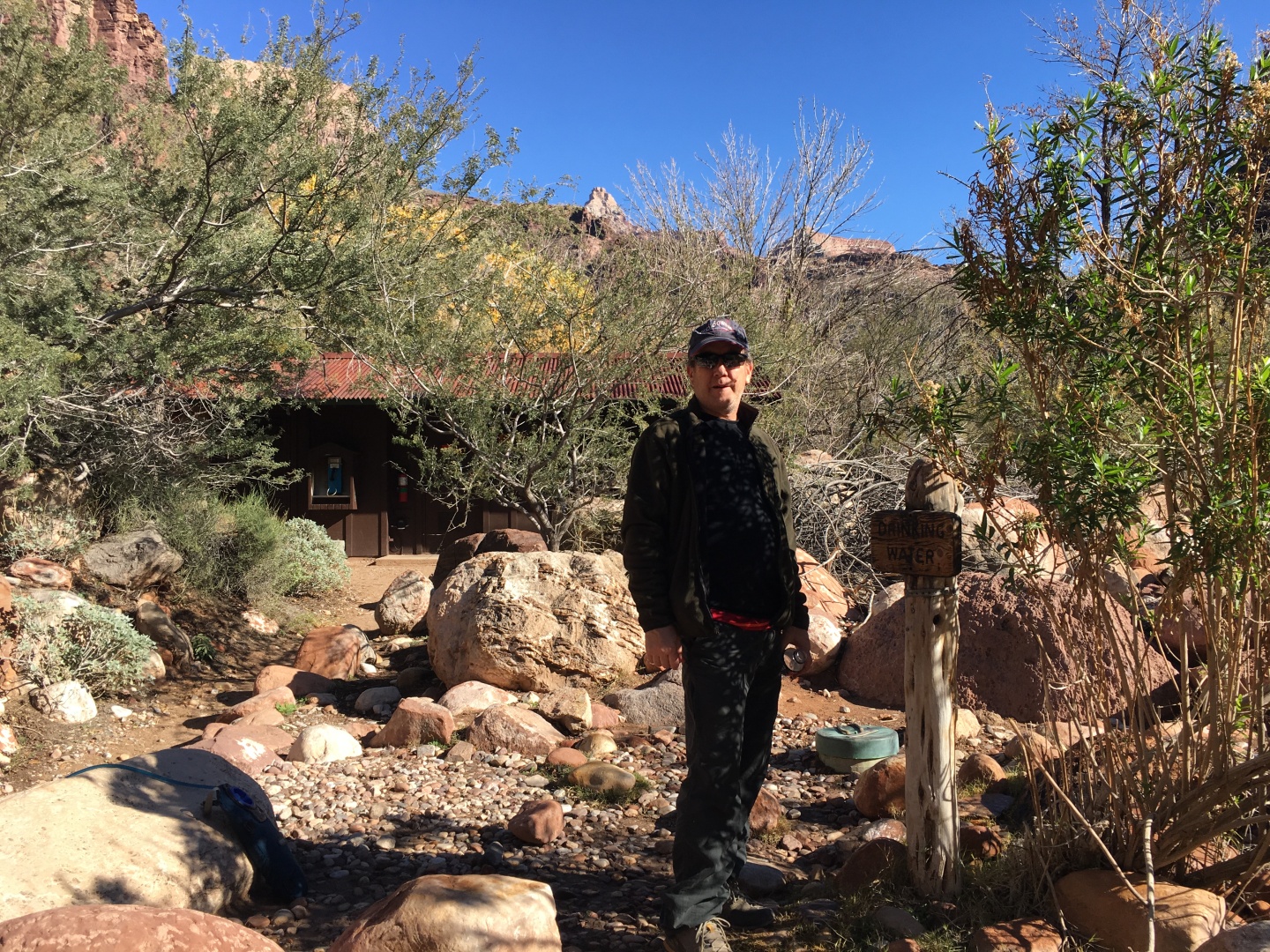 12:00

Last water until the rim!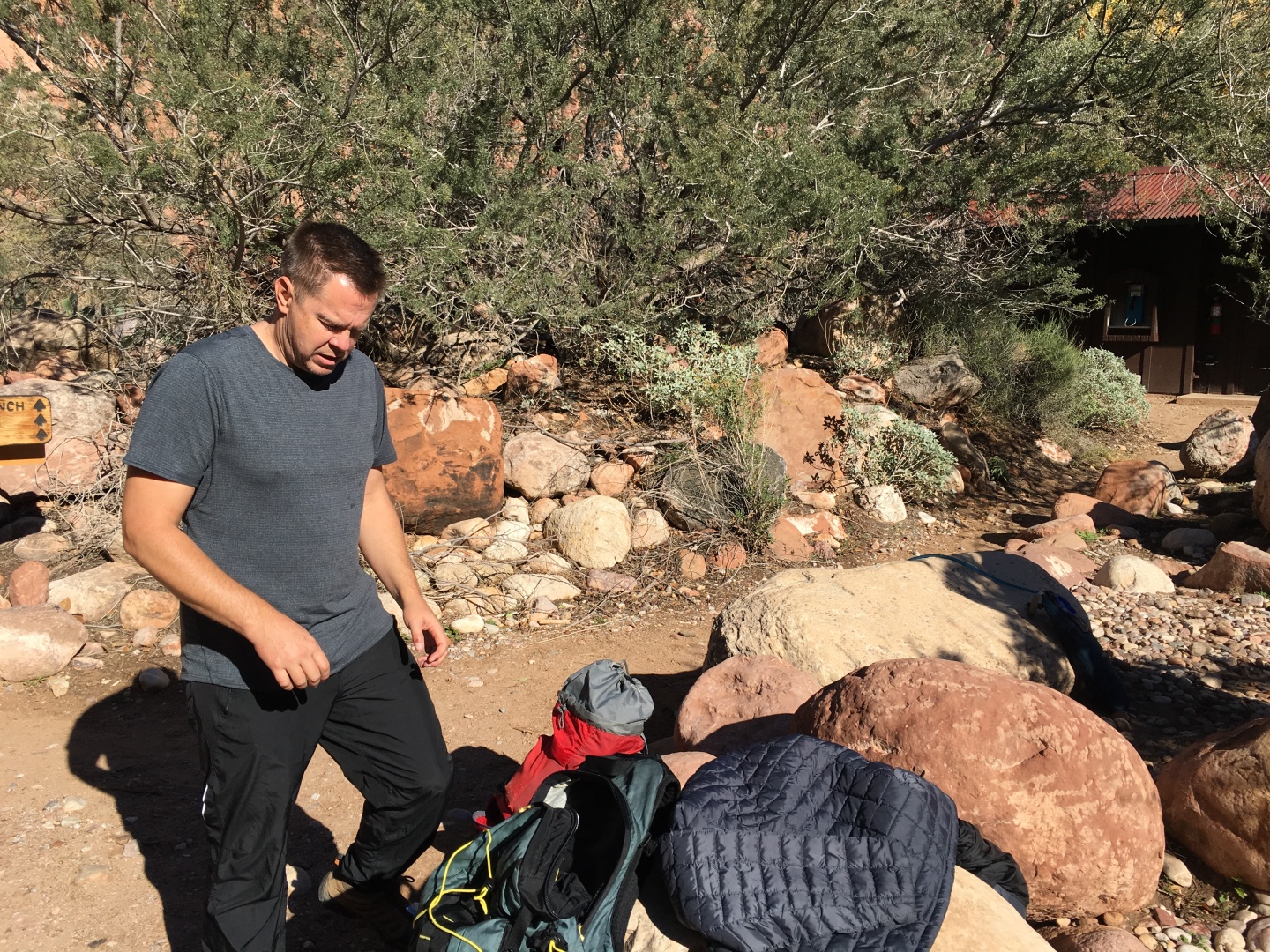 12:00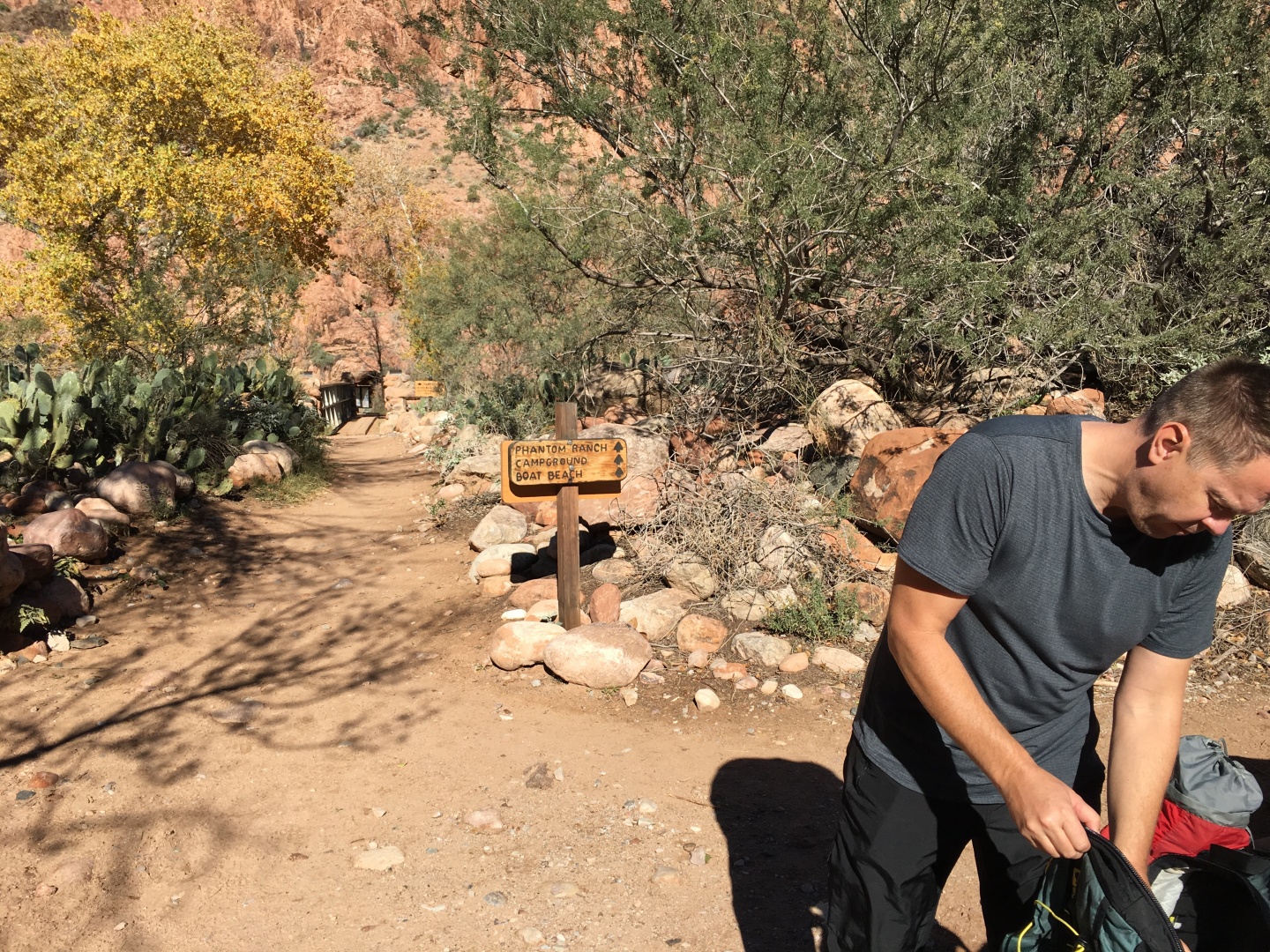 12:00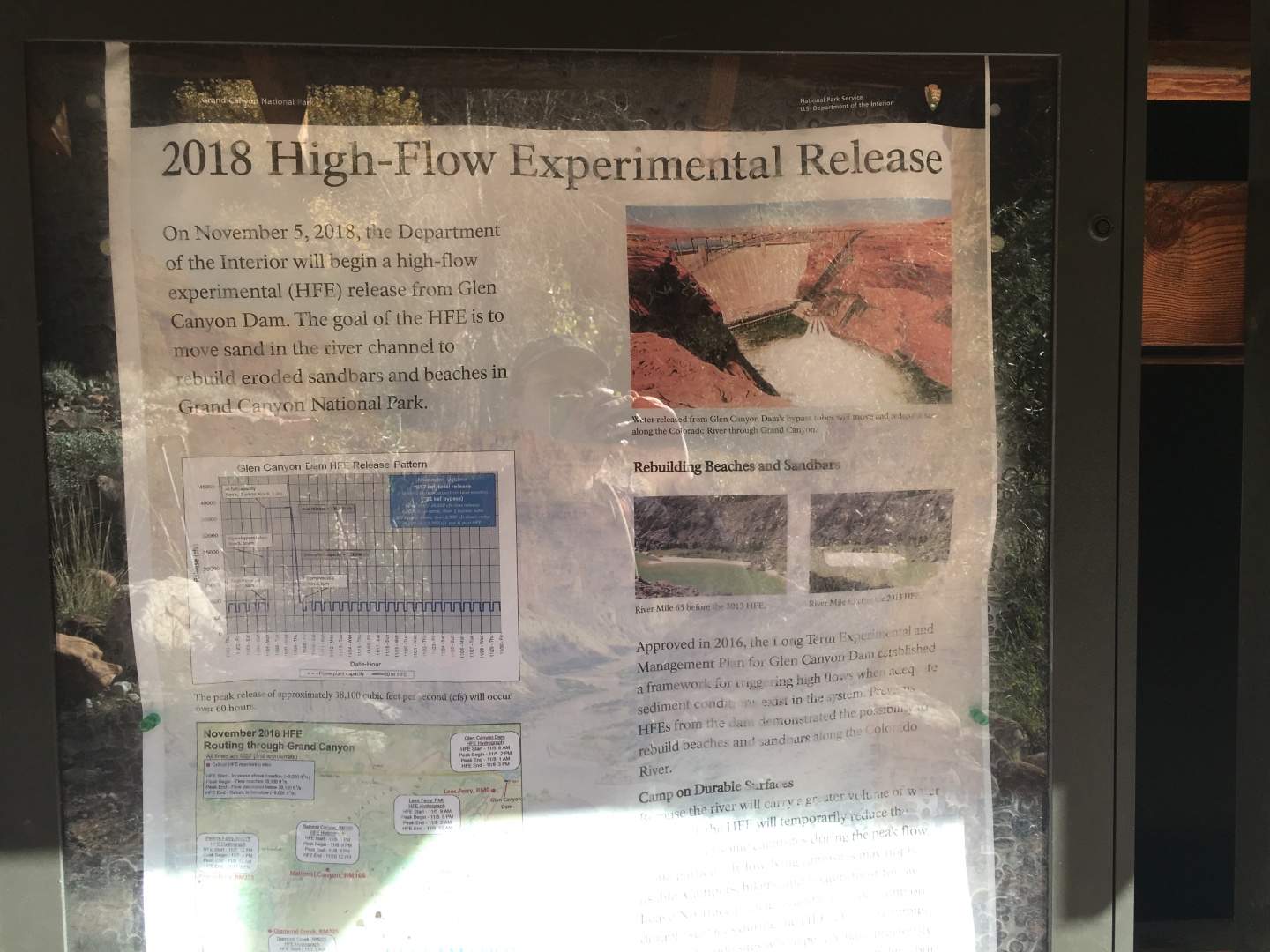 12:11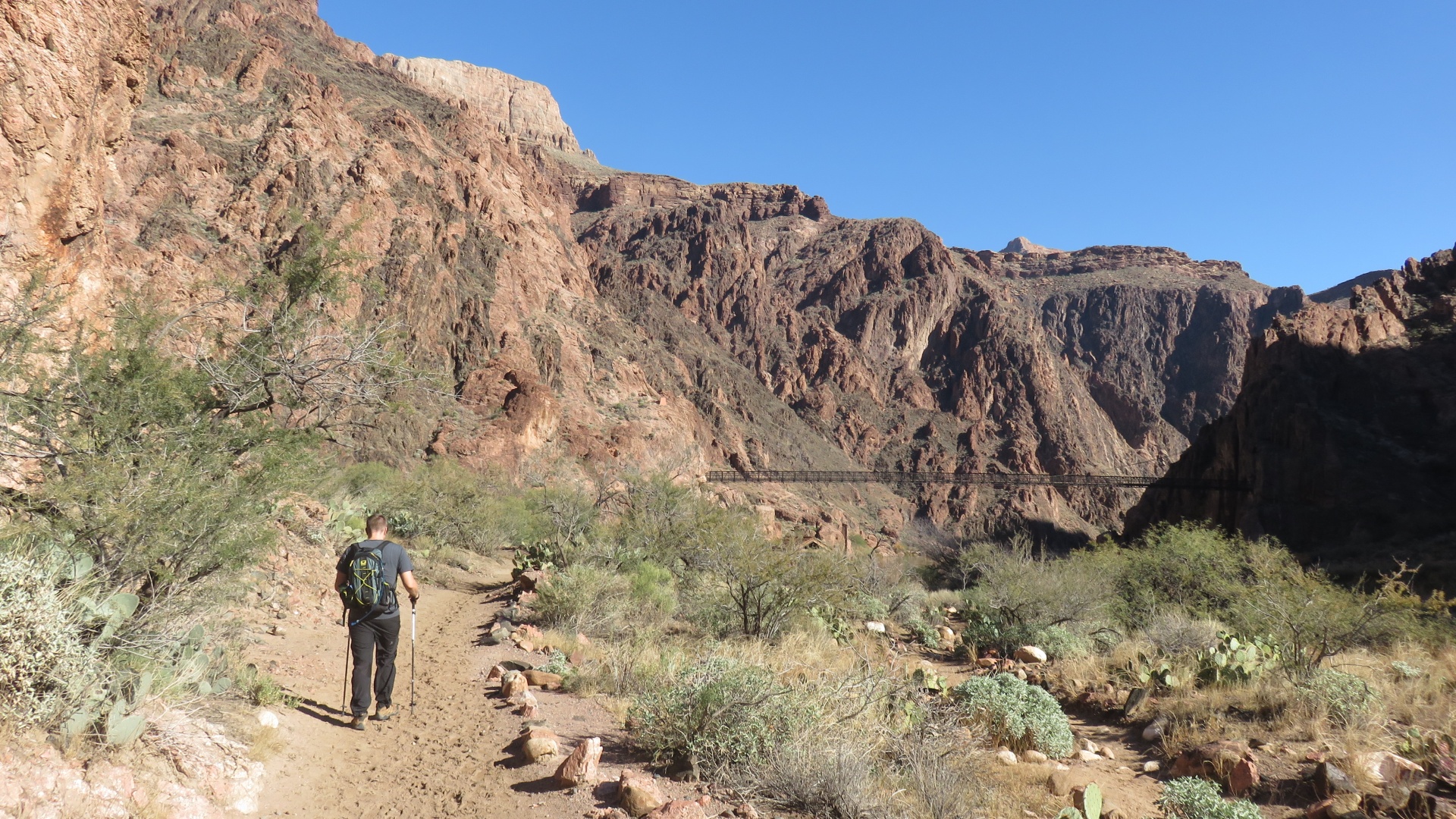 12:14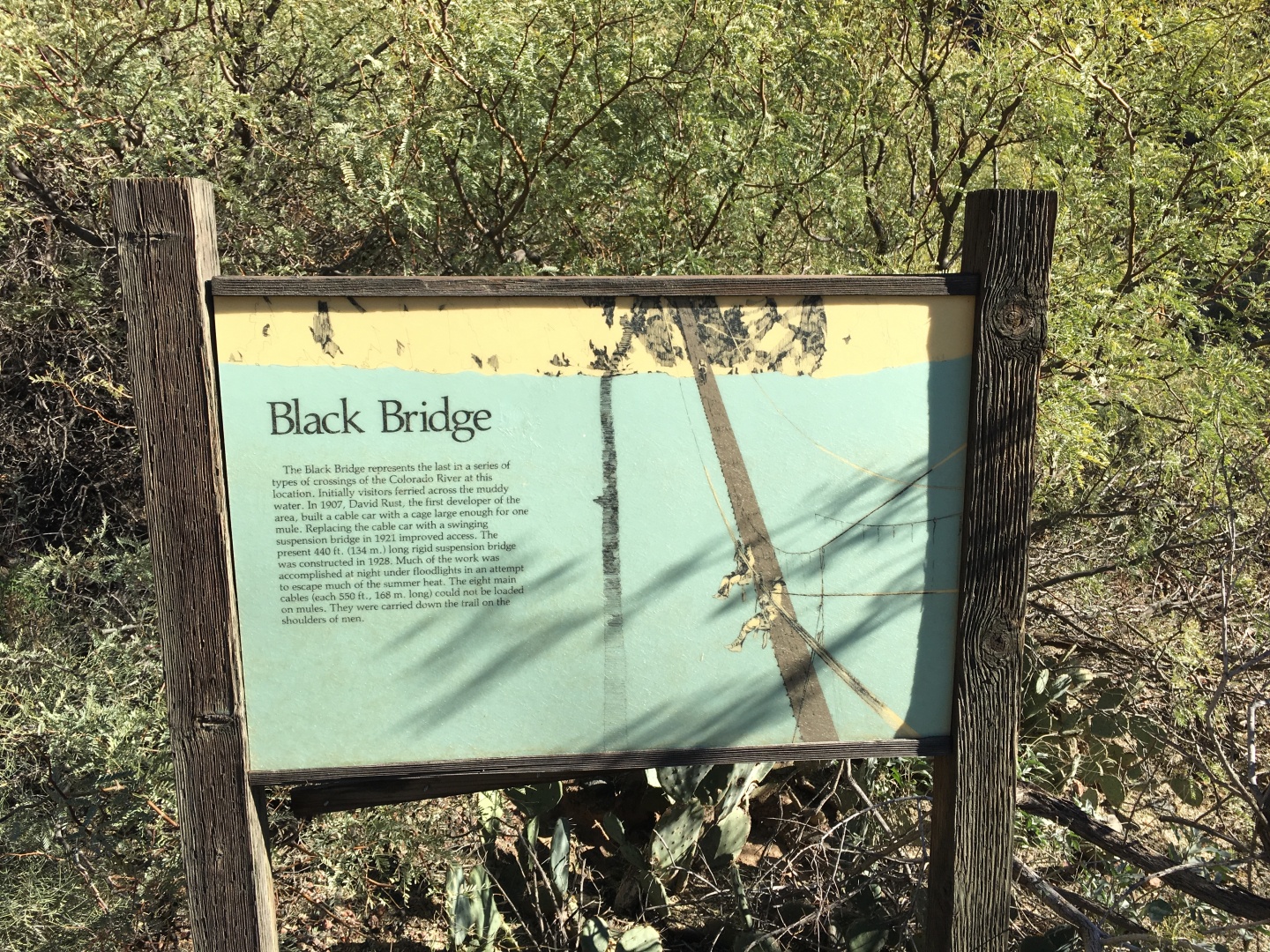 12:16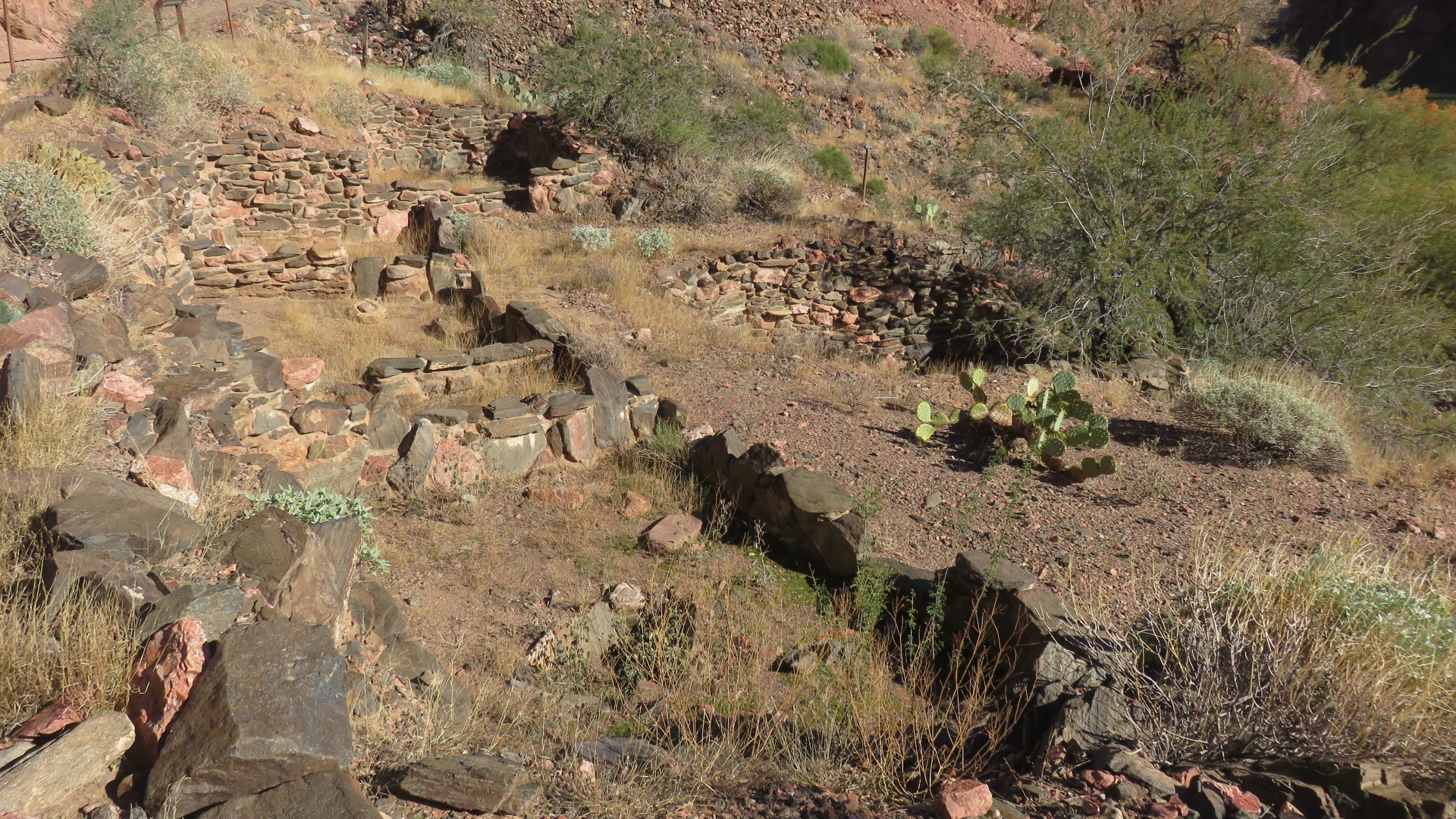 12:17

Bright Angel Pueblo.
Amazingly this restoration took several years of planning.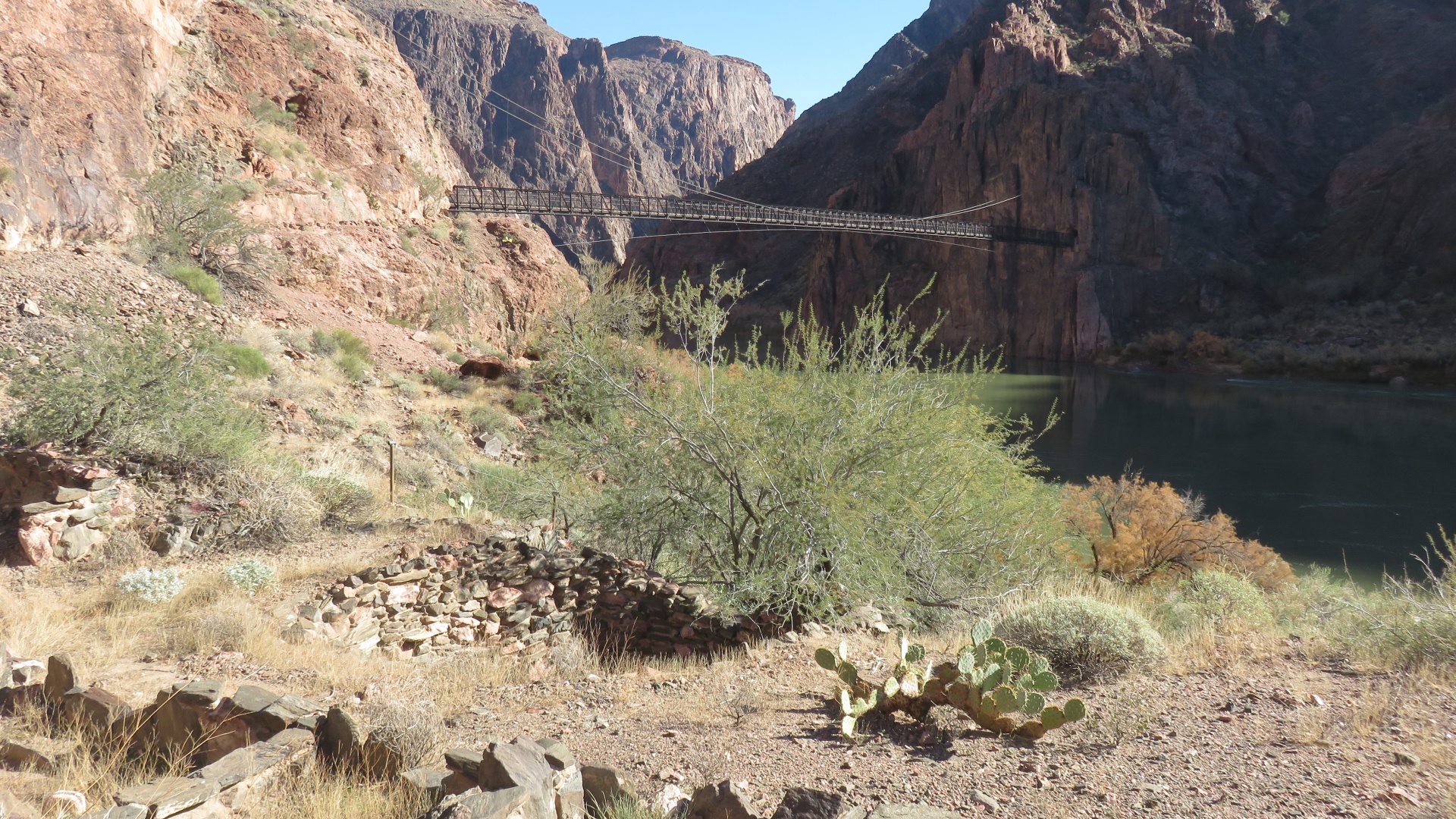 12:18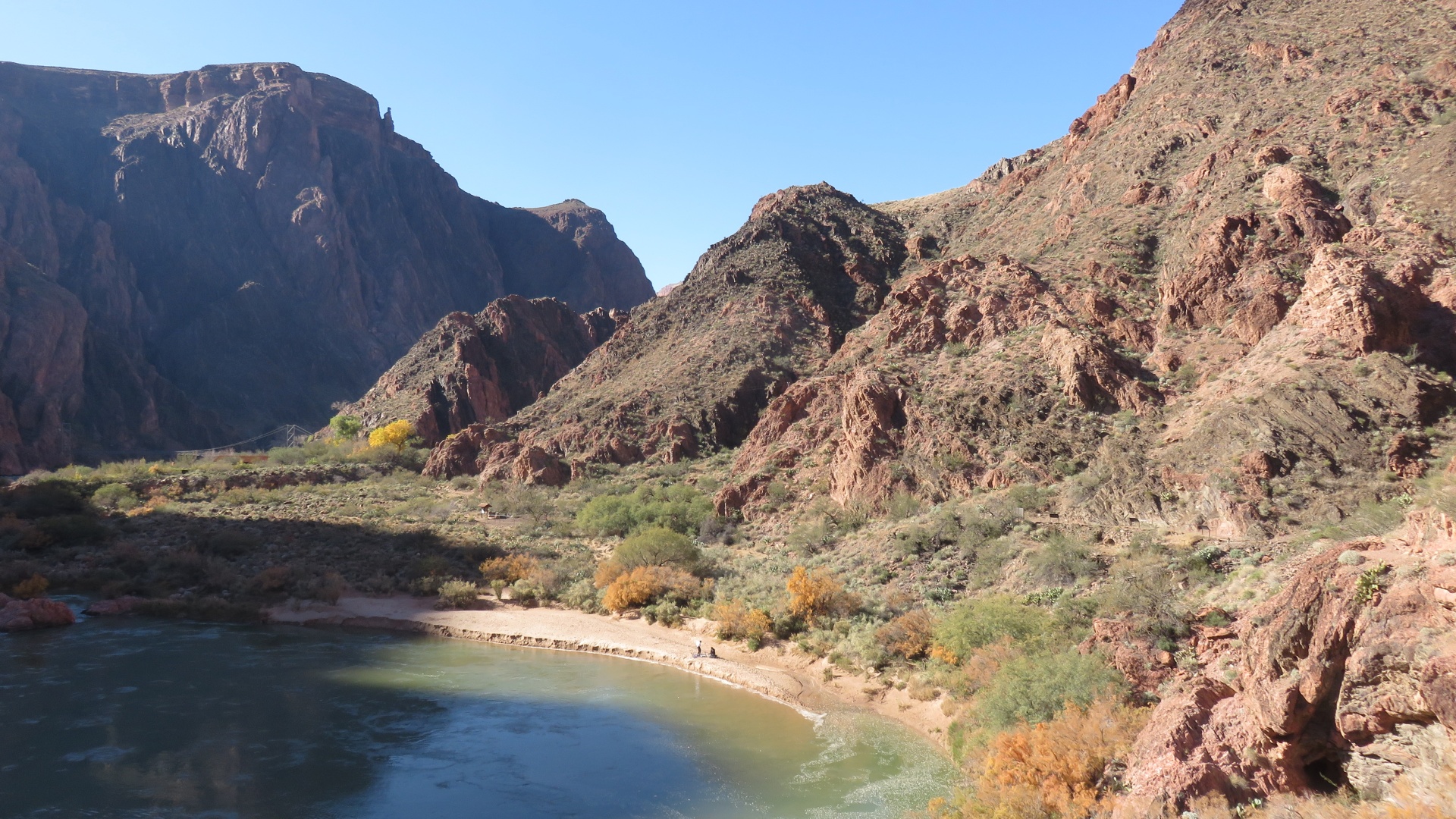 12:21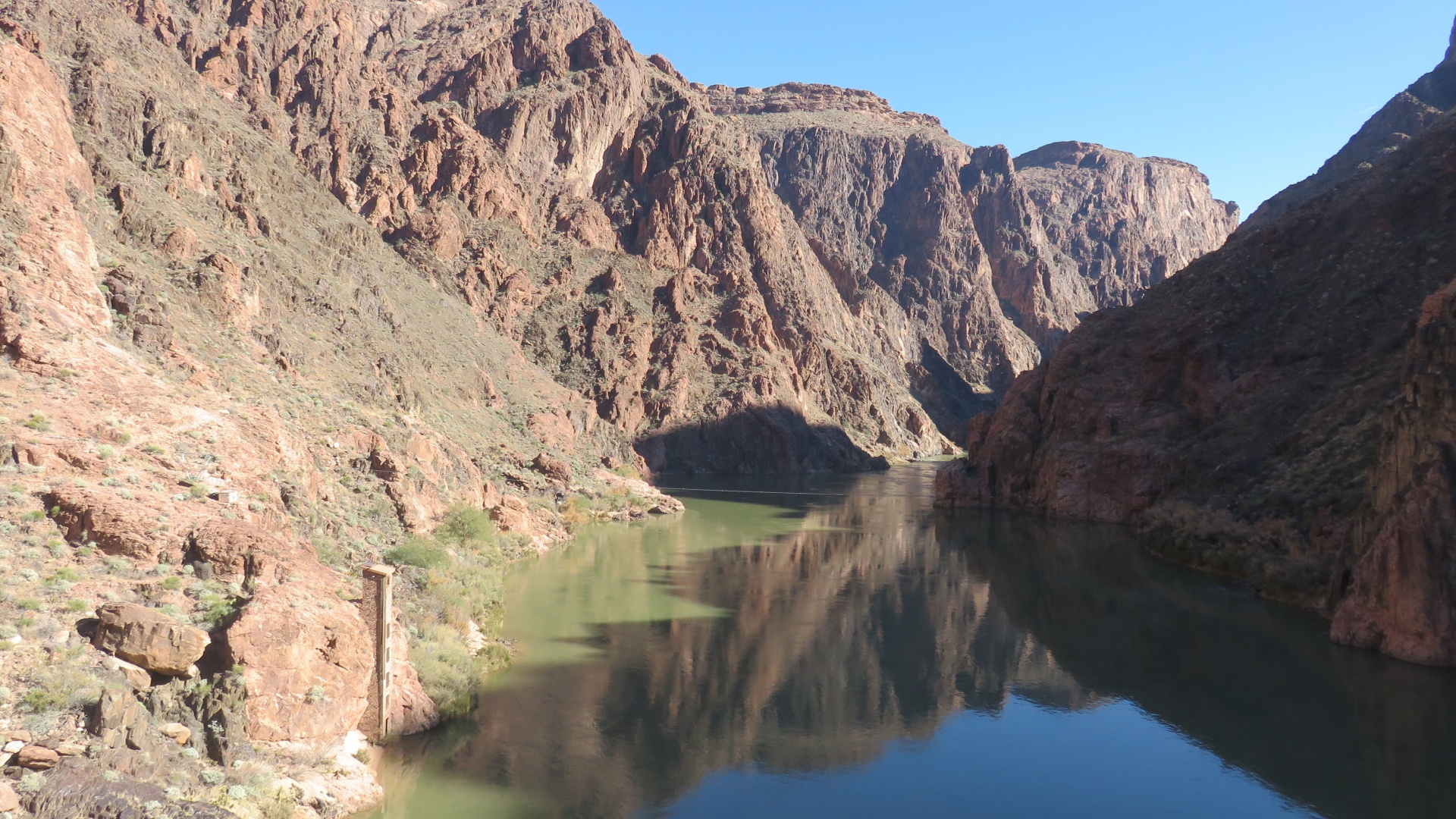 12:22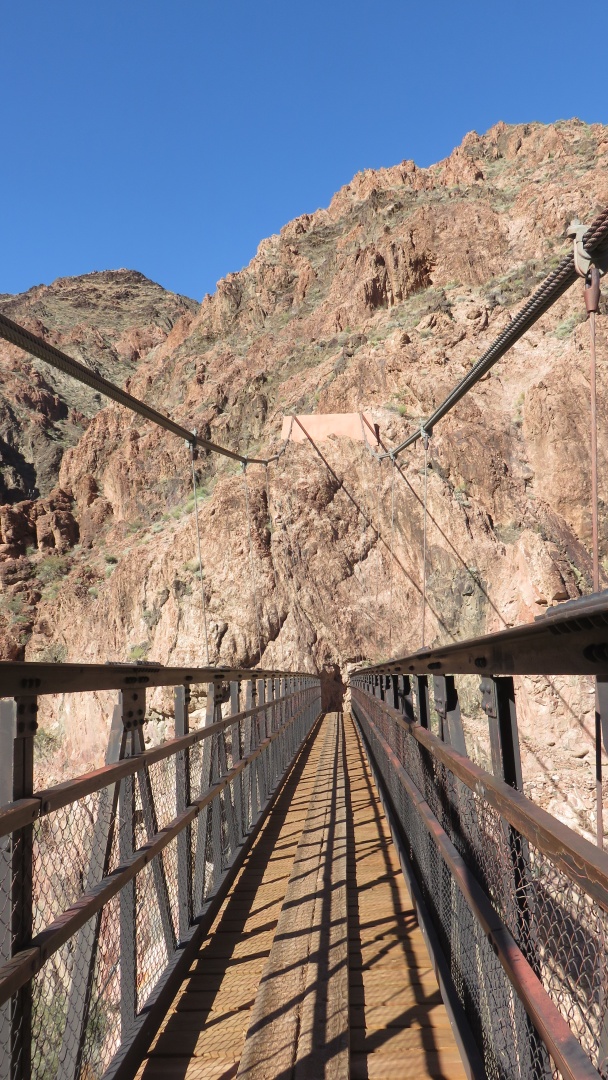 12:22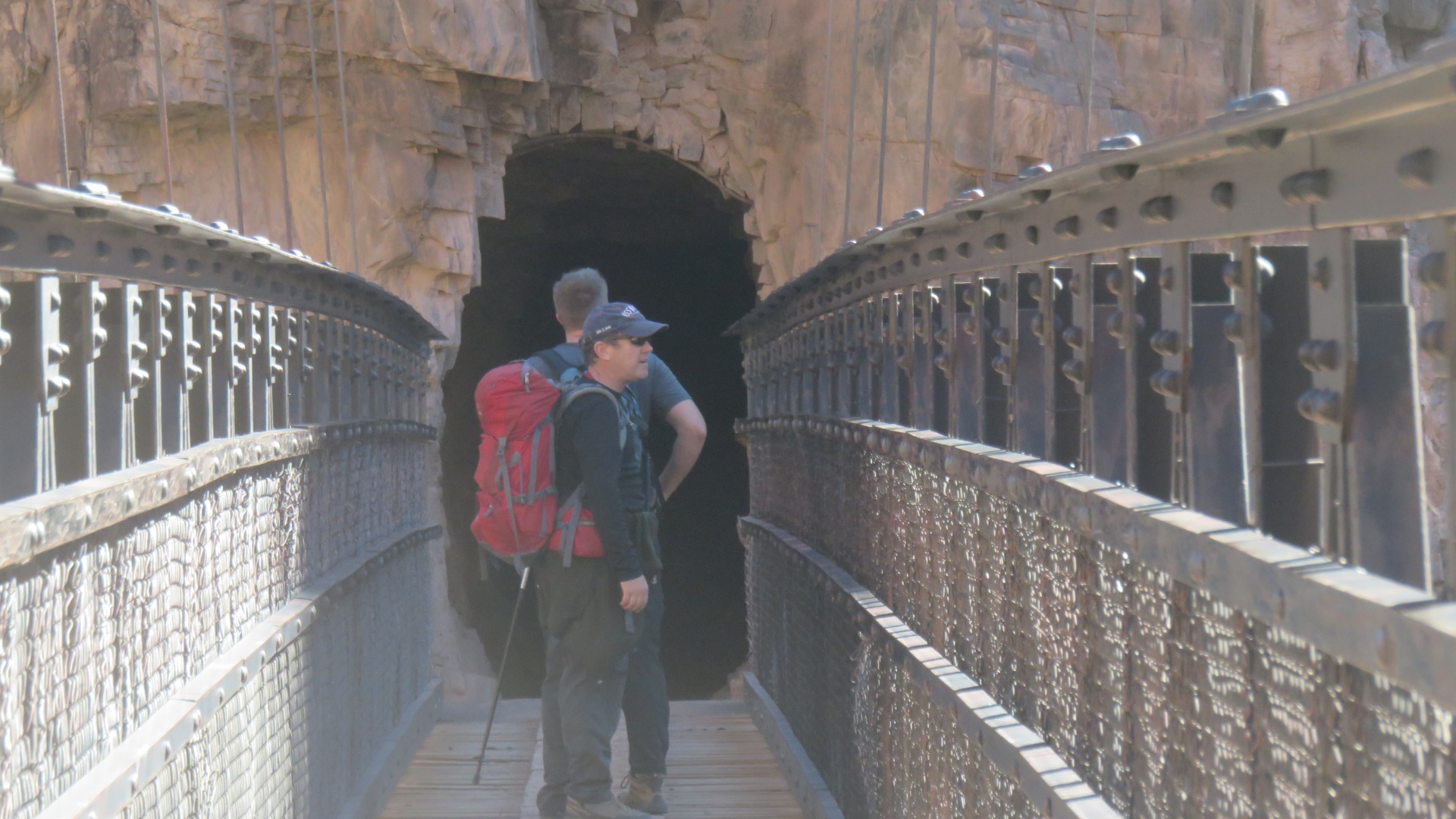 12:22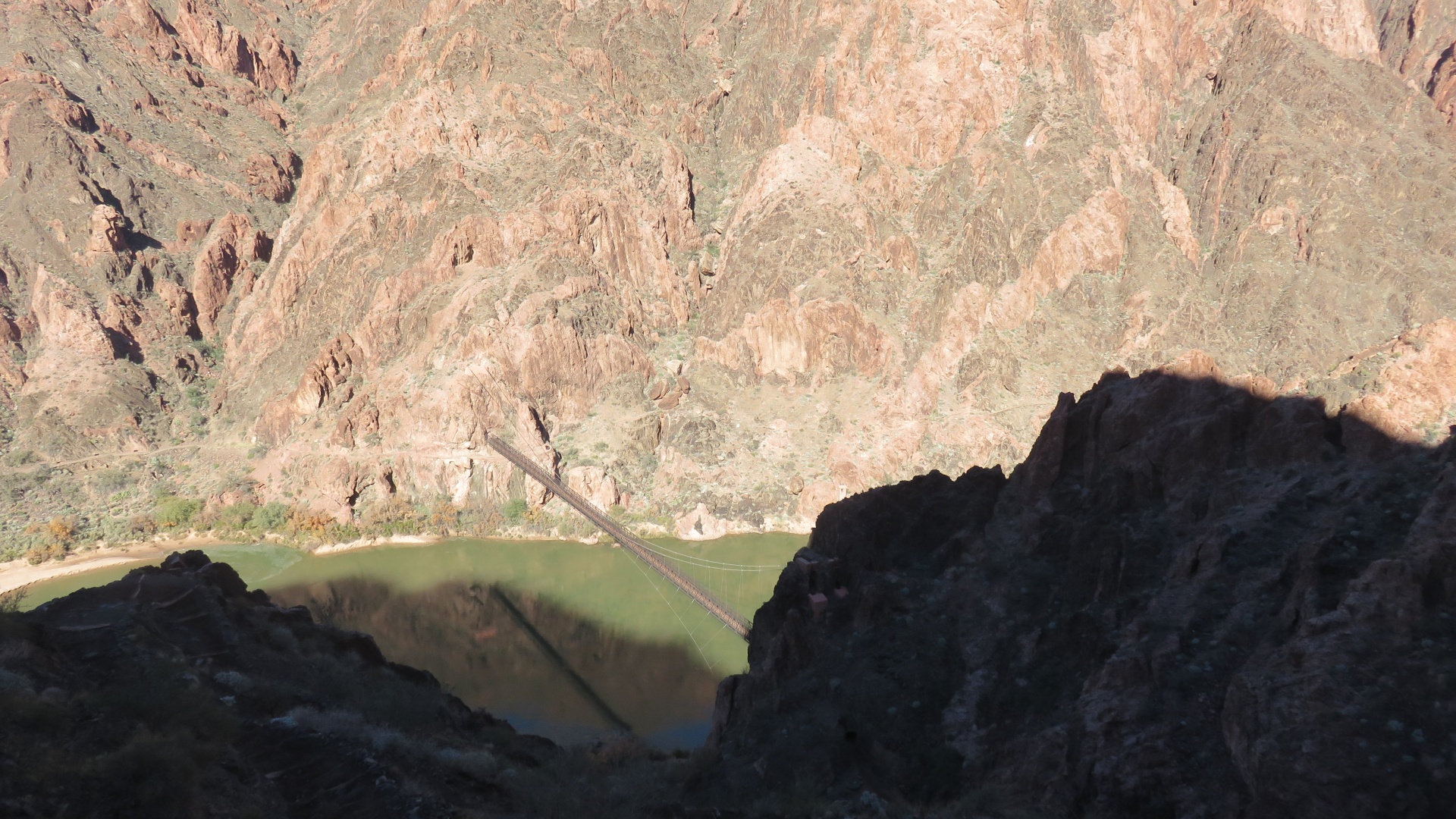 12:34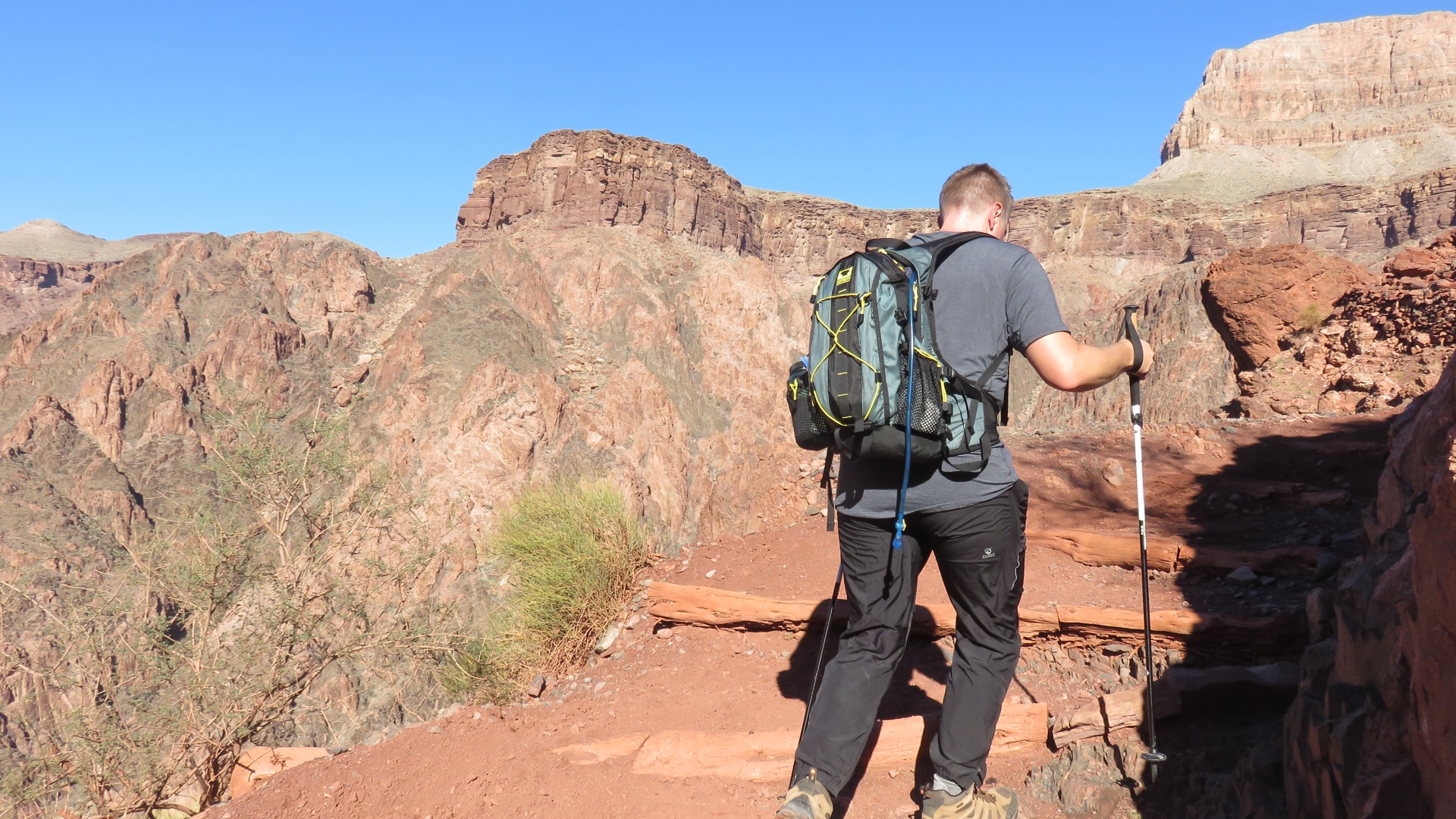 12:39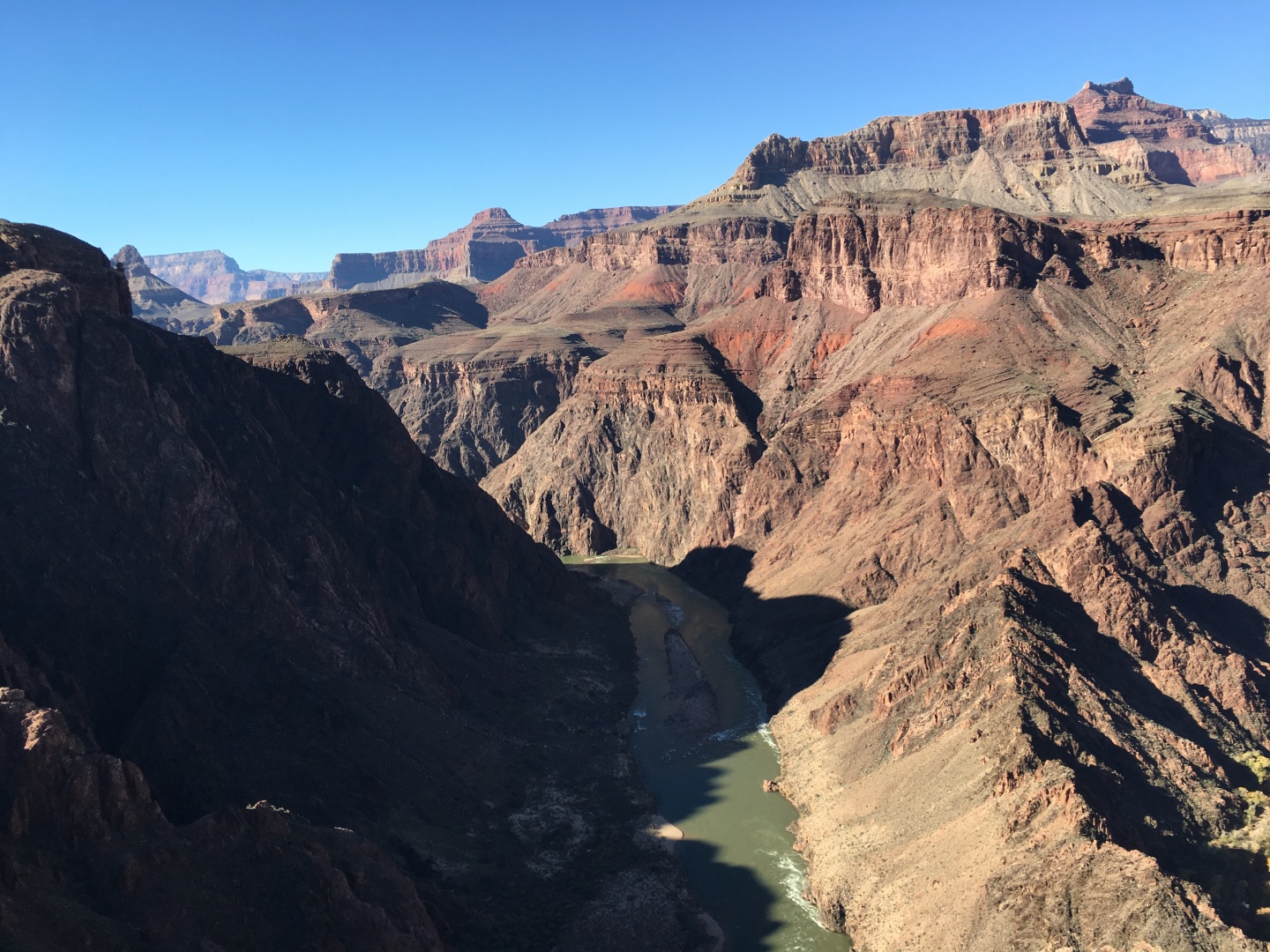 13:14

Panorama Point milepost 4.9 from the top looking west / downriver

I stopped to take several pictures at Panorama Point while Ray and Paul continued ahead.
While I lagged behind several times during the day, this was the longest I stopped for pictures so I fell several minutes behind.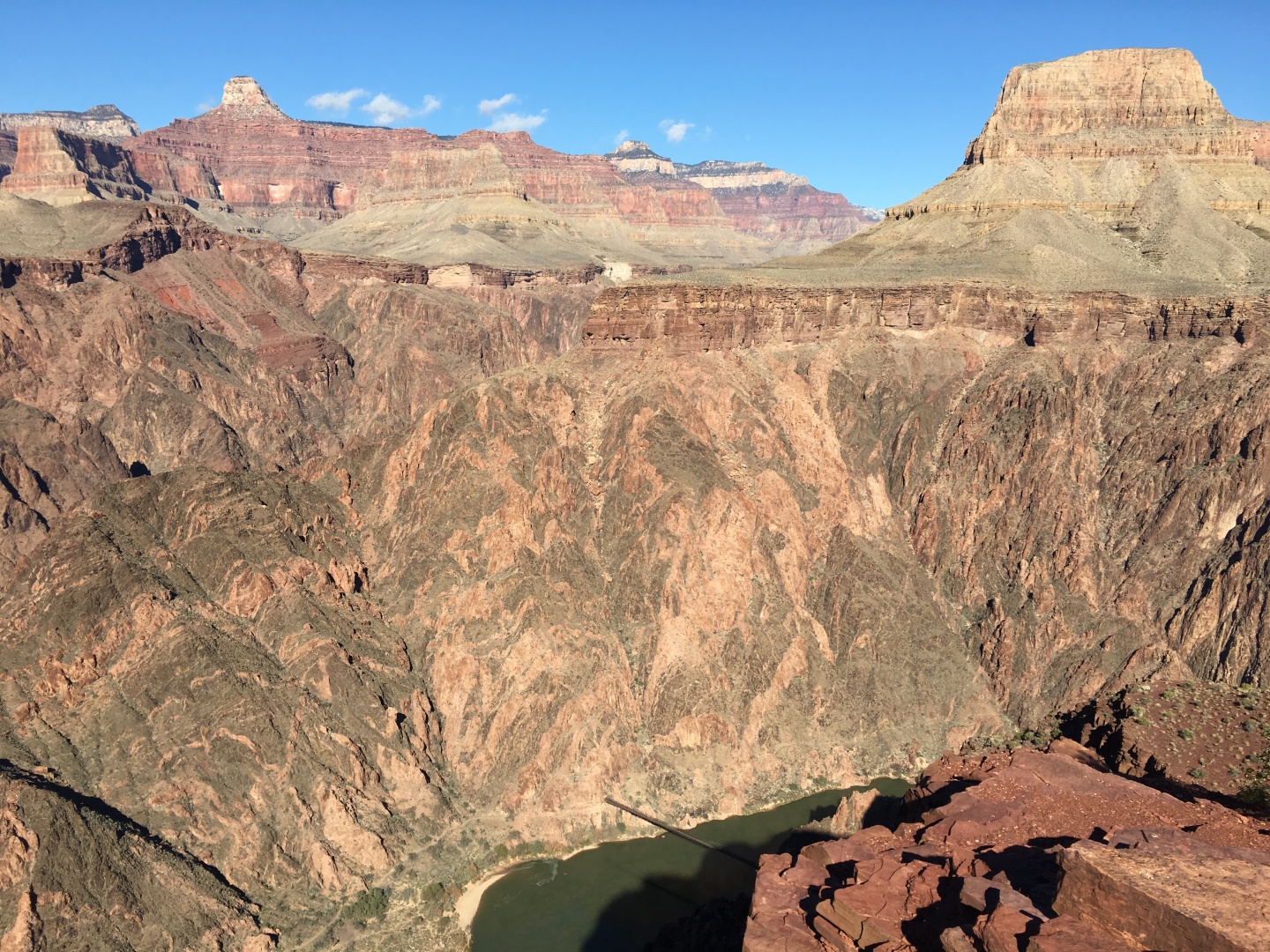 13:14

Panorama Point milepost 4.9 from the top looking northeast / upriver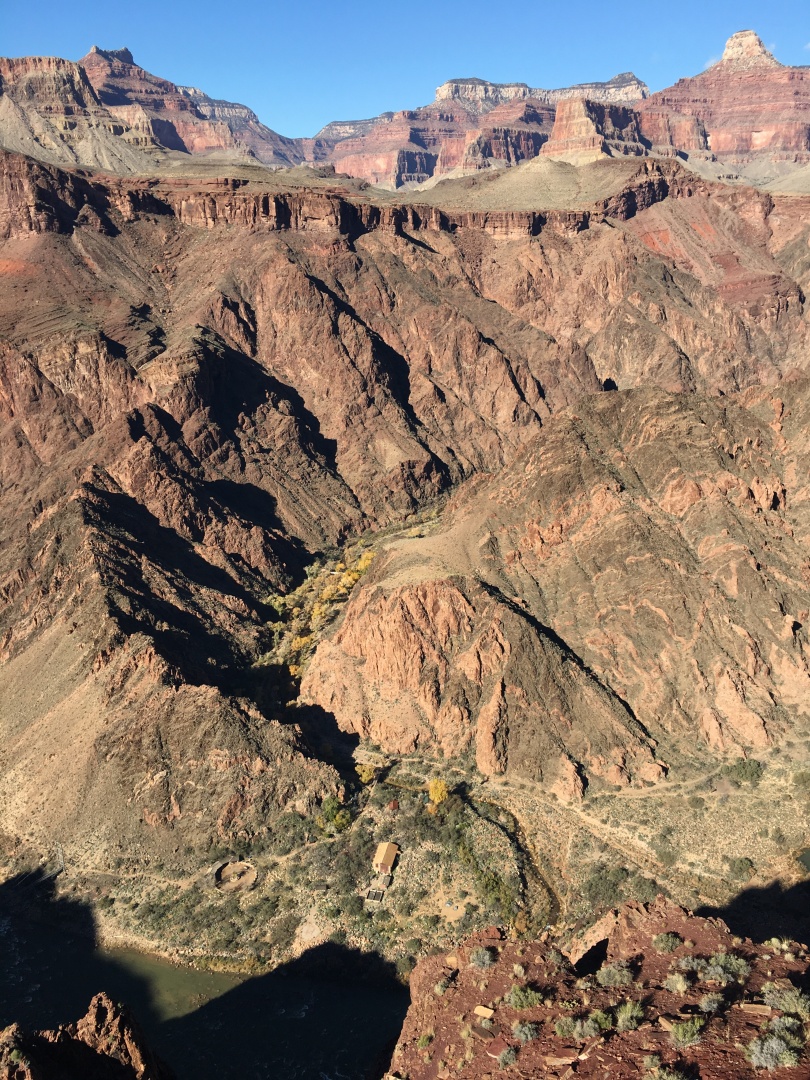 13:14

Panorama Point milepost 4.9 from the top looking north




13:17

PANO - scroll right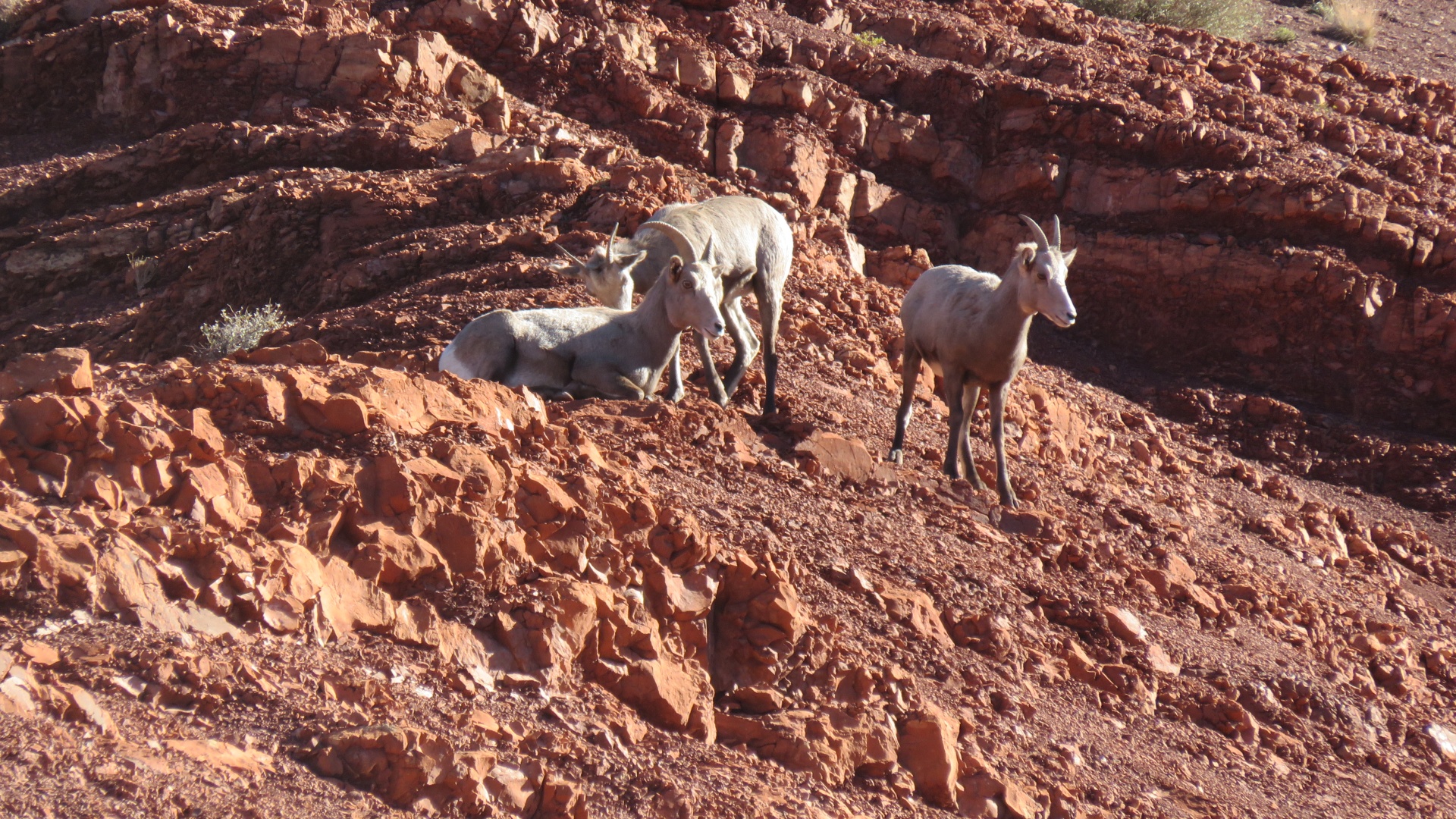 13:20

Shortly after I started hiking up from Panorama Point I saw three bighorn sheep above the trail ahead of me.
I got as close as I dared and started taking pictures.
They were moving slowly down toward the trail and I could tell they were going to cross it
I wanted to call ahead to Ray and Paul to make sure they saw the sheep, but I didn't make any noise because I didn't want to disturb the sheep.
I took a few pictures, then switched to video because I knew they were going to start moving.
I knew I wasn't positioned as well as I could be, but didn't move forward until the sheep started jumping...



My video



Ray's video

Ray and Paul were watching, and Ray and got better video than I did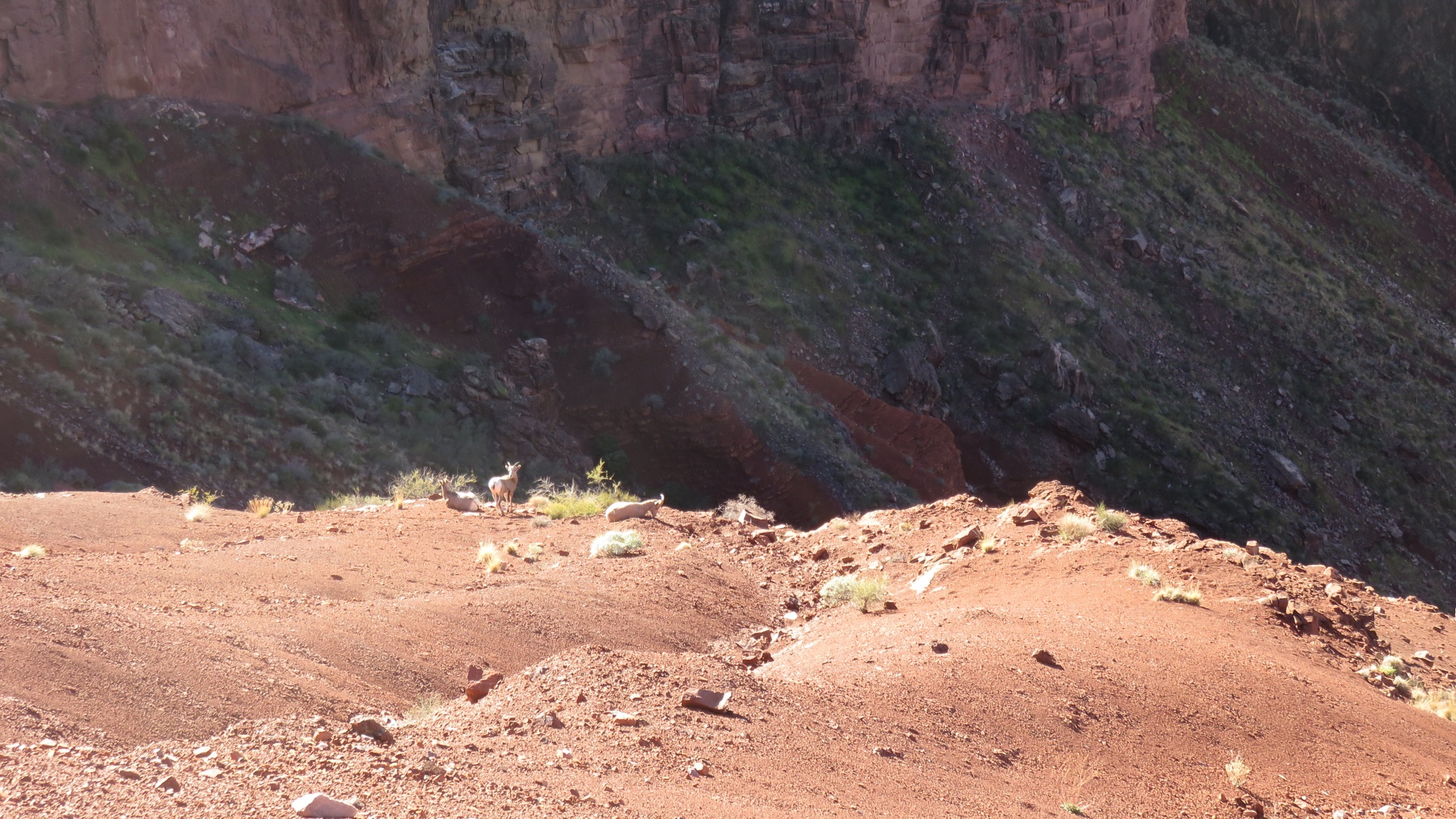 13:22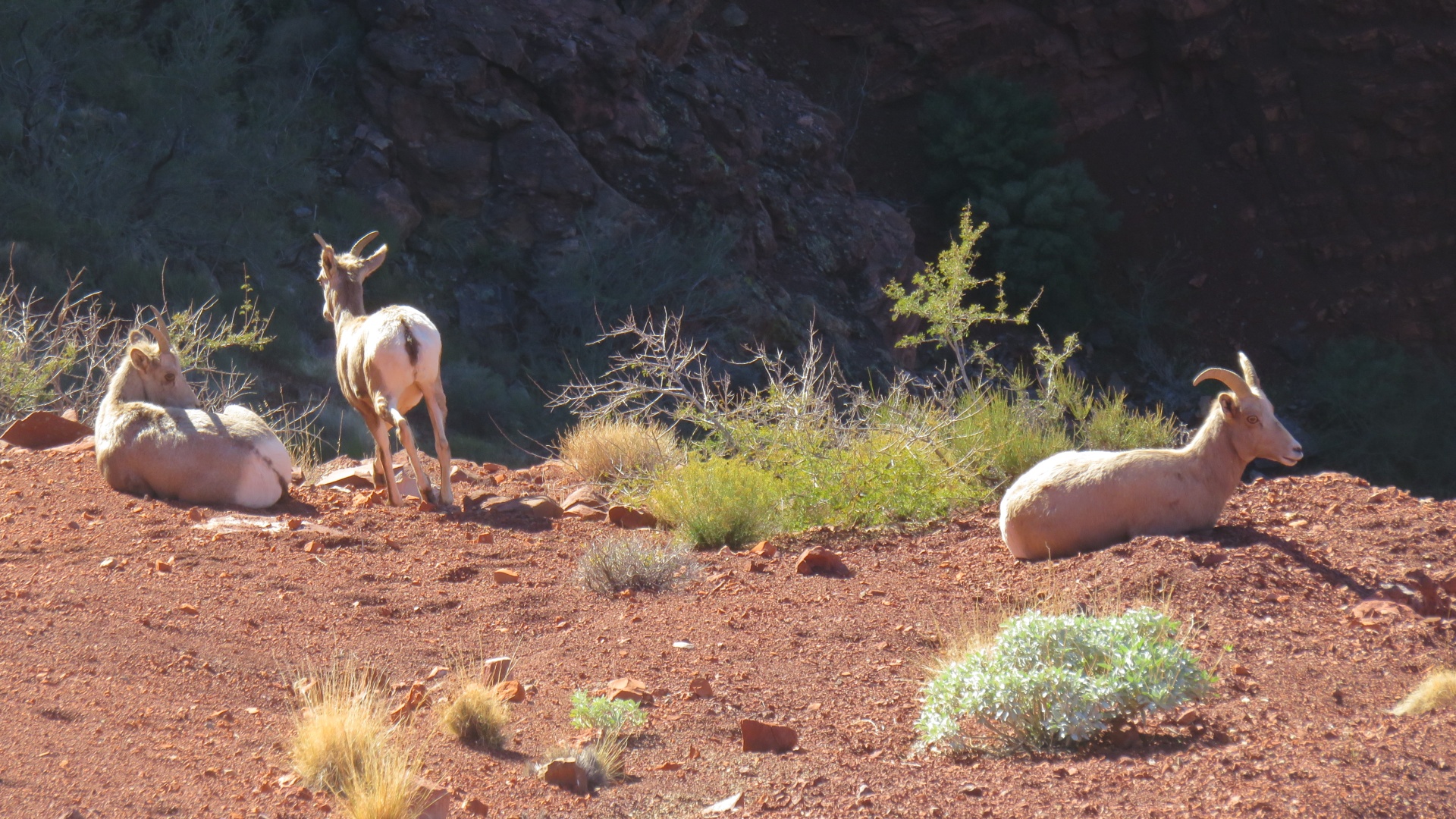 13:23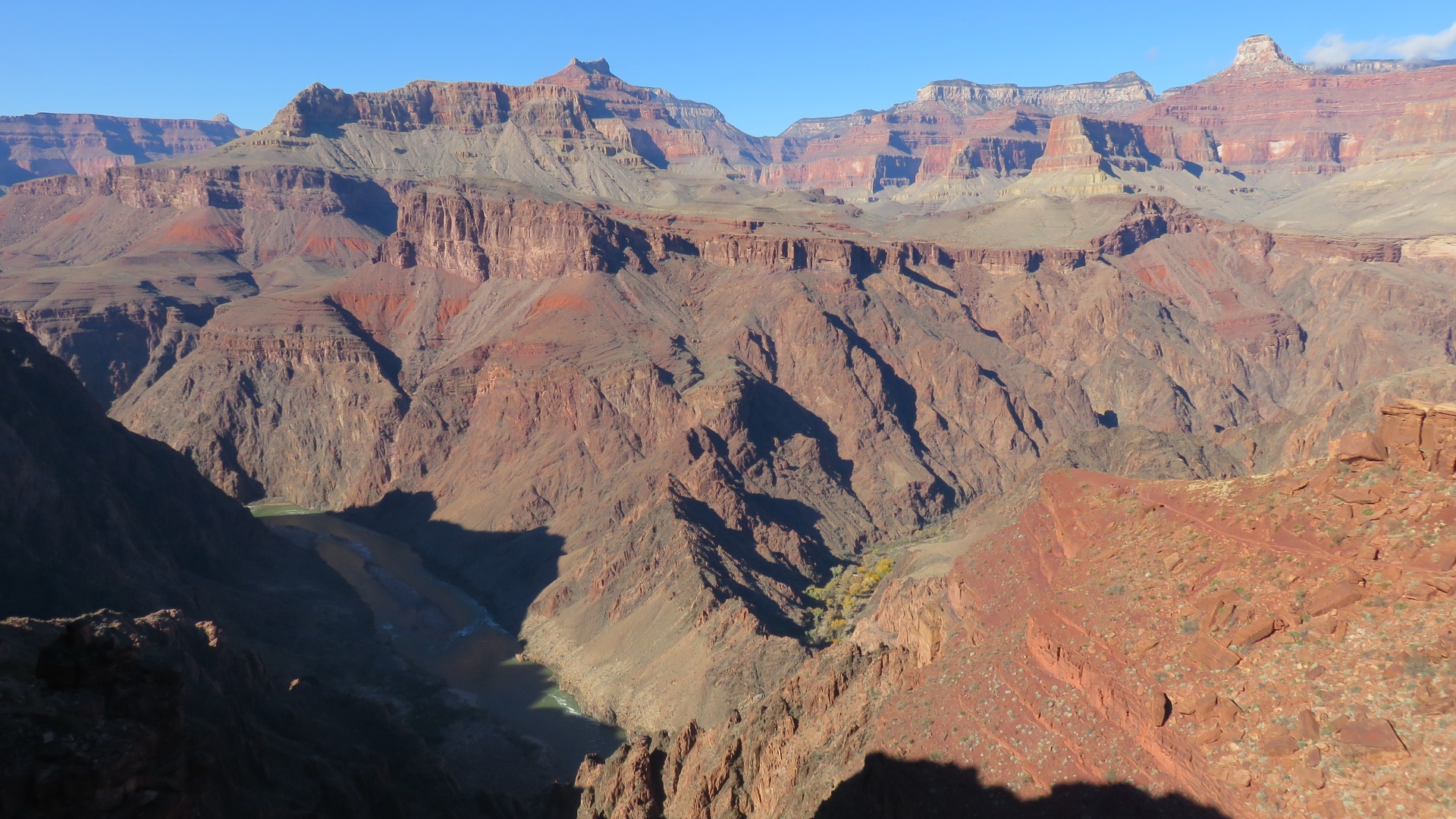 13:31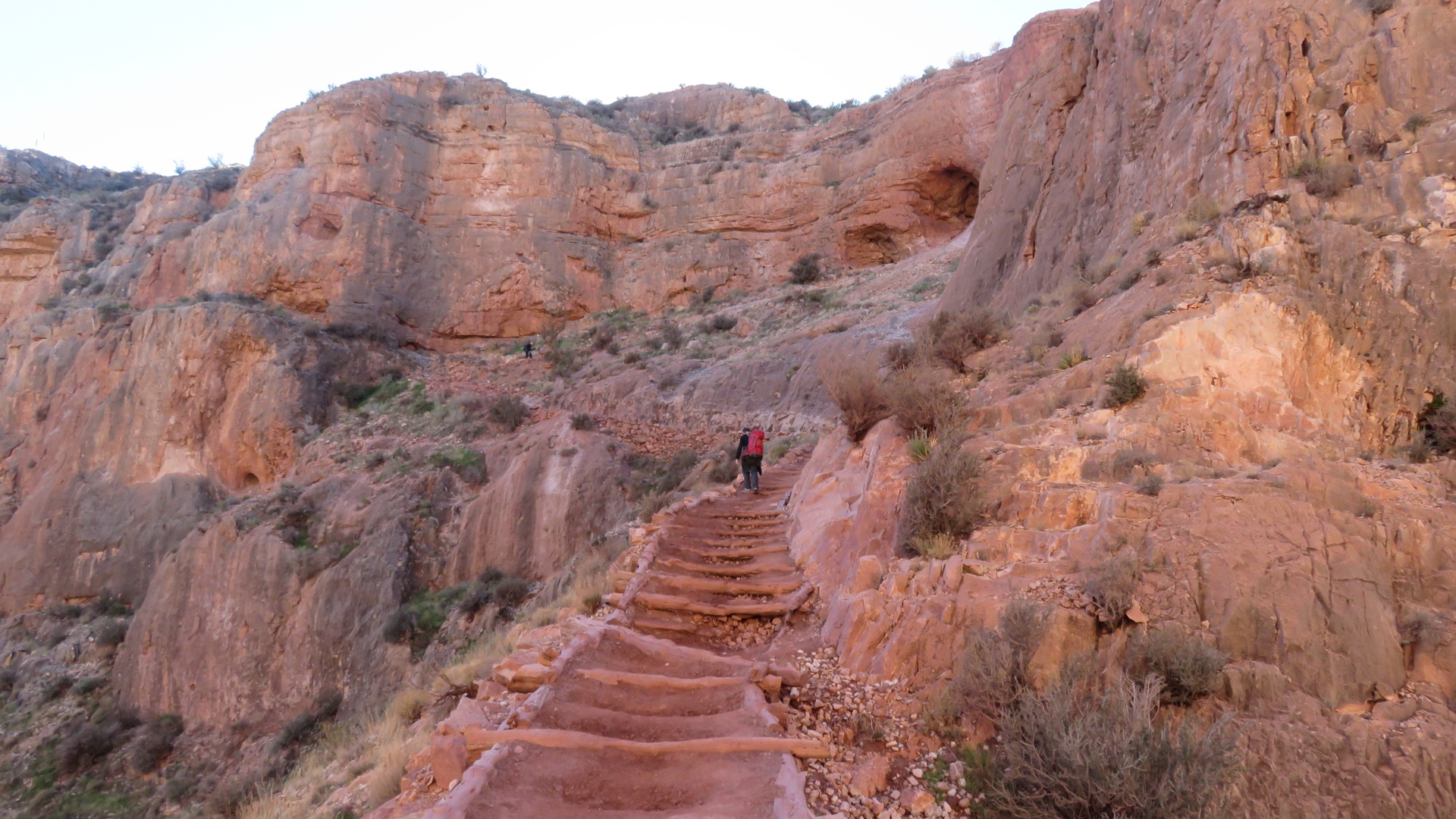 14:23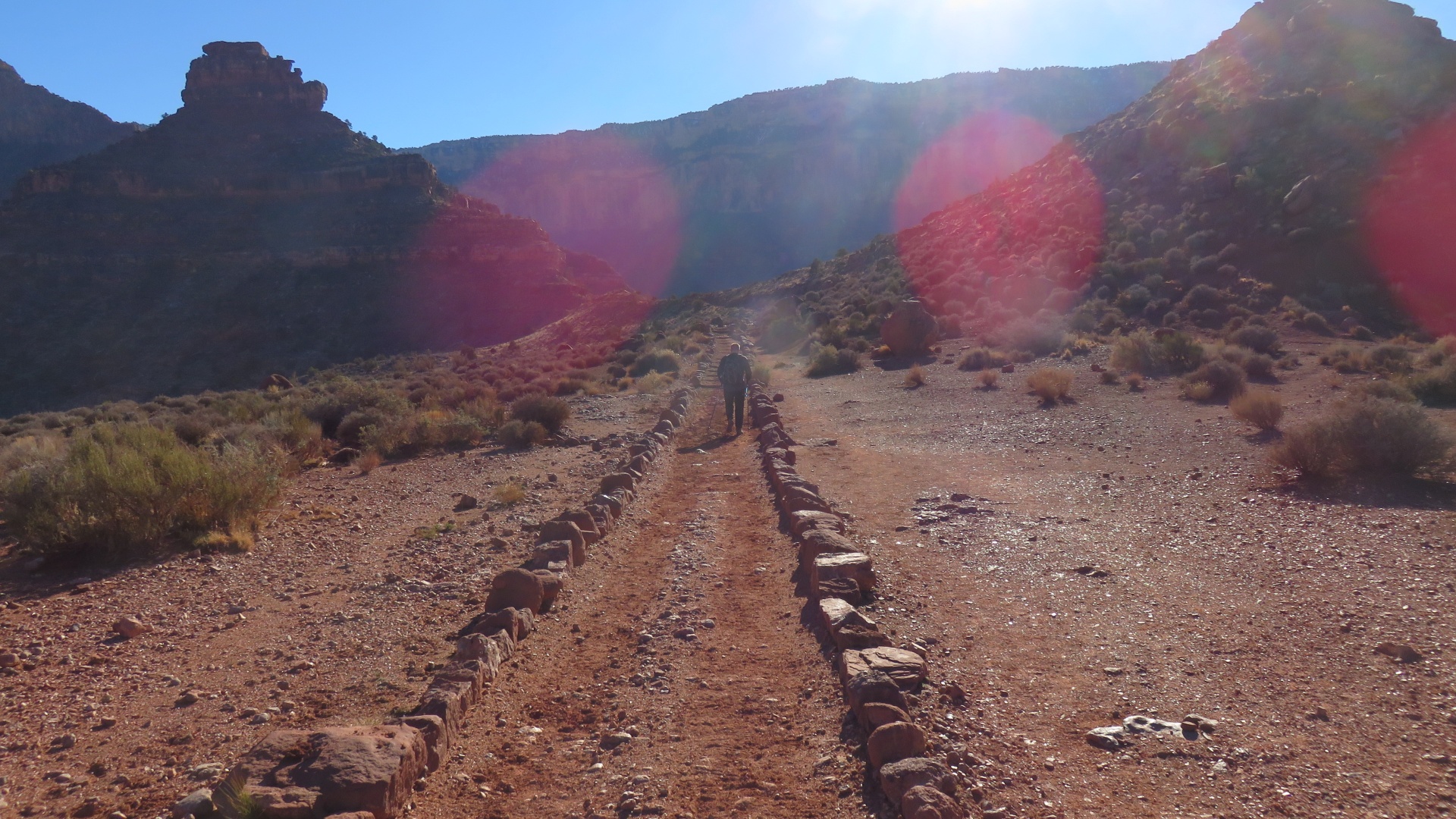 14:41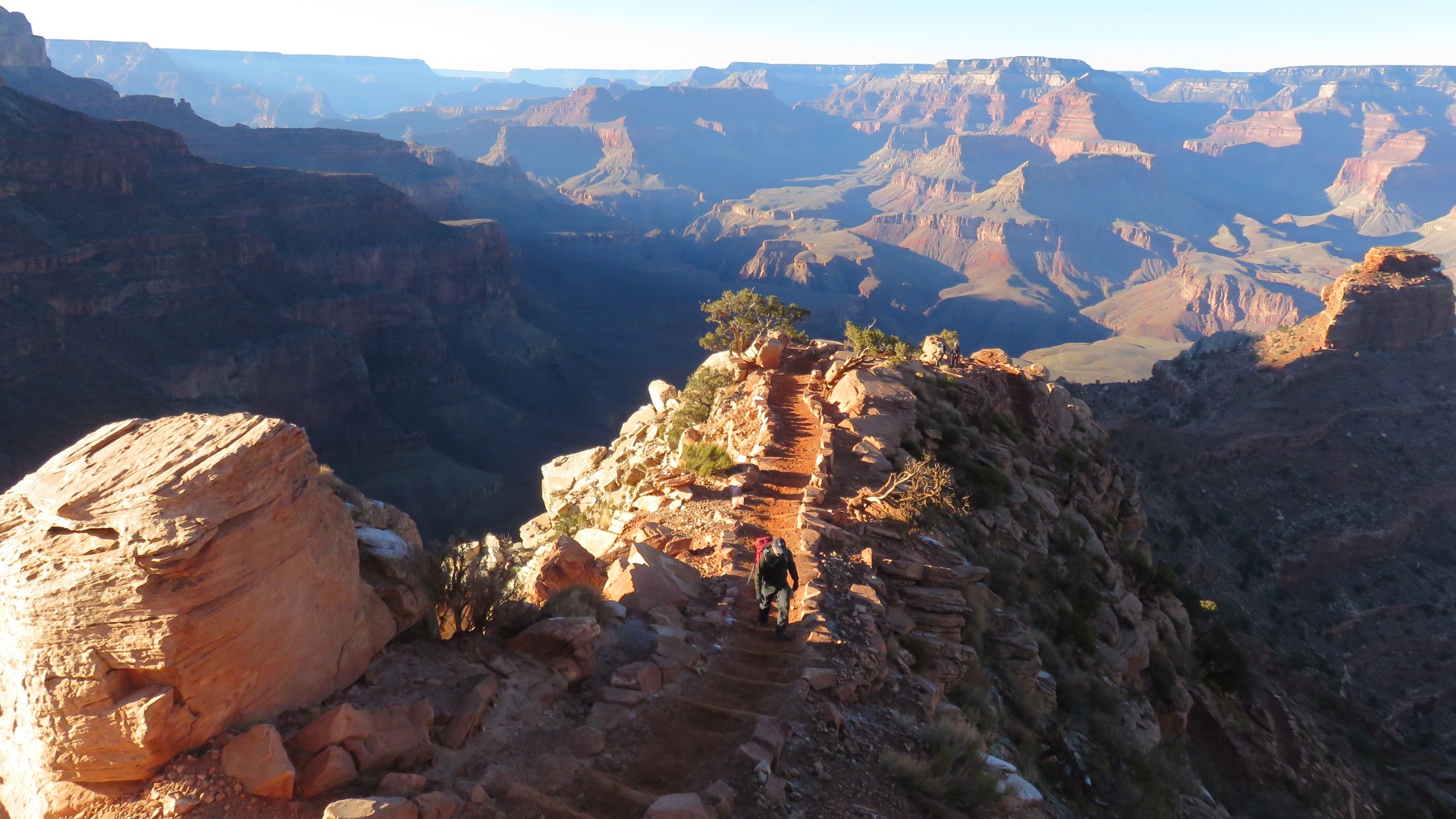 15:48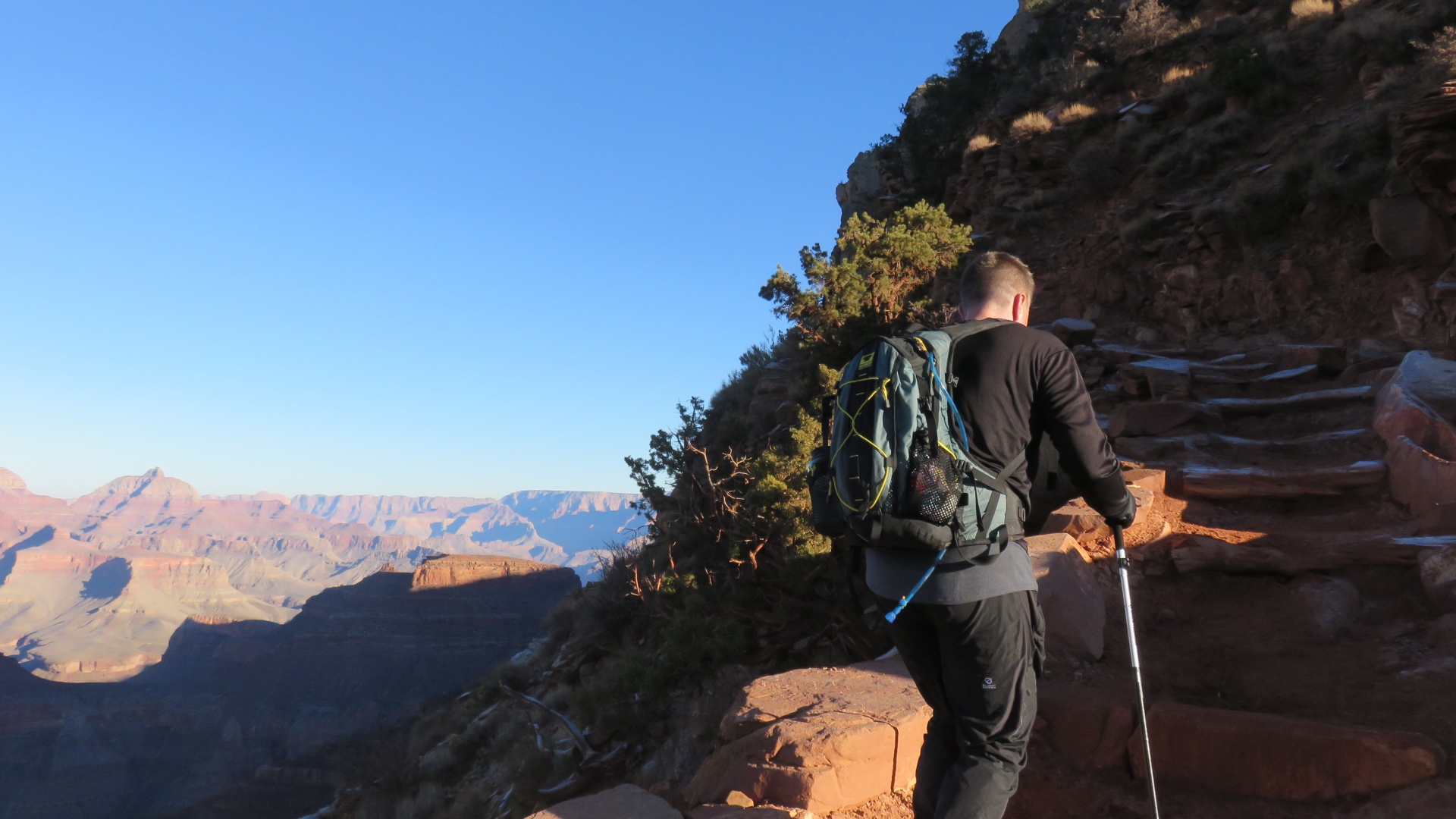 15:48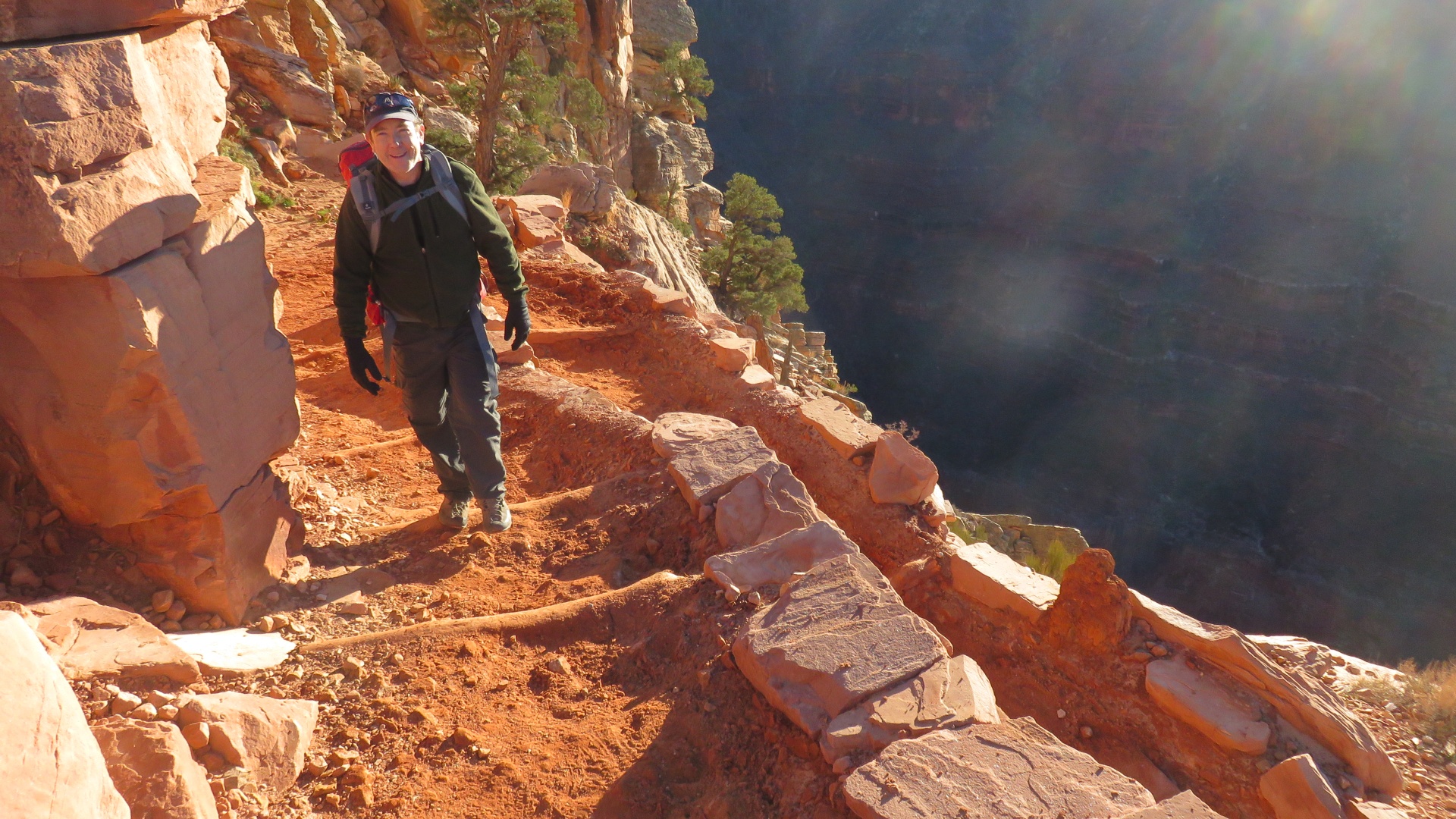 15:48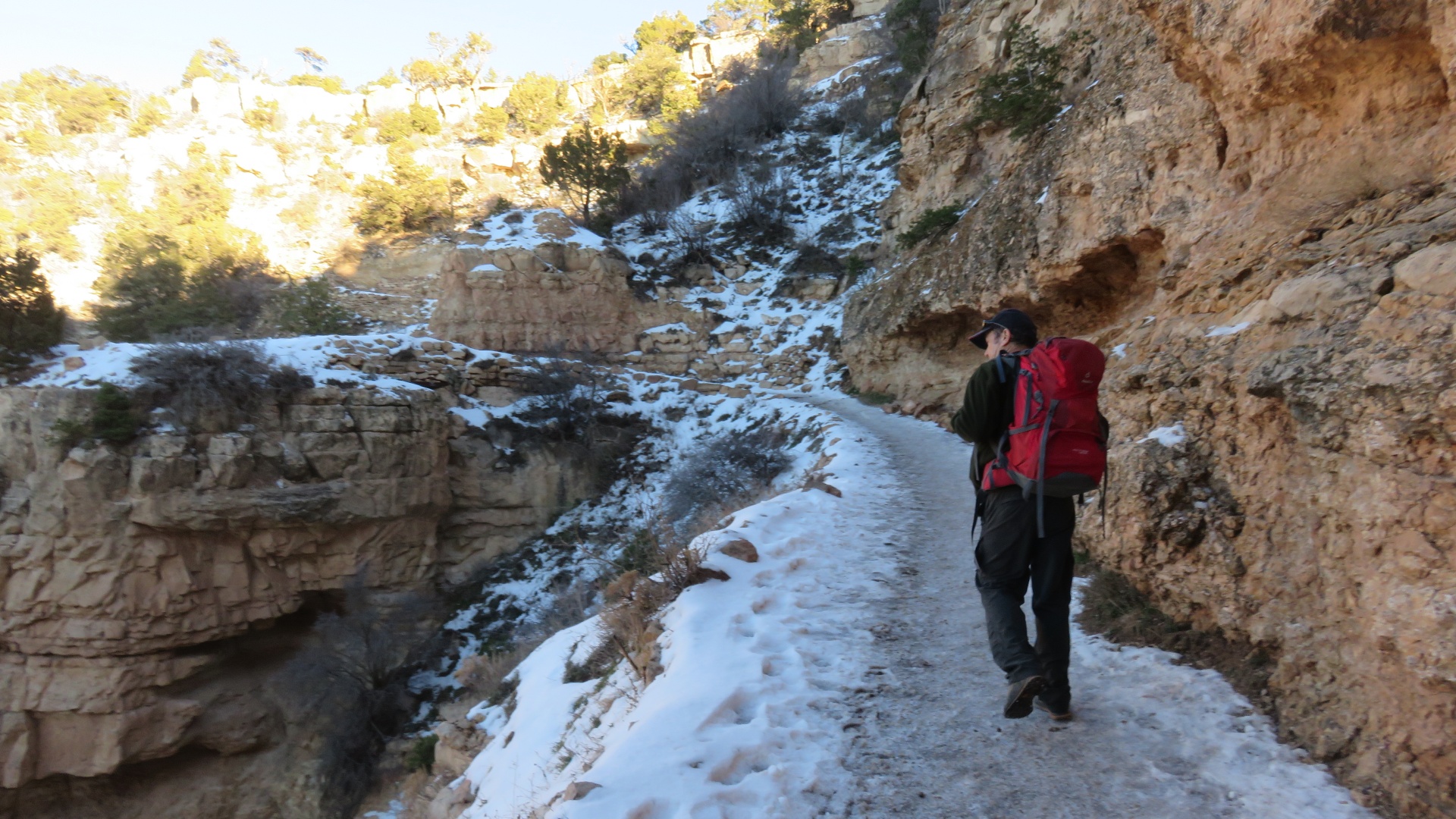 16:19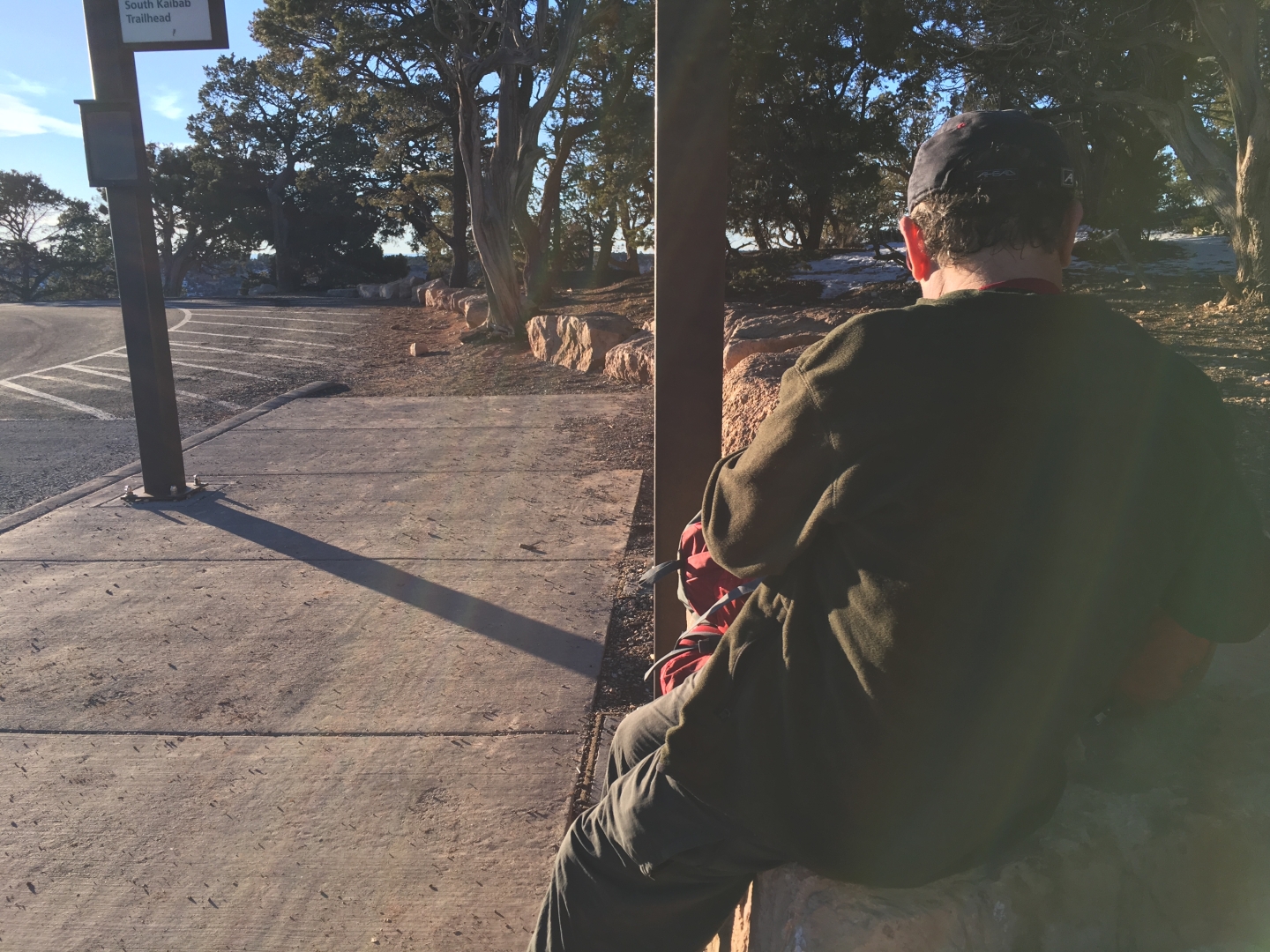 16:29

We made it!
It was not our fastest time, but we were happy to have succeeded.
I'd like to thank my sponsors ibuprofen and sugar...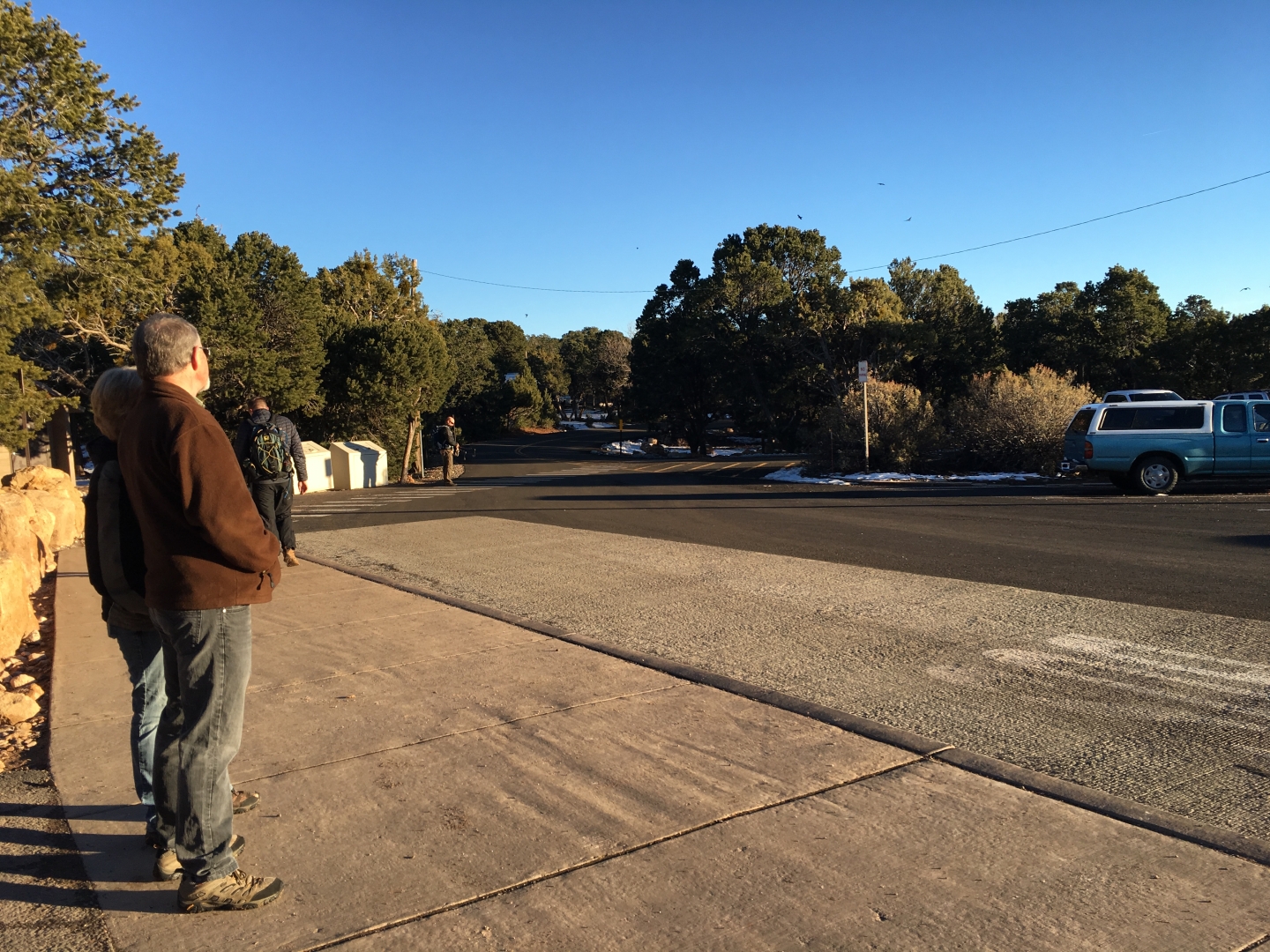 16:29

Sunday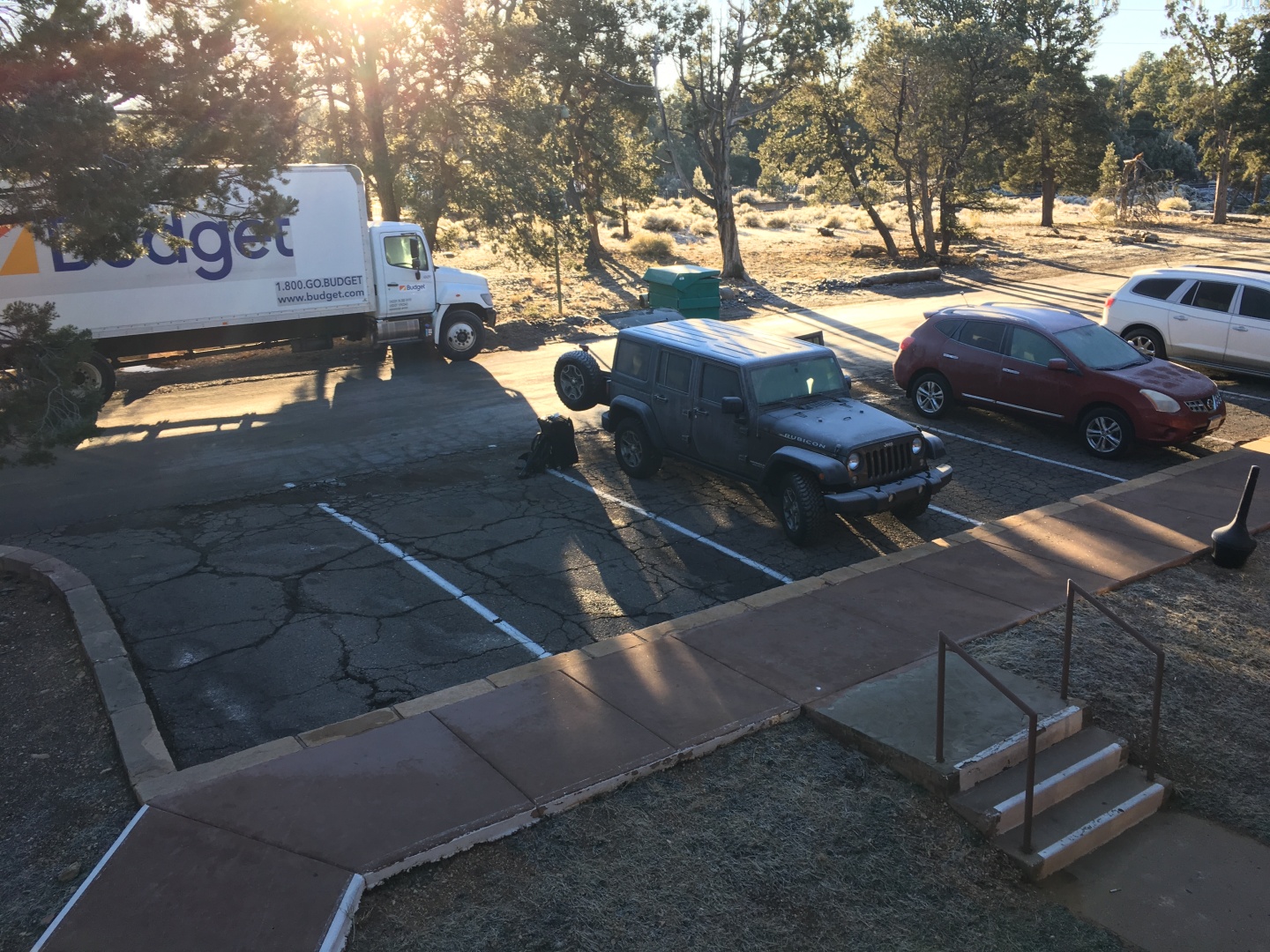 08:27

It was cold and we went home....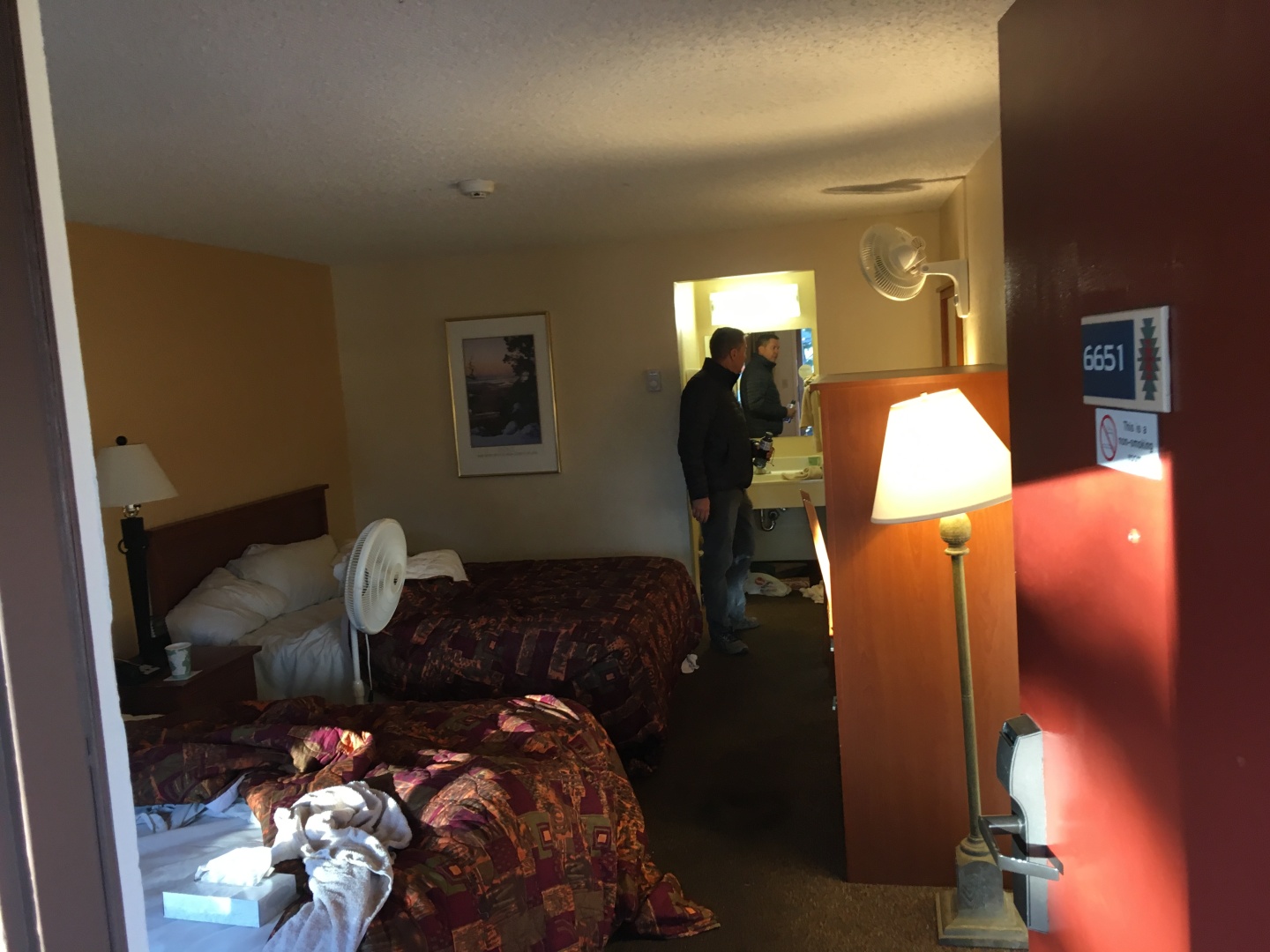 08:27

The Maswik.