The family flew to Hawaii for 10 days over Christmas. We decided to fly to the big island for 2 nights to see the volcano, then fly on to Kauai for the rest of the trip. This way we got a mini-adventure at the beginning of the trip, then we could do as little as we liked for the rest of the trip. Plus the way our airfare worked out, the stopover on the big island was essentially free, since flying directly to Kauai was going to cost significantly more than flying into Kona. While Hilo airport is much closer to the volcono than Kona, no one flies into Hilo from the mainland anymore.

Saturday December 22 we flew from San Jose to LAX, then from LAX to Kona. We arrived at Kona at dusk. We named our own price and got rooms at the Royal Kona Resort. The surf was huge, and the hotel was right on the water. The Royal Kona was a bit dated but fine.

Sunday morning we drove all the way around the south end of the island. I was surprised to see lava flows on the southwest side of the island - I had no idea that Mauna Loa had been that active in recorded history.
We saw a sign for black sand at the Panaluu County Beach and quickly pulled over. The black sand was cool, but the green sea turtles were an unexpected treat.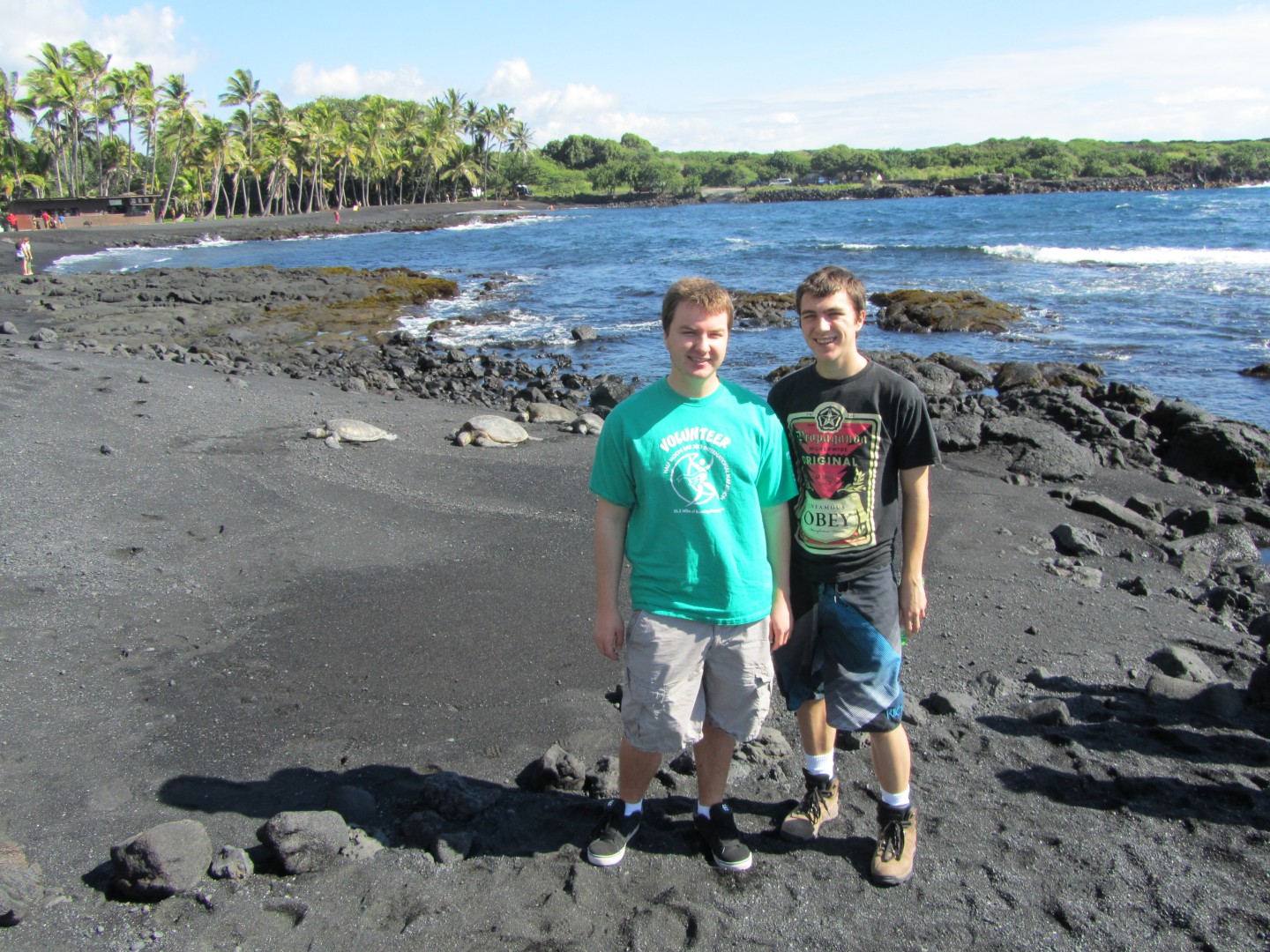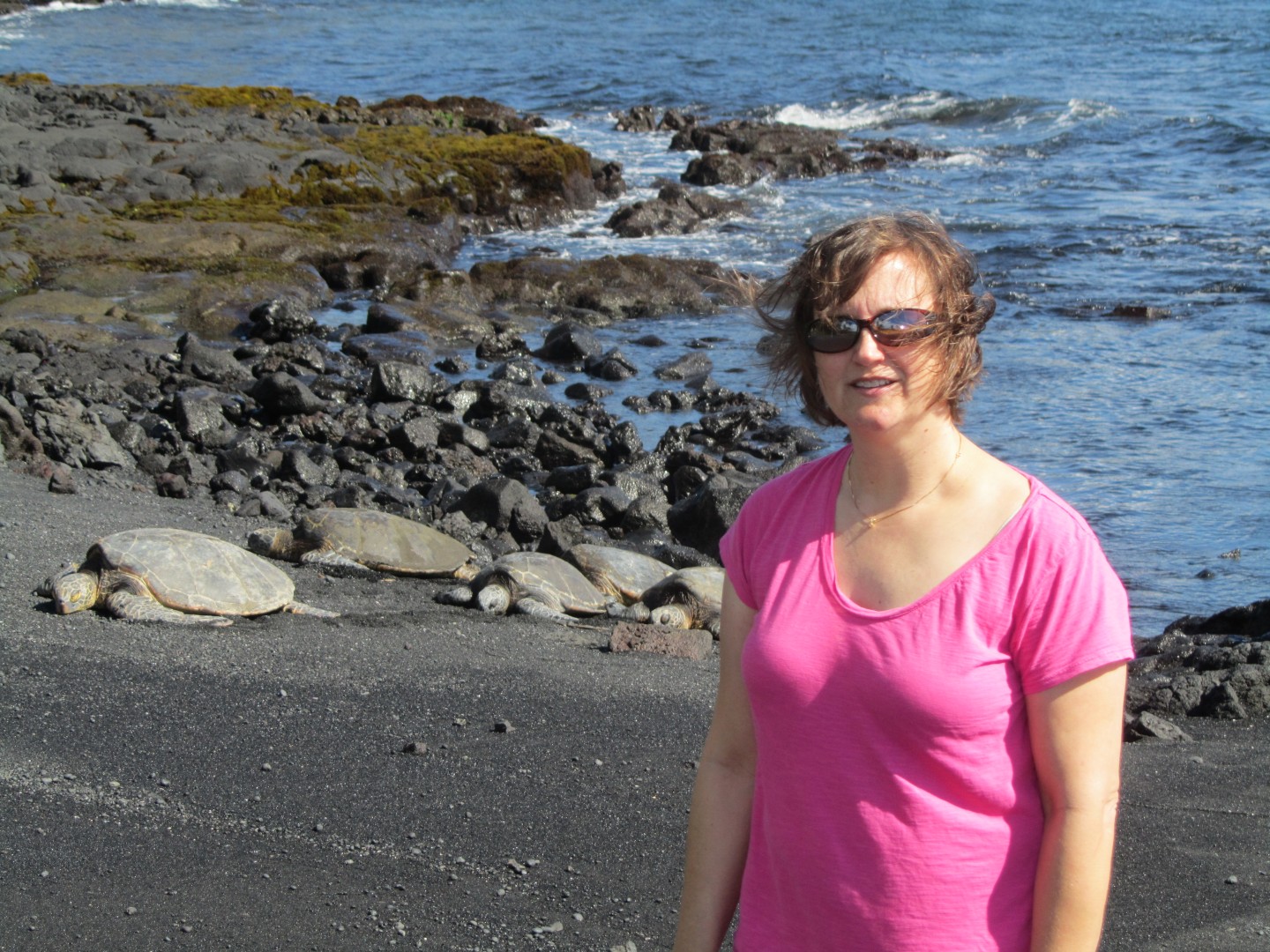 We had lunch at the Volcano House in the National Park
. The only active volcano is Halema'uma'u Crater in Kilauea. We watched it in the distance during lunch, then got our picture taken in front of it.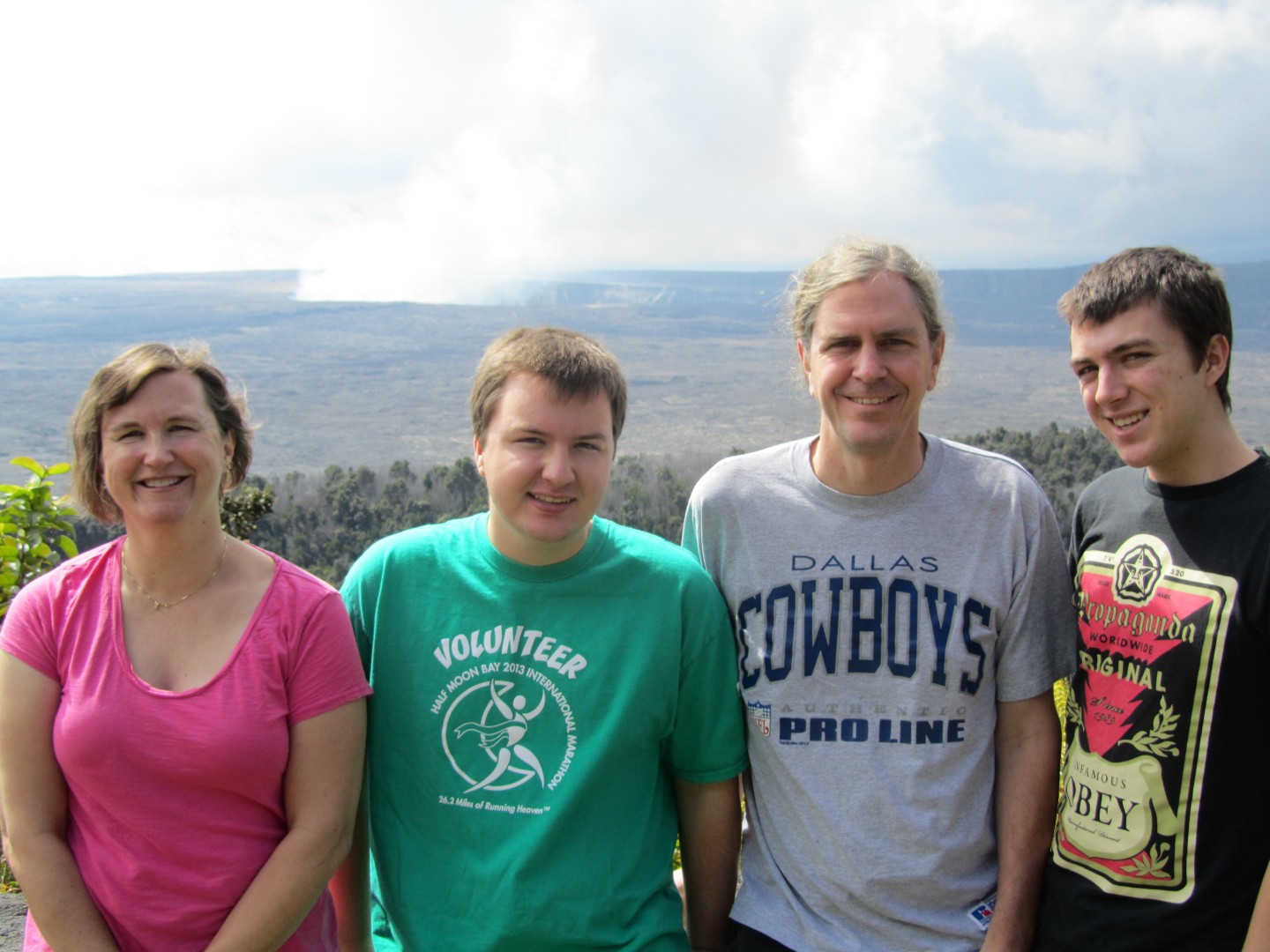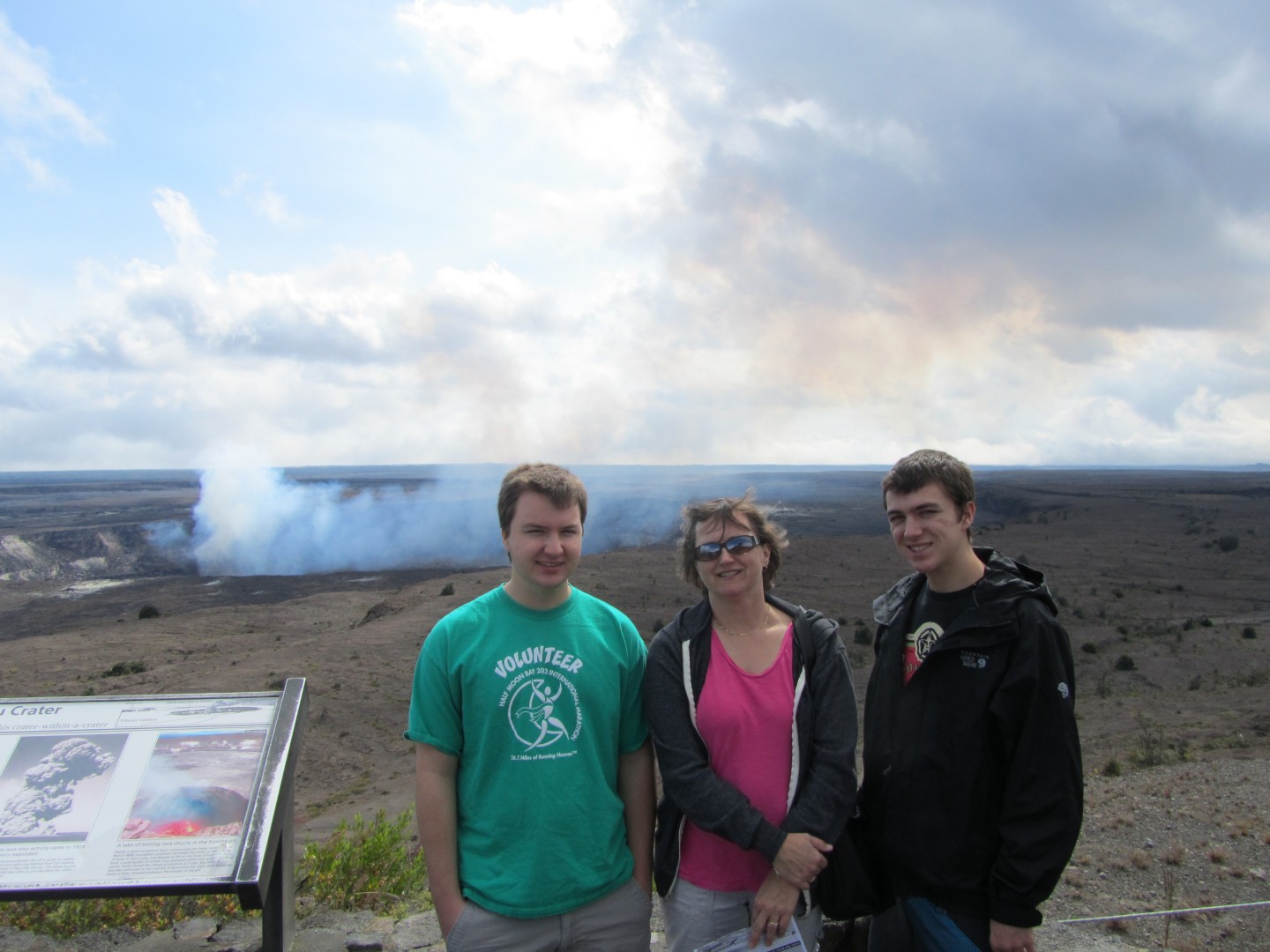 CJ and I decided we wanted to go on a hike. The Ranger recommended the Kilauea Iki trail
.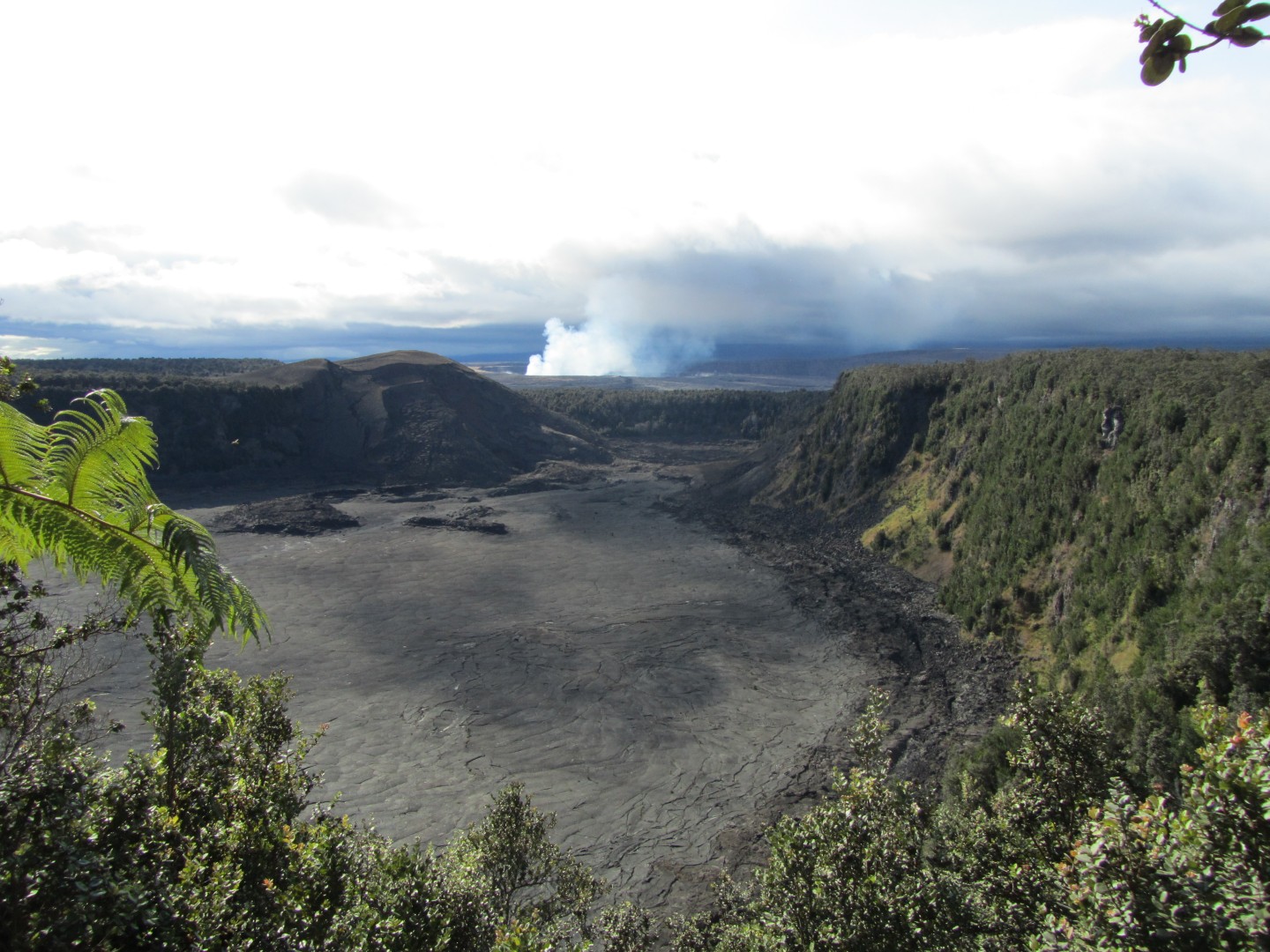 Kilauea Iki
Crater, with the eruption of
Halema'uma'u in the background
Pu'u is on the left - it erupted in 1959.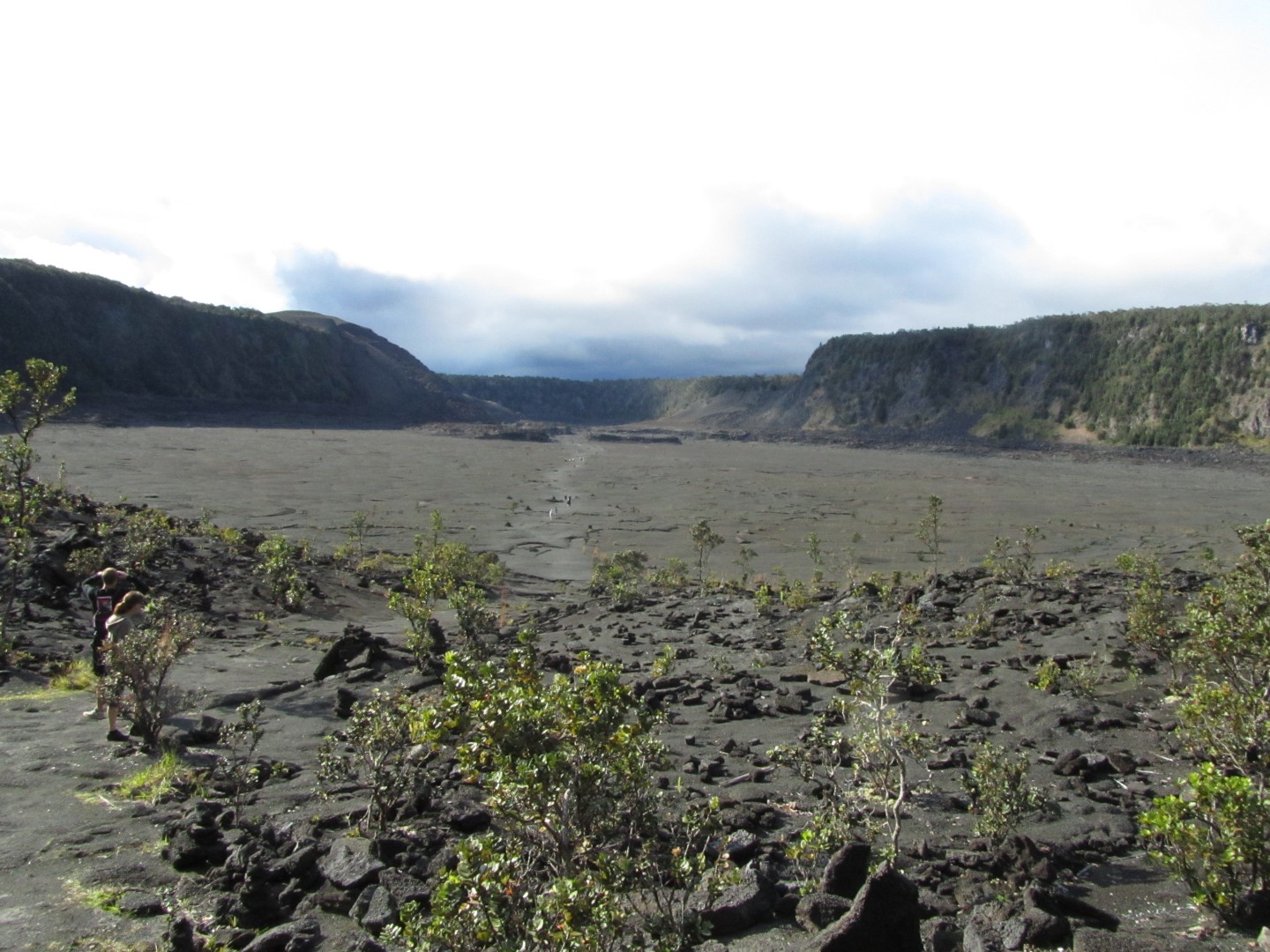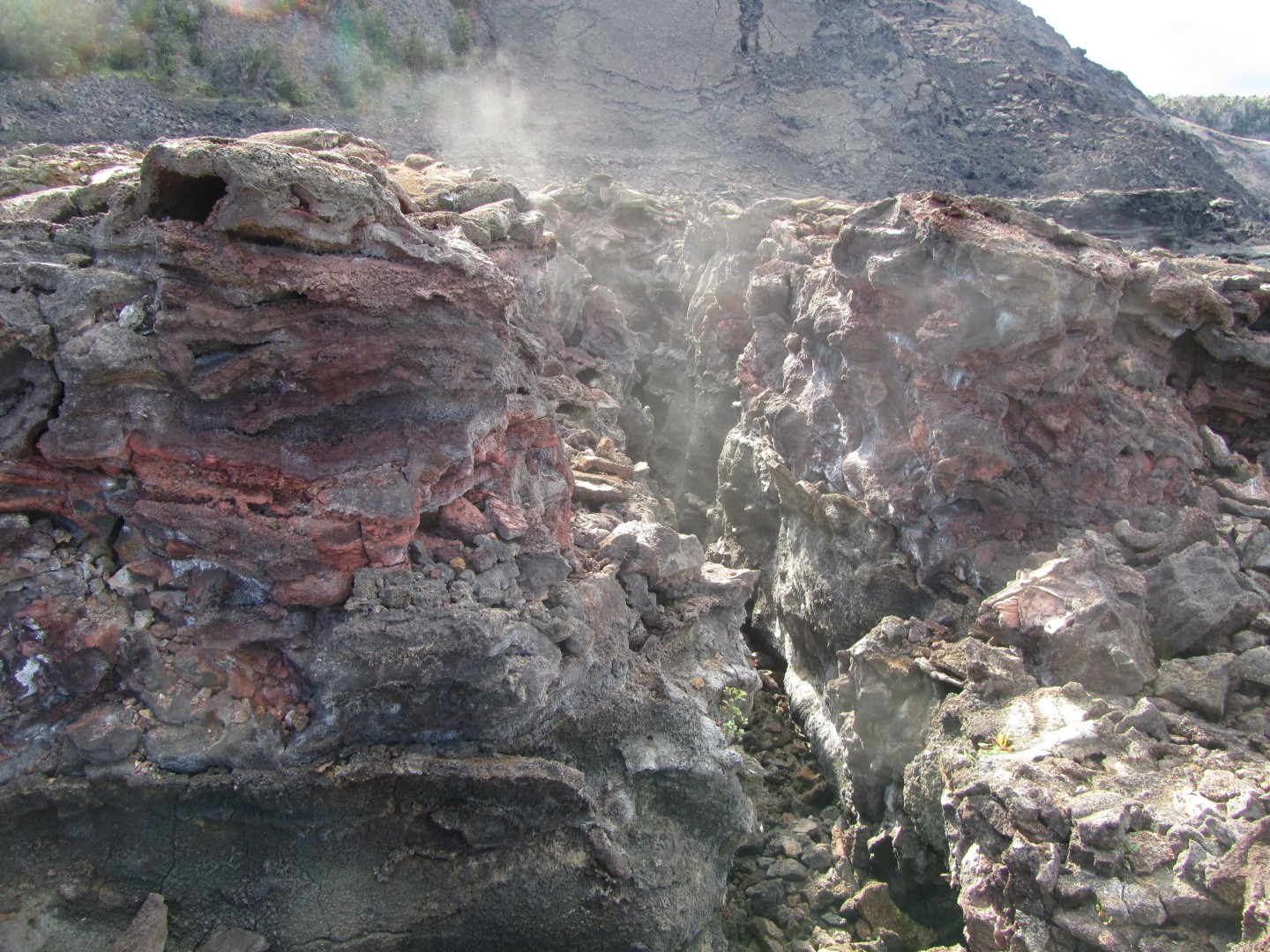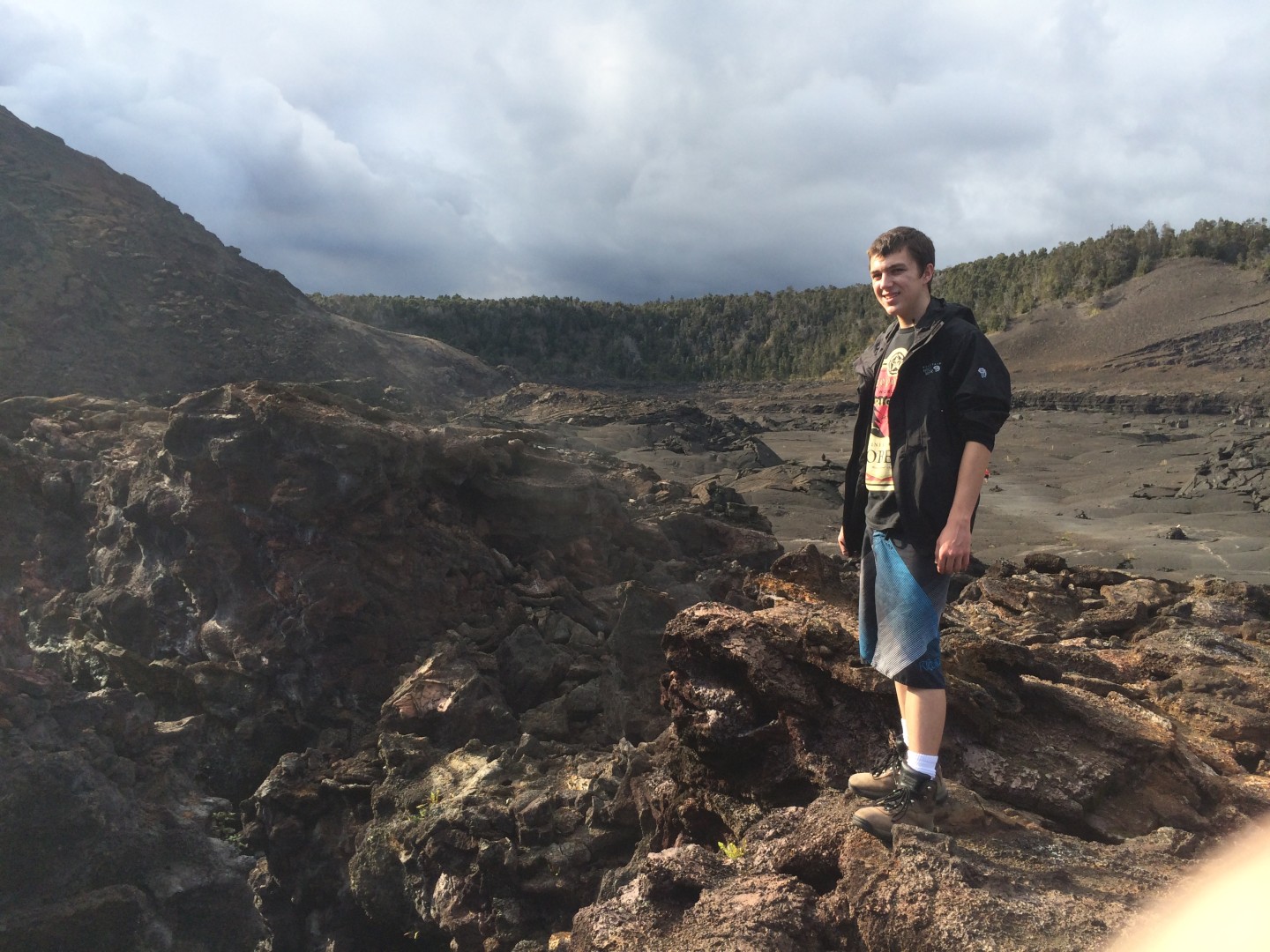 While CJ wandered off trail I noticed something shimmering in the sun. I carefully
picked up a single strand of Pele's Hair, which broke when CJ touched it. Since the Rangers said
Pele's Hair was rare, I was surprised to see any of it intact on the ground near a well-trodden path.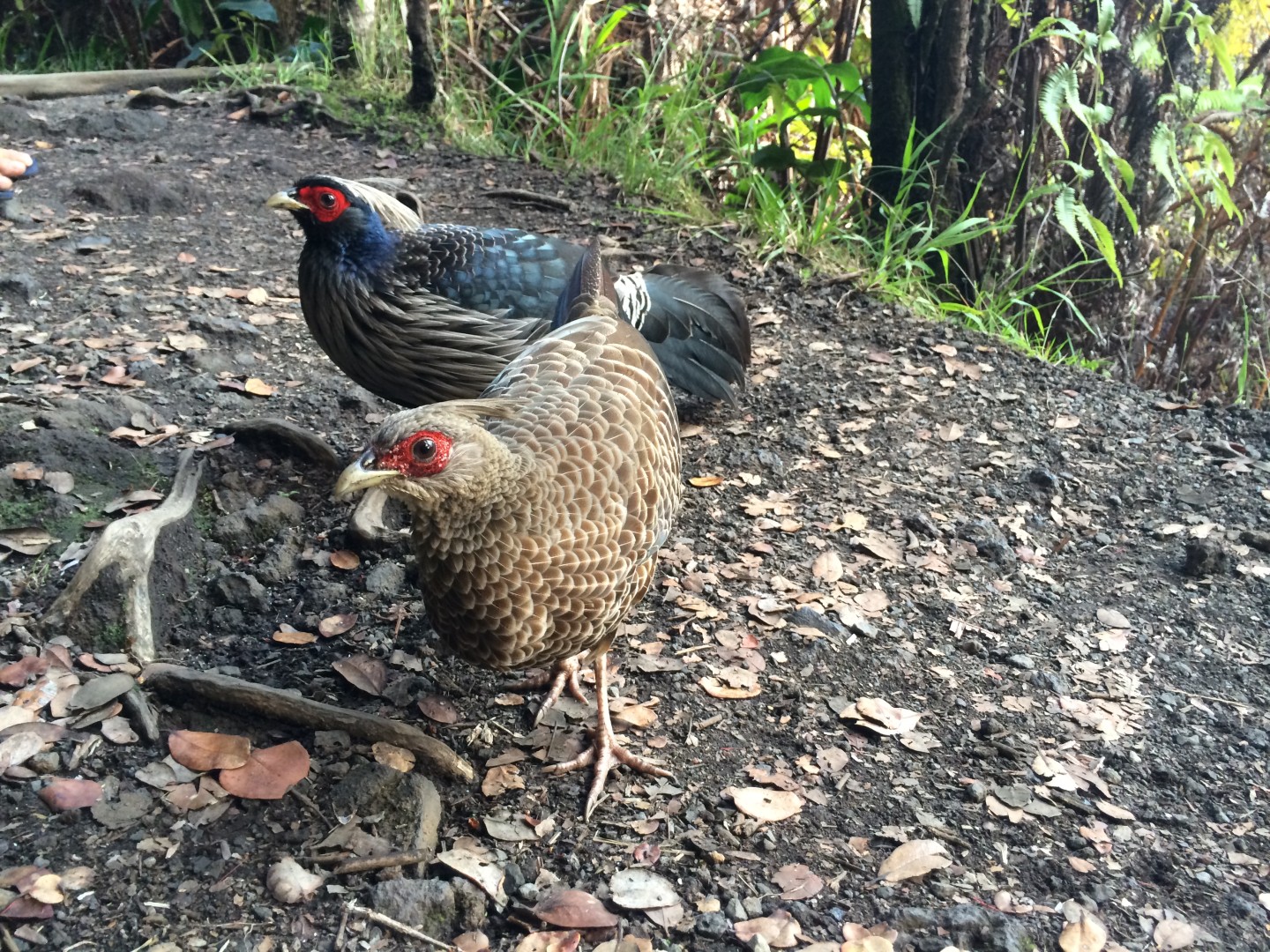 Hikers ahead of us fed these two tame and fat birds.

By the time CJ and I were done hiking, it was 'only' another hour until sunset, when you can actually see the glow of lava in
Halema'uma'u. We stuck around another hour to see it. The Ranger led presentation before dusk was fantastic - the Ranger was a local with plenty of great stories. His father surfed Kaimu(?) Bay every single day, only to see it completely filled in by lava in late September 1990 - he surfed it as lava was pouring in until the police chased him out, and the next day the bay was gone.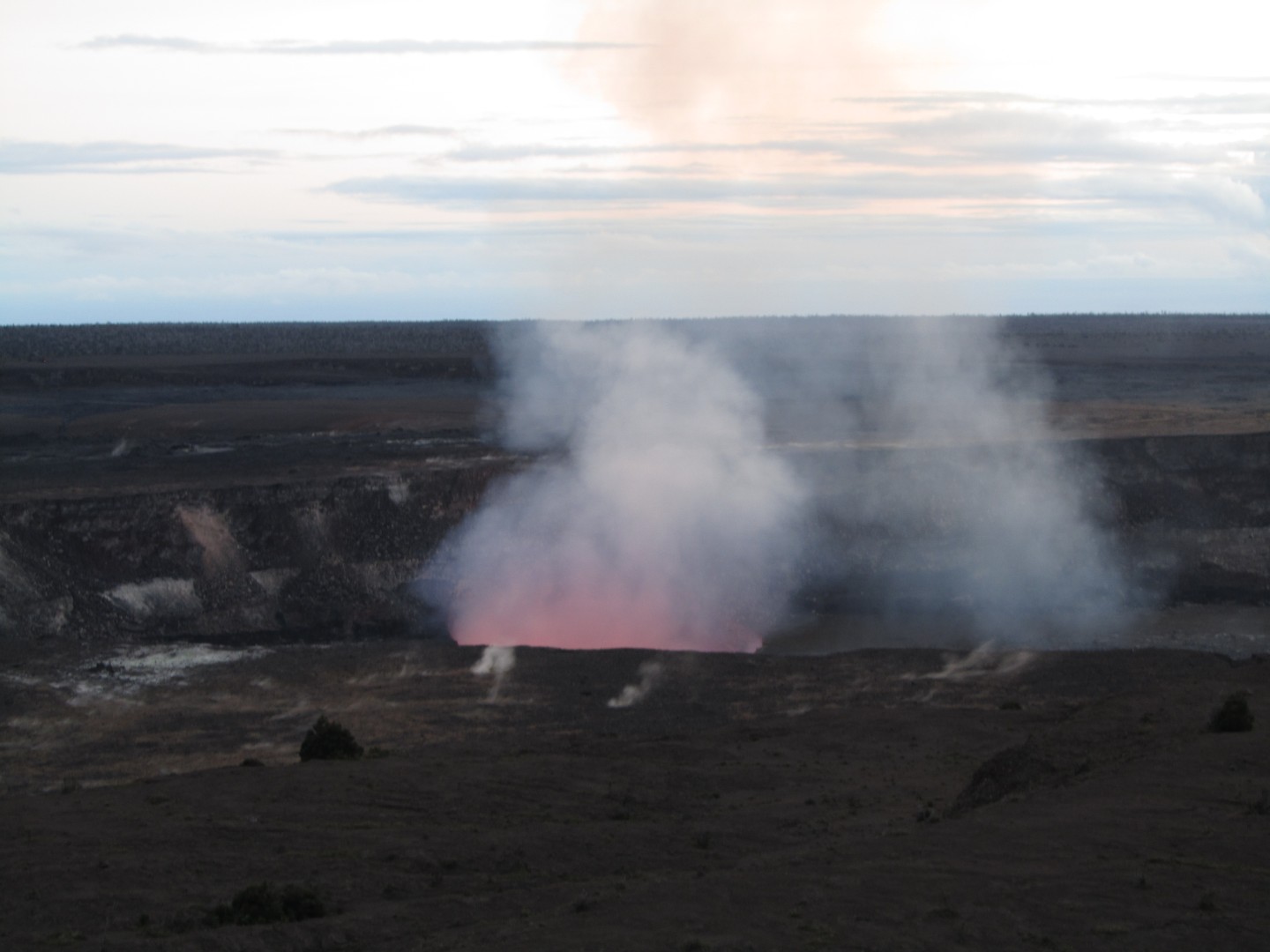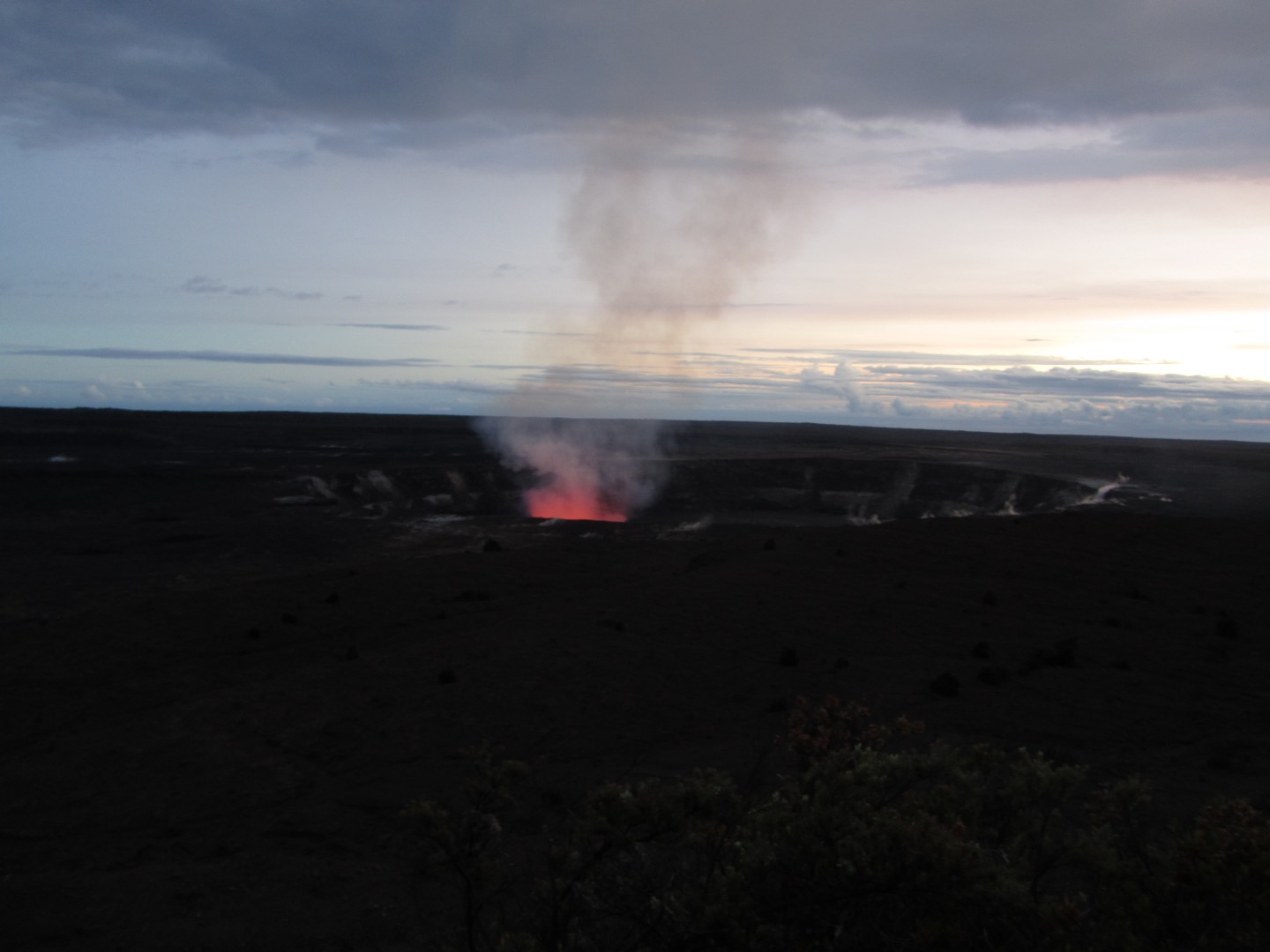 That night we ate at the lively Pizza Hut buffet in Hilo. We had again named our own price, this time getting the Castle Hilo Hawaiian Hotel. We didn't get to see Hilo in the daylight, other than the airport.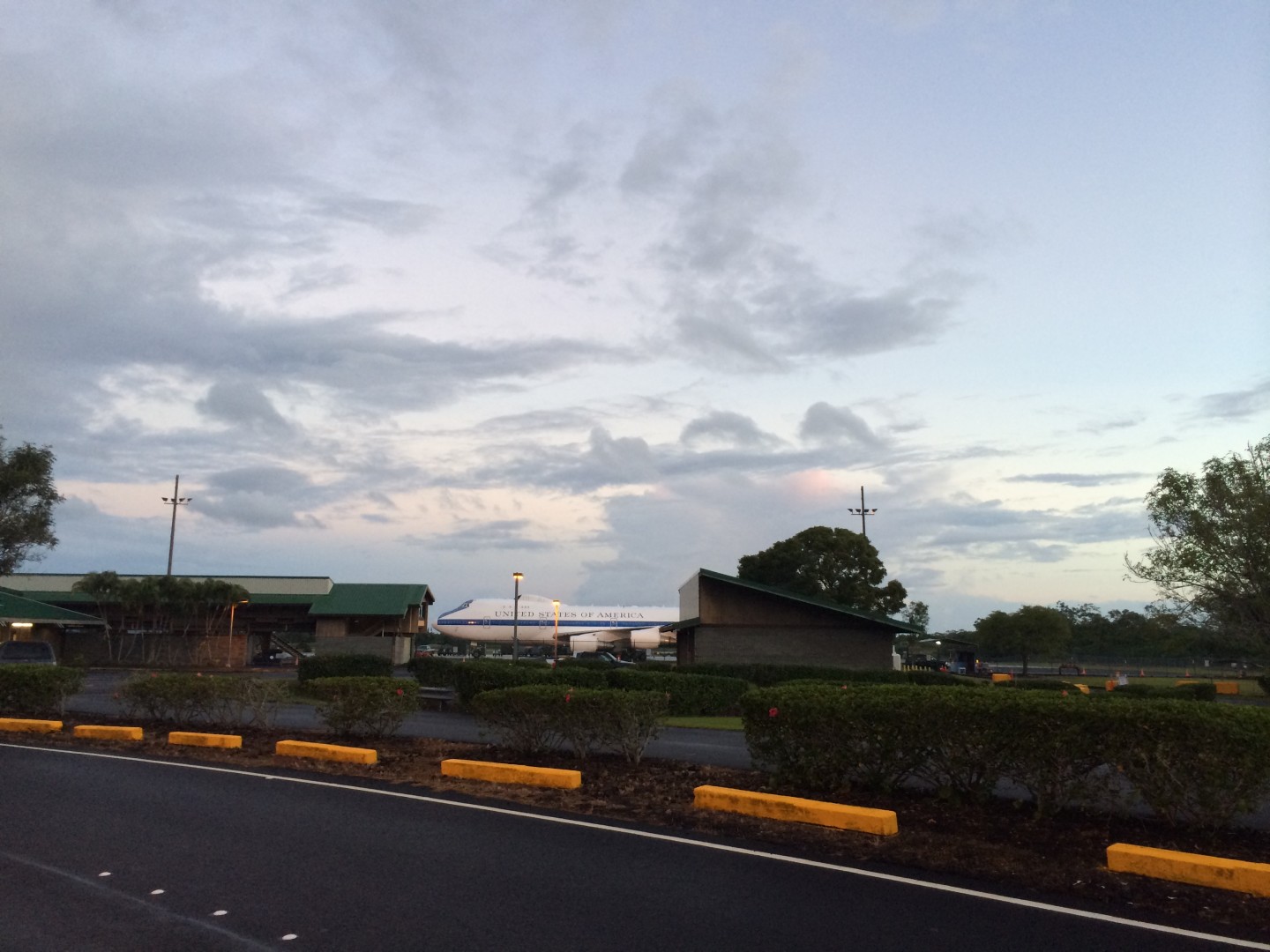 Air Force Two was parked at Hilo since Air Force One was in Oahu. We flew from Hilo to Oahu, then onto Kauai.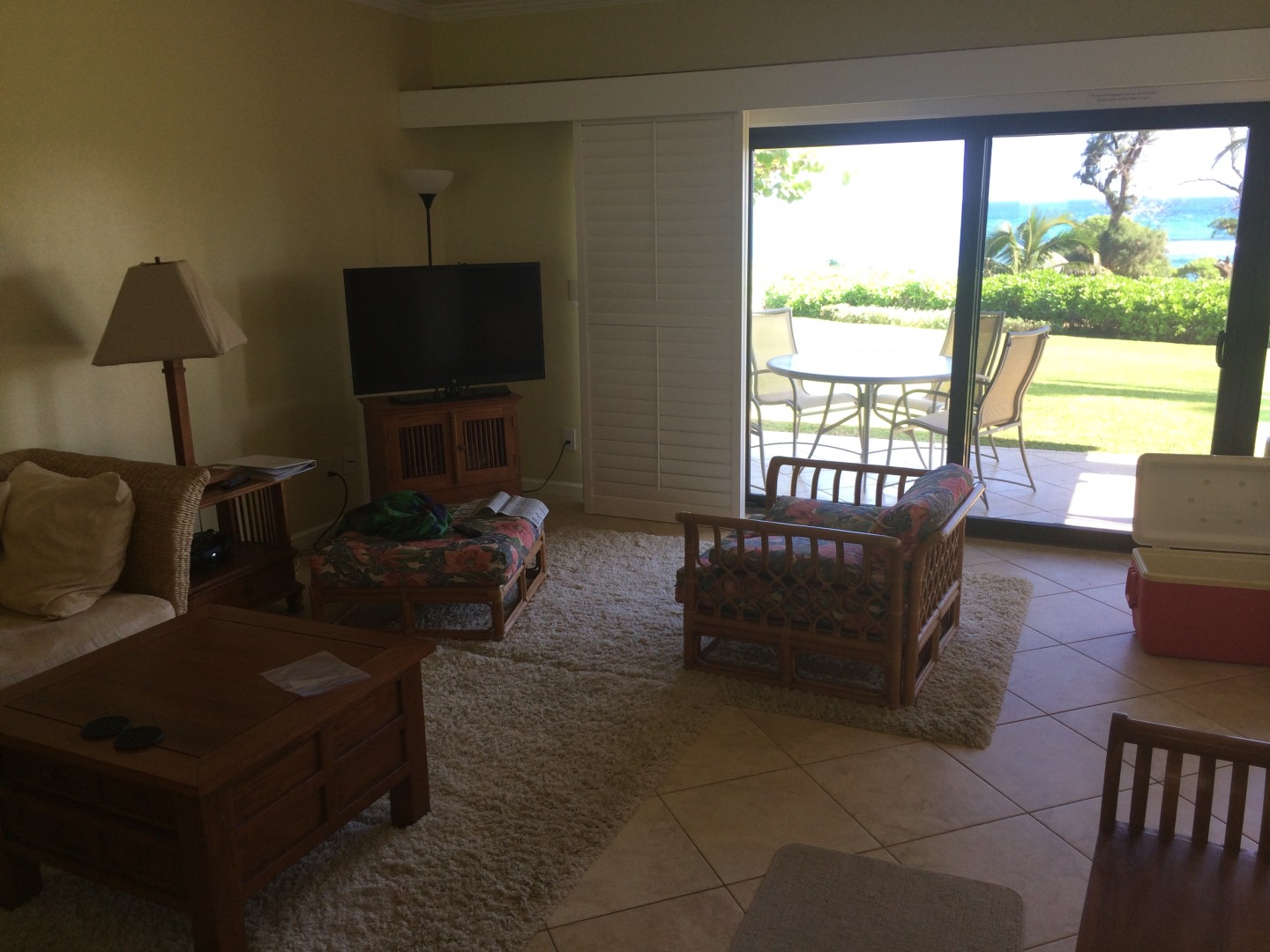 Our condo - Kaha Lani 124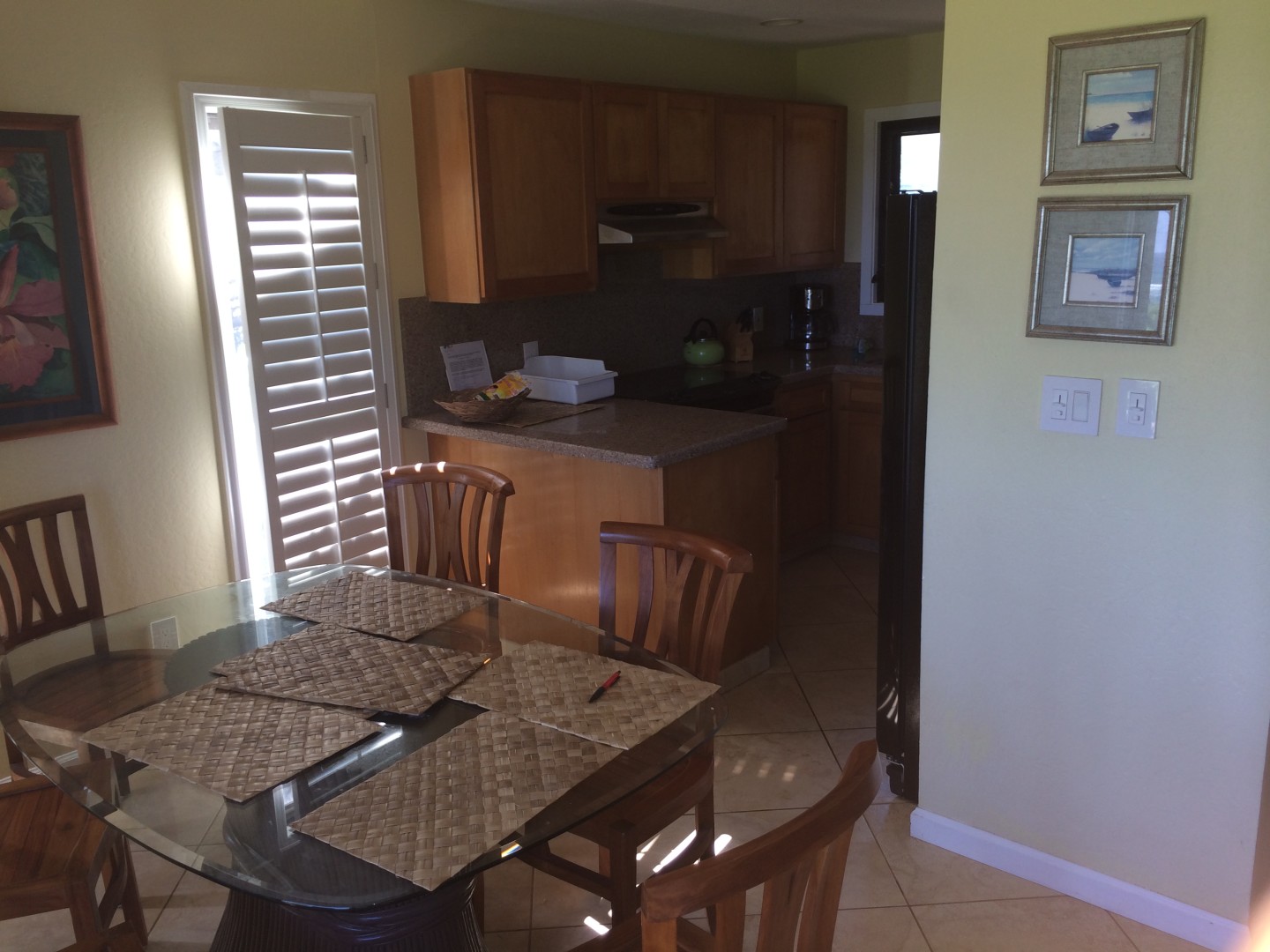 Our condo - Kaha Lani 124

Our condo was nice, and the view was as described.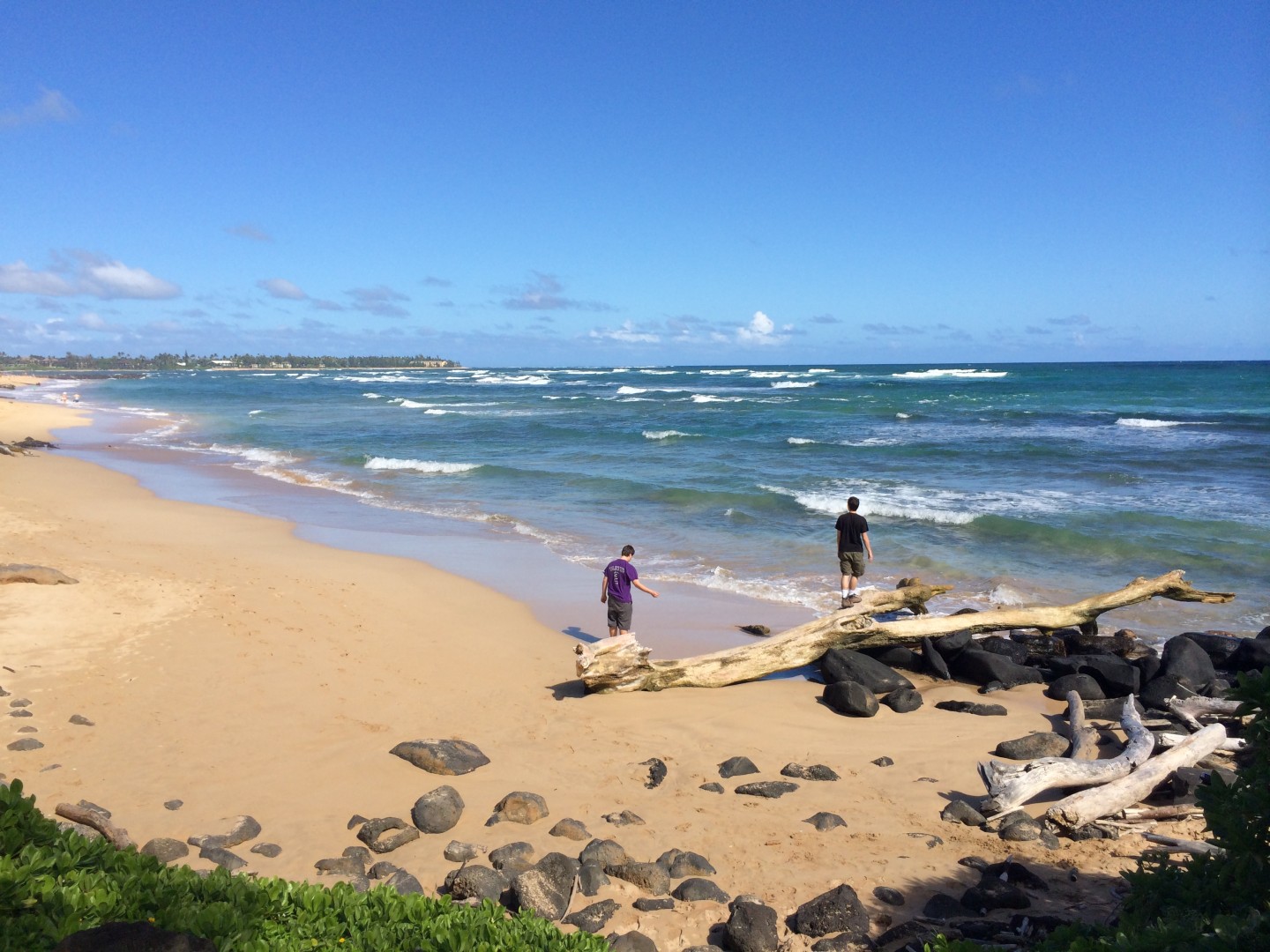 Lydgate Park is about a 10 minute walk north on the beach.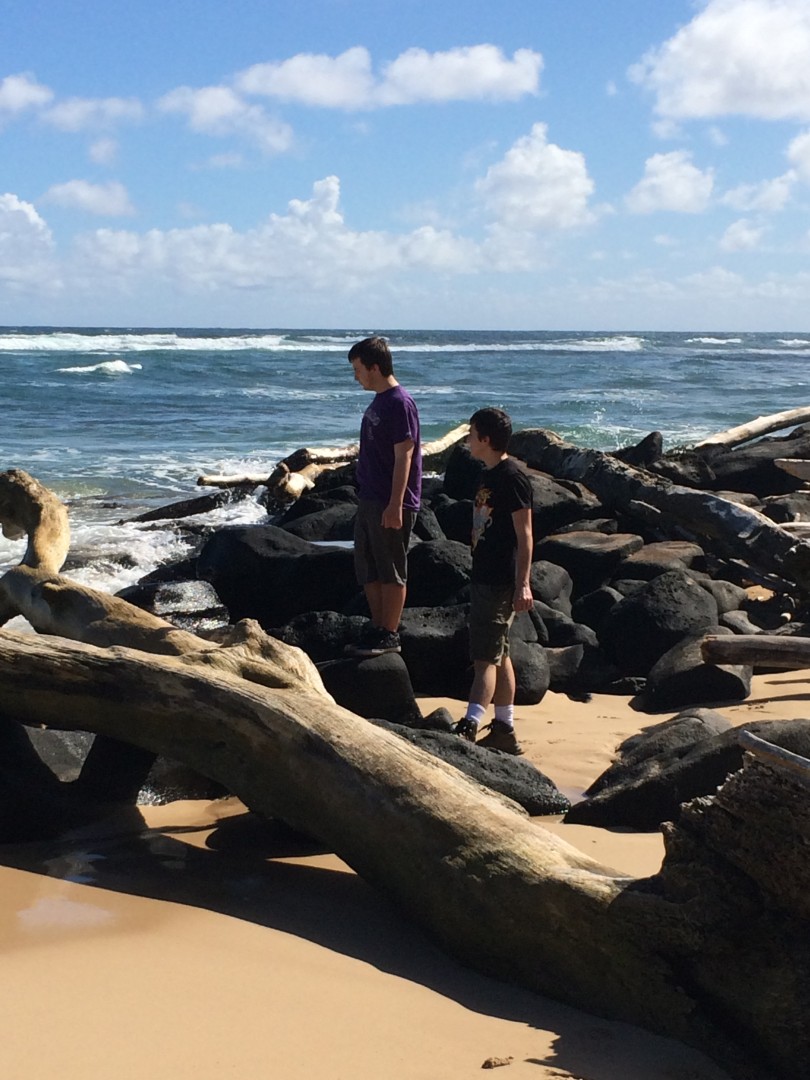 We did as little as possible for the next few days. We bought a Christmas Ham at Costco, and stocked up on groceries and Safeway and Walmart. We snorkelled Lydgate, and were quickly thankful that we were so near the park. The surf was huge most of the time we were on the islands, and Lydgate was one of the very few protected places to swim or snorkel. The kids enjoyed body surfing, and I believe they body surfed every day.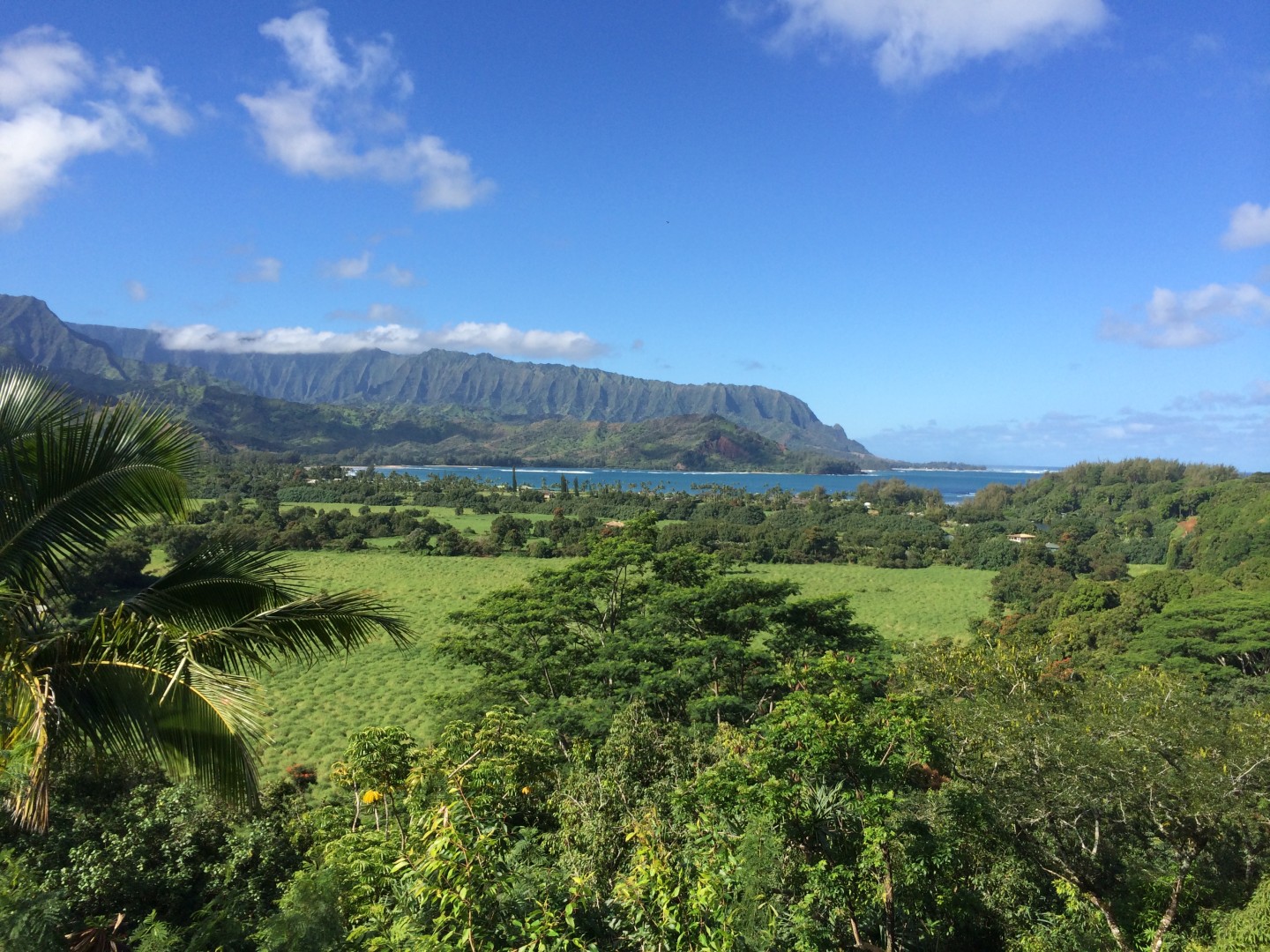 The day after Christmas we explored the North Shore. I quickly fell in love with it.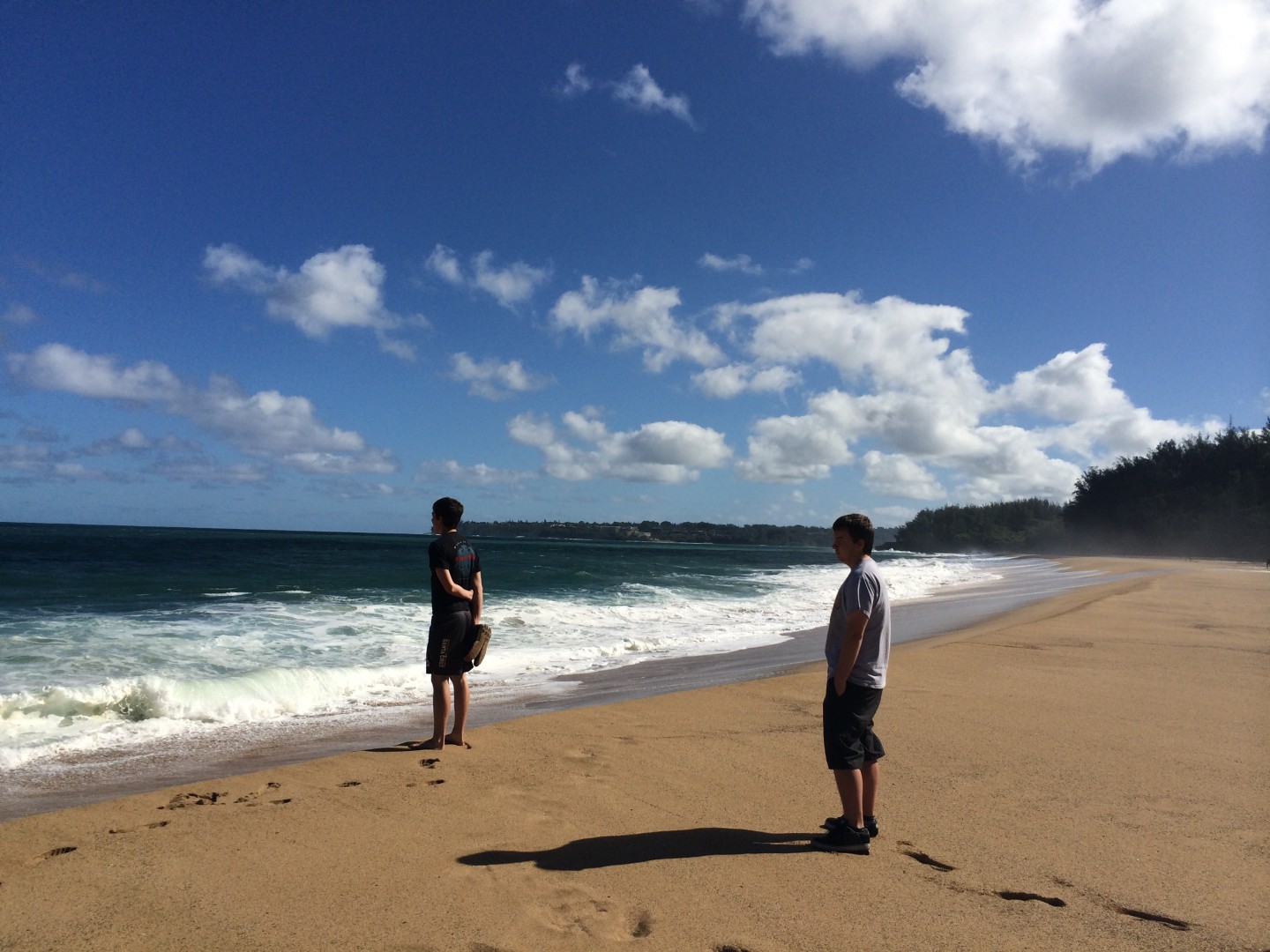 We stoped at a few beaches. This is Lumahai Beach, featured in the movie South Pacific but far too dangerous for swimming.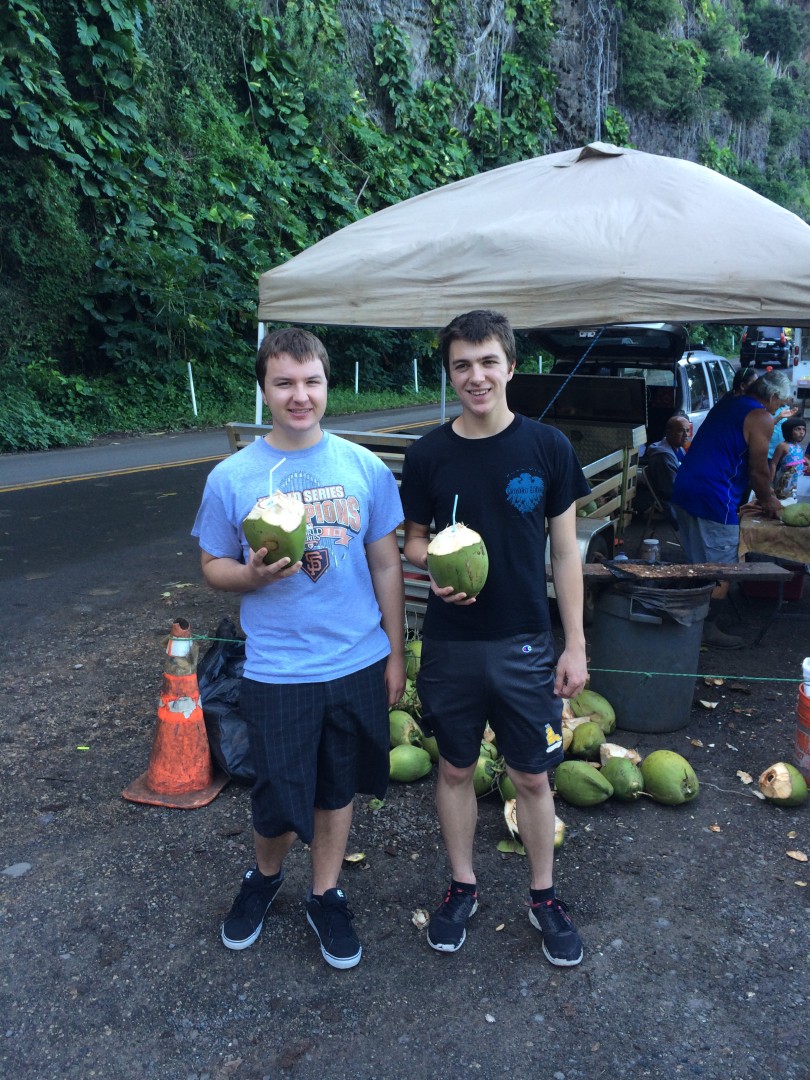 I wanted to see Tunnel's Beach, site of Bethany Hamilton's encounter with a Tiger Shark on Halloween 2003. Tunnels and nearby Ha'ena beach were both closed due to high surf. We could see surfers out at Tunnels perhaps 1/4 mile out, but I can see tiny images of surfers in the distance on big waves at Mavericks back home so this was not at all exciting. CJ and I walked from Ha'ena beach park to the point at Tunnels. After we got back the kids got fresh coconuts. The parking lot at Ke'e beach was packed, so we headed back to Hanalei for lunch. We ended up at L&L Hawaiian Barbeque - I was the only one who had experienced L&L before. Afterwards we snorkeled at Anini Beach. Anini is one of the very few places it is safe to swim or surf when the surf is high. We all saw green sea turtles while snorkelling, which was very cool.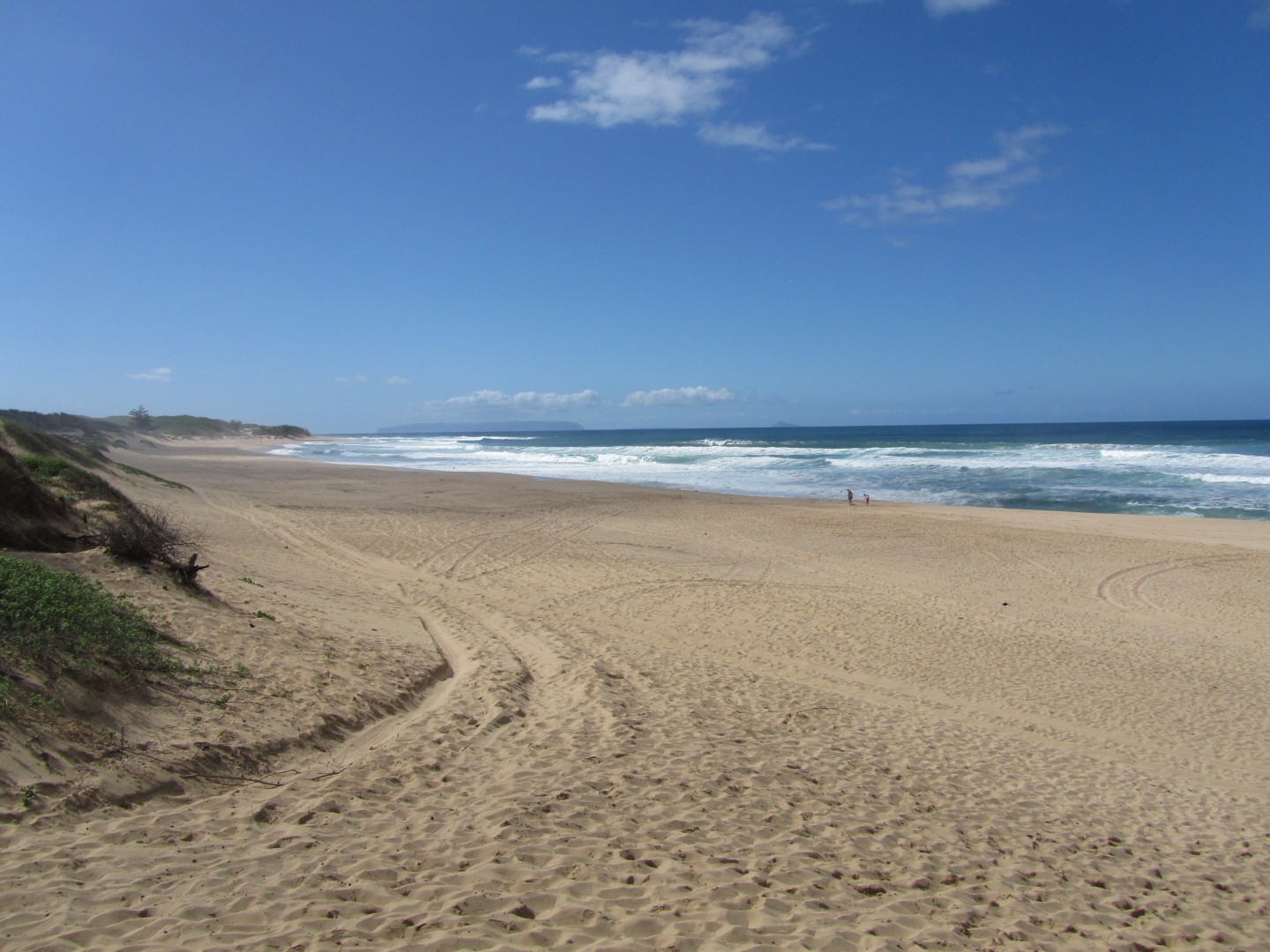 Polihale Beach, with Ni'hau island in the distance

Friday decided to see the west side of the island. It was much drier and warmer than the north or east sides, and it wasn't very entertaining. I wanted to drive up into the mountains to see Waimea Canyon, but the weather didn't look very good and I can see clouds at home for free. We had lunch at La Spezia in Koloa, then went on to Poipu. Poipu was perhaps the third spot on the island that would be safe for snorkeling, but it was small and so full of swimmers you could almost have walked across it. We quickly decided we liked Kapa'a much better than condo infested Poipu and headed back to our own beach.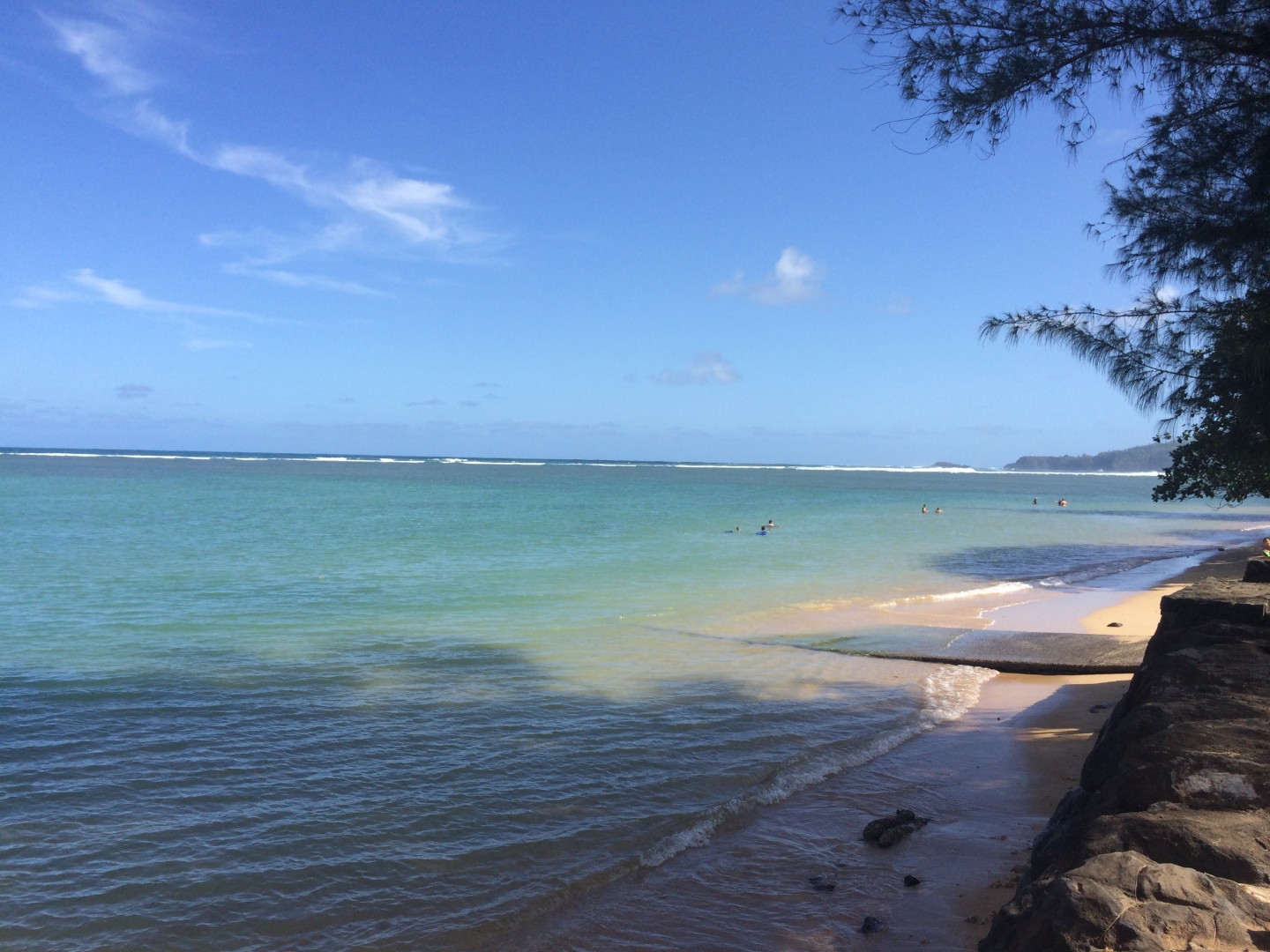 Saturday was Robby's 17th Birthday. For his birthday Robby decided snorkel at Anini again, then have lunch at L&L again.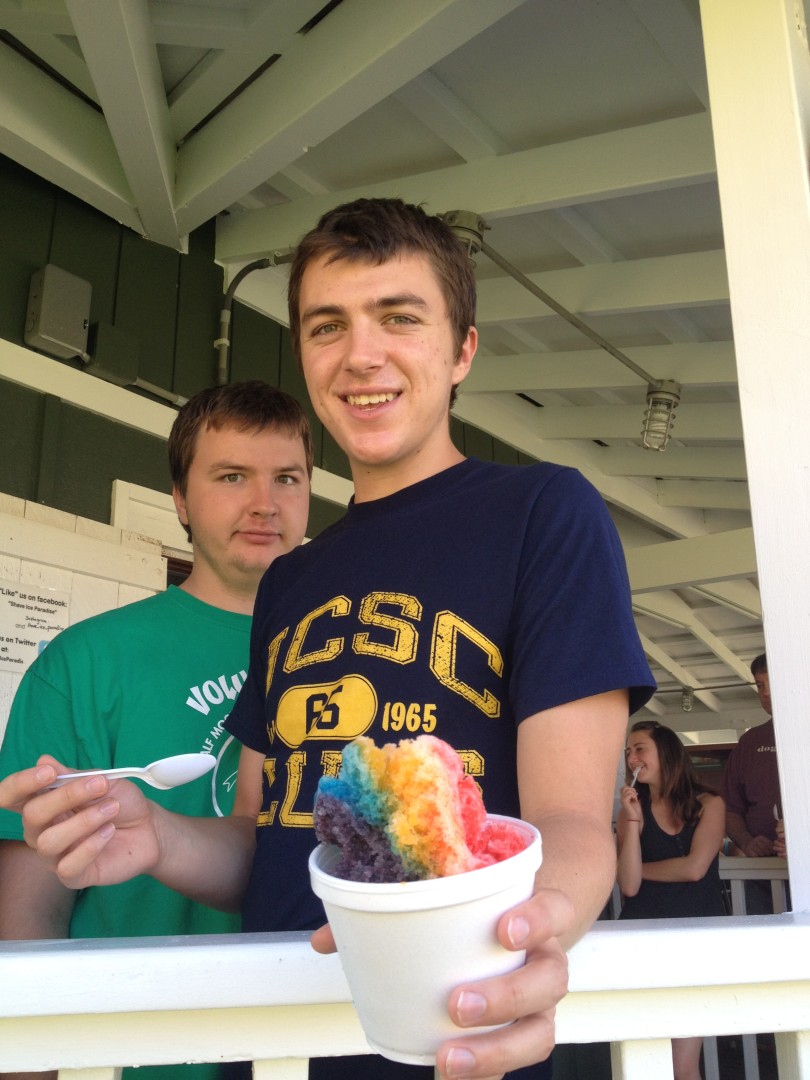 Shave Ice Paradise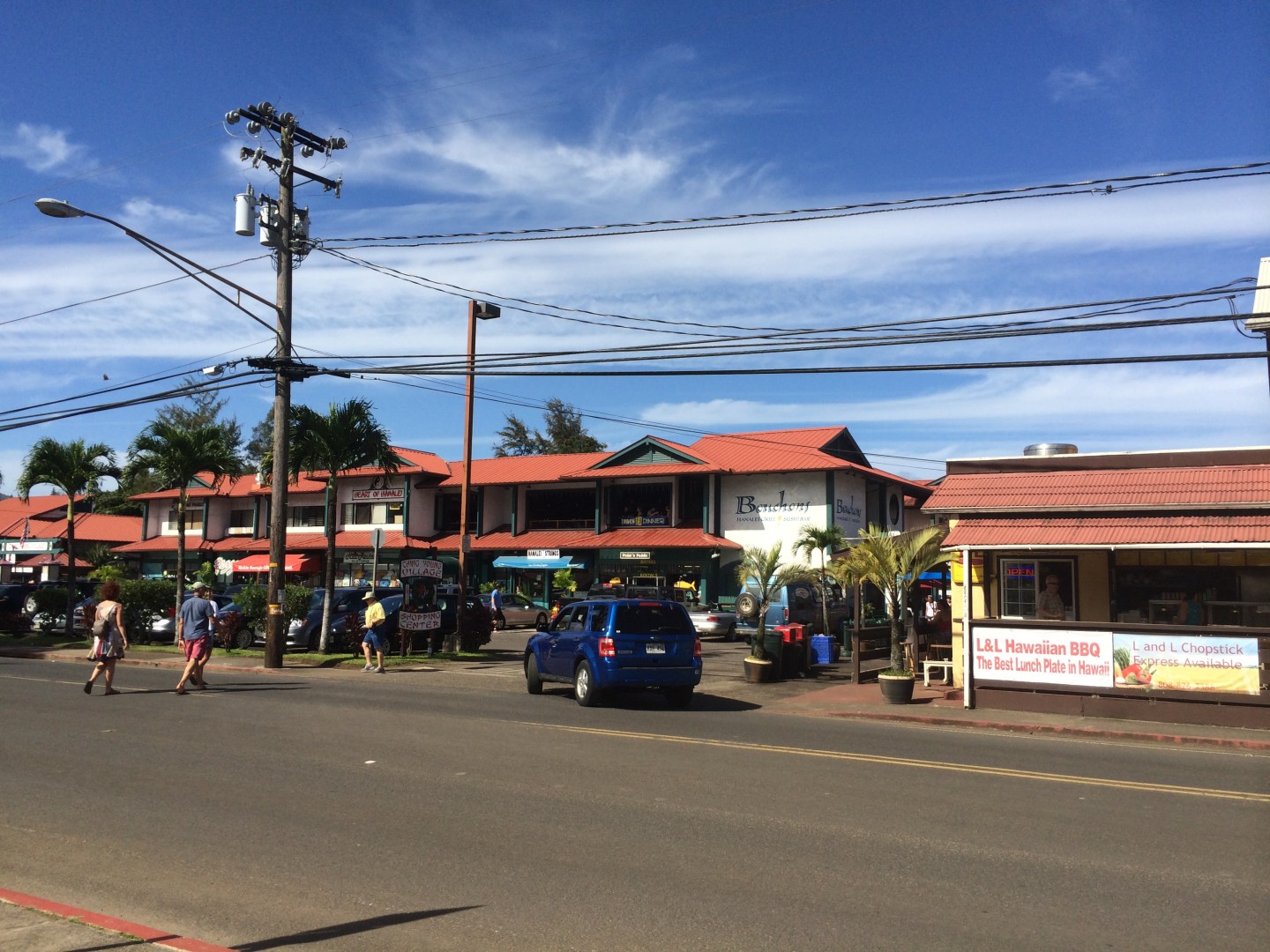 Downtown Hanalei


We discovered that on Sunday you can't rent a kayak on the
Wailua River - I'm sure this is for religious reasons, as about every other building on Kauai is a church of some sort. For a change of pace we went to see The Secret Life of Walter Mitty, which was surprisingly good. It is one of the few movies I can think of that ends much stronger than it starts.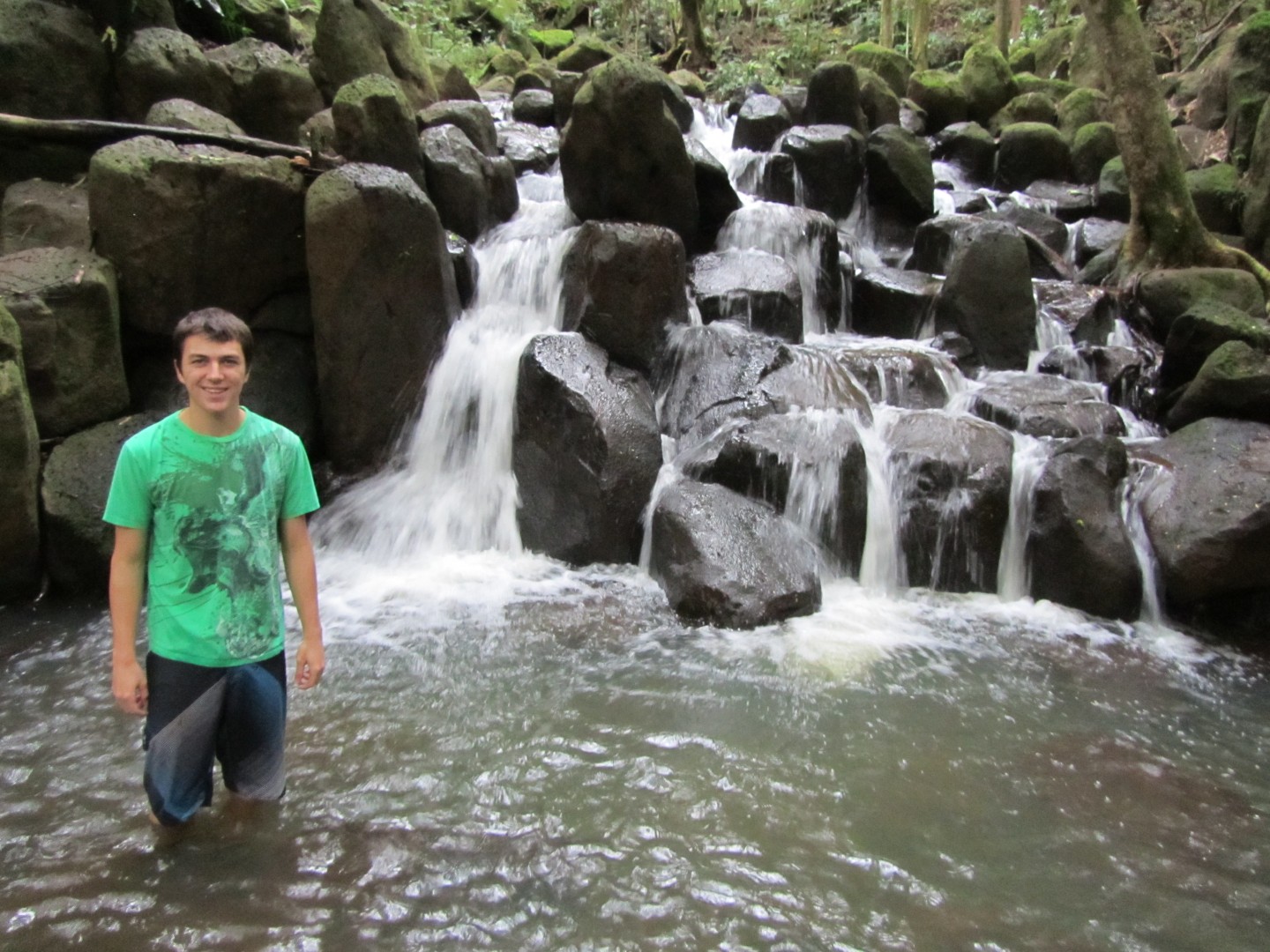 On Monday CJ and I rented a Kayak at 7am on the Wailua River from
Wailua River Canoe and Kayak
. We walked up, and fortunately they had space for us - they were full of reservations but had a spare kayak. We weren't the first ones in the water, but we quickly took off and left everyone else in our wake.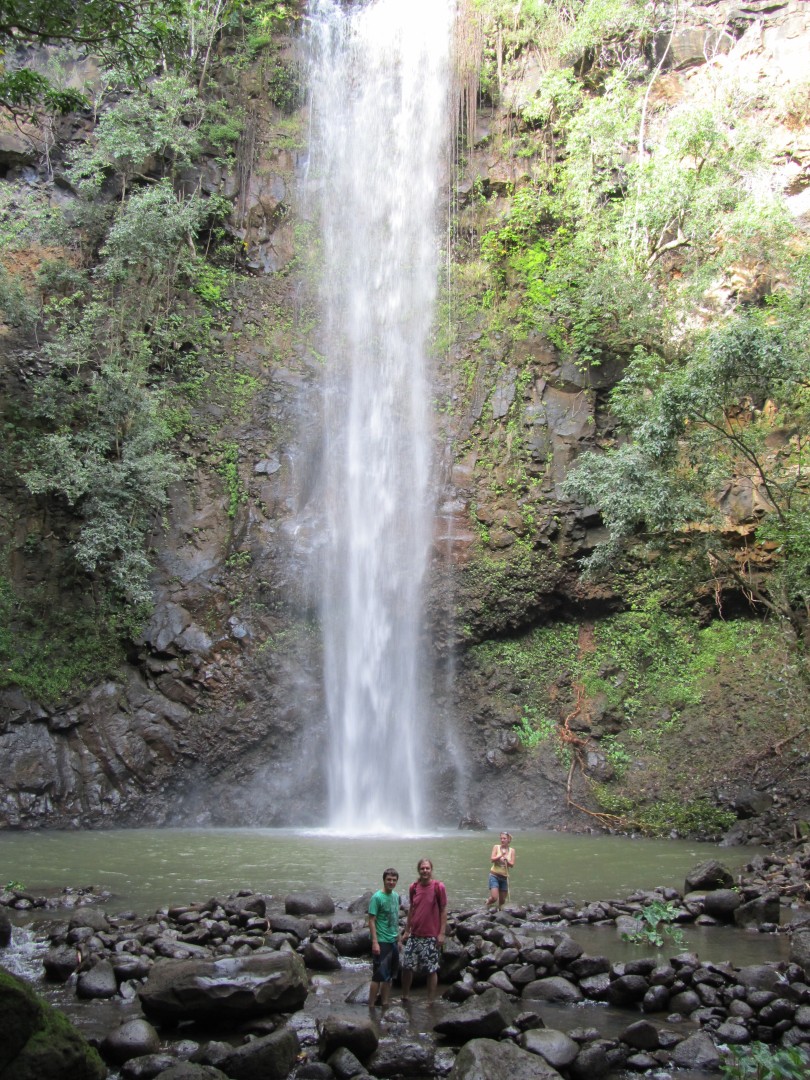 Secret Falls.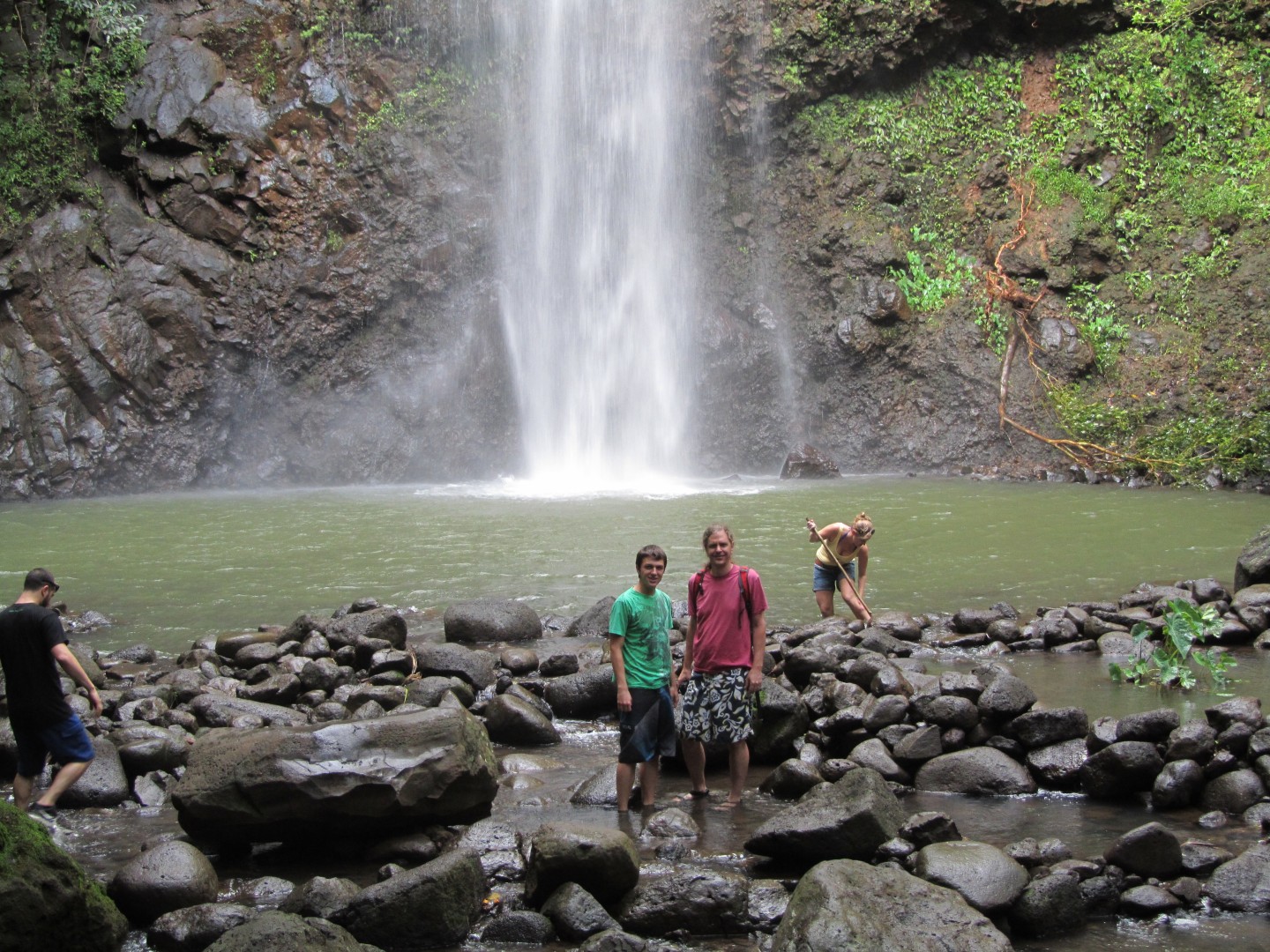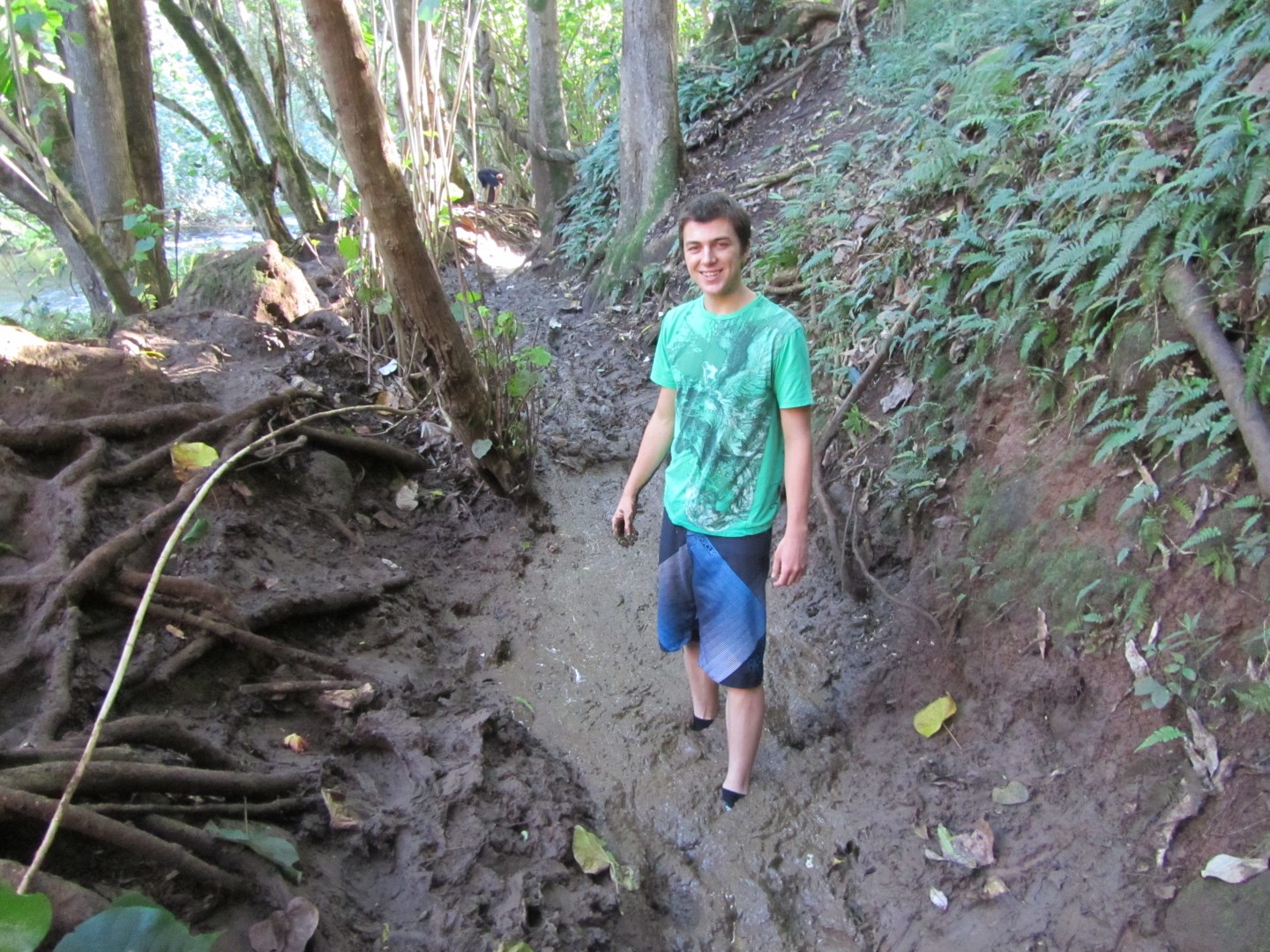 Yes, there is mud on the trail to Secret Falls. I was able to avoid nearly all of it.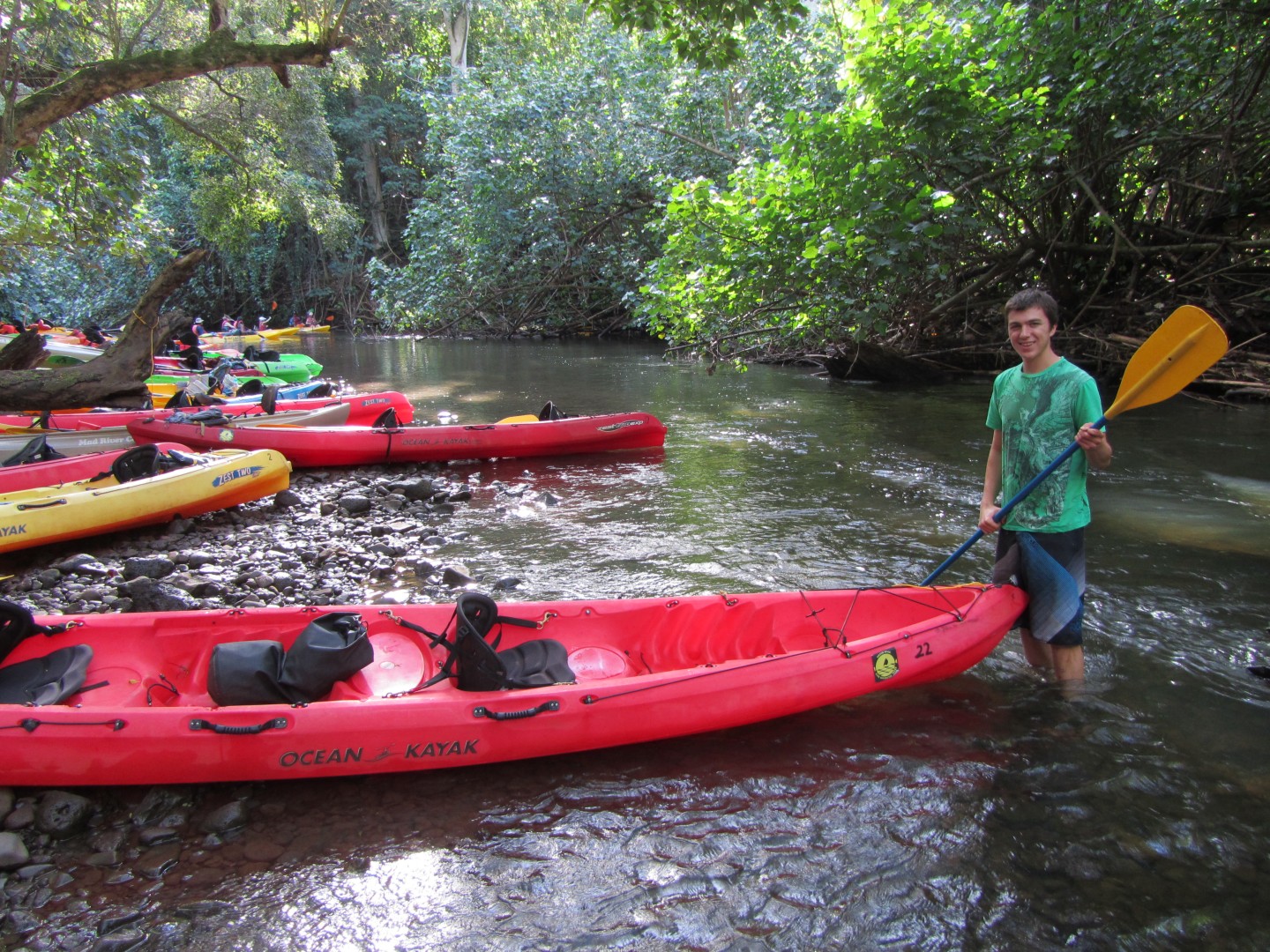 We were the first ones here. There were a couple dozen canoes when we got back. Most of these people were being guided, as most kayaks are only available from places that guide you to Secret Falls It would be nearly impossible to get very lost back here, and there is no viable reason to need to pay a guide to do this.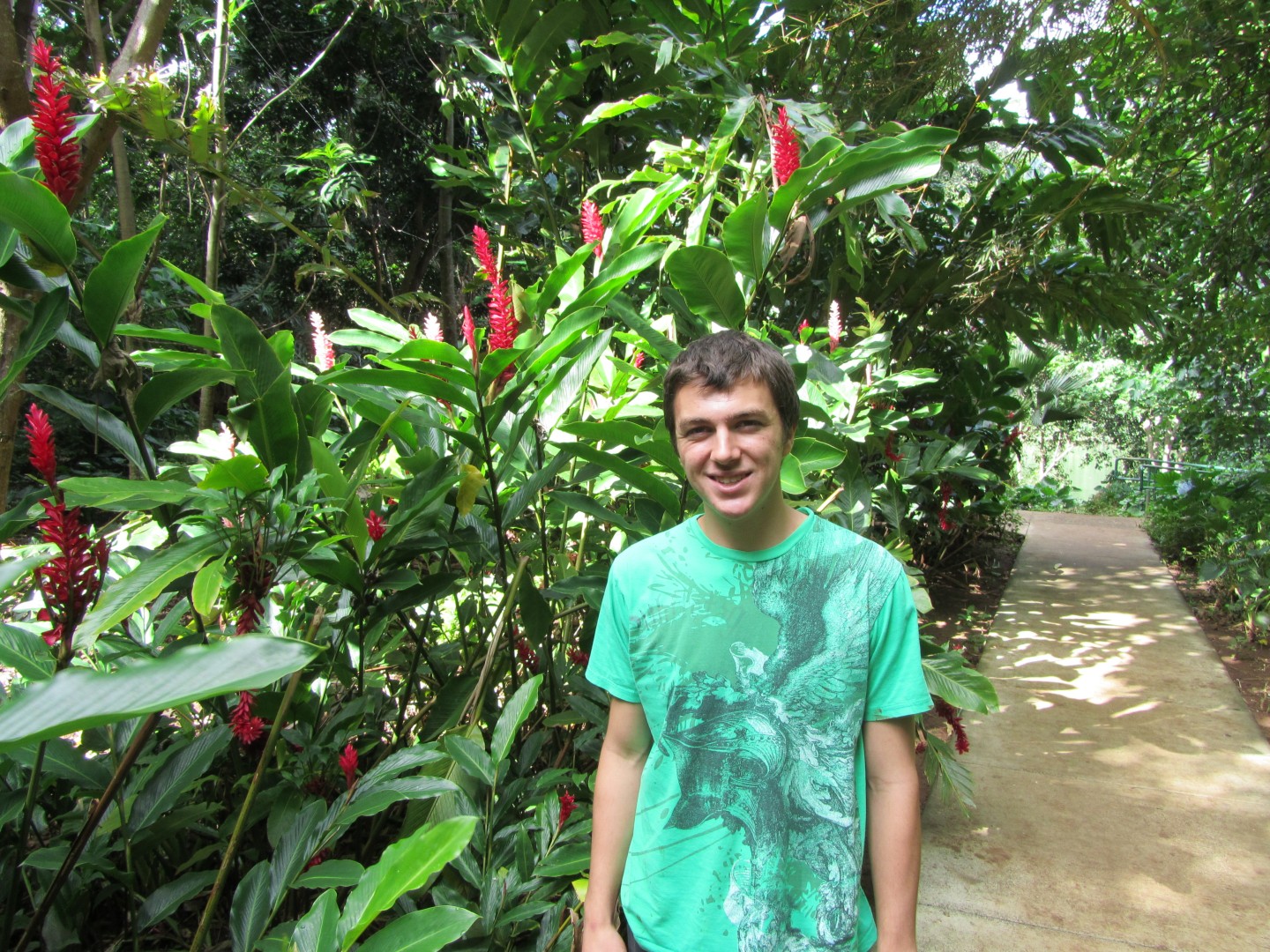 The trail to the completely forgettable Fern Grotto.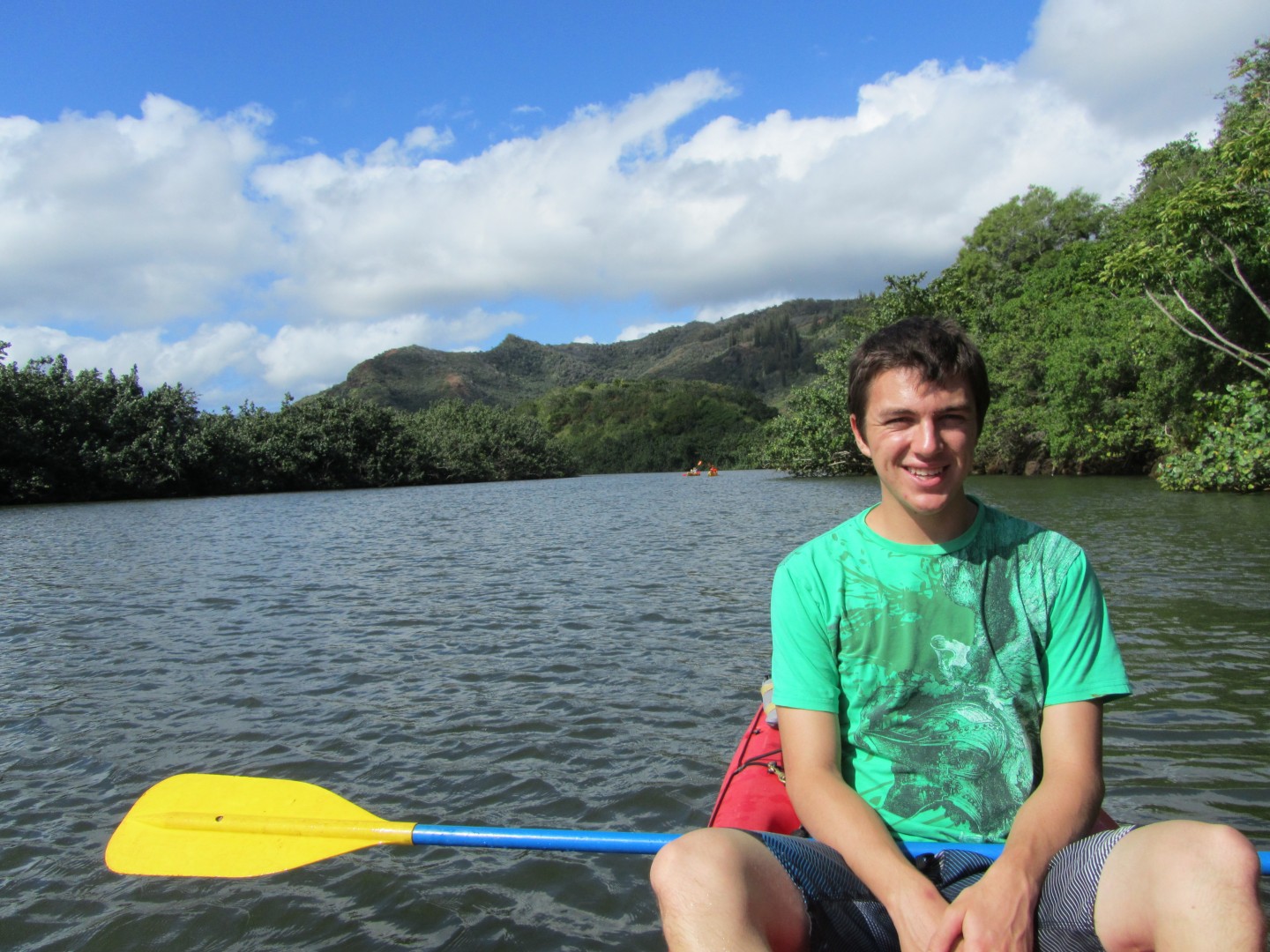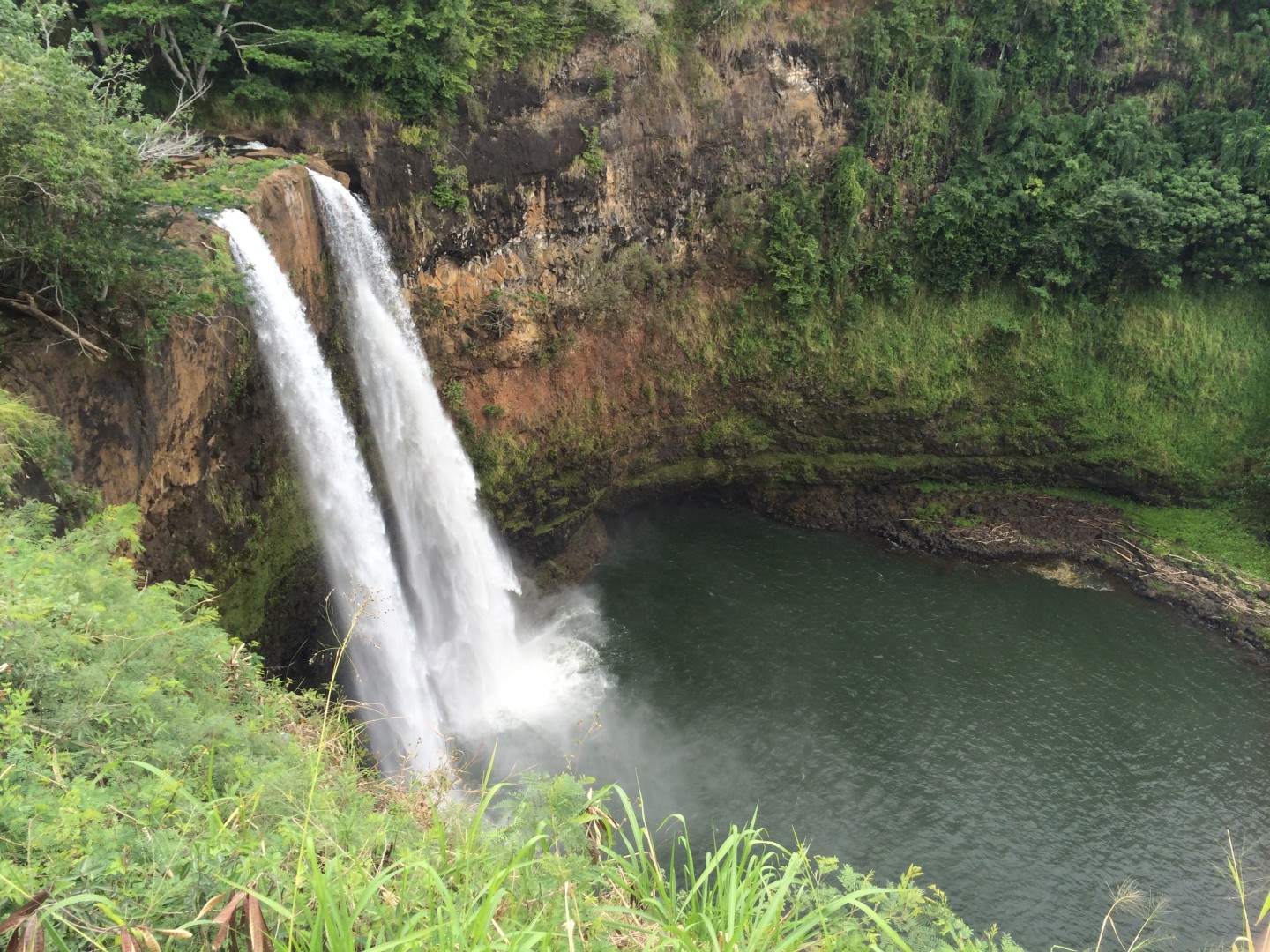 Later we all drove to Wailua Falls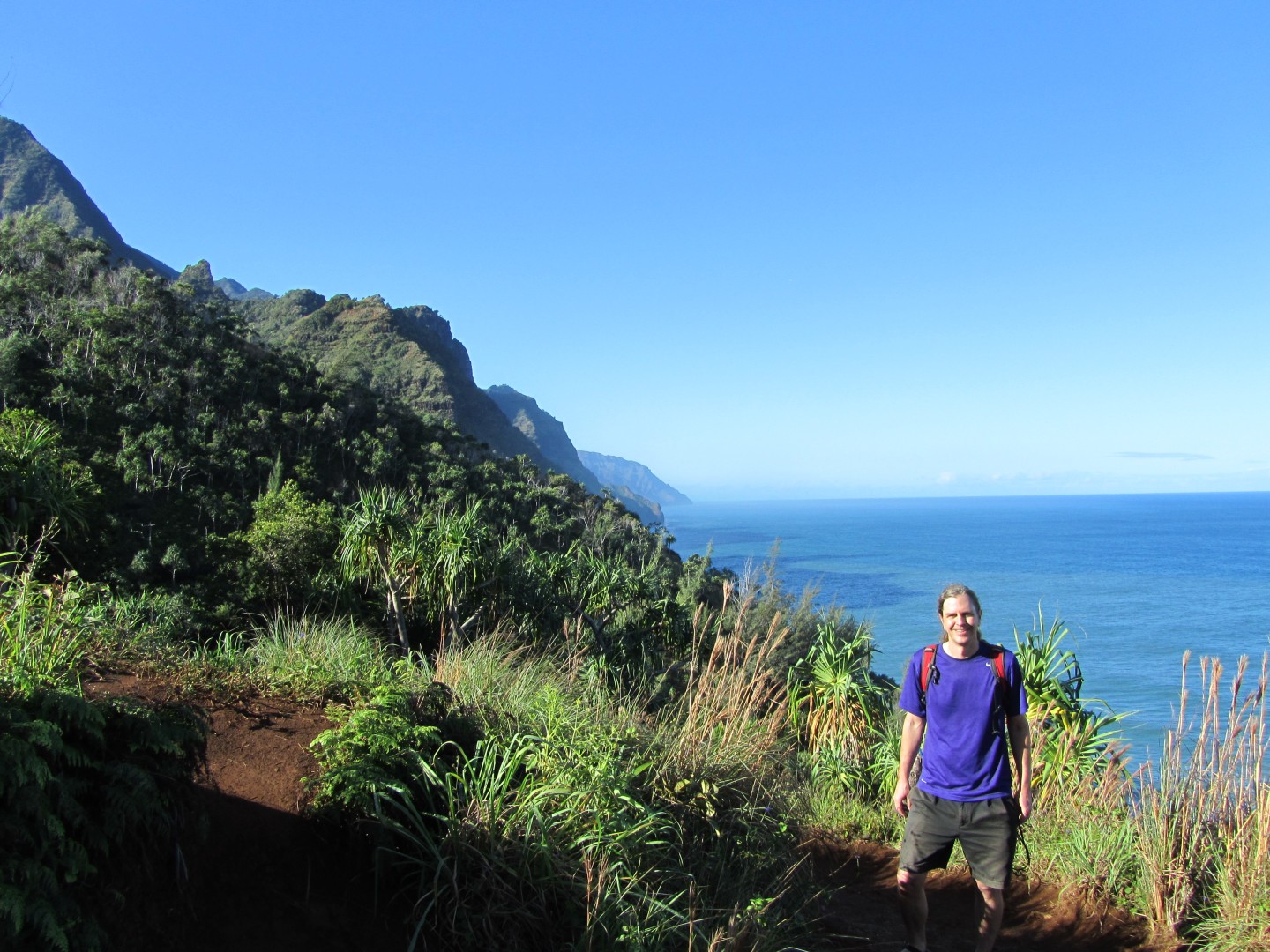 On Tuesday, our last full day on Kauai, I decided to hike a bit of the Na Pali trail. I couldn't talk anyone else into going with me. I arrived at the trailhead at about 9am, just in time to snag the last spot in the parking lot. The trail is quite slick since it is never in the sun, and it rains here frequently. I hiked perhaps 3/4 of a mile until I got to a decent spot with a view up the coast. Others nearby pointed out the whales breaching in the distance perhaps a mile offshore. I quickly saw a few breaches - it was cool, but the whales were too far away to see. All I could see was a big splash of whitewater. I stayed at this spot watching the whales and enjoying an incredibly view for perhaps 45 minutes before turning around and heading back.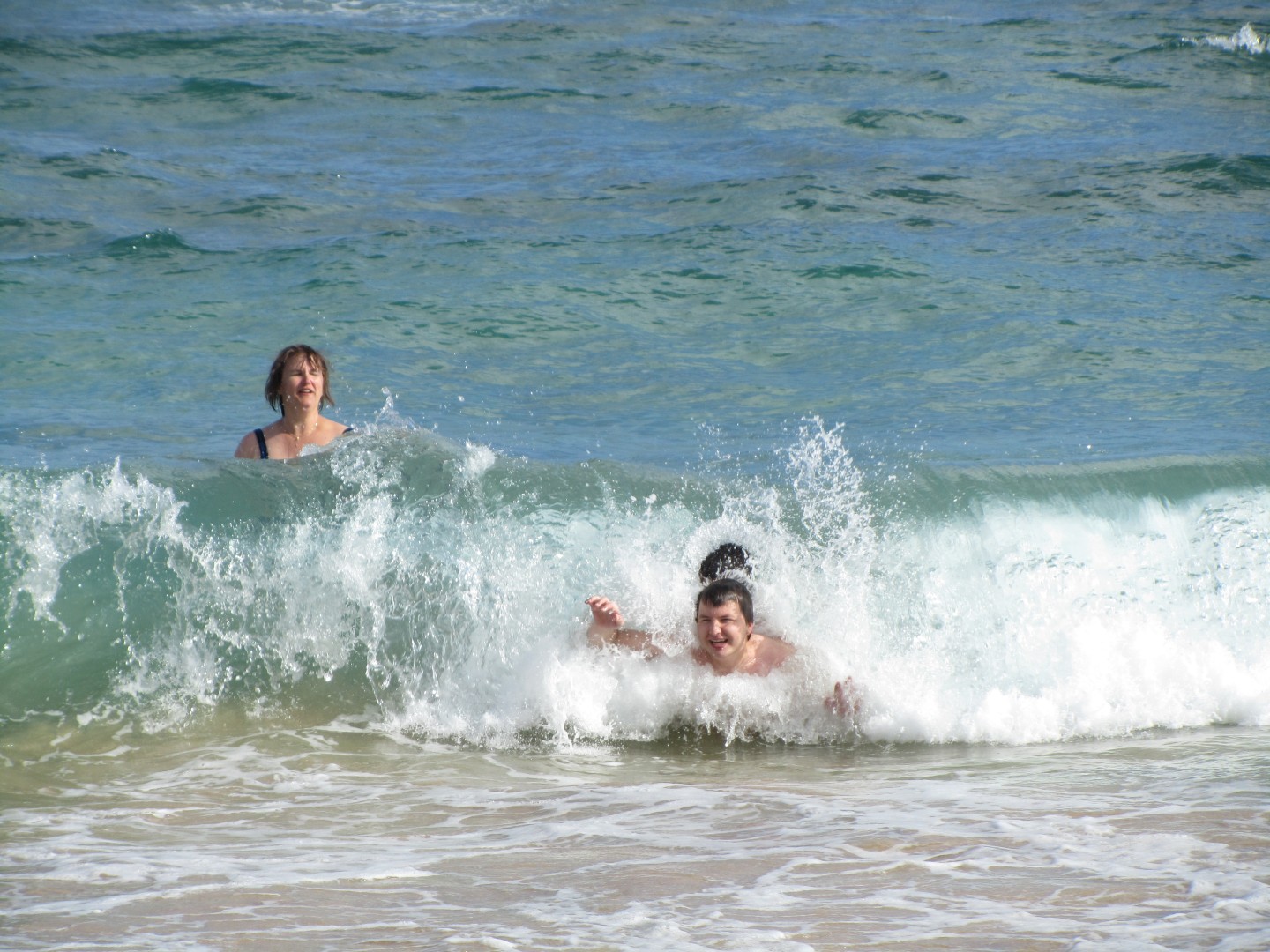 Later we all went to the beach again.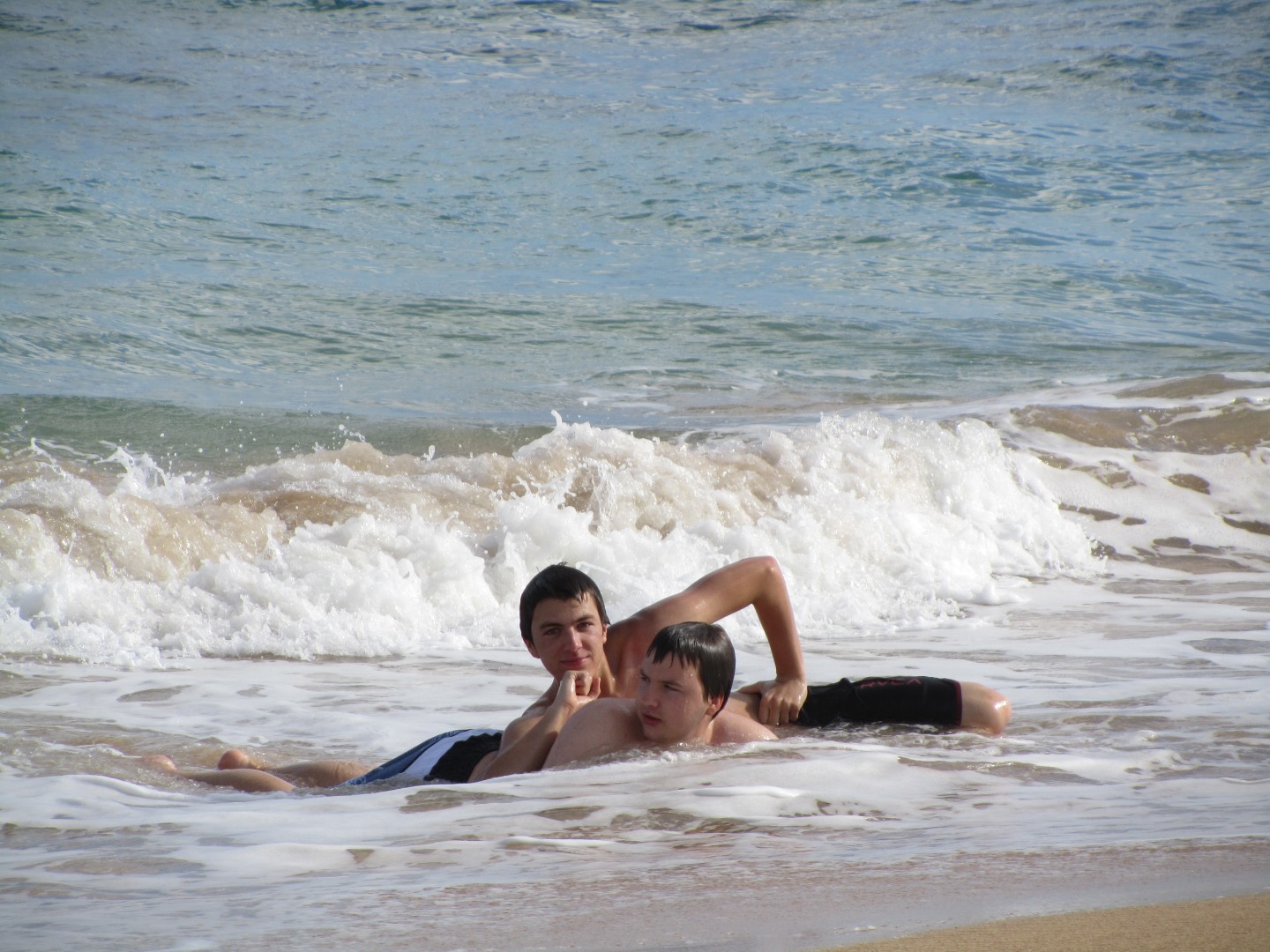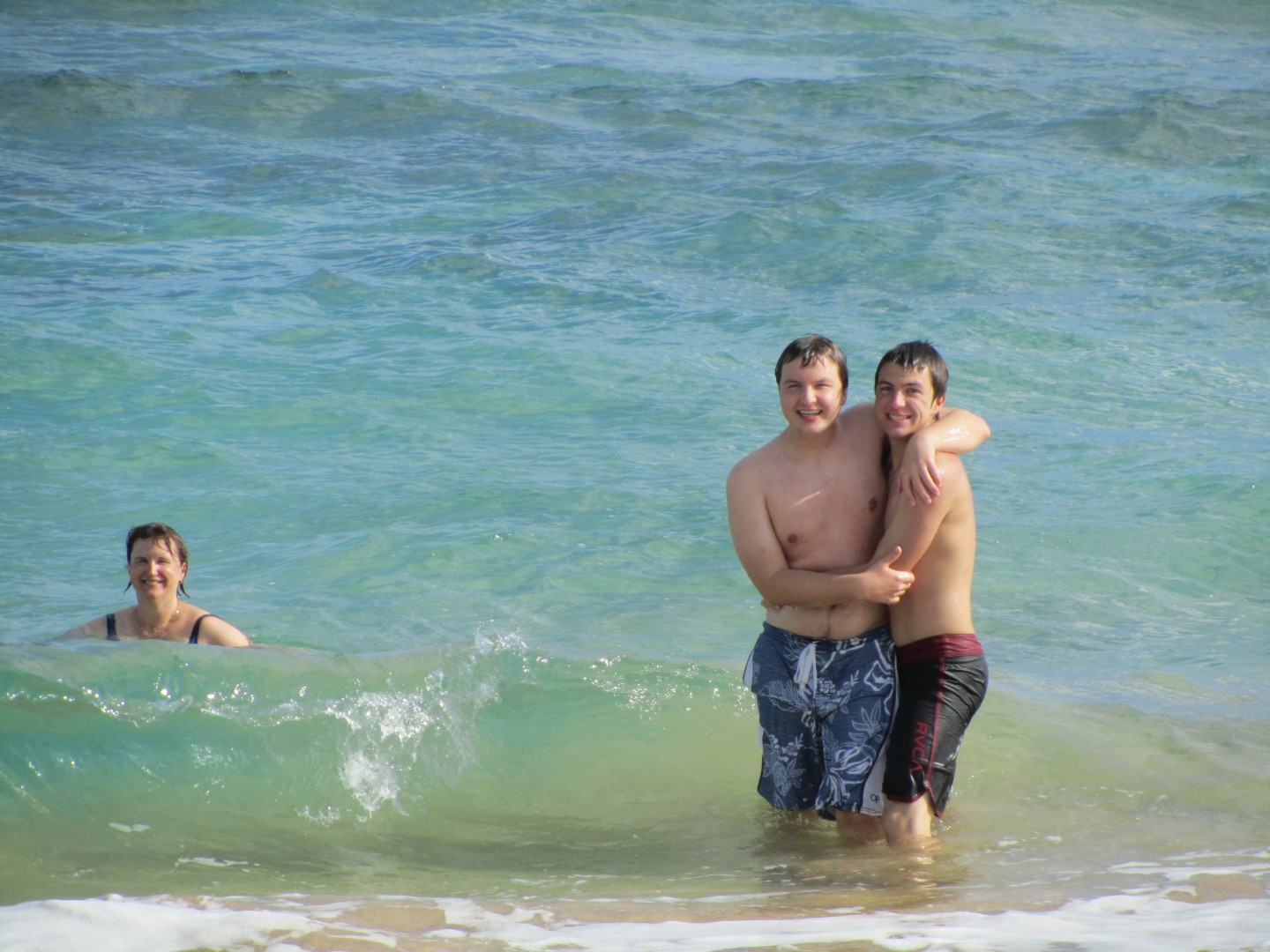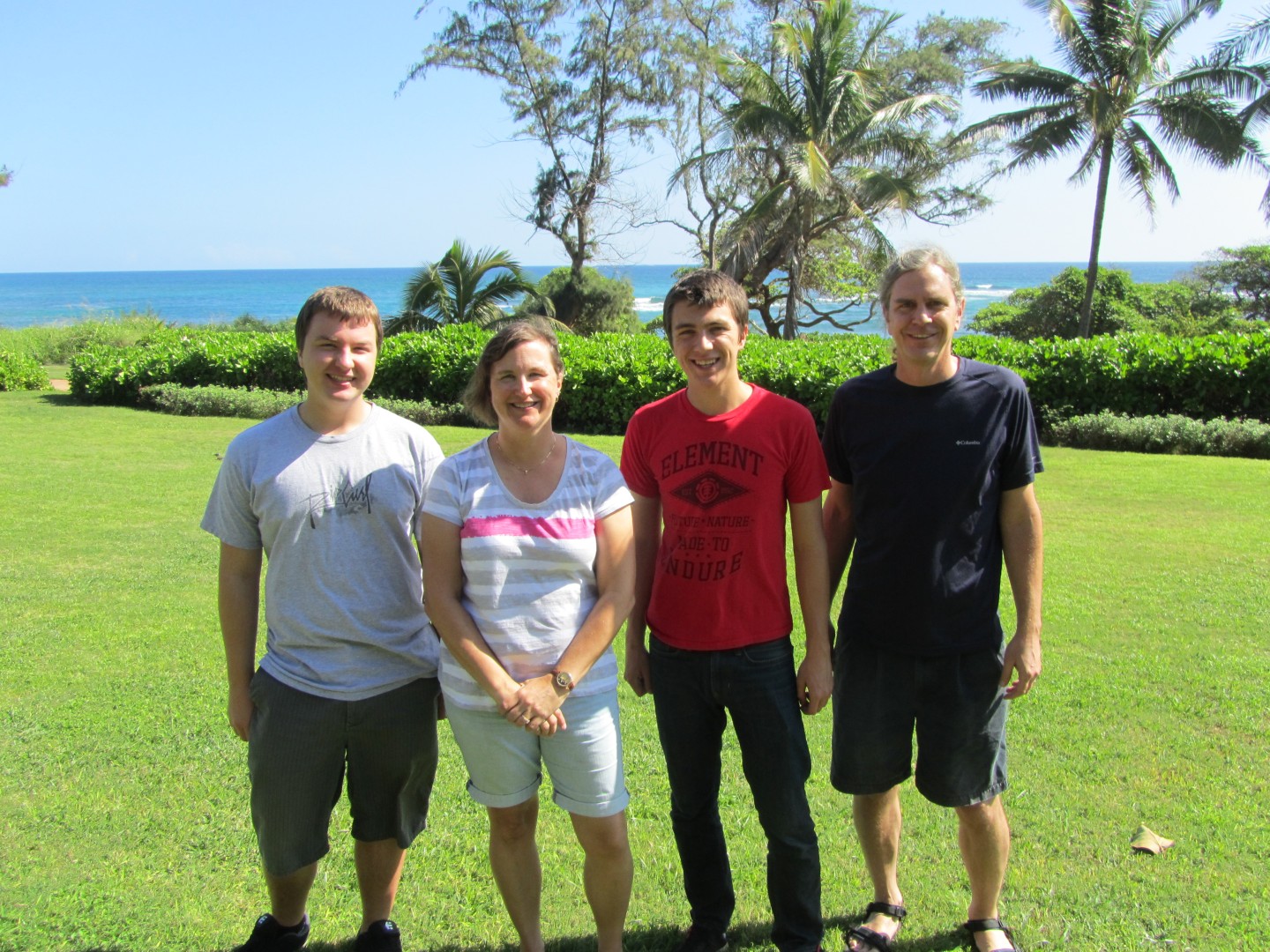 Wednesday, January 1, 2014.
This was our view from our back porch for the past 8 days.
We're waiting for our plane back to San Jose.
Fortunately the plane back was direct and on time.

Thursday Kathy and I were back at work, and Friday CJ was back at UC Santa Cruz.