Prev
Sunday July 3, 2005
Day 14 - Sestri Levante to Florence via Pisa

Monday July 4, 2005
Day 15 - Florence

Next
Tuesday July 5, 2005
Day 16 - Florence to Venice
Monday is the wrong day to be in Florence. Almost none of the key museums are open on Monday. Once I was done planning the trip, I waited a month before trying to get reservations to the Uffizi, only to discover that a) it wasn't open Monday, and b) Tuesday was already sold out. Rick updated his website in May, warning that the Uffizi is now selling out several weeks in advance. Unlike Americans, who won't take a reservation for anything without a credit card number, the Uffizi takes reservations with no penalty for no-showing. This encourages everyone to make reservations. I'm convinced this is Rick's fault.
I woke up early and hiked up to Piazzale Michelangelo. Click here for a 1 meg panorama of Florence. In 2003 the Palazzo Vecchio was shrouded in scaffolding. Now its restoration of Palazzo Vecchio is complete, but the Duomo and Santa Croce Church were both obscured by scaffolding.
After breakfast the Ketchums headed over to Santa Croce Church. The tombs were great, but Brunnelleschi's small Pazzi Chapel was truly stunning. I've never seen anything like the chapel, but unfortunately none of my pictures turned out due to the low lighting.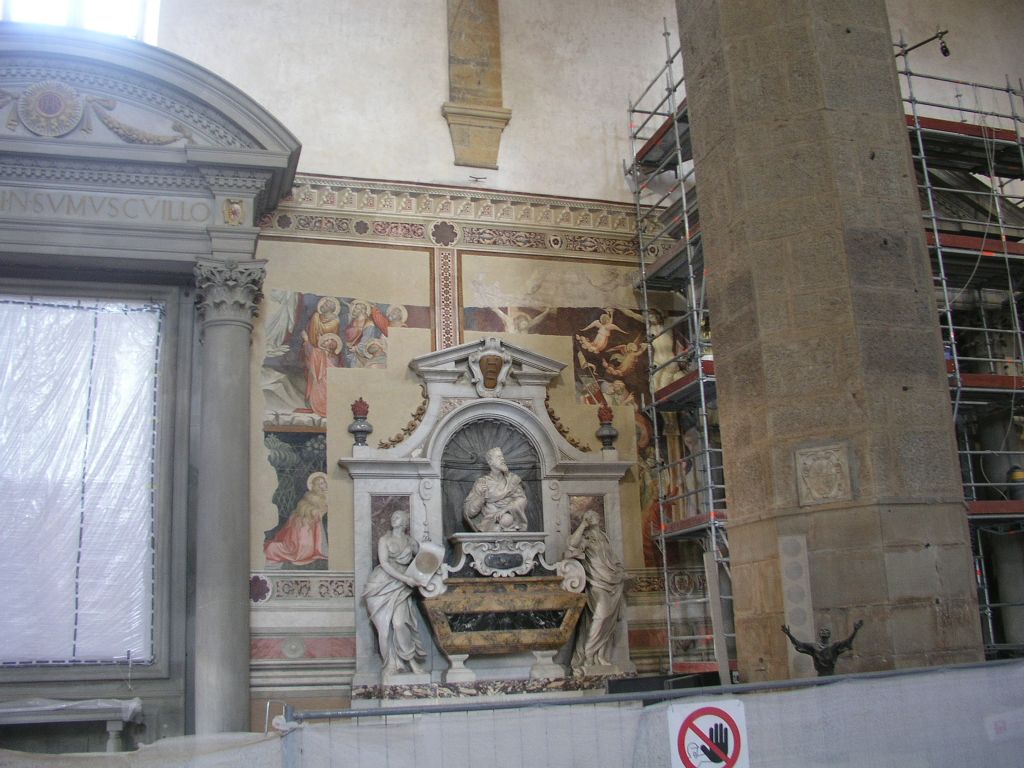 Galileo's Tomb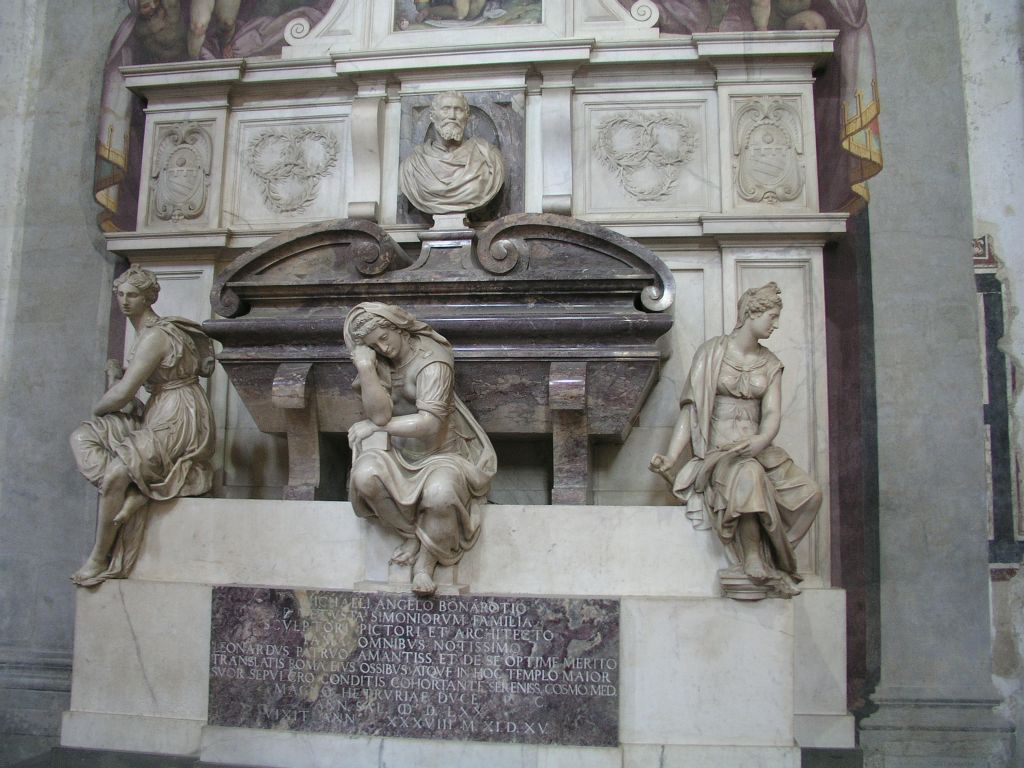 Michelangelo's Tomb
After the leaving Santa Croce we found Michelangelo's house, which was ok but nothing special. We then found Bob & Karin and had lunch. After lunch I took CJ to the Duomo. In 2003 we'd climbed to the top of the Duomo, but hadn't seen the inside. The inside is ok, but the basement - which resembles an archeologist's site, was interesting.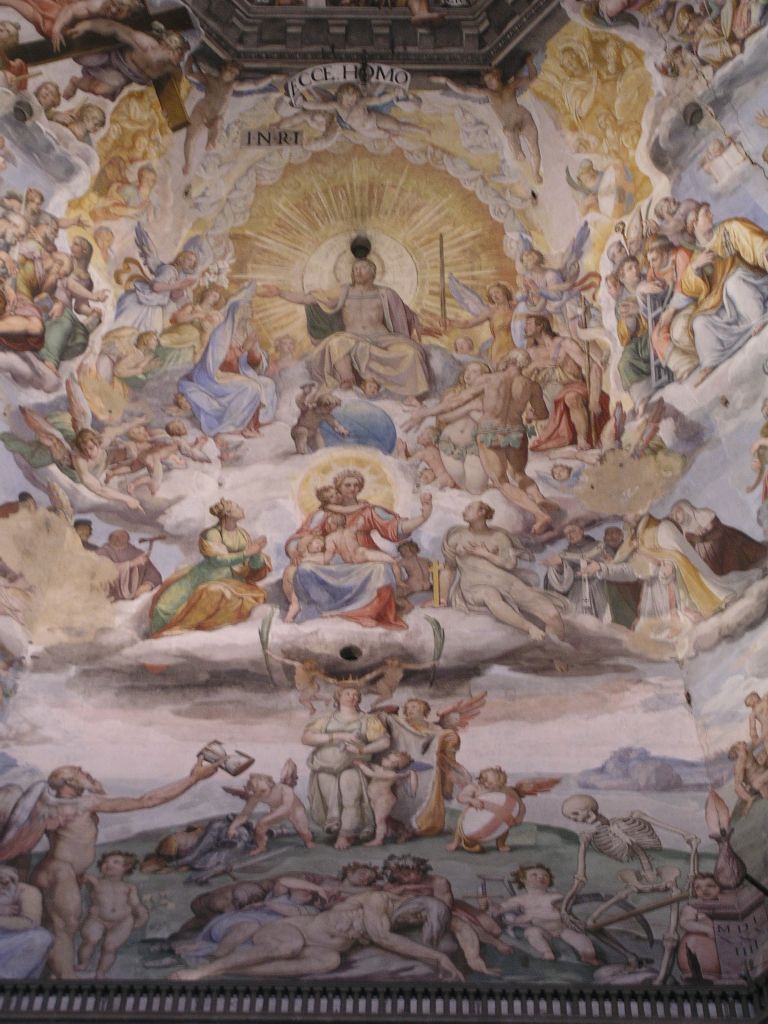 The inside of the Duomo dome
Next I hit the fantastic Duomo Museum alone.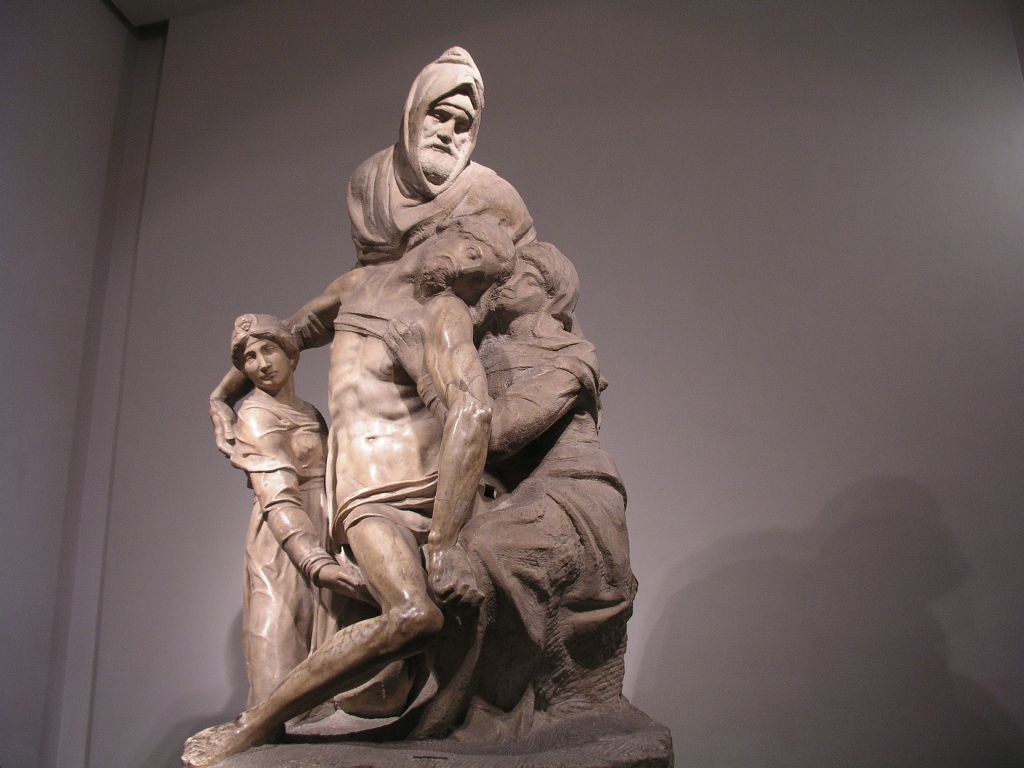 Michelangelo's unfinished Pieta

Donatello's Mary Magdalene. Unfortunately her eyes are lost in the shadows in the picture - in person, her eyes bring Mary to life.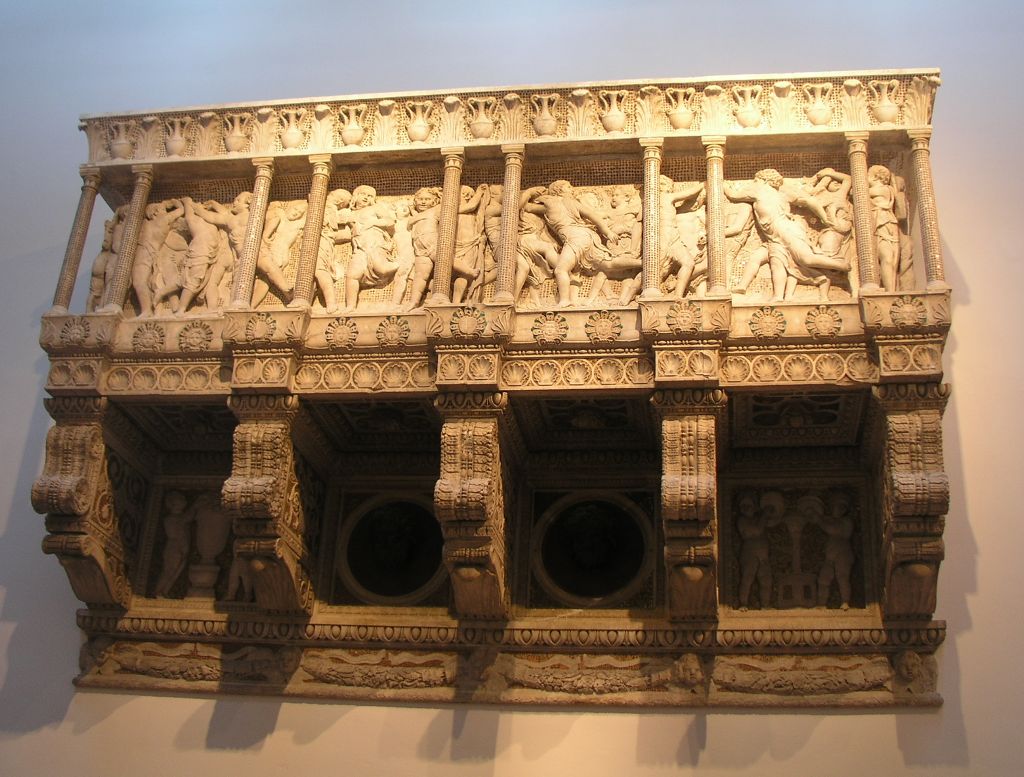 Donatello's Cantoria. Upon seeing this, I began to wonder why all the good stuff was in the Duomo Museum and why there's very little of interest inside the Duomo itself.
Next I went to the completely skipable Medici Riccardi Palace and the worthwhile Baptistry. Before dinner we all headed down to Palazzo Vecchio to see it without the scaffolding.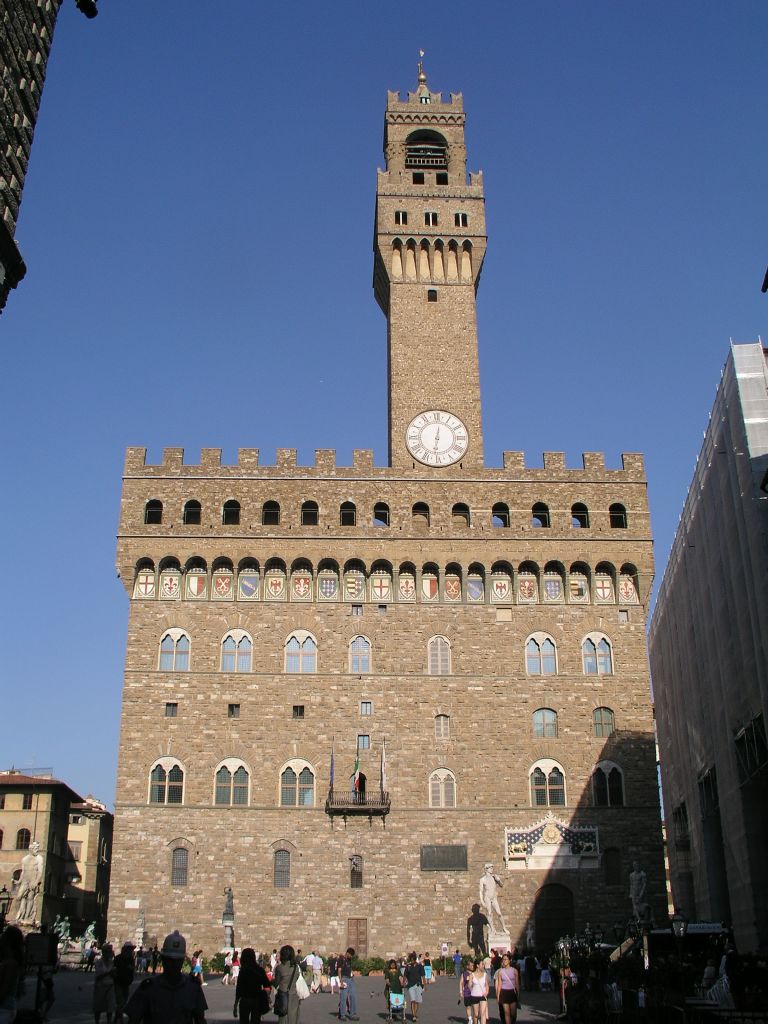 Palazzo Vecchio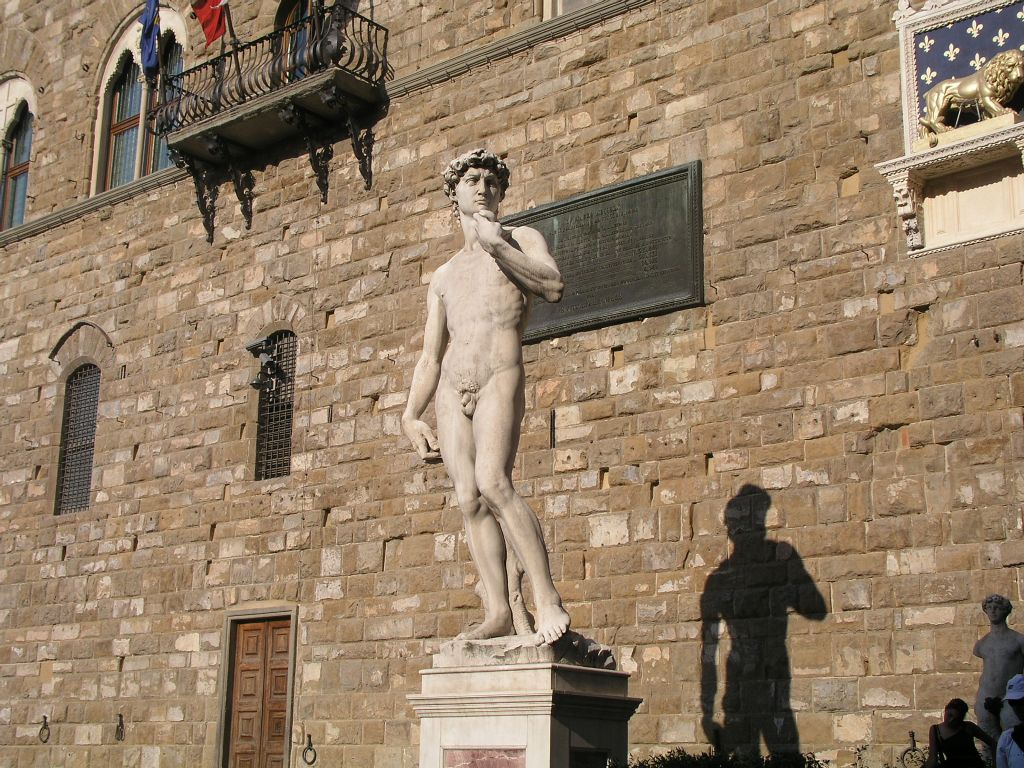 David replica
Sunday evening we saw street merchants all over town, freely plying their wares - watches, sunglasses, posters, purses, and wooden toys, all conveniently stored in portable cardboard display stands. Monday evening we noticed police all over town, obviously trying to crack down on the street merchants. As the police went by, the merchants would pick up their display stands, only to set up again as soon as the police had passed. Basically it appeared you could sell as long as the police weren't directly in front of your booth at that moment. The police drove up and down the street endlessly, trying to discourage the merchants. One stubborn merchant refused to take down his stand, trying to close a sale as the police approached. Two female officers confronted him, eventually confiscating his cardboard stand, but not his merchandise. Within minutes he had a substitute stand, improvised from a nearby box.
Prev
Sunday July 3, 2005
Day 14 - Sestri Levante to Florence via Pisa

Monday July 4, 2005
Day 15 - Florence

Next
Tuesday July 5, 2005
Day 16 - Florence to Venice