Prev
Sunday June 26, 2005
Day 7 - Füssen

Monday June 27, 2005
Day 8 - Füssen to Mürren

Next
Tuesday June 28, 2005
Day 9 - Mürren - Jungfraujoch
Early Monday morning we caught the 7:03 train from Füssen. All the schoolchildren from the area take the train to school - they piled on at each stop until we reached the middle school & high school. We changed trains in Buchloe - back on the main line between Munich and Zürich. Our entrance to Switzerland was interesting. At Lindau we stopped for the border crossing, then started off in the same direction. In a panic I asked the conductor where we were headed. He told us Lindau is an island, and the only other way off was to swim. We grabbed sandwhiches and beer at the Zürich station before boarding the GoldenPass train. First class cars on the Goldenpass have huge panoramic windows so you can enjoy the views of the Alps. This was the only other train we reserved. Kent later told me that second class cars are nothing special.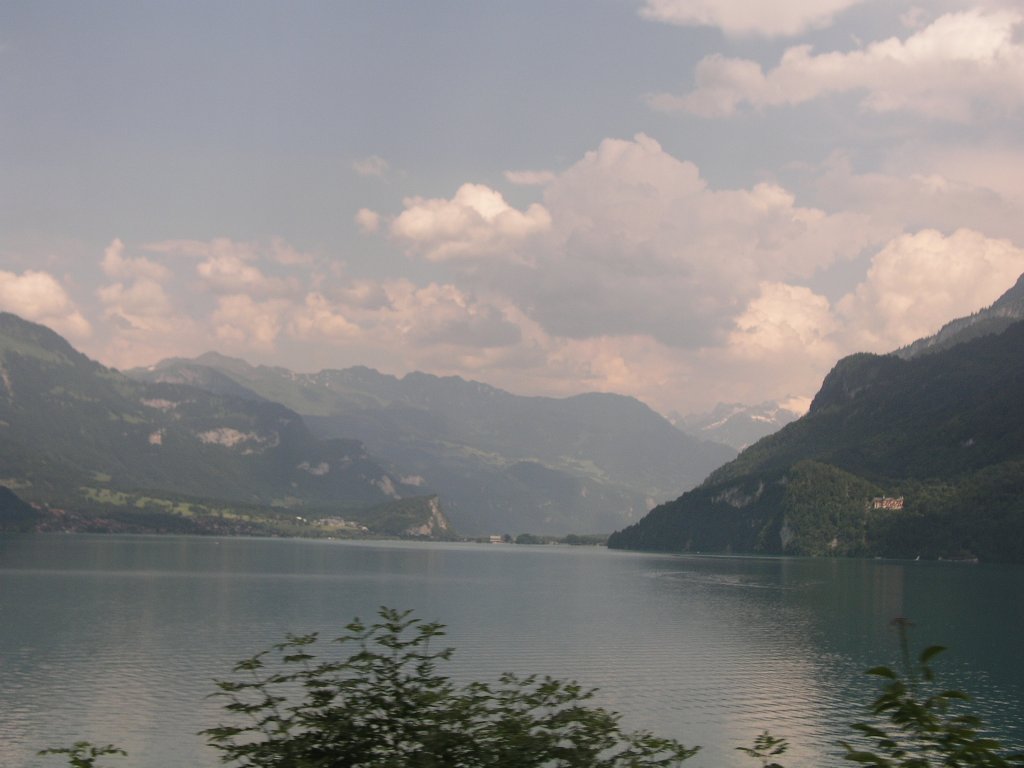 After another 2 hours we arrived in Interlaken, where we would board the private trains that head into the Alps and take us to Mürren . I only knew about Mürren because my friend Kent had told me about it. Kent's family was touring Europe for 2 weeks this summer. Once I planned Mürren into our itinerary, I realized that Kent and I would be in Mürren at the exact same time – Monday through Wednesday nights. I told Kent when our train should arrive in Interlaken Ost so we could ride the train and funicular into Mürren together. Interlaken Ost was the start of a relative unknown. I had planned each train ride, and a backup train in case we missed the first one, for every other trip, but I had only vague knowledge of how to proceed once we reached Interlaken Ost. I made my way into the station and spotted Kent's wife Rita at the top of the stairs – they had arrived minutes before us.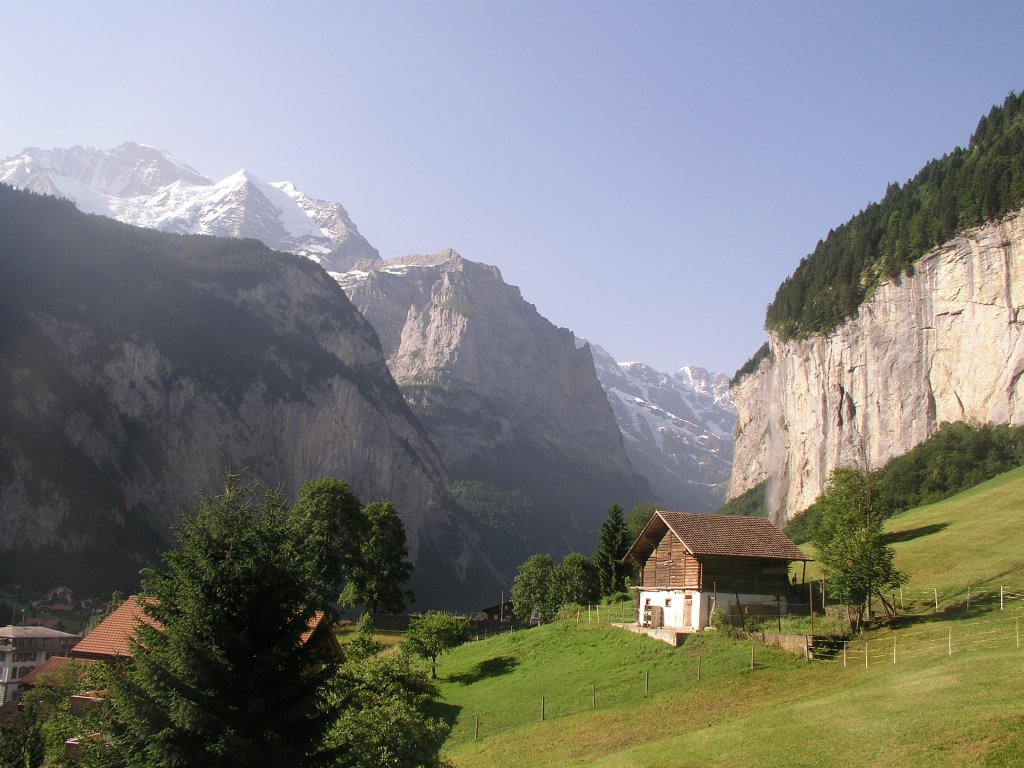 Lauterbrunnen Valley - as Kent said, like Yosemite Valley only with more waterfalls and higher mountains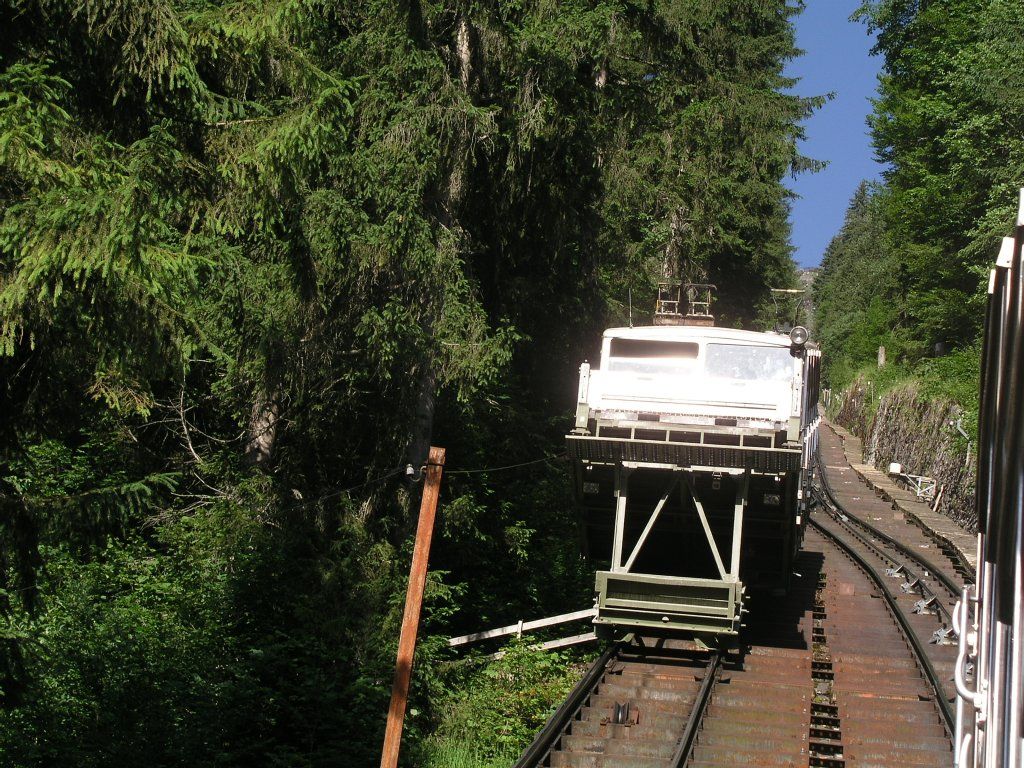 Funicular - passing the other train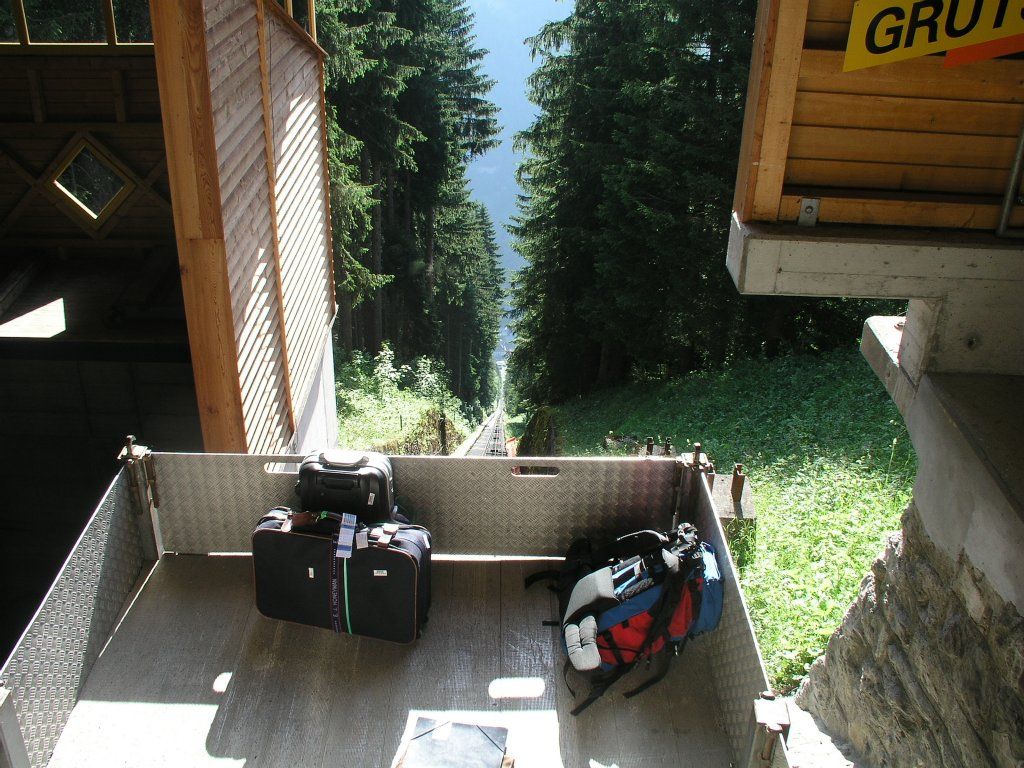 Funicular - Looking down from the top at Grütschalp, on the way to Mürren
The family wasn't too pleased to learn that we had another 2 short trains and a funicular to go before we found our hotel, but it took less than an hour. Kent's family was going to Jungfraujoch on Tuesday morning if the weather was good. I was the only member of our party who was interested – everyone else wanted to avoid trains for a few days if possible.
When we arrived in Mürren the mountains were hidden in the clouds. Mürren is a ski town that nearly shuts down in the summer. Many, if not most, hotels are shut down for the season. Our hotel was nearly empty. We soon discovered that when we talked to people, everyone wanted to share how they found out about this spot, and many people had been coming here for several years.
We had dinner al fresco for a while under an awning in the rain at the Hotel Blumental until the wind changed directions and we decided to retreat to the great indoors. It rained hard for around half an hour - the locals said this was good, and that Tuesday would have good weather.
Prev
Sunday June 26, 2005
Day 7 - Füssen

Monday June 27, 2005
Day 8 - Füssen to Mürren

Next
Tuesday June 28, 2005
Day 9 - Mürren - Jungfraujoch