Prev
Monday July 9,2007
Day 13 - Beynac-et-Cazenac

Tuesday July 10, 2007
Day 14 - Beynac-et-Cazenac to Carcassonne

Next
Wednesday July 11, 2007
Day 15 - Carcassonne to Arles

Tuesday morning was mostly sunny. Dusty went out to take pictures, since this was the morning light we'd had in 2 days. At one stop to photograph Beynac castle another car stopped in back of him, and a professional photographer got out. Ron Lake specializes in pictures of Provence and Tuscany - www.ronlake.com (warning – I believe that website may have been hacked). Since I told him I was headed to Provence, he told me to try to find a lavender field north of Aix en Provence, giving me quite specific instructions which I of course couldn't remember. He told me about a picture he took of lavender in front of an Abbey, and I got the impression that he'd made quite a reasonable living off that one picture alone. [Two days after returning home from France, while standing around Barnes and Noble at the last Harry Potter party waiting to purchase Harry Potter books, I took a look at a Provence 2008 calendar… and saw his Abbey lavender picture, featured on his homepage, on the calendar.]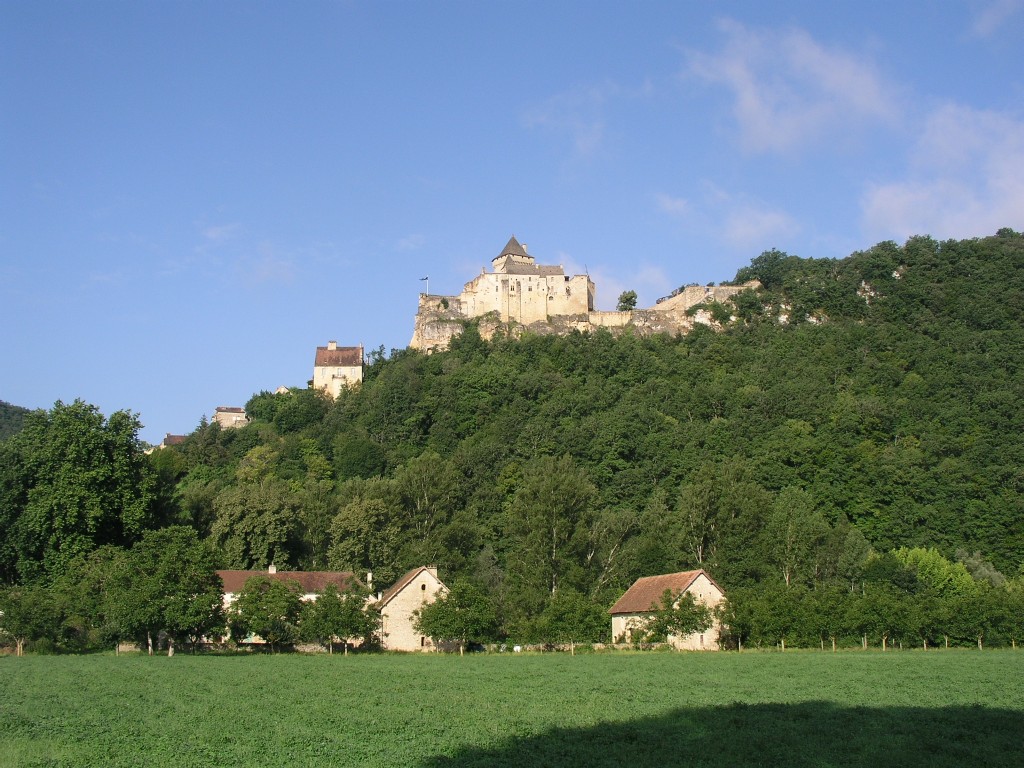 Castlenaud.
We never visited.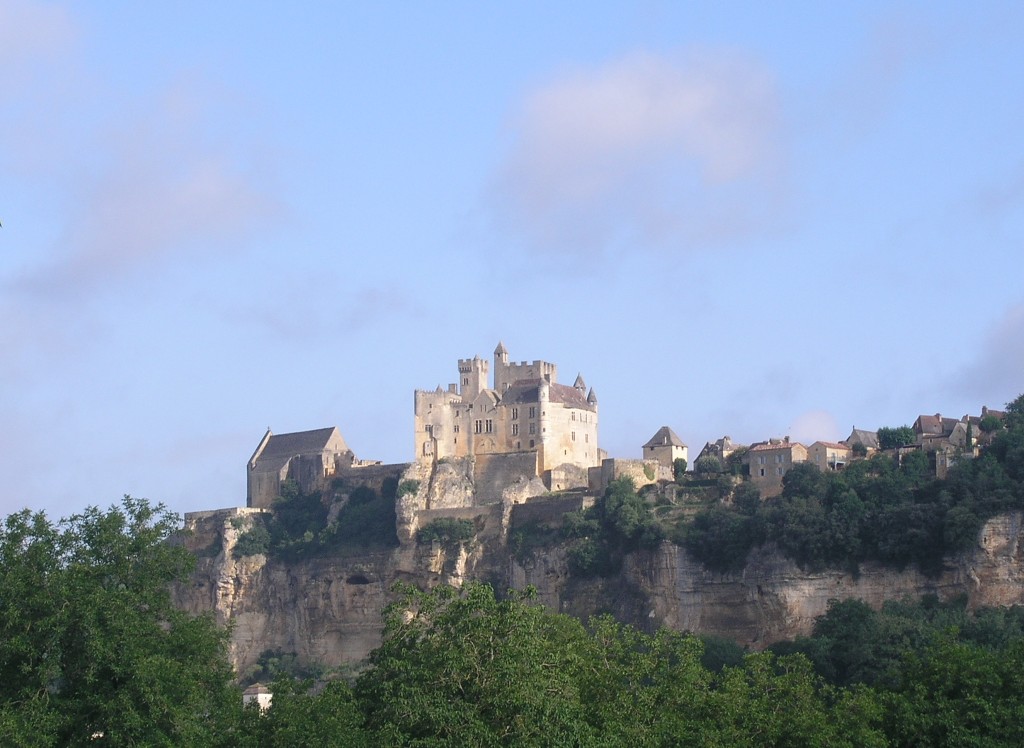 Beynac


Later we checked out, stored our bags downstairs at the hotel, and decided to canoe down the river. They drove us up to Vitrac, and we started downstream. We used Rick's recommended Copeyre Canoes since they are the only ones with an office in Beynac. We appeared to be their only customers that day – lots of people were camping next to the outfit with the yellow canoes across the street. They moved downstream much faster than we did… in fact everyone seemed to move downstream faster than we did. I suspect our canoes were much heavier than everyone else's. CJ and I saw a large snake swimming across the river – it disappeared when we got close to it, which I found disconcerting – I had visions of a huge snake jumping into the canoe. The river wound through farm country – fields full of corn higher than our heads.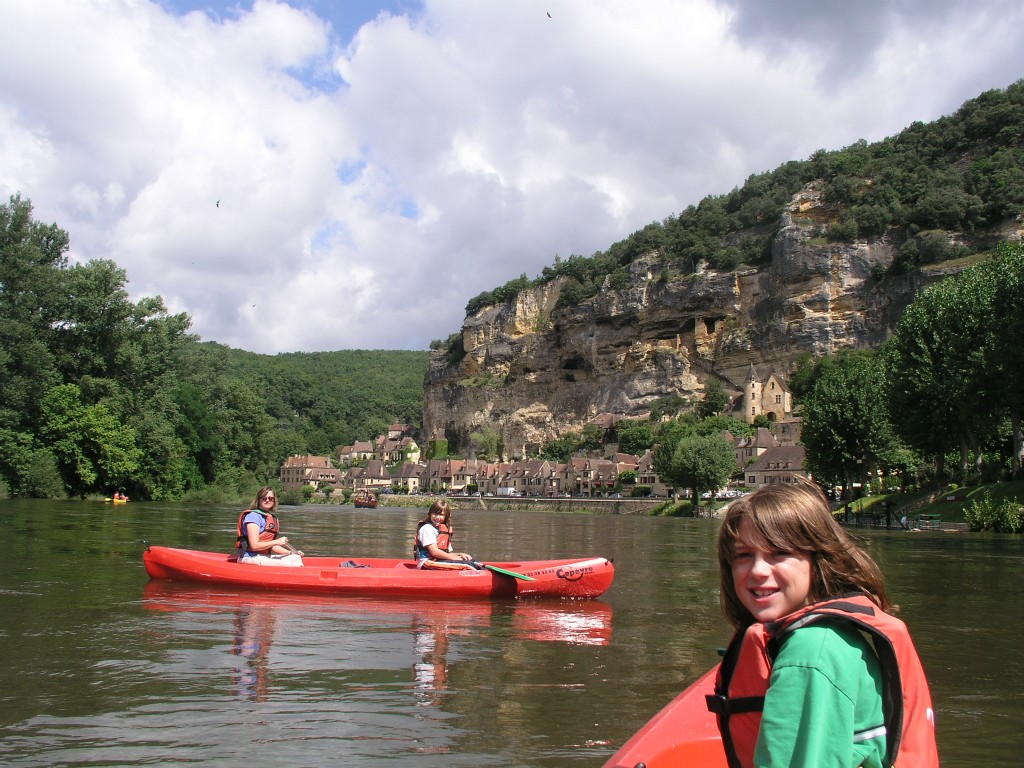 La Roque-Gageac ('the Rock')
We drove through a few times and had dinner here once, but didn't spend time here
The town floods regularly.
Hundreds of years ago the villagers retreated to the cliff dwellings above to escape Vikings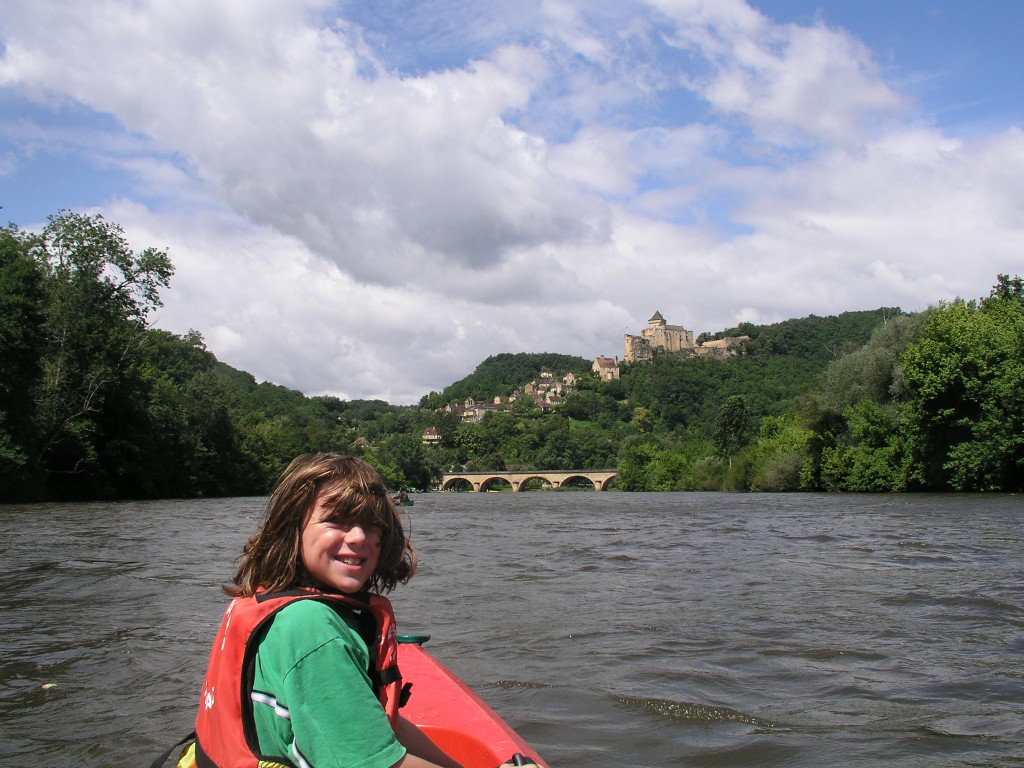 Castelnaud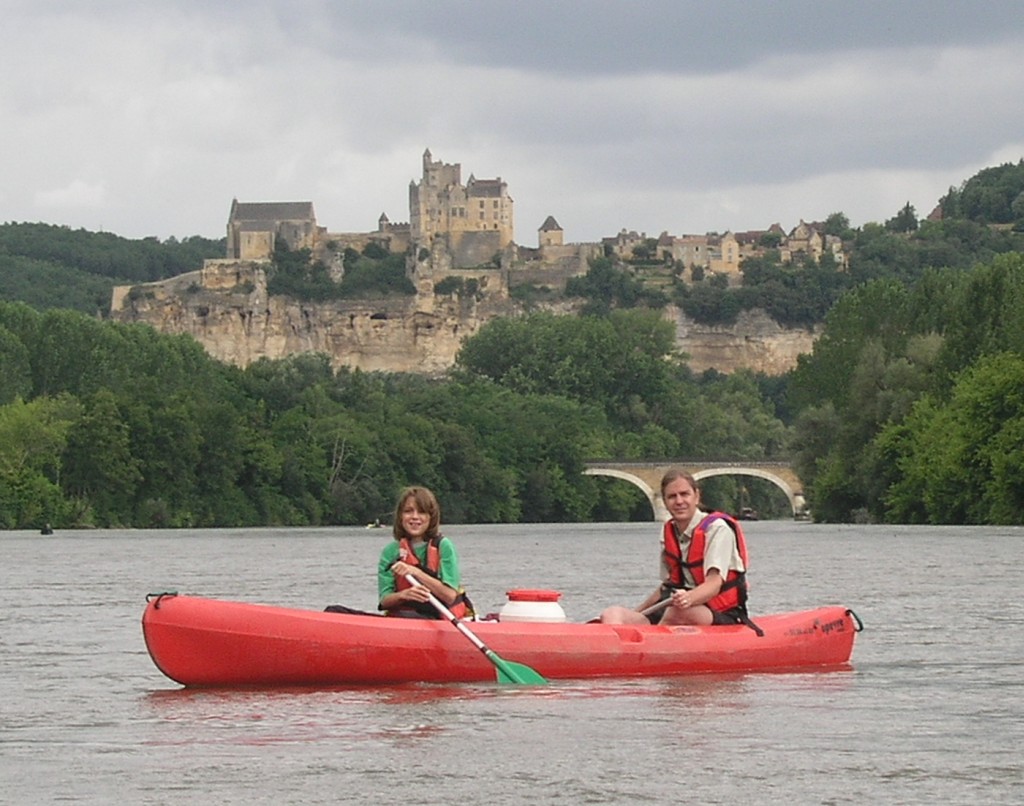 Beynac

The wind picked up gradually, and the clouds started gathering again. The leisurely pace quickened a bit as we fought a headwind and tried to get off the river before it rained. Kathy and Robby nearly capsized when they strayed too close to a bridge pier. We arrived back in Beynac around 1pm, and it started to sprinkle right after we got out of the canoes. We drove on to Carcassonne. The ViaMichelen directions said to get off at Carcassonne West and drive through town, but Rick's directions and the signs said to get off at Carcassonne East and drive back to get to the old city - La Cite. This worked out well, because we found a rest stop within a mile or so of La Cite, and got great pictures of it.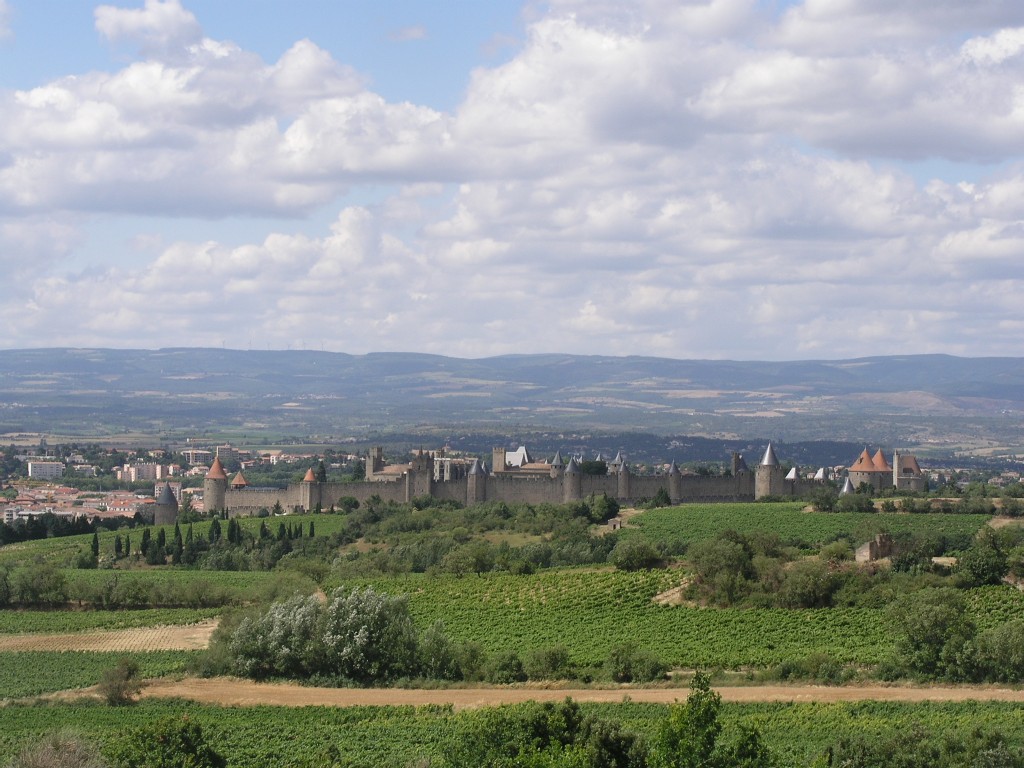 Carcassonne
has been a fortified city for over 2500 years, since early Roman times.
While the lands around it were conquered various times throughout history, the walled city itself rarely fell.

I hadn't seen any good pictures of La Cite because it is so large you can only photograph small parts of it when you're near it. We continued on and eventually found our hotel, driving past thousands of tourists streaming out of La Cite. Our room for four at Hotel Espace Cite had just enough room for four beds, and not enough room for three suitcases. It was a sterile, plain hotel, with a single small picture on the wall of the room, but it was functional and clean. By the time we got to La Cite it was a little less crowded, but very windy – several times I had to stop because I got sand in my eyes. We wandered through La Cite, which became more pleasant as it got less crowded. We had dinner inside at L'Auberge du Grand Puits – lots of people were eating all over town al fresco but I can not imaging it was a pleasurable experience with all that wind. Kathy and I had cassoulet, a local bean and meet stew.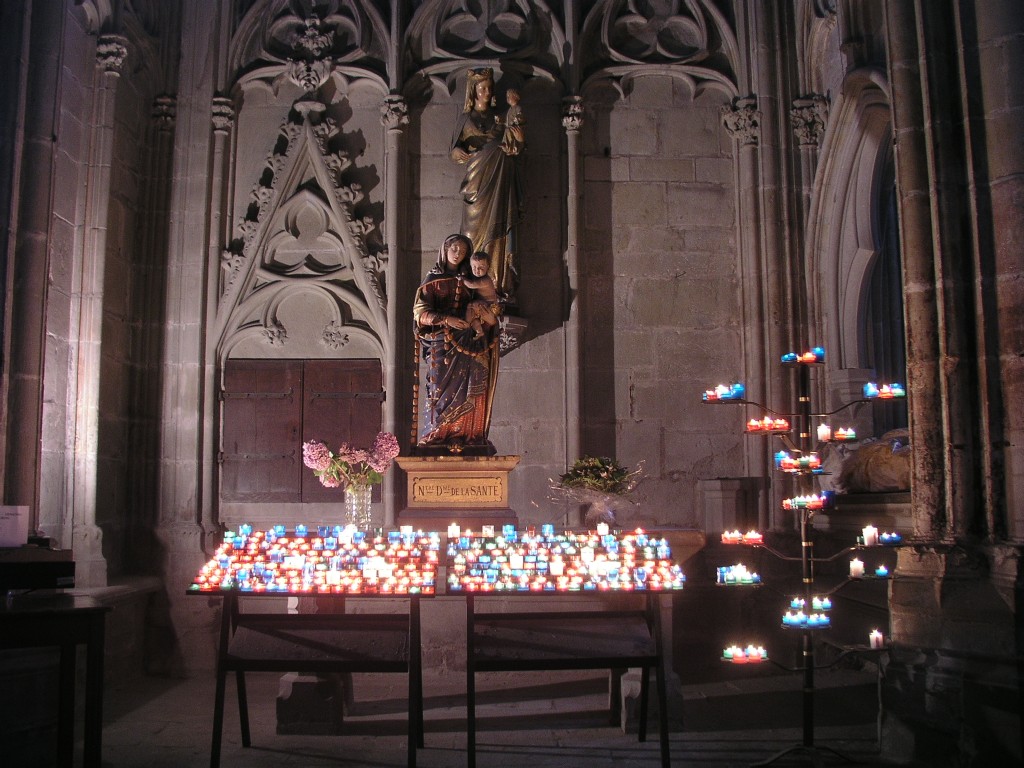 Basilique St Nazaire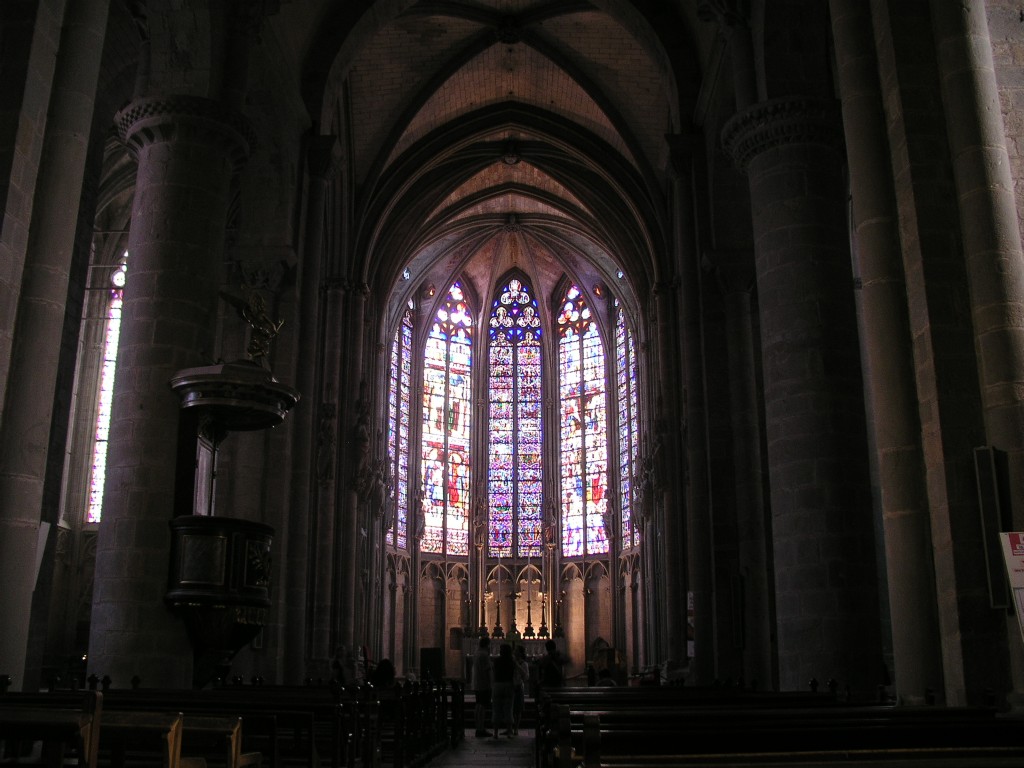 Basilique St Nazaire
Since no one lives in La Cite any more, this is a church with no parishiners - only tourists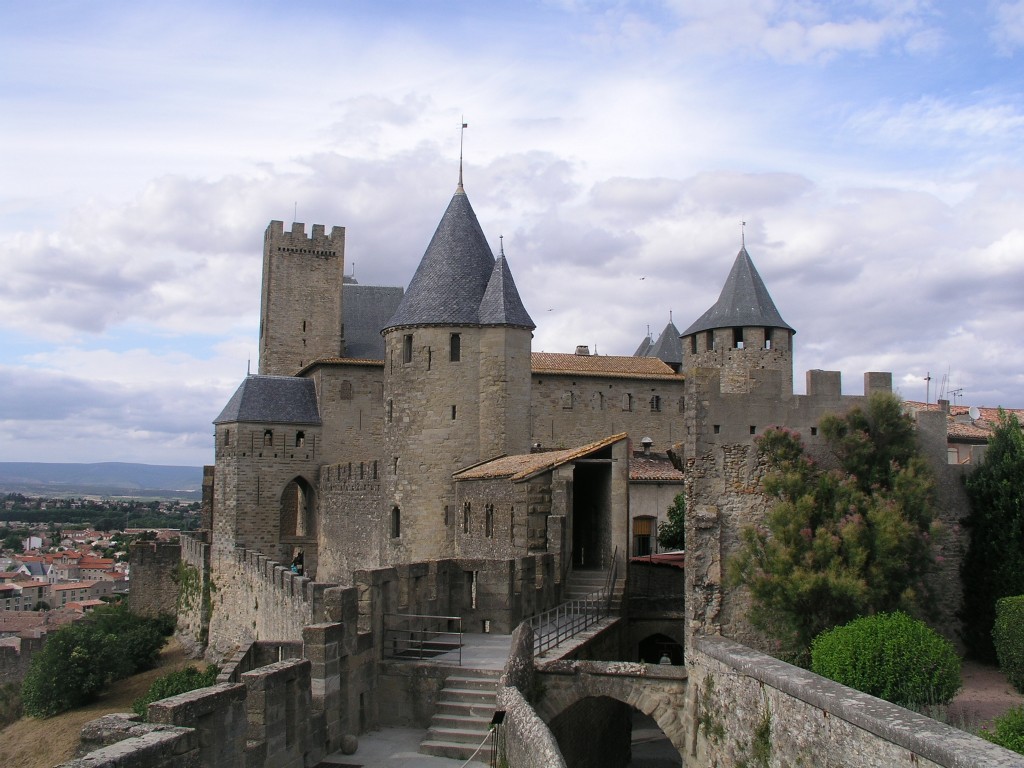 Carcassonne -
Château
Comtal
We didn't visit the castle - it cost extra, and we had seen so many castles by now we were completely castled out.
It was also closed or closing when we arrived.
Even I didn't want to see the castle.

Prev
Monday July 9,2007
Day 13 - Beynac-et-Cazenac

Tuesday July 10, 2007
Day 14 - Beynac-et-Cazenac to Carcassonne

Next
Wednesday July 11, 2007
Day 15 - Carcassonne to Arles