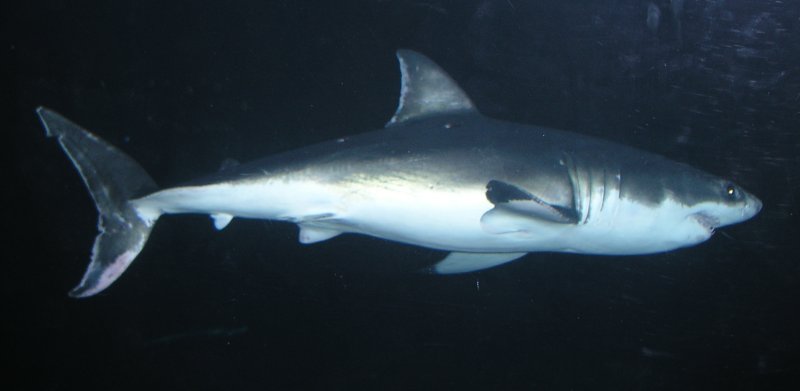 Thanks to a quick visit to the Monterey Bay Aquarium on September 18, 2004, I finally have my very own picture of a live Great White taken at virtually no risk to yours truly. I also discovered how difficult it is to take pictures of moving fish in very low light. The flash shows every imperfection on the 11" thick acrylic window of the Outer Bay exhibit, and also reflects badly off the surface.
Half Moon Bay
Shark attack at Mavericks Half Moon Bay Review 10/6/2000
the rest of California
Shark attacks surfer off jetties - times-standard.com 11/13/2004
POINT REYES
Shark bites surfer -- swimming, wading barred at beaches sfgate.com 10/11/2004
Dressing up like a shark's lunch can be deadly sfgate.com 10/17/2004
Third shark sighting keeps Pismo on its toes San Luis Obispo Tribune 10/8/2004
Shark attacked him, says surfer San Luis Obispo Tribune 10/3/2004
The sea was life -- and death -- to Randy Fry sfgate.com 9/19/2004
Great white shark puts jaws on display in aquarium tank
Man-eater settles for a salmon dinner -- making history and thrilling researchers sfgate.com 9/16/2004
Three shark sightings reported in county over weekend San Luis Obispo Tribune 9/22/2003
Shark attack kills diver off Mendocino coast sfgate.com 8/17/2004
Surfer goes toe-to-toe with shark
'I thought I was dust,' he says of 5-minute ordeal off Bodega Bay sfgate.com 5/31/2004
Sharks cruise waters off popular Calif. beach go.com 8/26/2003

3 Minute News Report on San Onofre Shark Sightings August 2003 - worth the wait to download! Video of great whites taken from helicopters.
Shark sighting prompts beach closure San Luis Obispo Tribune 8/24/2004
4 lifeguards risked all in bid to save shark attack victim sfgate.com 8/21/2003
Shark kills woman in Central Coast attack
50-year-old bitten while swimming among sea lions sfgate.com 8/20/2003
Elusive great white shark captured
Monterey Bay scientists get better look at mysterious species sfgate.com 8/2/2003
Shark-attack victim recalls power of bite
'Incredible force' lifted him out of water; friends' presence saved his life Contra Costa Times 12/4/2002
Quick action saved victim of shark bite
16-foot great white suspected in attack sfgate.com 11/30/2002
Great whites travel deeper, farther than thought sfgate.com 01/03/2002
the rest of North America
Great white shark tagged with data-gathering monitor regains privacy after device detaches sfgate.com 10/15/2004
South Africa
Elderly woman presumed dead after attack by great white shark off South African coast - sfgate.com 11/15/2004
Monster shark rips teen to death - Independent News and Media South Africa 9/12/2003
Teenager survives shark attack Independent News and Media South Africa 8/8/2003
Muizenberg bathers flee Great White invasion Independent News and Media South Africa 12/23/2002
Shark chomps lifesaver's surfski Independent News and Media South Africa 9/13/2002
Great White 'bares teeth' at Cape kayakers Independent News and Media South Africa 7/12/2002
Australia
SHARK VICTIM REMAINS FOUND Special Broadcasting Services 12/17/2004