| | | |
| --- | --- | --- |
| home | The Ketchums in Italy | |
Prev
Introduction

Saturday & Sunday
June 28 & 29, 2003
SFO to FCO

Next
Monday June 30, 2003
Day 1 - Roma
Our next-door neighbor Paul Fassinger graciously volunteered to take us to the airport Saturday evening. We'd never seen the new international terminal at SFO. It was huge, impressive, and nearly empty – probably not the best use of tens of millions of dollars of taxpayer funds, but I'm sure there was plenty of graft involved. The Lufthansa ticket counter agents were German, and the passengers were primarily German as well.

I had heard the flying Lufthansa is pleasant - that turned out to be an understatement. We were served two decent meals with real food, plus free beer, wine, and mixed drinks! (I stuck with red wine.) On the down side our seats were awfully small in the back of the Airbus 340.

The flight from San Francisco to Munich was less painful than I had expected. Since it was a redeye, they kept the windows closed for most of the flight, even though we were almost north enough to experience endless summer daylight. I was disappointed that it was cloudy over Greenland and the Scotland.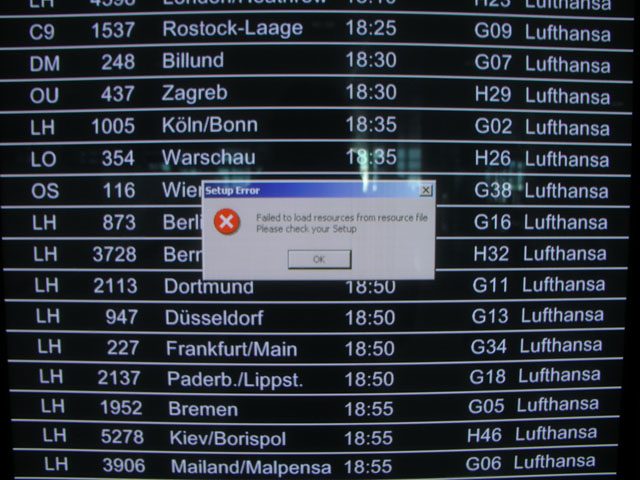 We arrived in Munich on June 29, the first day of service for the brand new Terminal 2. Many of the video screens didn't work, and we noticed lots of minor problems the staff had with doors not unlocking properly – the usual first day stuff. We got our passports stamped as we passed from the International terminal (upstairs) to the EU terminal (downstairs).

The flight to Rome featured an excellent meal with real silverware, an accessory not seen in the US since 9/11. Of course there was more free wine.

The plane landed in Rome, we traveled by bus from the plane to the terminal, we found our baggage, and discovered that it appeared to be absolutely impossible to get anyone to stamp our passports. There was one security guard who didn't seem to care what anyone was doing. This was essentially a domestic flight, since it had just come from another EU country. Attracting attention just to get out passports stamped seemed like a very poor idea, so we proceeded.

We found the train station, found the attendant, bought train tickets (children free!), found the train, and in a little while we arrived at Termini Station. We walked for what seemed like a half mile in the sweltering evening heat before we finally got to the station. Then we kept walking into the busy Piazza Cinque Cento and on to Piazza Republica. Eventually I consulted the map and we found our way to the Opera Theater, then the Hotel Sonya. Kathy's parents were in the lobby checking their email – it made for a surreal meeting after such a long day and so many thousands of miles. Our room was sweltering and sleep was difficult, but it cooled off to a tolerable temperature by morning.
Prev
Introduction

Saturday & Sunday June 28 & 29, 2003
SFO to FCO

Next
Monday June 30, 2003
Day 1 - Roma