I woke up Saturday morning, August 13, and decided to go for a hike. I've always wanted to hike Cloud's Rest, but I'm probably in about the worst shape of my life. I'm surfing less and less, since the summer surf is pretty crappy and tiny. I'm not getting on the mountain bike nearly as often as I should, either. I did manage to do some decent hikes in Europe this summer, though, so perhaps I'm not hopelessly out of shape.
Ray, Paul, Kent, and I hiked Half Dome 3 years ago. We left at around 5am, it took us about 10 hours, and it wiped us out. I wasn't sure whether I could get to the top of the falls, nonetheless summit. I nonchalantly informed Kathy I wanted to go for a hike at about 7:30, and that I might be gone all day. She and kids were going horseback riding at 9am, but they had to be there at 8am. I packed in a hurry. Fortunately I remembered the sunscreen. I didn't have proper food - past experience told me I would want to eat nothing but sweets and junk on a hike like this anyway - sandwiches that have been smashed in a pack are not at all appetizing, even when you're famished. I grabbed the rest of the bag of barbeque chips (a few ounces), wolfed down 2 of Kathy's muffins and took another 3 more, and grabbed 4 pop tarts. I wished I'd had an apple or something reasonable healthy to take along as well. I took just over a gallon of water, and I knew that water would be my biggest problem - I can drink endlessly on a hike like this. I left at 8:10. Elevation of Yosemite Valley is about 4000'
At the base, the signs say it is 8.5(?) miles to Half Dome, and 10.5 miles to Cloud's Rest. I had walked around half a mile from spot 11 in Upper Pines campground to get to Happy Isles.
There are two trails up the falls - the John Muir trail takes the long (4 mile) but easier path to the top, and the Mist trail takes the shorter (2.5 mile), steep, brutal granite steps directly up the canyon. I took the long way, knowing that the stairs would kill my knees and me. Mercifully the John Muir trail stayed in the shade most of the way up. I passed several people on the way up - perhaps a couple of dozen - depends whether you count the Scout troop as one or a dozen. It felt REALLY good to pass a bunch of boys at their theoretical prime of life. I had set a breakneck pace for myself - if I was going to recover from my late start and summit, I'd need to move fast.
I reached the top of the Mist trail, which is 0.2 miles past the top of Vernal Falls, in under 2 hours. There were a couple of dozen people taking a break there, obviously all on their way up to Half Dome. Seems everyone else thought the 'shorter' trail was the easiest way up. A few minutes later I was passed by my first party - a group of 3 or 4 runners.
The trail is fairly flat for the next mile or so as it passes through Little Yosemite Valley. You can see the back of Half Dome as the trail passes the campground, the backpacker's camp, and the ranger station, before it heads up into the trees again. At some point on the way up I passed the group of runners that had passed me early, so I was back to 'undefeated' status. They passed me again a short while later, but then all but one of the runners took another break where I again passed them. Gee, who would've thought that you may need to take frequent breaks if you try to run up Half Dome? One of the runners, who was now walking, stayed ahead of me, and the rest of her party was amazed at her endurance.
There were dozens, perhaps a few hundred, people streaming up the the trail between Vernal Falls and the Half Dome / John Muir trail split. I probably passed around 50-70 people total, though that's a rough guess. I took my first long break at the split, wolfing down a pile of chips and a muffin or two.
At the split, the signs say it is 2 miles to Half Dome, and 4.3 miles to Clouds Rest. There were very few people on the John Muir trail at this point - I probably didn't see more than 10. I asked most of them where they'd started from. A few of them indicated they'd started a Tenaya Lake. One indicated he had started at dawn in the Valley, summited Cloud's Rest, and was on his way down. He told me how great the view was, and that I'd have the loop to Cloud's Rest all to myself. I soon got to the Cloud's Rest trail - 3.8 miles to the summit. It felt very lonely now. I had told Kathy twice I intended to go to Cloud's Rest - I sure hoped she remembered that name. I had of course broken all the rules of safe hiking - I didn't have any sort of warm clothing, flashlight, or even matches.
The trail steepened, continuing up. My pace slowed considerably, but I was still making reasonably good time. I was still in the trees, with limited views of the south side of Little Yosemite Valley. After a while I saw a granite peak above me that I assumed was Cloud's Rest. It was WAY above me, and the mountain was just stupidly steep up to it. Soon the trail started switchbacks, and eventually the thick forest gave way to thick brush - lots of ironwood - at least I think it was ironwood. At this point I was nervous about waking up or surprising a bear in the thick brush, so I started calling 'Yo bear' every so often. There was no water up here, and I had a hard time imagining why a bear would be stupid enough to be so high up a mountain and so far away from the water. Rattlers were my other primary concern, and I was quite familiar with the fact that they couldn't care less about water. Nine years ago I had encountered a small rattler on the trail to North Dome in May. I had to turn back on that hike because the trail was covered in snow, making route finding impossible.
At the west end of a switchback I was finally rewarded with a view of Half Dome. It was pictureworthy, and the light was with me (or at least I knew it would be worse on my way back down), but I kept going. Eventually I reached the base of the granite peak I'd been approaching for the last hour. I'd been studying the peak, trying to decide how the trail was going to climb it. Unfortunately the trail kept going past the base..... maybe it went up the back side, like Half Dome? Nope... the trail just kept going higher and higher.... while the summit above me grew higher too.
For the next half hour or so only sheer stubborn determination kept me going. There were no trail signs to reward my progress. I had no idea how much further, just one foot in front of the other. This trail was just a series of false summits. Finally I saw two signs ahead - one for my trail, another for the trail continuing onward. After lots of exhausted confusion I found the sign saying it was 0.6 miles further to Cloud's Rest. In my delirious state I thought the signs had cheated me and I was going to hike an extra half mile or so - in retrospect the signs were correct.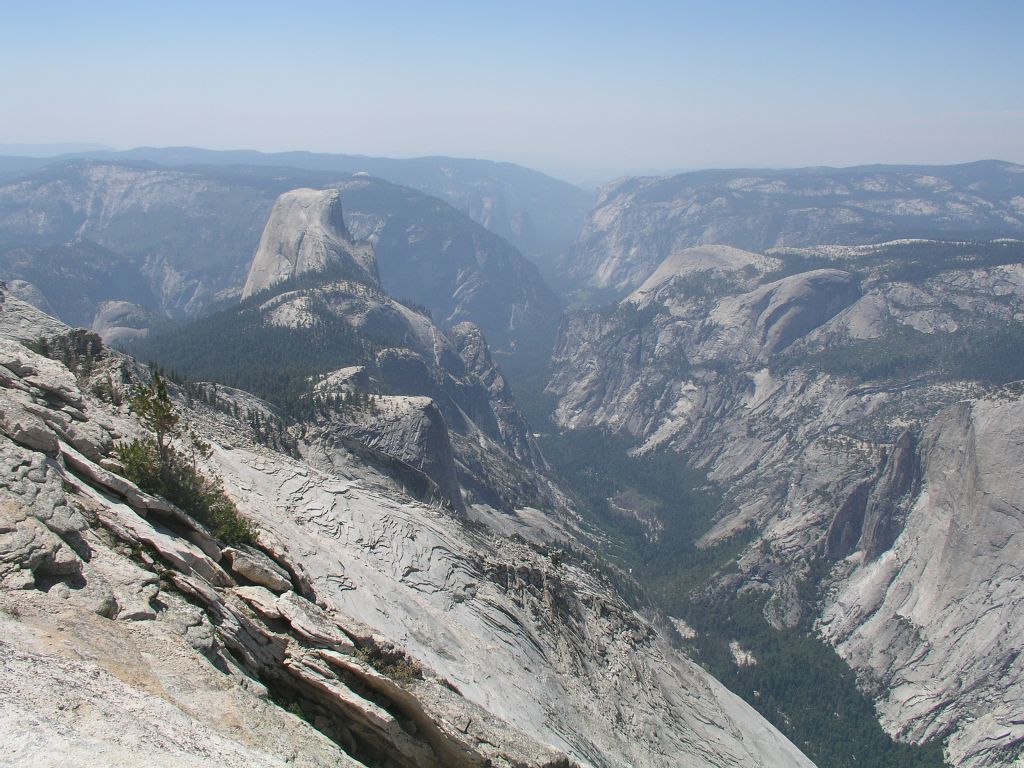 I caught my second wind on the last half mile to the summit - elevation 9926' - around 5926' of elevation gained since Upper Pines [at the time I had no idea it was this high - I'd looked it up when we climbed Half Dome, but didn't remember the details]. Cloud's Rest is a nondescript pile of granite. A very well made granite staircase leads the way up the last 100 feet or so. After a while the dropoff off one side of the staircase becomes considerable, but I was too tired to care. I made the summit at around 1:20 or so. On the summit I was shocked to see people - about a dozen folks were up there. I believe all of them had full packs, meaning they'd all hiked in from Tenaya Lake (or further). I collapsed on top, ripped upon my backpack, and wolfed down most of the rest of my food. At this point I'd gone though most of the water too, but I had expected that. Soon only 4 other people were on the summit. We all spent quite a while filling the memory cards on our digital cameras. The other party had started at Tenaya Lake, and were camping near where the Cloud's Rest trail reached the John Muir trail, about 4 miles down the trail behind me. They would summit Half Dome tomorrow before heading down to the Valley. I took pictures of the four of them with each of their four cameras, and they took a picture of me.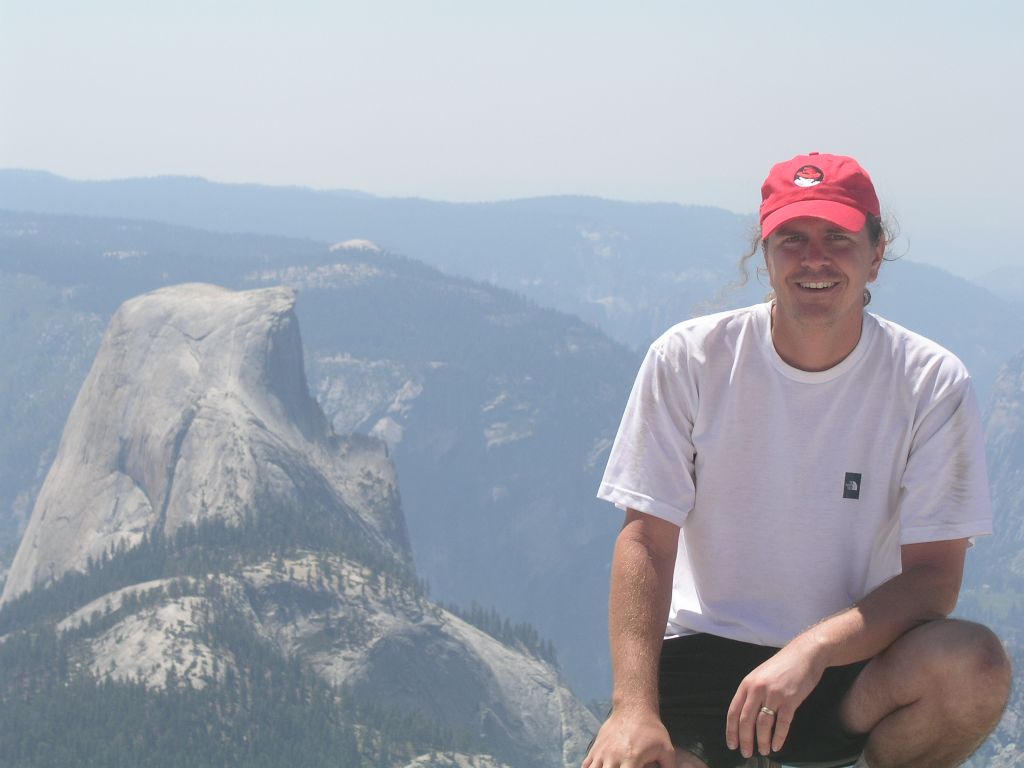 The picture was a fantastic mistake. I'd accidentally left the camera zoomed it, and it made a great shot.
I left the top at around 1:50 with about a liter of water remaining. I hoped to be down by 5pm, but I realized that probably wasn't realistic. Kathy wanted to go the Yosemite Lodge for dinner, and I knew it would be a problem if I got back much later than 6pm. I made good time going down, but I had over 10 miles to go. I stopped to take a few pictures on the way down. I found a single young woman on the trail below, taking a break from her full pack with a great view of Half Dome. Near the junction of the Clouds Rest and John Muir trails I found a tent that was not there earlier, but saw no sign of the occupants.
At the summit I had noticed the clouds building over the high country. Now I noticed the clouds seemed to be filling the sky, and occasionally I heard thunder in the distance. The clouds weren't building too quickly, so I didn't worry too much.
It was a shame to run into the junction of the Half Dome trail with all those people. Just below the junction a family taking a break asked me how much further it was to the summit of Half Dome, and how steep it was. It was about 3pm, and I could not believe anyone was still headed up. I told them it was another 2 miles, and it was pretty steep. I nearly asked them if they had flashlights, since I figured they'd need them, but I didn't go there. I soon realized plenty of day hikers were still headed up. The backpackers didn't worry me, since they were theoretically prepared for darkness.
I hate rationing water, but it beats running out. By now I was down to a pint or so.
The whole way down I pondered whether to head down the 'short way' or the way I'd come up. Once I reached the top of the Mist Trail, the signs told me the 'short way' saved 1.5 miles, and I started down the jumbled granite stairs. Hermit's Rest in the Grand Canyon is the only other trail I've hiked that comes close to the Mist trail. When I'd done Hermit's my boots were probably a little too small and my toenails a little too long... but after several miles of endlessly kicking granite steps my toes were hamburger. I don't like stumbling down granite steps.
I took a picture where Nevada Falls first comes into view, about half way down the falls. A few minutes later the sun was gone, and I realized that the building clouds had pretty well filled in the sky. I kept heading down, mindlessly, down the trail. I saw a heavy teenage girl on the side of the trail with her party. A ranger was taking her blood pressure. A few minutes later I saw the rescue party heading up - first a guy with a huge wheel on his back, then a gurney that presumably rode on the wheel. There were around 8-10 people in the rescue party. I could not imaging carrying anyone either up or down the granite stairs, with or without a gurney. She's picked one heck of a place the get sick.
Approaching Vernal Falls it started to sprinkle. I hoped that Kathy had put the fly back on the tent before our sleeping bags got too wet. It never really seemed to rain hard, but it was hard to tell. Under the trees the ground was bone dry, but without cover the ground seemed pretty wet.
Below Vernal Falls I reached the tail end of a line of a couple of dozen people all headed down the steep narrow trail. Seems everyone wanted to get out of the rain. It was a sad and frustrating bottleneck that didn't break for 20-30 minutes until we reached the bridge where the Mist and John Muir trails diverge. I didn't wait in the long line to refill my water bottle at the bridge, so now my thirst drove me. Past the bridge the trail was wide and easy, and I much moved faster. On the way down a few people ran past me, but they didn't count, since obviously they hadn't been to the summit of Cloud's Rest. It was quite satisfying knowing I was one of only a handful of people who's made that hike from the Valley that day - perhaps one of only two. It would be much easier and a few miles shorter shorter to start from Tenaya Lake, since it starts at 8150'.
I didn't have enough cash on me to buy a $2.69 Powerade at Happy Isles - I was $0.69 short - but they did have free water with no line. I drank a quart - I could have drank at least one more - before hurrying off to Upper Pines.
I reached the camp site at about 5:45 - less than 11 hours for around 22 miles and nearly 6000' of elevation gained and lost. Unfortunately CJ felt sick after they went horseback riding in the morning, so much of the day was spent searching Yosemite Valley for Children's Tylenol and keeping out of the rain, waiting for daddy to get back. Kathy had of course put the fly on the tent before our sleeping bags got too wet. CJ didn't feel too good that night, but seemed fine Sunday.
At about 3:30am Sunday morning CJ had a nightmare and woke us up. We had trouble getting back to sleep. At 4:30am we heard something large nearby. I used to be terrified at the thought of a bear, but I've heard or seen several bears in Upper Pines over the years, including a few in the middle of the night, so they are now pretty amusing. I got out of the tent to investigate, but couldn't find anything. The neighbors had left tons of stuff outside, and apparently a bear had pawed a few items without finding anything edible. A short while later we heard noise from the campsite next door again, and seconds later Kathy and I watched as the shadow of a rather large bear walked by both the front and my side of the tent. The bear was at least 3' high at the shoulders, perhaps 4' - these things are hard to tell from shadows at 4:30am. It certainly seemed that the bear had passed within feet of our tent, since it cast such a clear shadow on both sides of the tent. Kathy was silently terrified. I was certainly concerned, but not quite scared. I decided it was probably a good idea to try to chase the bear off at this point, so I once again went outside the tent, only to find the bear was gone.