Previous
Monday August 20, 2012
St Niklaus to Gruben





Tuesday August 21, 2012
Gruben to Grimentz

Next
Wednesday August 22, 2012
Grimentz to Les Hauderes

Breakfast was served in the breakfast room on the 'ground' floor, one level up from the bar, on the same floor as registration. The breakfast room was full – I had no idea there had been so many people in the hotel overnight.

Overnight Mike had decided not to hike today, taking the ground crew route instead. I got him the full set of maps, and went over the bus, gondola, train, and bus schedule closely with him. As I always do, I had not only a schedule, but also a backup schedule laid out in case of problems. I also got the number of his temporary Verizon phone – we could talk to each other, and he could text me, but when I texted him back he got garbage instead of a text. His bus left at 8:30. I asked the waitress if there was an 8:30 bus, and she said there was a 10:30 bus. We checked with the woman at the front desk, who confirmed that there was indeed a 8:30 bus and directed us to the bustop in the parking lot.

I had a seemingly random older gentleman take a group picture shortly before we left. At about 7:30 we said goodbye to Mike and started hiking long before the sun got into the valley. As soon as we started hiking, the rest of the group told me that the guy who I asked to take a picture had clearly been annoyed at our relatively loud and obnoxious behavior upon our arrival yesterday afternoon. I'd been oblivious, and the guy seemed nice enough to me. In retrospect I had hoped I'd somehow manage to repair strained international relations with my cluelessness.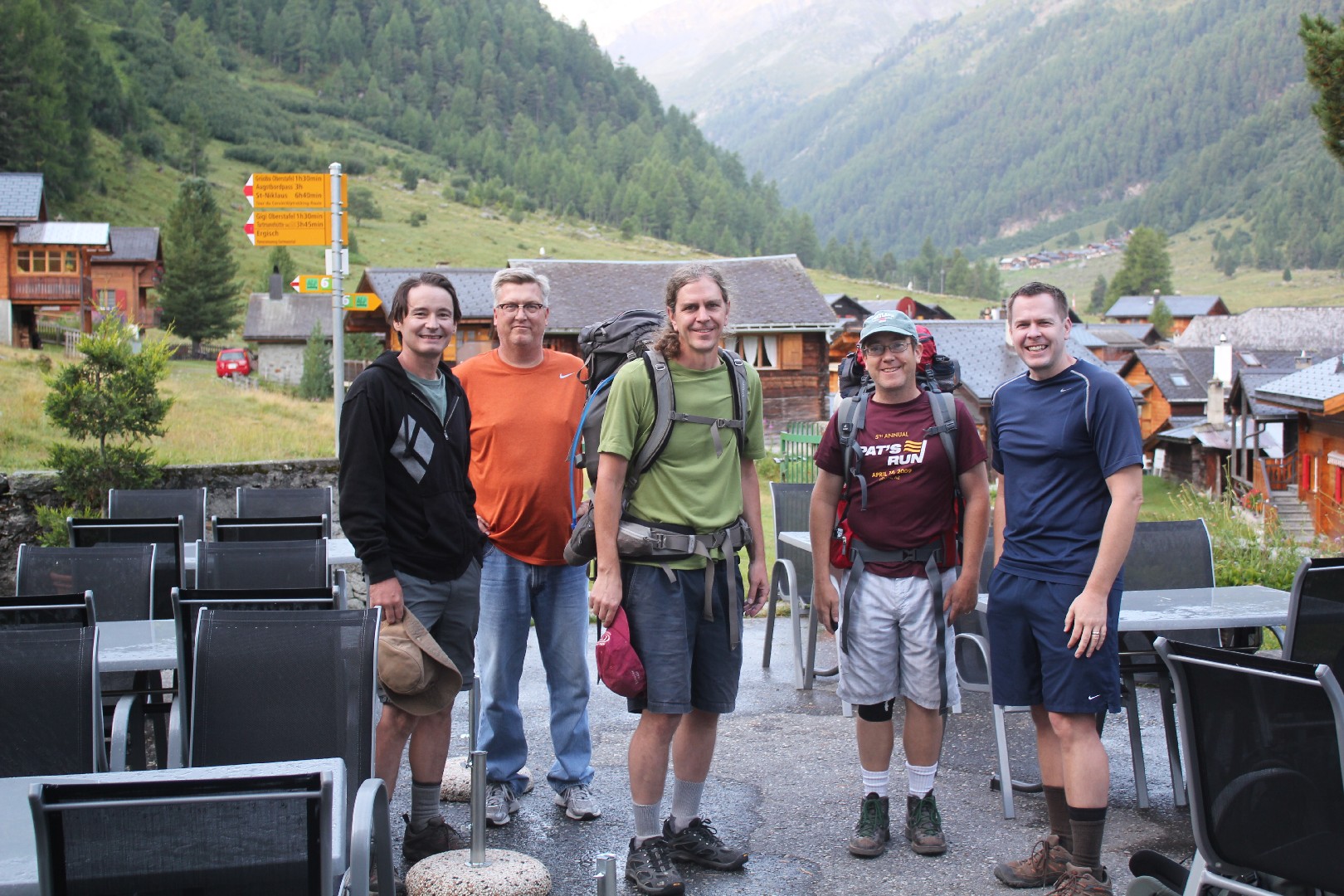 Leaving Gruben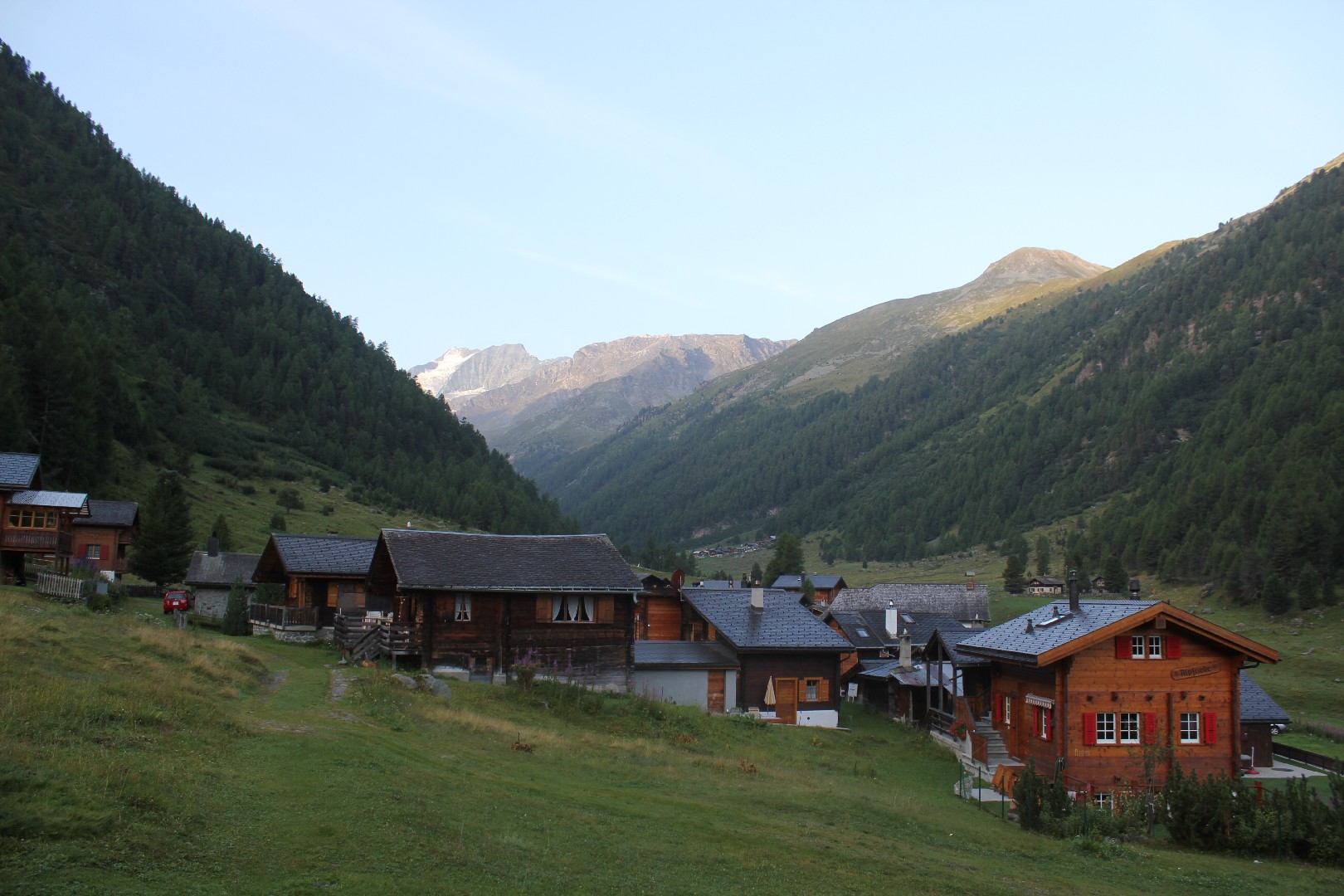 Gruben in the morning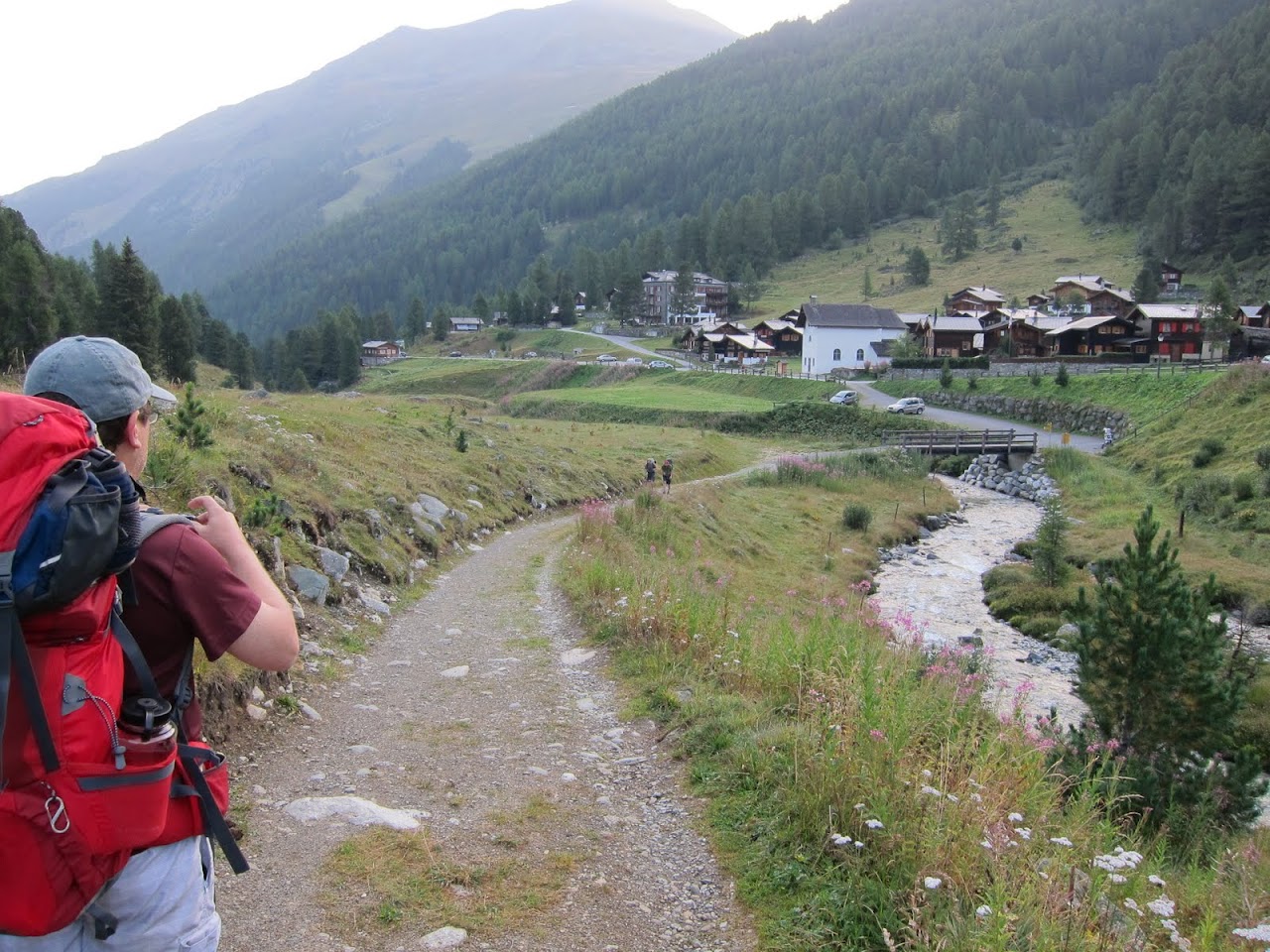 Paul's picture - Leaving Gruben



We hiked up relentlessly under the shade of the pine trees. After just about an hour of hiking we reached a small hamlet of Meide and took a 5 minute break. There was ice cold running water for the cattle trough, which felt good but was running so fast it was hard to get a drink without drowning and freezing. It was already hot, I was already drenched in sweat, it was only 8:30, and there was clearly no more shade today. We pushed onward. As we hiked we saw the couple from Paris, as well as a pair of young women we'd seen at dinner the night before.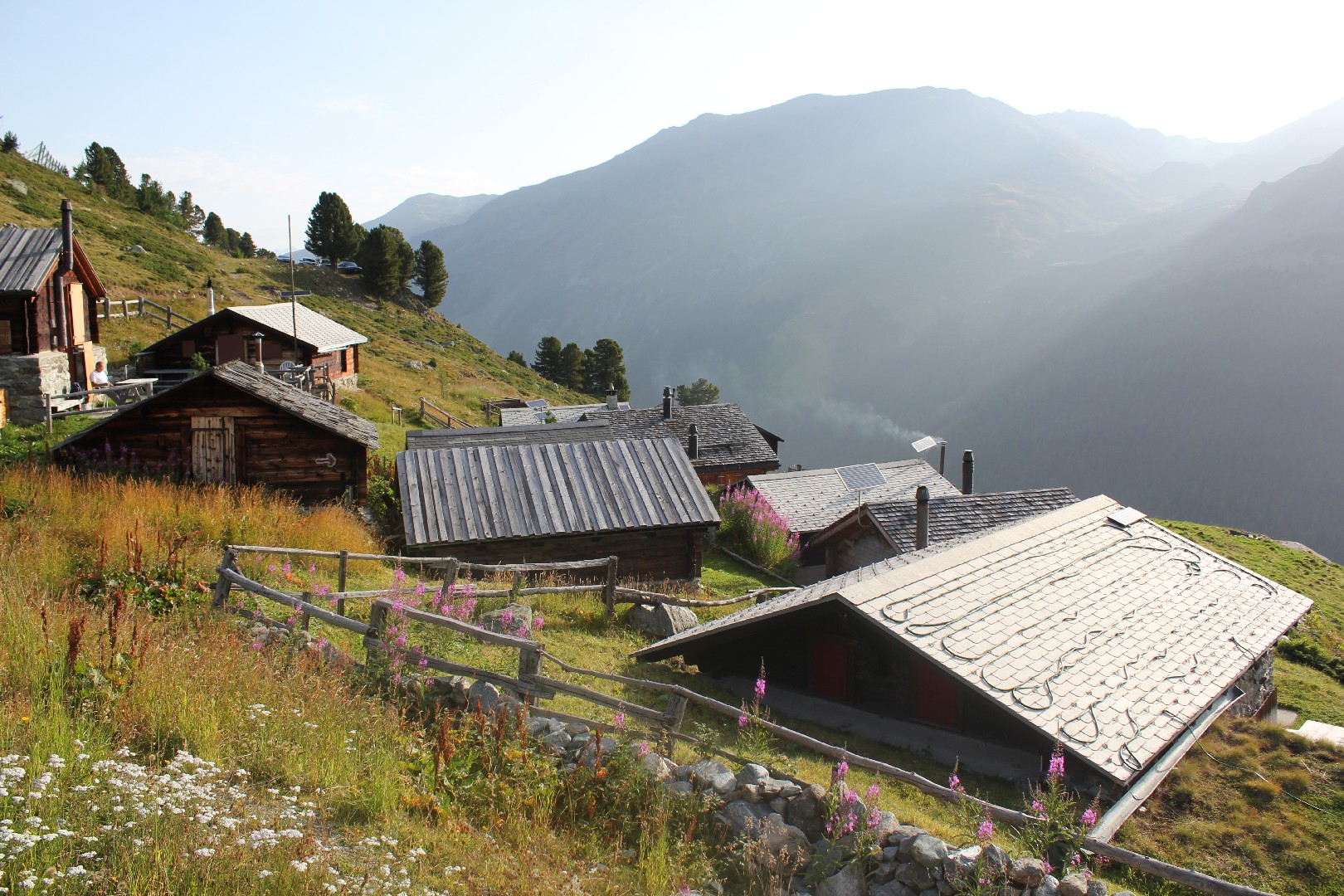 Meide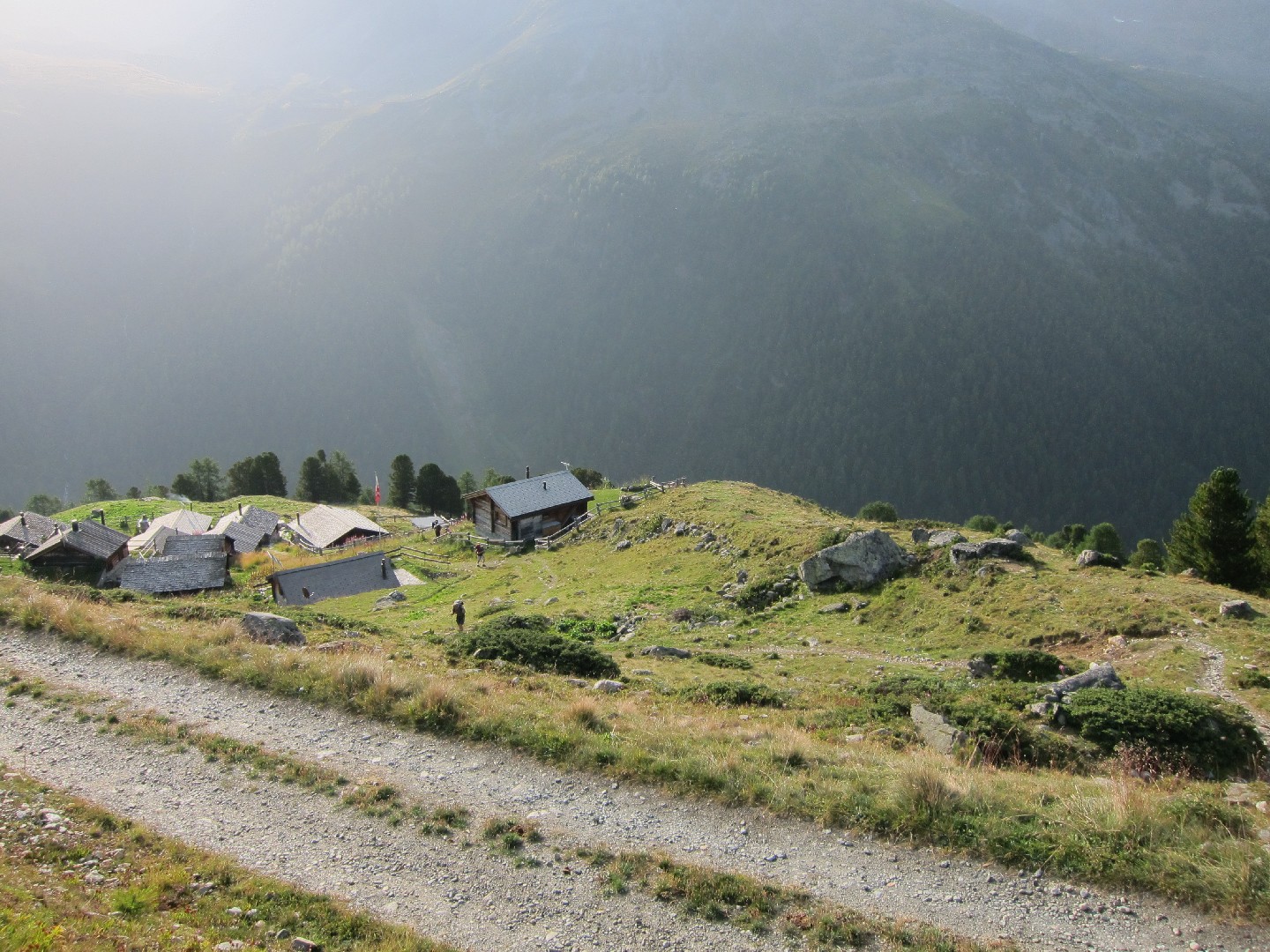 Paul's pic of Miede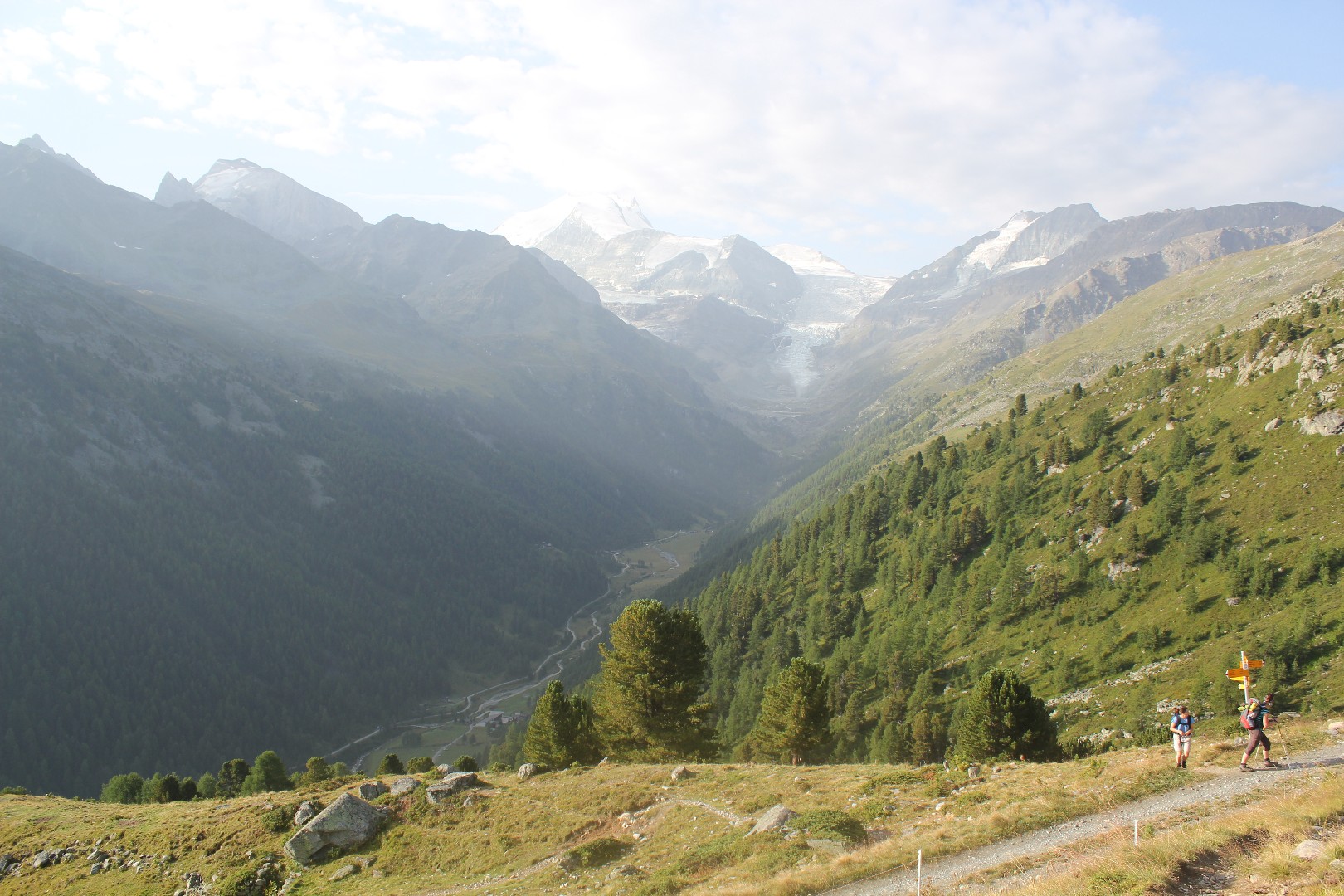 Weisshorn



The hike was somewhat nondescript. We could not begin to tell where the pass was ahead of us, which was a little disconcerting. At one of our rest breaks we talked to the pair of women – one of them was from Zurich, the other from an hour outside of Zurich. They hadn't seemed to smile much until we talked to them, but they were quite friendly and eager to practice their English.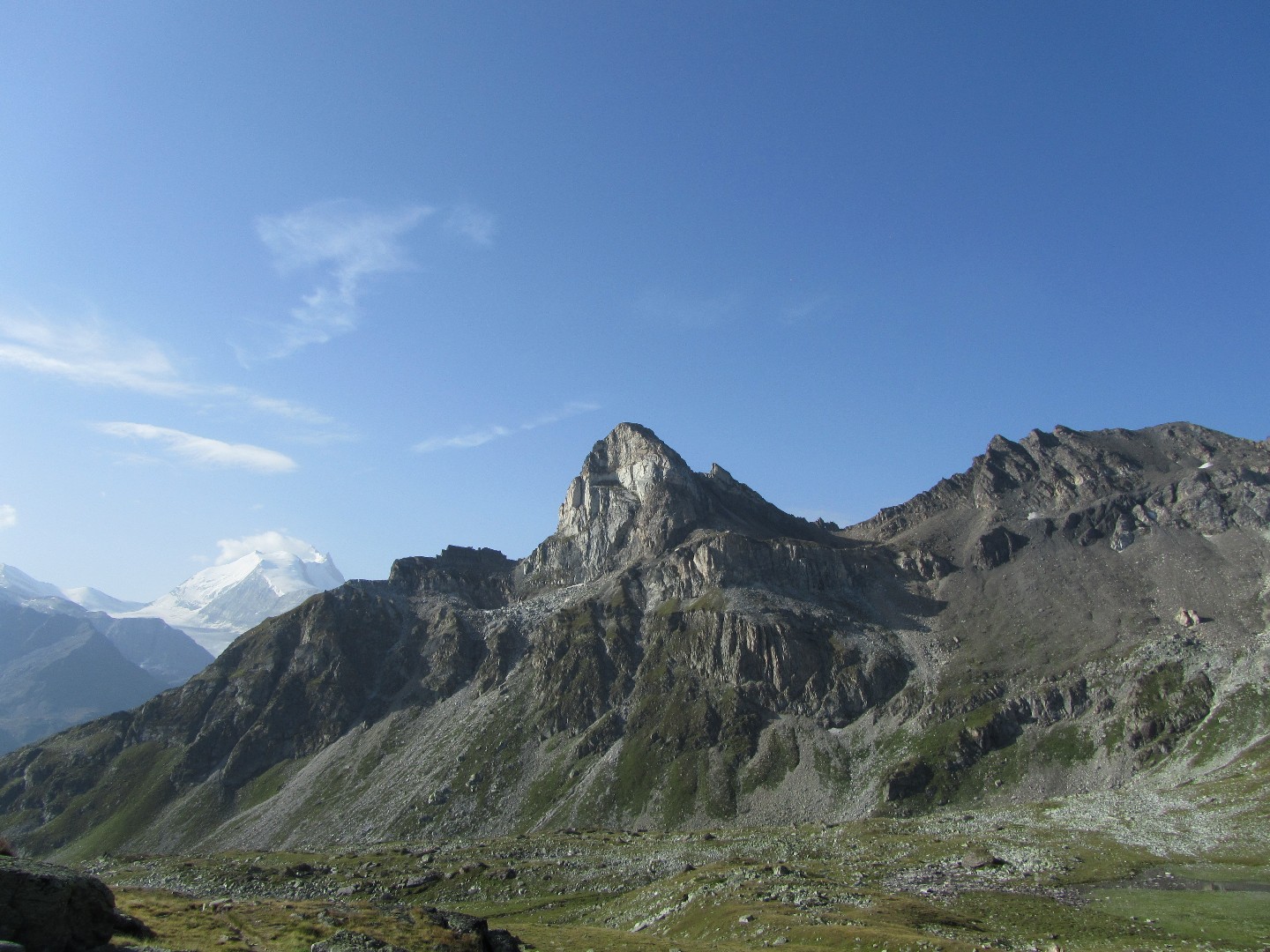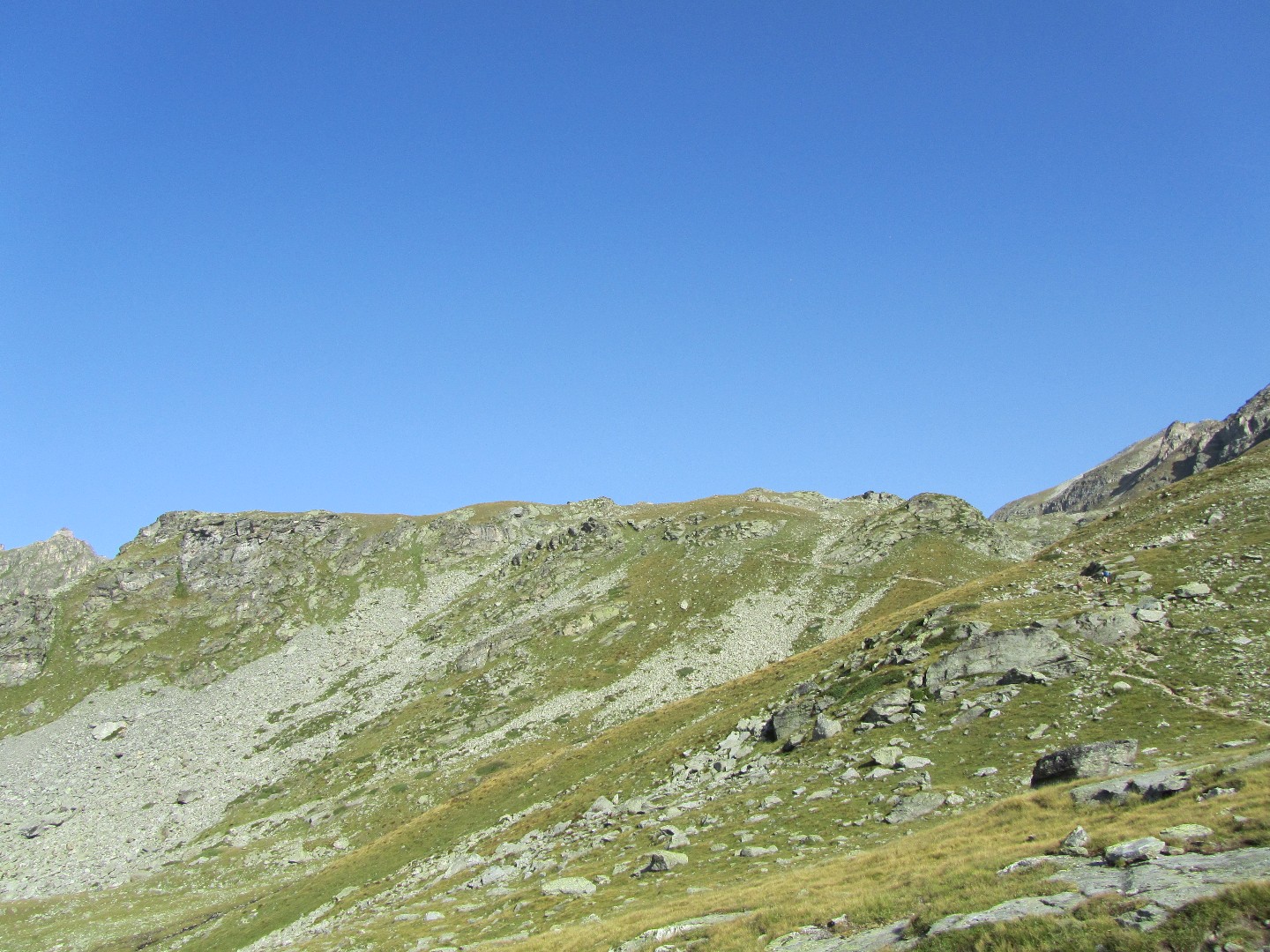 The trail up. The trail generally headed northwest, which was taking us away from the heart of the Alps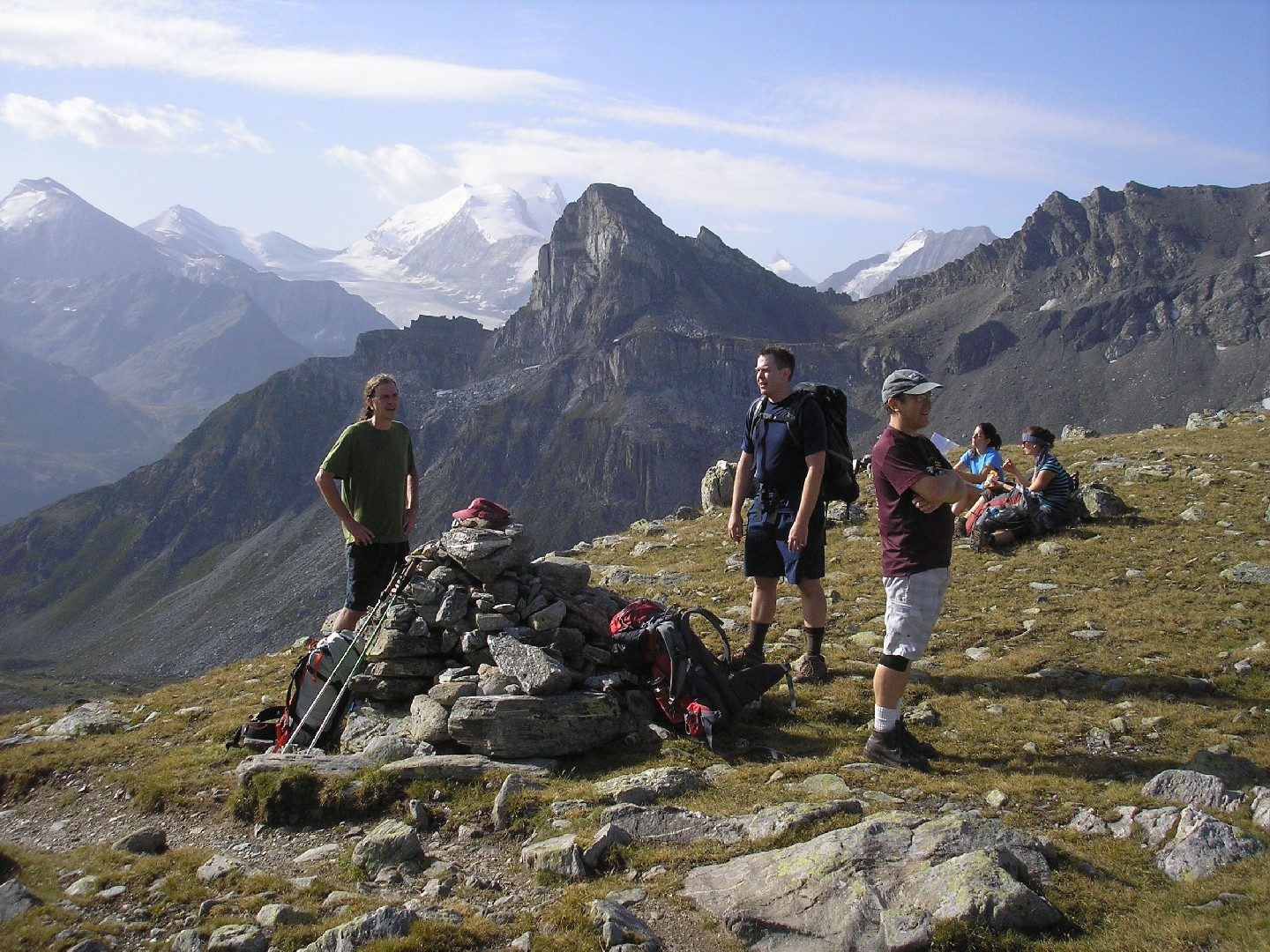 Kent's pic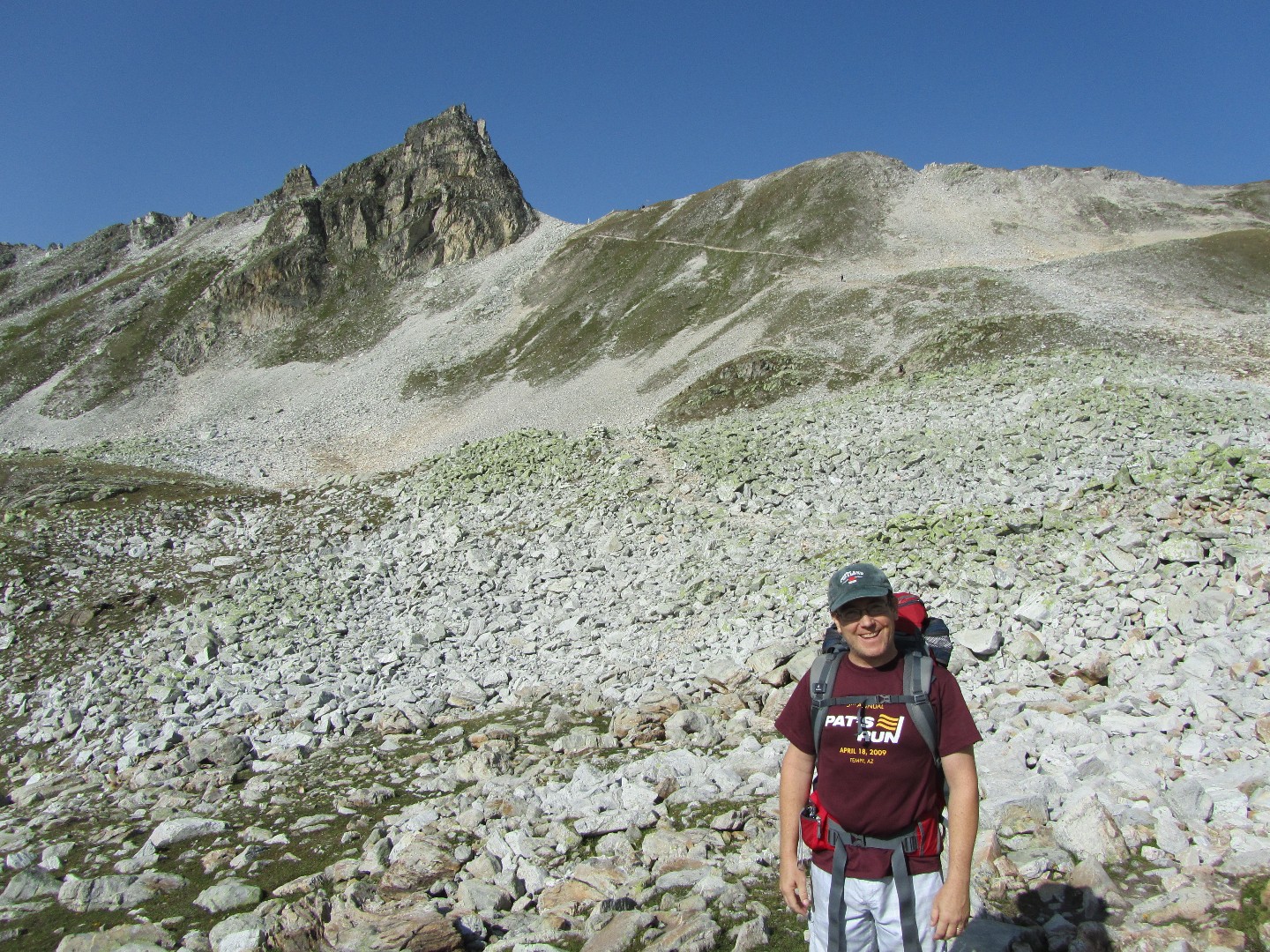 Meidpass



I took relatively few pictures, but finally decided to take a series for a panorama once we could see the trail ahead and could more or less spot the pass. Kent and Paul got quite a ways ahead of Ray and I. Paul mistook a false pass for the real thing and decided to run to the top. This proved to be a mistake, as he then had to hike up the real pass after spending himself running. I got to Meidpass (elevation 2790 meters / 9153 feet) last. It was gorgeous but hot. Unlike Augstbordpass, we didn't need to put on sweatshirts, instead Ray took his shirt off entirely.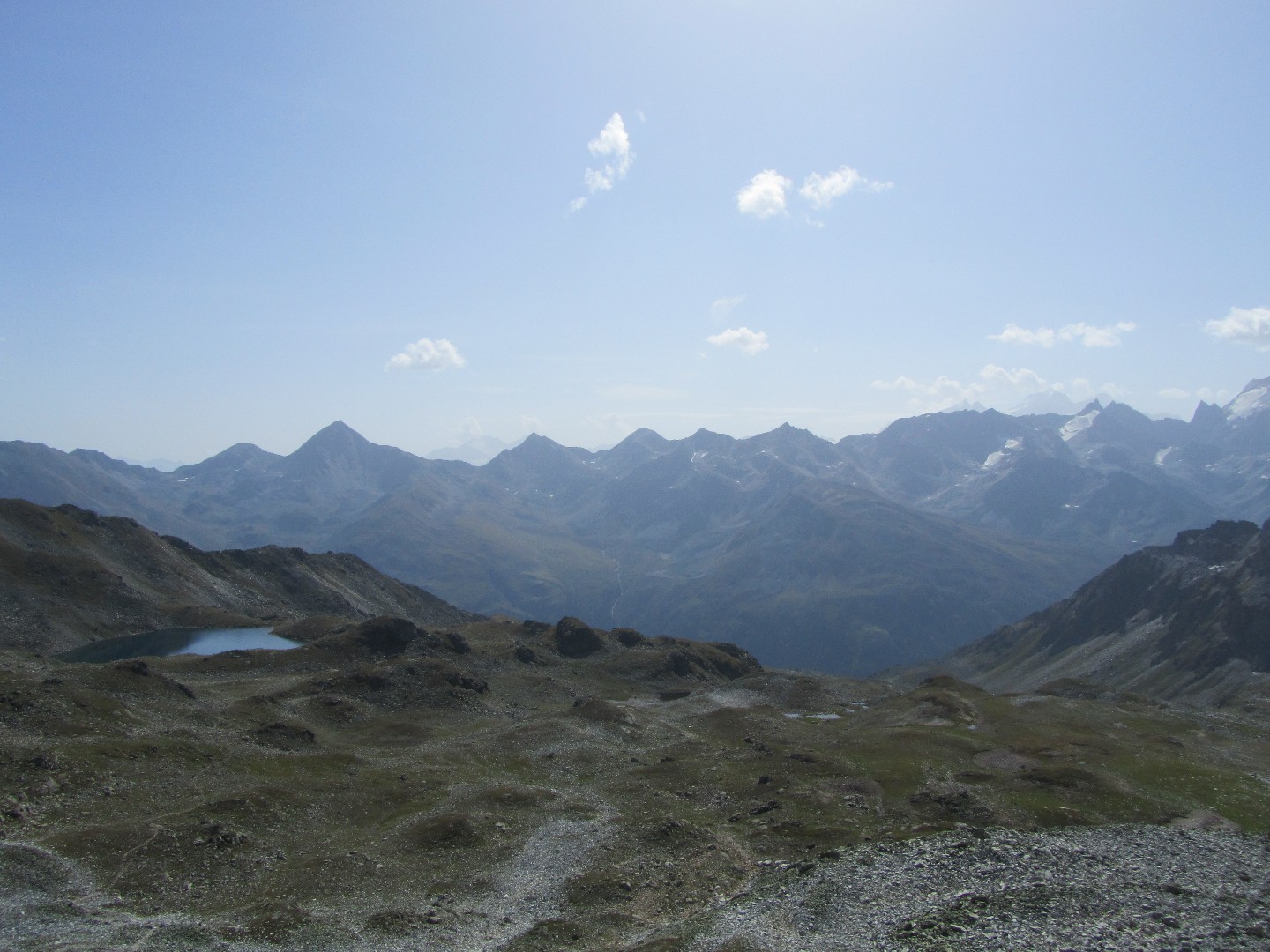 Meidsee from Meidpass - looking back the way we came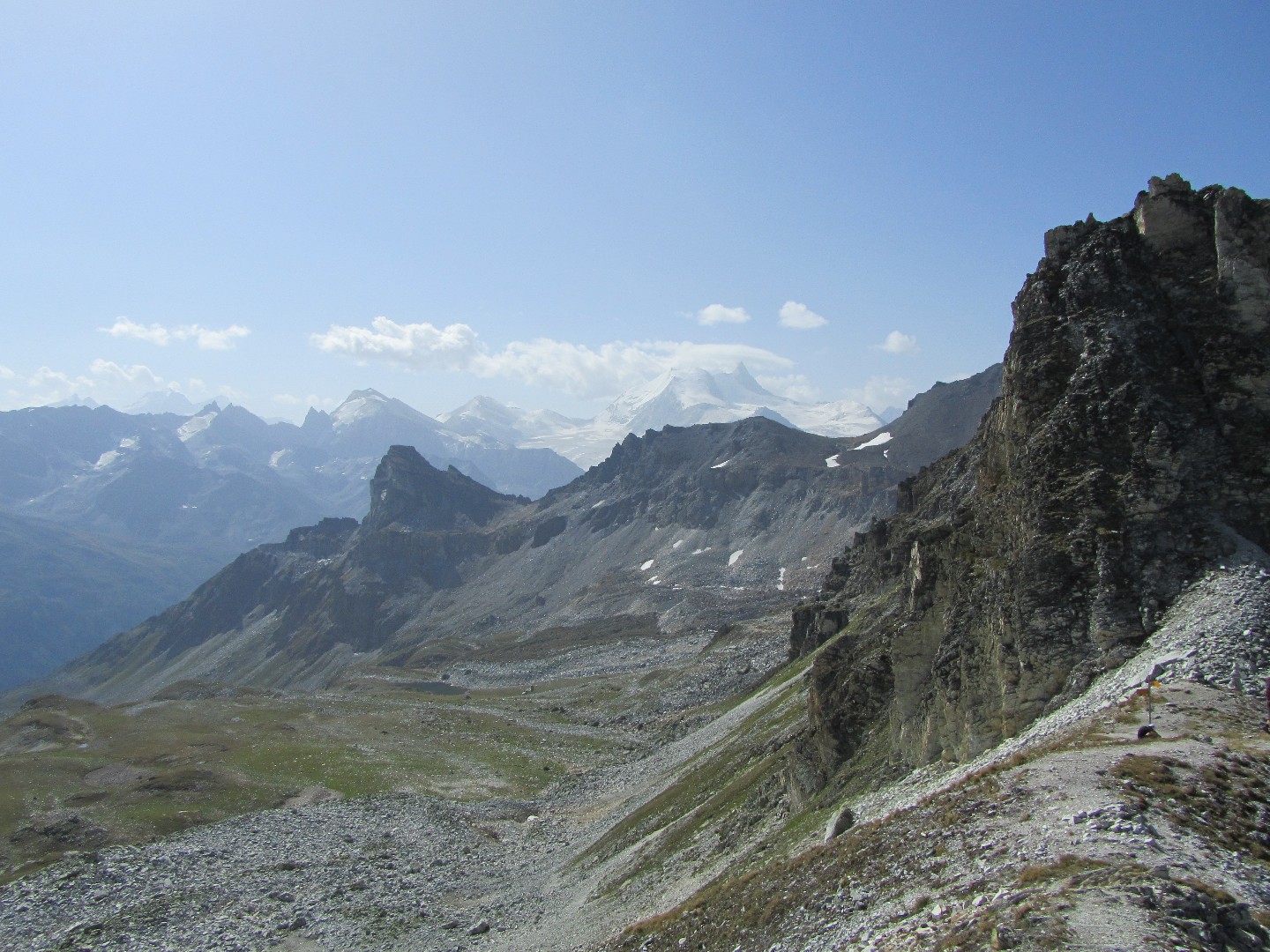 Weisshorn from Meidpass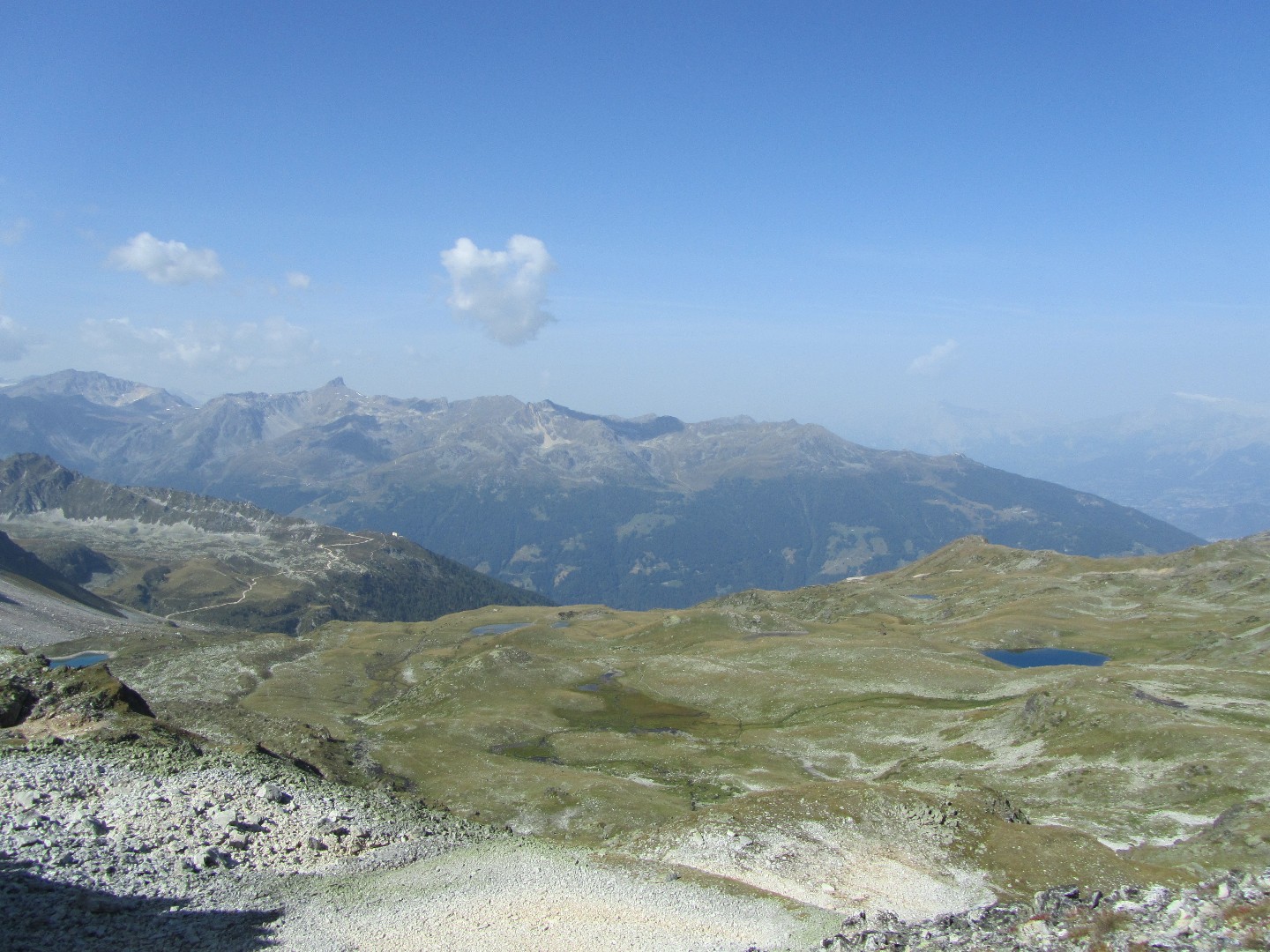 Looking ahead to the Hotel Weisshorn (the tiny white dot)
Meidpass is on the border between the German and French speaking regions of Switzerland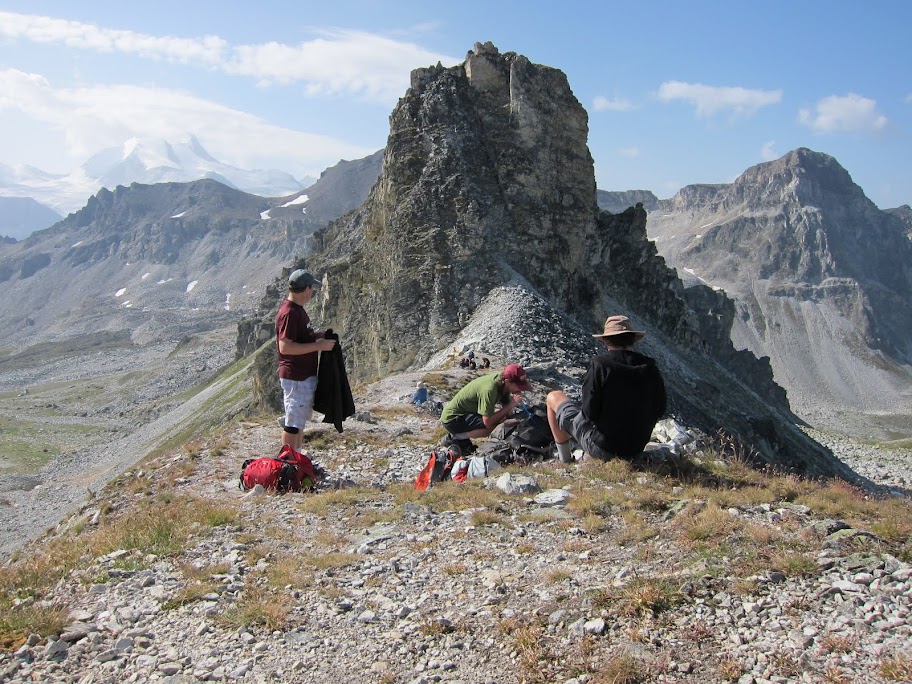 Paul's Picture of us on Meidpass.
I'm drinking copious amounts of water from the 3 liter Camelbak that's tucked into my backpack.



Kent's video


The hike downward was hot but nice. We spent perhaps 5 minutes trying to determine why a signpost was telling us to hike down a stream at the turnoff to Lac de Combavert. (This was one of the few times I used MotionX – worked like a champ!) We finally realized that the stream had taken over the path, and the signs were now somewhat misleading.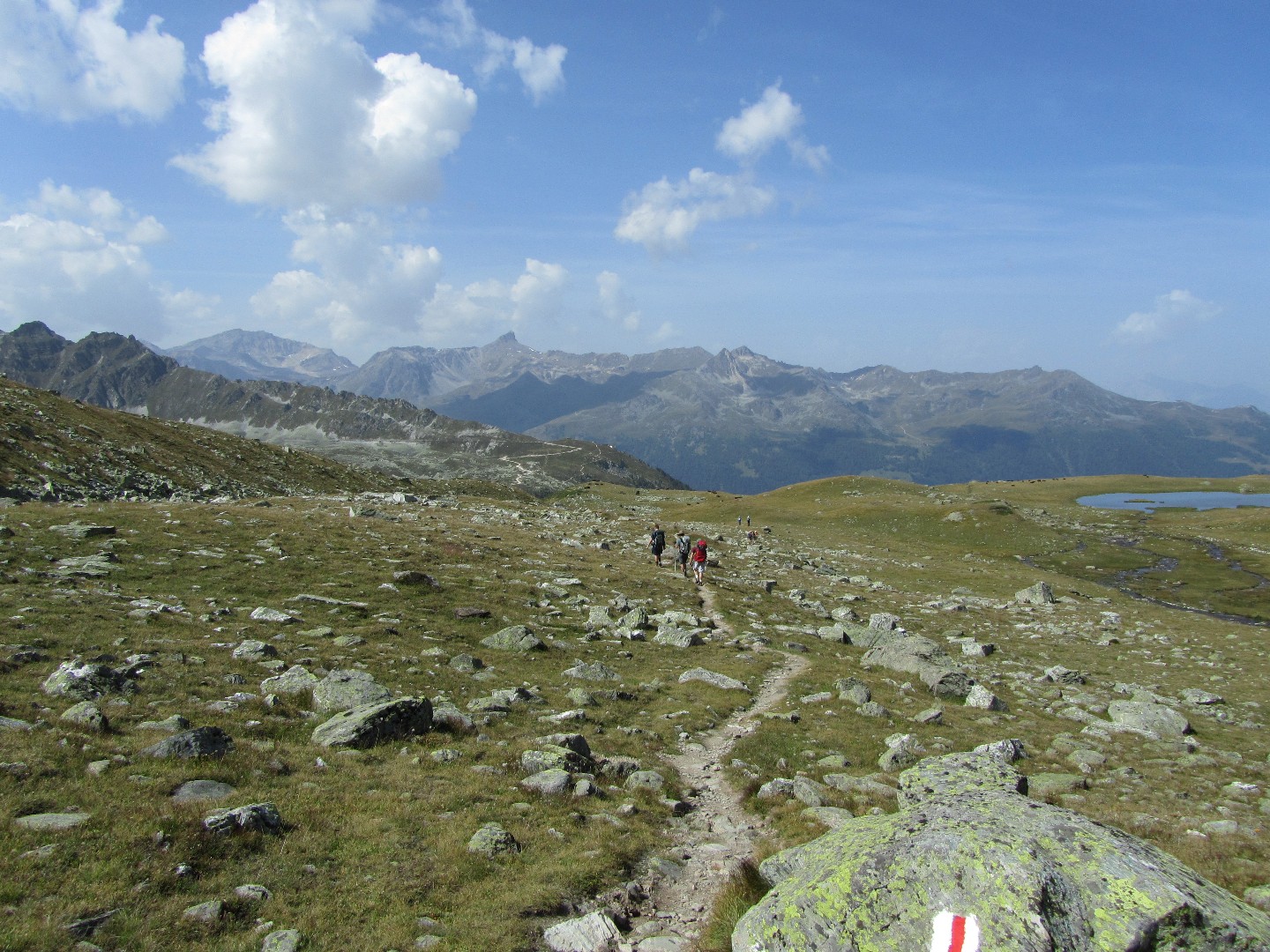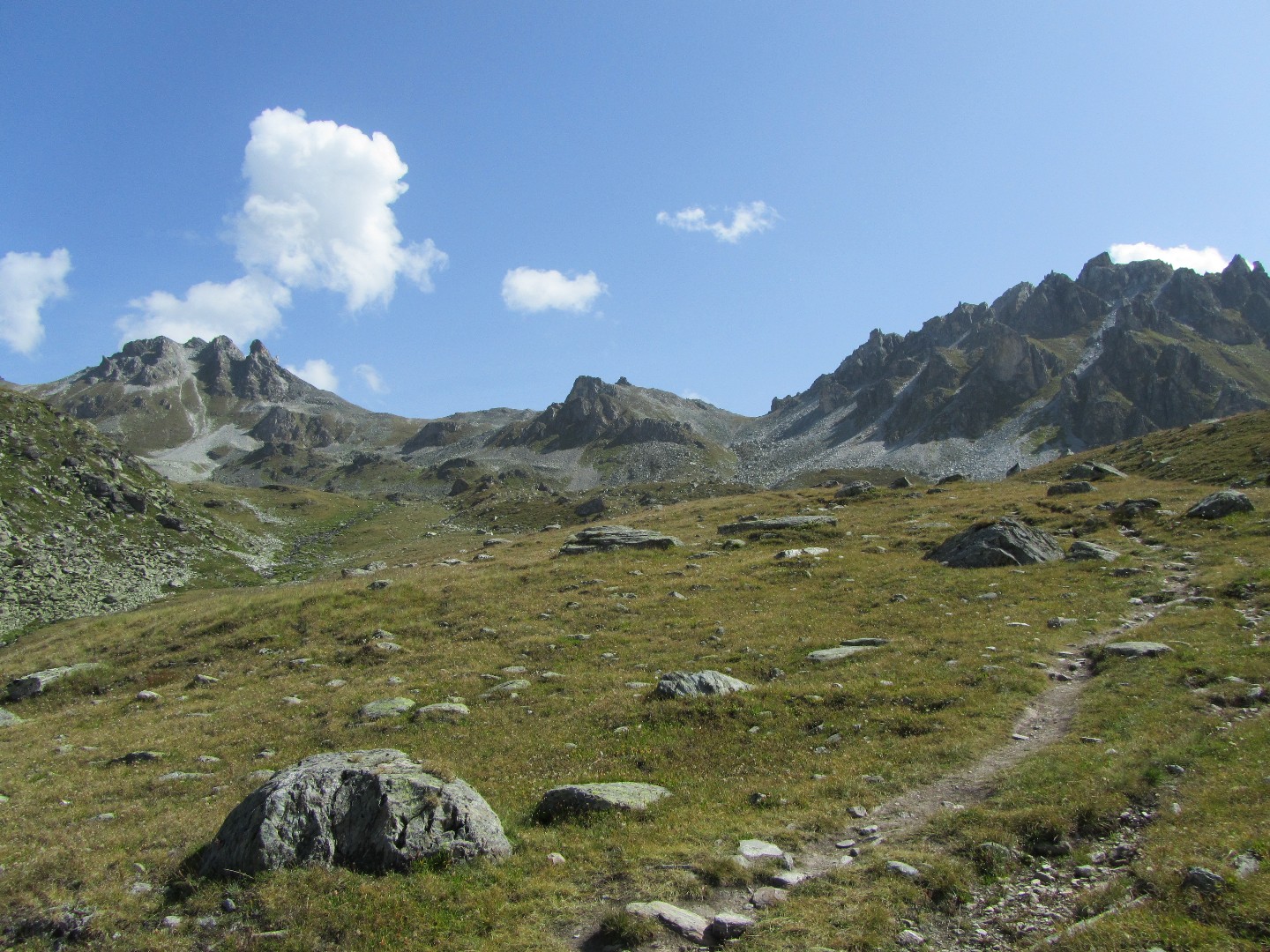 Looking back up at Meidpass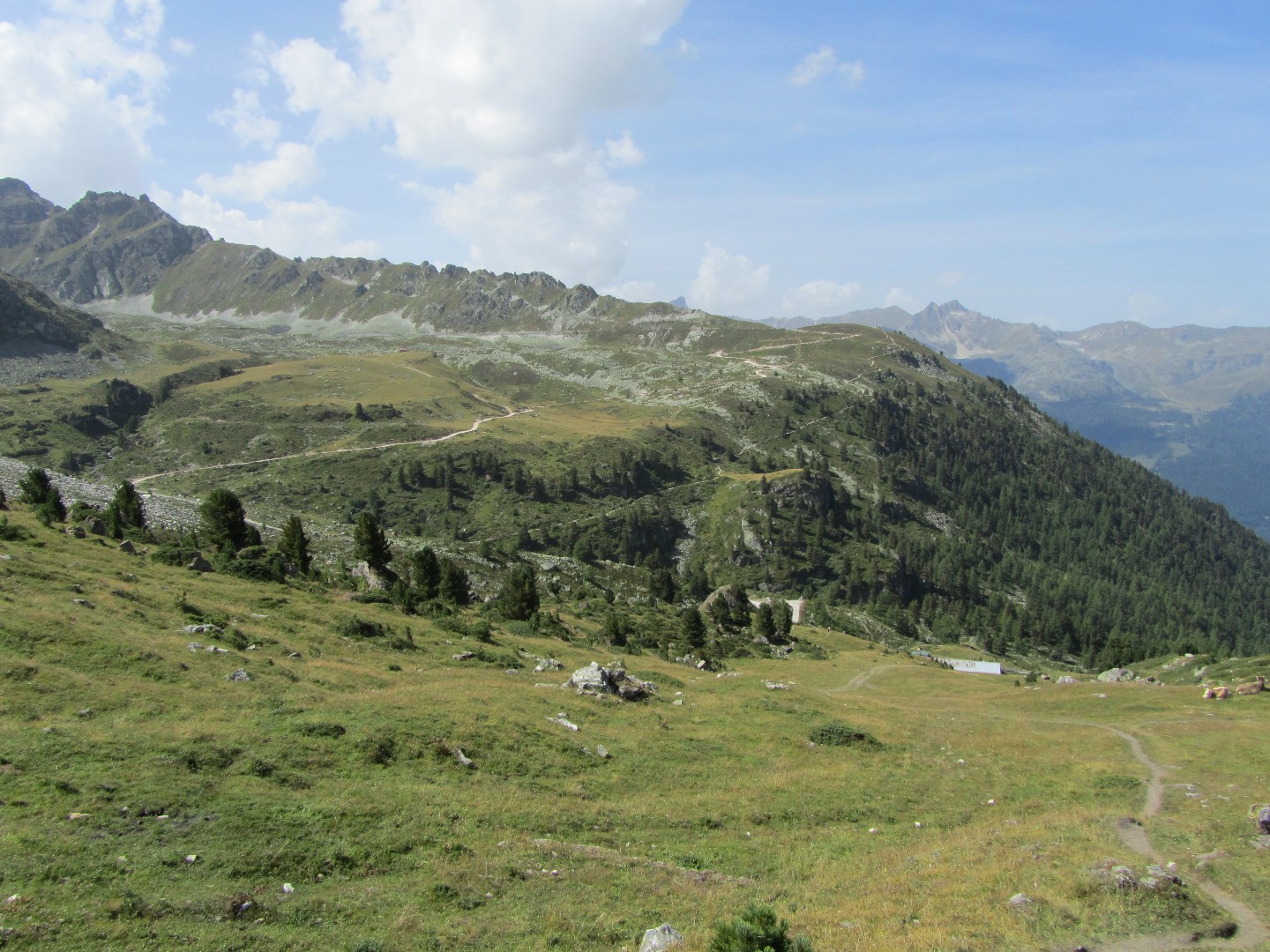 Hotel Weisshorn is just out of sight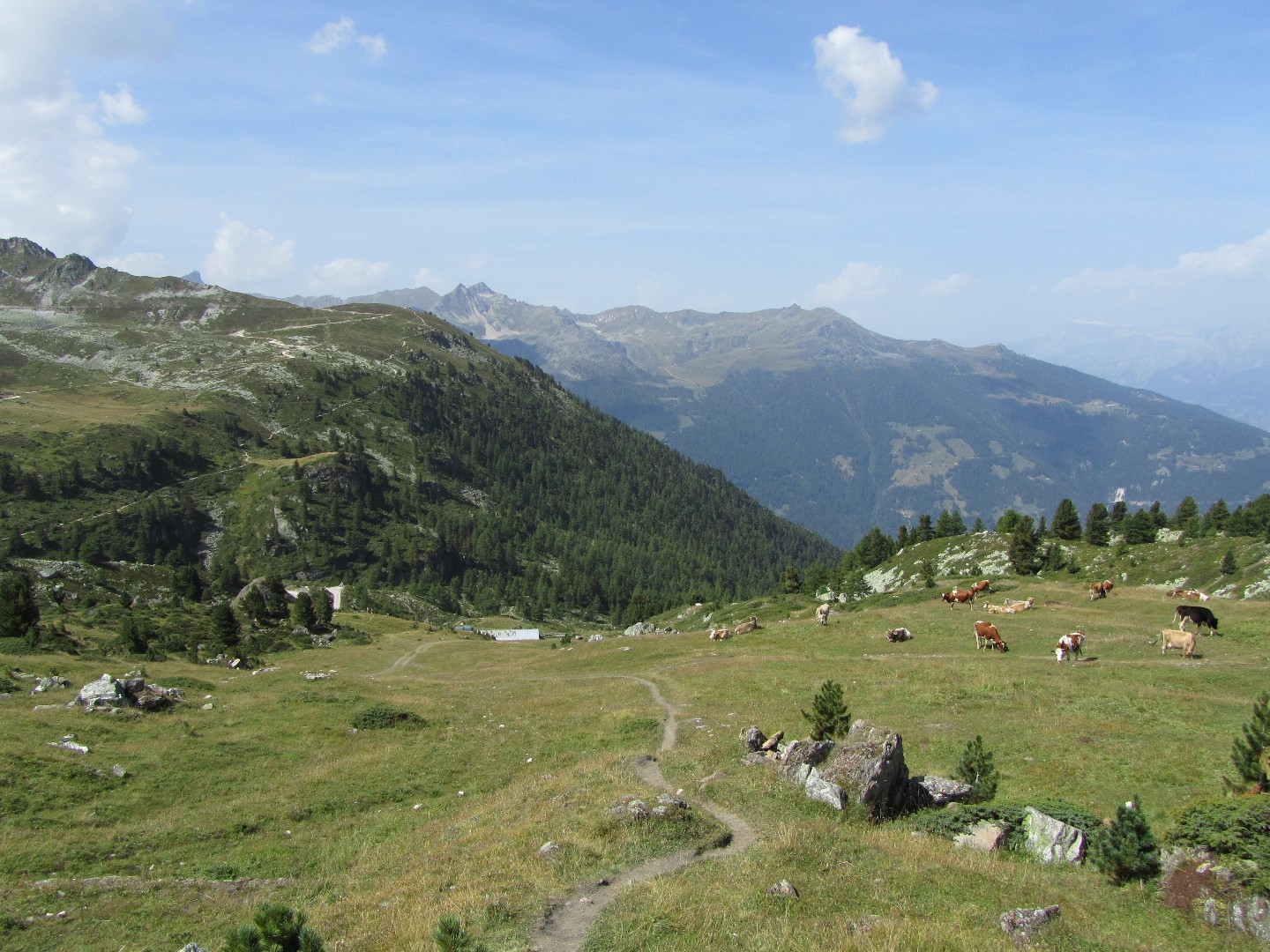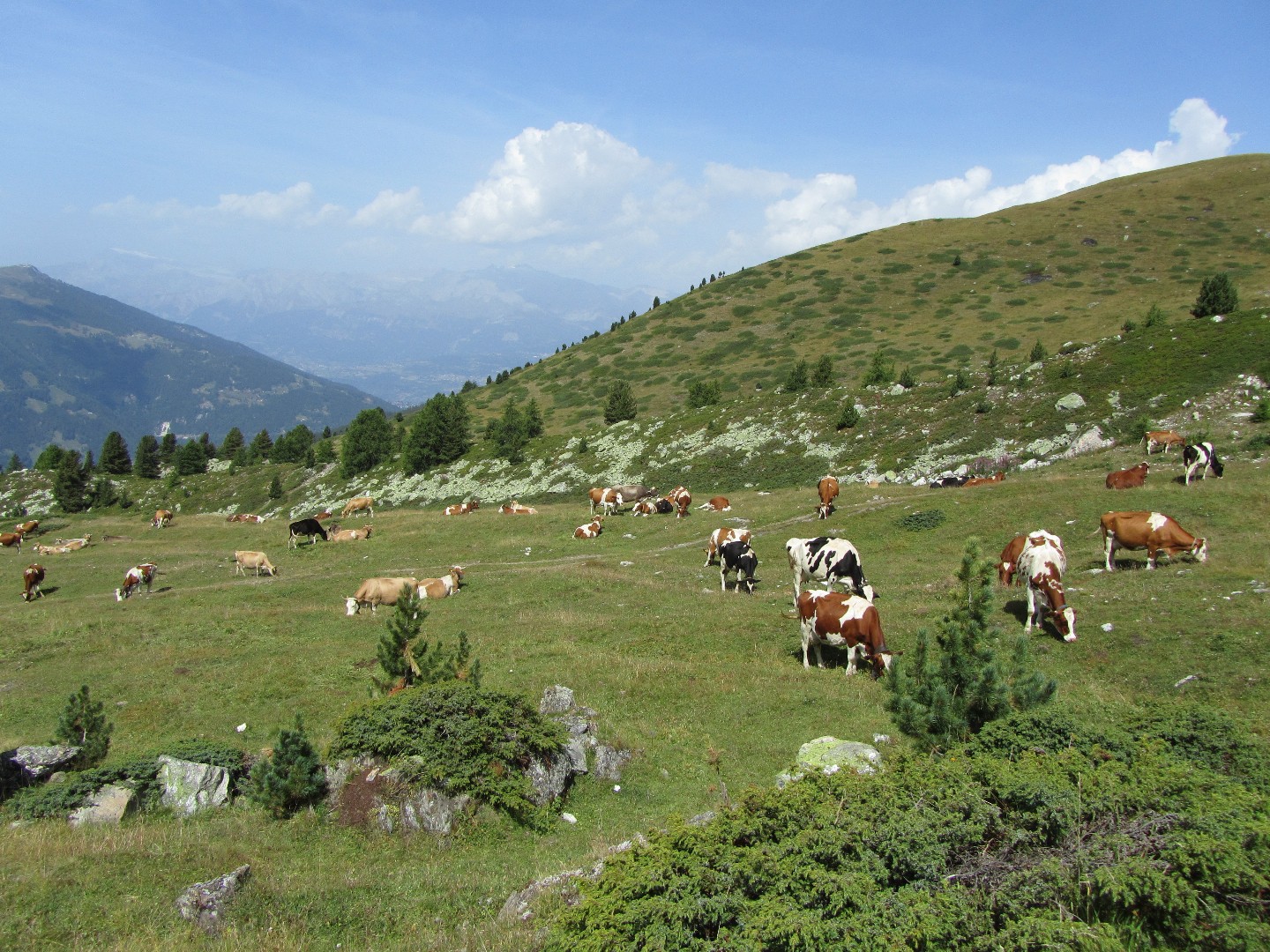 When we got to the point where we had to decide whether we were really going to see Hotel Weisshorn, none of us had any interest at all in turning left and making the 4km, 125m vertical detour to see the place. Instead we simply turned right and hiked the fairly level road / trail toward Tignousa.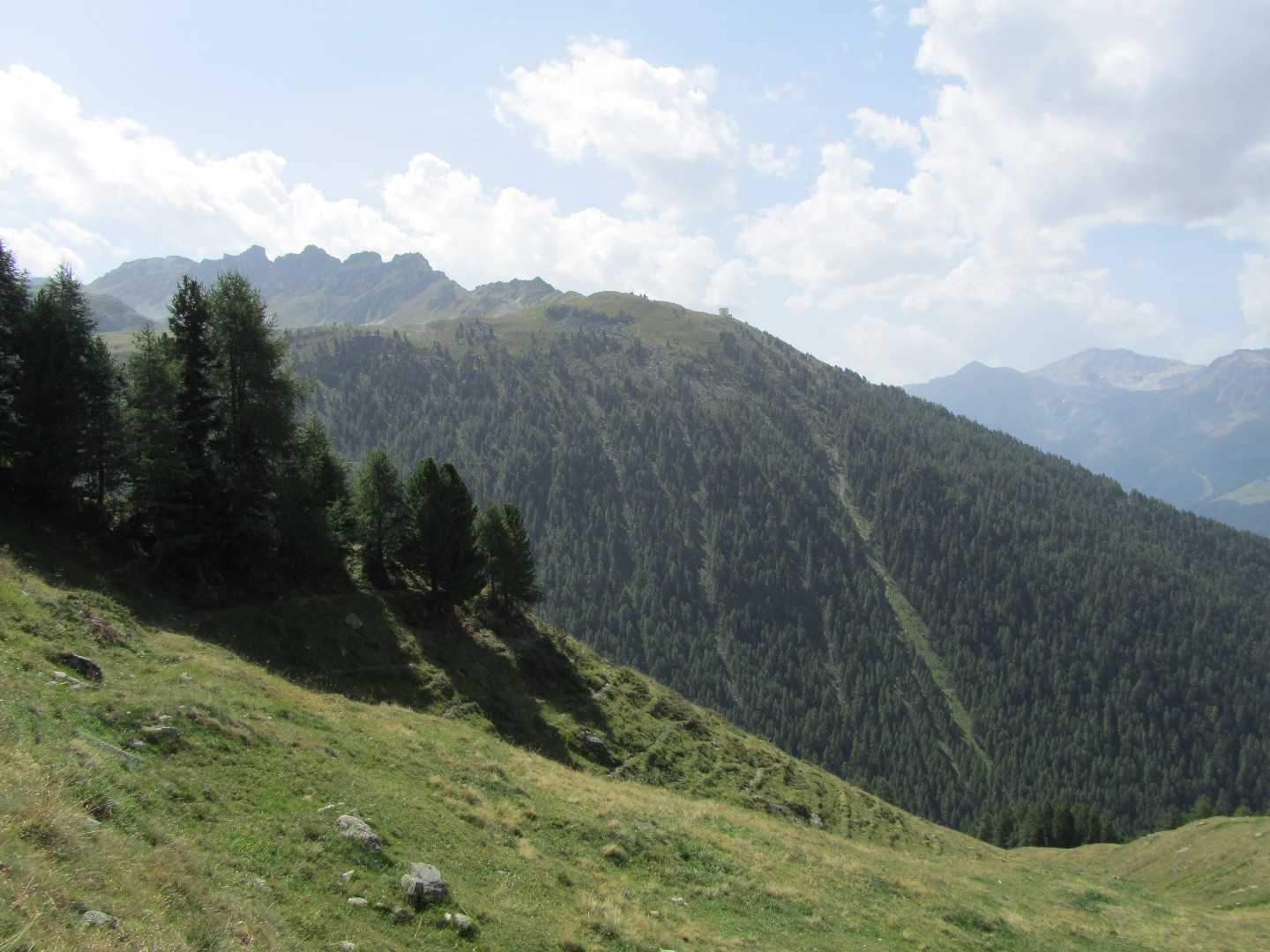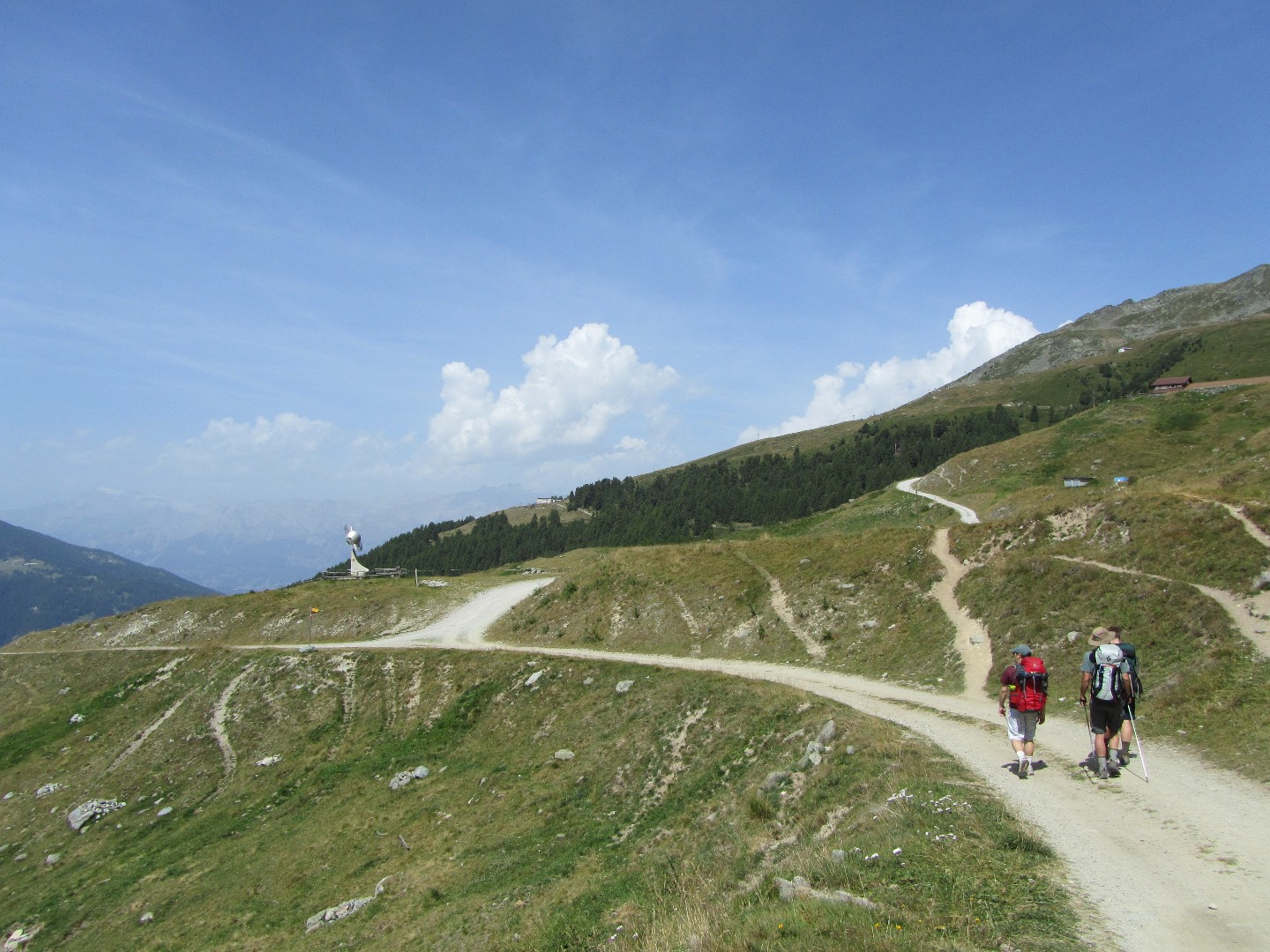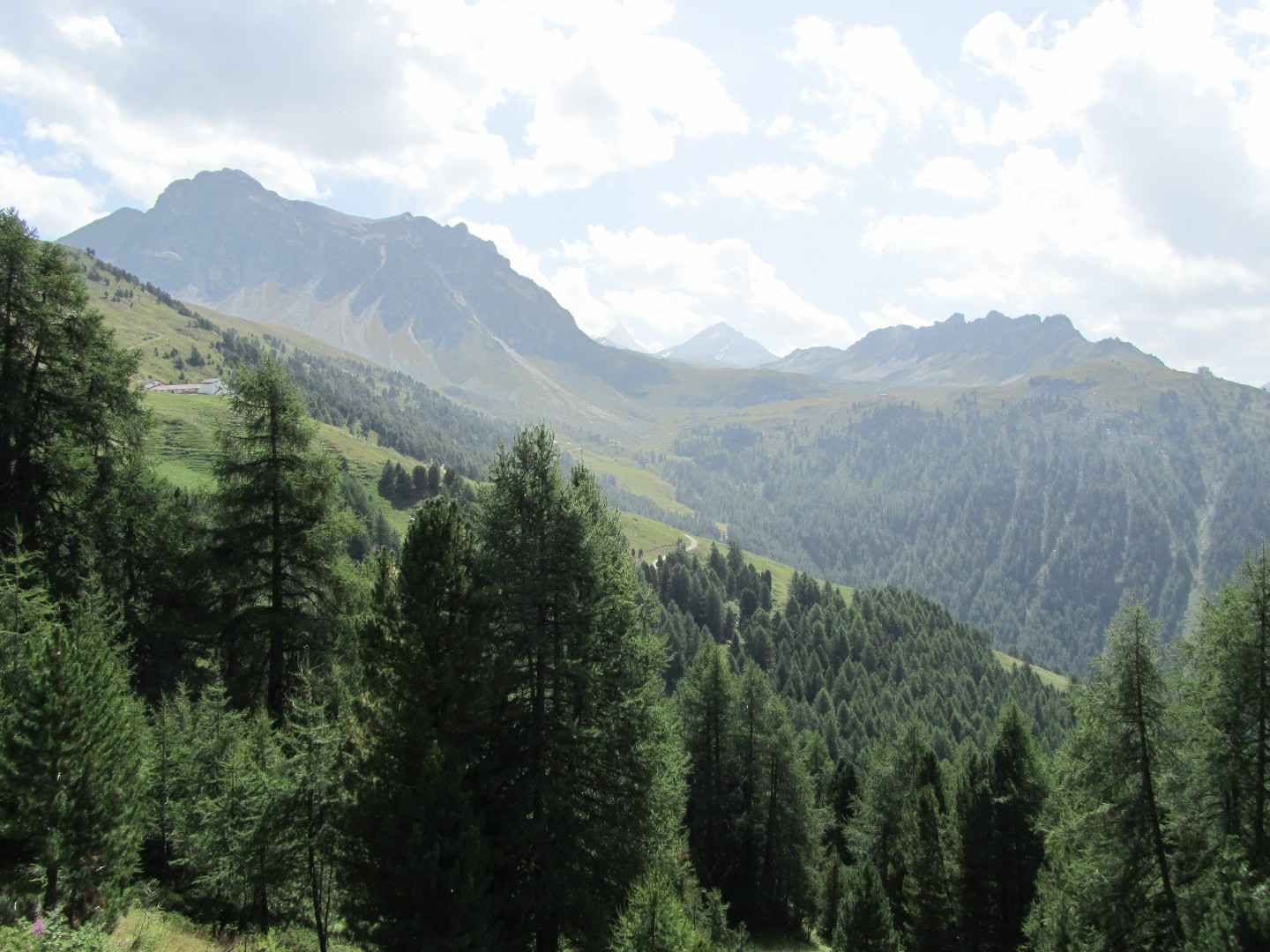 The Matterhorn is barely visible in the center of the picture
Hotel Weisshorn is in profile on the far right



By the time we arrived at Tignousa (elevation 2169 meters / 7116 feet) we were very, very ready for a beer and some relaxation. I broke up the party at around 1:20pm after just 2 quick beers when I pointed out that if we didn't catch this next funicular down to St Luc, we'd be waiting at least another 2 hours for a bus from St Luc to Grimentz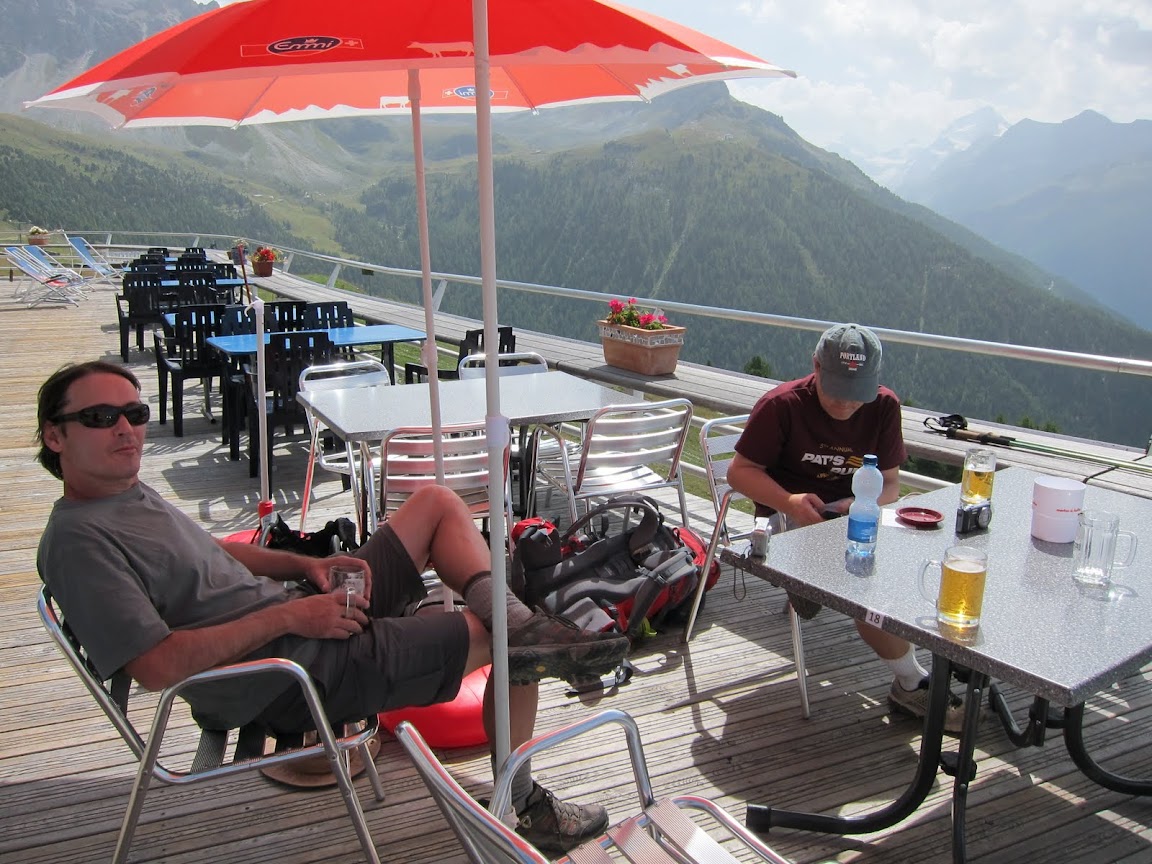 Paul's picture of Tignousa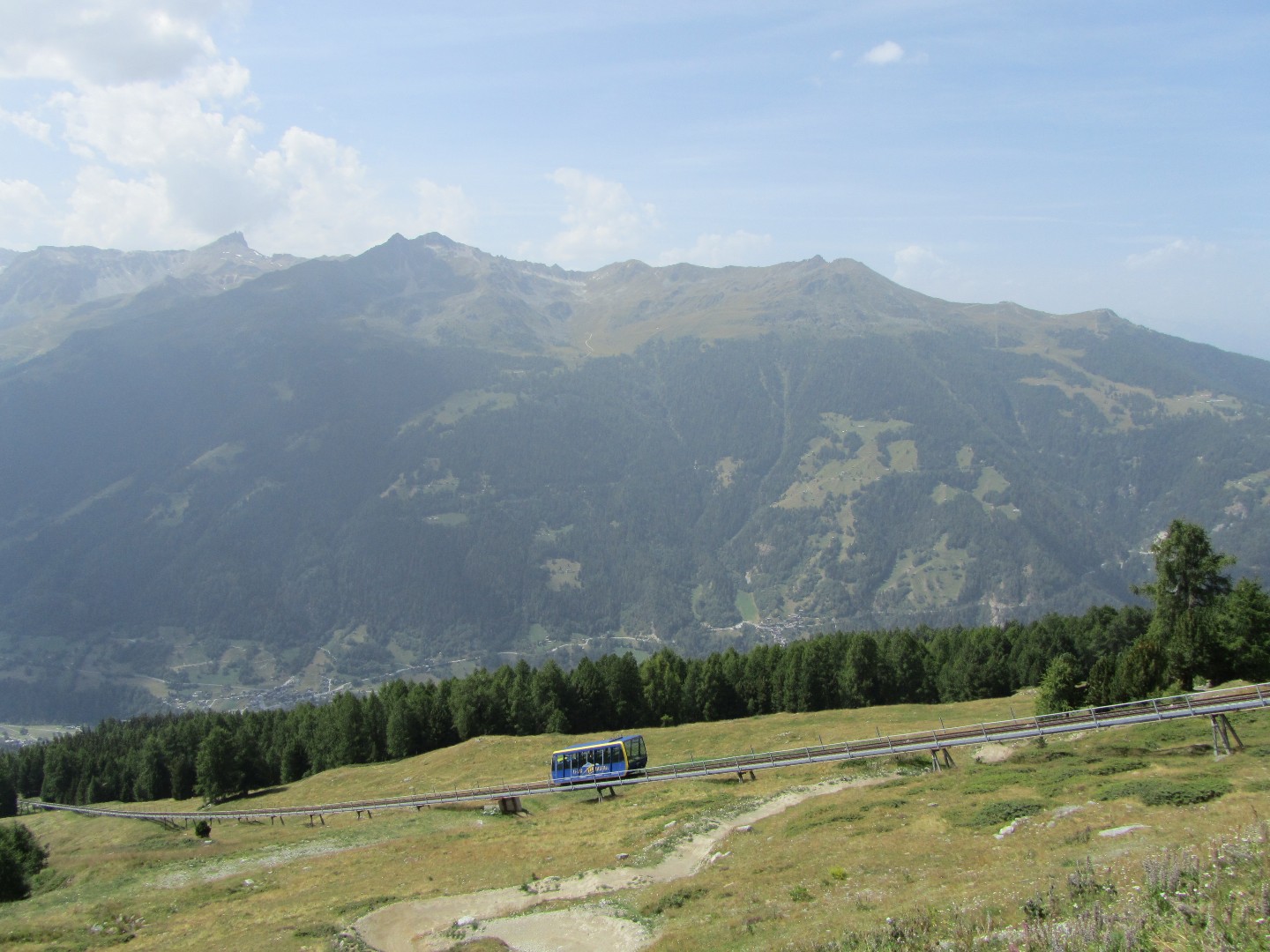 Kent's video


Kent's video

We caught the funicular, then wandered the town trying to find a bus stop. St Luc was nearly totally empty. It was truly a ski town waiting for the snow. I finally stopped inside a hotel, where they pointed me in the right direction.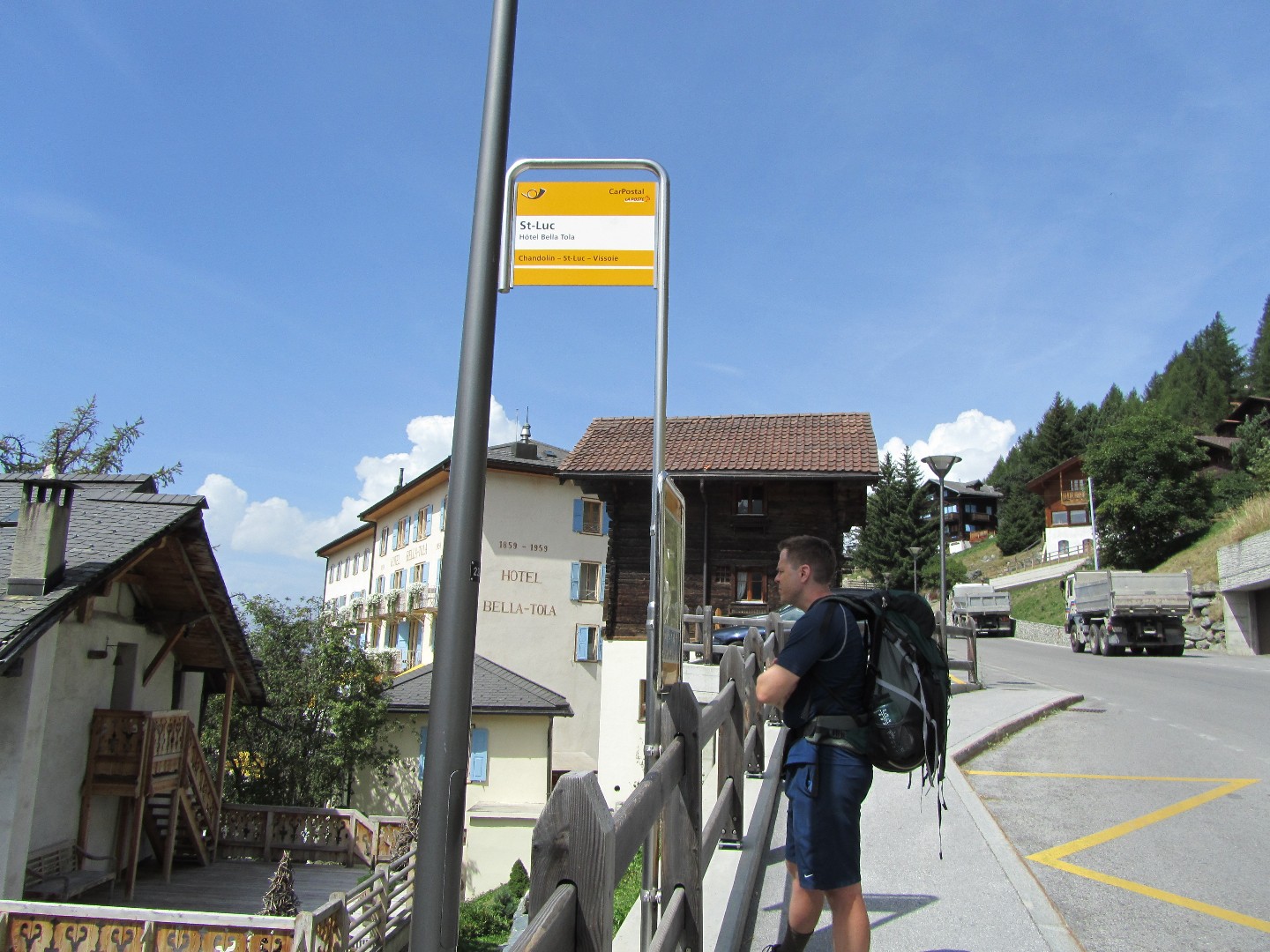 The Hotel Bella-Tola is a pricey resort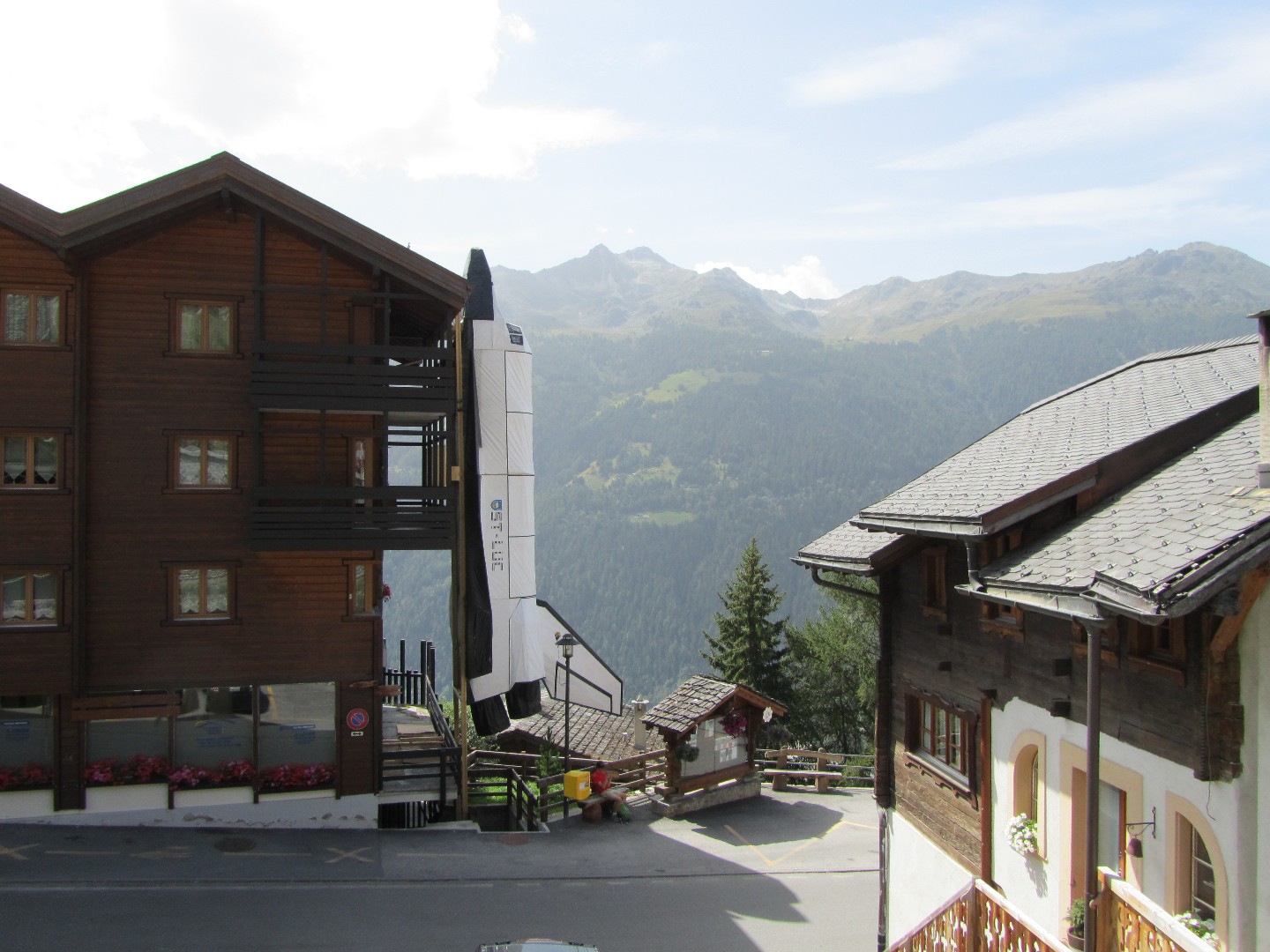 St Luc was trying to cash in on the comically bad planetary sculptures above in Tignousa.
Judging by how few people we saw, it was not money well spent.



We caught the bus to Vissoie, which is the 'grand central station' of this valley, and we had about 20 minutes until the next bus to Grimentz. Half of us used the ATM, since it was the first one we'd seen in days and we had no idea where we'd find another. Everyone else got another beer, I opted for coke and chocolate croissant instead. By the time we got on the bus, it was clear that this was also the schoolbus – school had just let out, and the bus was full of kids. Made the ride up to Grimentz more entertaining.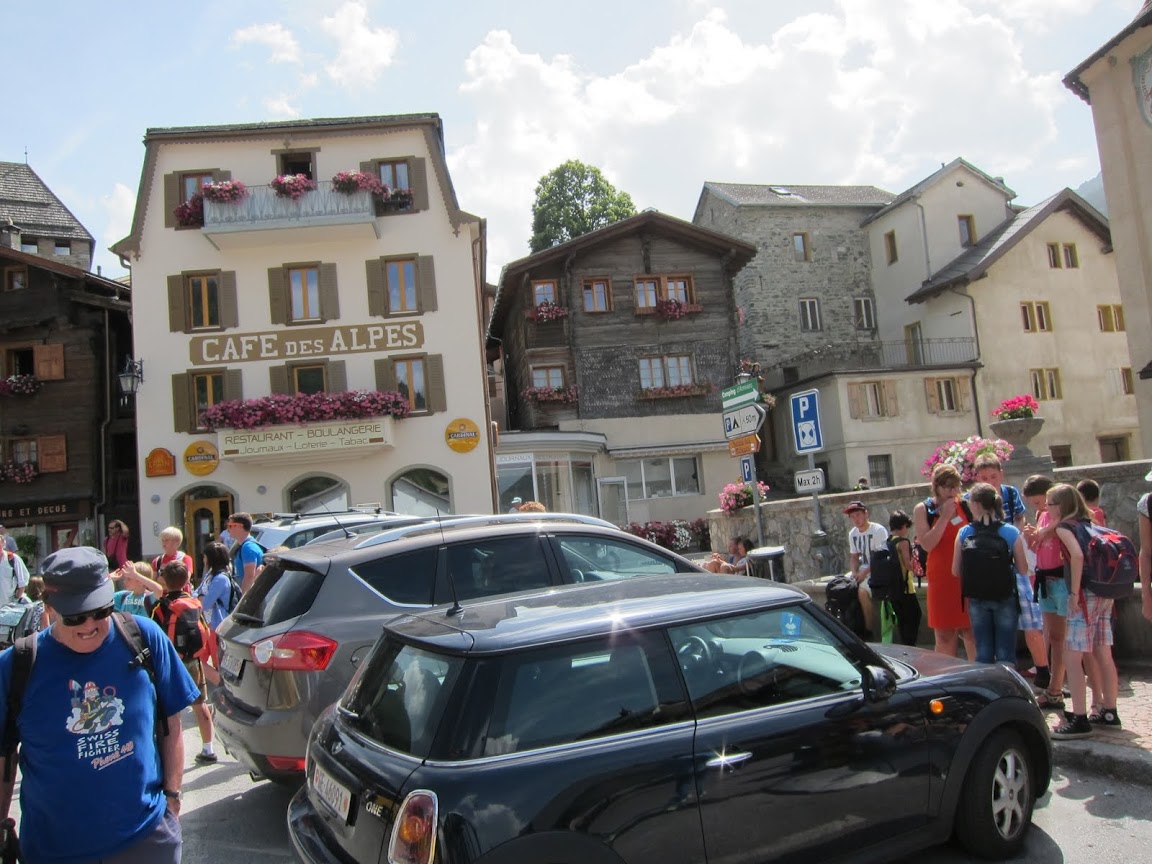 Paul's picture of Vissoie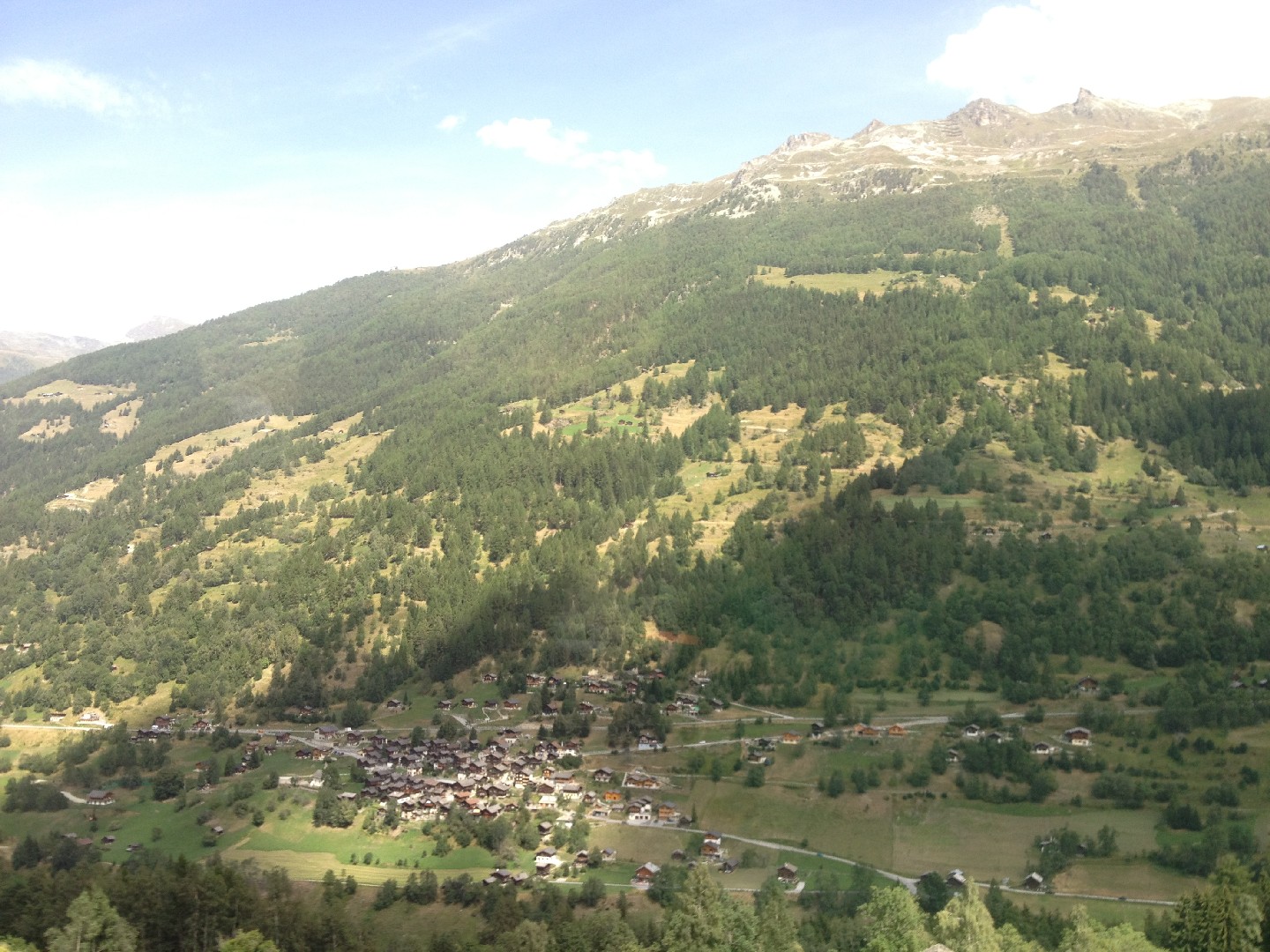 Mission, Switzerland from the bus



We arrived in Grimentz and were quickly reunited with Michael. Hôtel de Moiry was very close to the bus stop, as was the TI. We slowly changed out of our sweaty, stinking hiking gear, showered, and then explored the town. Just up the street from us were granaries. A little further up the street we saw working water mills. The town has plenty of charm and is quite authentic. Kent picked yet another cool spot - I had been giving Kent no end of grief since he suggested we stay in Grimentz instead of Zinal, since Grimentz is not technically on the Haute Route. Eventually we grabbed yet another beer at the far end of town, then decided to have dinner at our hotel.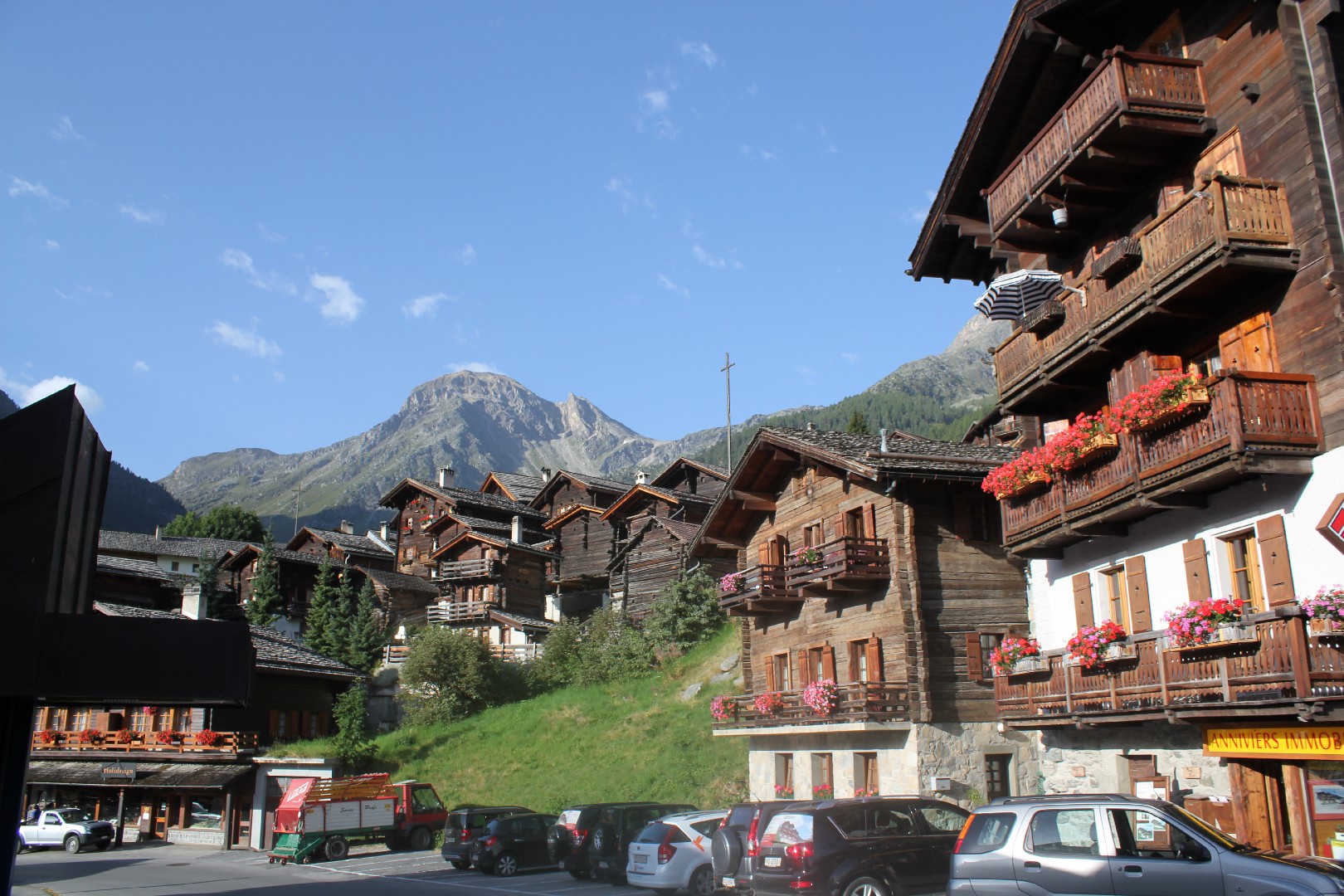 The 2nd building on the right is the bottom of our room at the hotel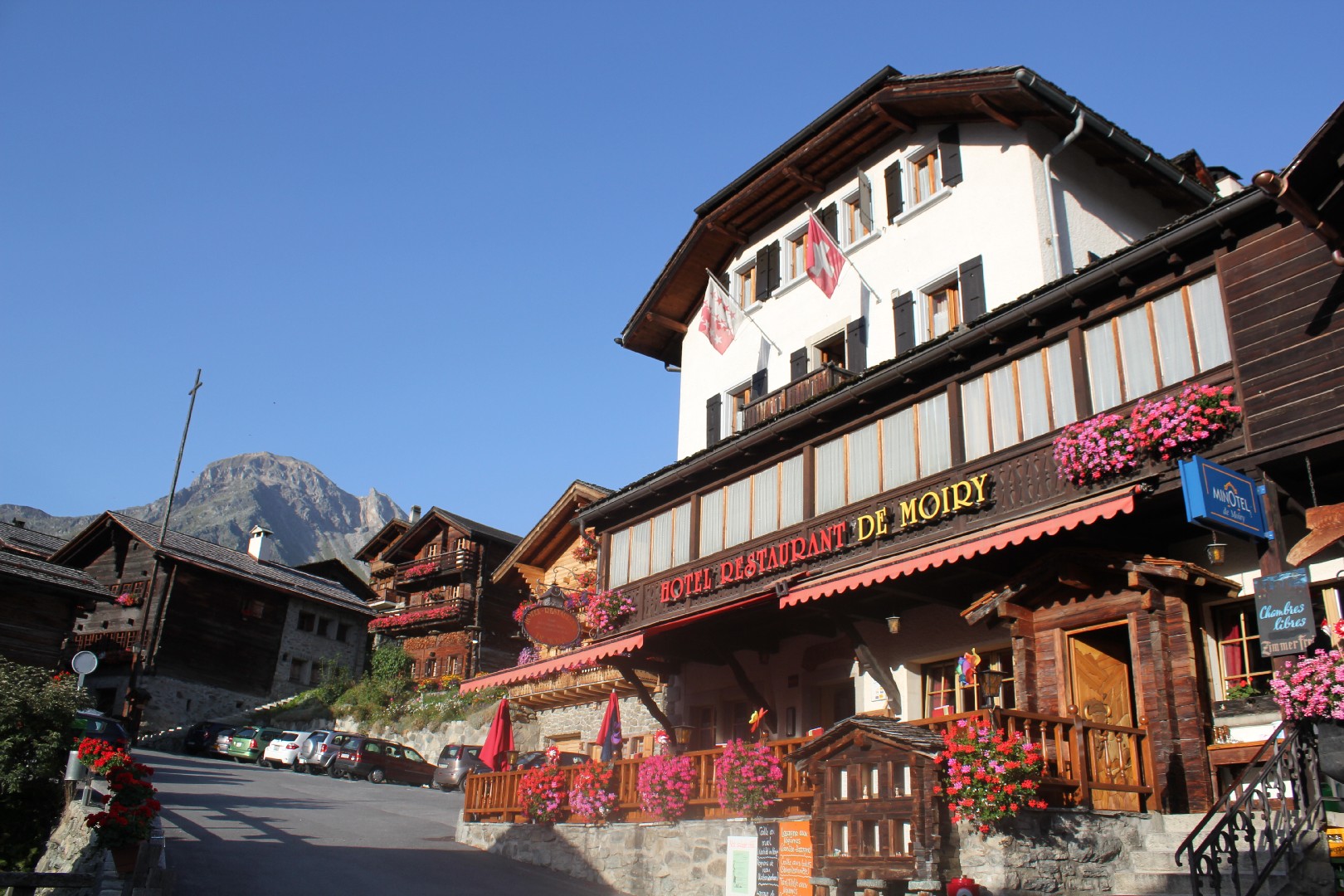 Hotel de Moiry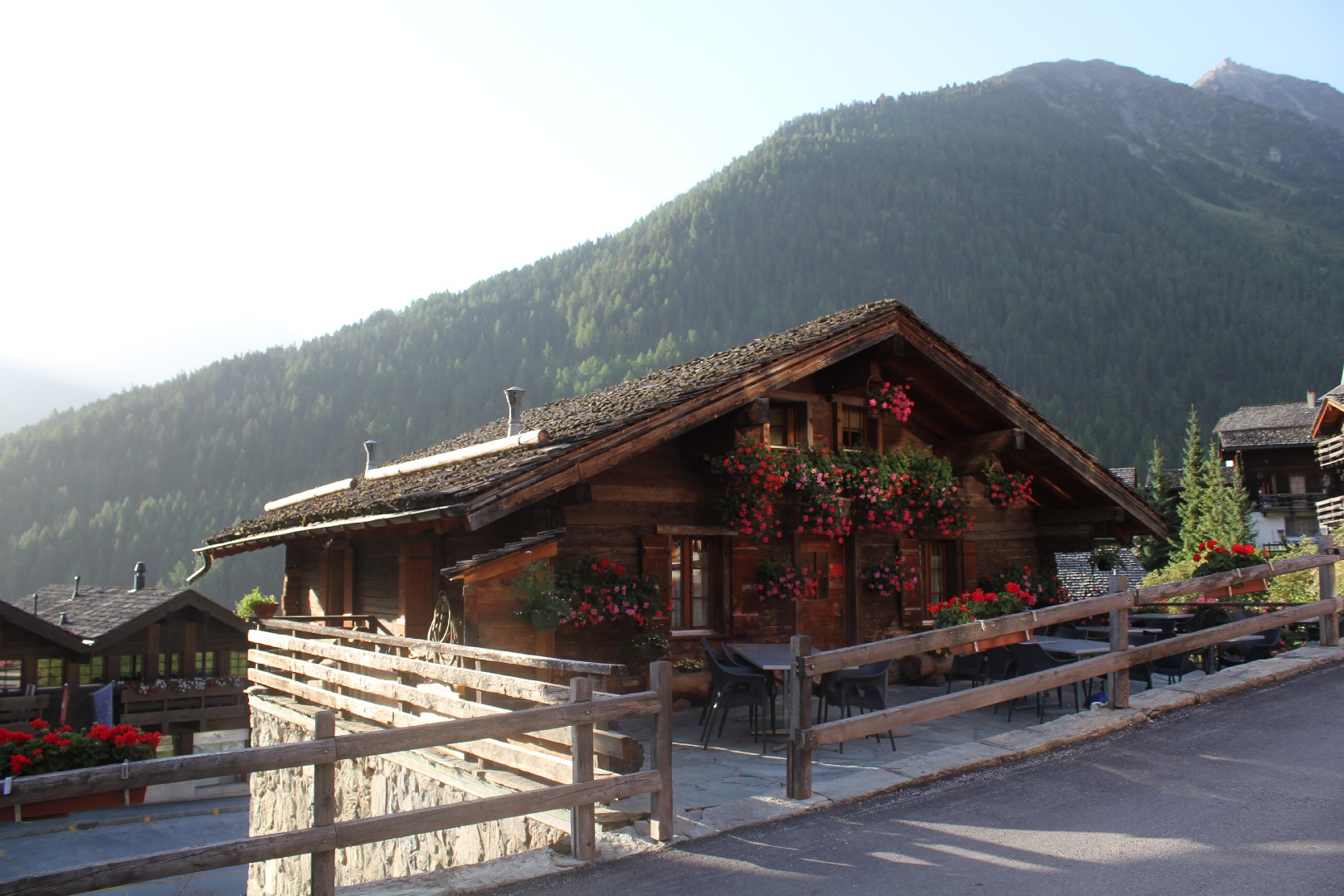 Our room at the Hotel de Moiry - there are actually 2 rooms with lofts, each in one half of this annex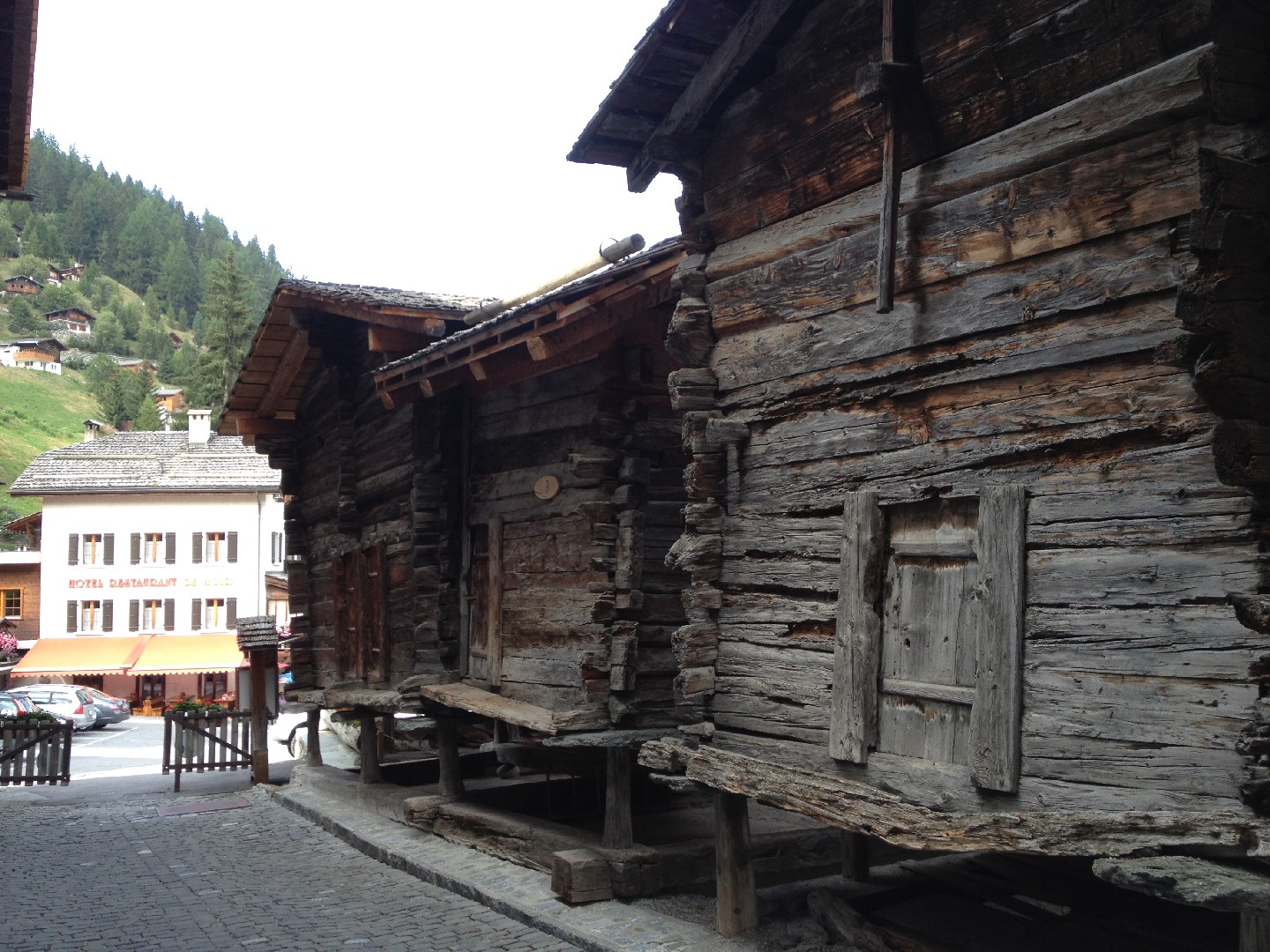 Grimentz Granaries
Our hotel is in the background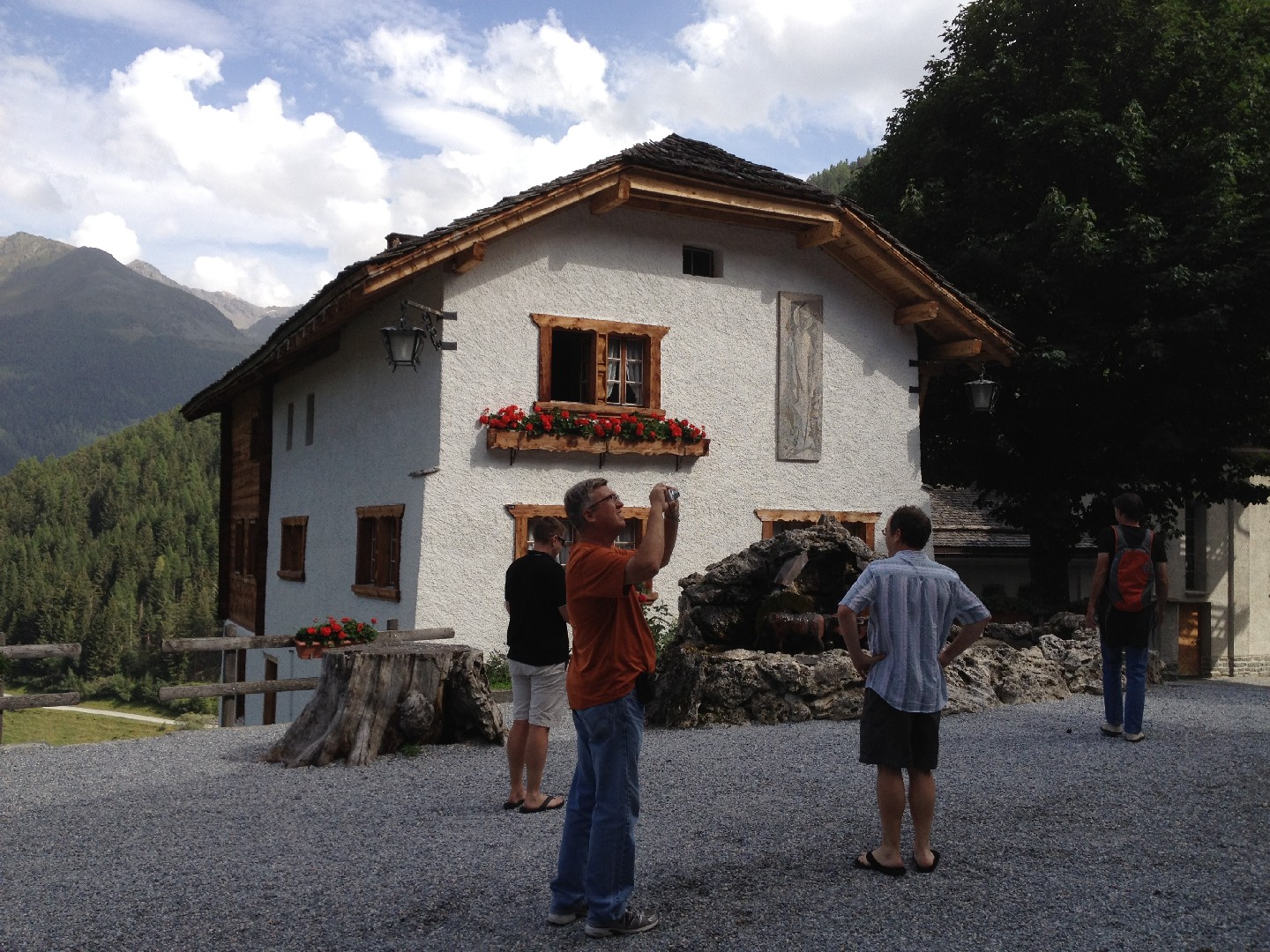 The Hérens cows 'fight' using the waterwheel. Hérens cows actually do fight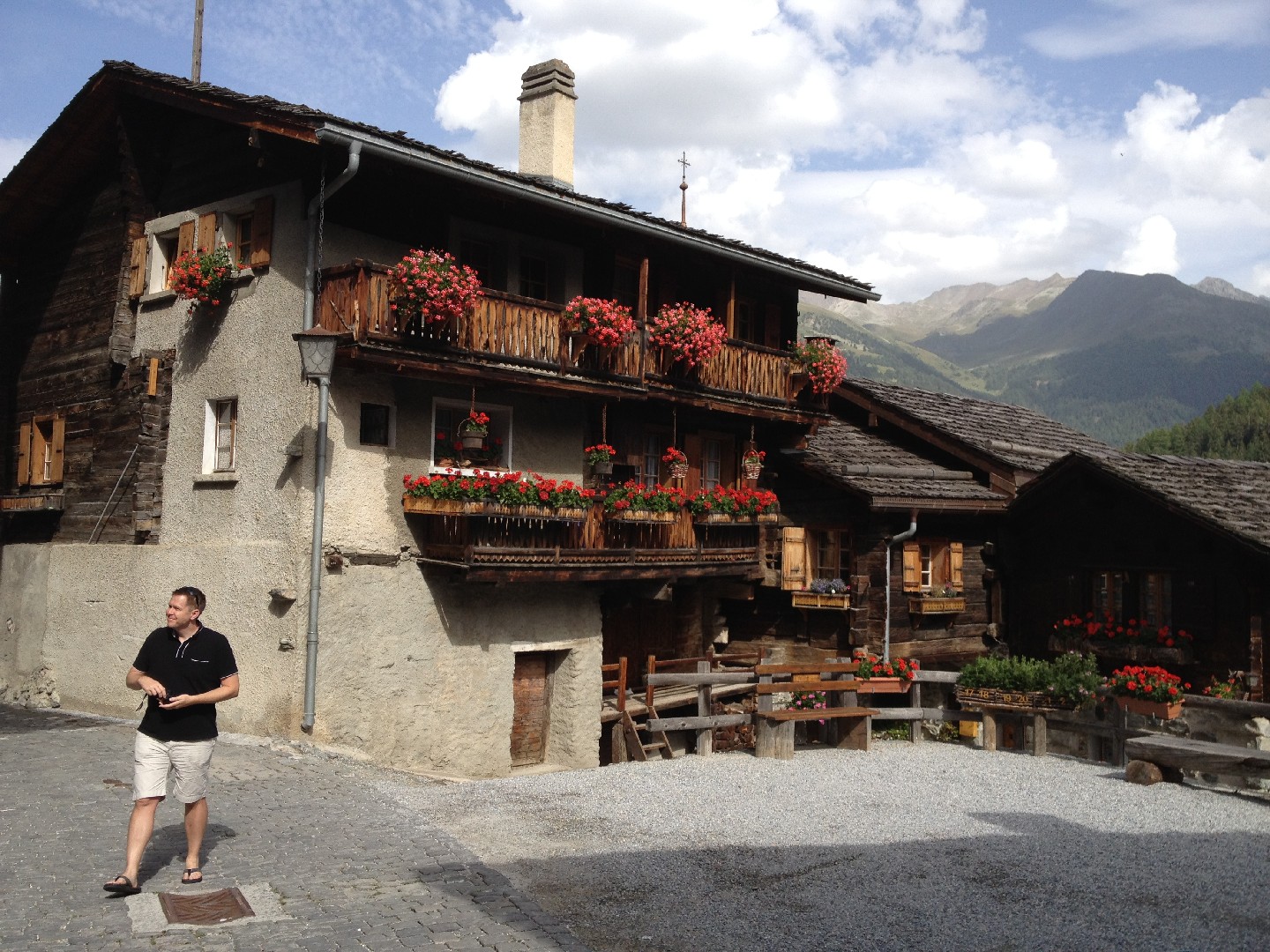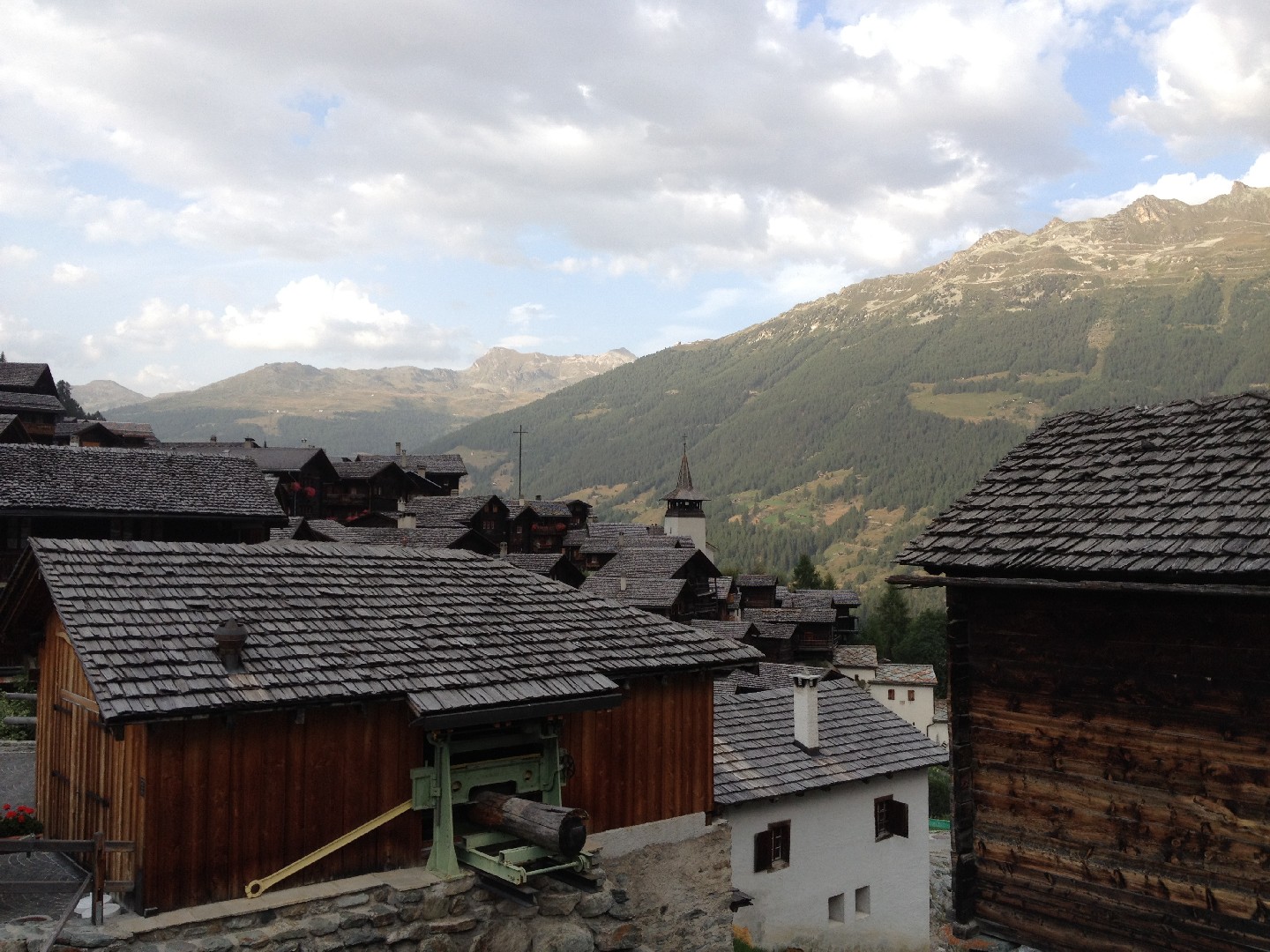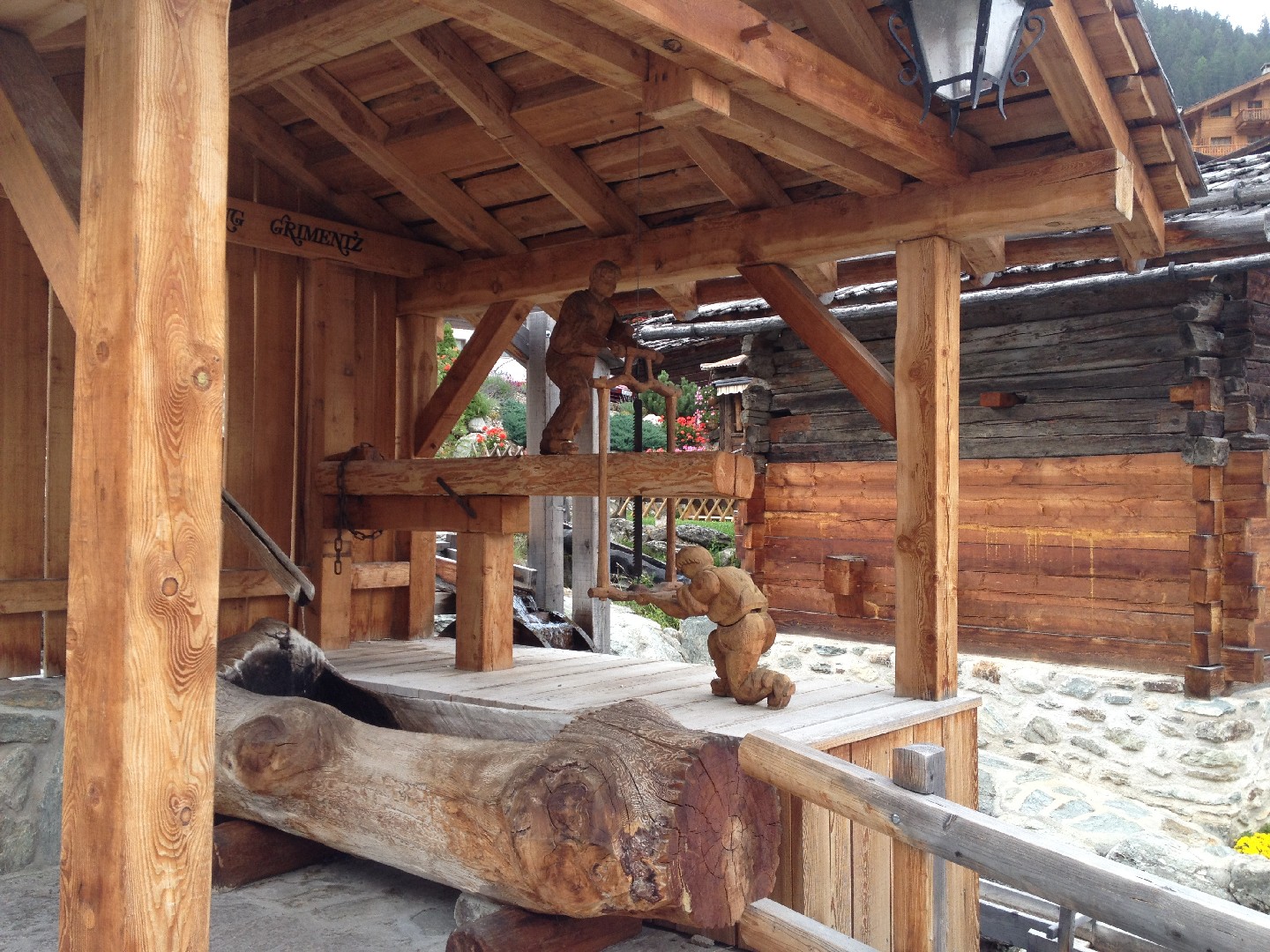 Another waterwheel powered atttraction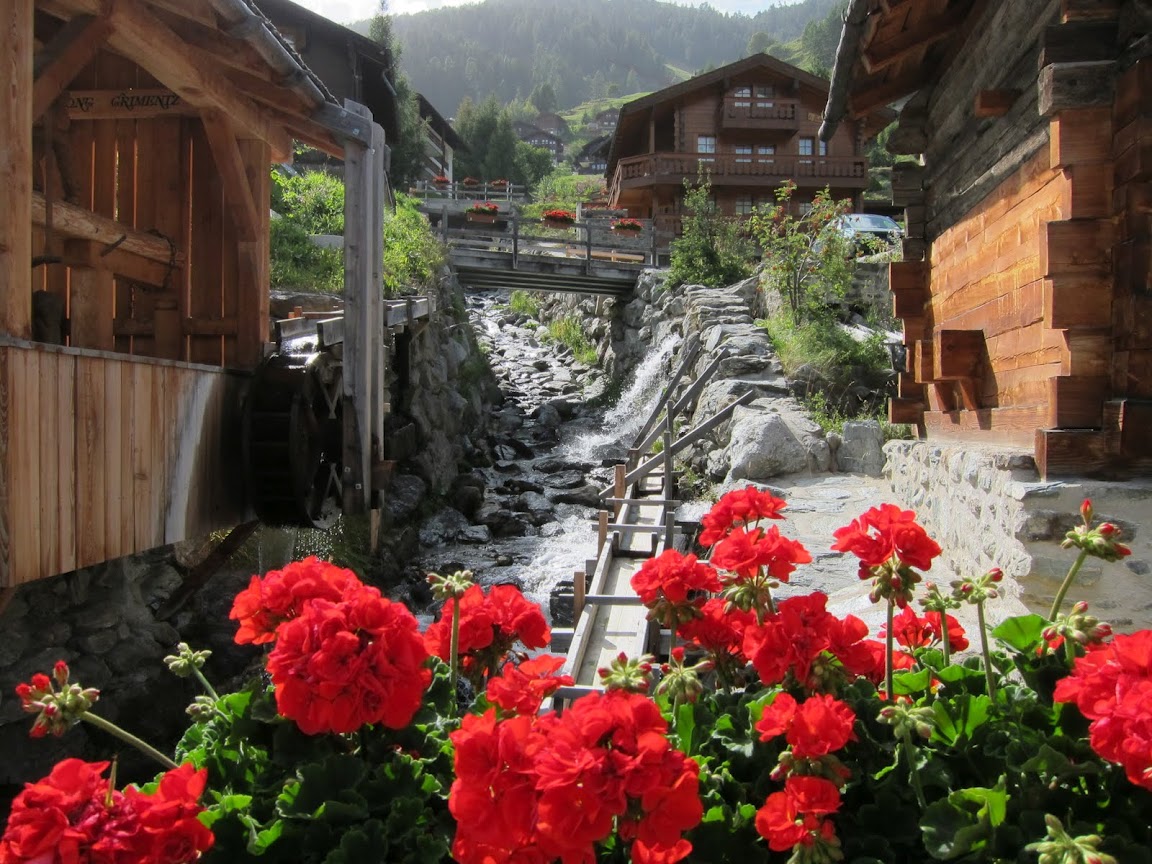 Paul's picture of the waterwheel and stream
Grimentz flooded badly in 1999, I assume this stream was the culprit since the town is on a hillside 1000' up from the valley floor.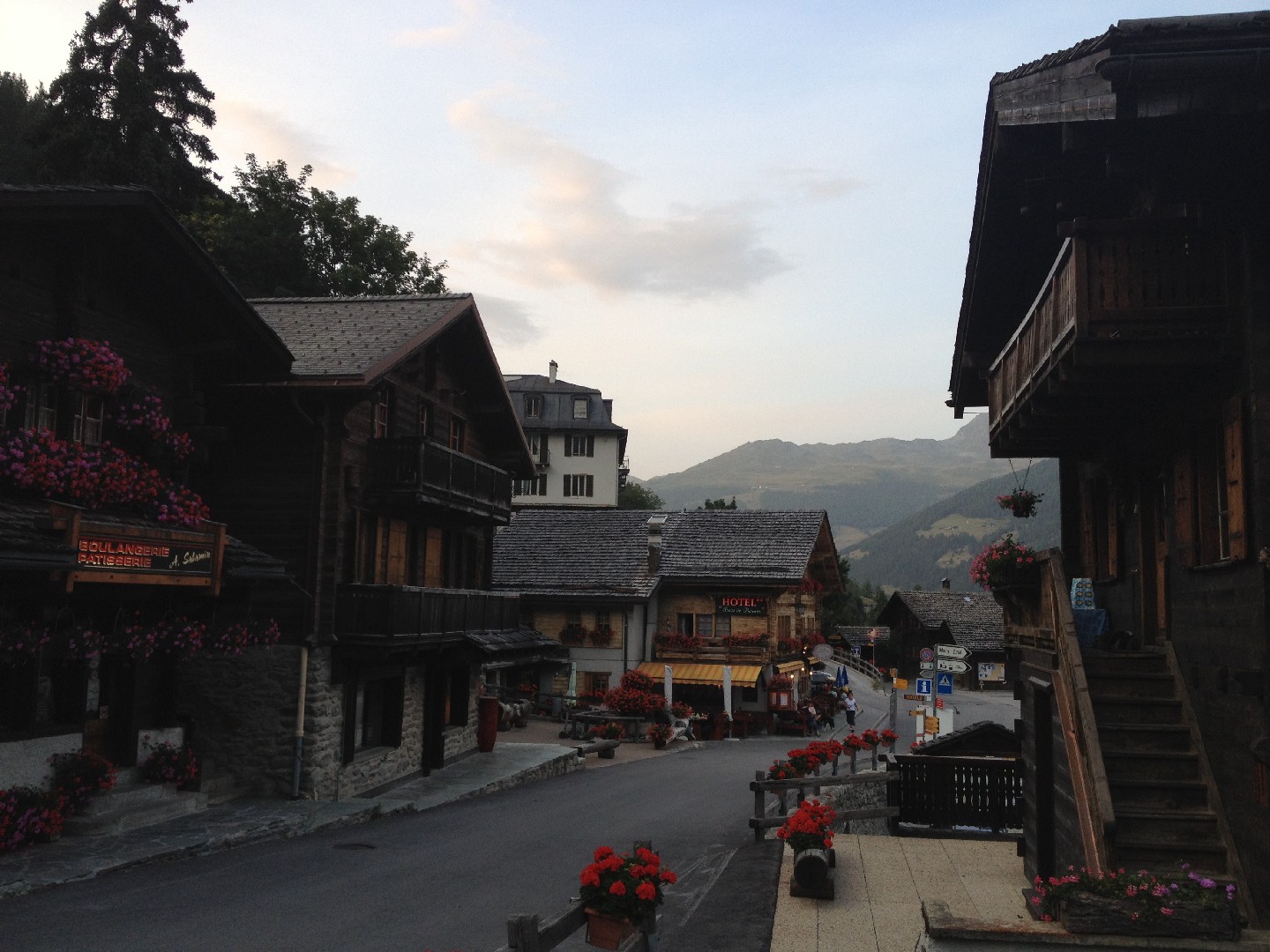 The view back down the road from our hotel



Dinner turned out to be the finest meal we ate on the trip, at least for me. Everyone else chose pork chops, which turned out to be slightly dry, but I selected quail with honey sauce. The food and presentation were both amazing. I ate all the plants and flowers they'd served me – all good stuff.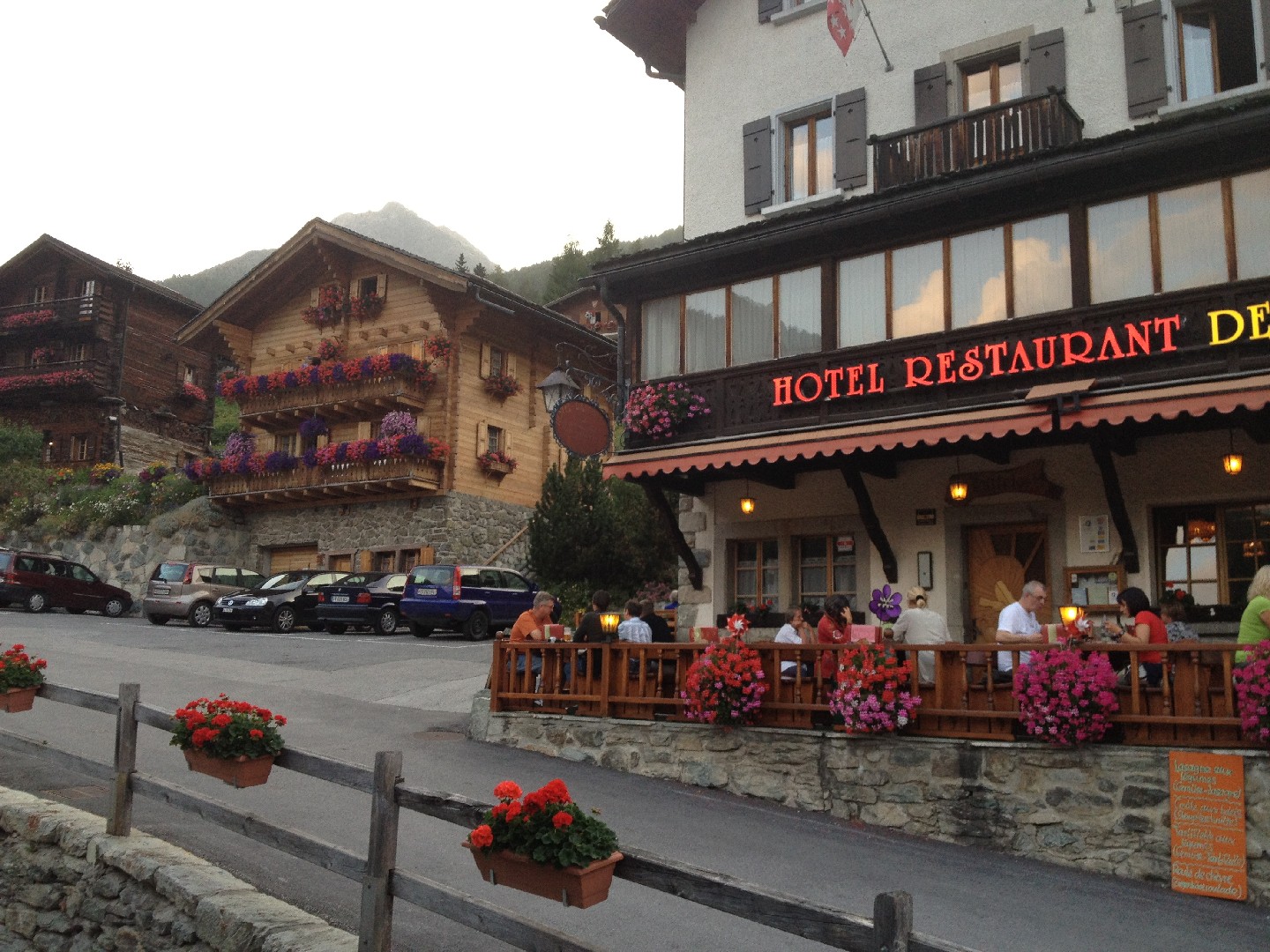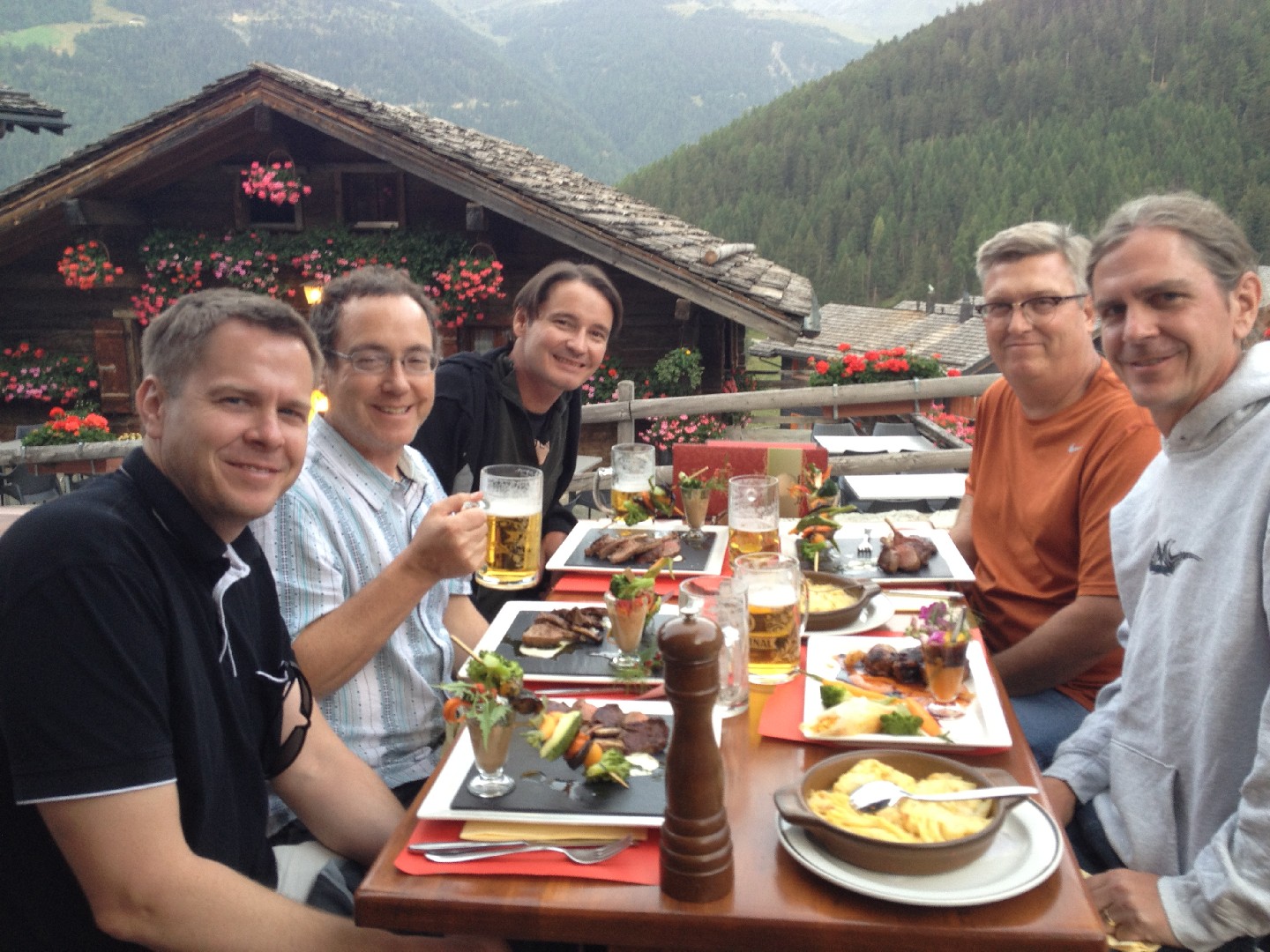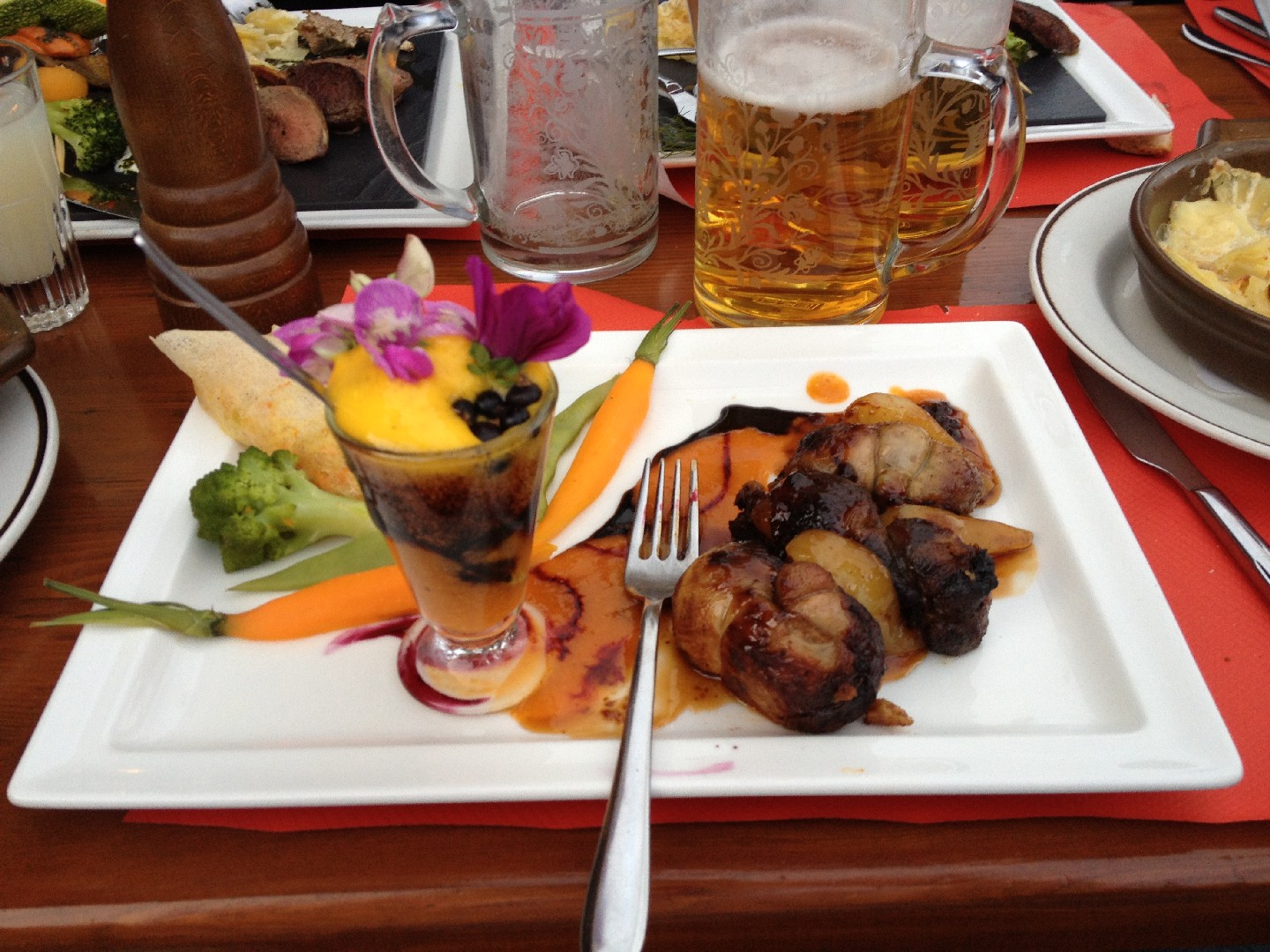 We turned in relatively early after watching some really bad Swiss television in our room. We were kept awake for a while by the sounds of children playing – I believe there was at least one family living in the same building as our 'room'. The room was streetside on Rue du Village, but we were actually on the 2nd (3rd floor US) floor of the building that sat on Route de Moiry below.



Previous
Monday August 20, 2012
St Niklaus to Gruben





Tuesday August 21, 2012
Gruben to Grimentz

Next
Wednesday August 22, 2012
Grimentz to Les Hauderes