Previous
Tuesday August 21, 2012
Gruben to Grimentz





Wednesday August 22, 2012
Grimentz to Les Haudères

Next
Thursday August 23, 2012
Les Haudères to Cabane de Prafleuri

The first bus to where our hike started didn't leave until 8:39, so we had plenty of time for showering and breakfast before starting the day's hike.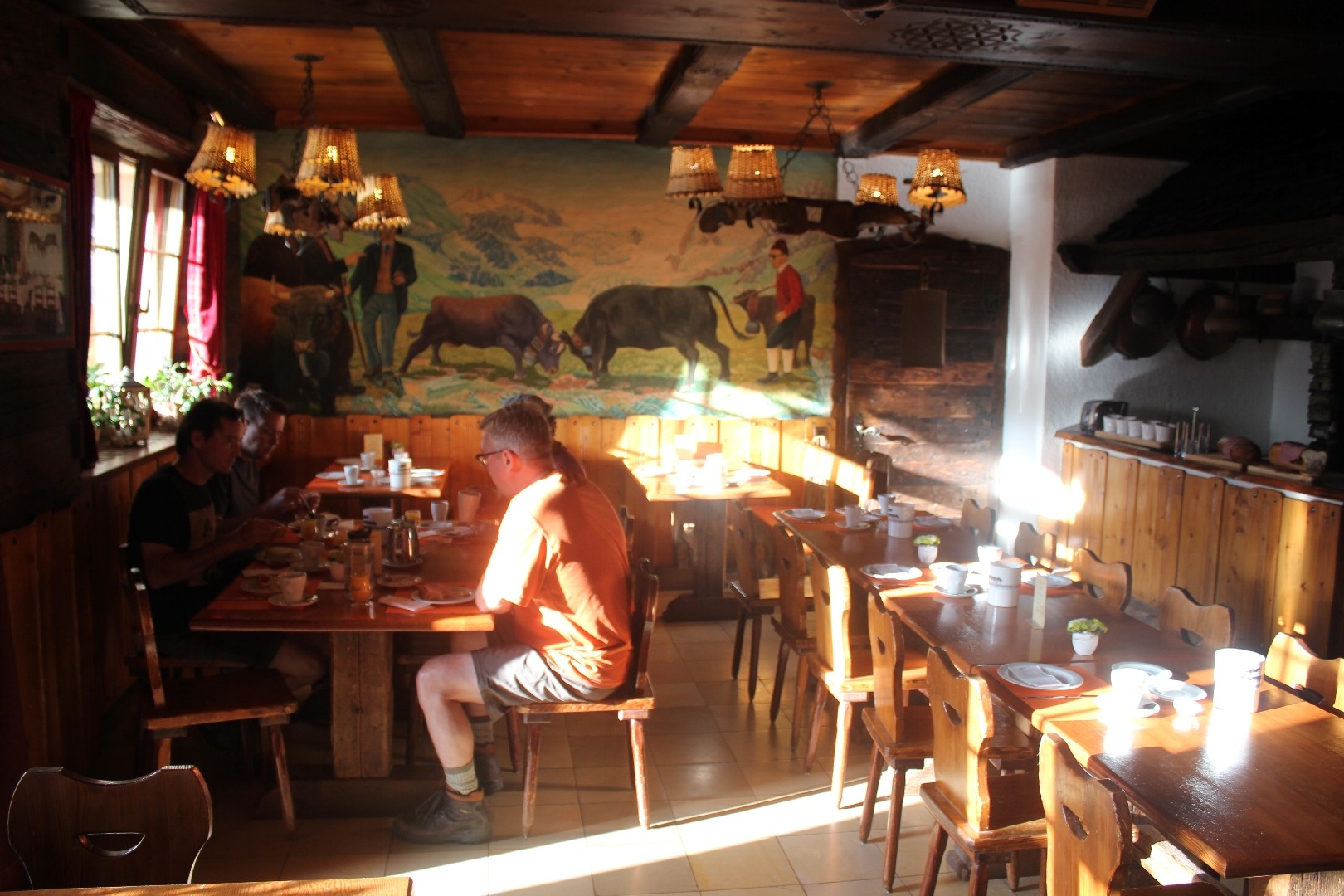 Anyone staying in a hotel in the val d'Anniviers during the summer of 2012 received a free pass that allowed free access to the local swimming pool, mini golf, the funicular we had to use (and pay for) the prior day, as well as the buses. Not only did Ray lose his 110CHF Swiss half fair card as soon as he arrived in Zermatt, he somehow also lost his val d'Anniviers pass overnight, so he alone had to pay for his morning busride. I was pleased to see that the bus ran to Parking du Glacier at the upper end of the lake, which saved us from having to hike the lake. It also helped select which of the two mountain passes we would hike today.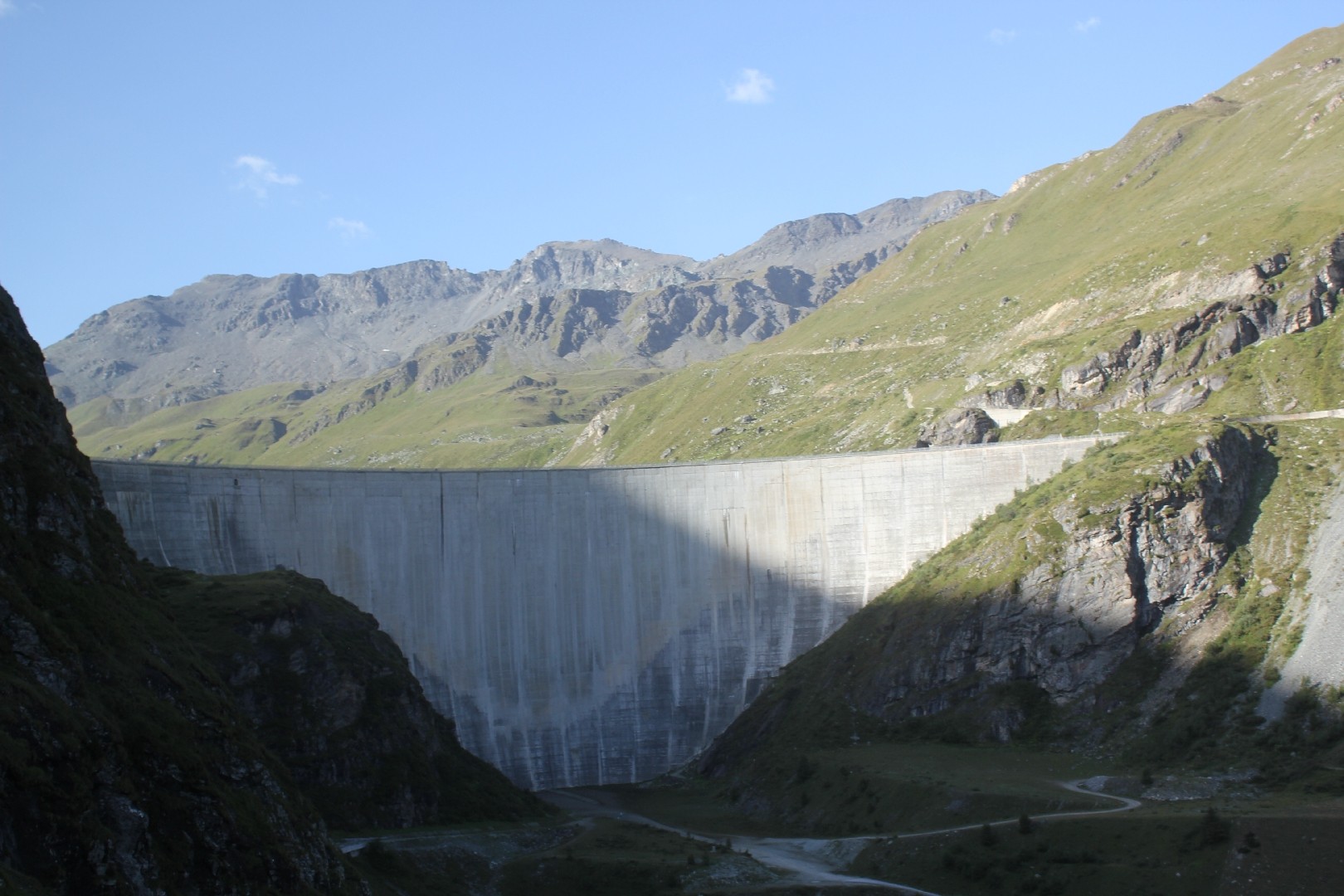 Barage de Moiry - picture taken from the bus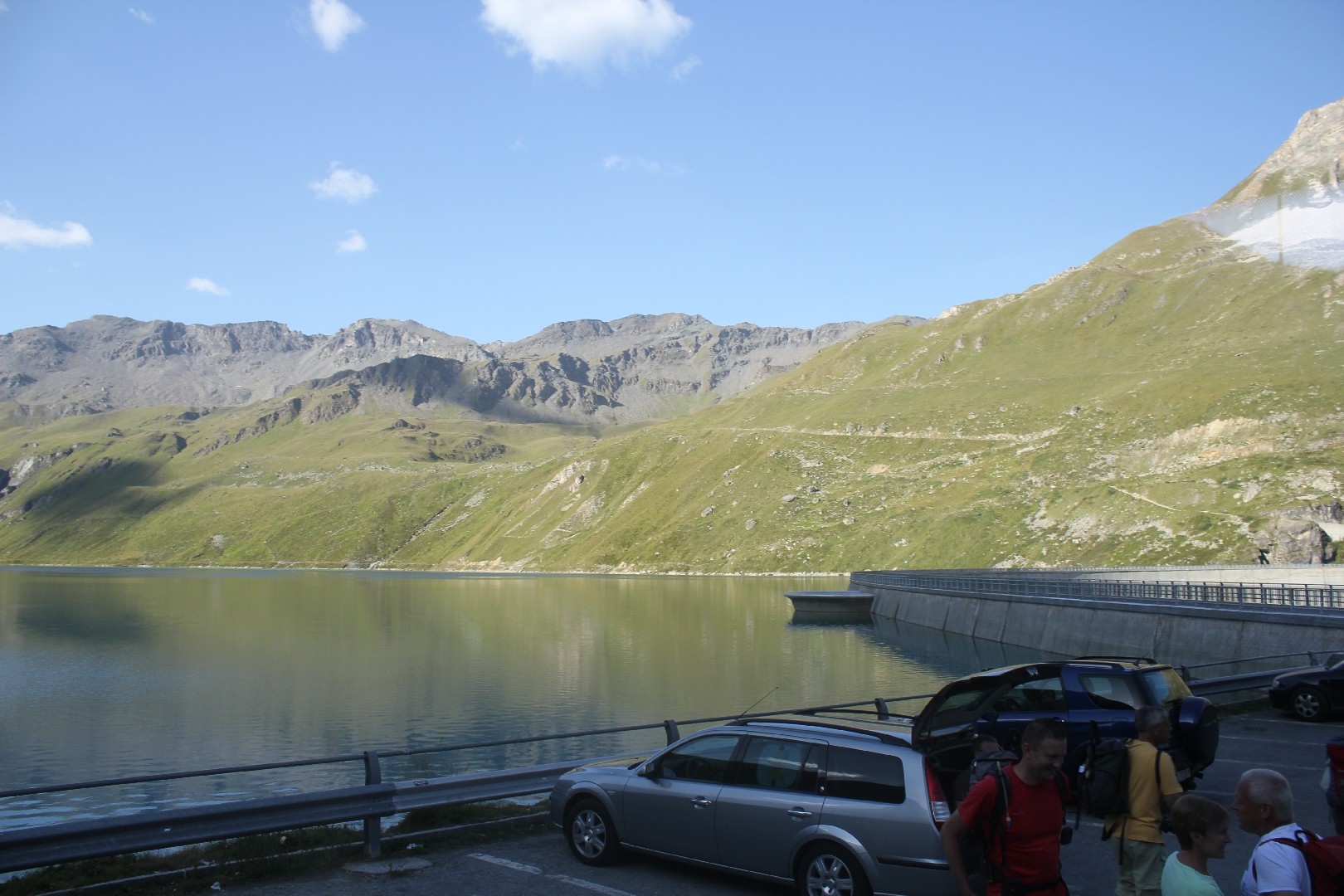 Barage de Moiry - picture taken at the bus stop from the bus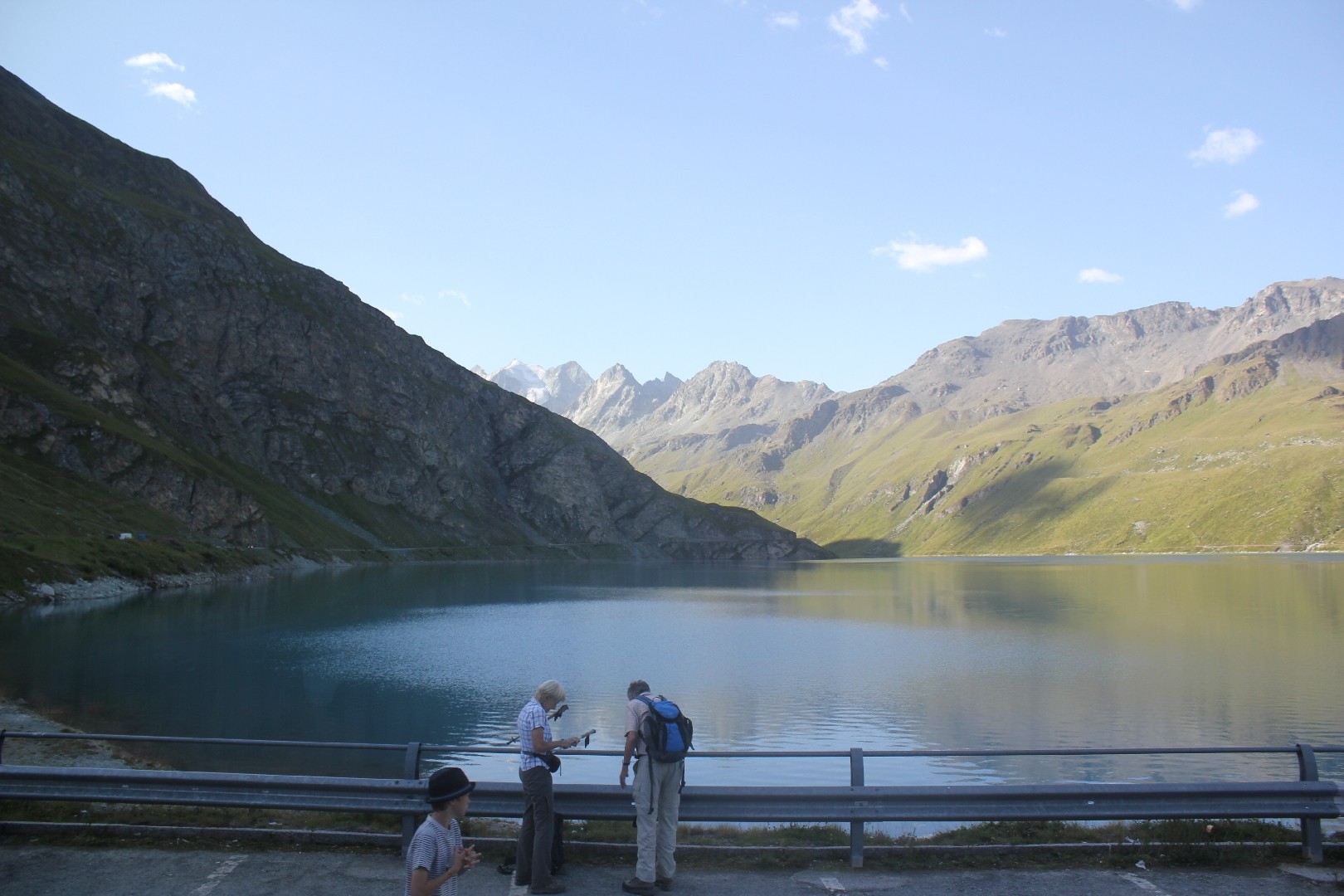 Barage de Moiry - picture taken at the bus stop from the bus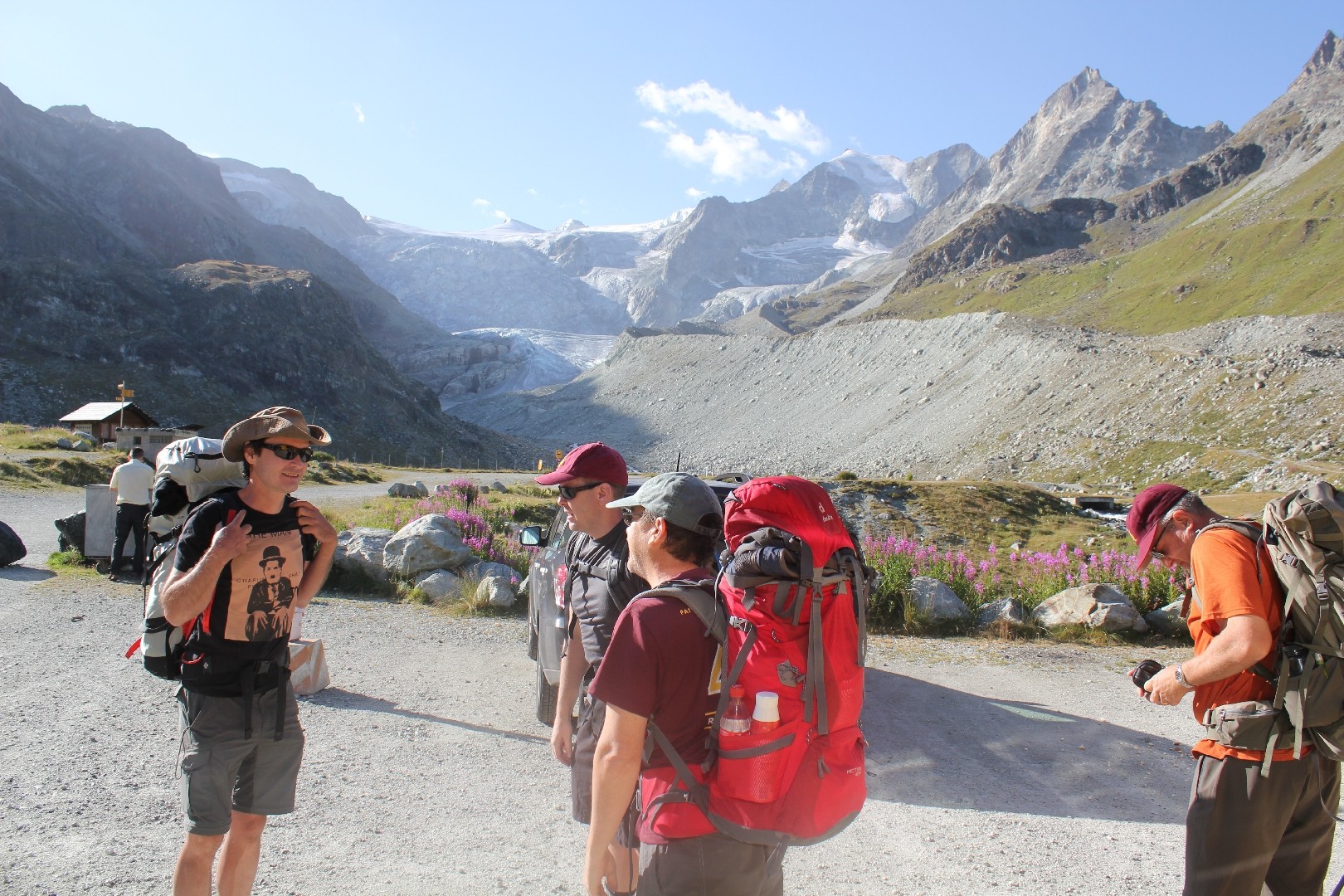 Shortly after 9am the bus arrived at Parking du Glacier (elevation 2409 meters / 7904 feet). We were already perhaps an hour ahead of schedule since we didn't have to hike the length of the reservior. The parking lot was quite cool since the cold air pours off the icefall and glacier above. We of course did not attempt the 4km roundtrip, 400m vertical detour to the Cabane de Moiry (elevation 2825 meters / 9268 feet). Instead we started up Col du Tsate at about 9:30.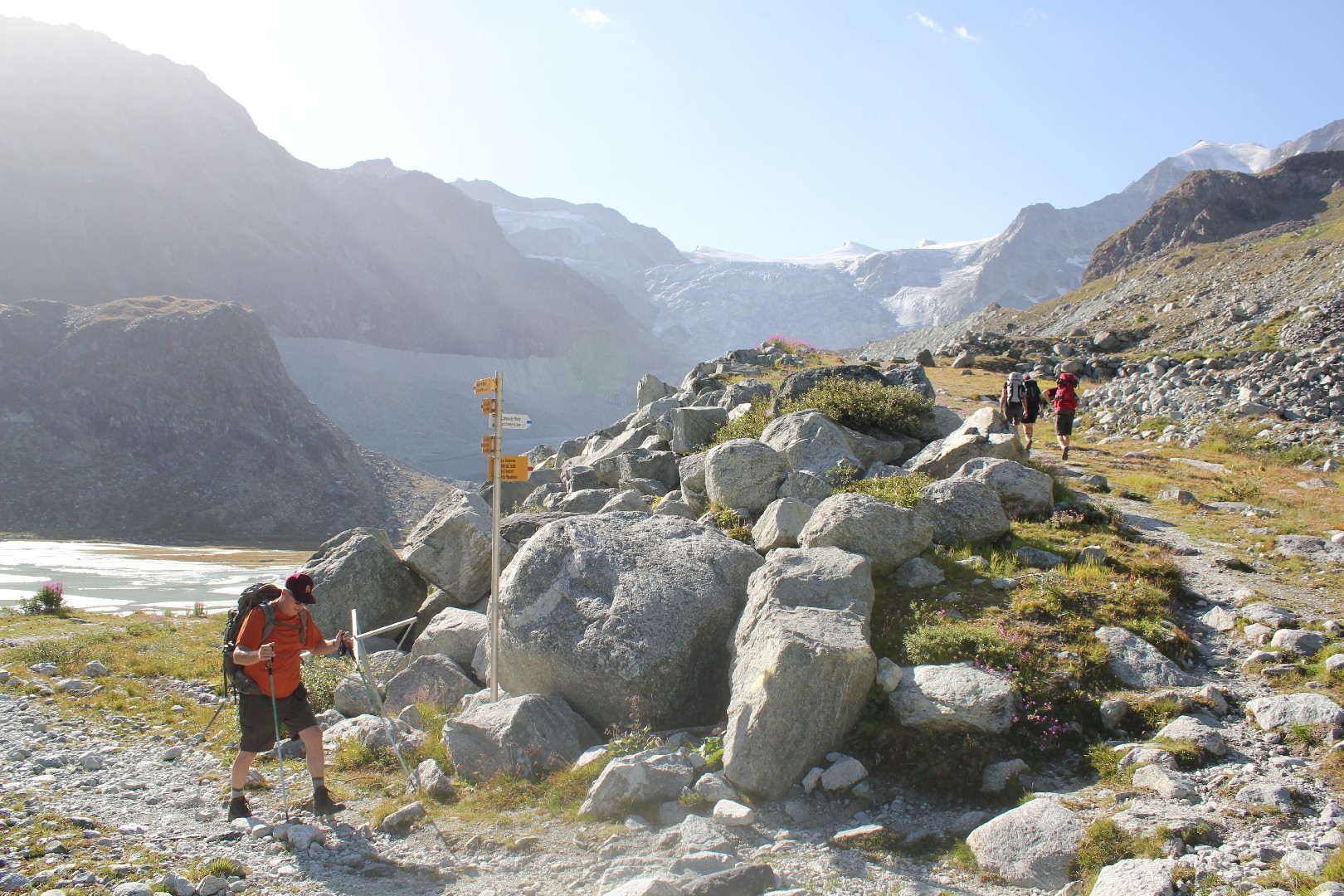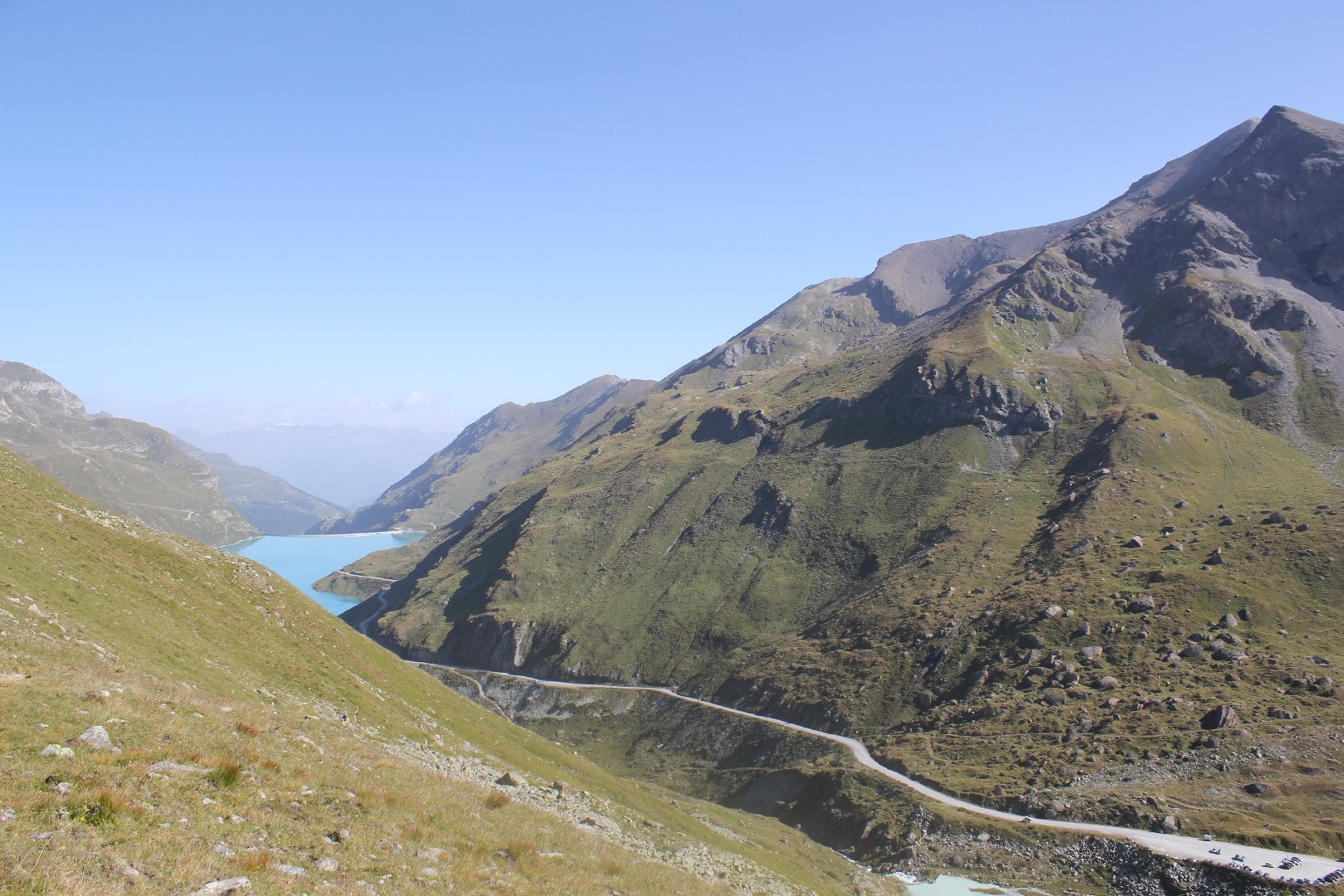 We took a break at the intersection where the trail starts to head straight up the Col. The view was amazing.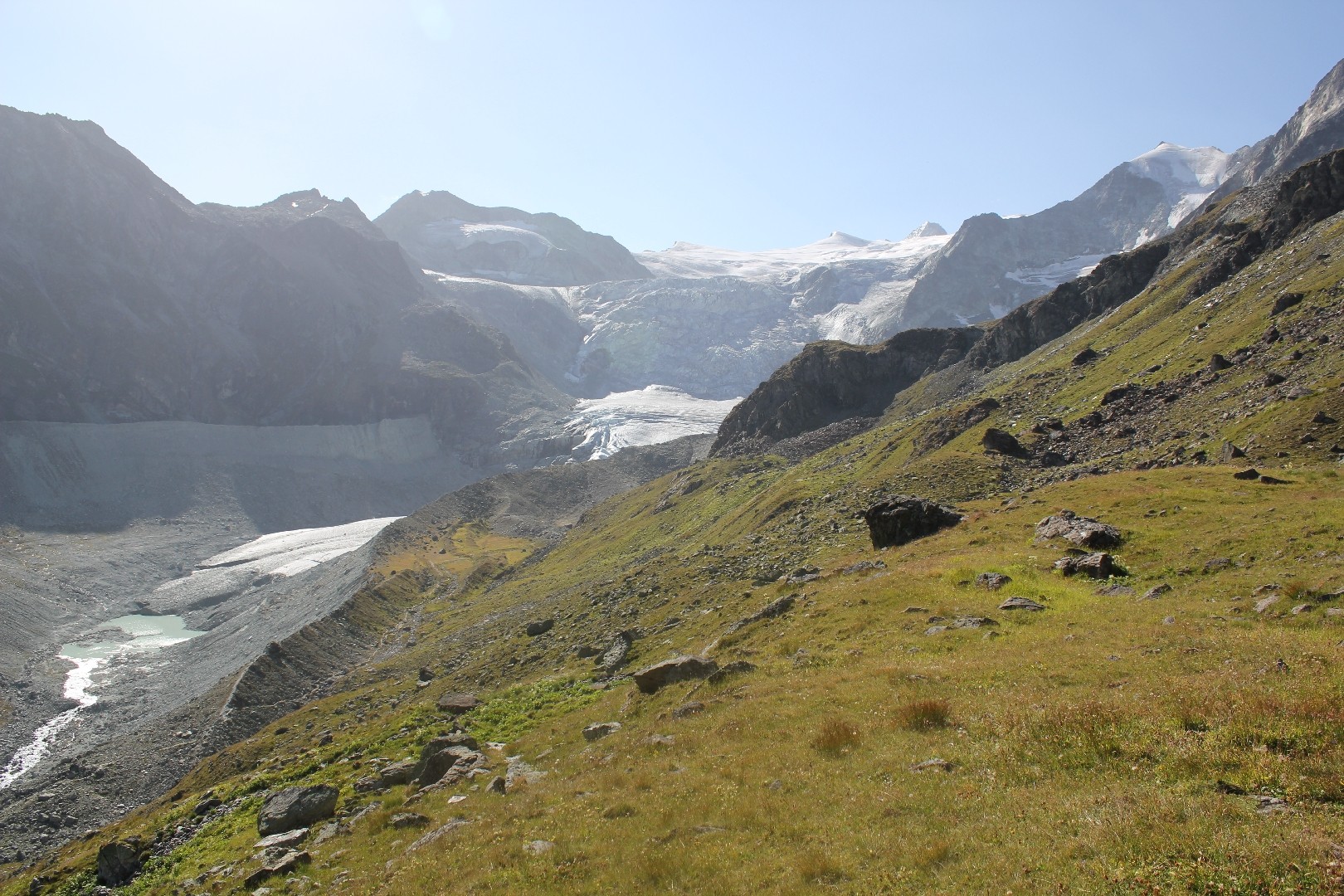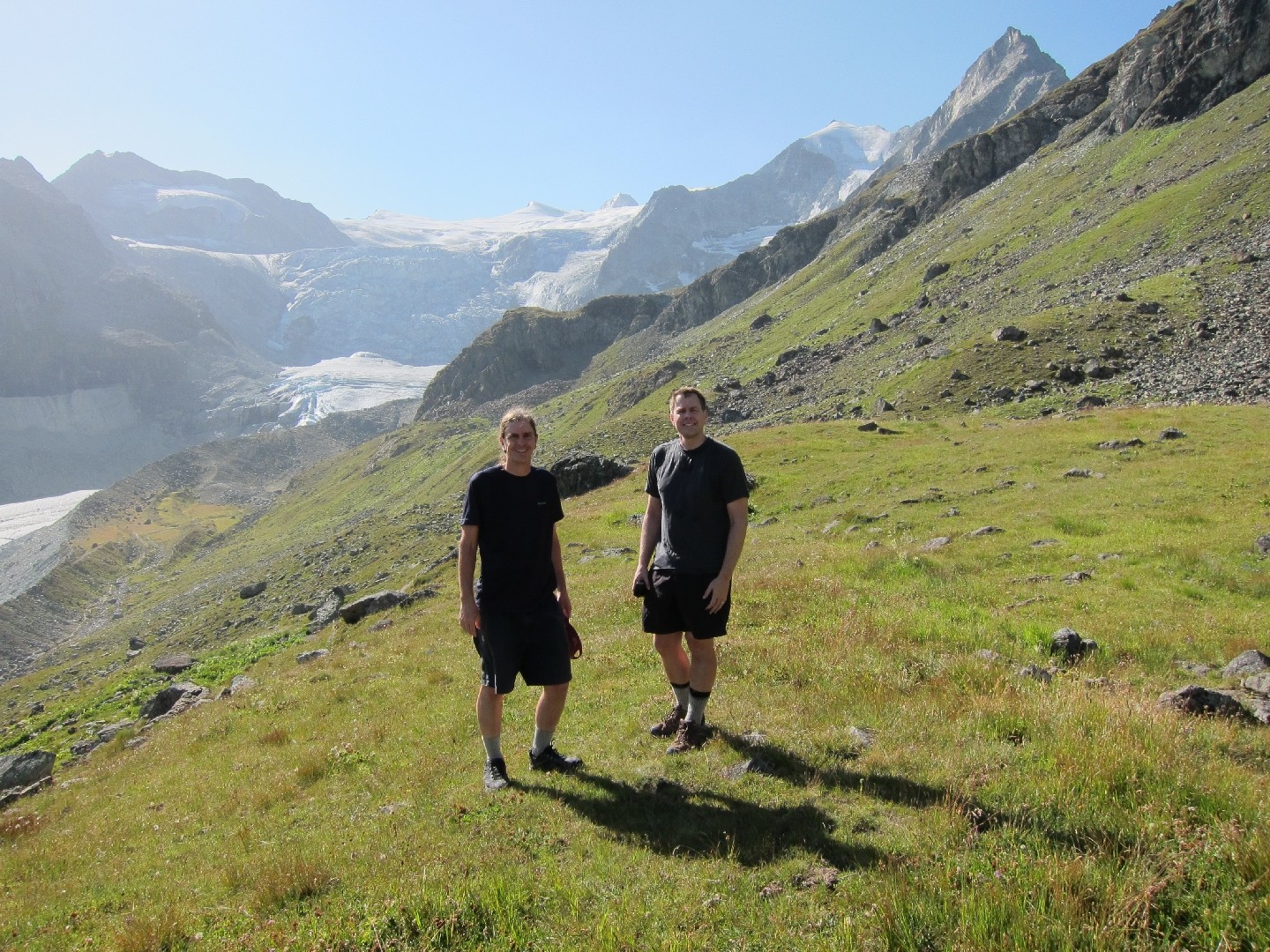 Paul's picture of the two of us and an Icefall




Kent's video - warning R rated language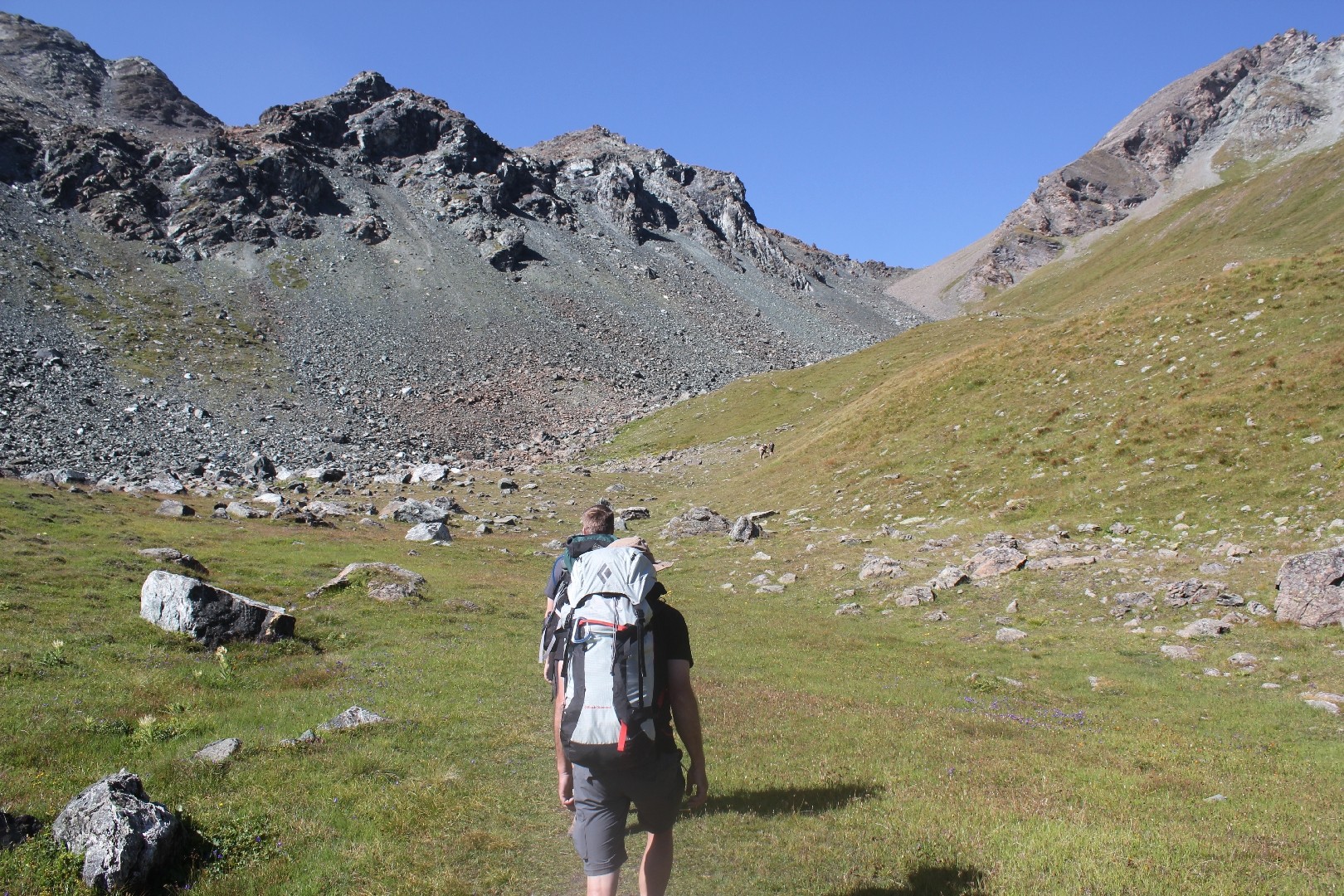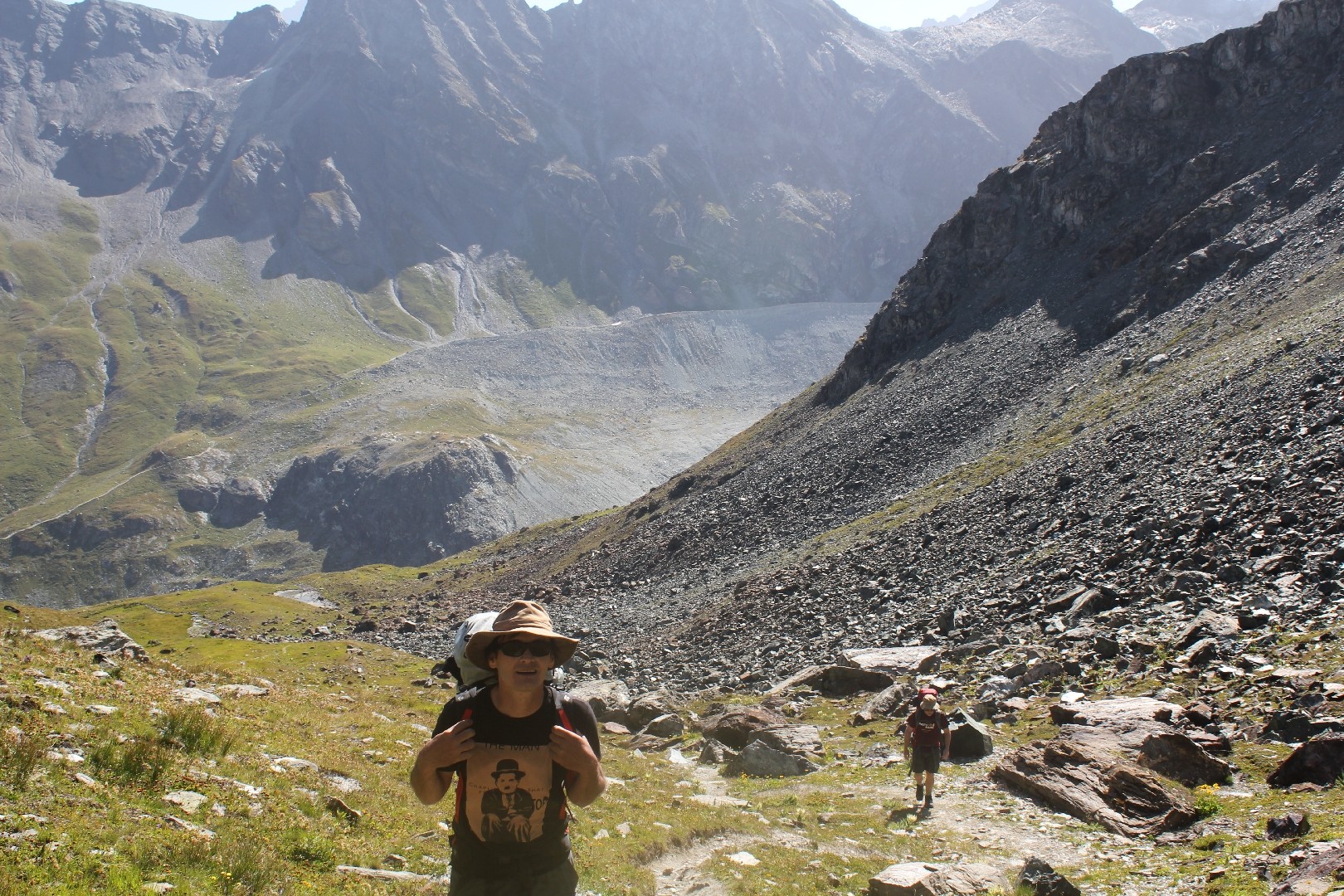 I felt great going up the Col and led the way up. It was another gorgeous day, and it wasn't too hot like Tuesday had been.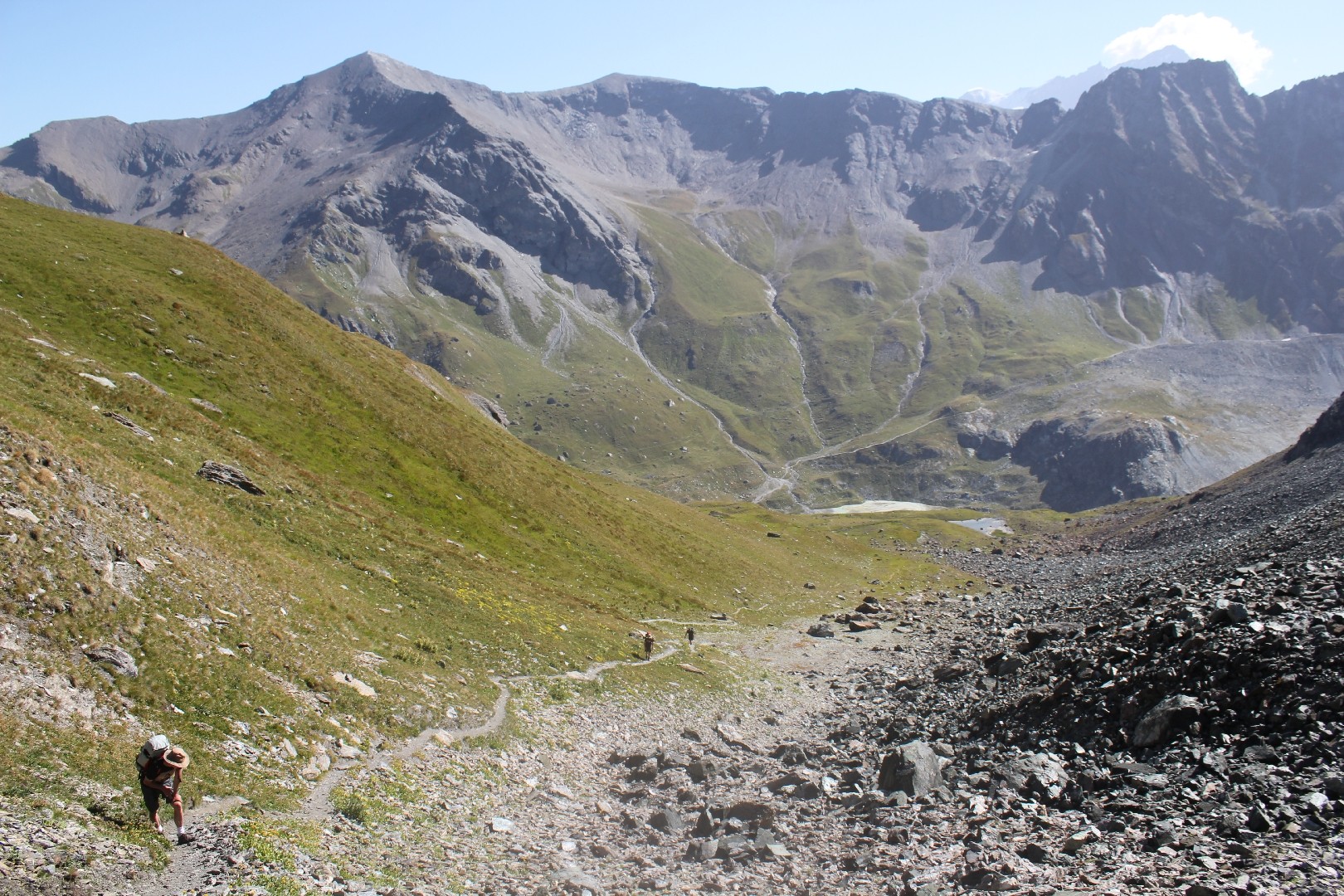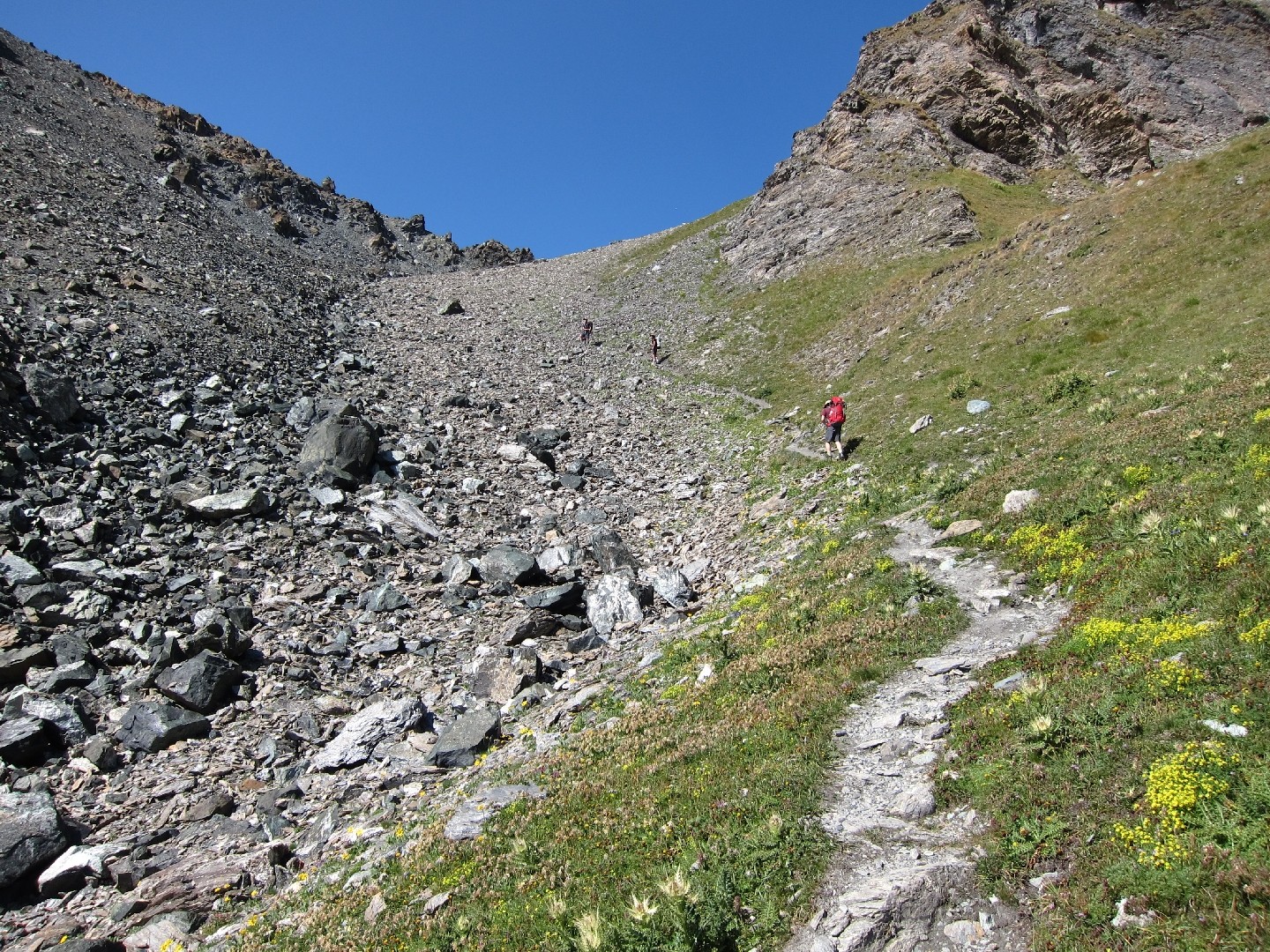 Paul's pic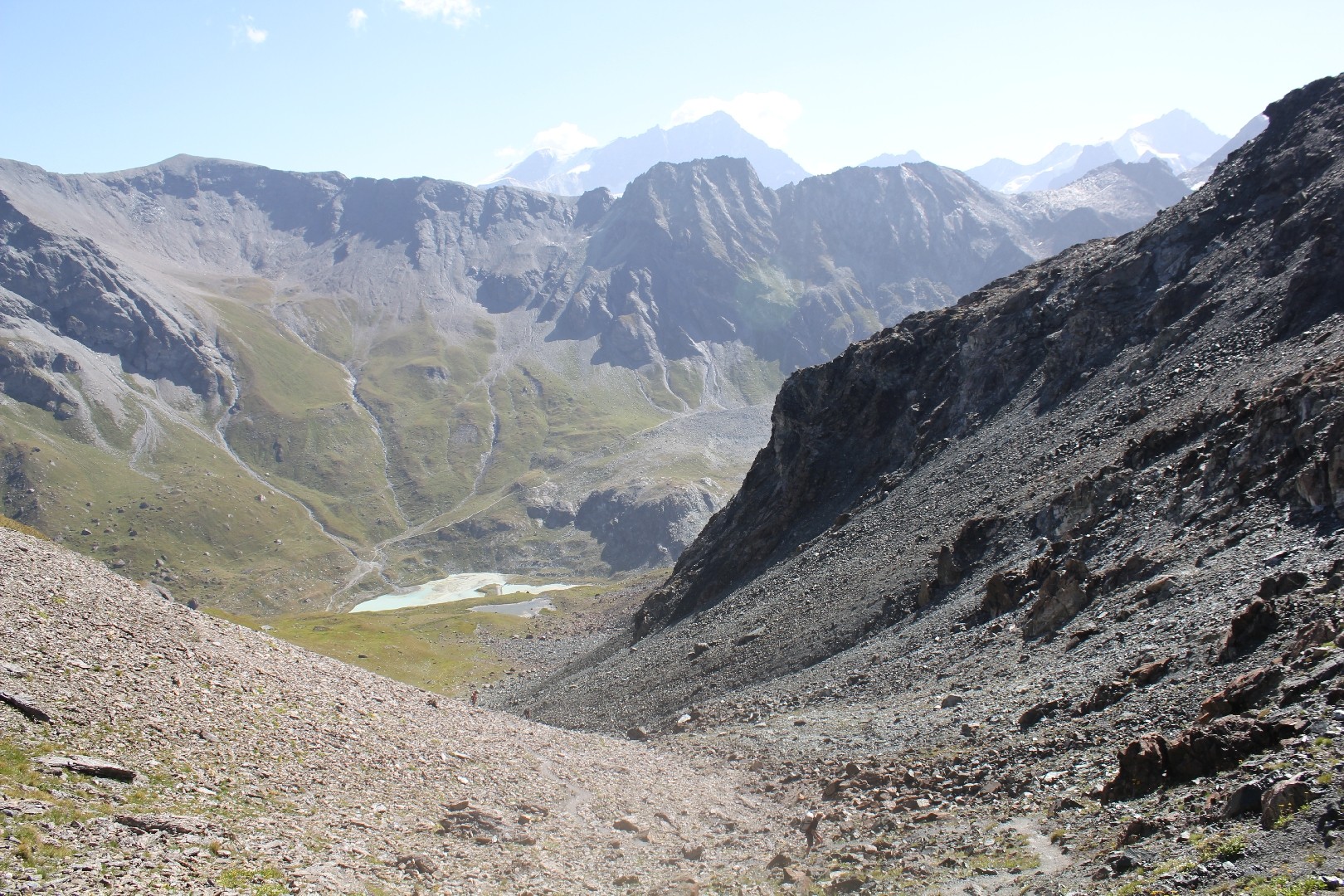 Kent's video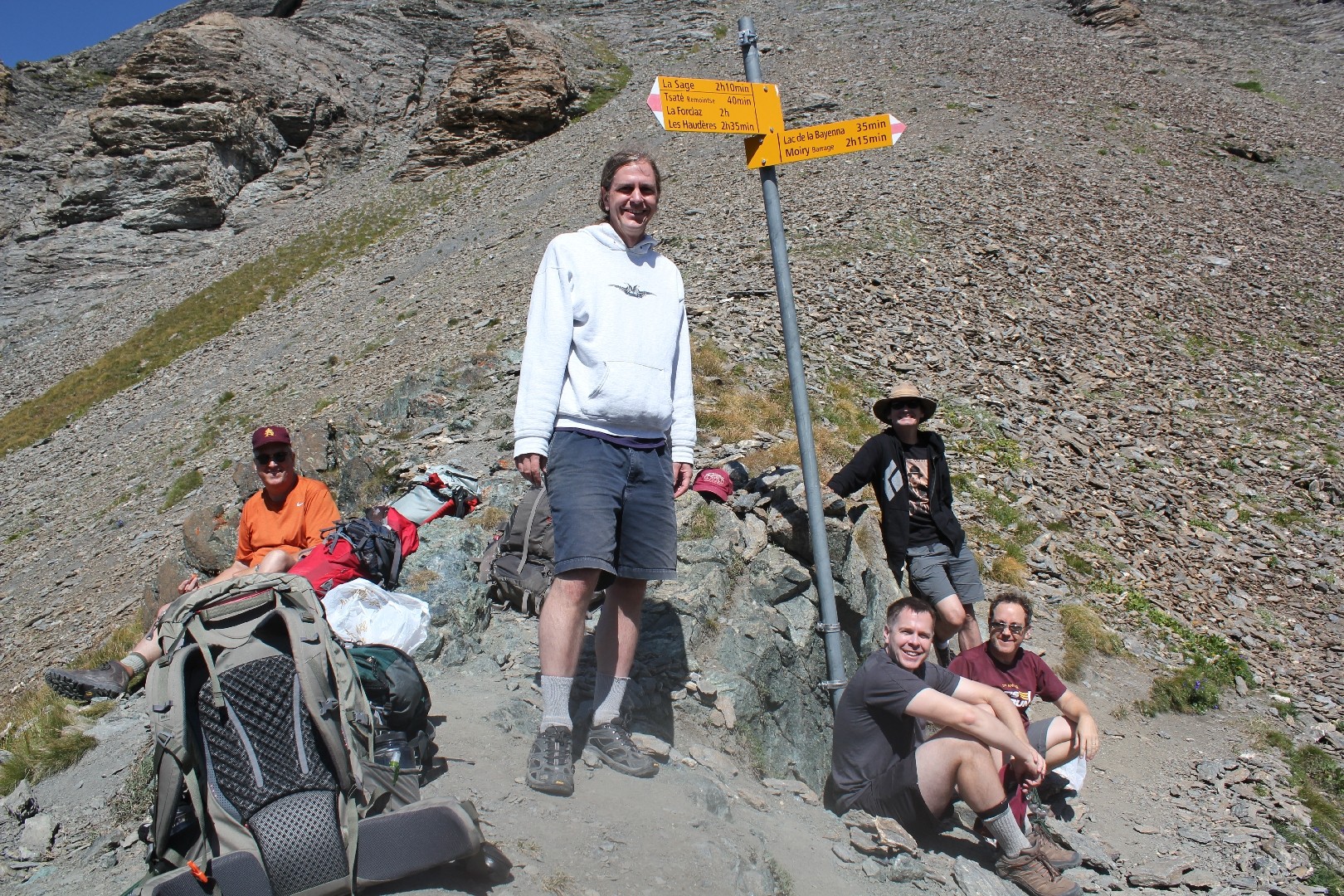 We all had arrived by about 11:30 for lunch at the Col du Tsate (elevation 2868 meters / 9409 feet). A cool breeze was blowing, which is why some of us had sweatshirts on at the top (Kent and me) and some of us are taking shelter from the wind (Paul and Ray).
We had 'only' climbed 459 meters (1506 feet) from Parking du Glacier.
We were now looking forward to 1416 meters (4646 feet) of vertical down to get to Les Haudères.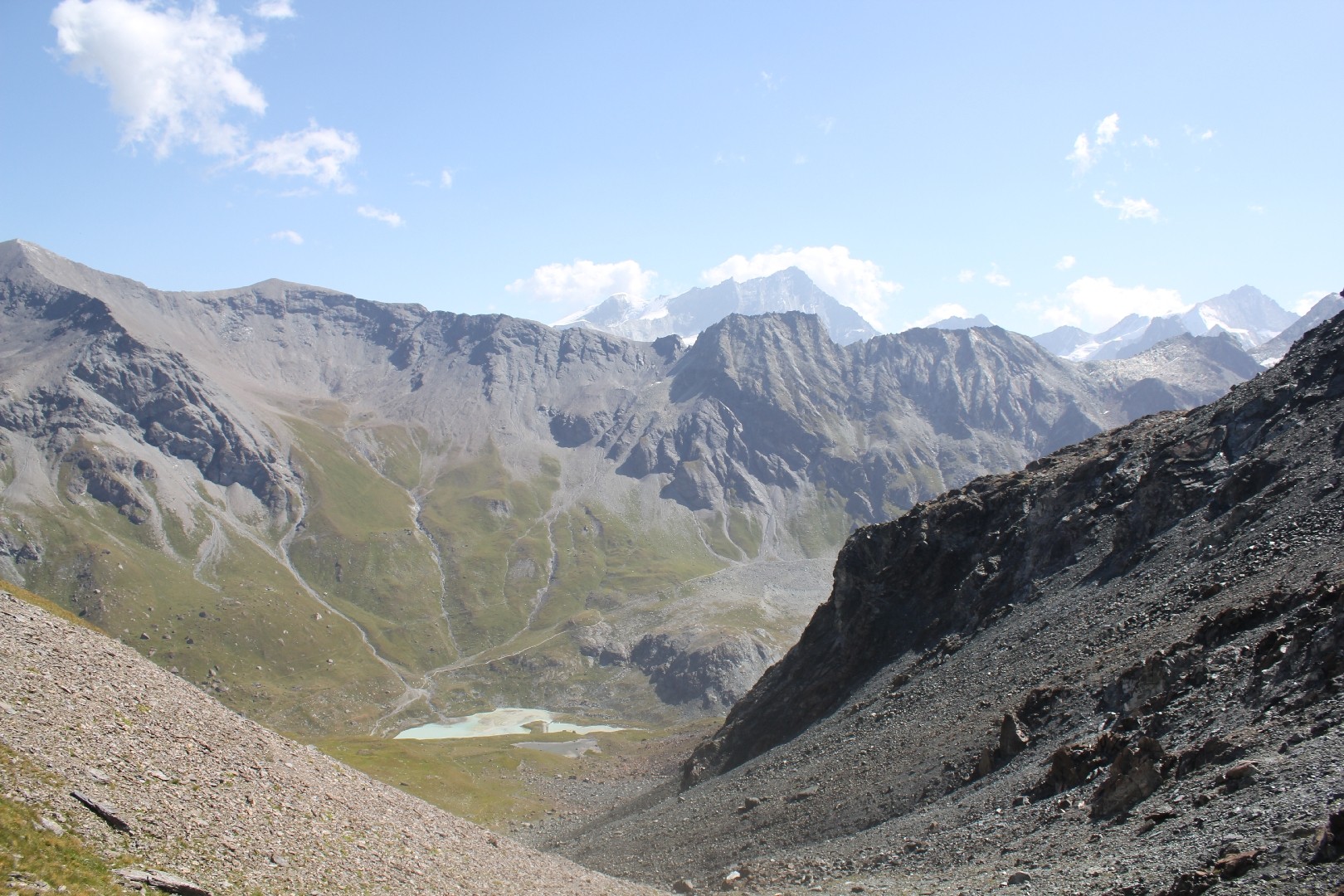 Looking southeast back the way we came toward Val de Moiry. You can clearly see the path up to Cabane de Moiry, which is hidden behind the outcropping in the foreground on the right in this picture.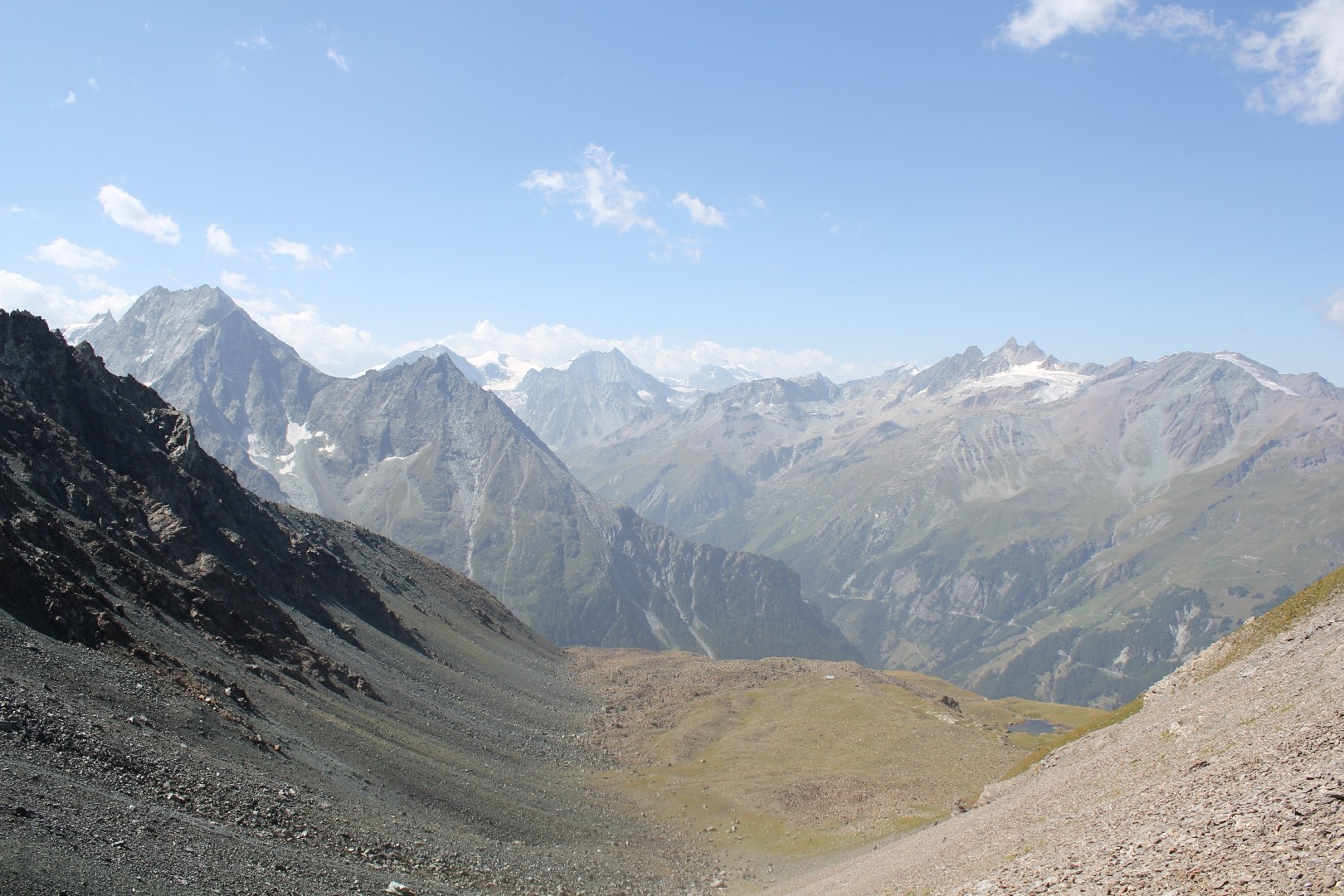 Looking southwest ahead toward Val d' Herens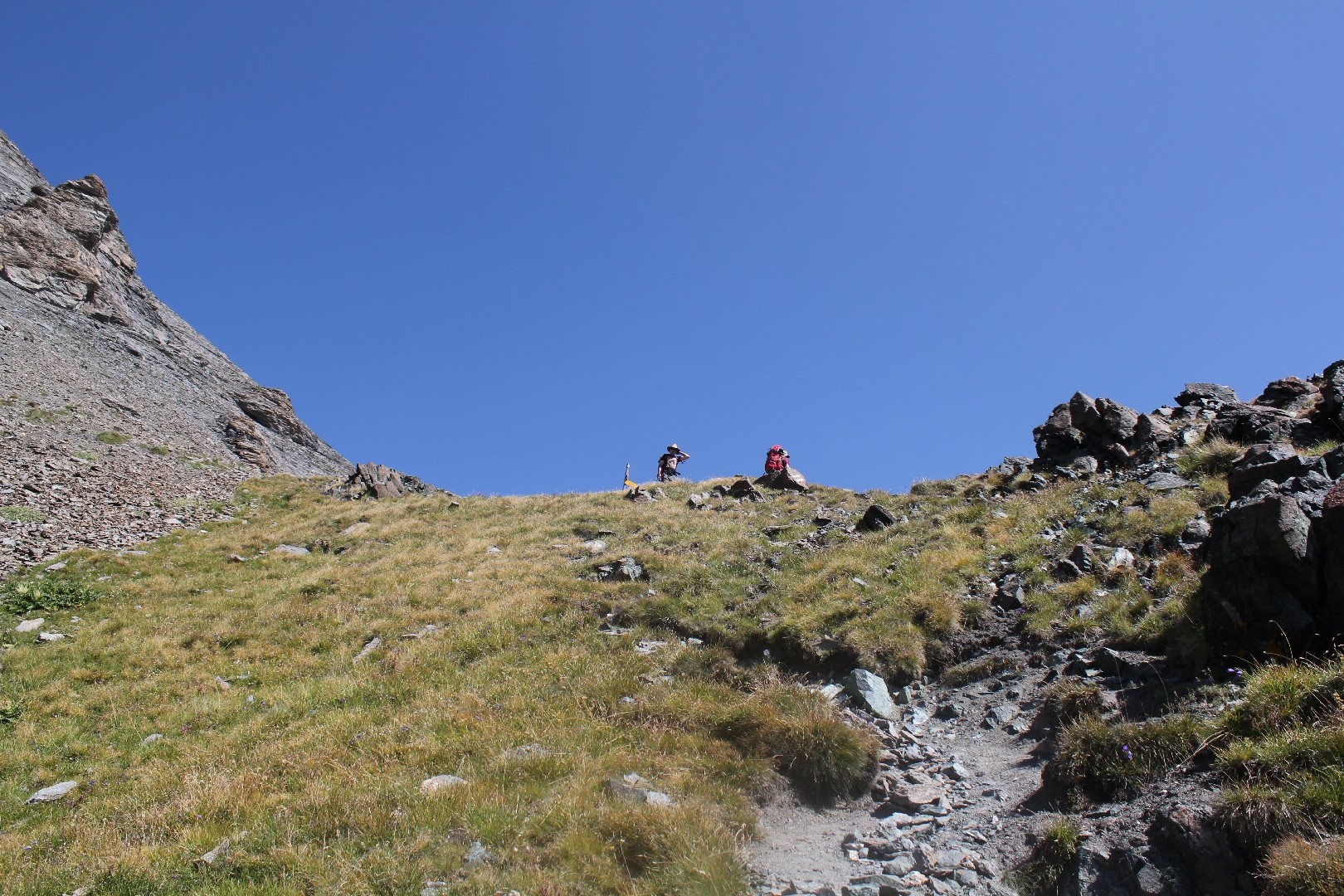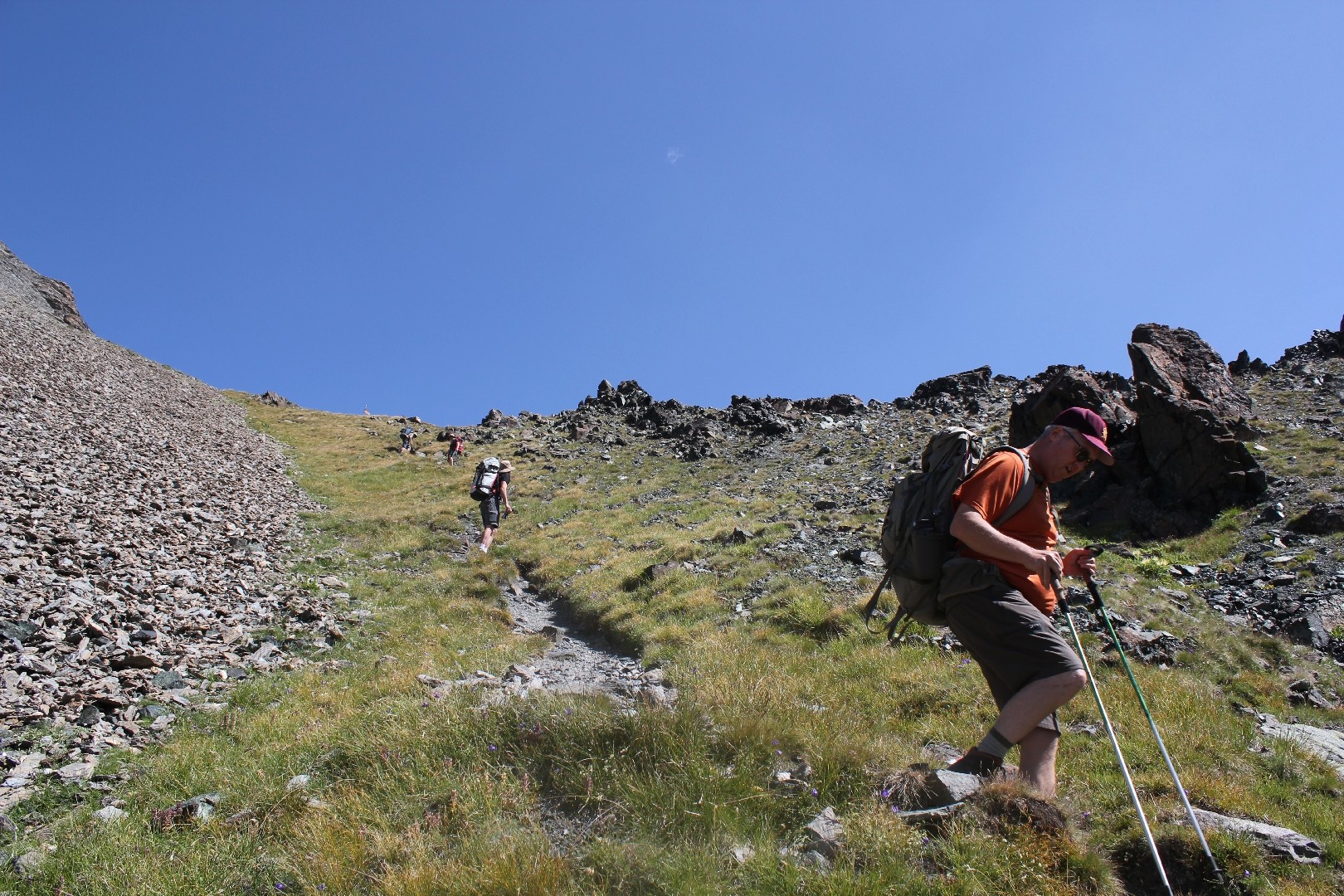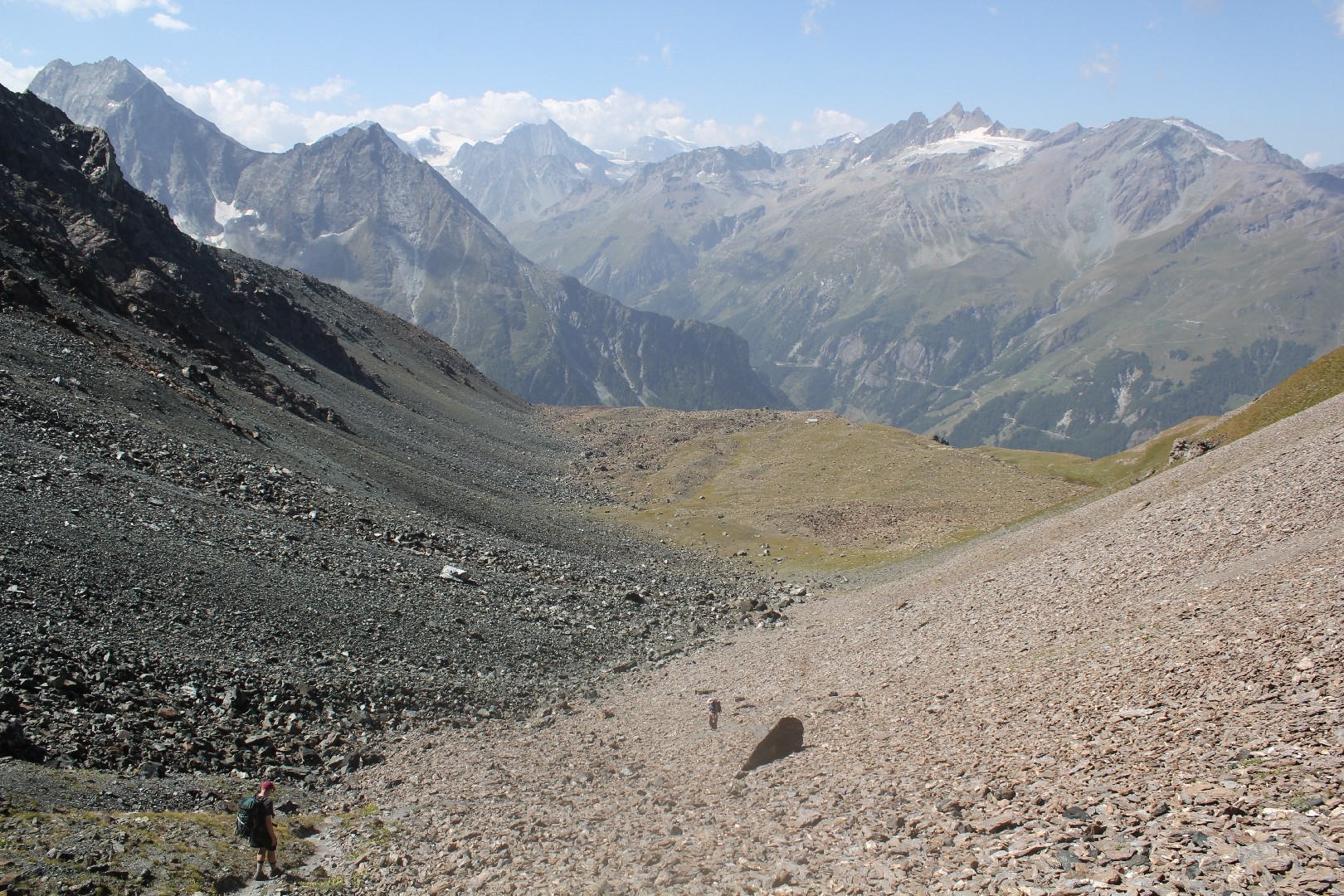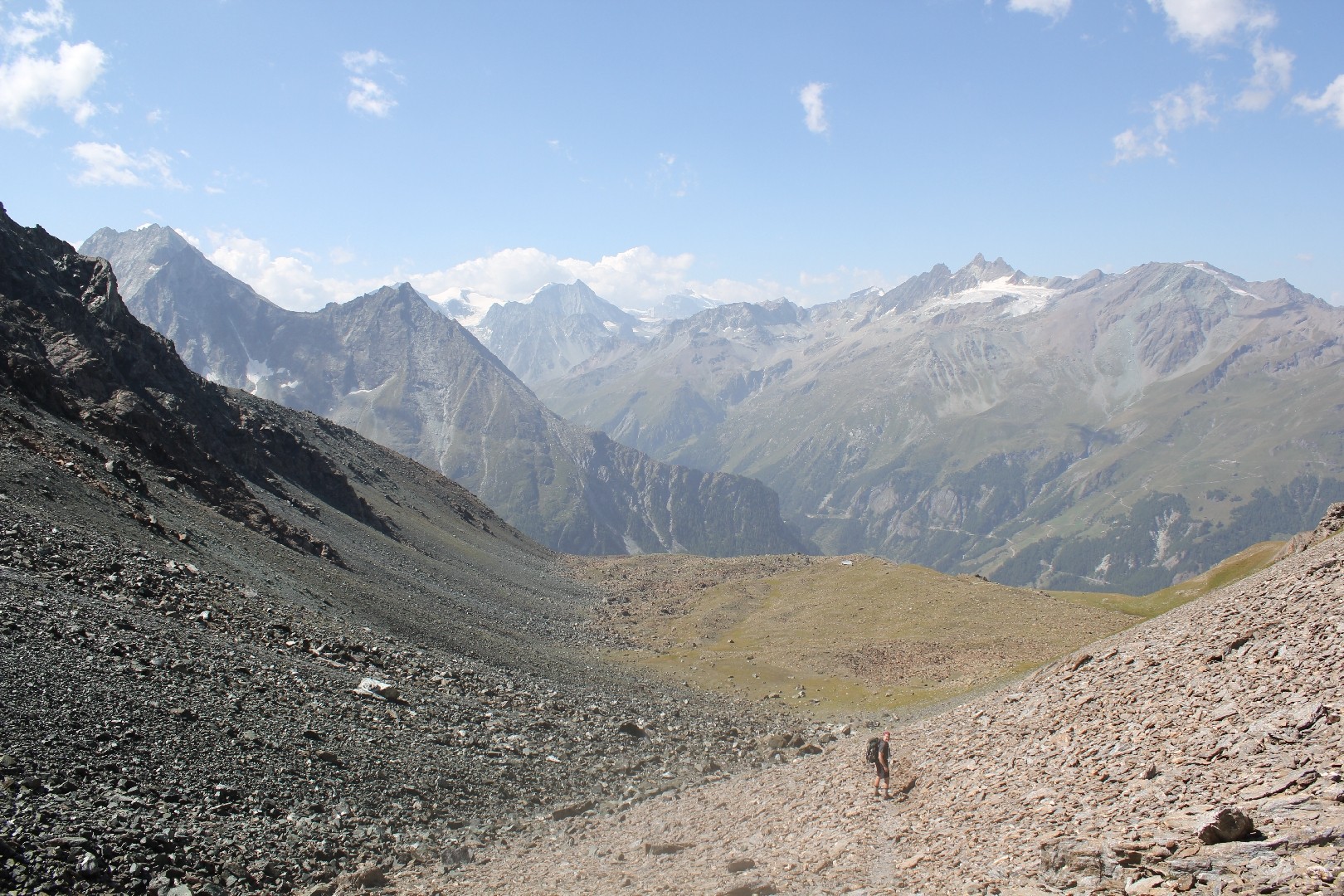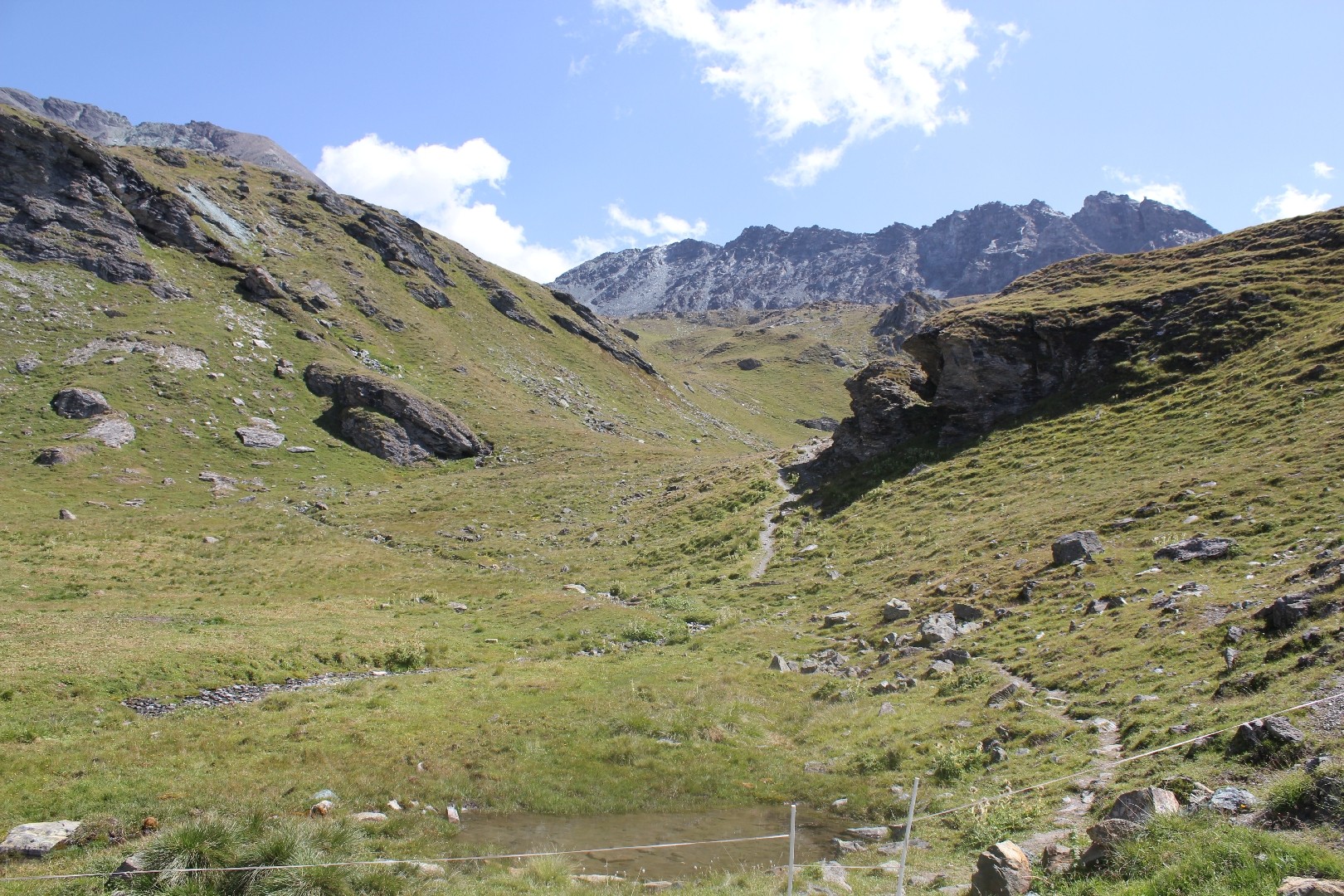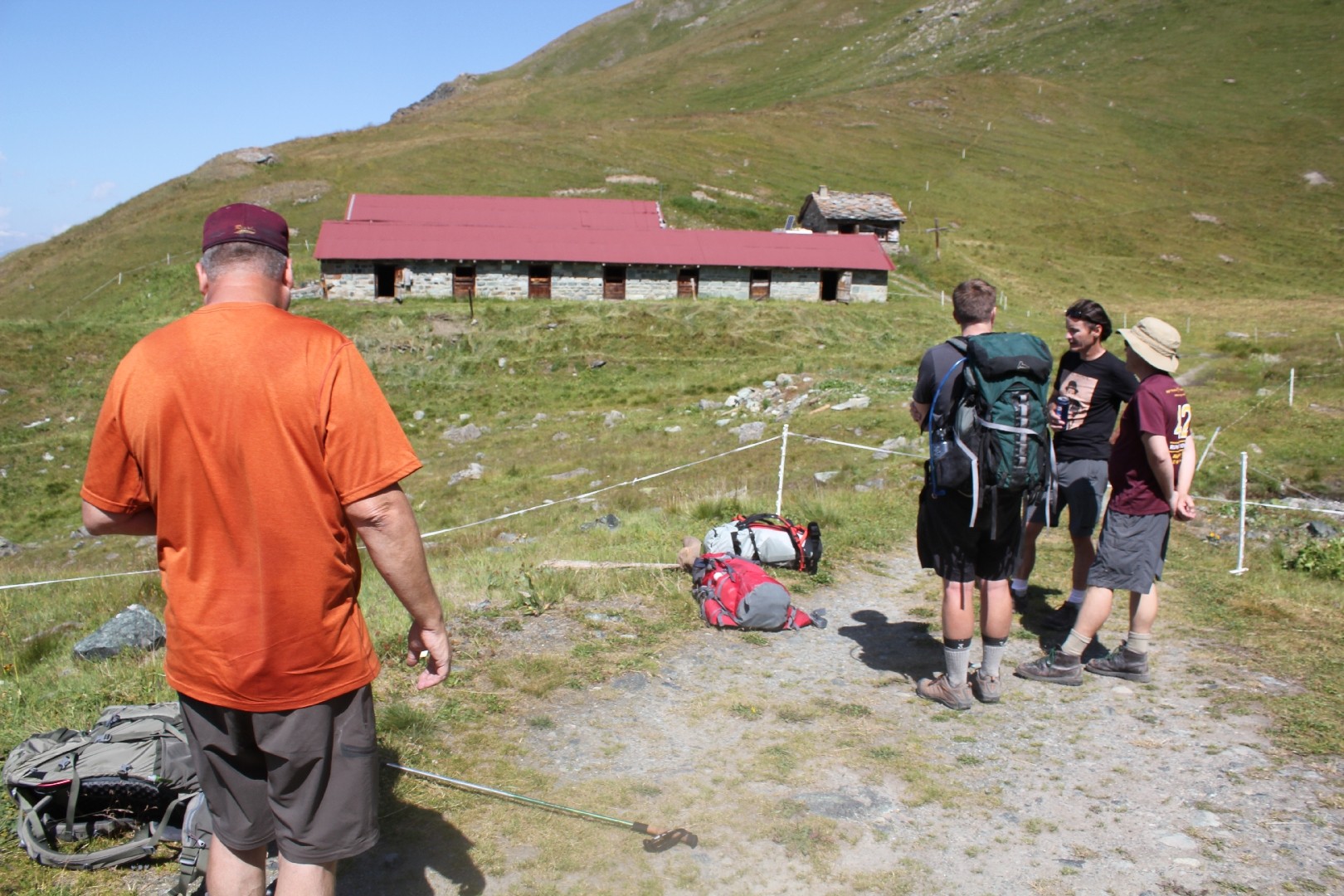 The sign on the shack to the right indicated it was the "cow-herds rest." We could see that the front door was wide open but never saw a person.
The path downhill led straight past the barn. I led the way. When I got to the open barn door, I could barely see cattle inside.


Kent's video

The dirt road down from the cow-herds rest switches back and forth down the mountain below.
Mike took the road down instead.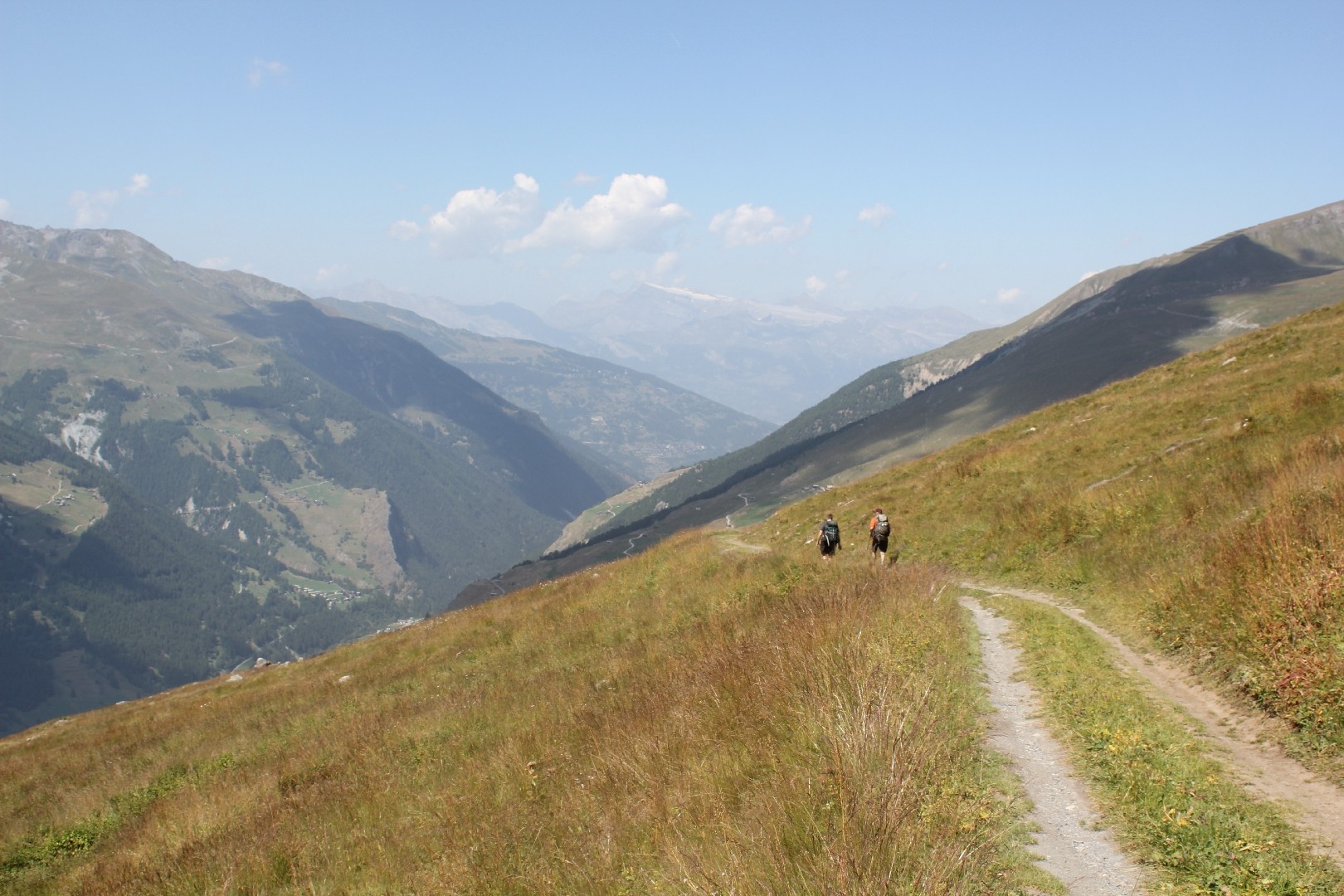 We didn't have to wait very long for Mike to catch up. Once Mike caught up to us, he continued on the road. Paul went with him, while Kent, Ray and I continued down the very vertical path.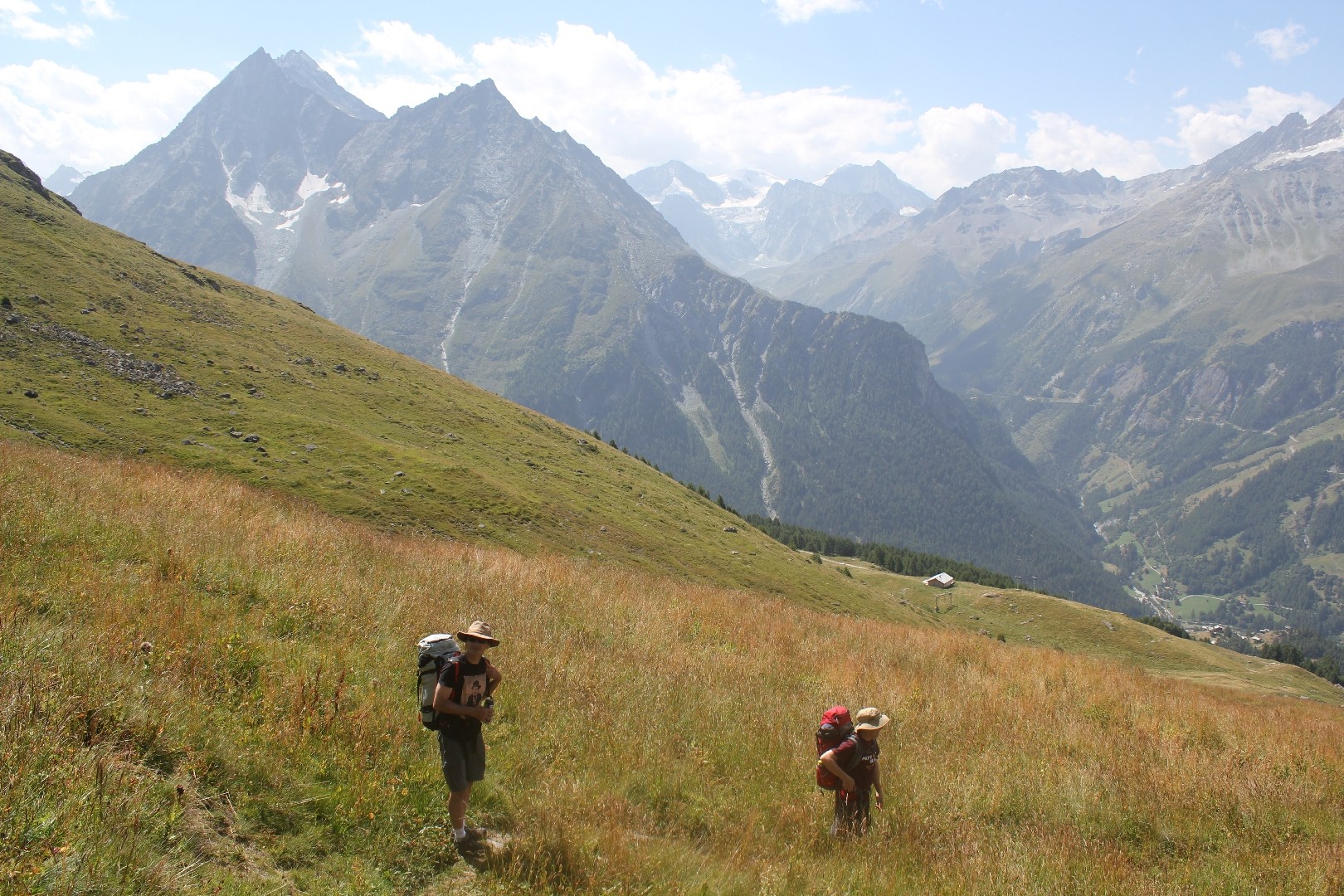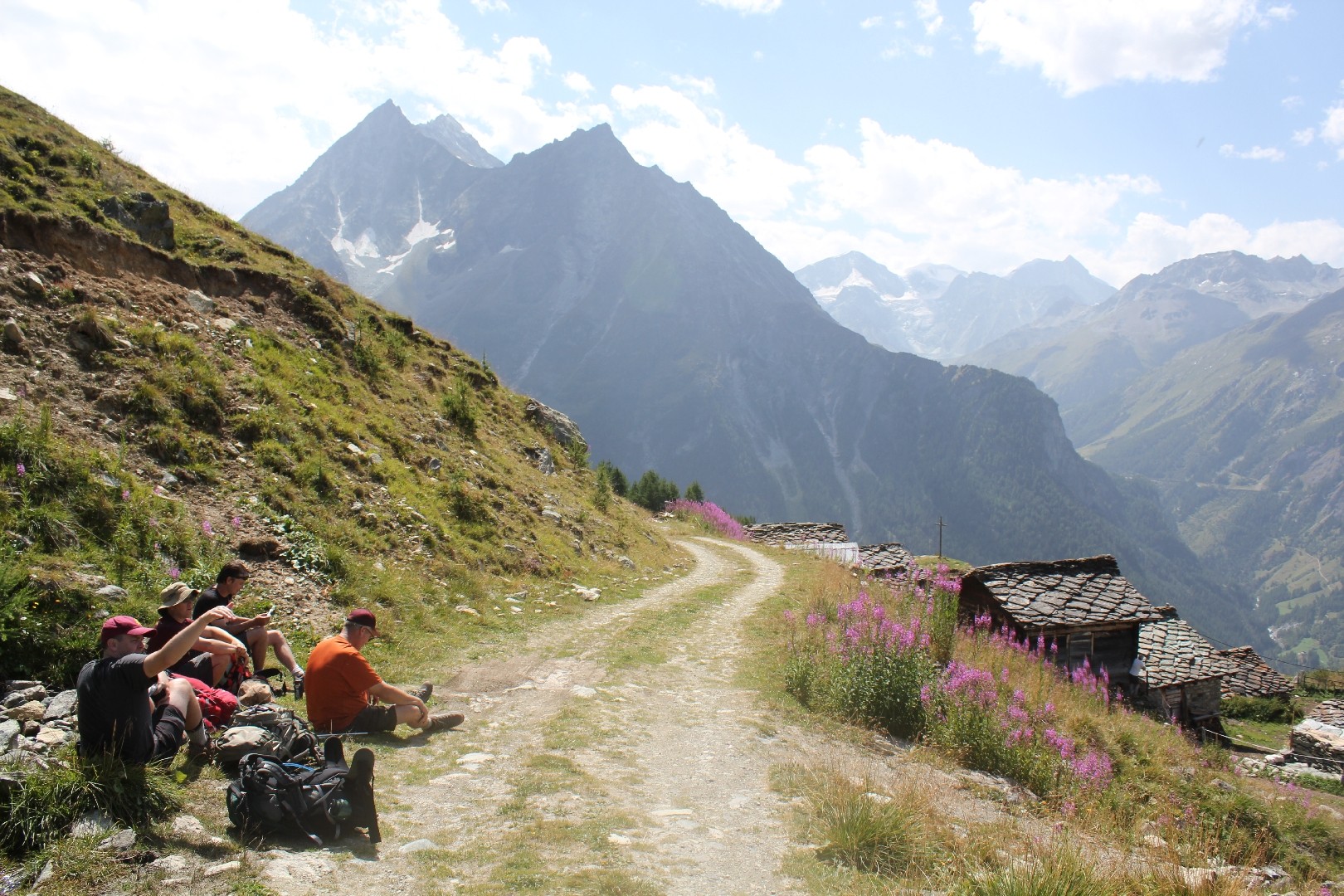 Everyone else took a break in Le Tsaté at 1:30 (elevation 2146m / 7040 feet) while I took dozens of pictures.

Soon we were navigating our way down the trail as it criss crossed a number of roads and other trails. Navigation was never too big a problem as our route was clearly the most well marked trail down. The ski lifts also made very useful landmarks, since they were on the maps.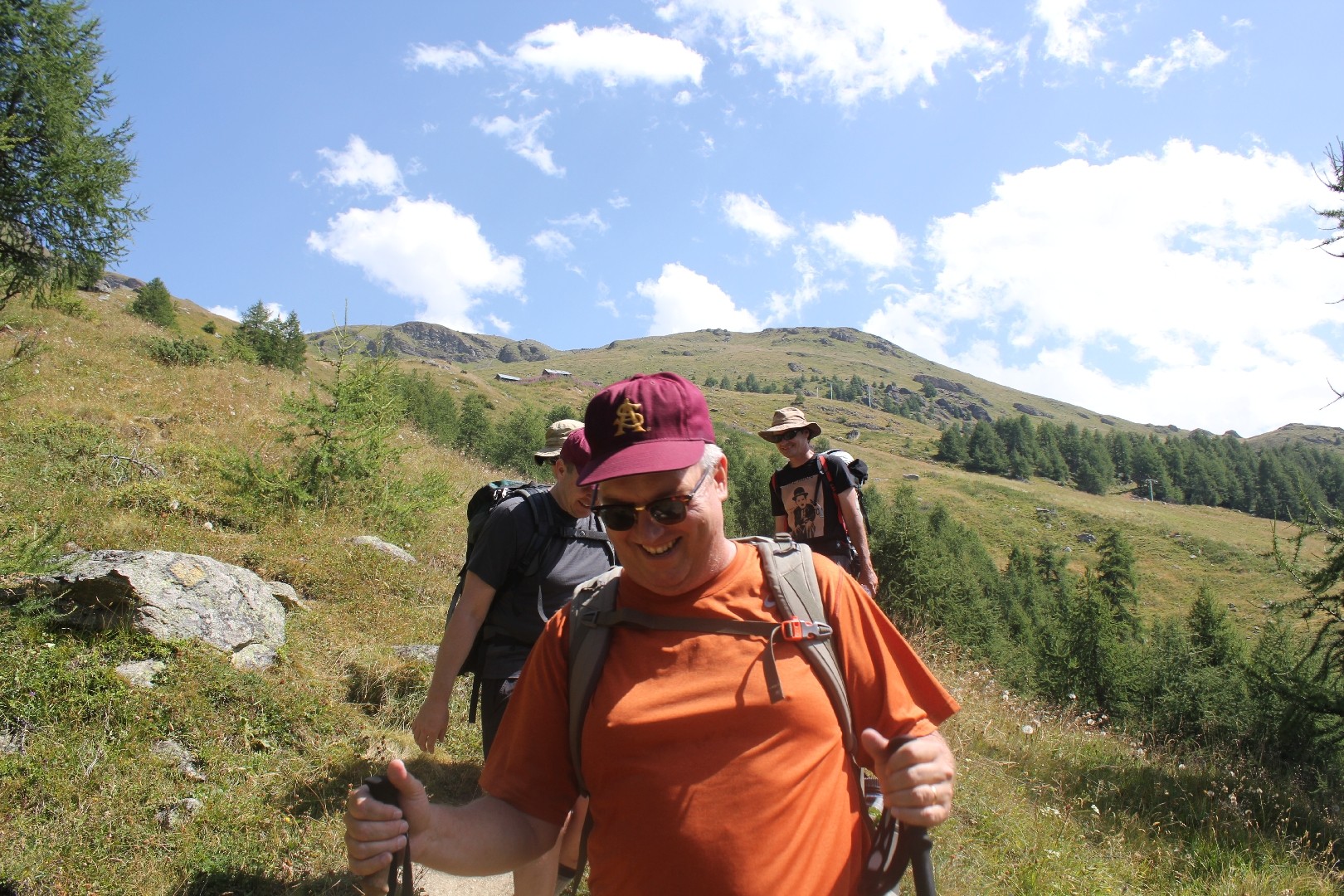 There's a gap of about an hour here where we were in the trees and no one took pictures.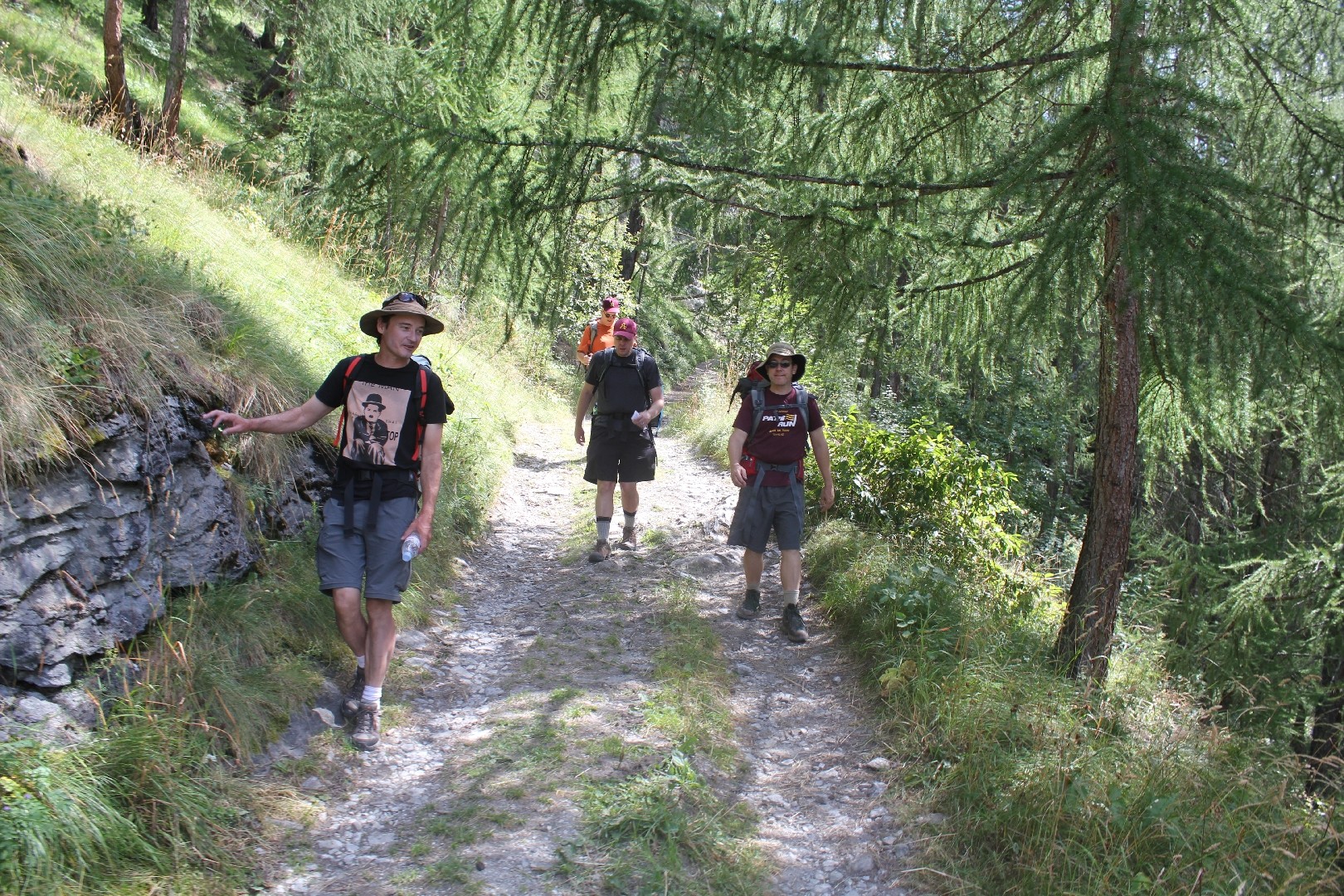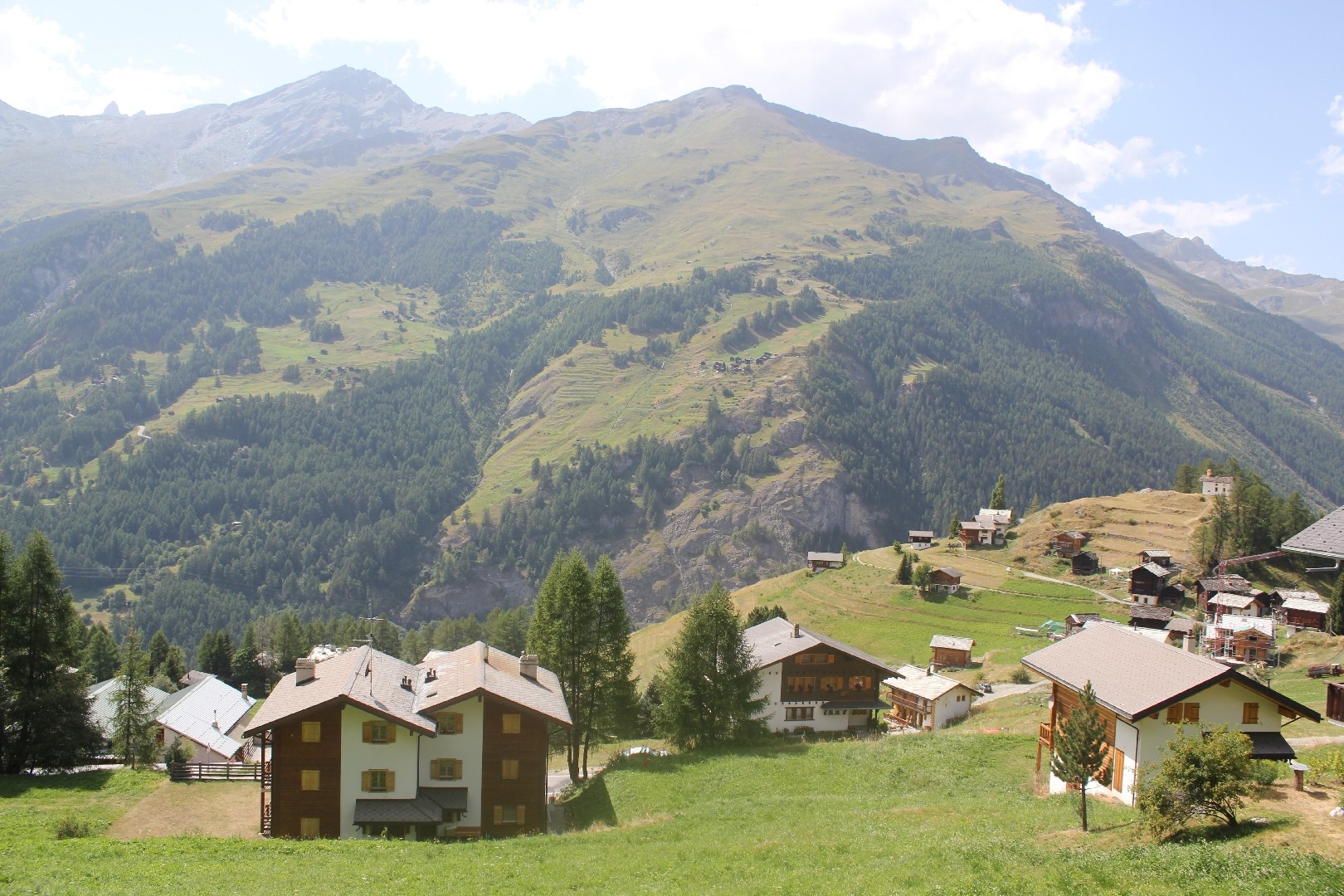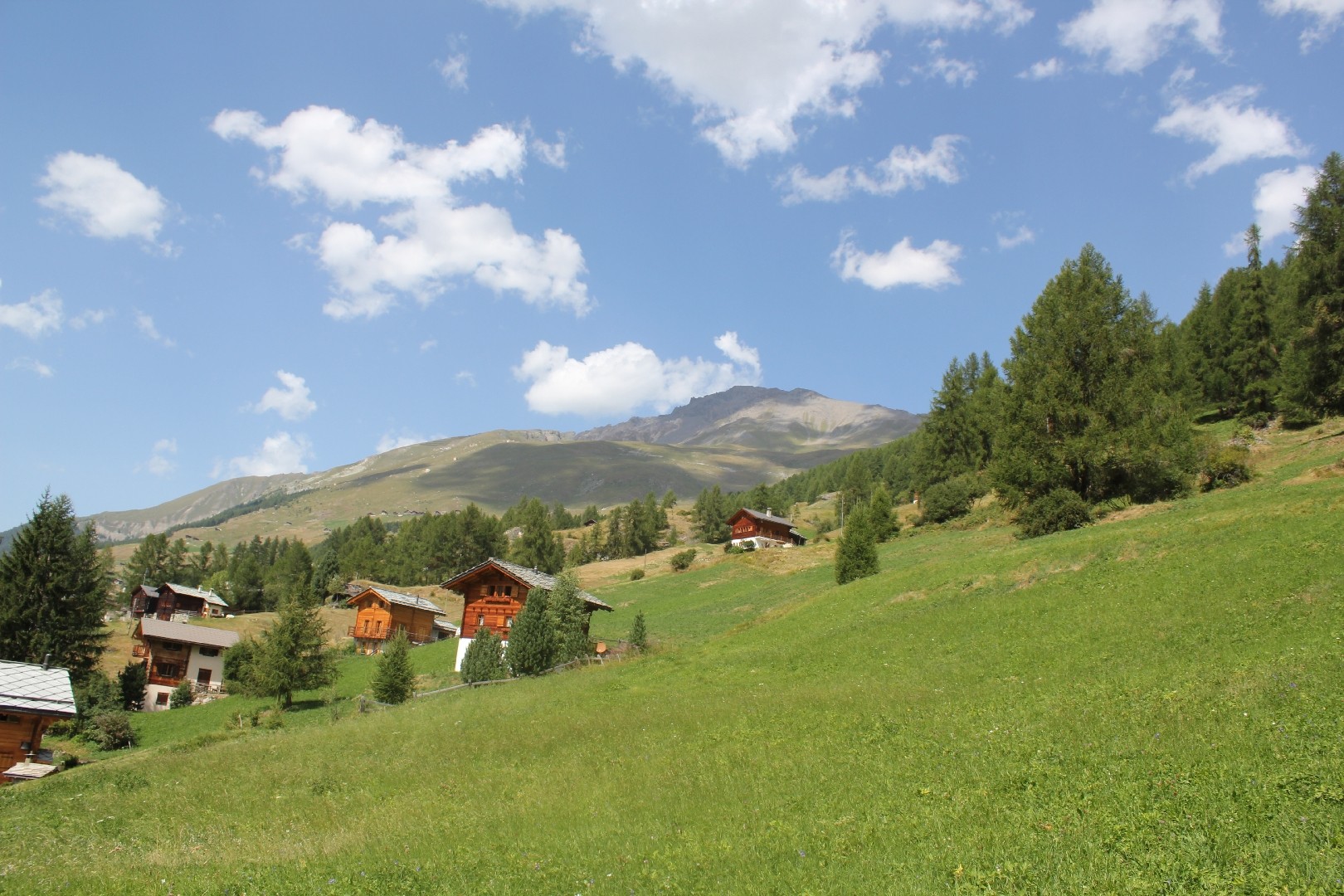 The suburbs of La Sage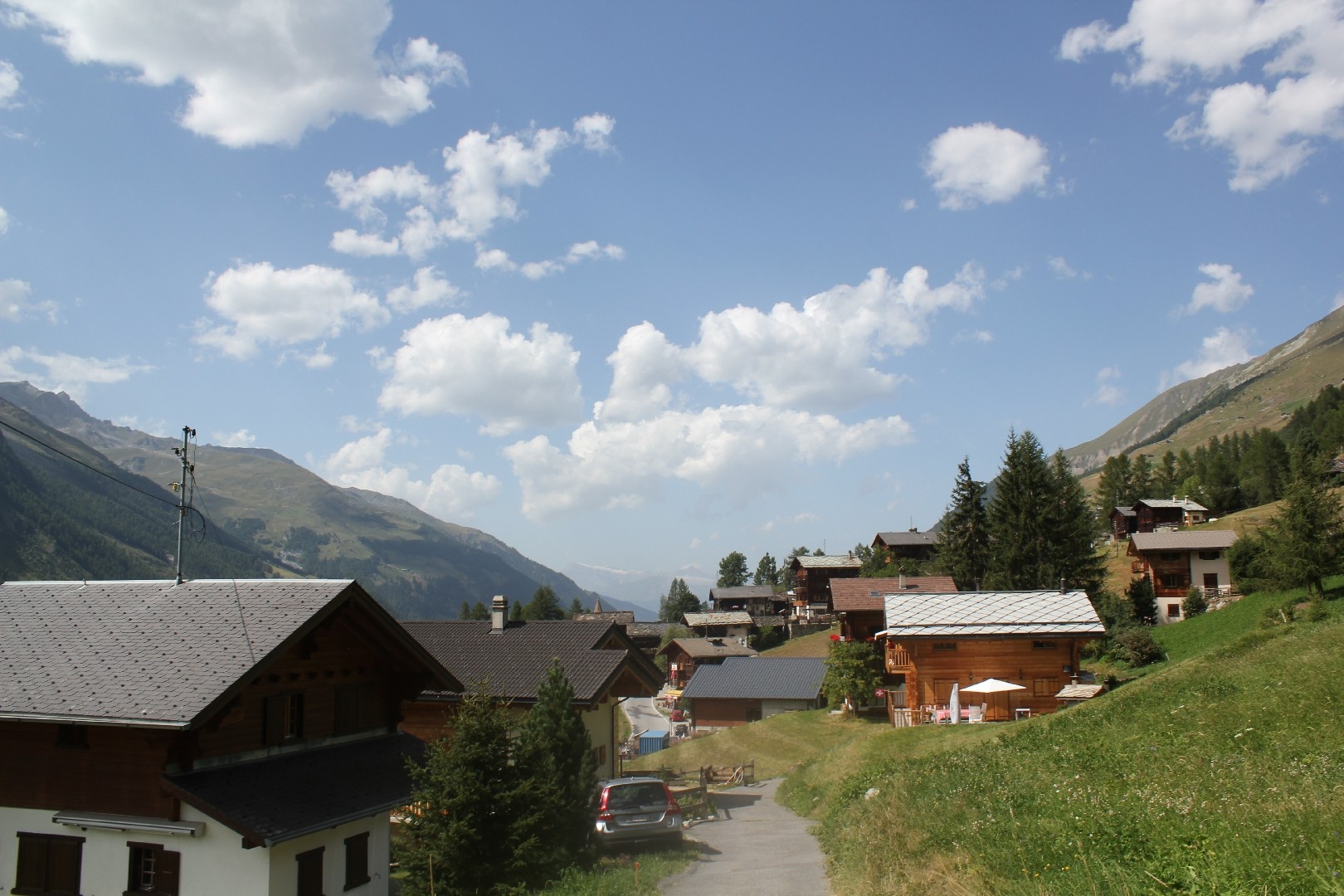 Downtown La Sage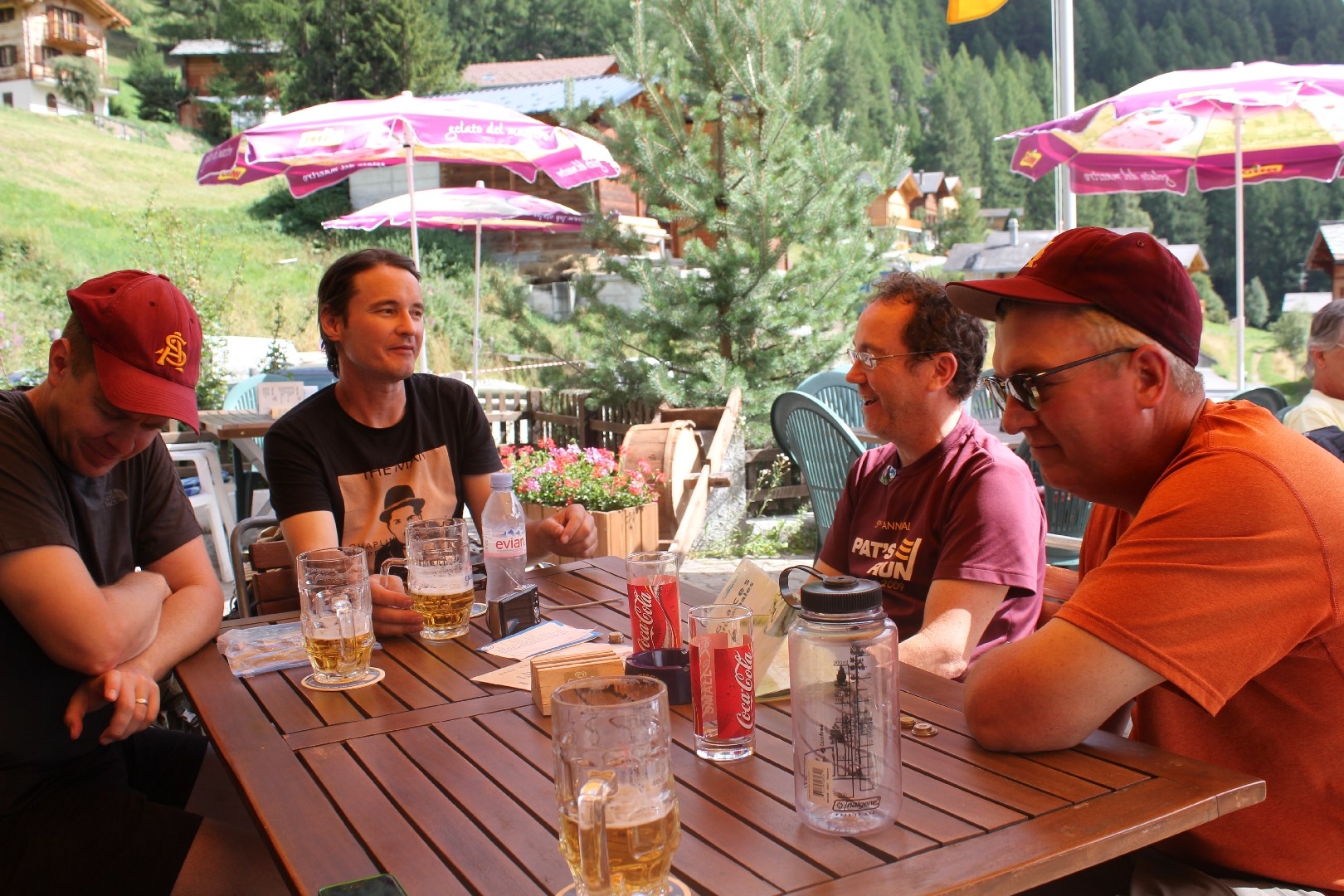 Some of us had been drinking nearly all day. Most (all?) of us had been drinking beer since the Col.
We stopped for beer just before 3pm in La Sage. There was almost nothing to this town, which is why I choose to get rooms in Les Haudères in the bottom of the valley instead.
I was originally worried when I saw a bus go by since I knew it would be hours before the next bus, but soon realized that walking down into Les Haudères on a gorgeous sunny day instead of riding the bus would not be a problem.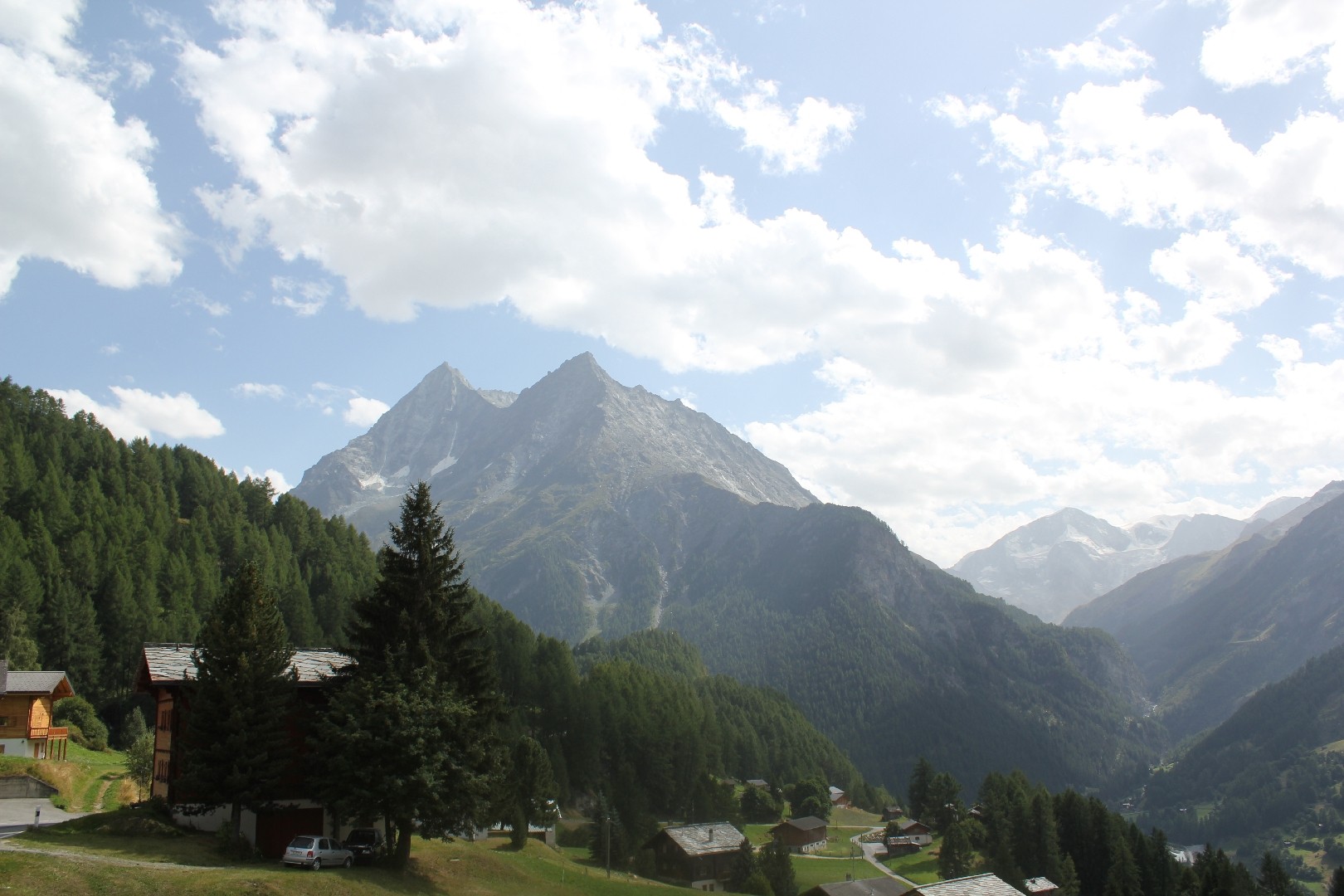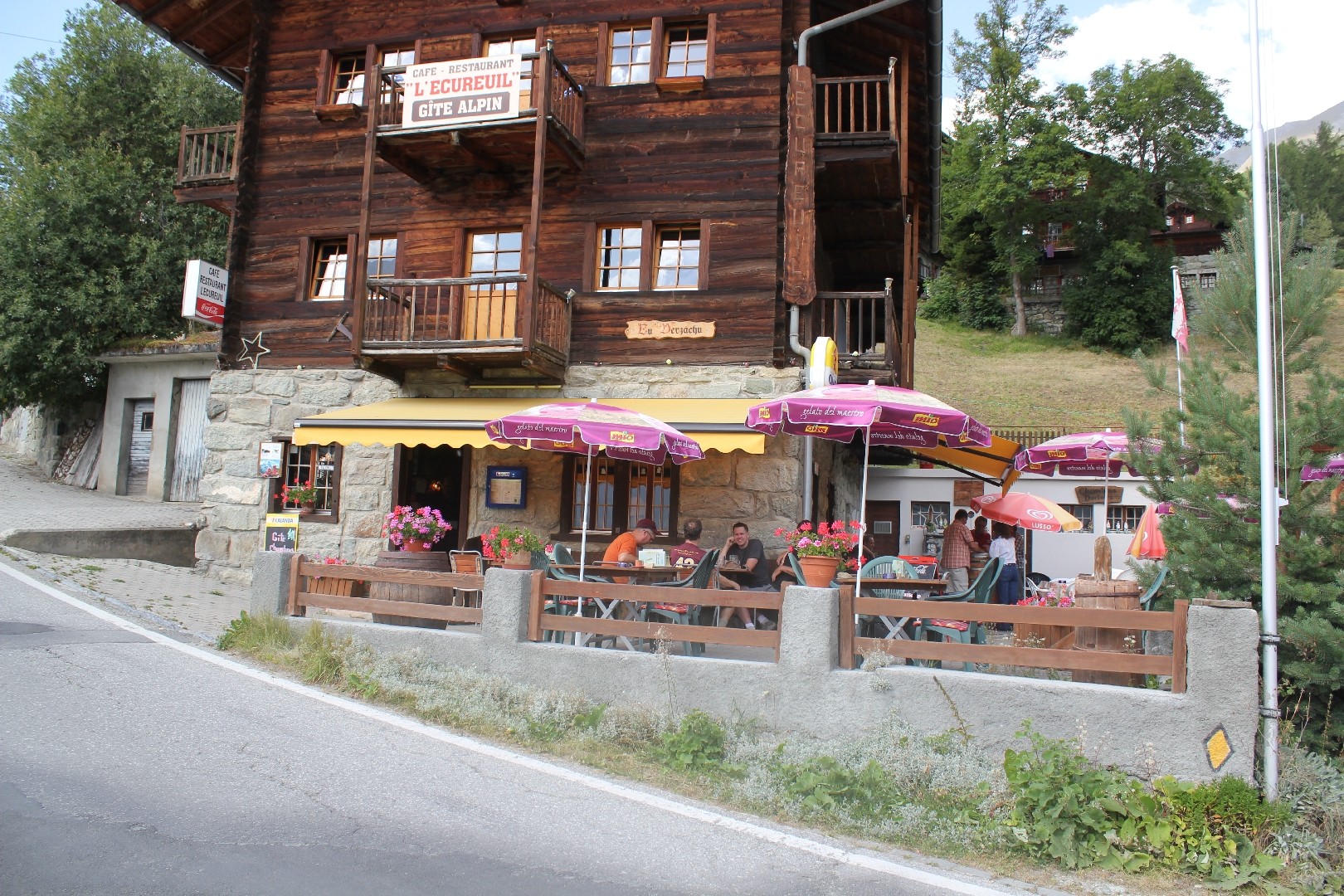 The staff (owners?) was pretty attentive - they were drinking at the table in back on the right. We were the only customers and they were glad we there. Ray and I switched to Coke instead of beer, I was getting dehydrated. We stayed at the bar for about 90 minutes, until around 4:30.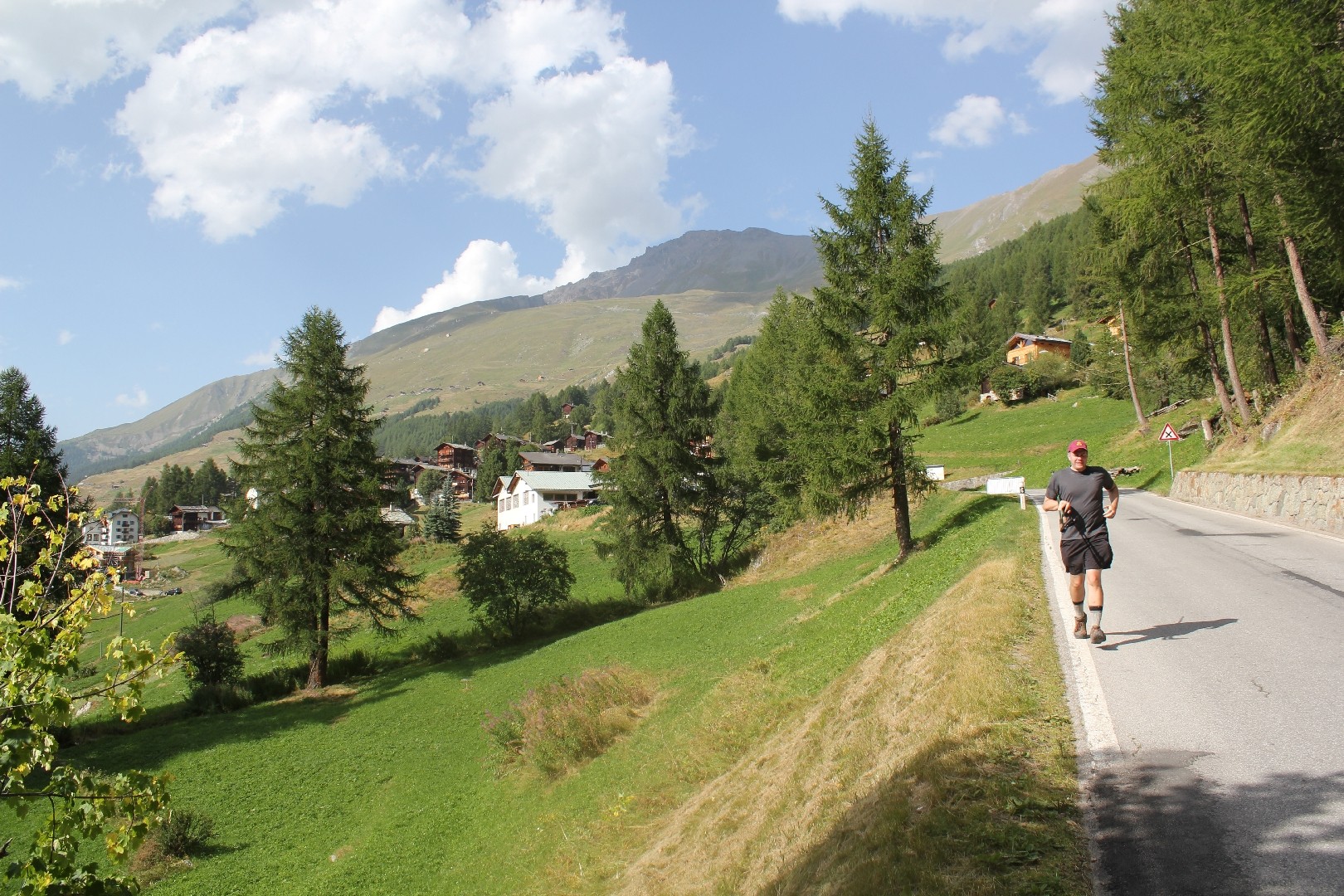 Mike had been using Kent's hiking poles, but realized that he'd left them at the bar. Paul immediately volunteered to run - yes, run - back up to get them. Goes to show what enough beer will do for your judgement :)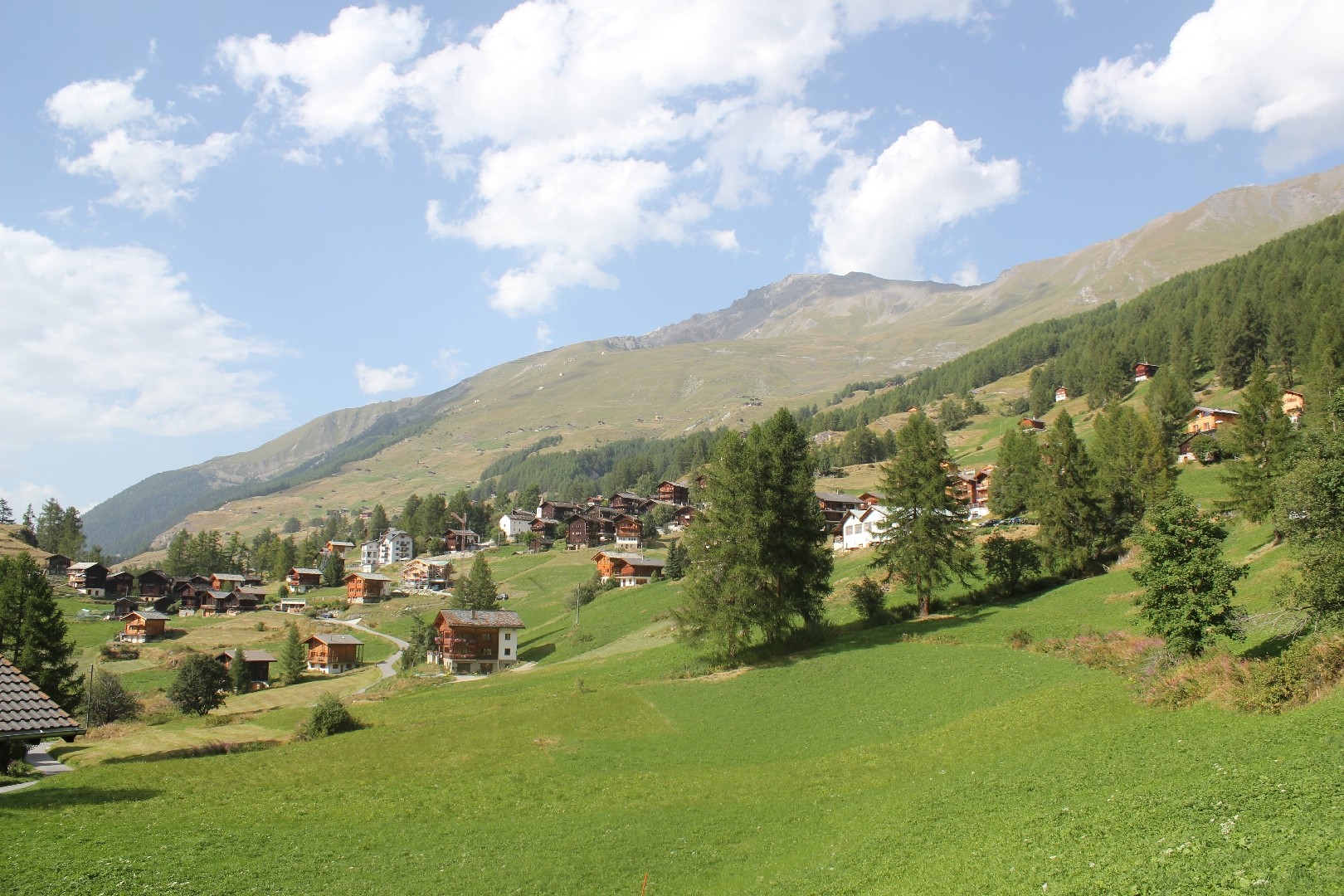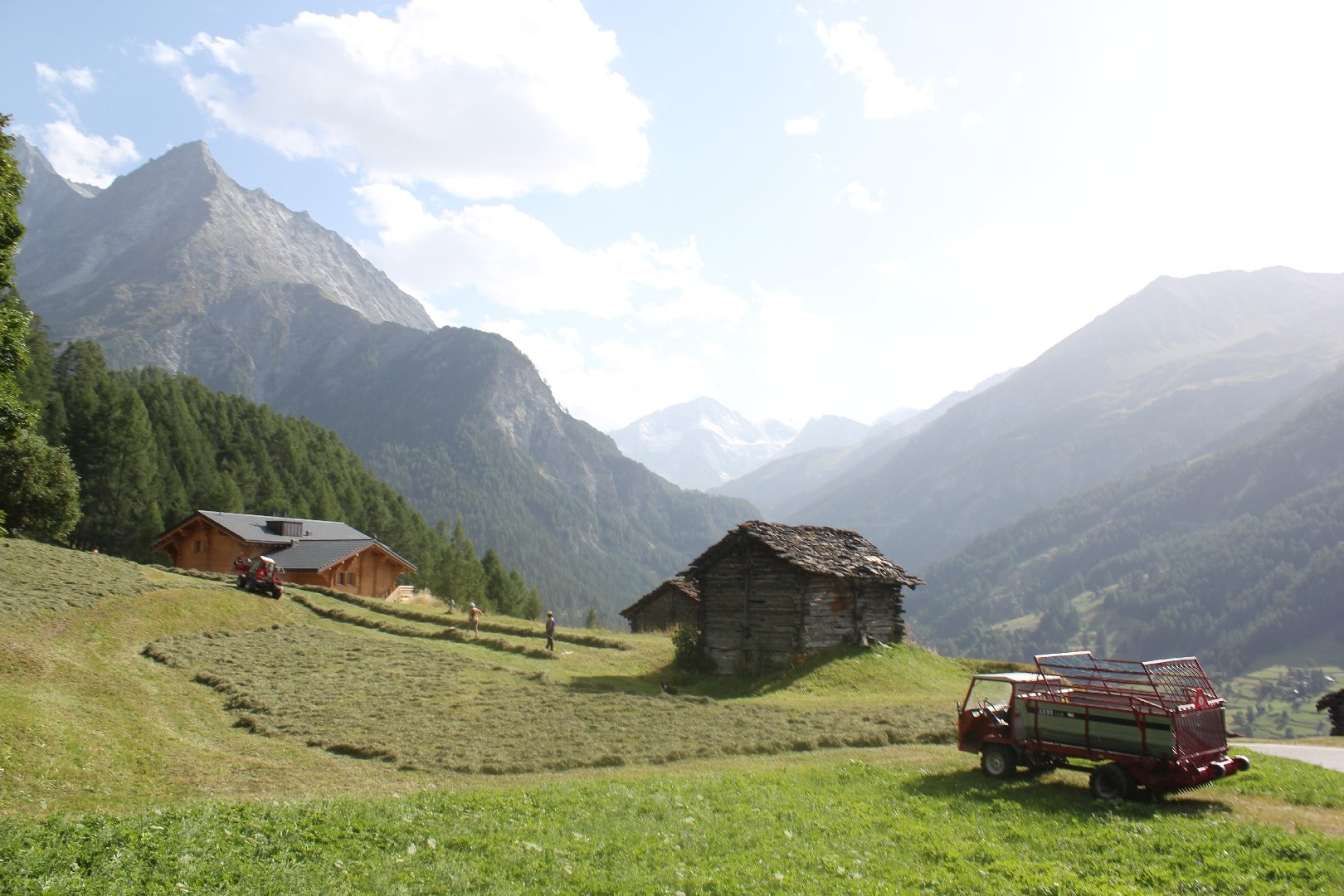 my video

Paul's video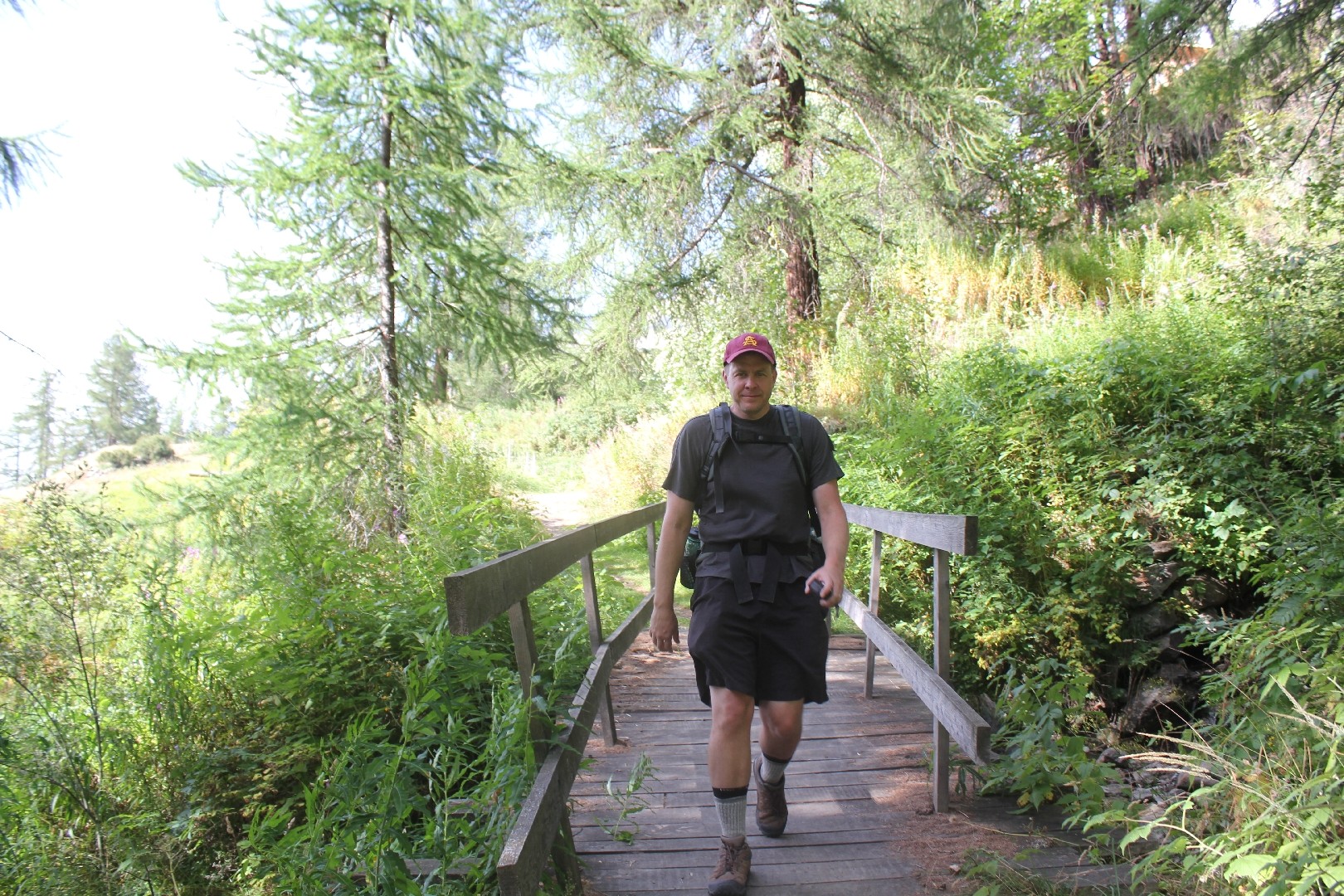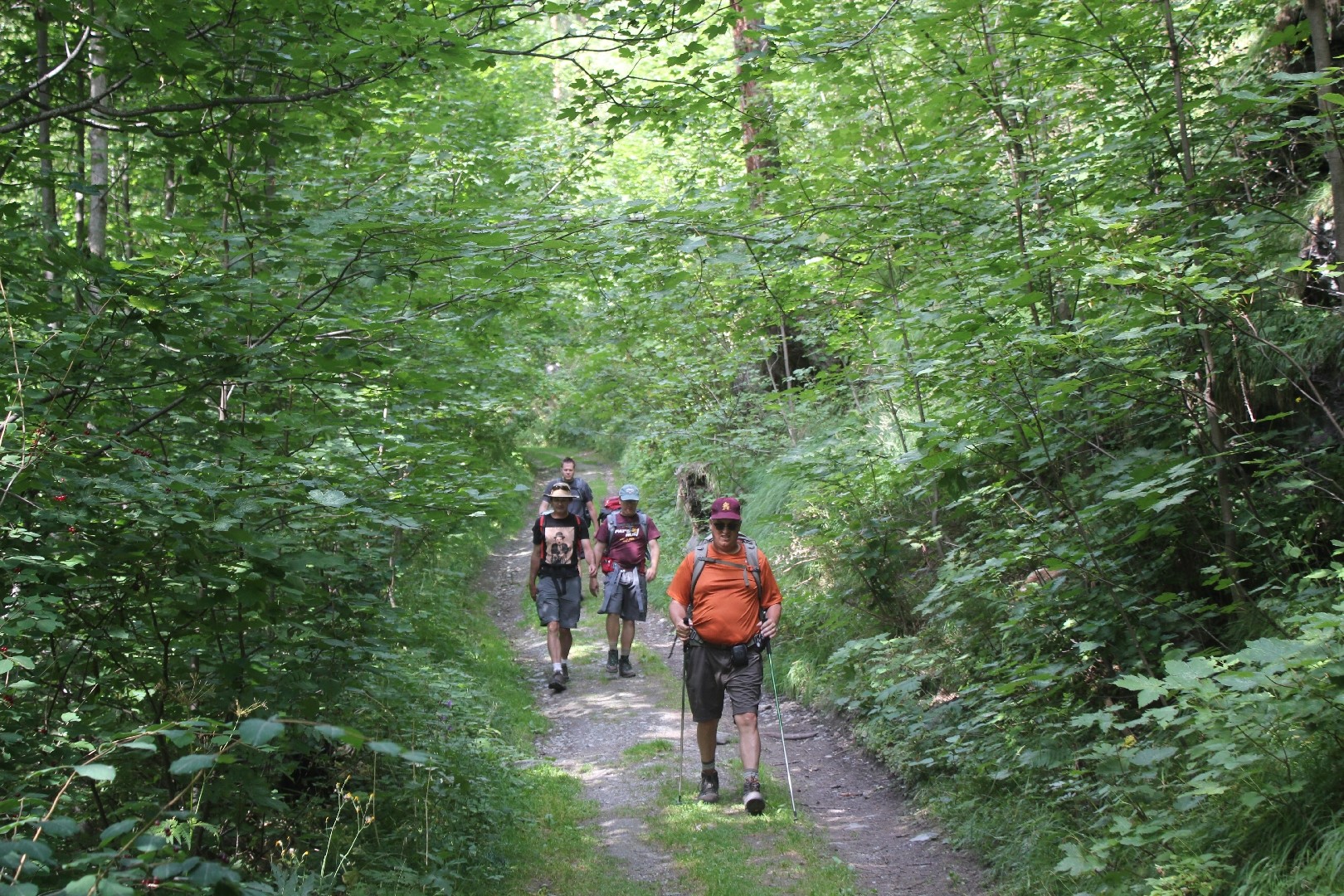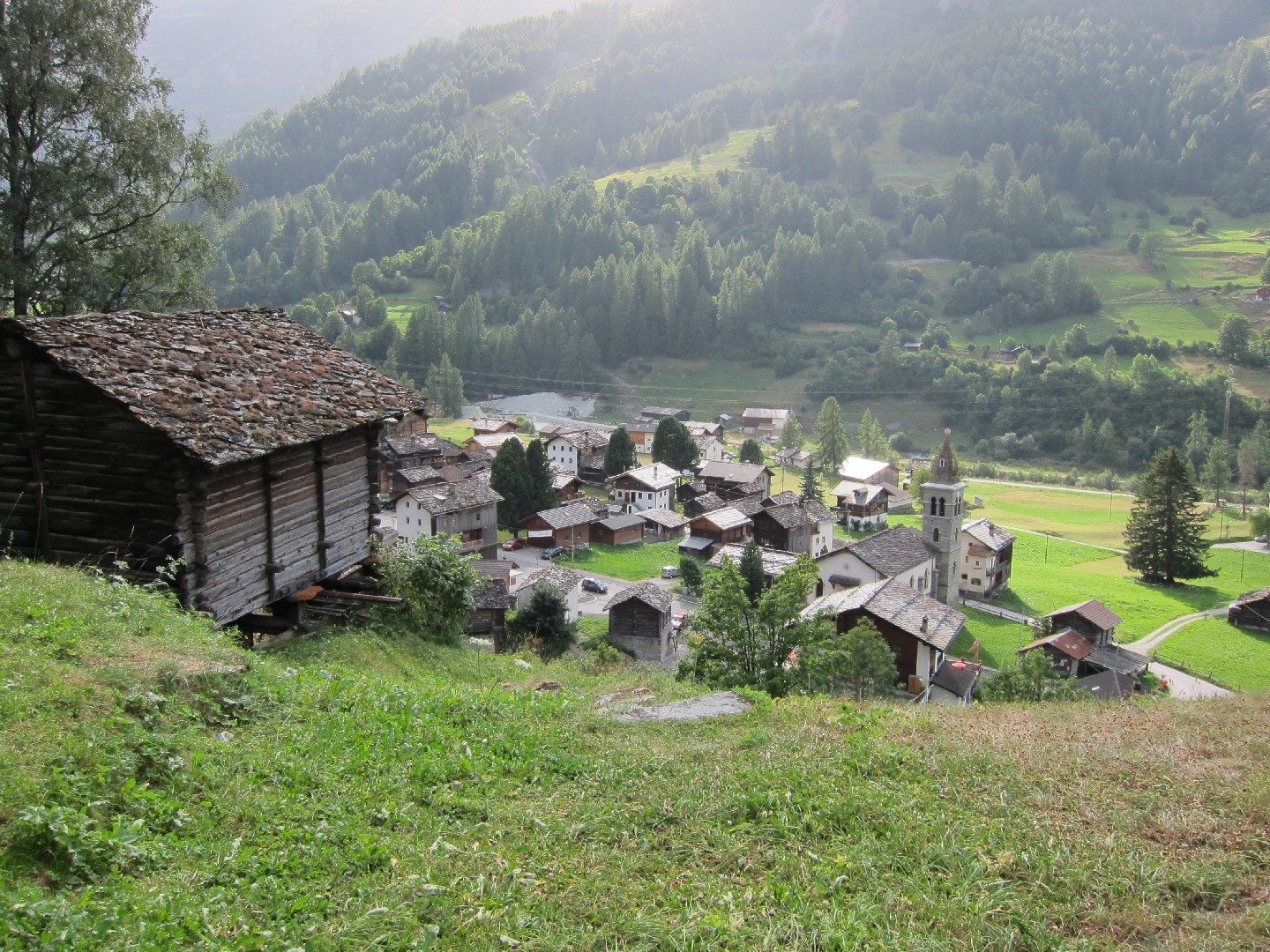 Paul's picture of Les Haudères - the town was not easy to photograph from our trail due to the trees. We didn't know it at the time, but our hotel is just this side of the church, partially hidden behind the trees below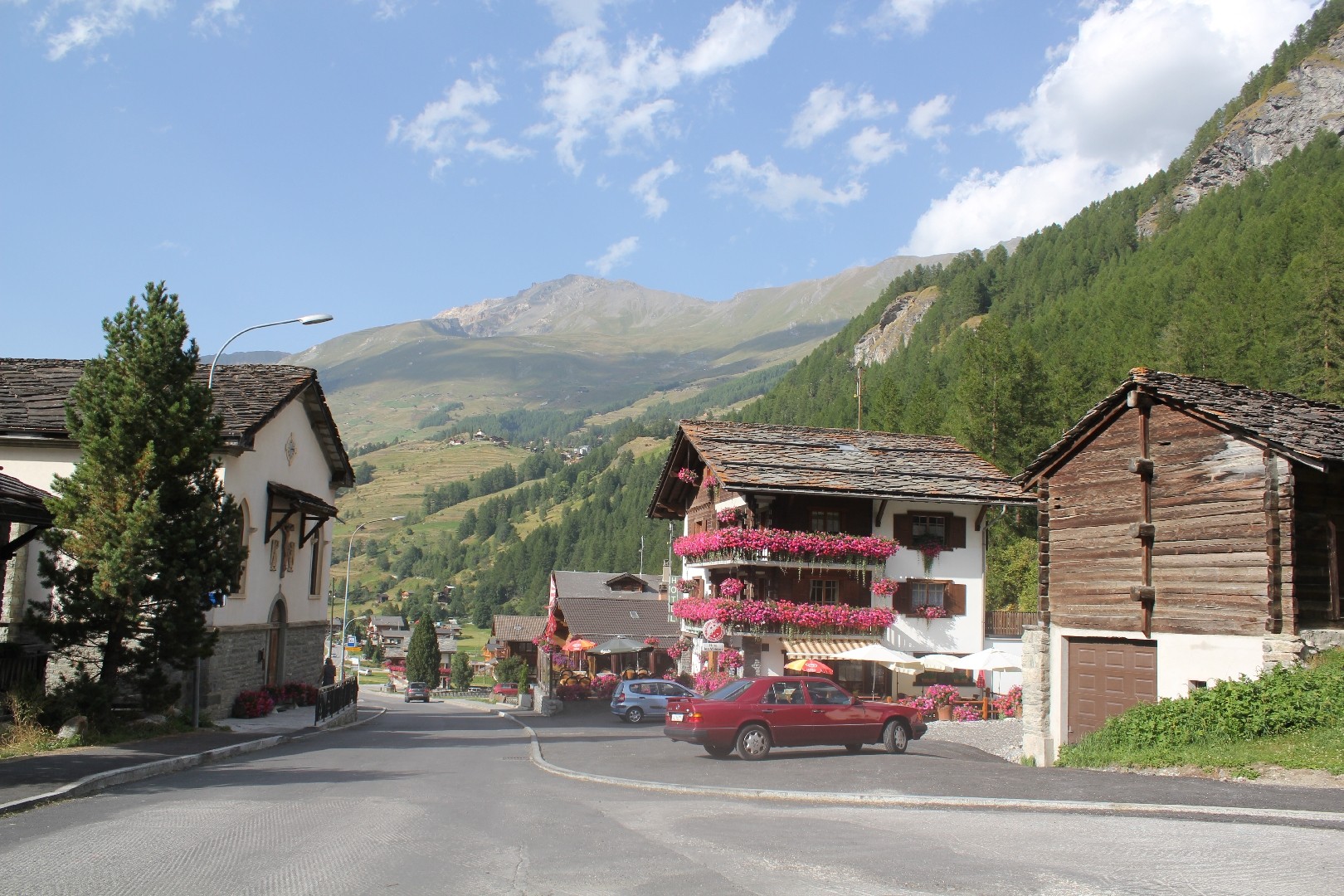 Hotel Melezes is on the right

Les Haudères was pretty dead - while it was a bigger town than La Sage, there were very few people out and about.
It took a while to find someone who understood our poor pronounciation of the hotel's name so we could find it.
I had been saying 'Les Ha-de-res' for the name of the town, pronoucing it like you would a Spanish name.
Actual pronounciation we discovered upon arrival - 'lay-zay-dare'.
This was one of the few French pronounciations I could remember and repeat properly. I was hopeless on nearly all the rest.

They asked when we checked in if we would be having dinner at the hotel. I told them I'd get back to them shortly after we settled in. We decided to eat there, having no desire to scope out the alternatives. It was pretty clear we were the only guests there. From all appearances we were given the best rooms in the hotel.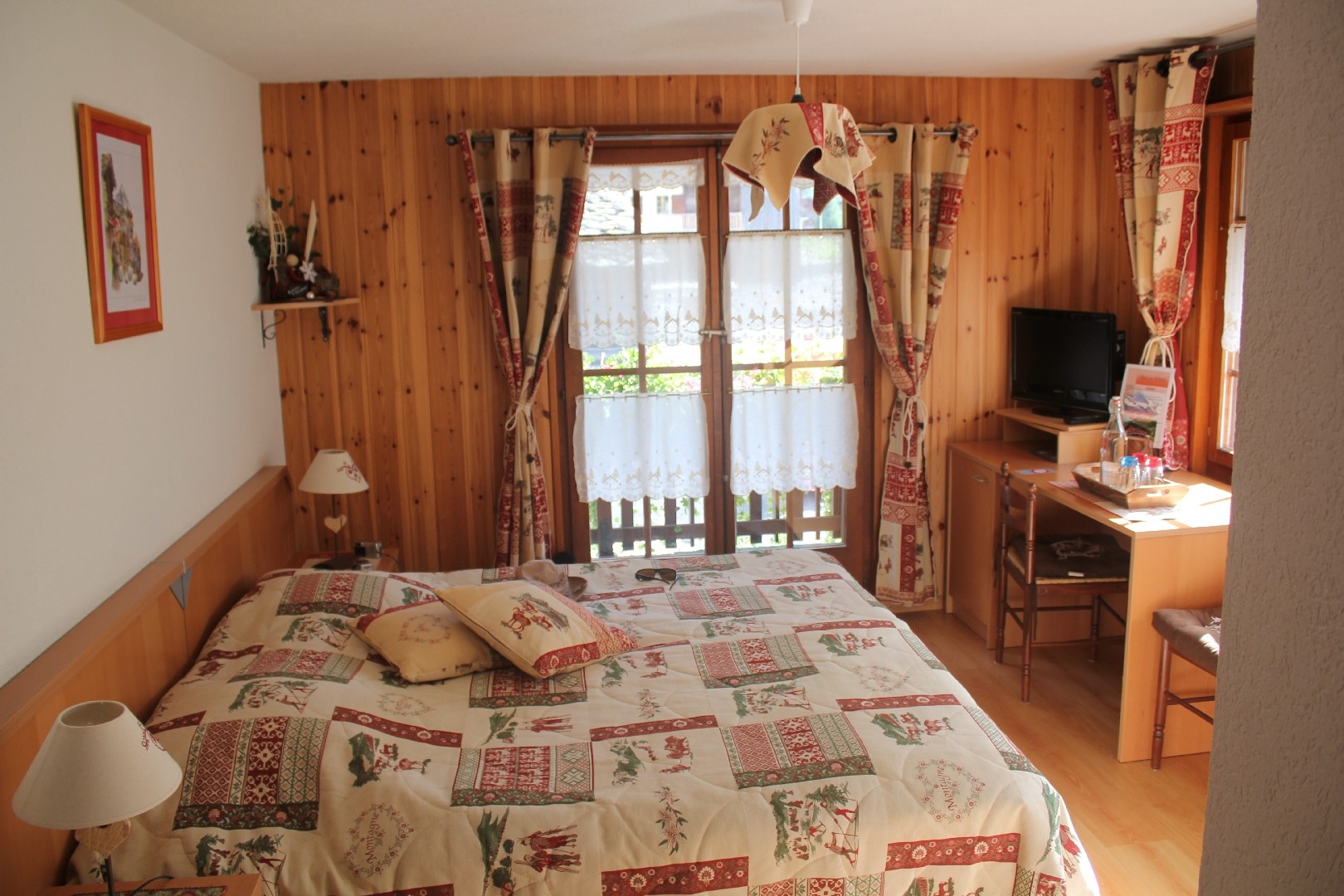 This room faced the town and had a great balcony where we spent all our free time.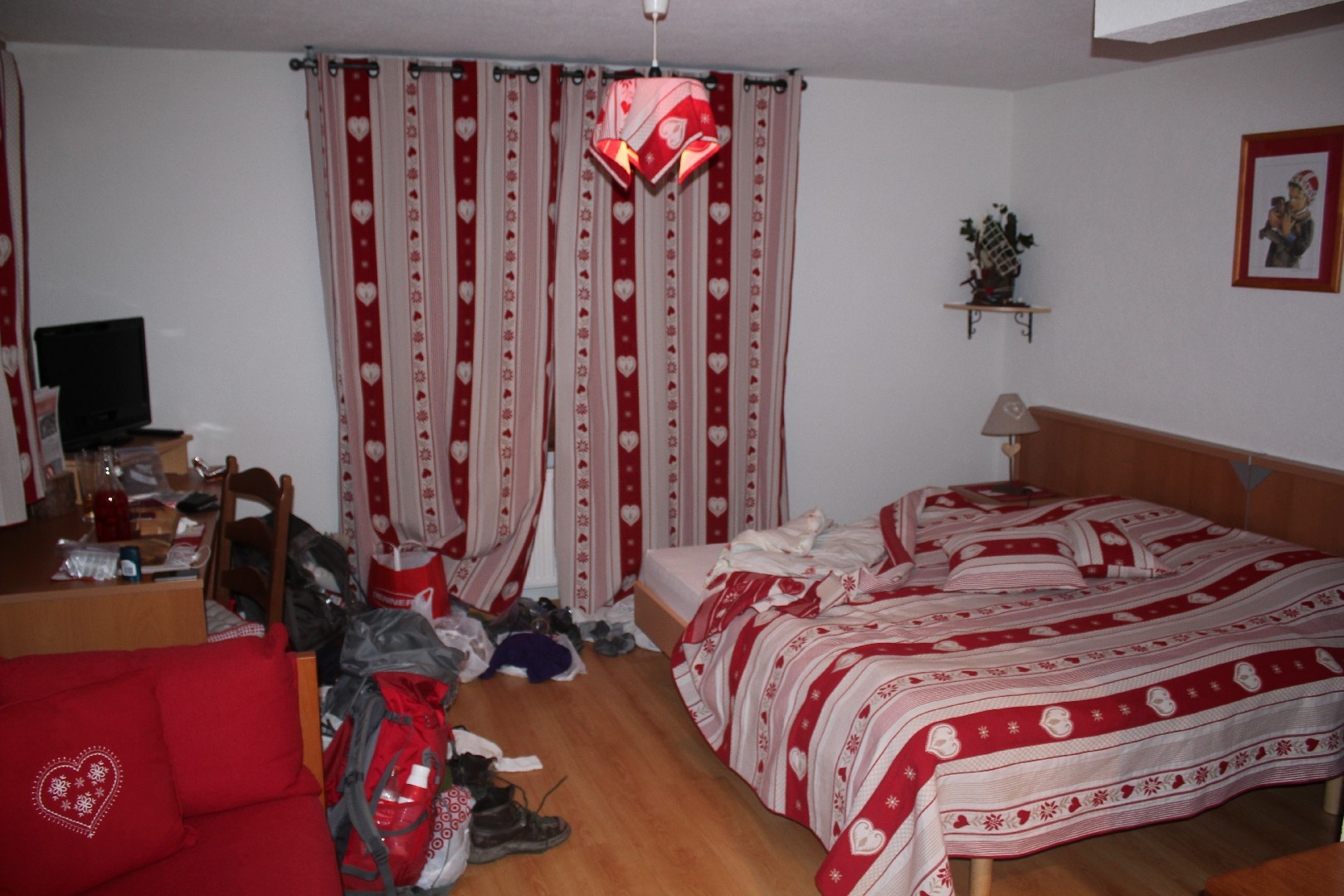 I showered and went to the only grocery store in town, a 5 minute walk downhill. I had read in one of the trip reports about someone not getting to buy bread for their next day's journey since only a few loaves are available for sale in small town stores. I encountered just a few loaves of bread when I arrived at the store and quickly grabbed two of them for our party - the rest were gone before I left the store. I bought lots of food, since I anticipated we wouldn't see another store for at least two days.

There is no ATM in Les Haudères, I asked.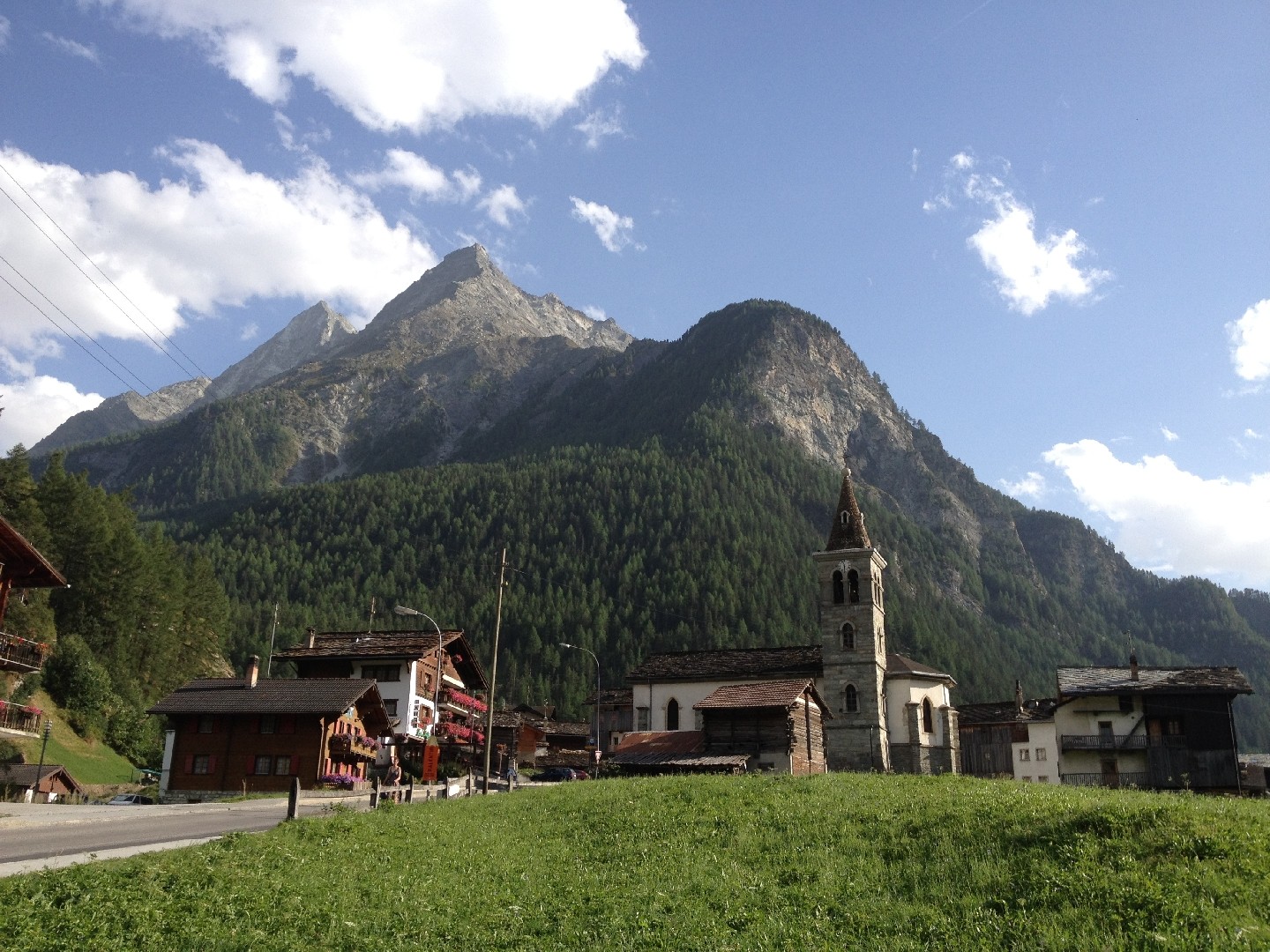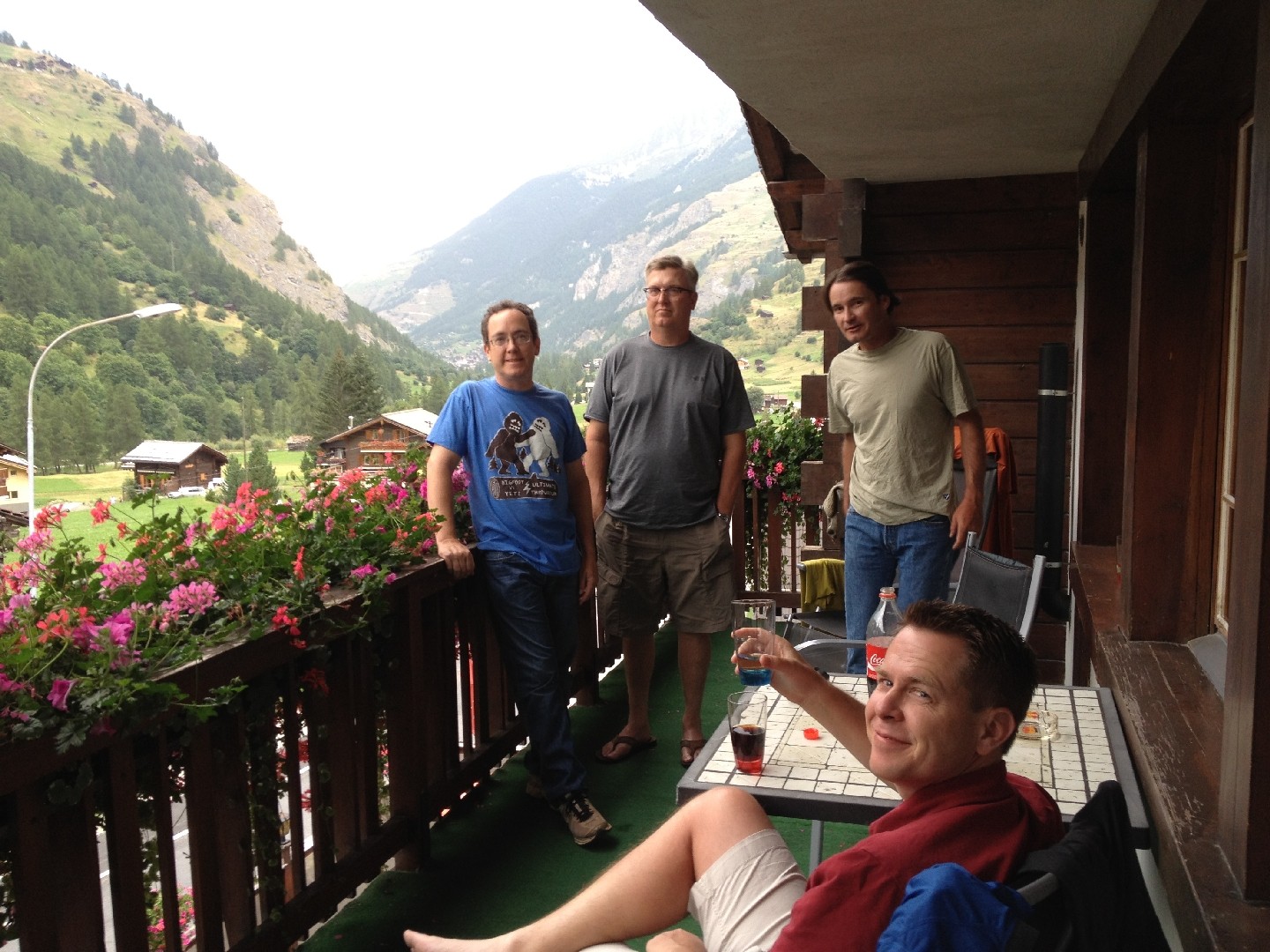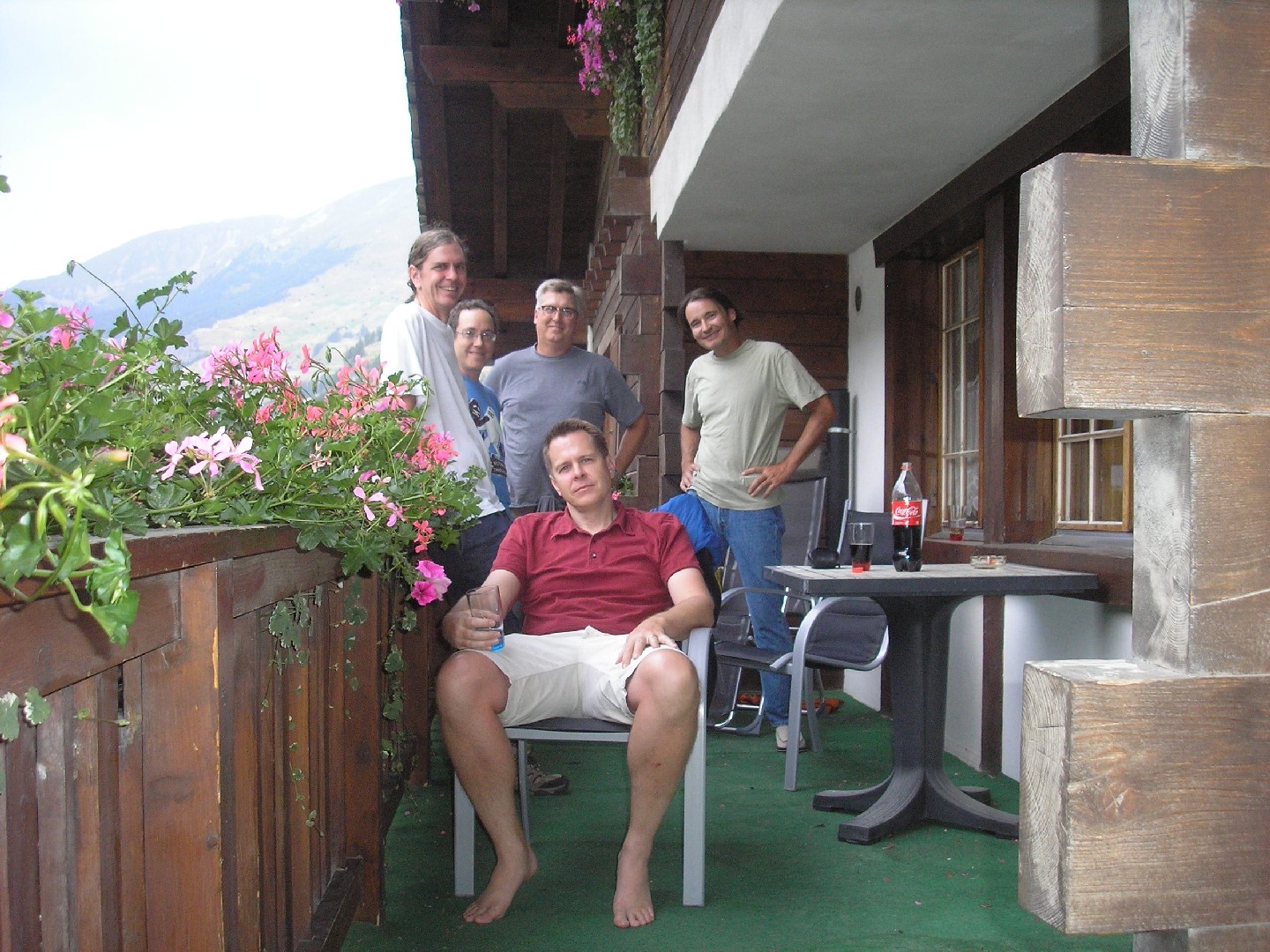 Kent's picture of our balcony.

Dinner was fine but not as good as Grimentz.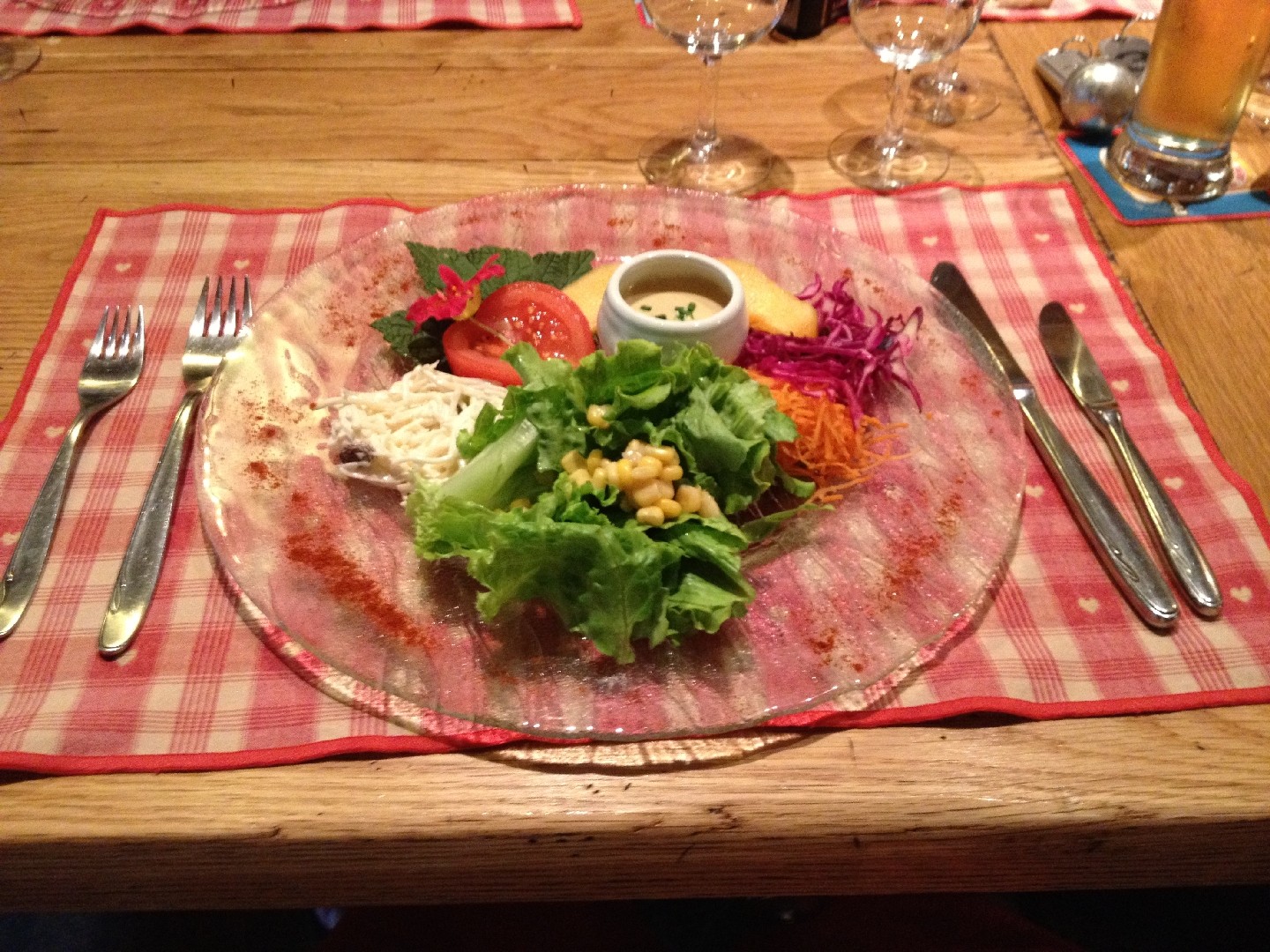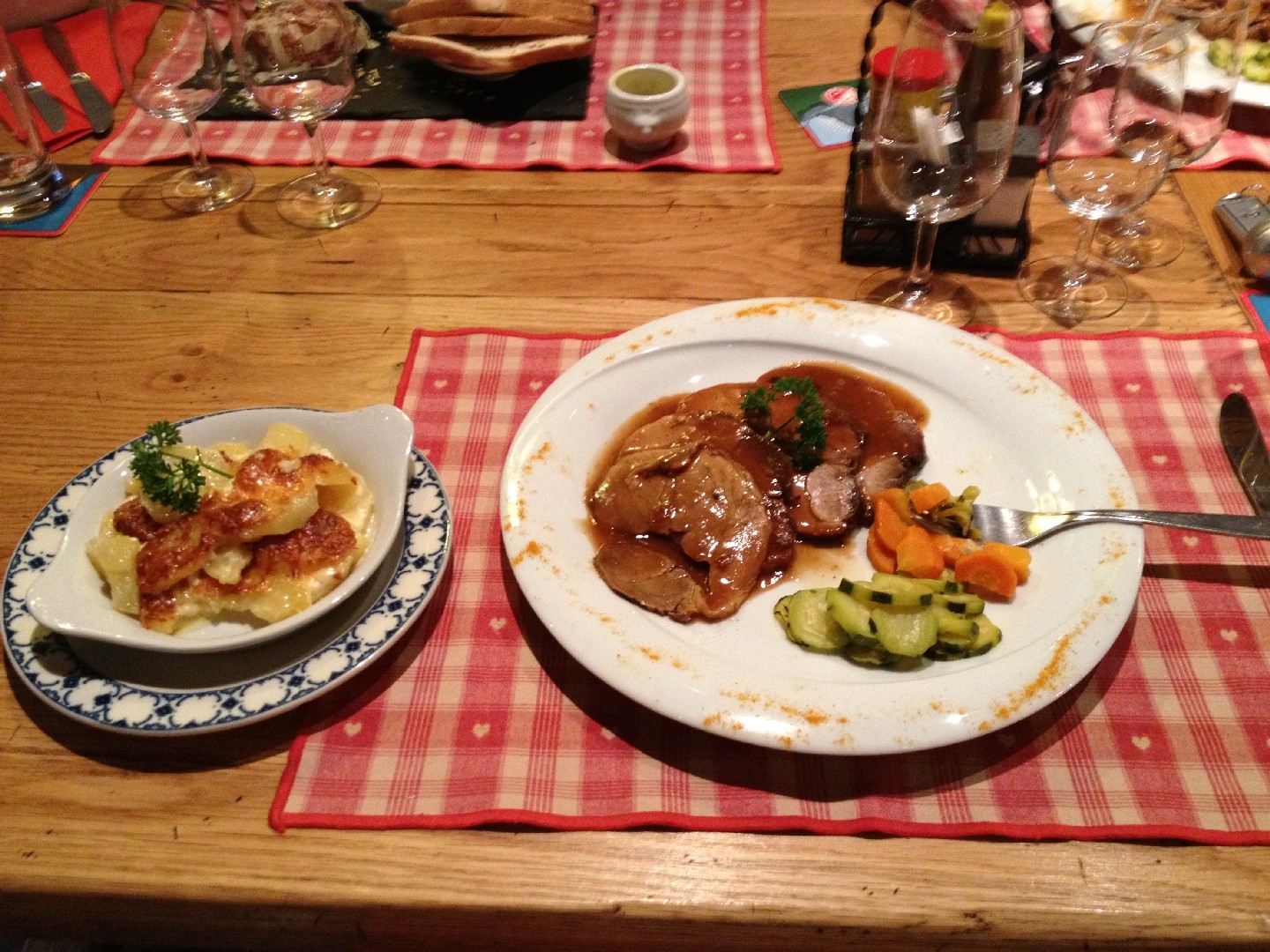 My meal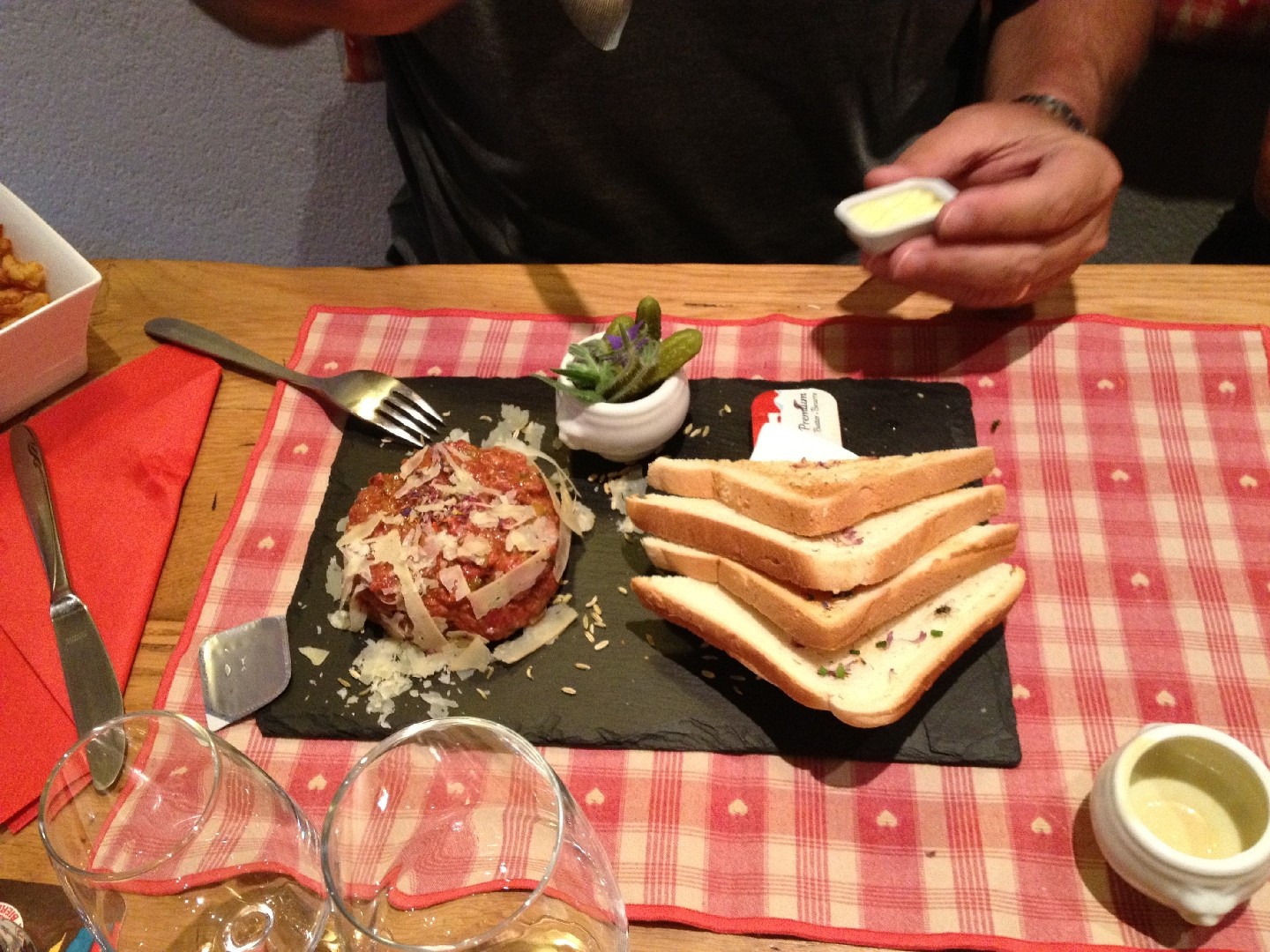 Mike's steak tartare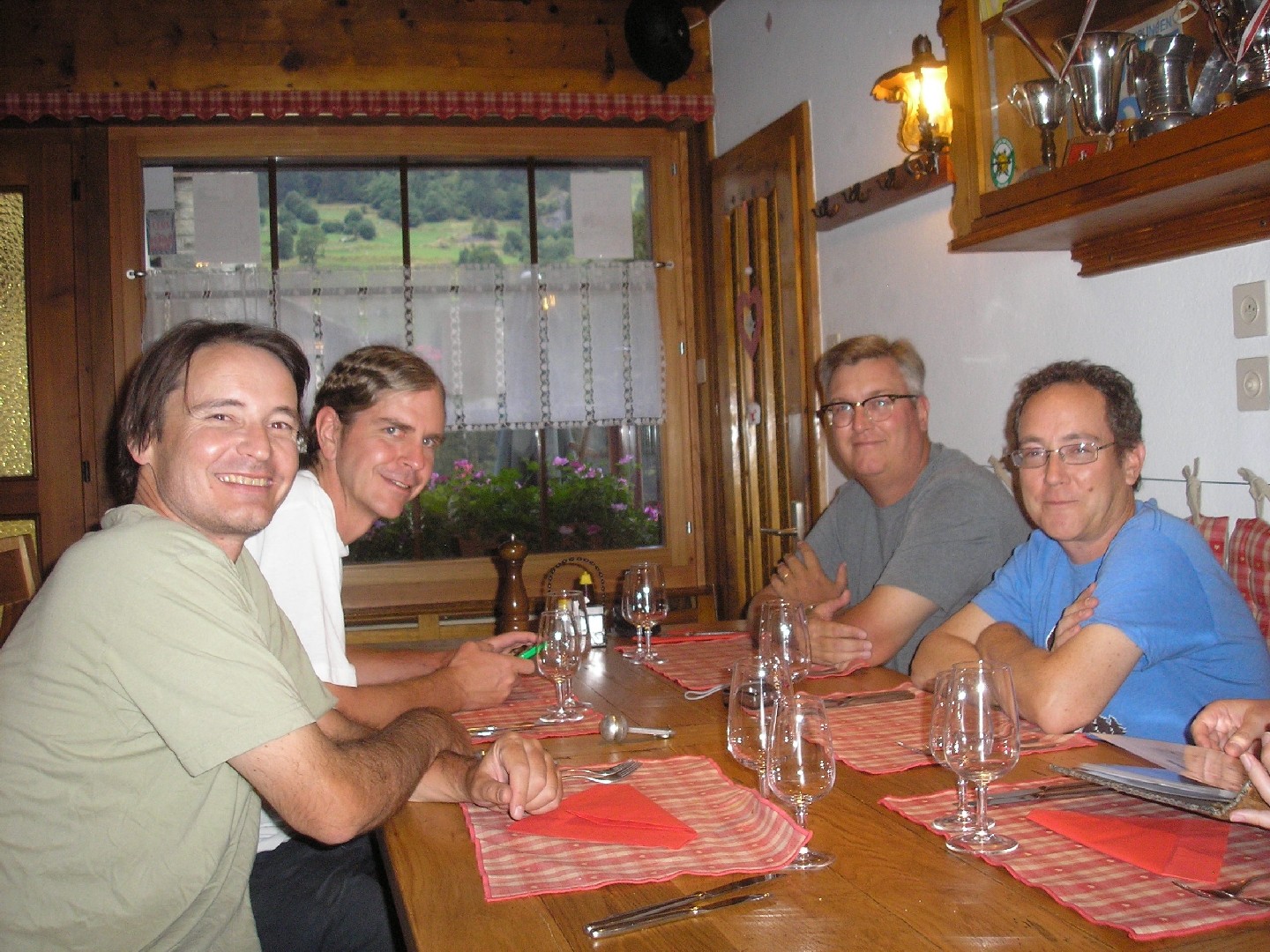 Kent's picture of dinner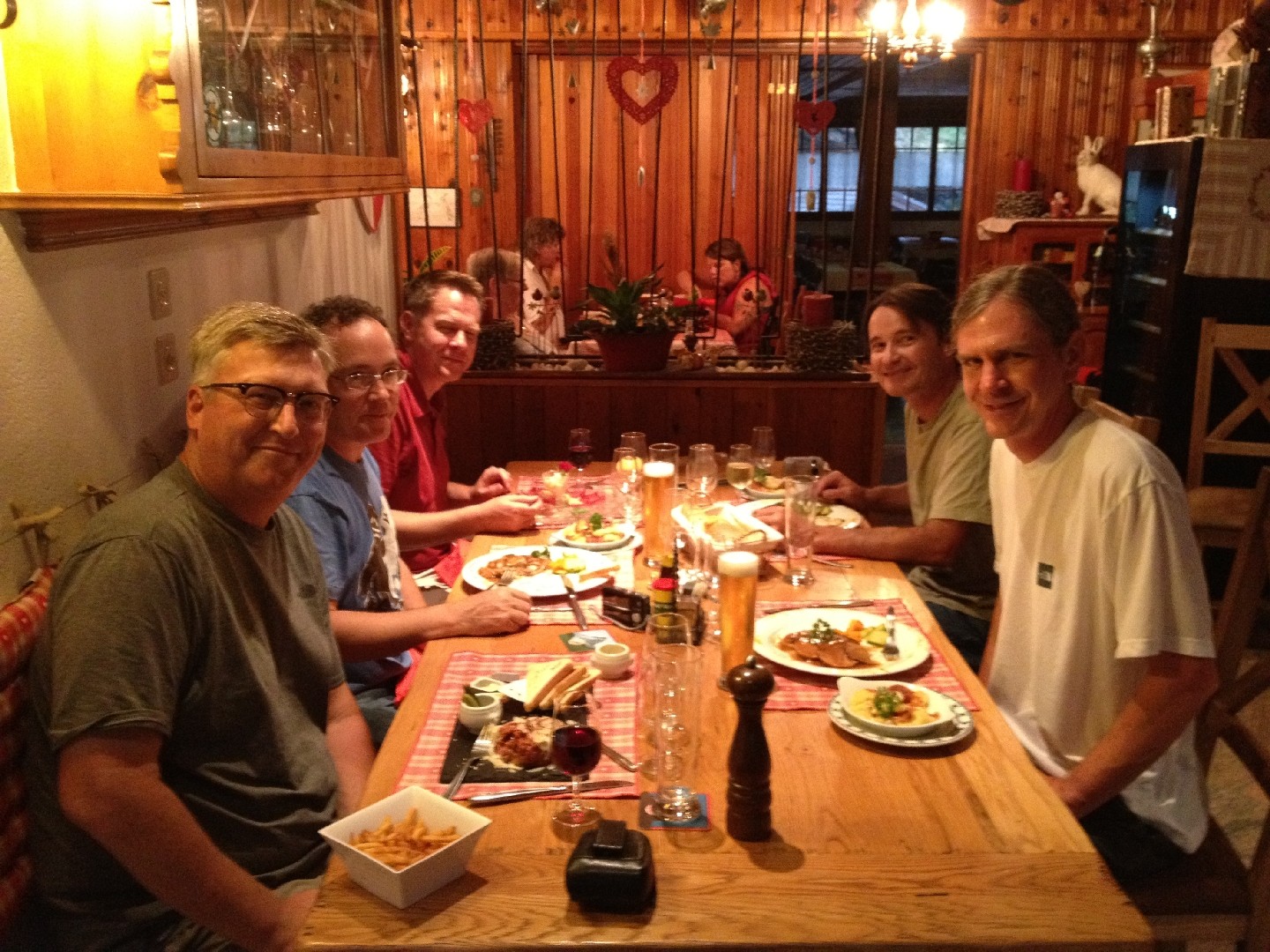 Previous
Tuesday August 21, 2012
Gruben to Grimentz





Wednesday August 22, 2012
Grimentz to Les Haudères

Next
Thursday August 23, 2012
Les Haudères to Cabane de Prafleuri