| | | |
| --- | --- | --- |
| home | Summer Solstice 2013 | |
Since I always need a new project, I've decided I need to complete the John Muir Trail. In 2009 I hike the section from Tuolumne Meadows to Yosemite Valley as a day hike.. in August, and it snowed on me :) This spring I bought a pile of ultra lightweight backpacking gear. I basically bought most of Erik the Black's gear except for his tent. Erik's tent requires hiking poles, which I don't use, so instead selected the Big Agnes Fly Creek UL2.

I had planned to test my gear by camping on the North Dome saddle. Both times I hiked to North Dome, there were people camping on the saddle. When I made my wilderness permit reservation, they were uncertain whether this was a legal campsite or not, but told me to ask the Rangers when I got my permit. I couldn't find any solid answers to this question on the net either. The Rangers essentially said you can camp on the North Dome saddle, but discouraged it since you must camp at least 100' off the trail, and it is not a very level or nice campsite. They recommended this site, which I will not name or locate since plan to return and I never want to see another soul there. Rangers at the wilderness center had warned me about mama bear and baby bear in this general area. Two weeks ago someone returned a bear box that had been attacked - plenty of damage but the box was not opened.

I hadn't even realized it was the first day of summer. I got to watch the moon rise over Clouds Rest, a truly magical experience. Unfortunately my pictures of the moonrise didn't turn out very well so I won't bother to publish them. The moonlight was so bright it seemed like daylight.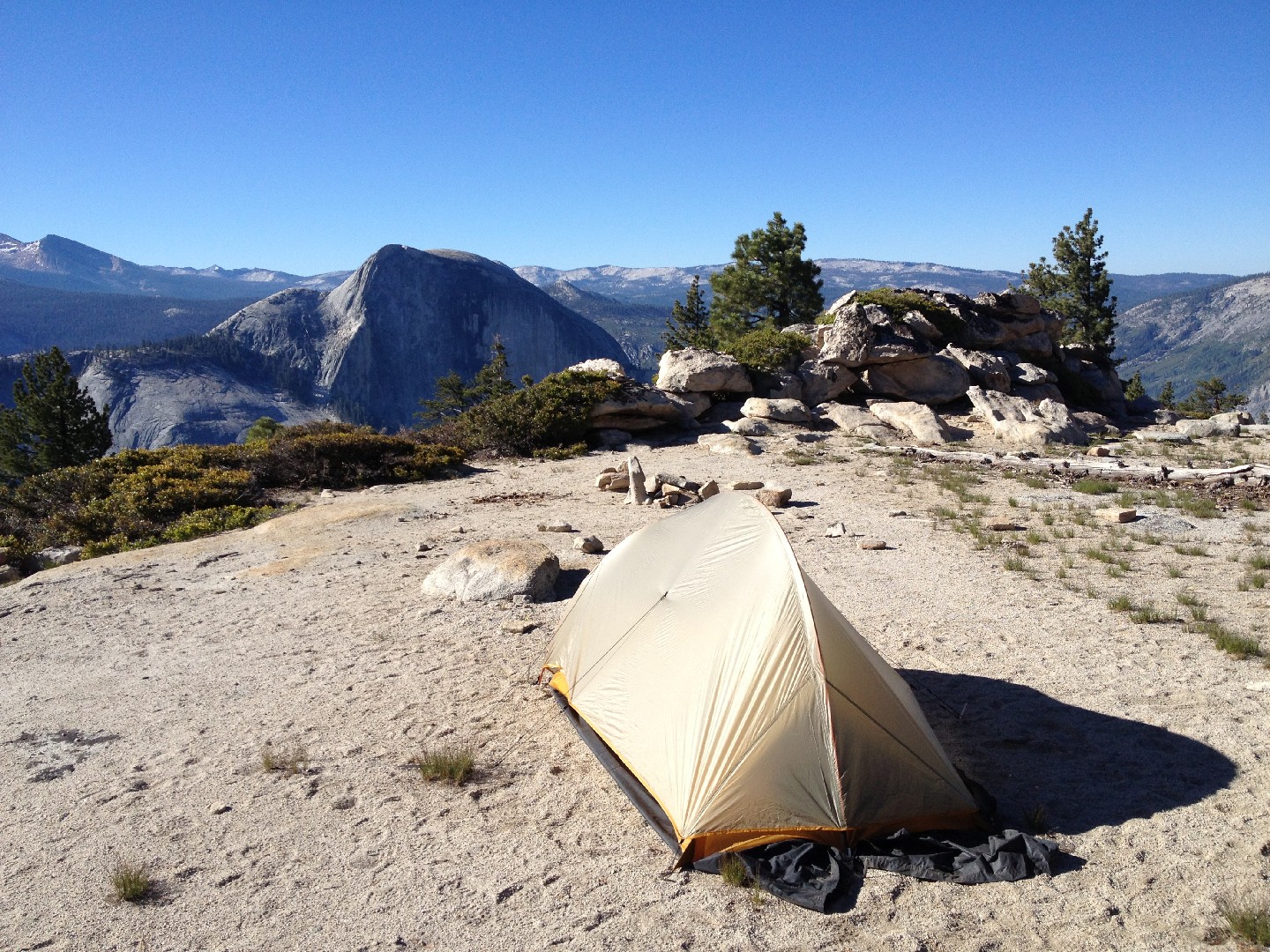 My campsite


I was pleased with my new gear - it all worked very, very well. My only complaint was my 2 person tent was barely large enough for a single person with gear. I've decided to return it to REI and purchase either the 3 or 4 person version of the same tent instead.


Click here for a great panorama of Clouds Rest and Half Dome. This view was essentially the view from my campsite, though I had a few trees in the foreground at the campsite. This is my first iPhone pano - I must admit it is much easier to use the iPhone than spend hours or days putting a pano together by hand.


As I was hiking out of the wilderness, I encountered mama bear in the middle of the trail. She got off the trail, I moved forward, then I heard baby bear off in the trees. They moved south away from me. Baby bear was tearing apart rotten trees eating bugs, mama was watching me intently. The encounter lasted about 8 minutes total as I took pictures and video.

Fortunately I saw them on the way out of the wilderness, not on the way in. I camped high enough - no water or good food sources nearby - that I didn't think they were too likely to find me, but you never know. Since the rangers were interested in these bears I went ahead and filed a bear report in person on the way home (I've seen plenty of bears before but never bothered to file an official report)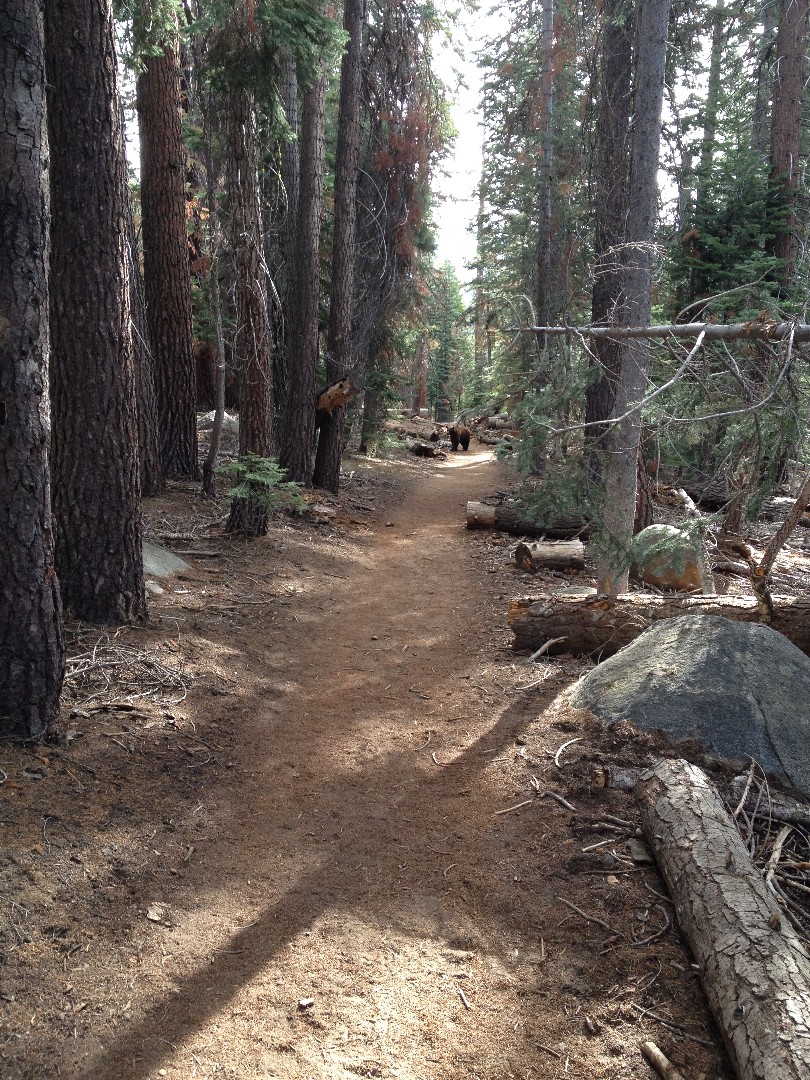 Mama Bear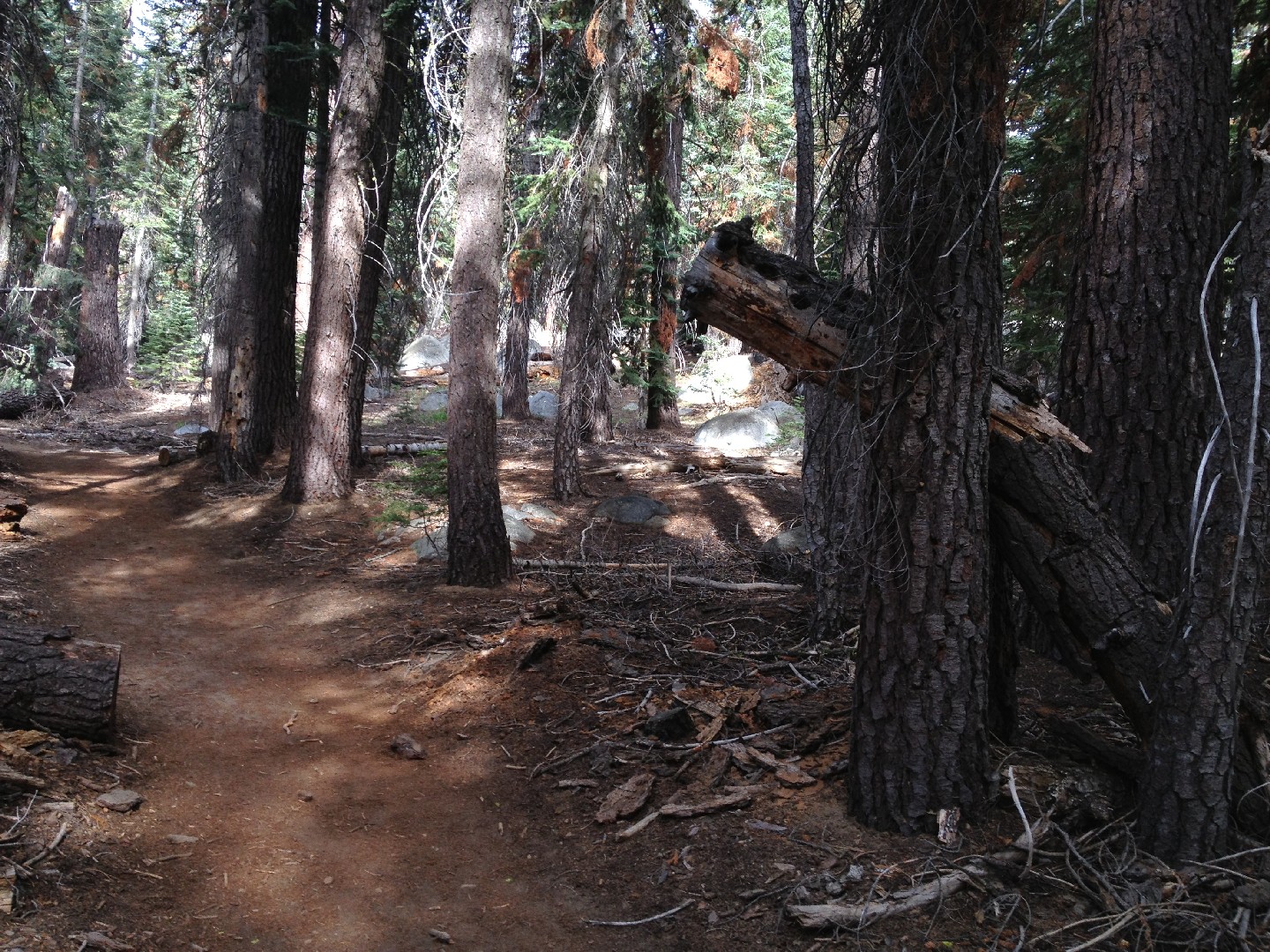 Baby Bear - a small brown patch in the left upper middle of the frame
From the center of the picture, Baby bear is at about 11:00, and Mama bear is at about 12:00
Mama Bear is to the right of Baby, almost entirely hidden by trees (her snout and body are partially visible)




You won't be able to see the bears unless you view this video full screen, and even then they're not at all easy to see.