Previous
Wednesday August 5, 2009
Day 5 - East Side


Thursday August 6, 2009
Day 6 - Tuolumne Meadows to Upper Pines

Next
Friday August 7, 2009
Day 7 - Glacier Point

Thursday we headed back to Upper Pines. Kathy and the kids would drive, and I would walk.

I have always wanted to hike the John Muir Trail. From the moment I got a reservation in Upper Pines back in May, I had hoped to be able to hike down from Tuolumne Meadows Campground to Upper Pines. The length of the hike concerned me somewhat. My longest hike to date had been Cloud's Rest at about 20-22 miles, but Cloud's Rest also included nearly 6000' of vertical up and down. This hike would be perhaps 5 miles longer, but would be predominantly downhill.

I left camp around 6:00am Thursday morning. It was very cold and grey. Our campsite was less than 5 minutes from the the JMT.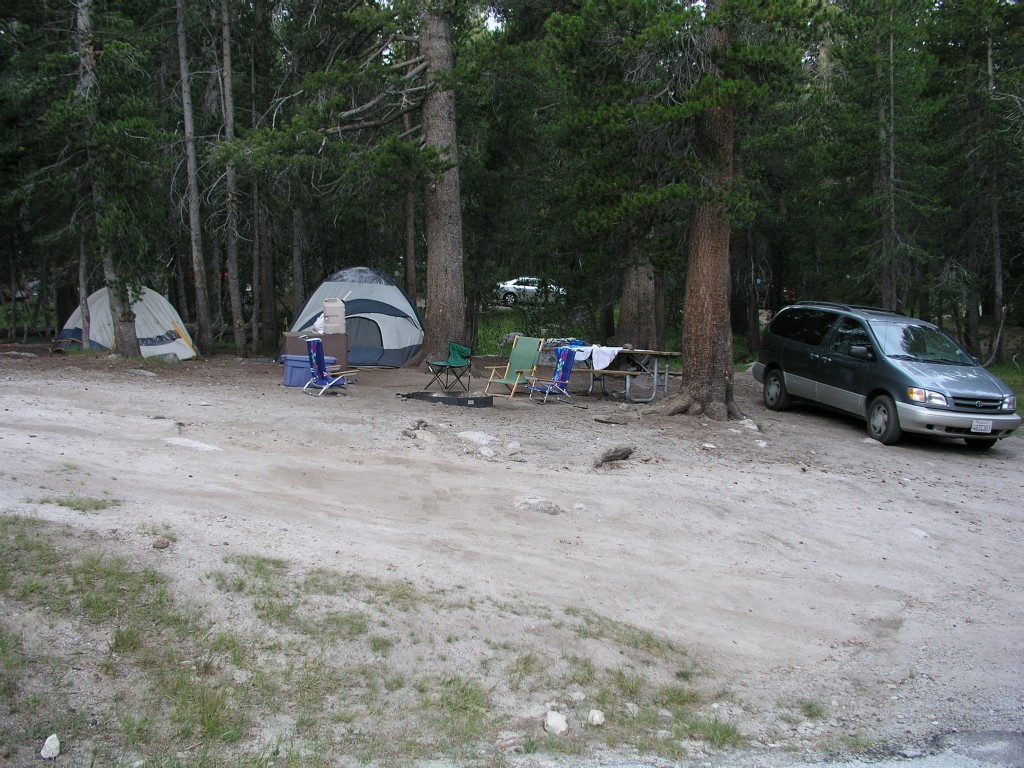 Our campsite - 6:04am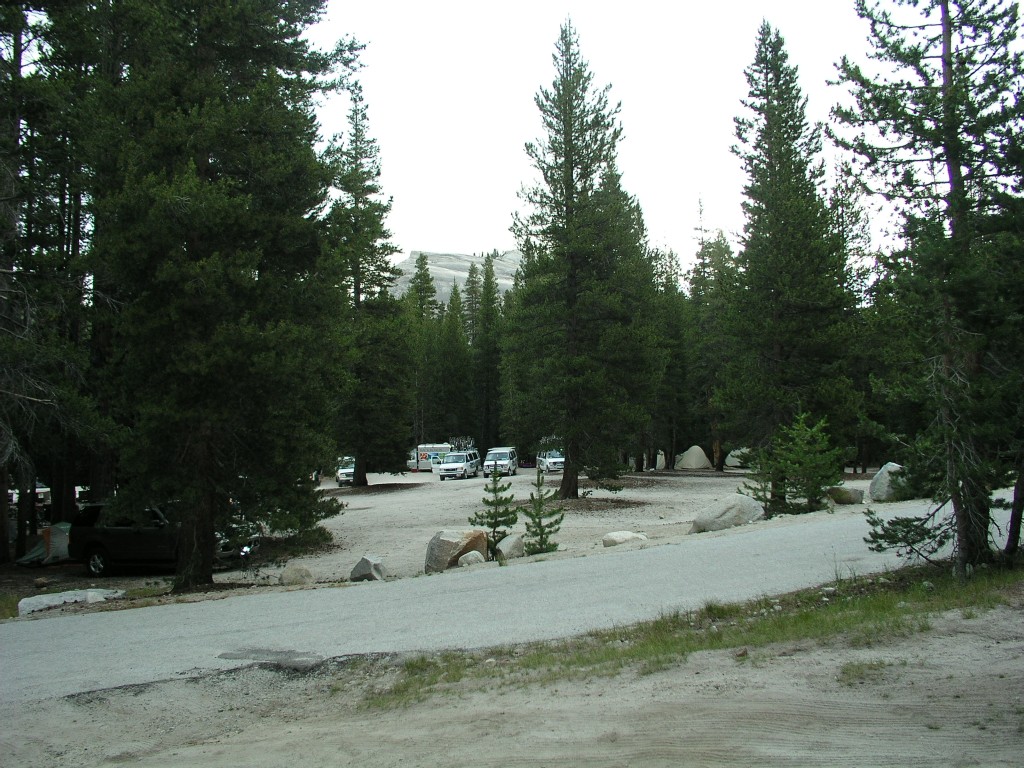 The view from our campsite. The group sites are across the road from us, Lembert Dome is through the trees.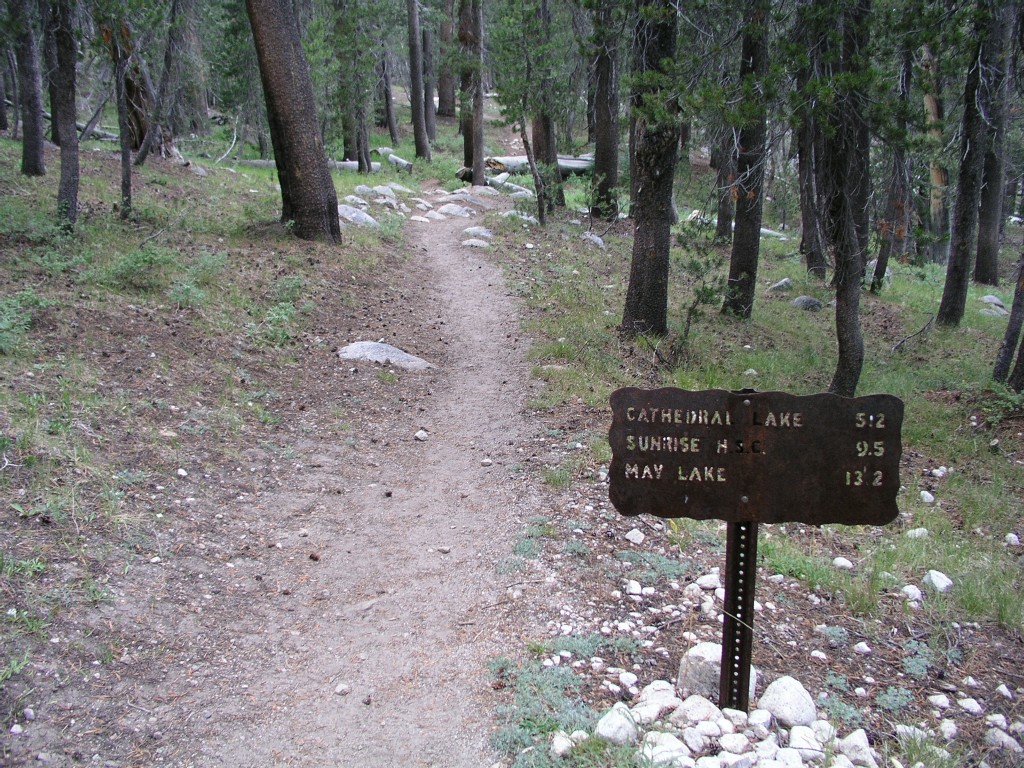 My stretch of the JMT begins - 6:08am

The trail parallels the back of campground, heading west for the first two miles or so. I saw a few campers up and making coffee in the cold. I hiked fast becuase I had lots of ground to cover, and I did I mention it was cold? I was wearing jeans, a T-shirt, and a sweatshirt. I had about 6 liters of water and plenty of food, and I was carrying one of those fairly useless emergency ponchos in my pack.

I took pictures of each of the trail markers to try to keep track of how far I'd gone. By the time I got to the intersection of the Cathedral Peak trail about 2 miles into the hike, I had run down my camera batteries. I had 2 sets of backup batteries, but the first set of backup batteries was dead. I was quite irritated at the possibility of running out of batteries on an epic hike, but with nothing else to do I proceeded onward. The trail turned south towards Cathedral Peak and started uphill.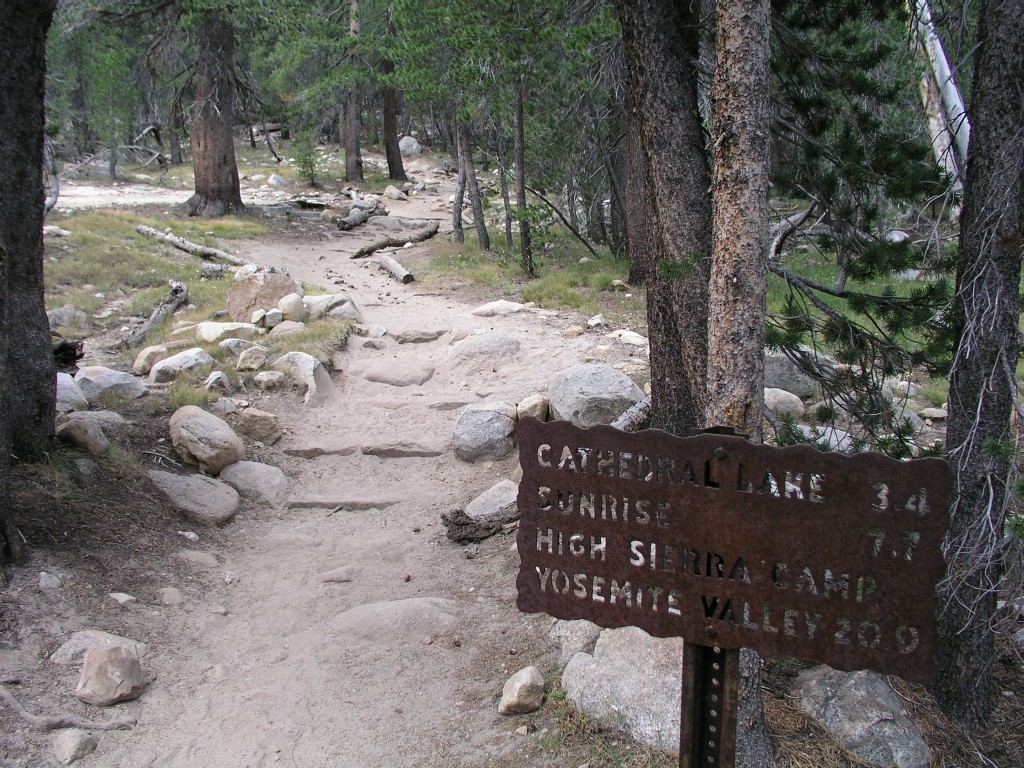 Heading uphill... about 6:45am

Kent, Rita and I had traversed Cathedral Peak on August 18, 2004 (there are plenty of amazing pictures at that link). We had headed up the creek just east of Cathedral Peak before climbing up the east side, down the west side, and intersected the JMT. So I'd been in this area before, but hadn't hiked this trail.

I saw a few parties of backpackers coming down the trail. It was still early - around 8am - so I assumed they had hiked camped somewhere nearby. The wind picked up somewhat as I continued trudging uphill, and the skies were dire grey. Soon I saw something white falling gently from the sky. I didn't believe it could really be snowing in August - I honestly thought it must be ash. But it was round pellets of snow. It didn't snow much - it would snow for a few minutes at a time, then quit. I thought about Kathy and the kids packing up the tents in the snow...

Tuolumne Meadows is at around 8,600 feet, so I had to hike up about 1,000 feet total. It felt much steeper than I had anticipated. Actually, I knew it would be steep from Google Earth, but I failed to really believe it, since I hadn't remembered having to climb uphill in the creekbed.

I reached the north end of Cathedral Peak, but failed to appreciate how big the mountain is - it must be around a mile long, and it is an uphill climb, so I kept climbing in the wind and occasional snow flurries. I started to hike with my hands tucked inside my sweatshirt sleeves to keep them as warms as possible - they were frozen.

I passed a few sets of trail workers swinging hammers at granite. Some of them were working on new steps that were clearly an improvement over the old trail, and others were working on fairely shapeless jumbles of rocks.

I wanted to reach the intersection of the Cathedral Lakes trail before taking a break. It seemed to take forever to get there. I sat down behind a boulder to get a break from the wind and wolfed down a pile of food. Every time I've been on a long hike I've eventually bonked hard, and I knew I would do so today as well. I needed all the calories I could get just to keep warm. After about 10 minutes I started hiking again, quickly meeting up with a Ranger as the snow started falling. The wind now picked up again, but at least I wasn't climbing anymore. I could see Echo Peaks off to the east.

Lots of people day hike along the route I had just taken, but I assumed few continued past Cathedral Lakes into the wilderness. It occurred to me as the snow briefly cut visibility that what I was doing was fairly dangerous - heading into the wilderness in the snow severely underdressed could be a fatal mistake. I assumed from the crappy weather that eventually it would rain. My goal was to get to lower ground before it rained so I wouldn't freeze to death. I considered turning back, but instead pushed onward, hiking as fast as I could - I still had perhaps 15 miles to go. At this point I kept my hands tucked inside my sweatshirt sleeves at all times. Gloves and a ski cap would have been appropriate.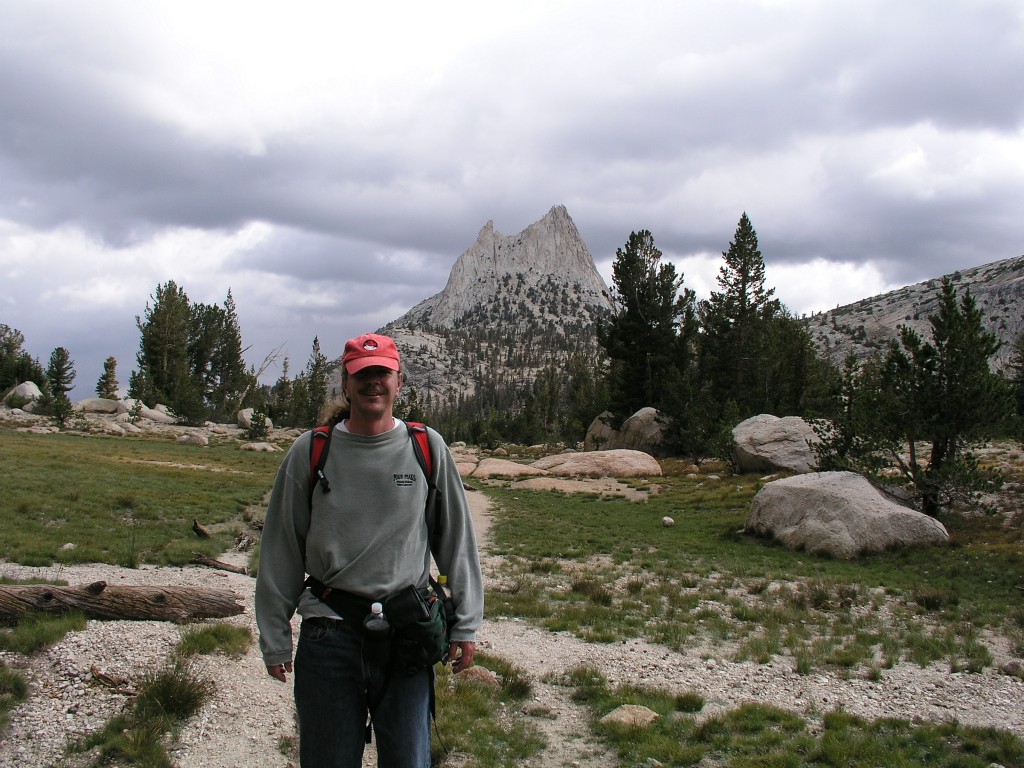 I caught up with a couple of backpackers and had them take my picture with Cathedral Peak in the background - 8:34am. The view is looking north, I have already passed to the west (left, in this picture) of Cathedral Peak. This was near the highest point on the hike - 9,680 feet - I had hiked up around 1,000 feet from the Tuolumne Meadows campground.

Fortunately the wind died down considerably as I continued hiking. I assume the mountains were blocking the wind coming in from the west.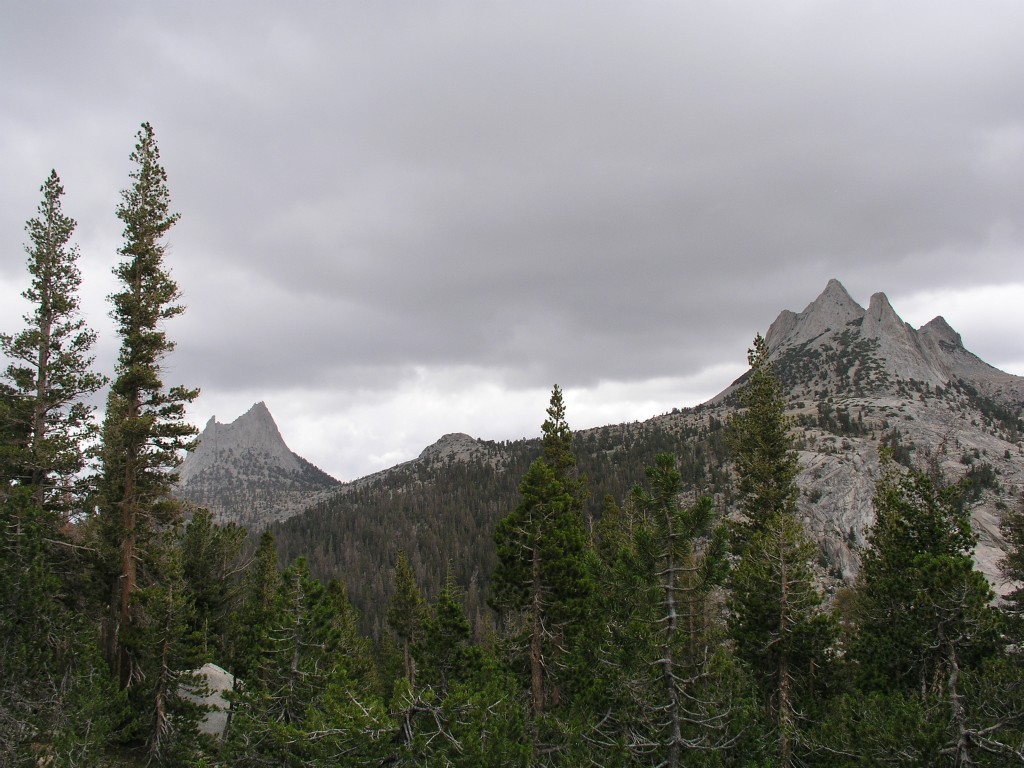 Cathedral Peak is left, Echo Peaks are right. View is looking north. 8:52am

Click here for a panorama of Matthes Crest taken at 9:06am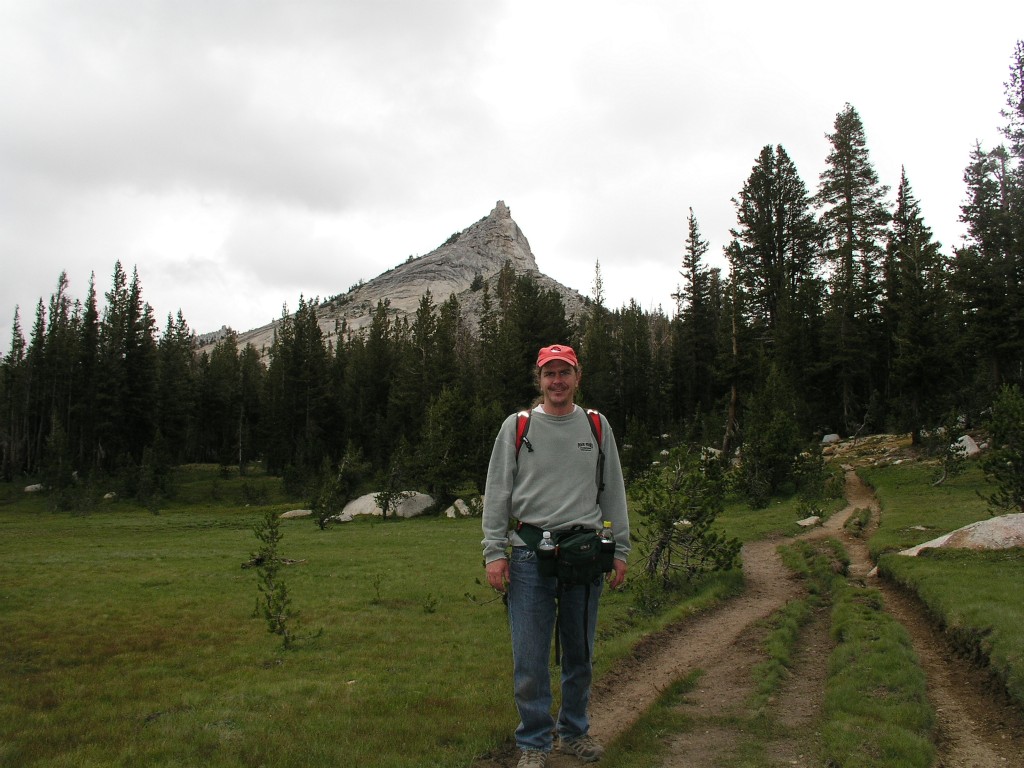 Columbia Finger - 9:21am.

The weather felt much more sheltered in Long Valley, but it was still cold and breezy. I still kept my hands in my sleeves at all times. There was a low ceiling - perhaps only 1000' above me - and the clouds were blowing by quickly. It looked like a storm was brewing in Yosemite Valley to the west.

I passed another set of trail workers - one of them asked me if I was late for work. I assume he was referring to my fast hiking pace. I didn't stop to ask.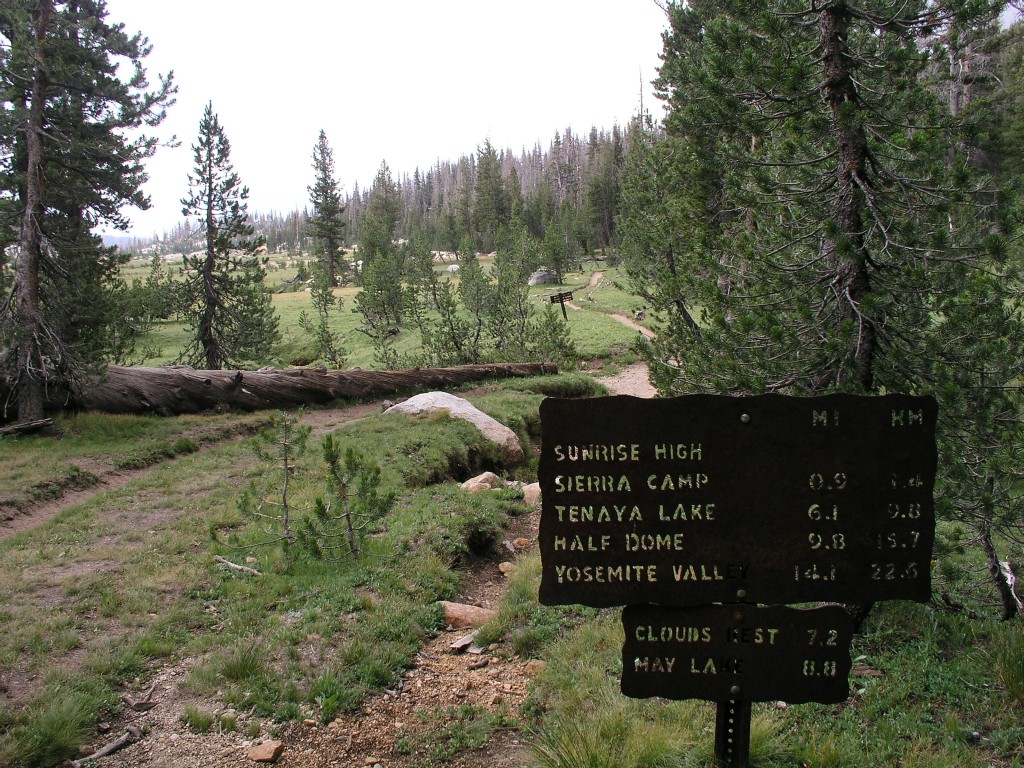 Just under a mile to Sunrise High Seirra Camp - 9:37am. I couldn't believe I was still this far away. Felt like I'd been walking forever. This was an intersection with another trail that went southwest towards someplace called Echo Valley.It was an eerie feeling looking at a trail that went off to somewhere even more remote than the trail I was on now.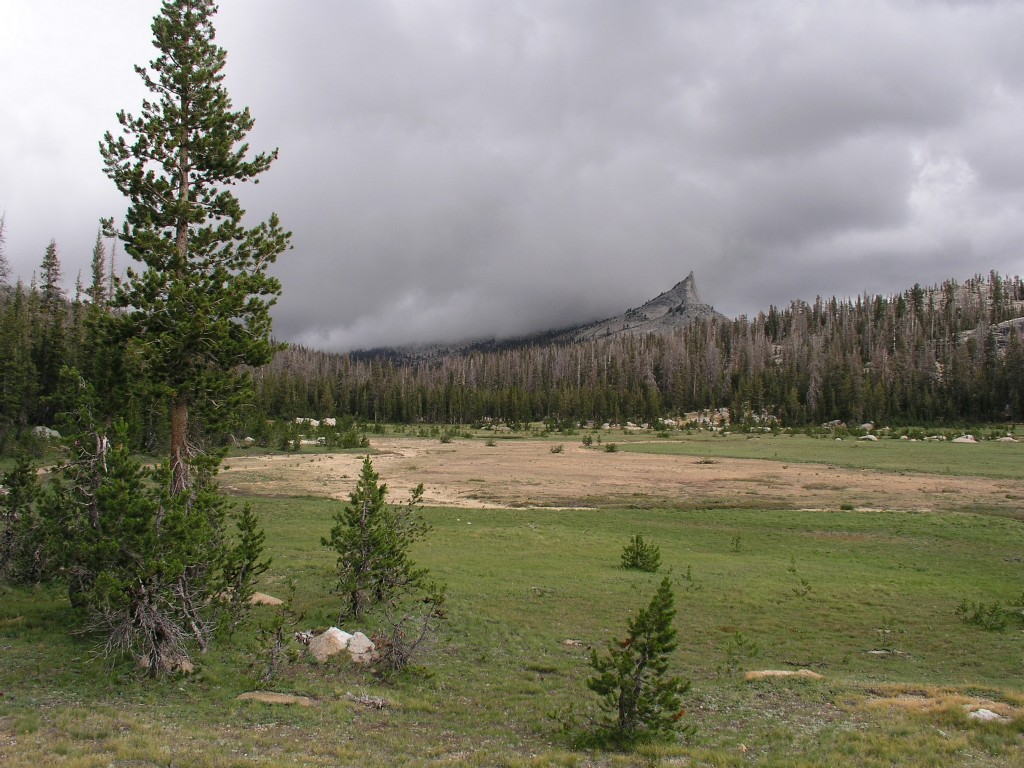 Columbia Finger again - now in the clouds - 9:37am.

I was in the southern end of the Long Valley - not terribly scenic, at least not under grey clouds.

I finally got to the turnoff at Sunrise High Sierra Camp - the camp was perhaps 10-20 feet higher than the meadow in the trees. I had walked 9.5 miles. It was very eerie - I walked up the steps and into the camp and saw and heard no one. There were a few tent cabins visible in the trees, and a large dining tent. I could hear a couple of voices from somewhere in the dining tent I could. The dining tent said it opened at 1pm - I needed a break so I cautiously went in, expecting to get thrown out. No one in the tent, but voices were coming from the other end of the tent, which was apparently the kitchen. I looked around cautiously - not much to see - a very small store at this end of the tent, dining tables and benches for perhaps 50, a chalk board with the weather forecast - Winter Storm Warning. Note to self - always check the weather before hiking in the High Sierra, even in August. I was hoping to see a roaring fire in the stove, but it was out or nearly out.

I walked towards the voices slowly, and finally they saw me. A college aged guy and gal were rolling dough for tonight's dinner. I quickly realized this must be a plum job. They motioned for me to come into the kitchen, and we made small talk for a few minutes. After a few more minutes another two college aged guys and a gal come into the dining hall - more employees - they'd been out doing some chores. I bought a Sunrise HSC T-shirt, and started to try to find a place for it in my backpack before wising up and putting it on under my sweatshirt. Eventually I ran out of excuses to linger and went back out into the cold.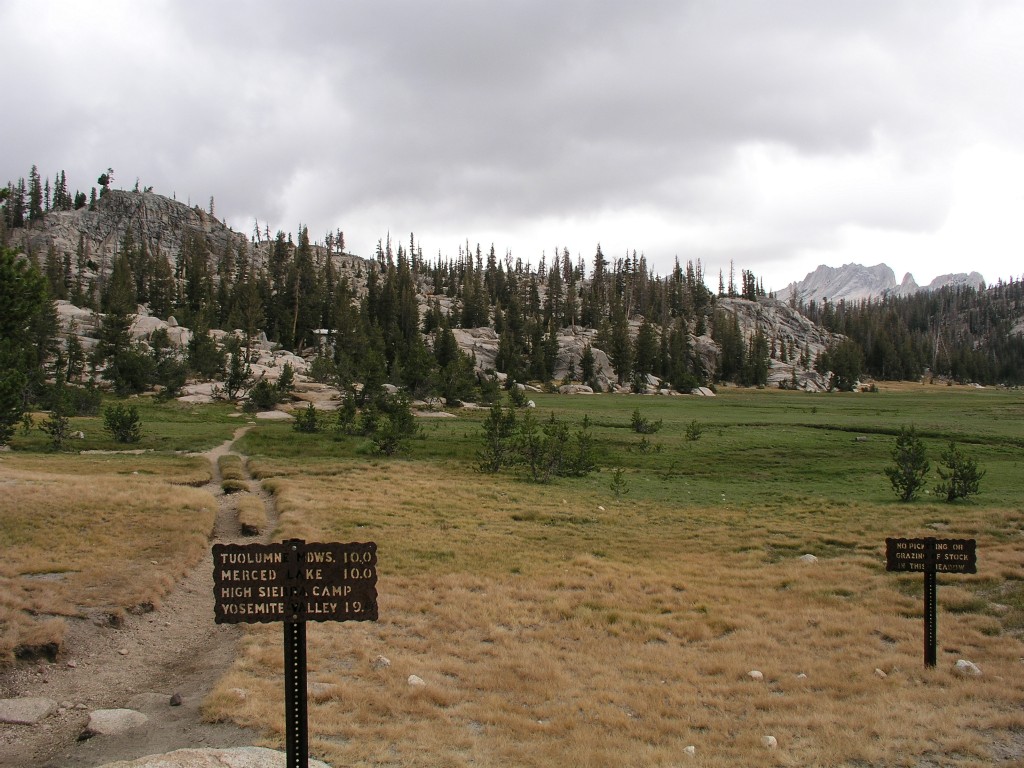 Looking back at Sunrise HSC - it is to the left in the trees - you can barely see the dining tent. Matthes Crest is on the right. 10:11am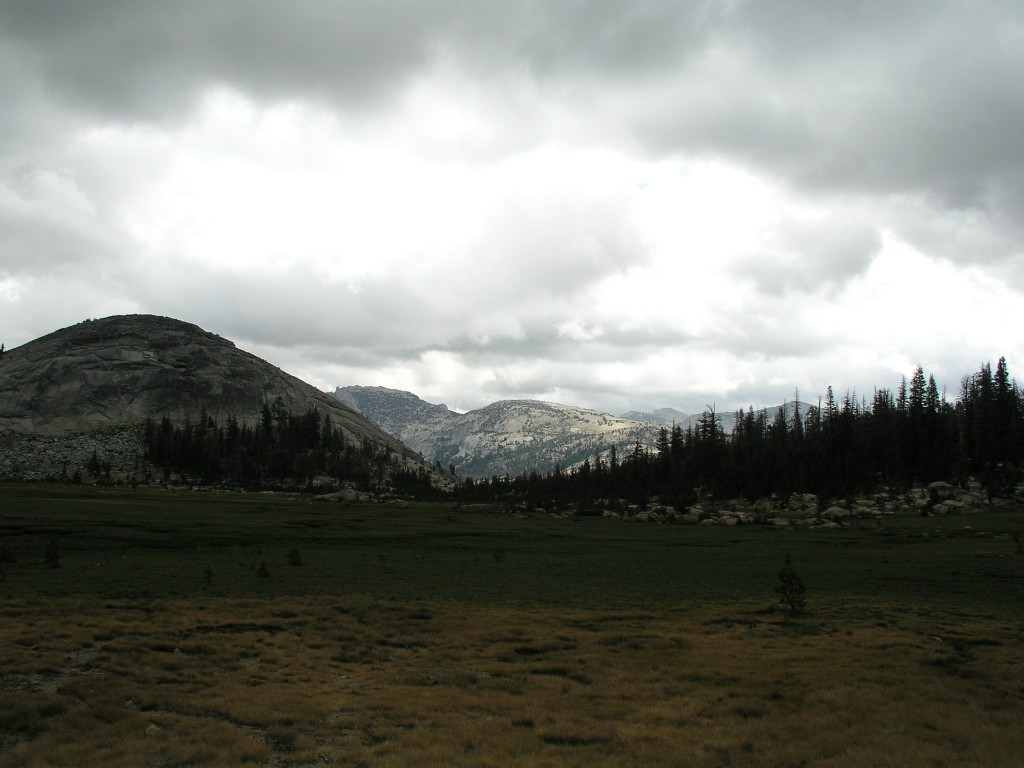 Looking off to the east - 10:11am - the south end of Long Meadow.

The trail headed slightly uphill and into the trees. Visility was limited to the forest around me.

Click here for a panorama of Vogelsang taken at 10:21am

The trail continued on through the forest for a few miles and finally headed downhill. I saw a small mule train headed uphill. I ran into a few other folks on the trail, but not many. I started asking everyone where they were headed - most of the backpackers said they were headed to Mt Whitney, which is over 200 miles away at the other end of the trail. I was impressed by the number of folks headed out to hike the whole trail. They were also headed uphill with full packs, which was brutal. I, of course, was headed downhill with a daypack carrying mostly water.

The trail headed down sharply downhill, zigzagging on switchbacks next to a stream. I probably lost nearly 1,000 feet of elevation in 20 minutes, and it got considerably warmer. I finally was able to walk without my hands in my sleeves.

I hiked for probably two hours seeing nothing but forest before finding quite a vantage point. I got to watch Half Dome disappear into the clouds. It was an amazing site, and I couldn't help but think about the folks on top of Half Dome and what they must be going through in the clouds.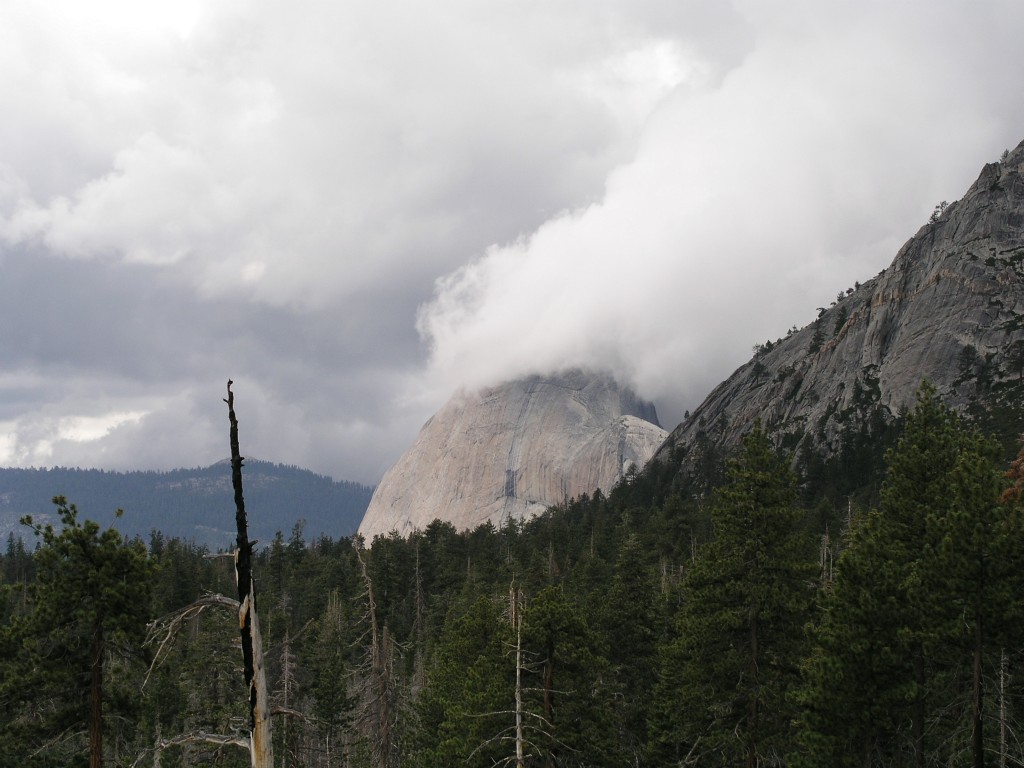 Half Dome - 12:08pm

Click here for a panorama of Lost Valley taken at 12:10pm

I stood here in awe taking pictures for over 15 minutes. I was very happy that my camera batteries were holding up.

I was now running into more backpackers headed uphill. Many of them were asking whether there was water ahead. Most of them were in great shape, but I saw a family that didn't appear to have any business being this far into the wilderness.

Eventually I got to the junction of the Cloud's Rest trail - there were lots of campers filling water bottles. They were all intending to camp nearby, then hike up Half Dome the next day. They had all carried huge amounts of gear uphill from Yosemite Valley, turning what could be a day hike into a much more lengthy and strenuous adventure.

At this point the adventure value of the hike was gone - I had been here several times (four?) before, and I just wanted to get down the trail to my campsite. As always, the trail going down seemed to be much longer than the trail coming up. It would certainly seem to make more sense if the reverse was true. After my stop at the top of the Mist Trail, I continued down the JMT, which was new for me. I had always come up the JMT, and hiked down the Mist Trail.

A few people passed me going downhill. I was moving very slowly and was fairly stiff and sore. I finally came out of my stupor long enough to realize I was bonking big time. I stopped for an apple, some candy, and some more ibuprofin. The apple was honestly the most tasteless awful piece of fruit I had ever eaten. I couldn't help but contrast it with the best apple I'd ever eaten, which was on my hike with Kent, Rita, and Kent's sister Kathy on Teewinot a year earlier.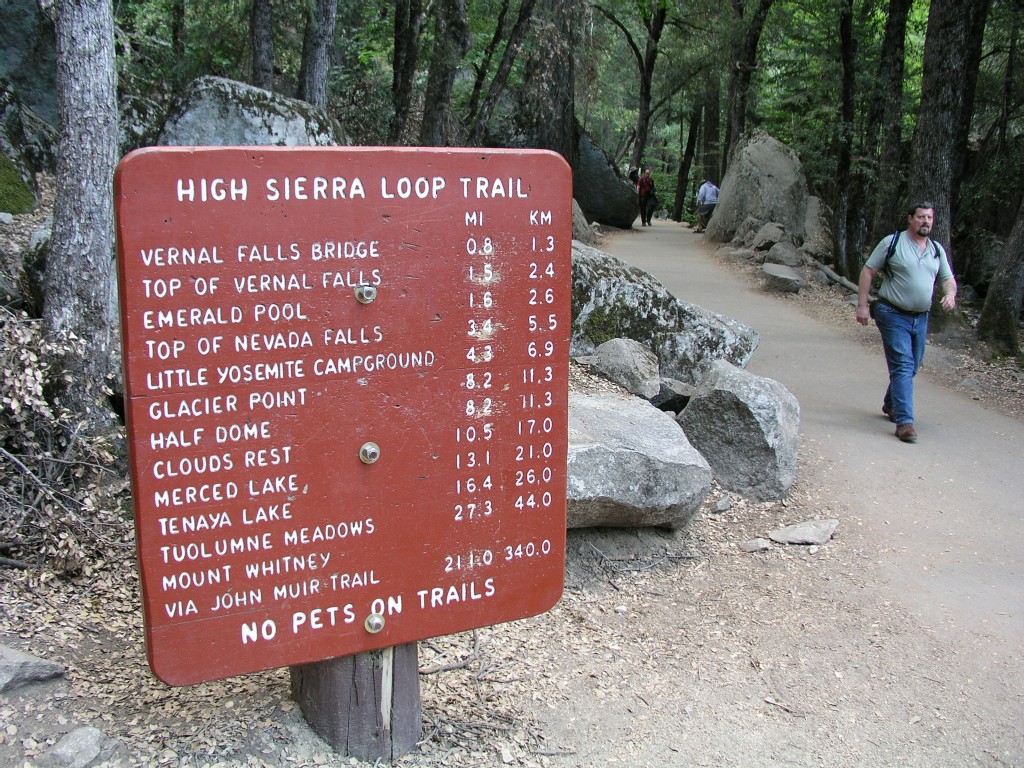 The candy and ibuprofen helped considerably, and I was eventually able to limp into our campsite - site 62 - at Upper Pines.

Adding up the mileage on the signs, it appears I only hiked 22.7 miles. Even if I generously give myself another 1.3 miles for the approach to the JMT in Tuolumne and the Valley hike back to my campsite, I'm still only at 24 miles. I am disappointed - I wanted to hike over a marathon distance...

Previous
Wednesday August 5, 2009
Day 5 - East Side


Thursday August 6, 2009
Day 6 - Tuolumne Meadows to Upper Pines

Next
Friday August 7, 2009
Day 7 - Glacier Point