Prev
Monday June 20, 2005
Day 1 - Venice

Tuesday June 21, 2005
Day 2 - Venice

Next
Wednesday June 22, 2005
Day 3 - Venice & Salzburg
Tuesday morning Dusty went on another walk before we all headed over to the Academia via the ACTV (water bus). For some reason the water buses had seemed intimidating, and I spent quite a while trying to decipher the guides. Turns out most water bus stops have two docks - one for each direction. Once we got to the Academia, there was no line so our reservations were unnecessary. Unfortunately the air conditioning wasn't working, and the audioguide once again managed to make some of the art less than intriguing. Fortunately Rick's Mona Winks helped sort it out. The art was fantastic, but not quite Florence.
We then headed up to the train station to get reservations for our trip to Salzburg and get our Eurail passes validated. Unlike every other train trip we would be making, there were only two trains daily from Venice to Austria - one around 7am, and another at 2:30pm. I ended up selecting the 2:30 train, deciding to spend as much time as possible in Venice and avoiding an early morning. We got reservations to be sure we'd get there. There was a train strike scheduled for Thursday, the day after we were to Italy, and I was concerned our train would be packed.
The Grand Canal pictures below were taken over the three days we spent in Venice, and are in order from San Marco up the canal. If you get tired of Grand Canal pictures, skip to the end of the page...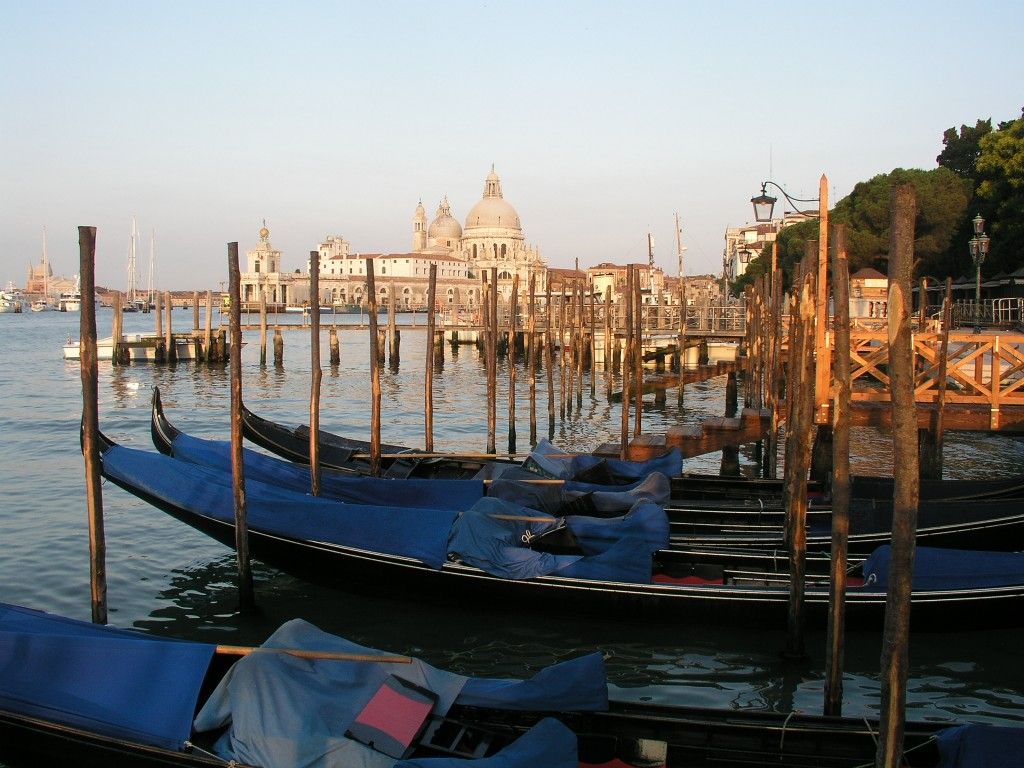 Gondolas at dawn at San Marco with the Customs House in the background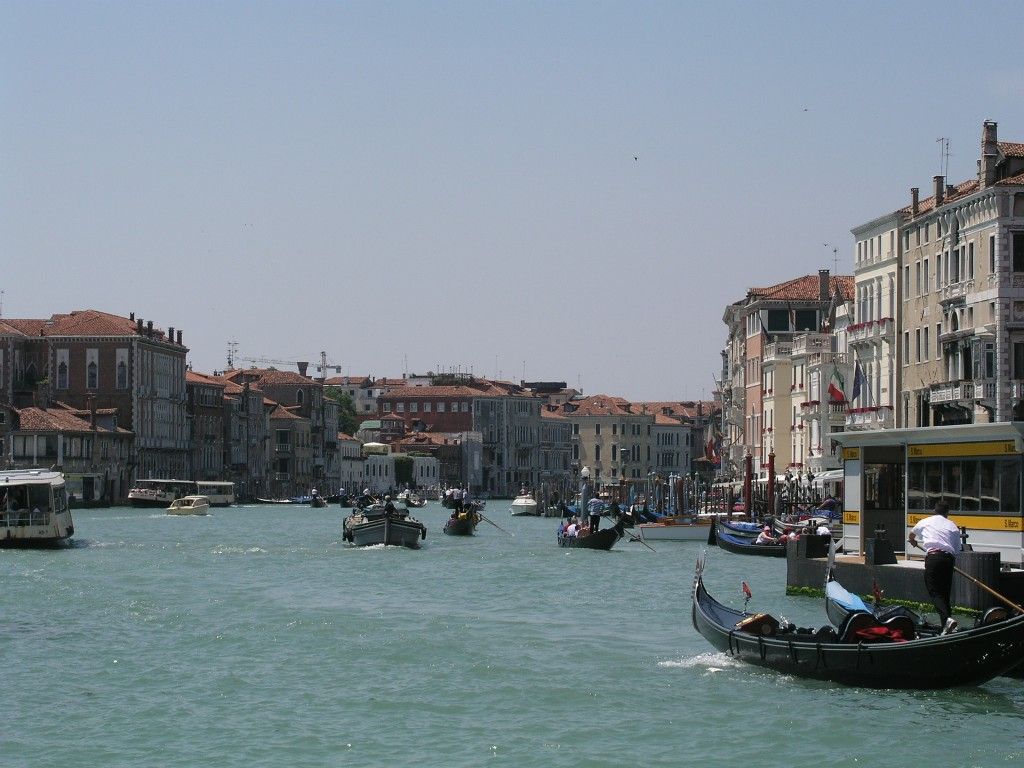 Grand Canal - looking up the canal from San Marco. Gondolas are on the right, a cargo boat in the middle, and a water bus on the far left.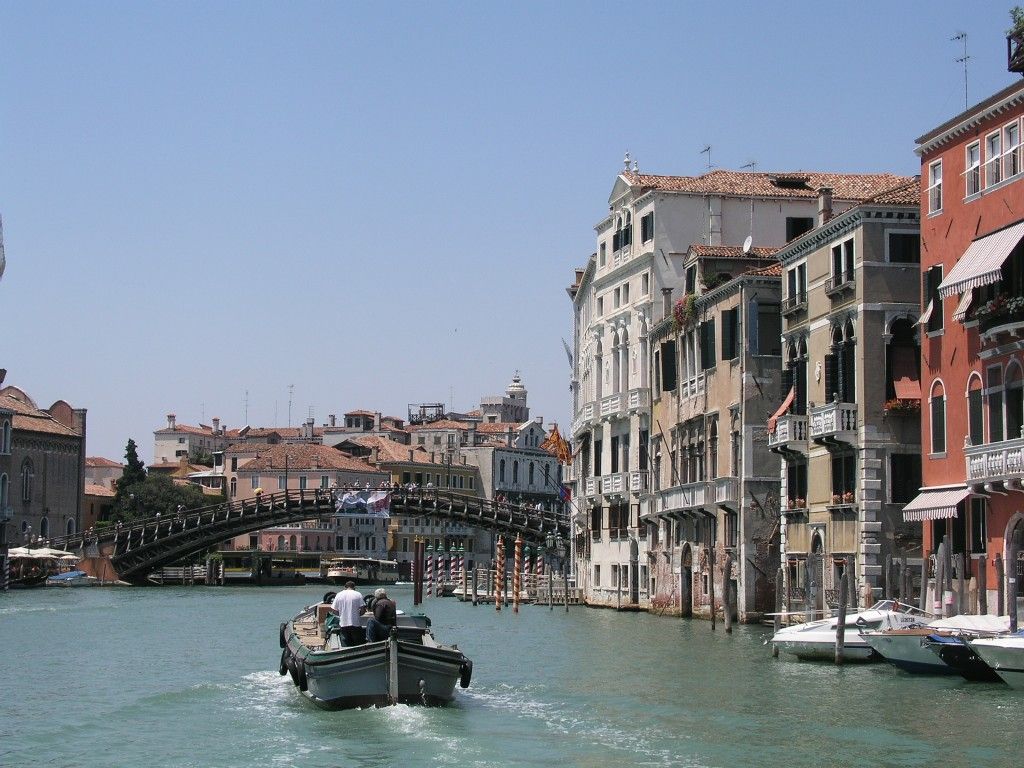 Grand Canal - Academia bridge - one of only three bridges across the Grand Canal.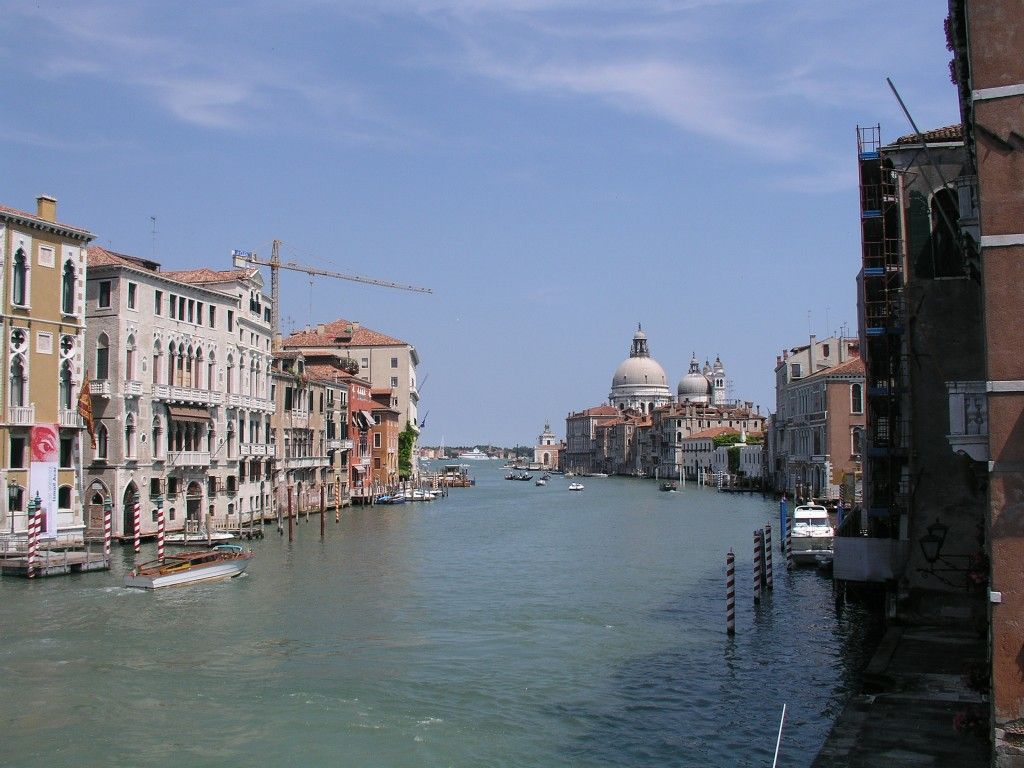 Grand Canal from Academia bridge, looking toward San Marco. Small boat on the left may be a taxi.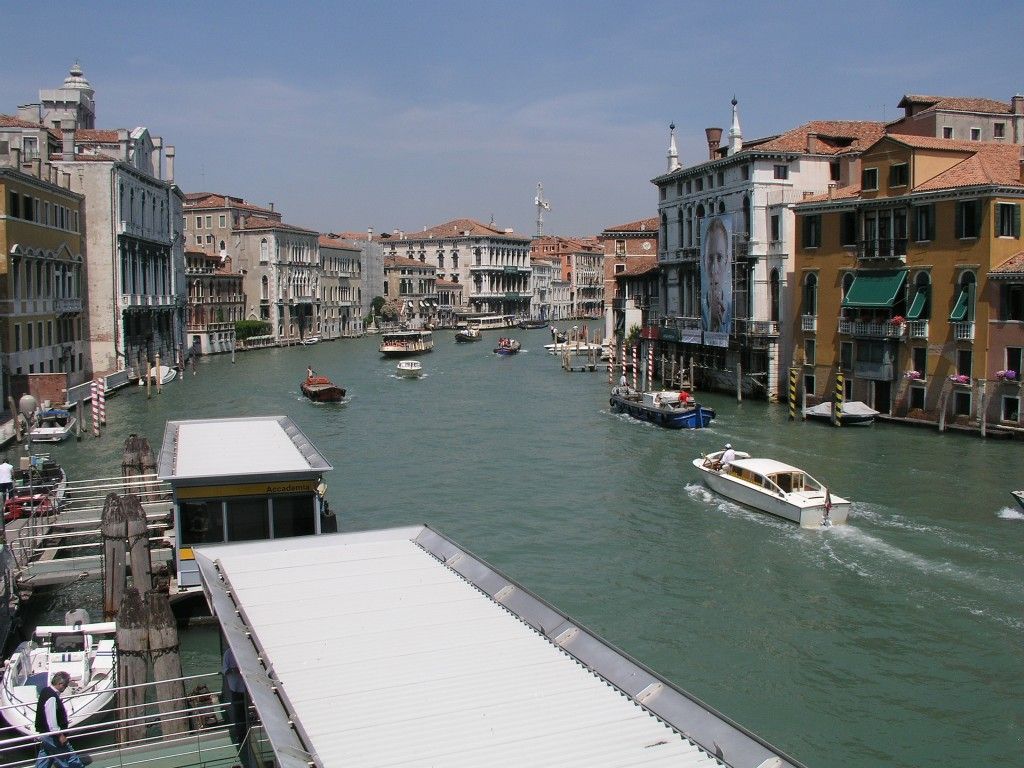 Grand Canal from Academia bridge, looking toward Rialto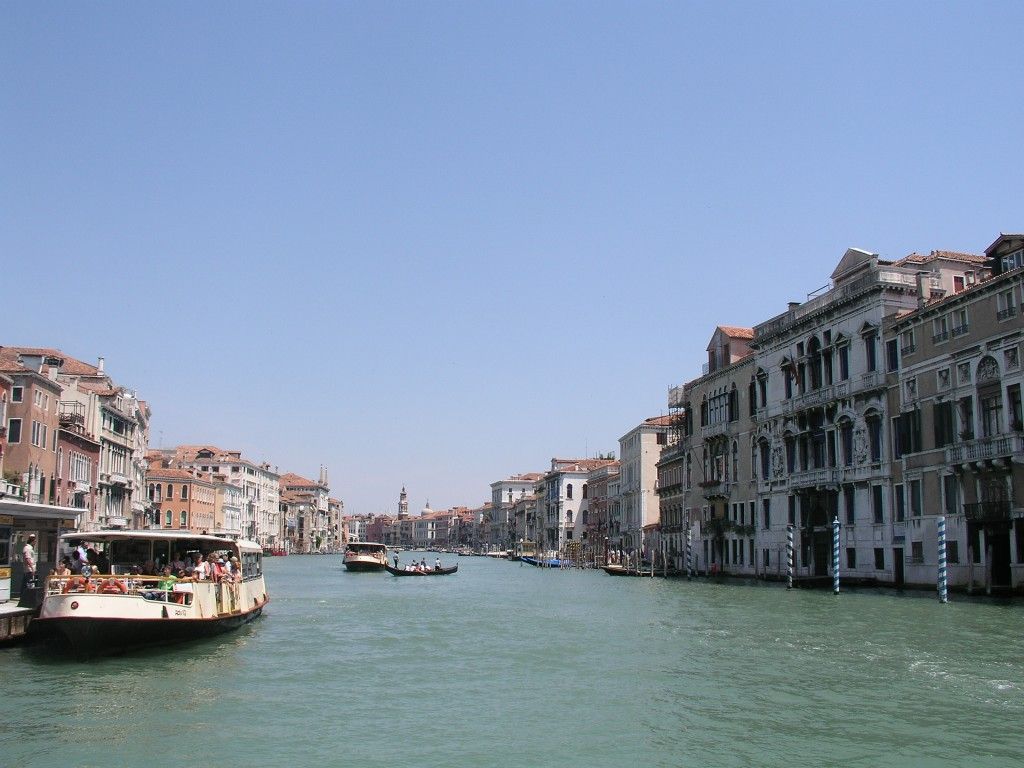 Grand Canal at San Toma, looking toward Rialto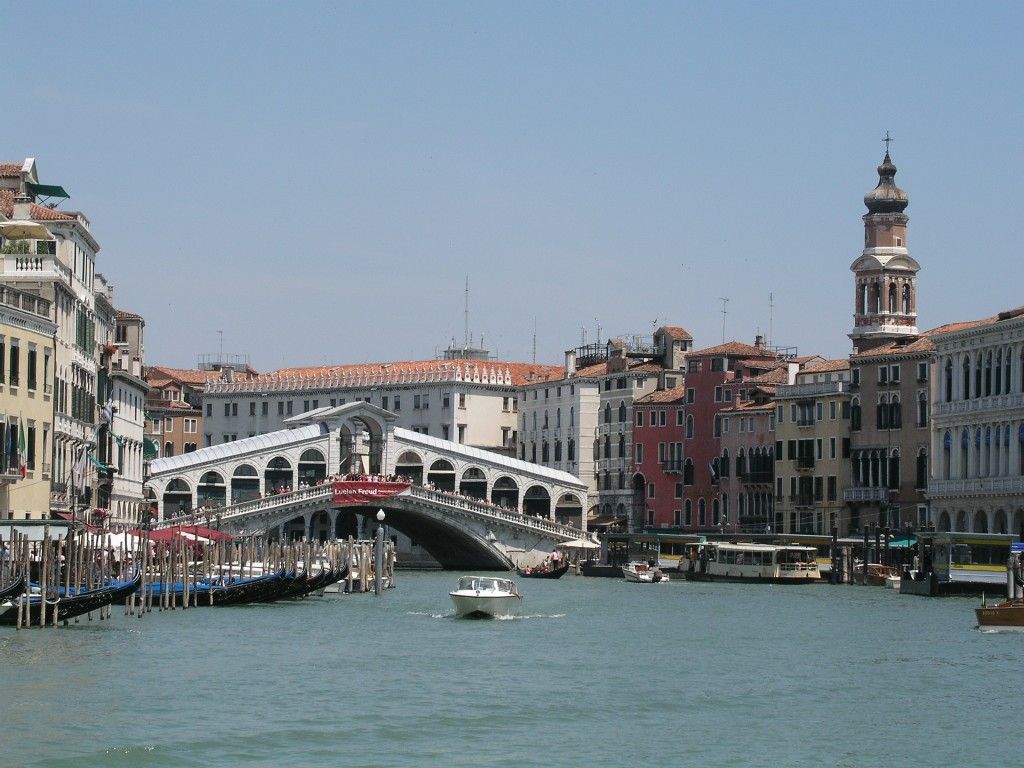 Grand Canal - Rialto Bridge, built in 1588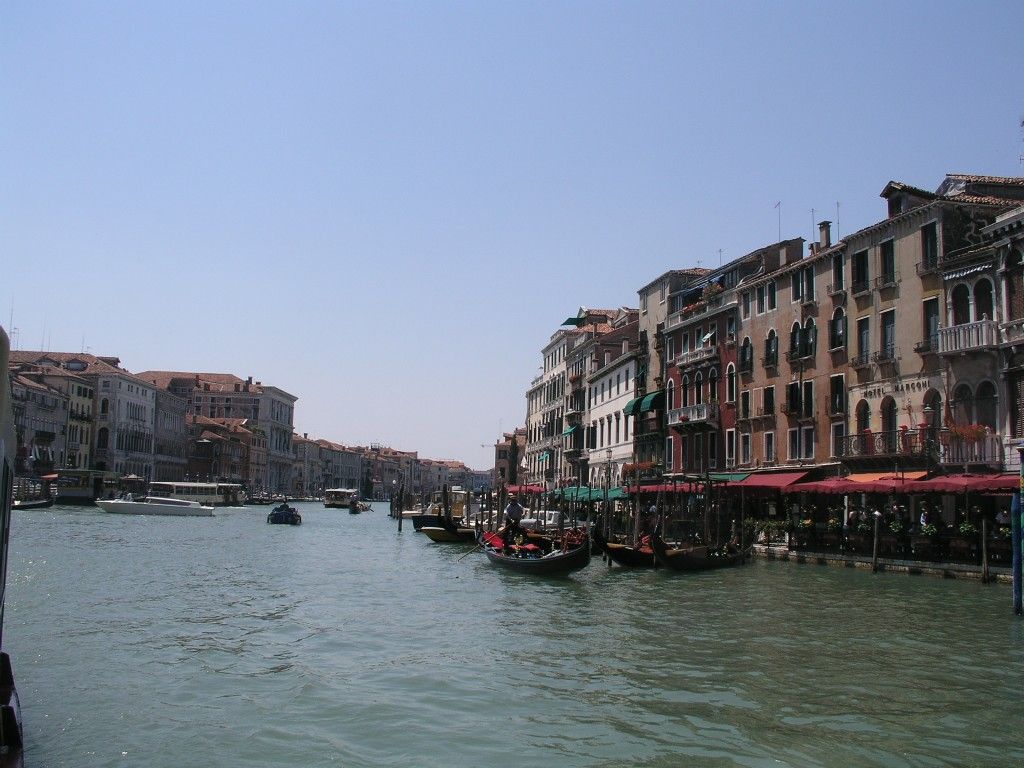 Grand Canal, from near Rialto bridge, looking back toward San Marco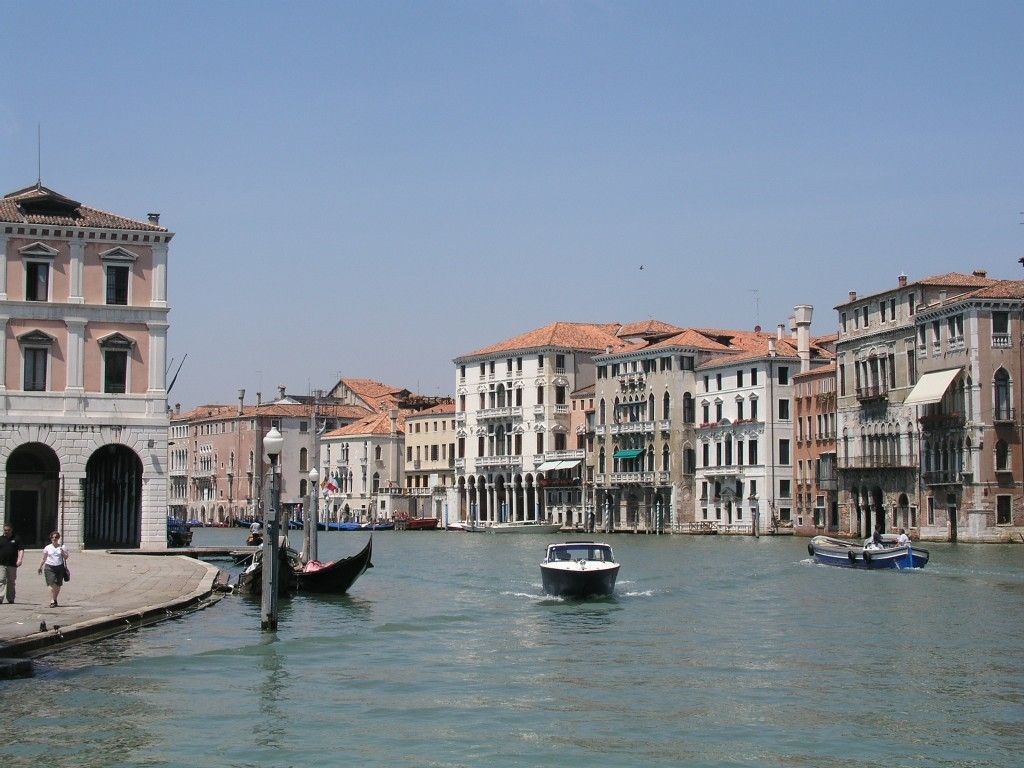 Grand Canal, from near Rialto bridge, looking up toward Ferrovia (the train station)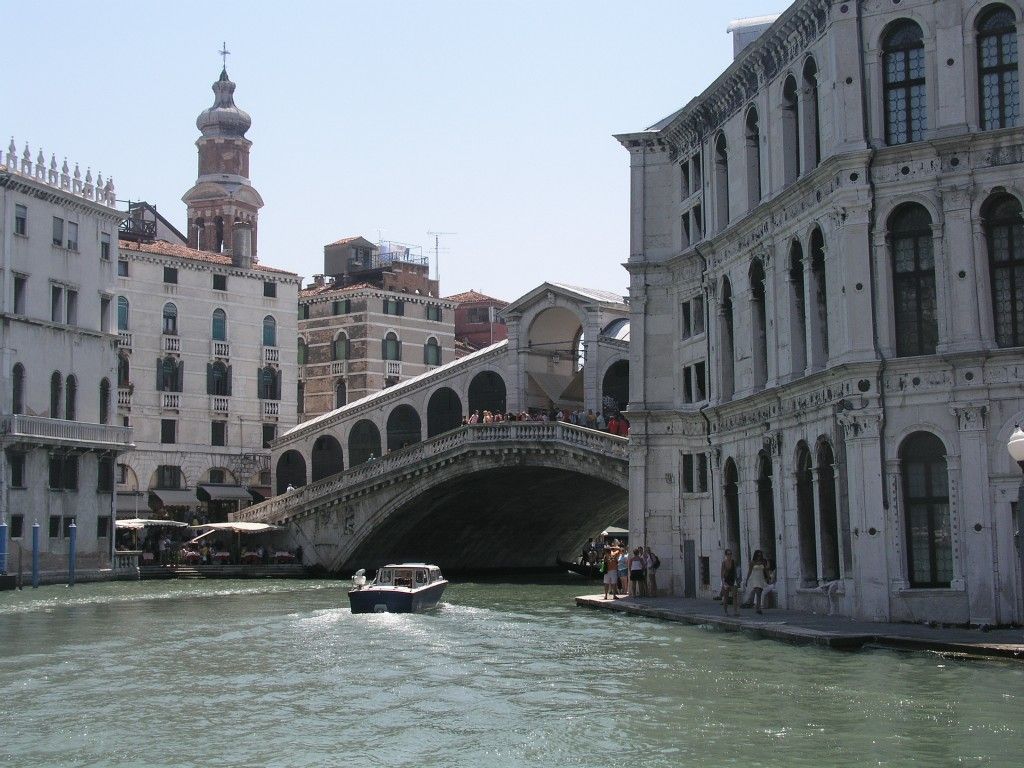 Grand Canal - the 'back' of Rialto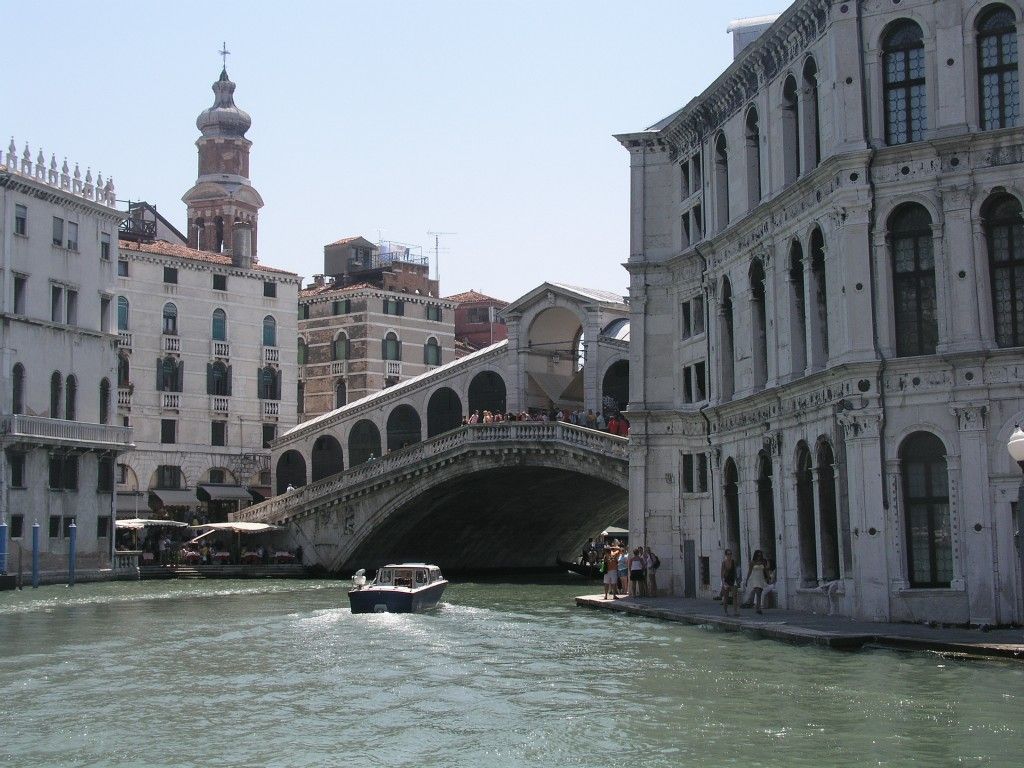 Grand Canal - the fish and produce market
On the way back to San Marco Dusty hopped off the boat to see Chiesa dei Frari. Titian and Canova's huge tombs made this church quite worthwhile – perhaps even more impressive than the Acadamia we'd seen early in the day. I walked back to the hotel, which later seemed to be a poor decision considering my hips and feet took quite a beating from my fannypack and the cobblestones.
That night we ate at Aciugheta again, the restaurant outside the hotel. Dusty tried the spaghetti with cuttlefish and ink. Spaghetti with black fishy smelling sauce and squid chunks! I was so hungry I ate half of it before giving up. The seabass was great! Bob and Kathy ordered pork and chicken respectively. Bob later commented that ordering pork in Venice was like ordering seabass in Iowa.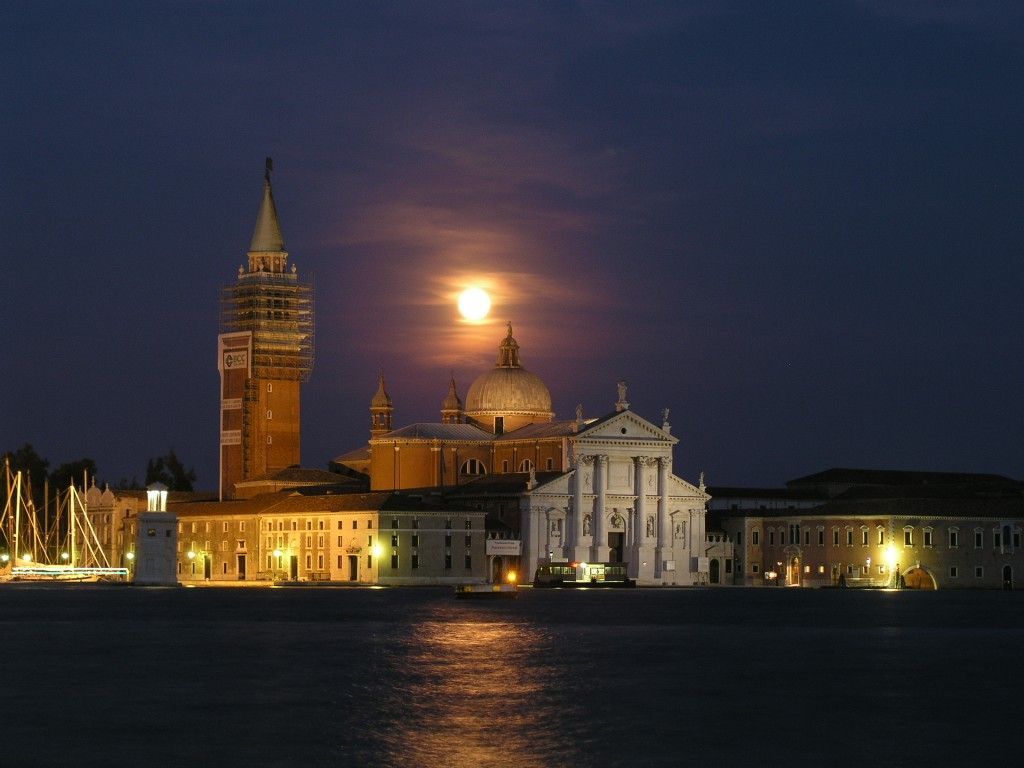 That night we watched the moon rise over the Church of Giorgio Maggiore from San Marco Piazza.
This is certainly the most challenging picture I have ever taken - a 3 second exposure holding the camera at an angle on a cement bench. I took about a dozen shots, hoping that one would work. Two were in focus - this one was slightly darker, but clearer.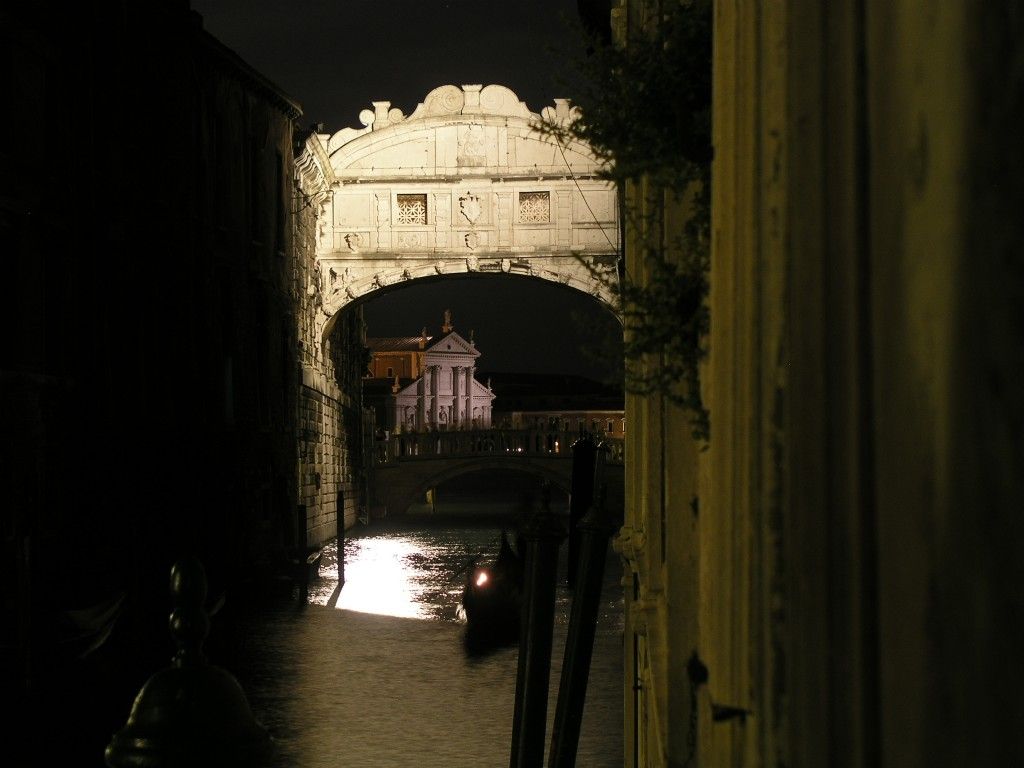 The Bridge of Sighs connects the Doge's Palace (right) with the prison across the canal (left). When prisoners were lead across the bridge to prison, they sometimes sighed audibly at their last sight at the beauty of Venice. Church of Giorgio Maggiore is in the background. I took about four shots, and they all came out about the same.
We had handled jet lag and rigors of travel much better than the last trip by pacing ourselves and resting during the afternoons. While we were tired, we didn't stay up all night and crash all day like we had the first day or two in Rome in 2003. Having a hotel a quick 3 minute walk from San Marco, the center of Venice, was key.
On the whole, the art and churches were better in Rome and Florence then Venice, but the atmosphere in Venice is unbeatable. Pickpockets were obvious in Rome and Florence didn't feel too much safer, but within hours I felt at home in Venice. There were a few beggars here and there, but I never felt at risk.
The best part of Venice was wandering the streets and getting lost away from the touristy areas. Prices for take out food and beverage fall 50% once you spend just three minutes walking in the right direction – away from the tourist traps. Prices for any sit down meal range from steep to outrageous.
Prev
Monday June 20, 2005
Day 1 - Venice

Tuesday June 21, 2005
Day 2 - Venice

Next
Wednesday June 22, 2005
Day 3 - Venice & Salzburg