Prev
Tuesday June 28, 2005
Day 9 - Mürren - Jungfraujoch

Wednesday June 29, 2005
Day 10 - Mürren - Lauterbrunnen Valley

Next
Thursday June 30, 2005
Day 11 - Mürren to Sestri Levante
We had tentatively planned to hike or bike Tuesday.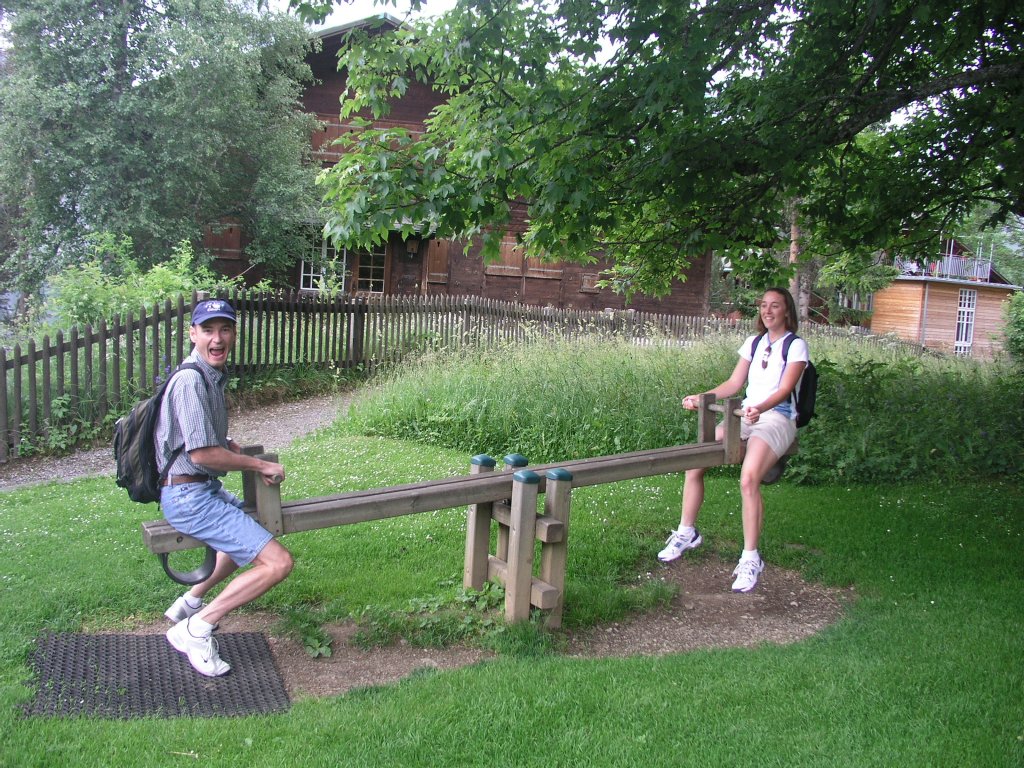 By the time I found Kent and Rita they were all ready to start hiking.
The weather looked threatening. Mountain biking in the rain down a steep hill didn't sound like a great idea, since rain made braking less than effective and far more dangerous. By the time I was ready to go - around 10am - it had started raining hard. We shopped for supplies (beer and munchies) at the Co-op and the rain let up. Bob and CJ decided to join us, and the five of us headed down the trail to Gimmelwald. The sun came out, it warmed up, and we had a fantastic, paved, easy hike down to Gimmelwald.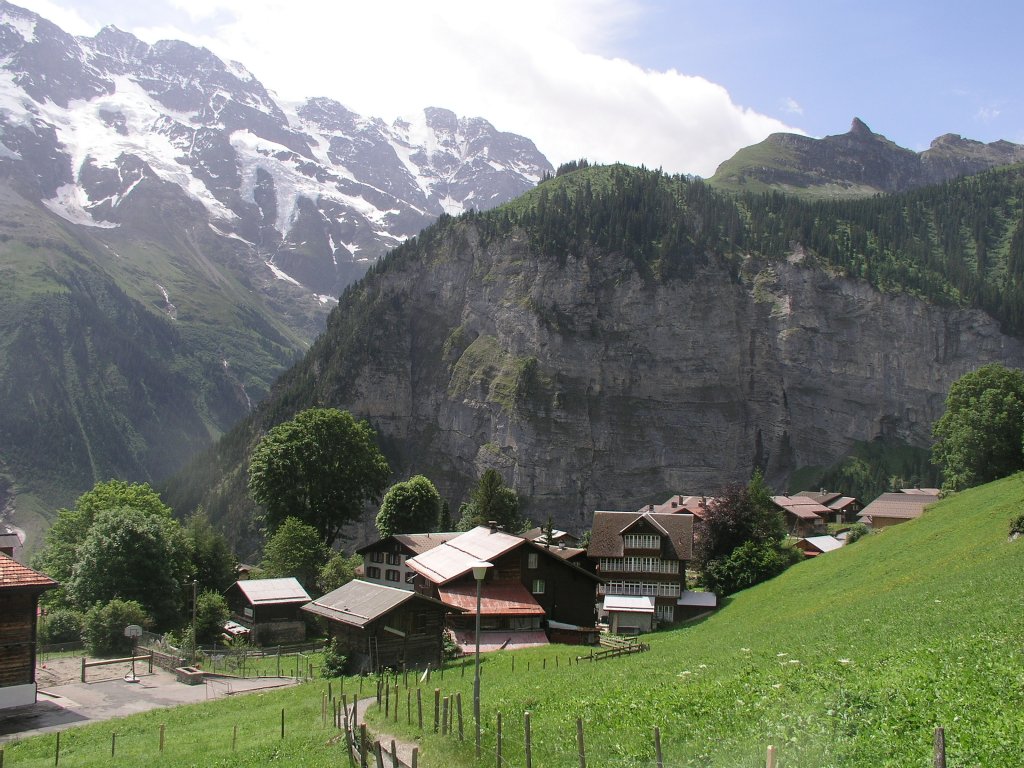 Gimmelwald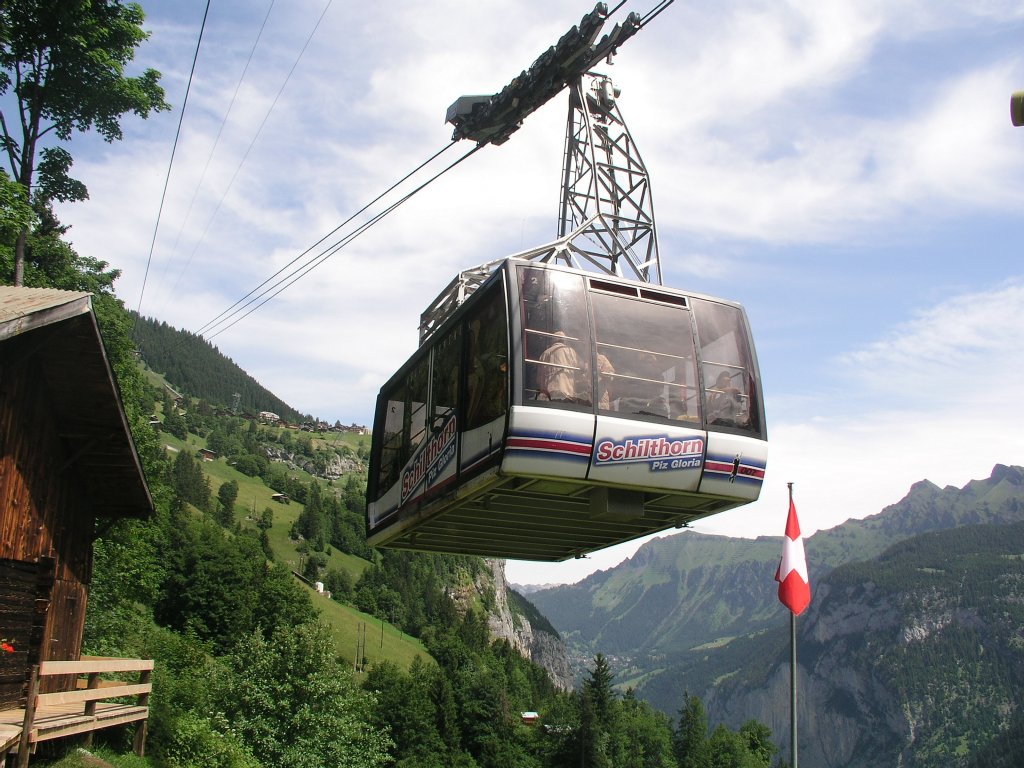 Mürren - the Cable Car from Gimmelwald to Mürren
At Gimmelwald CJ and Bob decided they'd hiked enough, so they took the gondola back up to Mürren while Kent, Rita and I kept hiking down. It grew warmer as we lost elevation, and we had a few warm beers to make the trip easier.
At Stechelbach we had lunch at the one and only place to eat. It was sunny when we say down and ordered, but in the few short minutes it took to decide what we wanted and placed our orders the sun was gone, the sky was threatening, and temperature plummeted. I was shocked at how quickly the weather turned – Kent and Rita were quite used to it, since they've lived and played in or near the mountains for years. Kent pointed out how we'd see the rain coming down the mountains before it got to us, and he was right. The waiter ran to each table to clear it off before the storm came. The rain held off until we'd finished eating, but it poured while were we were finishing our beers for about half an hour.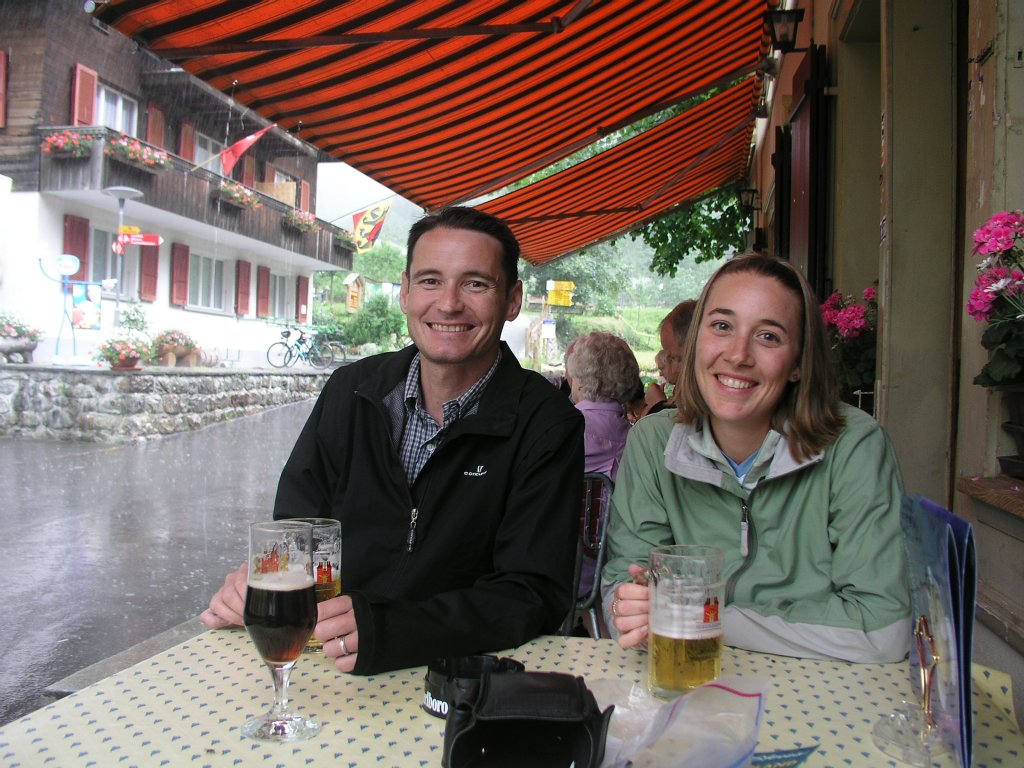 Stechelberg - waiting out the rain
Then the sun and heat again returned, so we decided to walk to Lauterbrunnen. We'd forgotten that on top of the valley a train takes us from above Lauterbrunnen to Mürren, and the walk was a bit longer than we'd expected.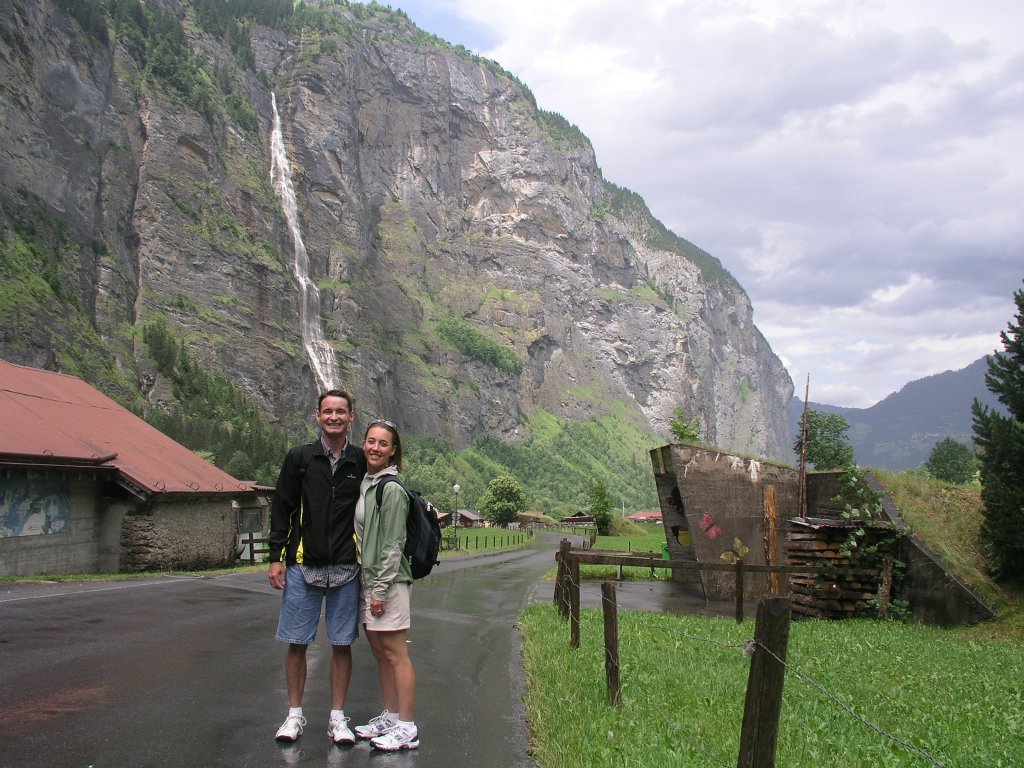 Lauterbrunnen Valley - the structure on the right is an avalanche shelter - they are placed every few hundred feet in this section of the valley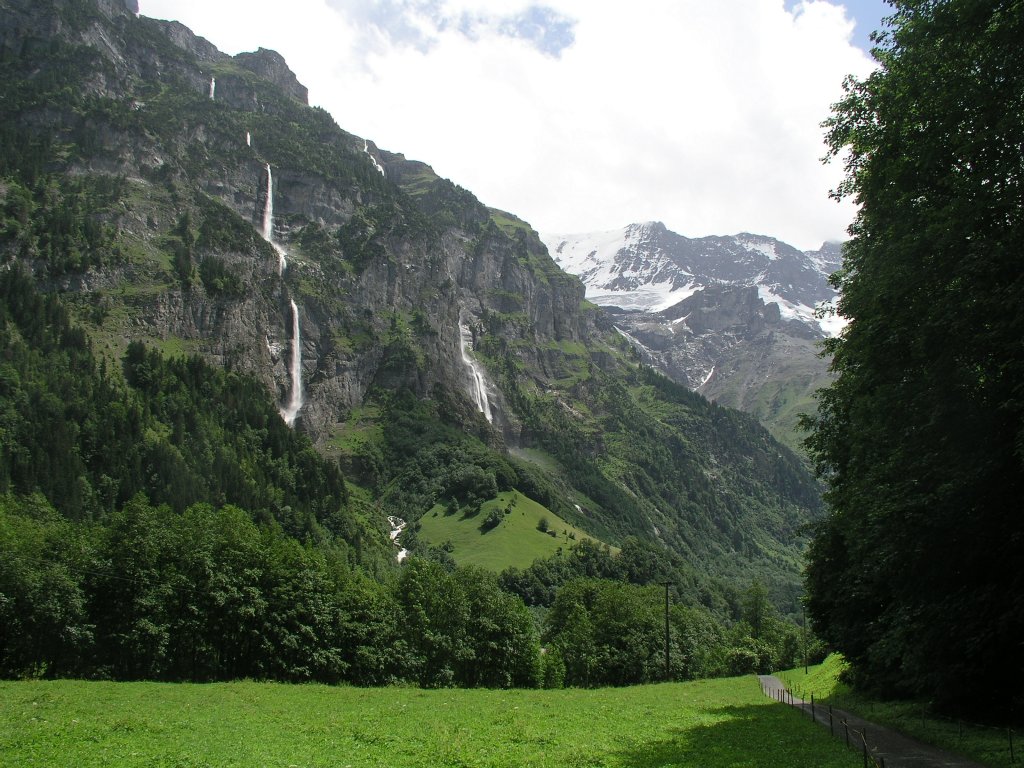 After it rains the waterfalls roar to life for an hour or so before dying back down
In Lauterbrunnen it sprinkled again briefly. After we returned to Mürren I took the kids swimming – this was at least the second time they'd been swimming today. The weather barely held until we were done swimming – at this point is started to rain hard, and continued for most of the night. We ate our third dinner in a row at the Hotel Blumental. Rick's 'top pick' for Mürren, the Stagerstübli, had only a limited selection of local food, namely several varieties of meat and cheese. The Hotel Blumental was no more pricey than any other restaurant in Mürren , and it had a great selection. I especially enjoyed the Spaetzle.


Prev
Tuesday June 28, 2005
Day 9 - Mürren - Jungfraujoch

Wednesday June 29, 2005
Day 10 - Mürren - Lauterbrunnen Valley

Next
Thursday June 30, 2005
Day 11 - Mürren to Sestri Levante