Prev
Wednesday June 29, 2005
Day 10 - Mürren - Lauterbrunnen Valley

Thursday June 30, 2005
Day 11 - Mürren to Sestri Levante

Next
Friday July 1, 2005
Day 12 - Sestri Levante
We had a bit of an issue leaving Mürren. The evening before Bob had checked on the train schedule for our Thursday morning departure. He discovered the funicular was being repaired Wednesday night and most likely would not be running in time for us to catch our trains, so we'd need to catch the gondolas and bus instead. The trains, funiculars, gondolas, and buses are all scheduled for smooth, continuous trips into and out of the valley. We caught the 8:10am cable car from Mürren to Gimmelwald, then the connecting cable car minutes later from Gimmelwald to Stechelberg. In Stechelberg we caught the bus to Lauterbrunnen, then caught the train from Lauterbrunnen to Interlaken Ost. We had a 10 minute connection in Interlaken Ost which we cut very close. Once we were on that train we were in good shape and we could start to relax. We had a 30 minute connection in Spiez that was no problem. From Spiez the train spent lots of time in the tunnels until we got to the Italian border, where we waited around 30 minutes. First we saw the Swiss police make their inspection, then the Italian police made at last two inspections, including a drug sniffing dog. Since they wasted so much time at the border our 30 minute connection in Milan was eroded to minutes, so we didn't get a decent lunch. Of course, that train was late as well, and also wasn't running any air conditioning in a blatant attempt to kill all the passengers.
Eventually we caught a glimpse of the Mediterranean, and we knew our beach time was approaching. When I planned the trip I knew that the trip into and out of Switzerland would be long, and I also knew that I was likely to enjoy Switzerland more than the rest of the family. Kathy's favorite part of Italy in 2003 was Sorrento, on the sea. I planned another few days on the sea for this trip.
Right after we returned from Italy in 2003 I watched Rick's show on Cinque Terre - this place was his specialty. I was entranced - it was gorgeous. I needed to see it NOW. I spent days trying to find a room in one of five towns with a) a sea view b) 4 beds c) air conditioning and found d) nothing. I think the closest I came was a room with no view for over 200 euro. Eventually I started looking at other cities on the Rivera, finally finding air conditioned, sea view rooms the Hotel Helvetia in Sestri Levanta.
We got off the train and I studied the map on the wall, then I bought one for good measure, even though I didn't think I'd need one. From the map, the town looked like it had only one main street, so finding our hotel should be easy. We started off in the right direction, but soon I couldn't reconcile the map with reality. A kind old man who spoke no English took us several blocks in the right direction, then pointed. Once I consulted the map, I was able to find the hotel.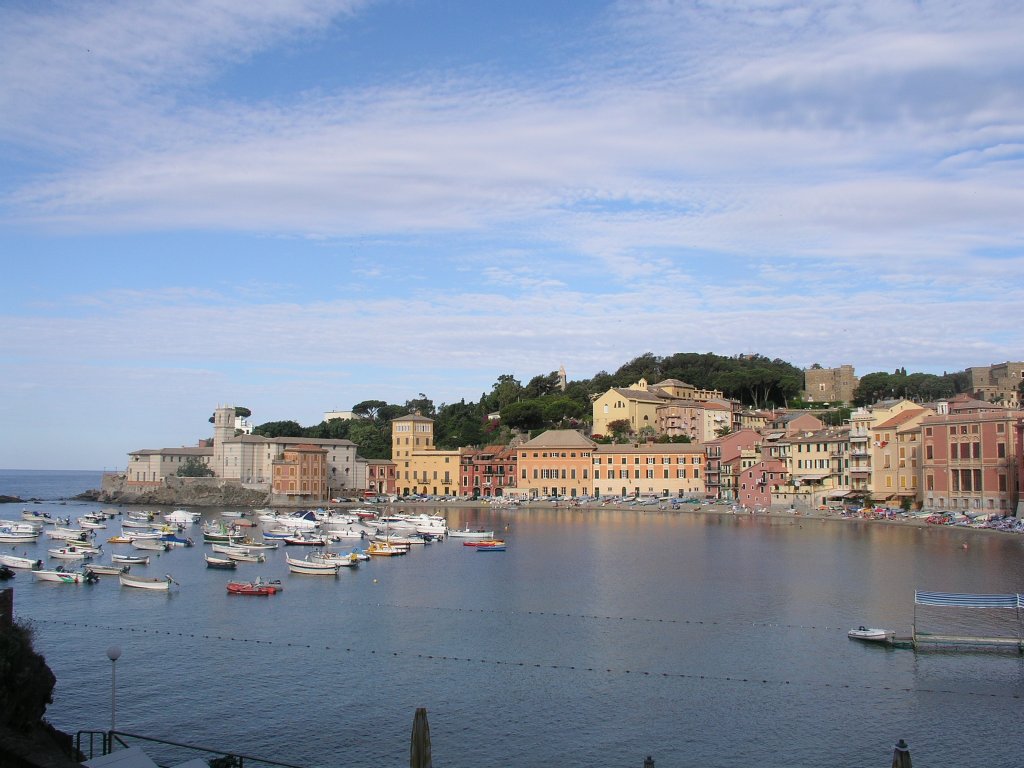 The view from our room at the Hotel Helvetia
Prev
Wednesday June 29, 2005
Day 10 - Mürren - Lauterbrunnen Valley

Thursday June 30, 2005
Day 11 - Mürren to Sestri Levante

Next
Friday July 1, 2005
Day 12 - Sestri Levante