Prev
Introduction

Tuesday June 26, 2007 and
Wednesday June 27, 2007
Day 1 - El Granada to Paris

Next
Thursday June 28, 2007
Day 2 - Paris

I'd had a fair amount of trouble sleeping recently – at least two major work projects, plus planning the trip, kept my mind going. I woke up at 3am Tuesday morning and knew I had no prayer of getting back to sleep. Read the news online, checked the weather, still no problems forecast for Chicago.
We left SFO on time uneventfully. We saw Lake Tahoe basin filled with smoke with a thick column rising from the center, looking more like a volcano than anything else.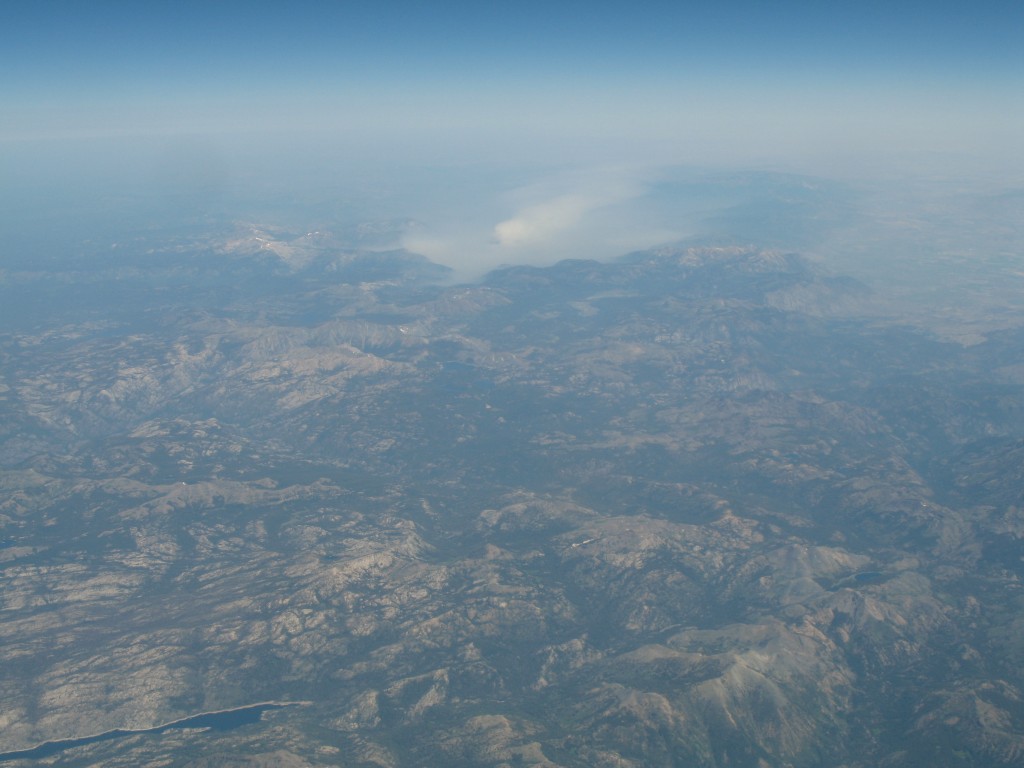 Angora Fire in Lake Tahoe Basin
As we started our descent into Chicago the captain announced that they had shut down half the airport due to a severe storm, and we may have a delay. A few minutes later, right over the Illinois-Iowa border, we started an unexpected wide sweeping turn as the captain announced that ORD was completely shut down to arrivals, and that we were in a holding pattern. Not good. Three complete circles later – about half an hour –the captain cut the engines again as he announced that we would need to land in Rockford and take on more fuel. Not good again. We seemed to be flying quite low over the tiny town of Rockford and landing quite fast – I realized that 767s only land in Rockford when something is wrong. We were allowed to use cellphones and bathrooms as soon as we stopped. We saw at least half a dozen planes parked on the tarmac waiting for fuel and waiting for the weather to clear. Everyone was quite pleasant. Unfortunately they ran out of drinking water almost immediately, and the fascists decided it was ill advised to serve alcohol to a plane full of anxious passengers. A 757 landed a while after we did and parked next to us…. And then got fueled up before we did! Finally we got fueled up and took off – flying time of a full 18 minutes to O'Hare, landing at 6:25pm. Fortunately our 6:05pm flight to Paris was delayed until 7:00pm. We felt quite lucky – there was course a huge line for United customer service for those who had missed their flights.
The flight across the Atlantic was less eventful. We all got a few hour's sleep and landed around 10am, about an hour late. We got to wait in line about 15 minutes to clear immigration (passports stamped), then almost another hour while the kids found our 3 checked bags. It rained hard for a few minutes while we were waiting for our luggage, but then stopped and went back to 'cloudy and muggy'. Took most of another hour to find the tram to the train station, wait in line, purchase train tickets, and board the train into Paris.
The 'express' train we chose was quite slow, and took perhaps 40 minutes to amble to Gard de Nord, one stop short of our destination Chatelet Halles. There we sat…. and sat… and sat… for perhaps 20 minutes. At this point the kids were taking naps and their parents were total zombies. They made a few announcements in French. A French speaking family also stayed in our train car, so we assumed if anything was really wrong they would have gotten off the train. I poked my head out of the train – there were no computer monitors or anything else that would confirm if things were as expected. A couple of people boarded our car, then the doors shut, and we started moving… in the wrong direction… quickly… and we didn't stop until we reached the airport. None of were very pleased by this turn of events. Our only consolation was that we got there fast – perhaps 15 minutes. We got out at the first stop and crossed over to the inbound track. The computer display indicated (in French, of course) that there was an accident at the St Michel/Notre Dame station, and that all train lines were ending at Gare de Nord station. This explained everything. We then appreciated how much easier it is to read French than understand or speak it.
We got to Gare du Nord – an enormous, intimidating station – and eventually found the line to purchase a Carte Orange (weekly) pass for the Metro – something we needed to do today, anyhow, since they don't sell the Monday through Sunday passes after Wednesday. We waited another 20 minutes in line, found our Metro, got on, got off, found an exit, found the Paris Apartment rental office, found the apartment at 55 Rue St Sauveur.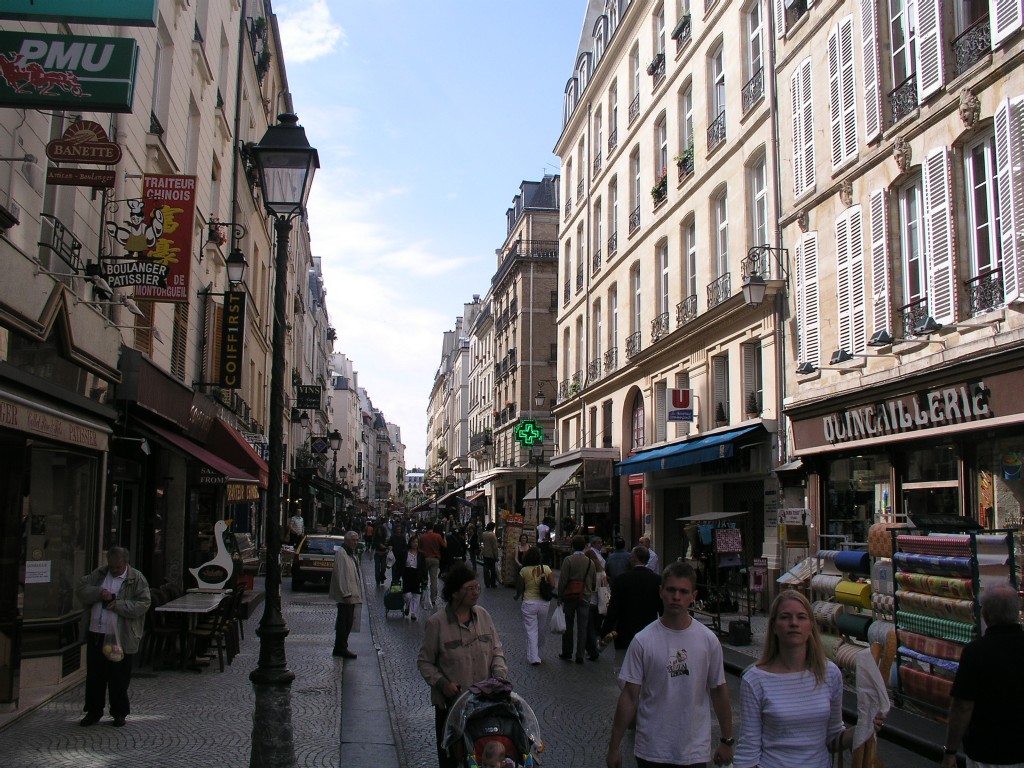 Rue Montorgueil
The stairs up to our one bedroom third floor (4th floor US) apartment at were steep and uneven. The apartment was decent – furnishings looked a little dated, and smelled a little of cigarette smoke but not too badly. Had a college dorm style refrigerator, the world's smallest microwave, and a kitchen sink a little smaller than an RV's. But the beds were comfortable (at least Dusty thought his bed was). Probably the best feature of the apartment was the location, in the heart of the walking district. Rue St Sauveur is an oversized alley, but Rue Montorgueil was a main pedestrian street. Our block had a supermarket (more like an oversized 7-11 by US standards), a few butchers, bakers, cheese shops, wine shops, gelato places, and several restaurants and cafes. We found a roast chicken for the family to eat for dinner, Rice Krispies and milk for breakfast, and plenty of beer at the nearby supermarket for daddy to drink, found some gelato for desert, and called it a day. The whole neighborhood was silent at night - no crowd noise, no traffic noise. Our back bedroom was even pitch black. The building has a free laundry room for the tenants.

Prev
Introduction

Tuesday June 26, 2007 and
Wednesday June 27, 2007
Day 1 - El Granada to Paris

Next
Thursday June 28, 2007
Day 2 - Paris