Prev
Tuesday June 26, 2007 and Wednesday June 27, 2007 Day 1 - El Granada to Paris

Thursday June 28, 2007
Day 2 - Paris

Next
Friday June 29, 2007
Day 3 - Paris
We were all awake much of the night. While Dusty is used to insomnia; the rest of the family is not. Not quite sure why jetlag hit so hard this time when we had it so easy on the last trip in 2005 – perhaps it was because we napped; perhaps it was because on the last trip we slept overnight in Chicago on the way out. Cj said it was because we fed them gelato for desert. I was the first to wake up - at 9:37am. We didn't leave the apartment until around 11. We headed to Notre Dame, and found a loud protest in progress – with plenty of police waiting on nearby streets - at the center of Paris.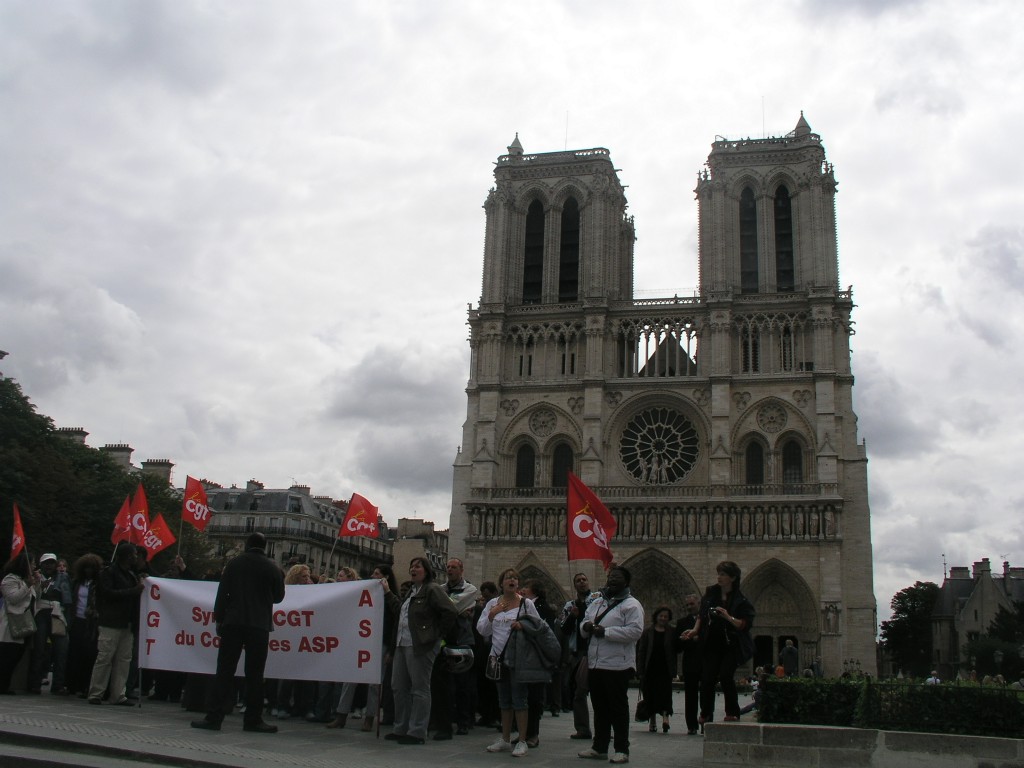 Protest at the center of Paris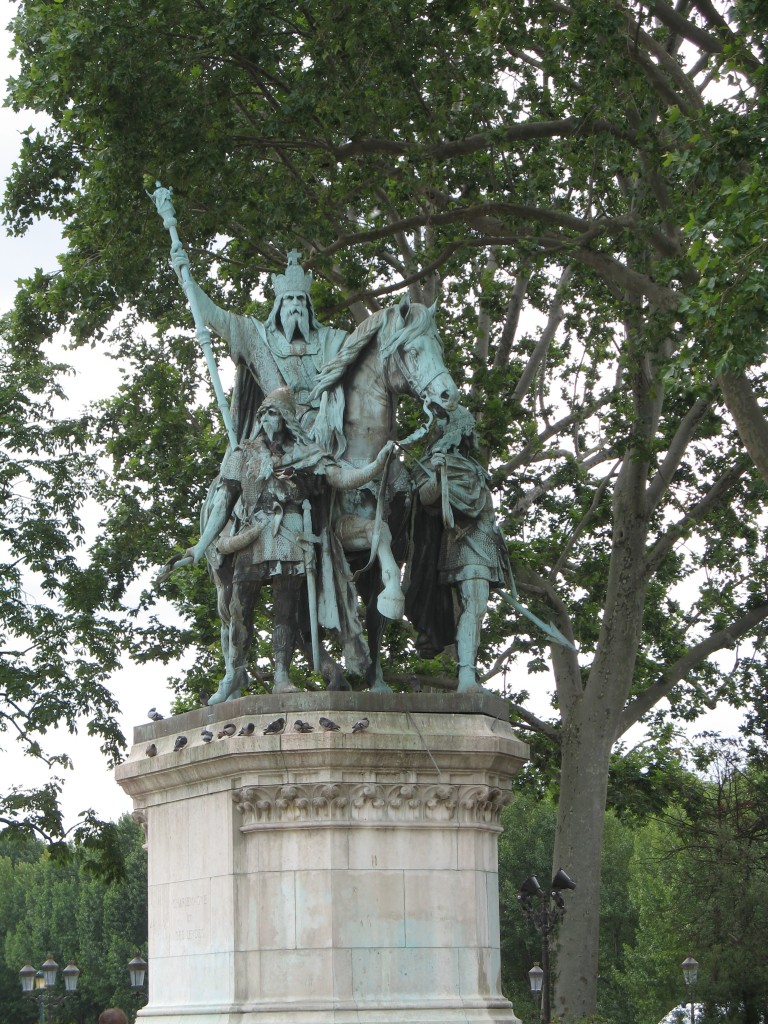 CJ's picture of Charlemegne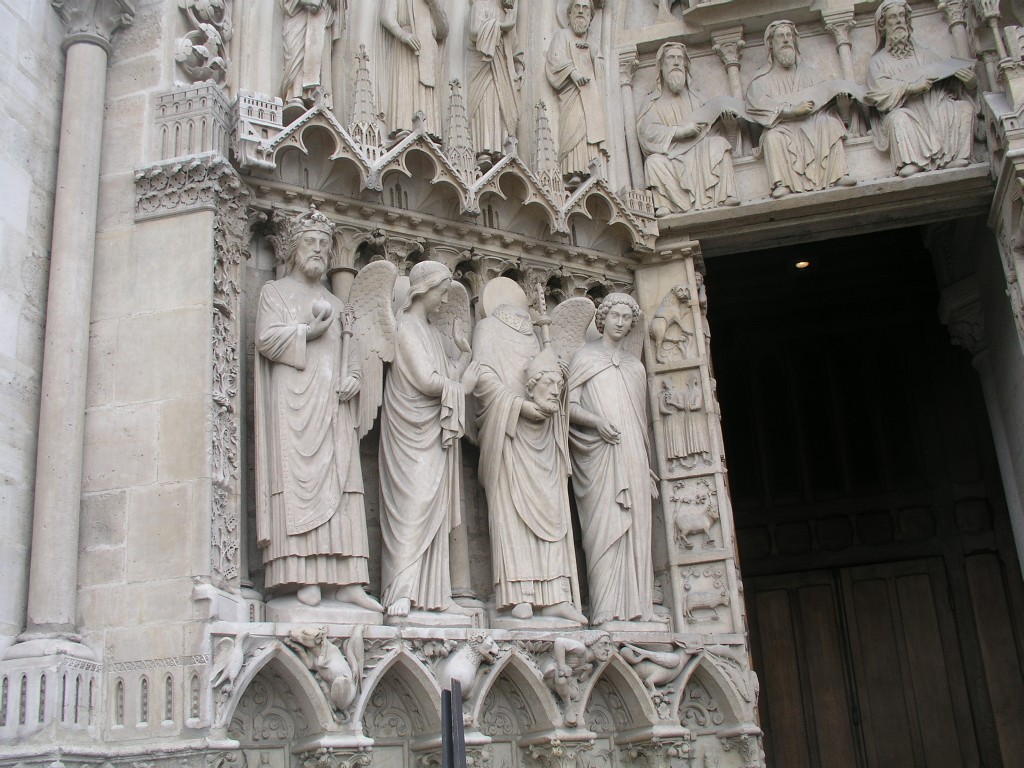 St. Denis, bishop of Paris, was beheaded for spreading Christianity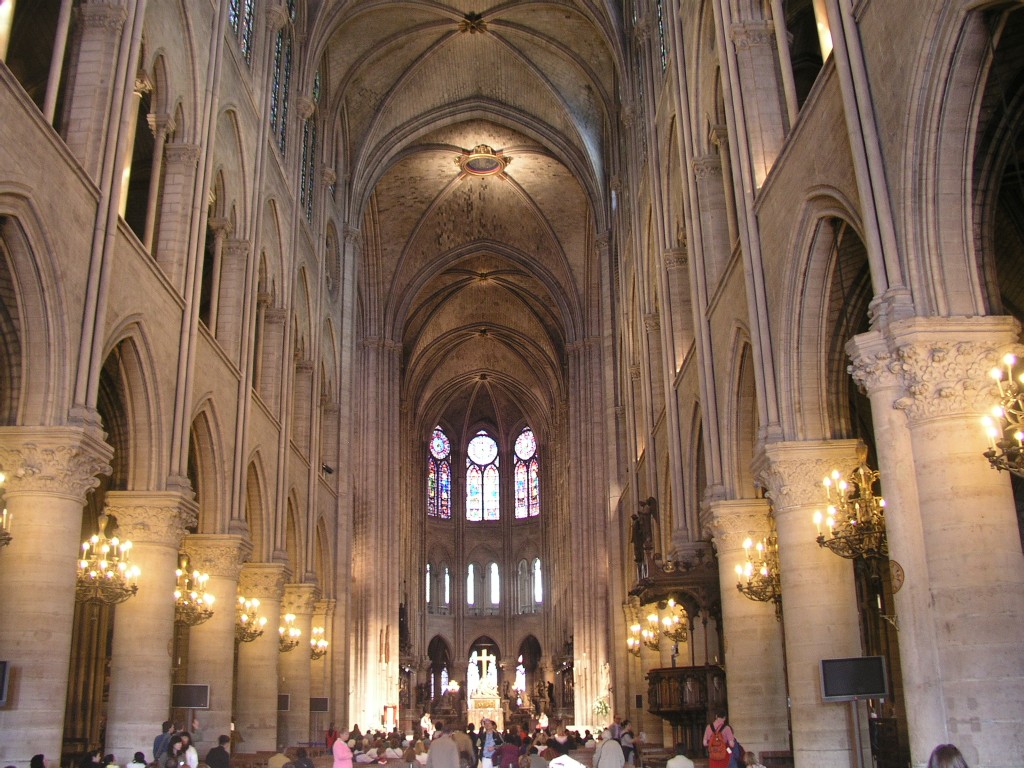 Notre Dame's very tall interior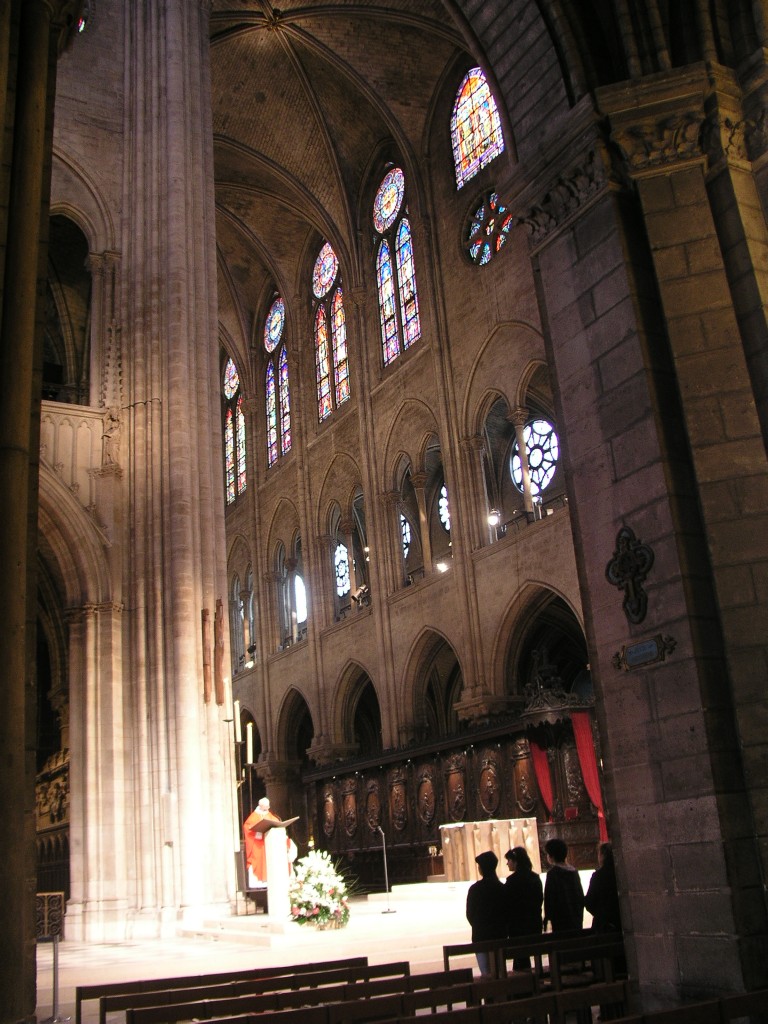 Mass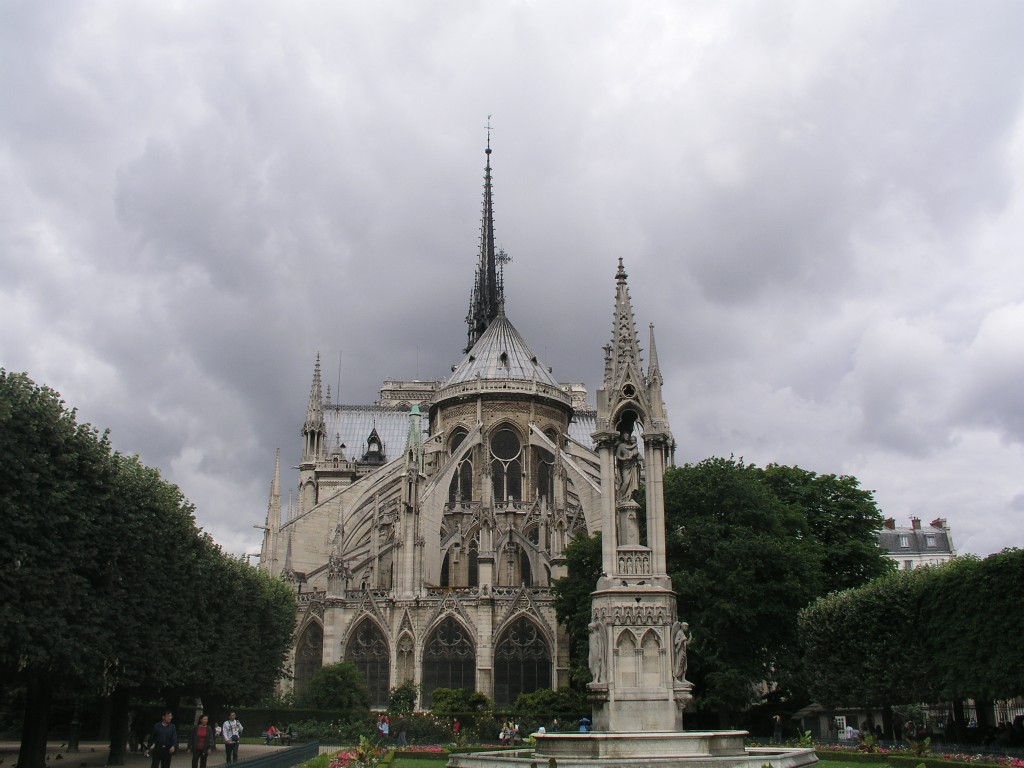 Notre Dame - rear view, with the flying buttresses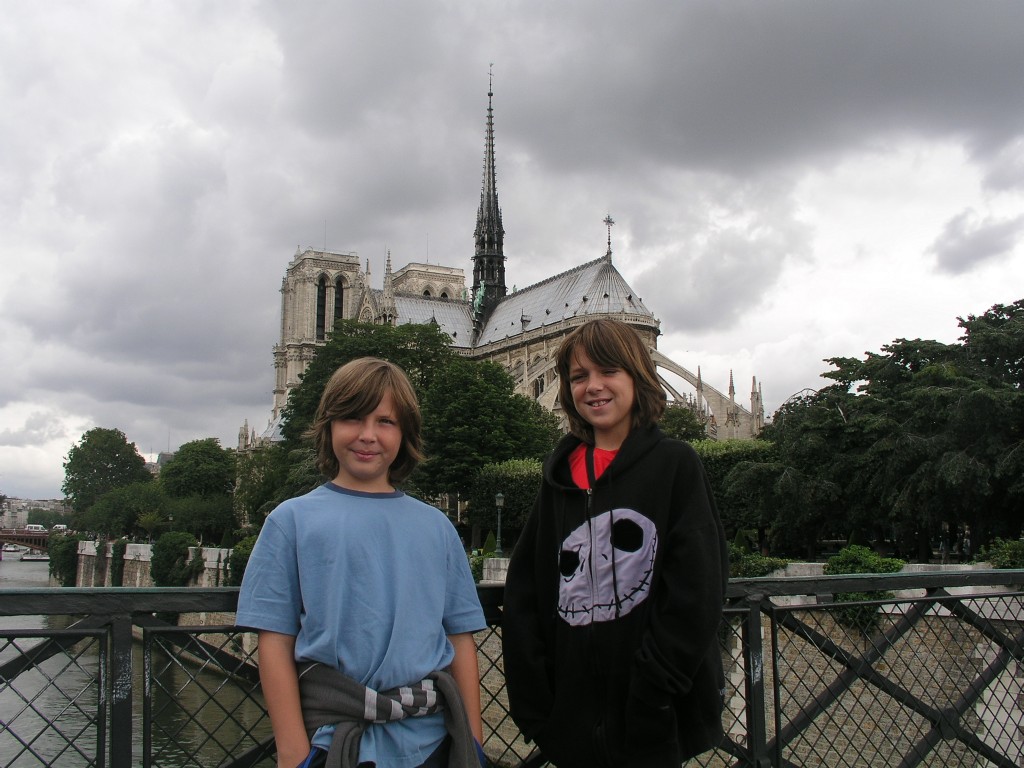 CJ and Robby on the Pont de l'Archevêché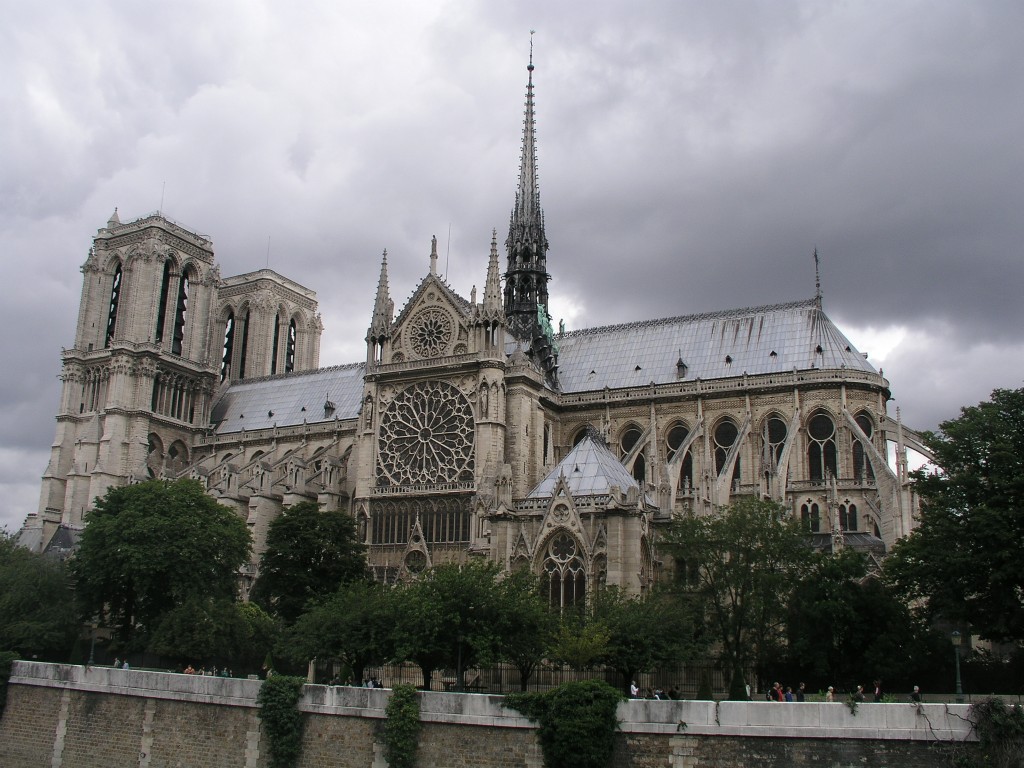 Notre Dame from the Left Bank
We visited Notre Dame. Unfortunately the line to visit the tower was quite long – we decided to come back first thing in the morning. The Deportation monument was closed for lunch. We saw the Shakespeare and Company bookstore, then decided it was time for lunch ourselves. We braved the valley of grossly overpriced tourist trap restaurants (Rue Saint-Severin and the surrounding area on the Left Bank) before settling on crepes, panini, and le Big Mac for Robby. Kathy and I purchased our 4 Day Paris Museum Passes at the Cluny Museum, and we spent about an hour there (there is no need to buy Paris Museum Passes ahead of time, and websites overcharge for them - also kids are free at nearly every museum in Europe so they don't need passes). The only really cool exhibit – other than the building itself (an ancient Roman bathhouse) – were the Lady and the Unicorn tapestries. We headed back to the Eglise Saint-Séverin so Robby could see the gargoyles. Unfortunately the gargoyles were no better than those on the side of Notre Dame. The church interior was interesting but not exciting…until Dusty noticed a photographer with a tripod. The photographer had an excellent eye, and Dusty – who is not above photographic plagiarism - followed him for a few minutes and took the same interesting shots of Gothic.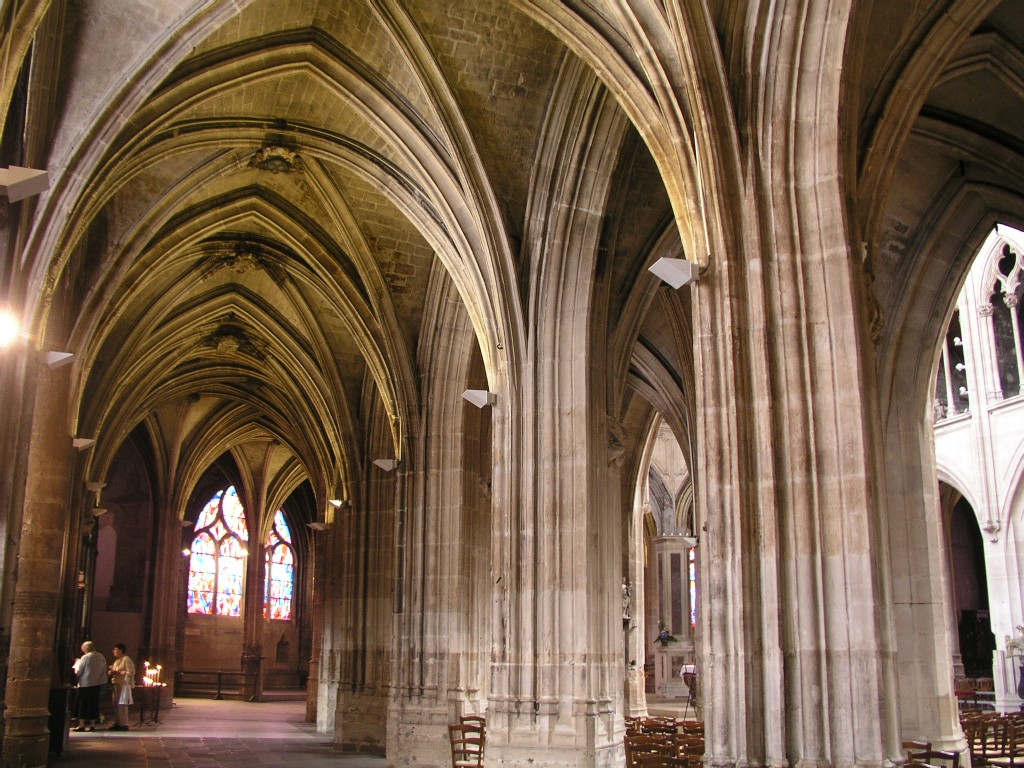 Eglise Saint-Séverin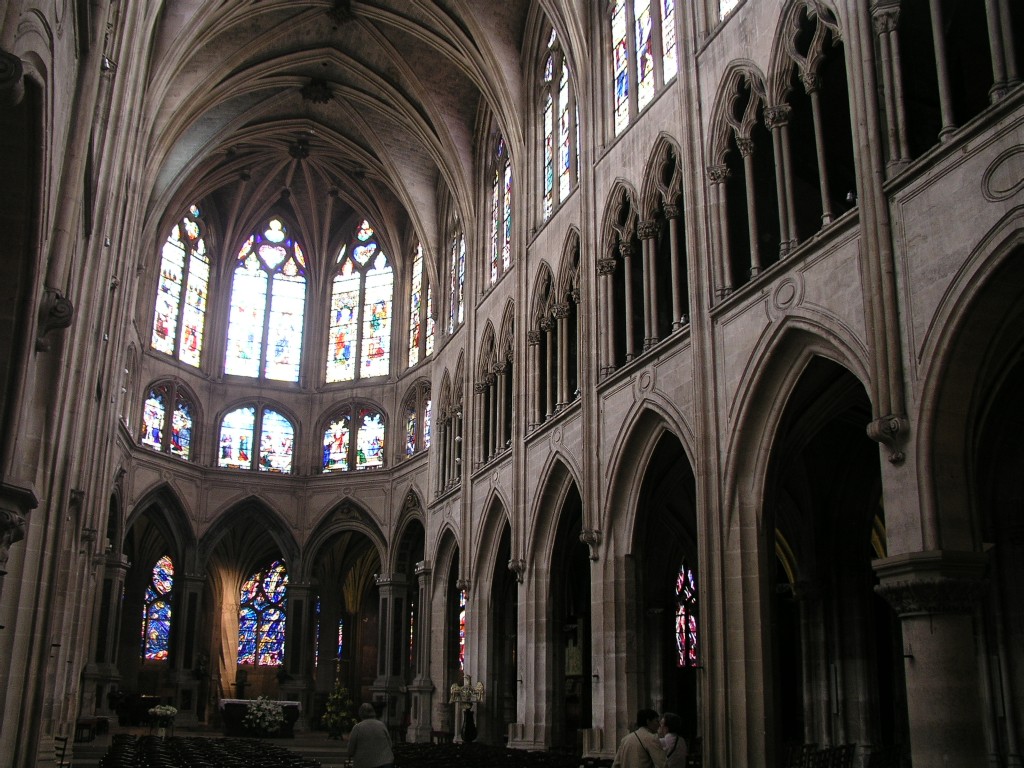 Eglise Saint-Séverin. The lit column on the lower left is shaped like a palm tree, though I did not realize it until preparing the website
We then decided to head over to the Eiffel Tower. Dusty's infallible sense of direction is useless underground, and we got on the correct RER train headed the incorrect direction. Fortunately he realized his mistake at the first stop, corrected, reversed course, eventually reaching the Tower and its endless lines to ride the elevator. Robby really wanted to ride up, but we decided to come back another time.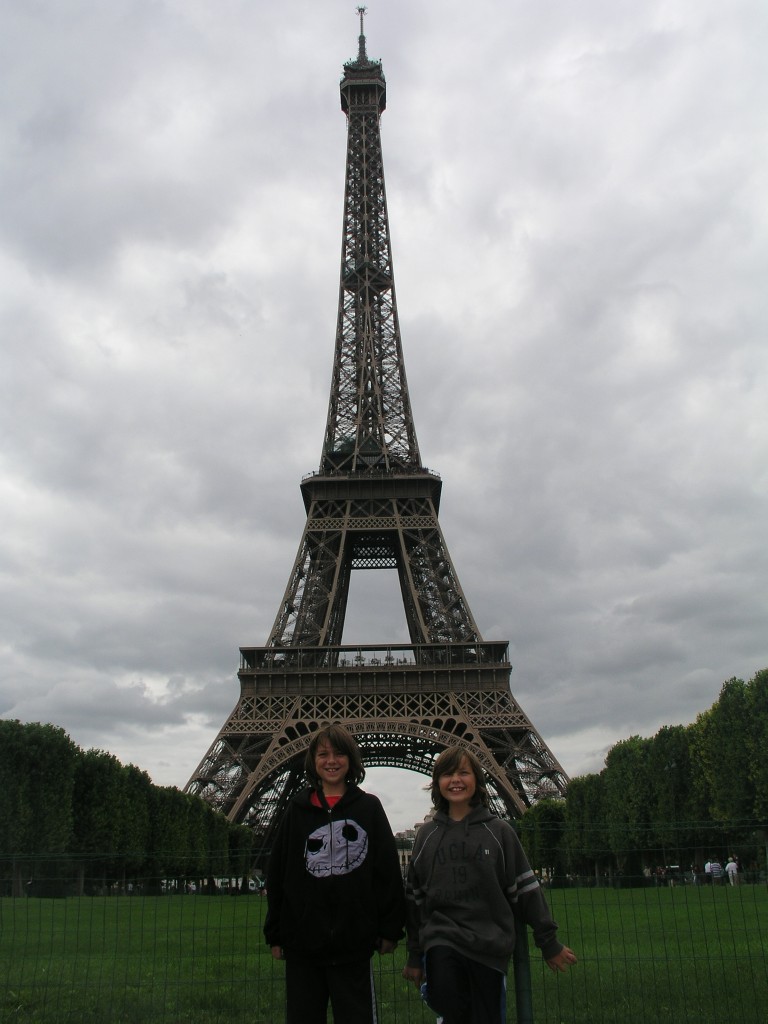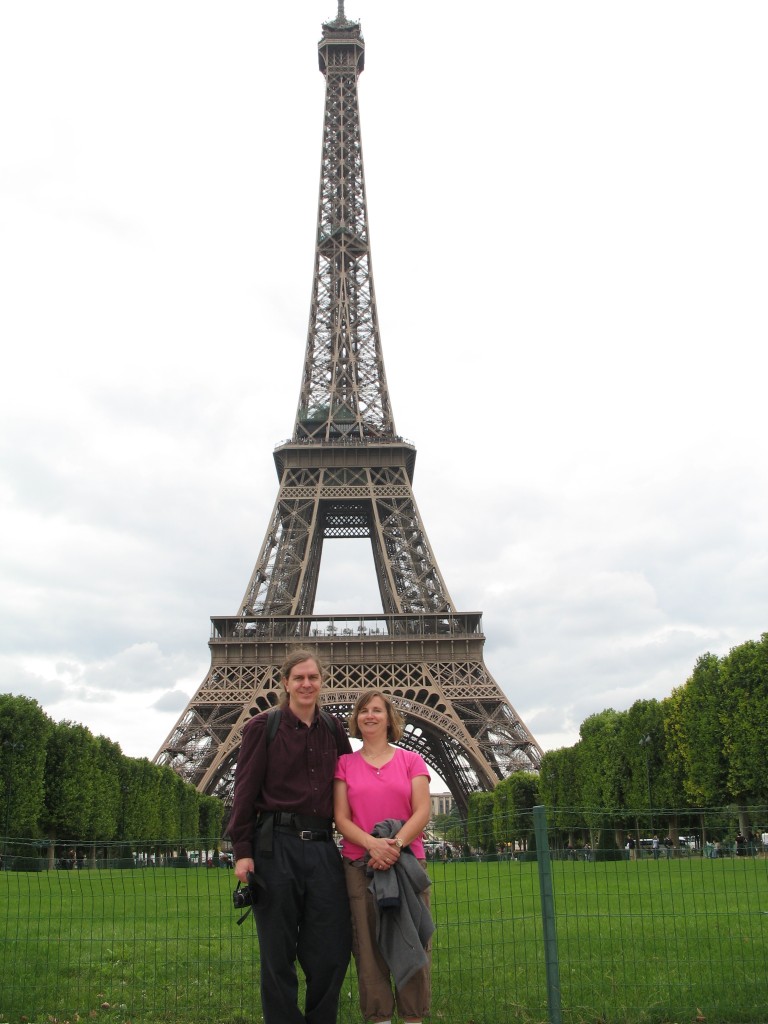 CJ's picture of Kathy and Dusty
We eventually reached the World War I and II museums at Les Invalides. While they had some English descriptions, they seemed to go on quite a while. We then backtracked to Napolean's Tomb.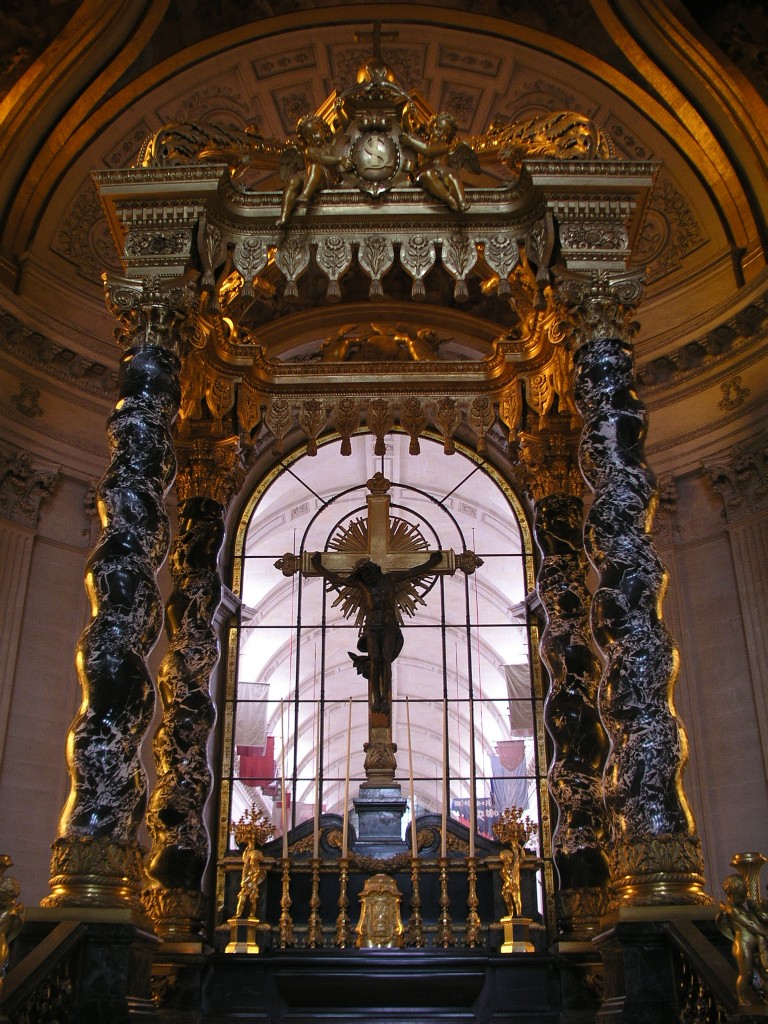 The alter at Napolean's Tomb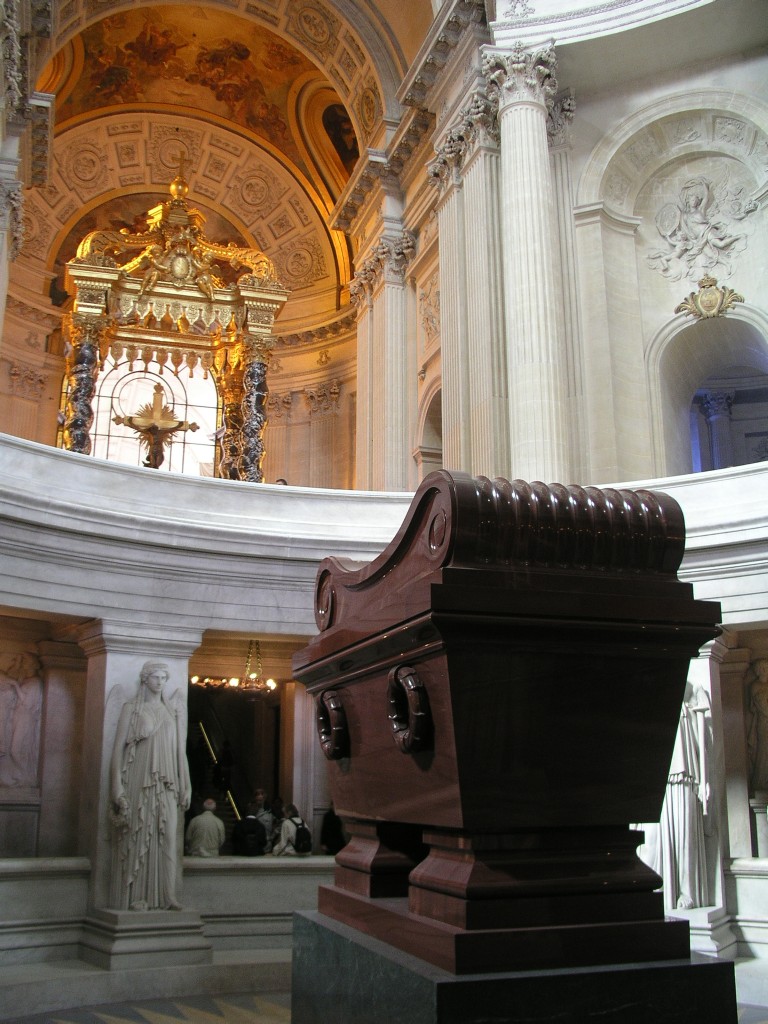 Napolean's Tomb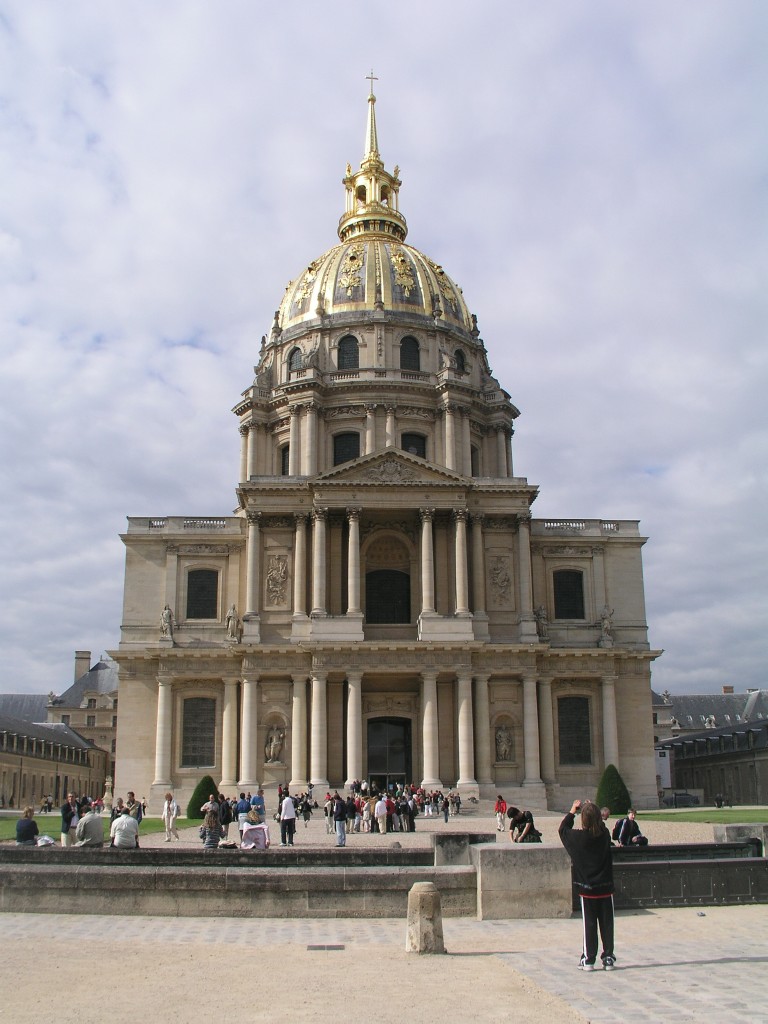 CJ taking a picture of Les Invalides
While inside the sun came out, so CJ and Dusty went to get pictures of the gilded dome in sunlight. We then headed home on the Metro during rush hour, this time making no wrong turns and actually selecting an optimal route. Dinner consisted of various yummy Greek dishes with pizza prosciutto for the kids.
Prev
Tuesday June 26, 2007 and Wednesday June 27, 2007 Day 1 - El Granada to Paris

Thursday June 28, 2007
Day 2 - Paris

Next
Friday June 29, 2007
Day 3 - Paris