| | | |
| --- | --- | --- |
| home | The Ketchums in Italy | |
Prev
Friday July 4, 2003
Day 5 - the 'Bus' to Napoli,
Ercolano, & Sorrento

Saturday July 5, 2003
Day 6 - Sorrento

Next
Sunday July 6, 2003
Day 7 - Sorrento & Pompei
We took it easy. We were in one of the world's most beautiful places, and found no real reason to do very much. Went upstairs to the pool in the morning, and I finished the fifth Harry Potter book. We walked into town for lunch. Karin and Kathy returned to the room for naps, while the rest of us meandered down to the sea. The Mediterranean was warm, clear, and beautiful. Bob struggled to find shade while I swam back and forth out to the breakwater and the kids played in the shallows. This appeared to be the 'locals' beach. After about two hours we walked up the hill back to the hotel – it was quite a steep climb.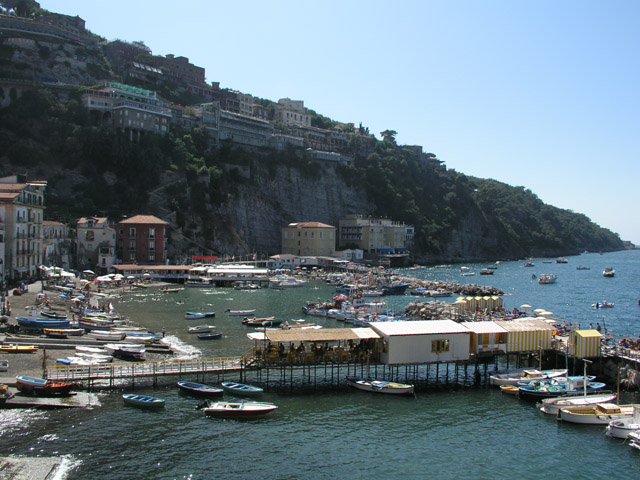 Sorrento - Marina Grande
Hotel Minerva is second from left at the top of the cliff
Kathy suggested we should go to Pompei on Sunday since we'd come all this way. I wanted to but could just as easily done nothing all day. I knew I would regret not seeing Pompei – Pink Floyd's 'Echoes' from their 1971 concert movie Pink Floyd at Pompei had been running through my head the entire trip in anticipation of seeing Pompei, especially the stadium where the movie was filmed. About this time I was also realizing our trip was half over, and I had no desire for it to end so quickly. I was also a little nervous about the amount of items I'd put on our itinerary for the rest of the trip.

We went to dinner, walked into town to buy bus and train tickets, made plans to get up early, and called it a day.
Prev
Friday July 4, 2003
Day 5 - the 'Bus' to Napoli,
Ercolano, & Sorrento

Saturday July 5, 2003
Day 6 - Sorrento

Next
Sunday July 6, 2003
Day 7 - Sorrento & Pompei