Prev

Sunday August 6, 2006
Day 2 - Jackpot, Nevada to Grand Teton

Monday August 7, 2006
Day 3 - Grand Teton

Next
Tuesday August 8, 2006
Day 4 - Yellowstone
Dusty woke up just after 7am and asked the kids if they wanted to go find wildlife. They did. We headed over to Oxbow Bend, where Kathy and Dusty had seen a moose 13 years ago (perhaps it was still there?). There a cyclist asked if we'd seen a bear yet, and said he'd see a grizzly about 10 minutes ago a few miles away. We quickly headed in that direction, but got to a park entrance and Dusty realized he once again did not have the National Park pass, which was entrusted to Kathy for safekeeping. We went back to the lodge, got the pass, but never found the bear. We went about halfway down the highway towards Moose Junction, stopped to take a few pictures, they headed back to the Oxbow Bend for another look around.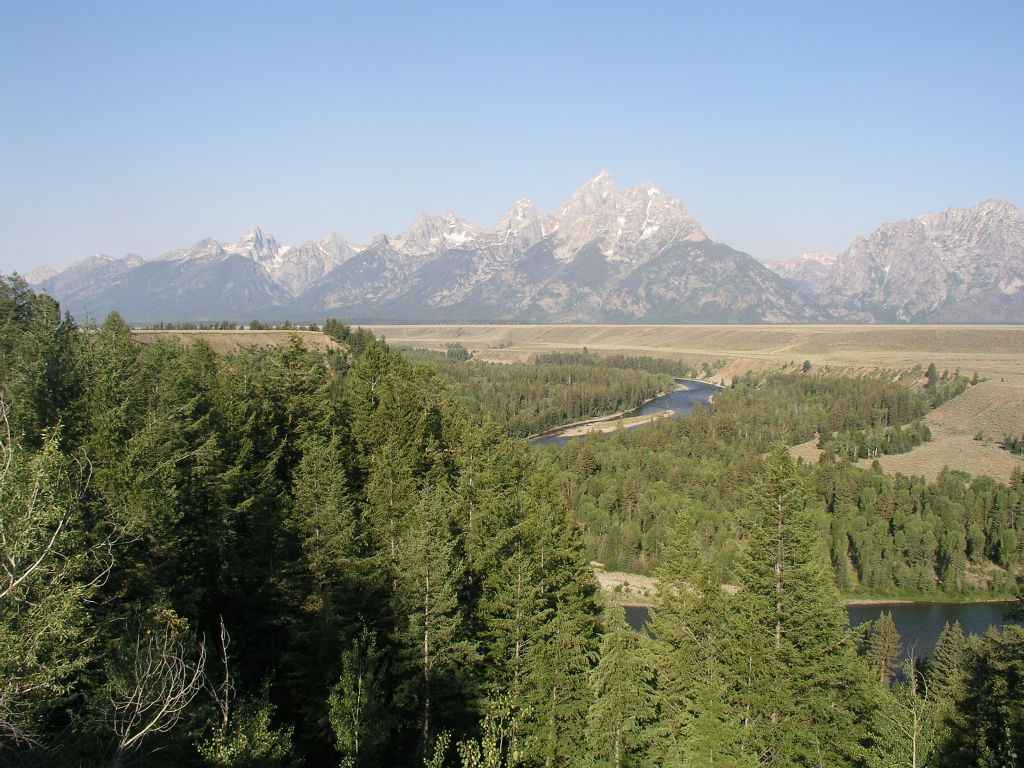 Tetons from Snake River Overlook
On the way back we saw a few people pulled over and saw what they saw – nine buffalo, perhaps a quarter mile away, headed north along a trail. We got some pictures and continued on. Later we saw another lone buffalo, still a quarter mile or so away from the road.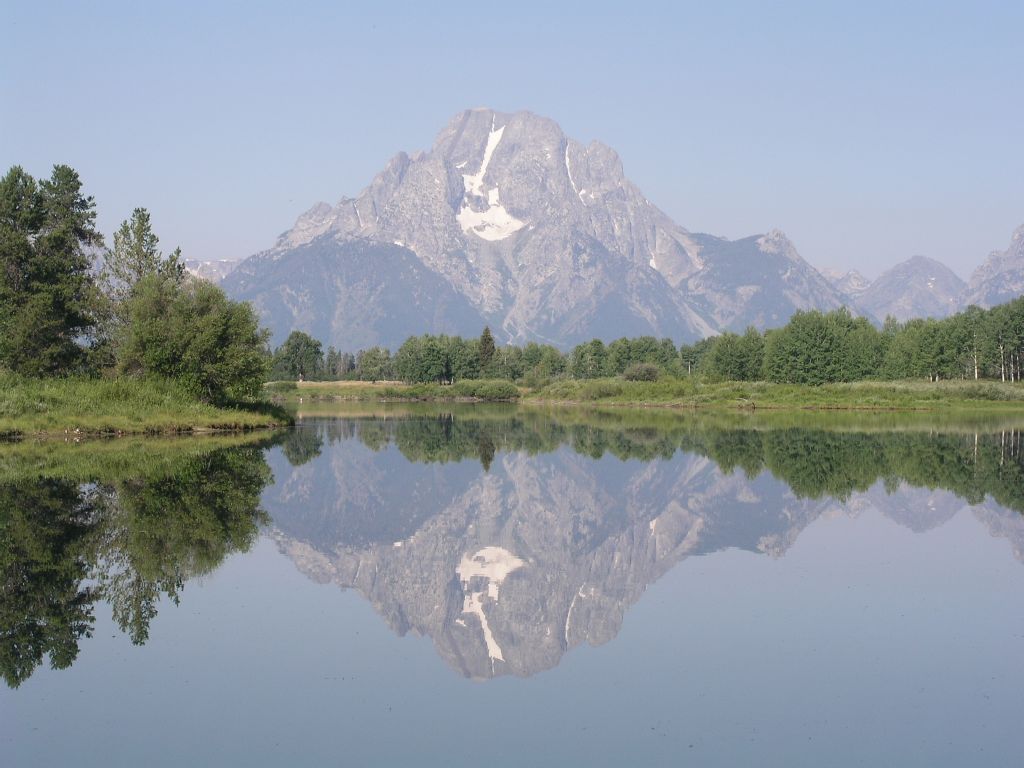 Mt. Moran from Oxbow Bend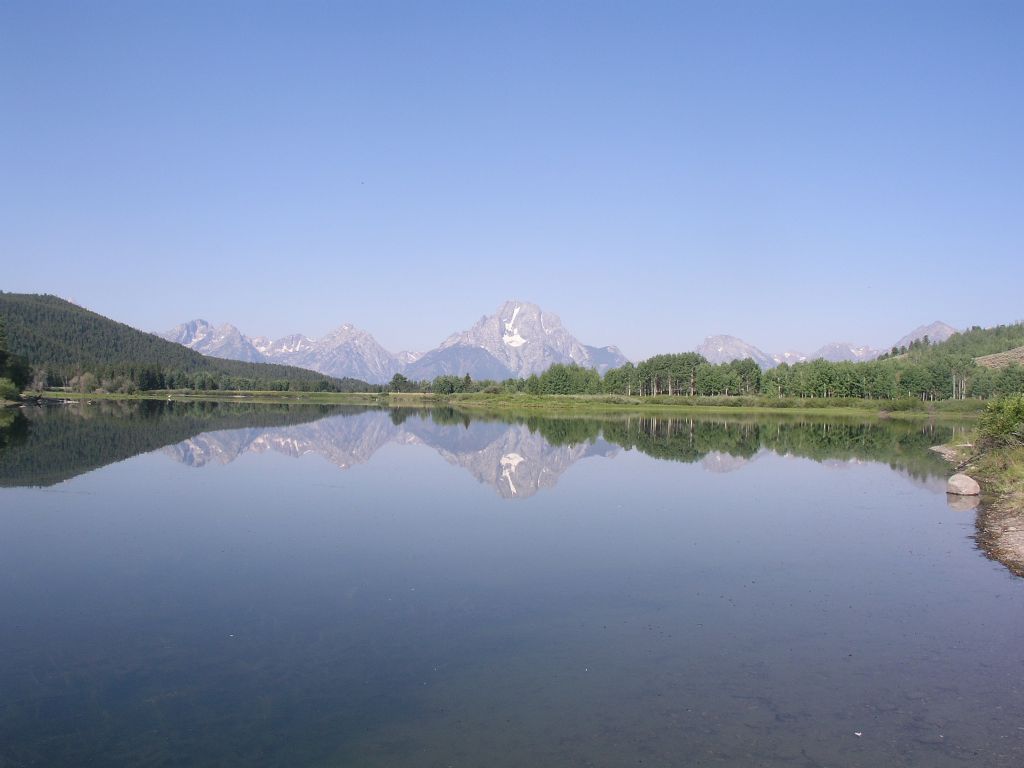 Tetons from Oxbow Bend
We showered, prepared a picnic lunch, and headed for Jenny Lake. We found the lake, and found the pullout with the best view. We took our picnic and our beach chairs down to the lake and had an amazing lunch at one of the most picturesque spots in the country. We watched a storm brew over the mountains, and the kids caught minnows with their hands. We heard thunder for a while but never saw lightning.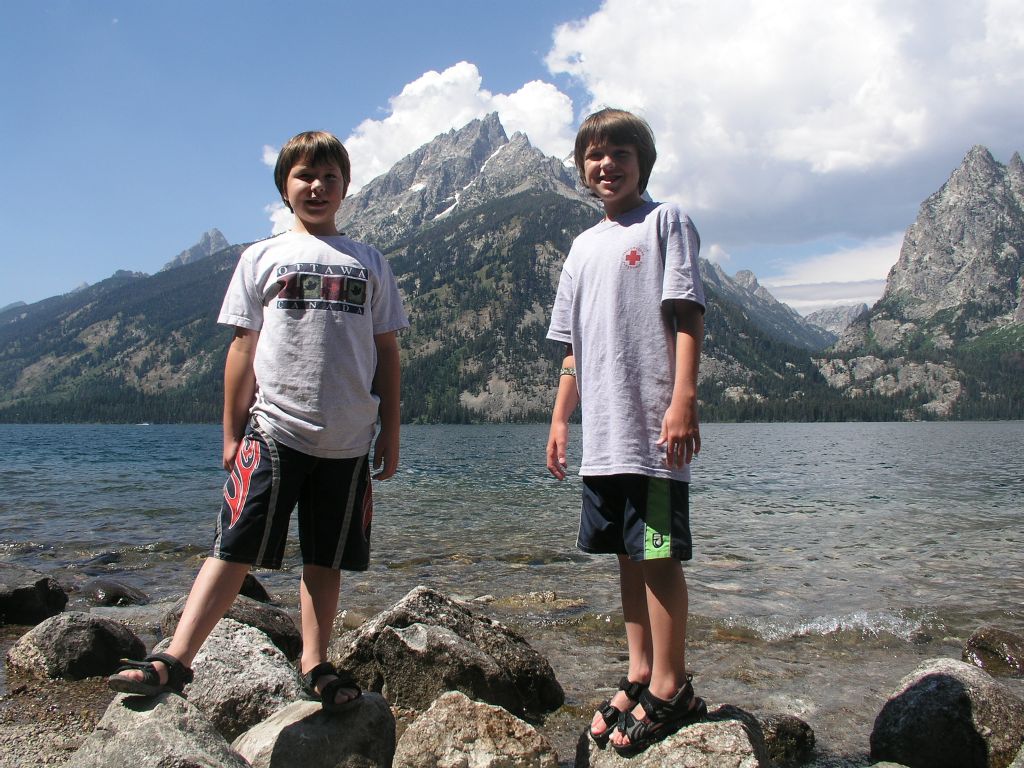 Jenny Lake
Click here for a 1 meg panoramo of Jenny Lake
Eventually the storm took the sun away for good, the wind picked up, and we went back to the car just as it started to sprinkle. We headed over the Jenny Lake Store and Visitor Center in a light rain, which were packed with tourists and thoroughly unimpressive after the ideal setting we'd just left. We headed back to the cottage. Just south of the Jackson Lake Dam we saw a huge number of cars stopped on both sides of the road and lots of people gawking. We quickly pulled over and joined the throngs of people taking pictures of two young black bears, not 50 yards from the highway. We soon discovered that side of the road was completely covered in ants, so we got to brush off ants between pictures. There way already one park ranger there when we got there, and another soon arrived to direct traffic. The bears ate along the opposite bank of a marsh for a good 10 minutes before heading up the hill away from the road, and everyone who stopped got plenty of pictures.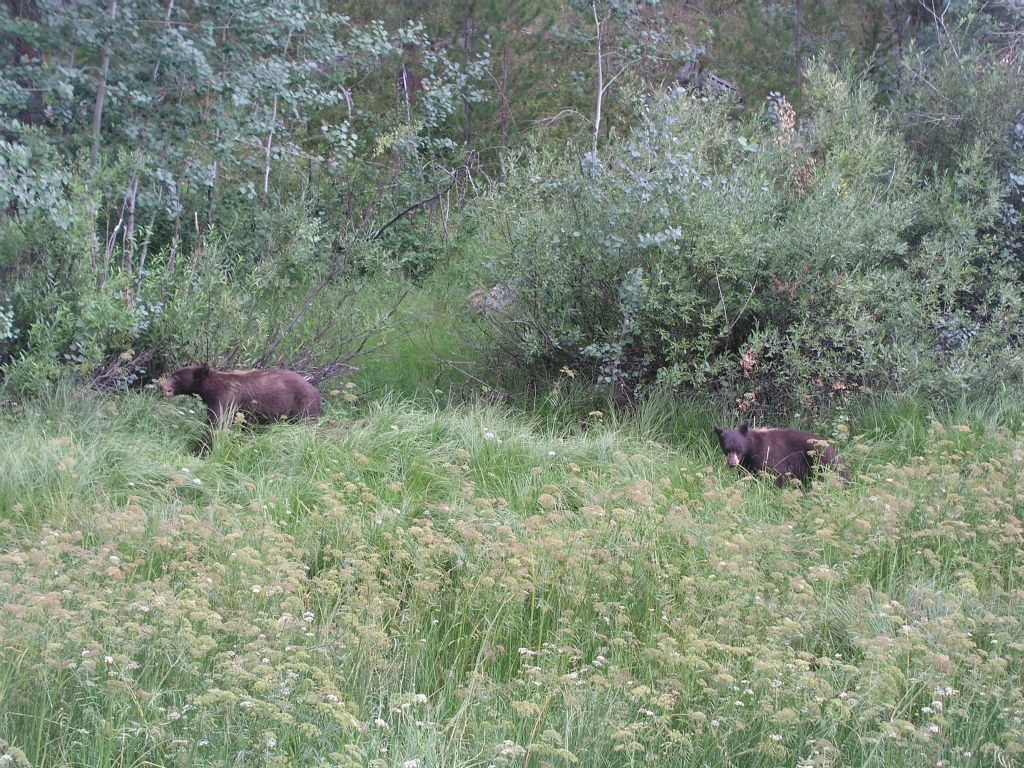 Bears just south of Jackson Lake Dam, 150' from the road
That evening we drove up to the marina to try to find different food – all national park food tastes the same, and ranges between mediocre and awful. We were trying to find a pizza place we'd been told about, but failed. Later the kids swam in the outdoor pool – it was supposed to be heated to 82F, but the heater broke 2 days before and it was now 65F. That night there was a light rain with thunder and a little lightening.
Prev

Sunday August 6, 2006
Day 2 - Jackpot, Nevada to Grand Teton

Monday August 7, 2006
Day 3 - Grand Teton

Next
Tuesday August 8, 2006
Day 4 - Yellowstone