Previous
Saturday August 2, 2008
Day 8 - Yellowstone

Sunday August 3, 2008
Day 9 - Yellowstone

Next
Monday August 4, 2008
Day 10 - Yellowstone to Butte
This page has embedded youtube videos - your browser may be telling you 'Internet Explorer has restricted this webpage from running scripts of ActiveX controls that could access your computer.' Select 'Allow Blocked Content' to see the videos.
Sunday morning I headed over to the ranger station to see when the geysers were erupting. About half a dozen geysers are predicted in the park - all but one are in the Upper Geyser Basin which includes Old Faithful. We were quite lucky - two geysers were scheduled to erupt this morning. Riverside was scheduled to erupt around 10:45 give or take half an hour. We quickly got sidetracked - as we passed Beehive, two geyser gazers - folks with walkie takies, notebooks, and a love of geysers - were announcing that there was water in the indicator. I remembered from two years ago that this meant Beehive would erupt in within 5 minutes of this sign. Beehive erupts less than once a day and is not formally predicted. We had been on the other end of the geyser basin two years ago when it erupted. We positioned ourselves to get good pictures, and the geyser erupted. It was quite exciting - the geyser is less than 10 yards from the boardwalk. A few minutes into the eruption Old Faithful began erupting as well. What are the odds of a simultaneous eruption when one geyser erupts less than once a day and the other erupts every 85 minutes?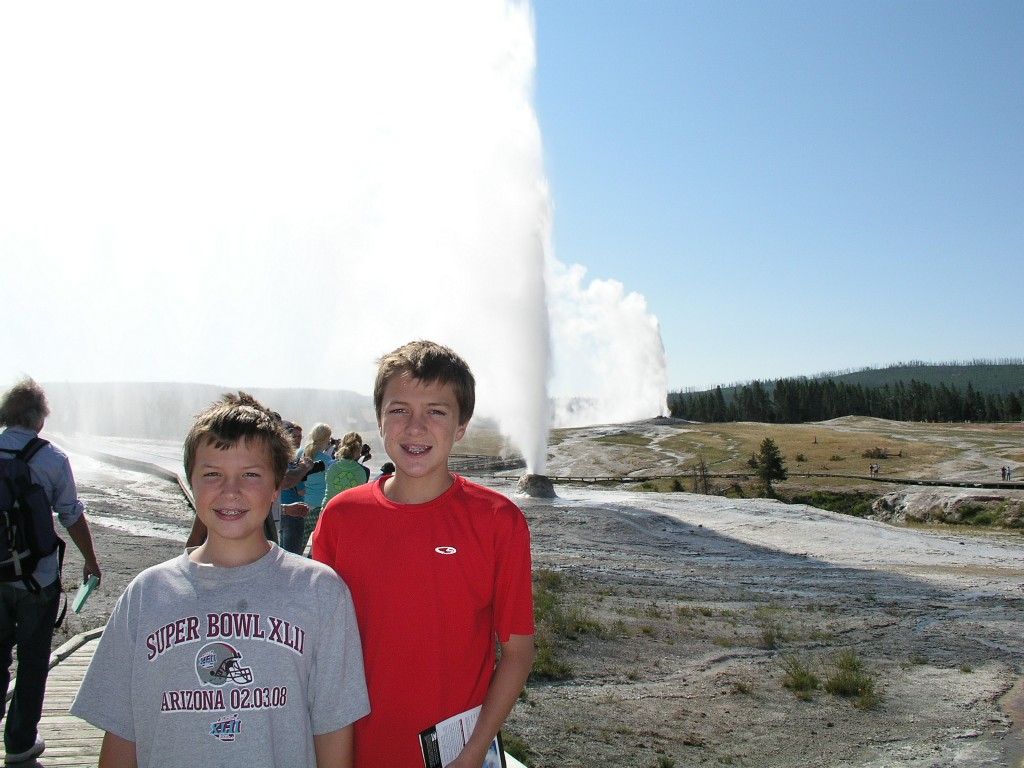 Beehive and Old Faithful Geysers erupt simultaneously
Beehive and Old Faithful Geysers erupt simultaneously
After Beehive stopped erupting we walked quickly toward the other end of the geyser basin over a mile away to see Riverside geyser - it started erupting right as we arrived.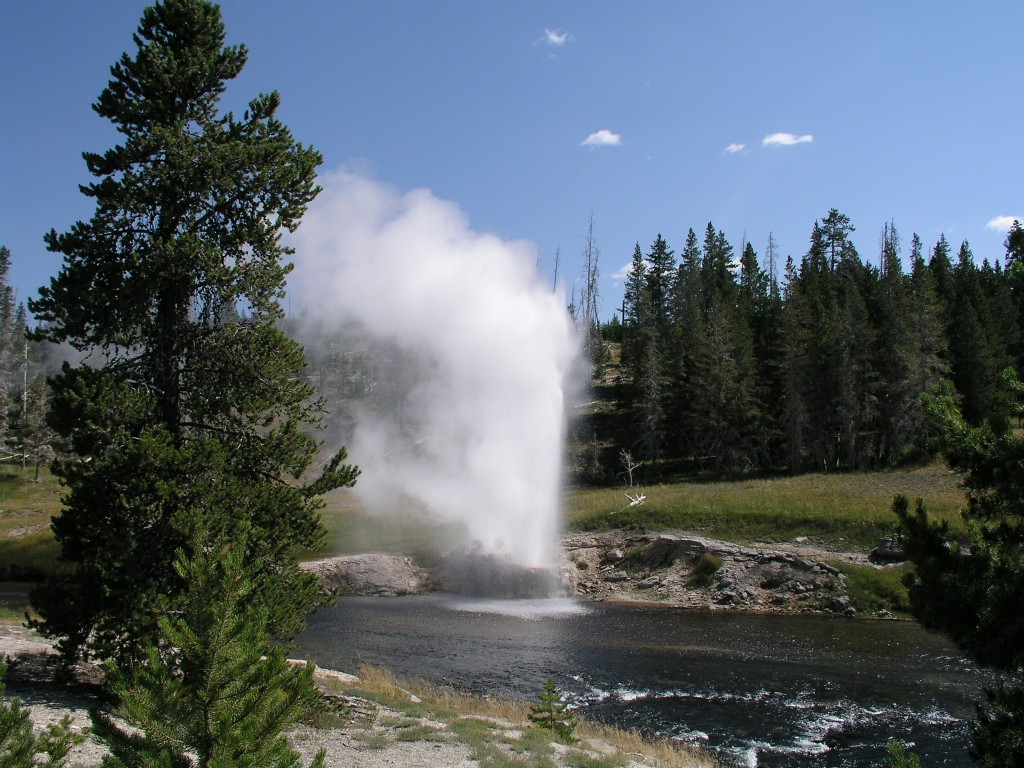 Riverside Geyser
Riverside Geyser
Riverside erupted for perhaps 10 minutes or so, then we wandered down the Morning Glory pool before heading back to wait for Daisy Geyser to erupt. After about 20 minutes our wait was rewarded.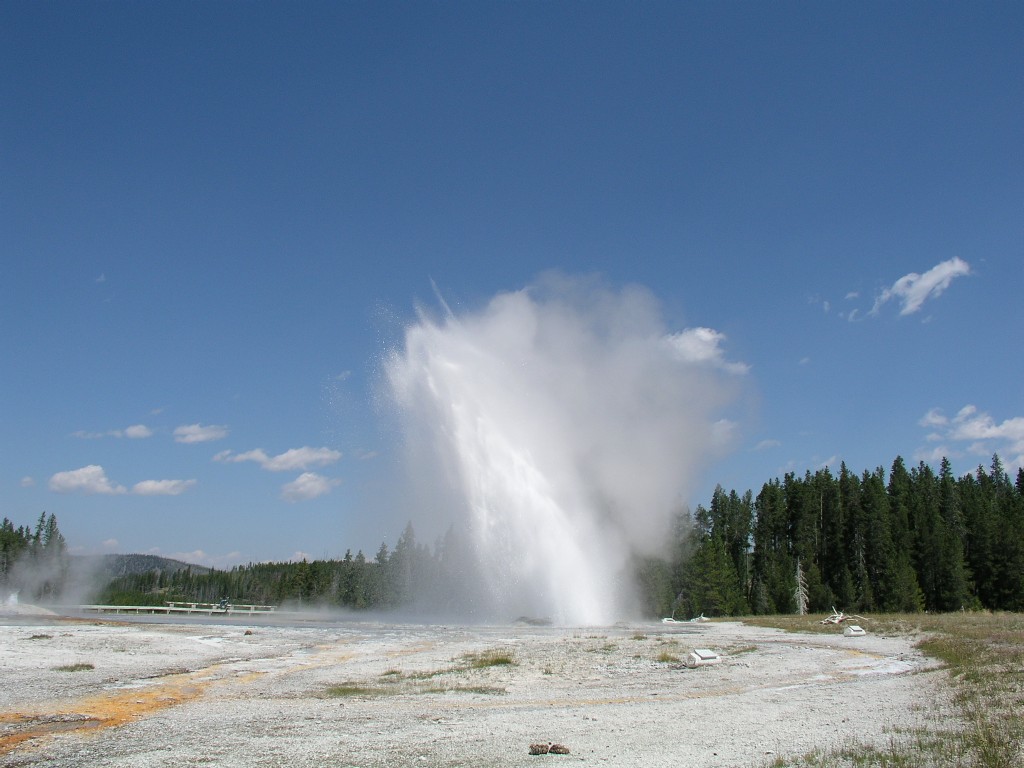 Daisy Geyser
Daisy Geyser
Grotto Geyser Yellowstone
We took it easy the rest of the day. The adults had a fantastic dinner at the Old Faithful Inn - the kids prefer the buffet at the Old Faithful Lodge. Actually, if given the chance to eat the good food at the Old Faithful Inn, they would probably prefer it, but they enjoy unrestricted access to their Nintendo DSs while we're eating dinner.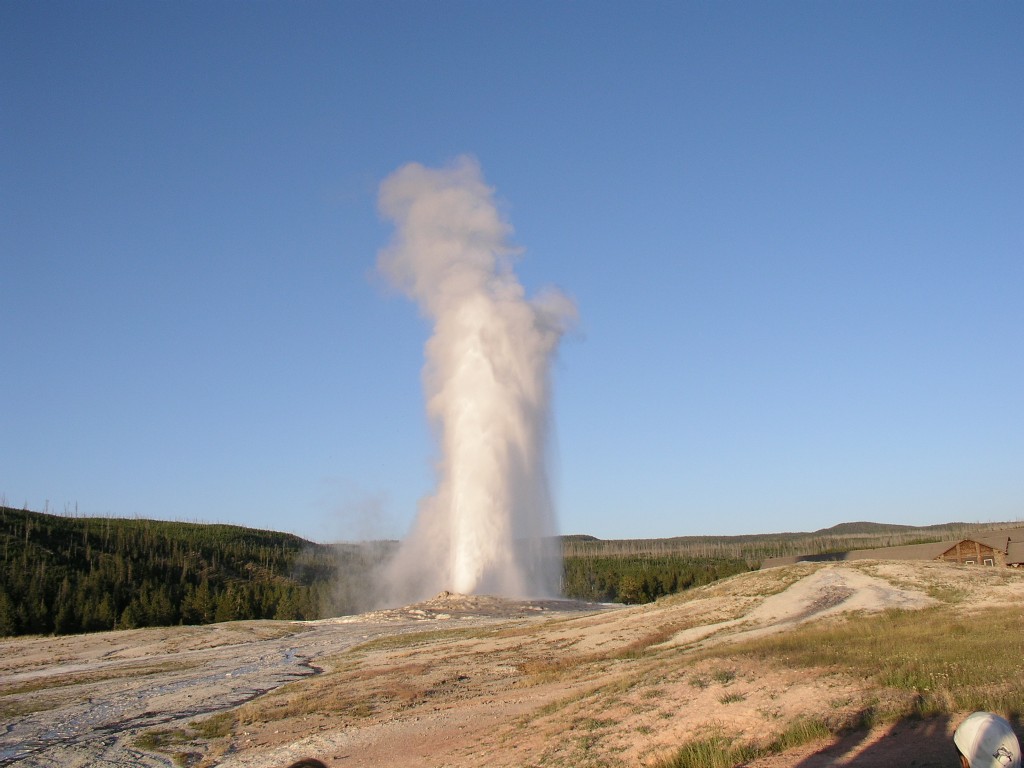 Old Faithful
Previous
Saturday August 2, 2008
Day 8 - Yellowstone

Sunday August 3, 2008
Day 9 - Yellowstone

Next

Monday August 4, 2008

Day 10 - Yellowstone to Butte