Next
Saturday July 26, 2008
Day 1 - El Granada to Jackson

Sunday July 27, 2008
Day 2 - Jackpot, Nevada to Jackson

Next
Monday July 28, 2008
Day 3 - Teewinot
We got a relatively late start, leaving at around 9:45am. The parking lot that had been full of Idahoans last night was already mostly empty. We refueled in Twin Falls, then stopped to see the Snake River Canyon.
Snake River Canyon in Twin Falls, Idaho
The skies across Idaho were hazy – I later decided it must be from the California forest fires.
Always the student of history, in 2006 I wanted to stop at Register Rock and Massacre Rocks, but 1) it was very warm and 2) the entire family was asleep, and I didn't want to deal with the aggravation of waking everyone up for a potentially less than thrilling roadside stop. This year everyone was awake and I was determined to see the sights.
Register Rock features hundreds of signatures of Oregon Trail pilgrims chiselled in stone. Unfortunately it is under a low huge roof, keeping it plenty dark, and behind huge amounts of quite ugly chain link fence, making it a less than ideal photo-op.
Massacre Rocks State Park is interesting in that 1) there wasn't a massacre, at least in most people's definition of the term and 2) there is/are no 'Massacre Rock' or 'Rocks'. Nine settlers were killed by natives, but the settlers where not entirely blameless – the term Massacre Rock was coined in the 1920s as a marketing gimmick. The attendant at the gate tells you these tidbits as he requests your $6 entrance fee. Beyond the minor issues with the name, the park visitor center shows life on the Oregon Trail pretty well, demanding at least 10 to 15 minutes of attention before continuing on to things more interesting, like lunch in what passes for civilization in this part of the world. They had a white board where you could list the animals you saw. I wrote 'T Rex', much to the bemusement of the kids and consternation of the wife.
We had lunch at the Subway in Pocatello. The rest of the day was a passed slowly until we reached Jackson - Kent's family recognized us immediately as we drove through the lot on the way to our cabin and come over to greet us. Bob and Karin were already in their cabin, within site of Kent's family. Kent and Rita were out bouldering when we arrived, but returned within the hour. Kent had checked with the rangers, and recommended that we hike Teewinot Monday because the weather threatened to change on Tuesday. We went over the game plan for Teewinot - 3:45am departure from Cowboy Village for a 5am start time for the hike. Ugh! Too early. We went shopping at Albertsons, then followed the Dodges to the nearby Snake River Brewing Company for dinner - Dusty had the trout - excellent food and brew. We then headed back to the cabins, went shopping, packed for the hike, and called it an evening.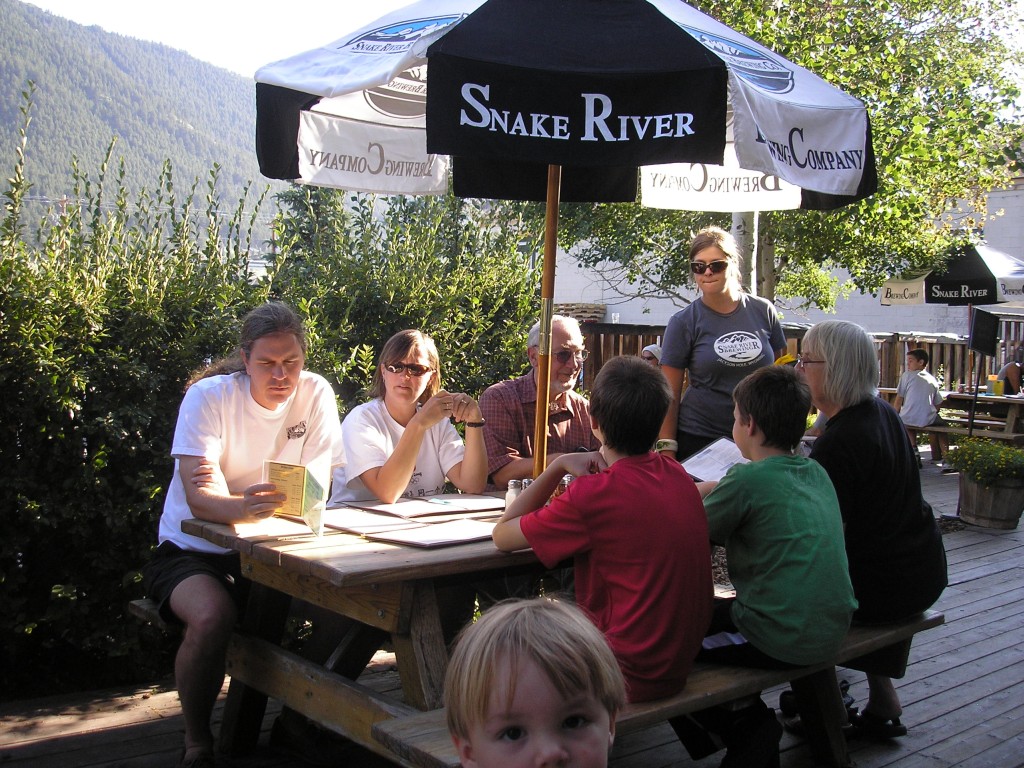 Snake River Brewing Company
Next
Saturday July 26, 2008
Day 1 - El Granada to Jackson

Sunday July 27, 2008
Day 2 - Jackpot, Nevada to Jackson


Next

Monday July 28, 2008

Day 3 - Teewinot