Next
Sunday July 27, 2008
Day 2 - Jackpot, Nevada to Jackson

Monday July 28, 2008
Day 3 - Teewinot

Next
Tuesday July 29, 2008
Day 4 - Jackson to Tetons
This page has embedded youtube videos - your browser may be telling you 'Internet Explorer has restricted this webpage from running scripts of ActiveX controls that could access your computer.' Select 'Allow Blocked Content' to see the videos.
Kent, his sister Kathy, Rita and I headed out from the cabins at 4:15am, arriving at the trailhead around 4:45. I had packed Kent's pack and my fanny pack, but failed to realize the two were mutually exclusive since Kent's pack has a belt. I slowly (it was early and I was still sleeping) rearranged my gear to leave the fanny pack behind while Kent found the trail and gave me grief :) A little after 5am we headed up the trail by the light of our headlamps.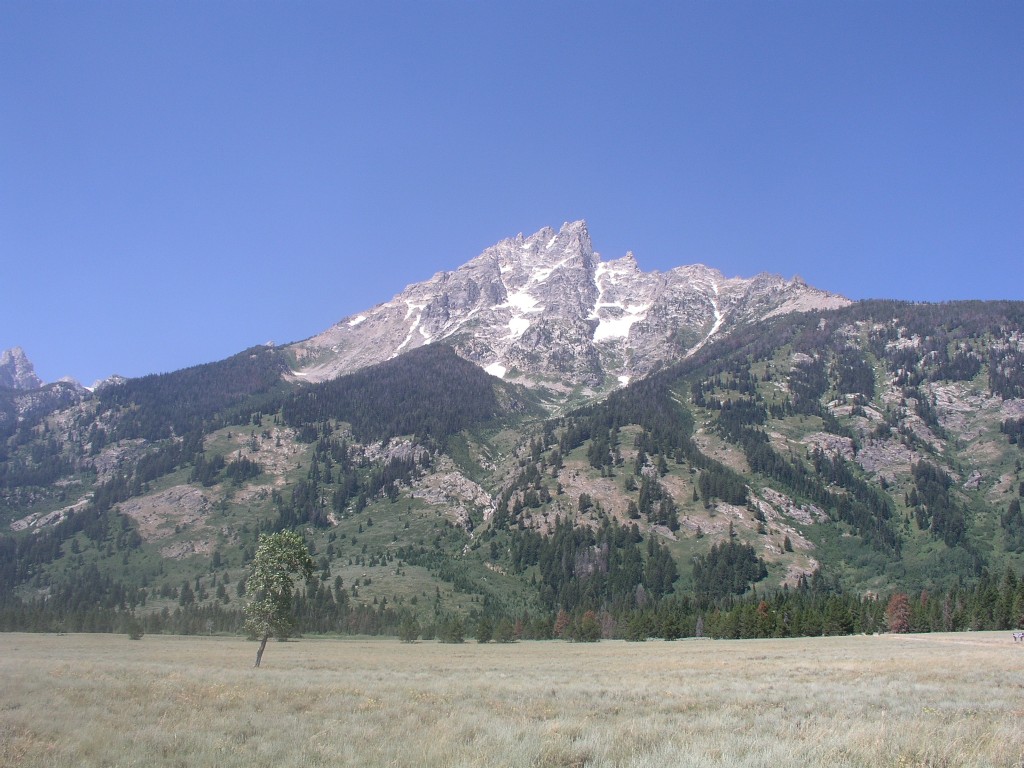 Tetons from Lupine Meadows
The trail up Teewinot starts in the center, moves roughly up the drainage, then moves up right (north) into the trees
Hiking in the dark in grizzly territory is disconcerting. We crossed the brief relatively flat section between the parking lot and the mountain range, then headed up the mountain. Within half an hour we could see enough to turn off the headlamps, and we removed layers. I started with 2 layers – a non-absorbent T-shirt and a sweatshirt, and carried another sweatshirt and Bob's outer shell. I peeled back to the T-shirt and jeans. We some snacks and headed up the endless series of switchbacks. I led the way up the switchbacks, with Kent and Rita in the middle and Kent's sister Kathy bringing up the rear. The trail went through the trees, zigzagging back and forth across the mountainside. We took a couple of long breaks beside the waterfalls to let Kathy catch up and recoup. A few times we were able to see the mountain high above, but generally we could see only trees and false summits ahead. Unfortunately the sky was still quite hazy. Eventually the endless switchbacks ended and we could see the entire mountain above as we headed more or less straight up the mountainside.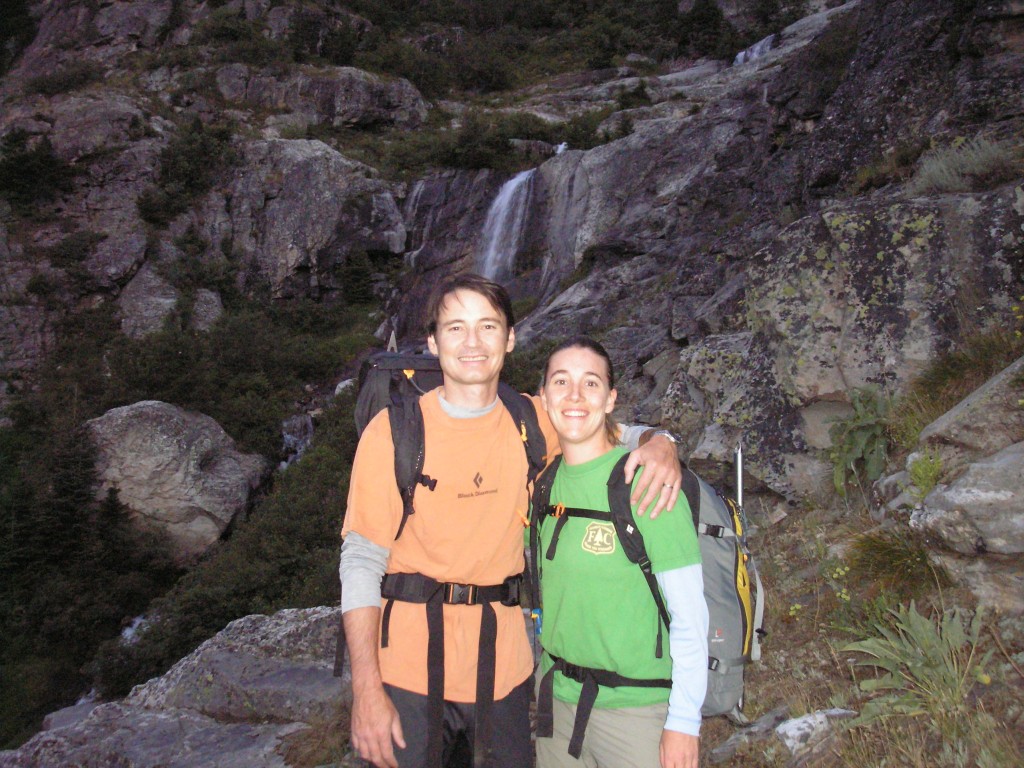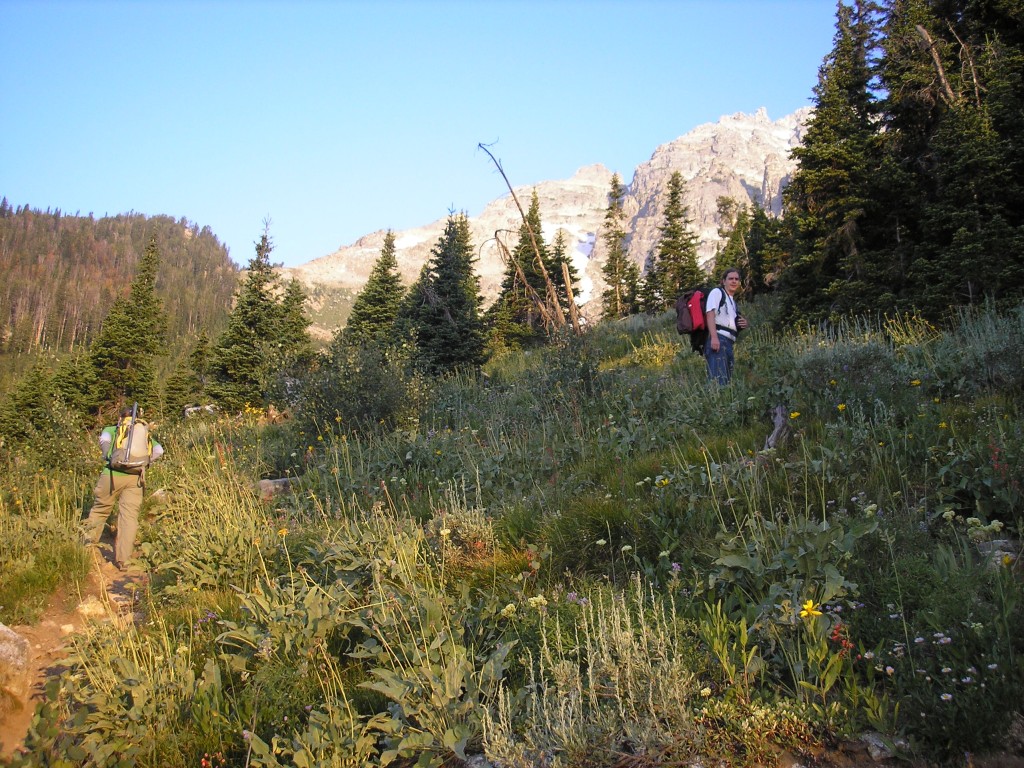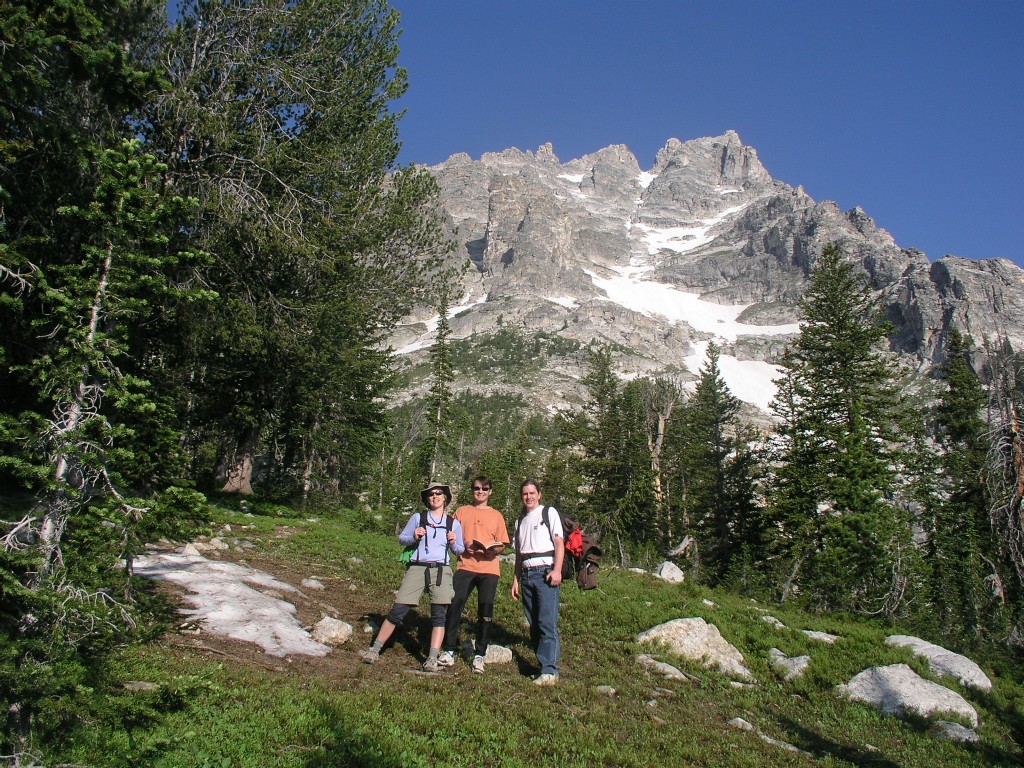 The switchbacks through the trees had ended
Notice the snow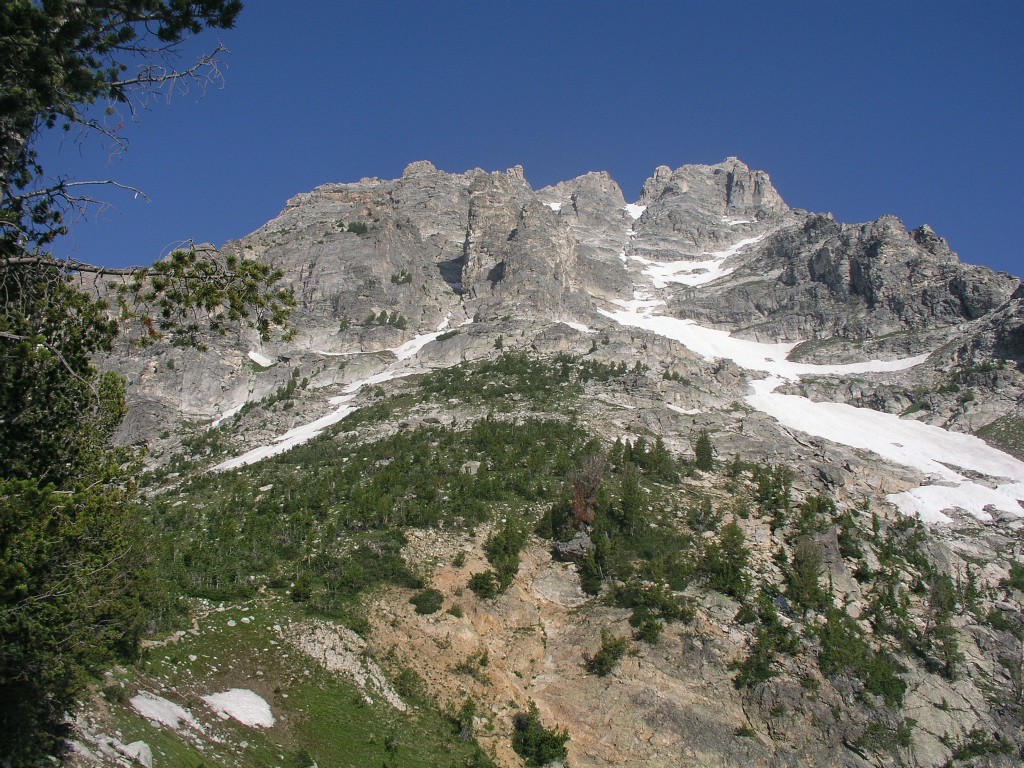 The trail starts in the lower left corner of this picture, running diagonally up toward and past the center of the picture before crossing the snowfield and heading almost straight up to the left of the crack system in the upper right center.
Suddenly we were on a dramatic ridgeline with a steep drop to the right (north) and a large snowfield below us. The trail followed the ridgeline up the mountain for about 15 minutes before heading up an even steeper incline.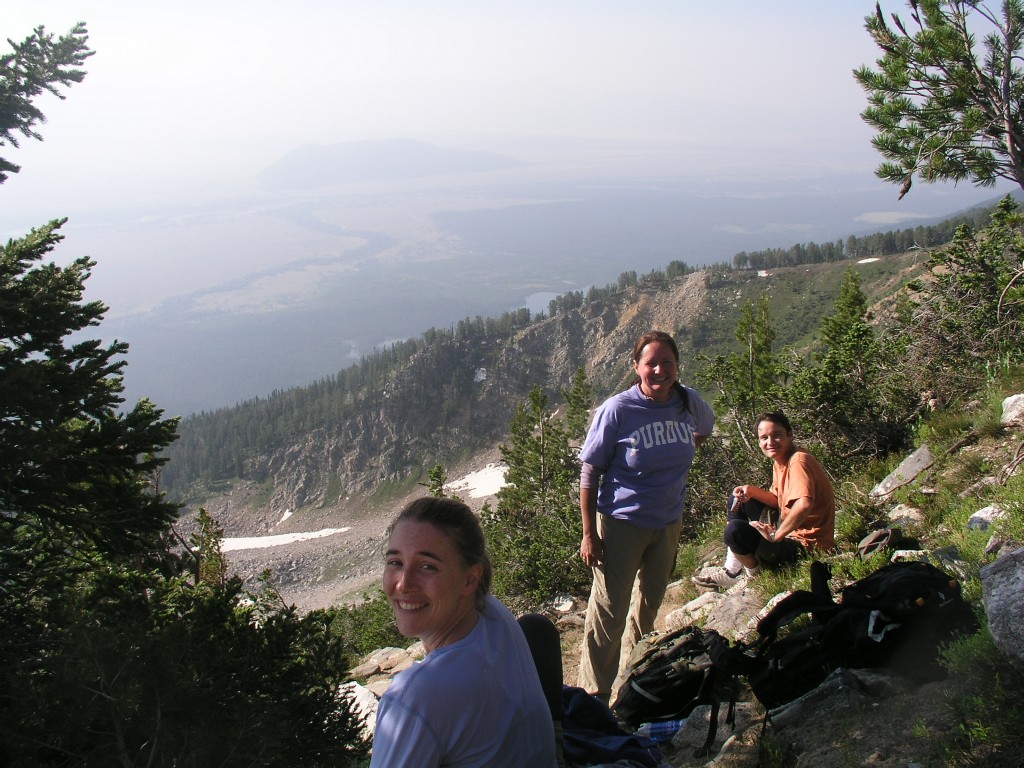 The ridgeline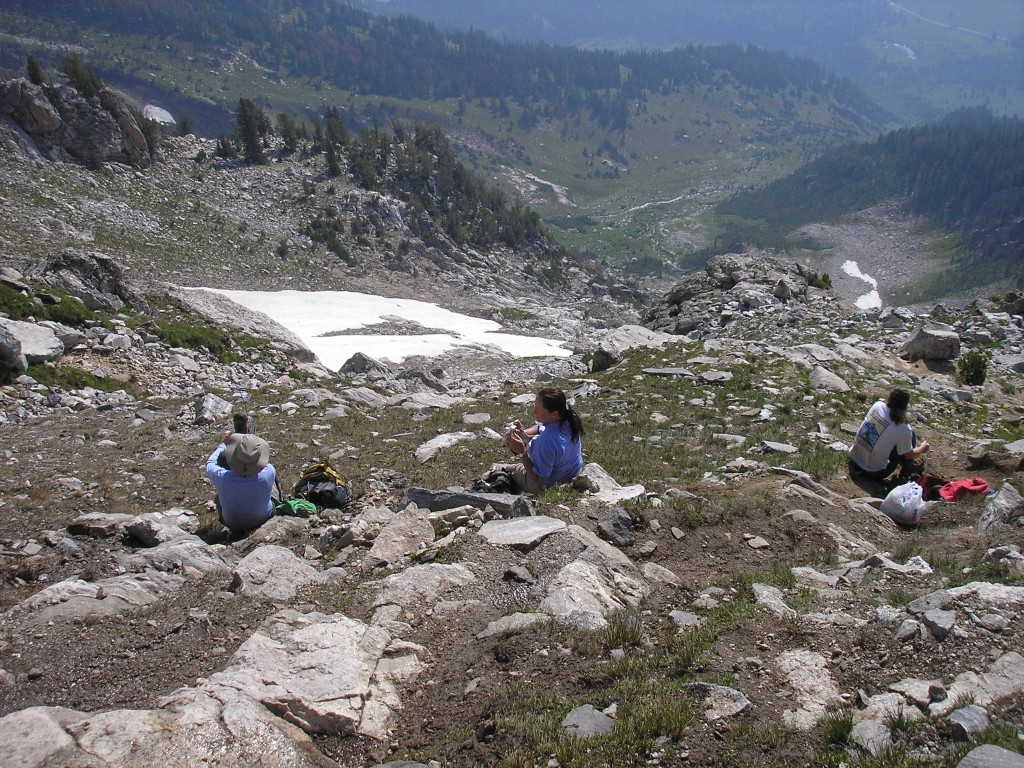 I wanted to wait for shade before taking another break, but I couldn't. It was very steep. You can see in the upper right hand corner the 2500'+ of elevation we've gained.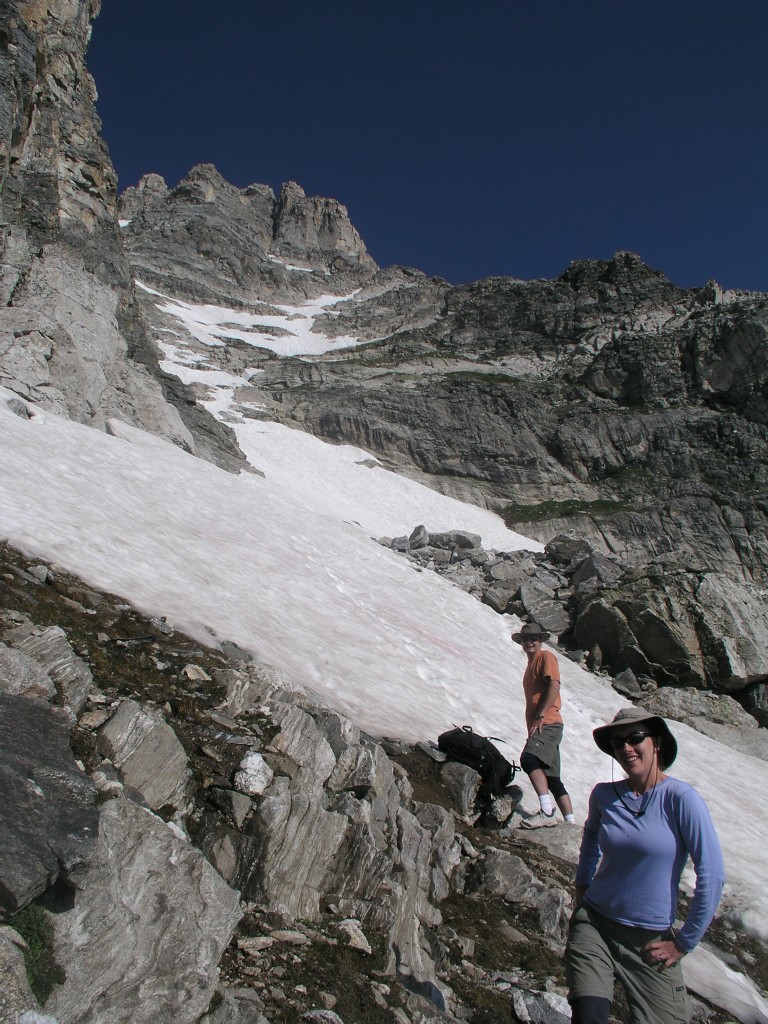 We changed gear and broke out the ice axes –Kent had been good enough to carry my ice axe up. I changed into my hiking boots and was the first to cross the almost flat and not very large first snowfield. I was encouraged, since this was really easy. Unfortunately on the other side of a talus was the real test – a much larger snowfield.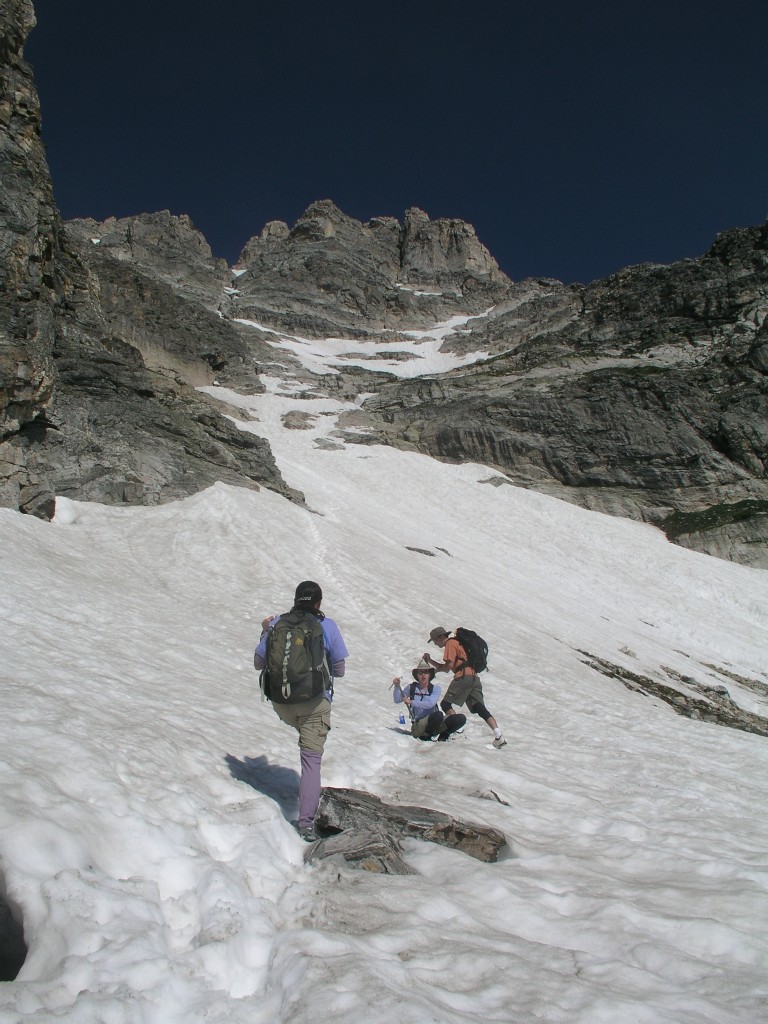 Kent showed us briefly how to self arrest, but we were too concerned with getting soaking wet to practice self arrest. Also the incline was still quite tame. There was clear line of tracks across the snow, but it didn't look like many people had crossed the snowfield this season, and it didn't look like anyone had done this very recently. Kent led, with Rita following, then Kathy, and I brought up the rear.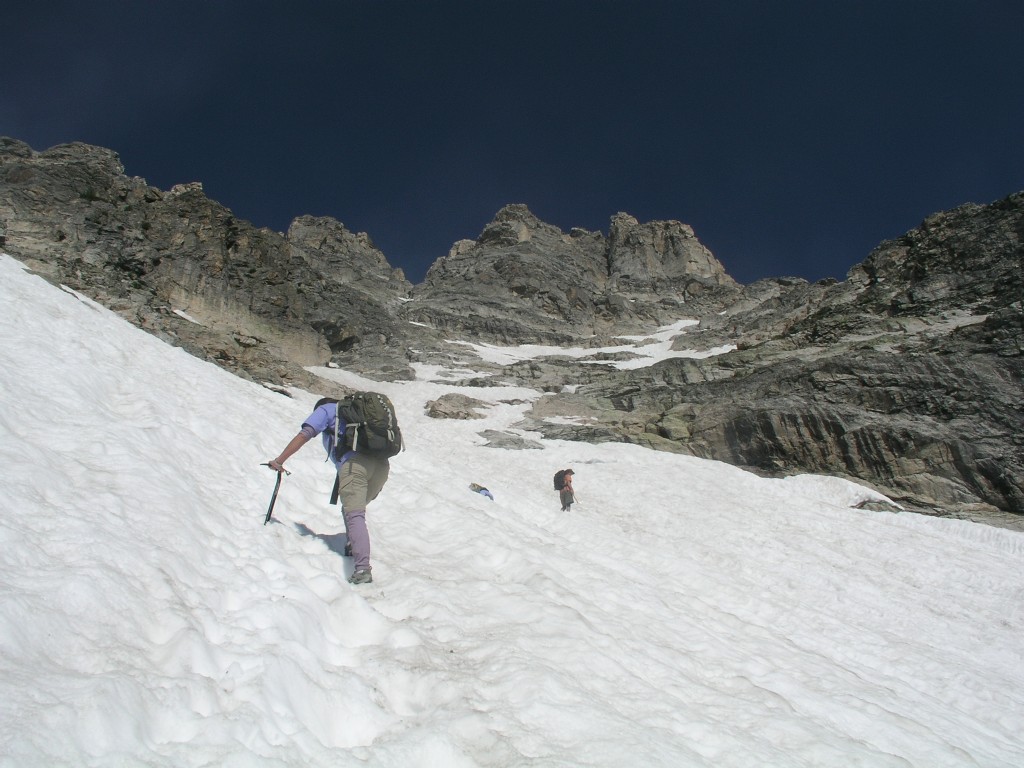 Kathy and I are perhaps a third of the way up the snowfield. Kent is leading.
The incline gradually increased as we rounded a corner, and the bottom of the snowfield fell further and further away below our start, meaning a fall was becoming a much more serious threat. Soon I was climbing directly below Kathy, and I realized that if she fell she might very well take me with her. I made reasonable progress up, and I tried really hard not to think about how I was going to come back down. If I had exercised better judgment I would have turned around before the angle of the snowfield increased well above my comfort level. Still, this was only supposed to be a class 3 climb, which was well within my ability, and I was eager to get to the top.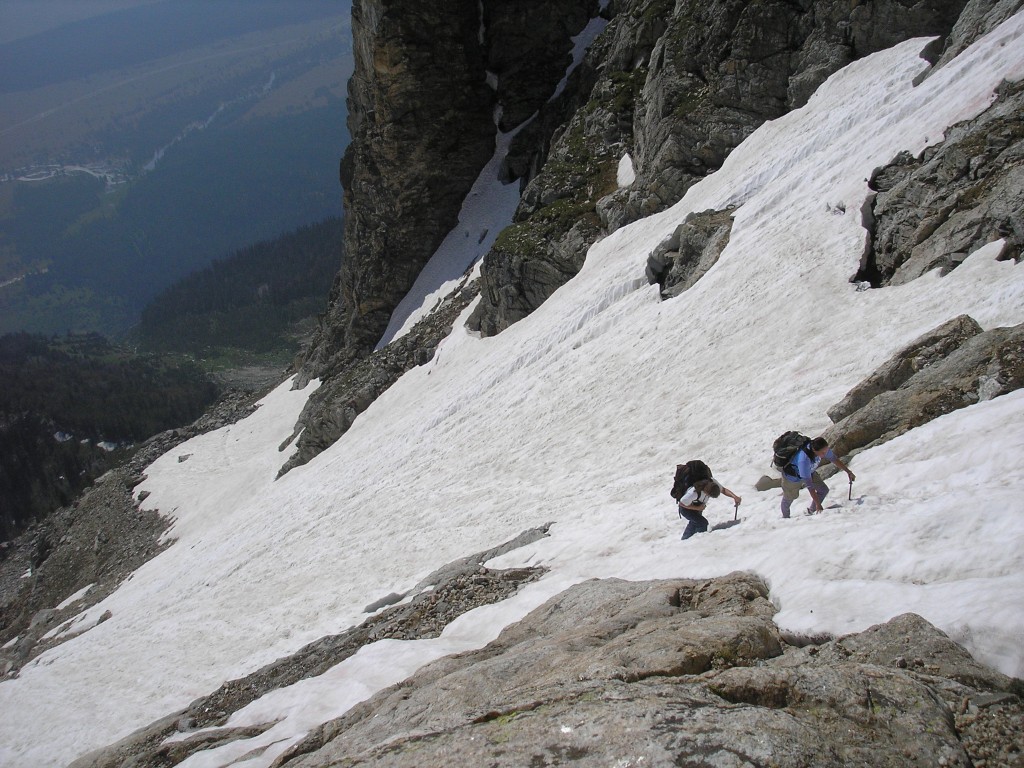 Kent took this picture after he exited the snowfield - I am last, below Kathy
After perhaps 30 minutes and 800' of climbing the tracks through the snowfield led us back onto the rocks. We assumed we were on route since we had followed the tracks of others, but soon found it quite difficult to find a route up. We located kairns occasionally near short sections of trail, but the way up was never obvious. We crossed the snowfield again – this section was thankfully much shorter.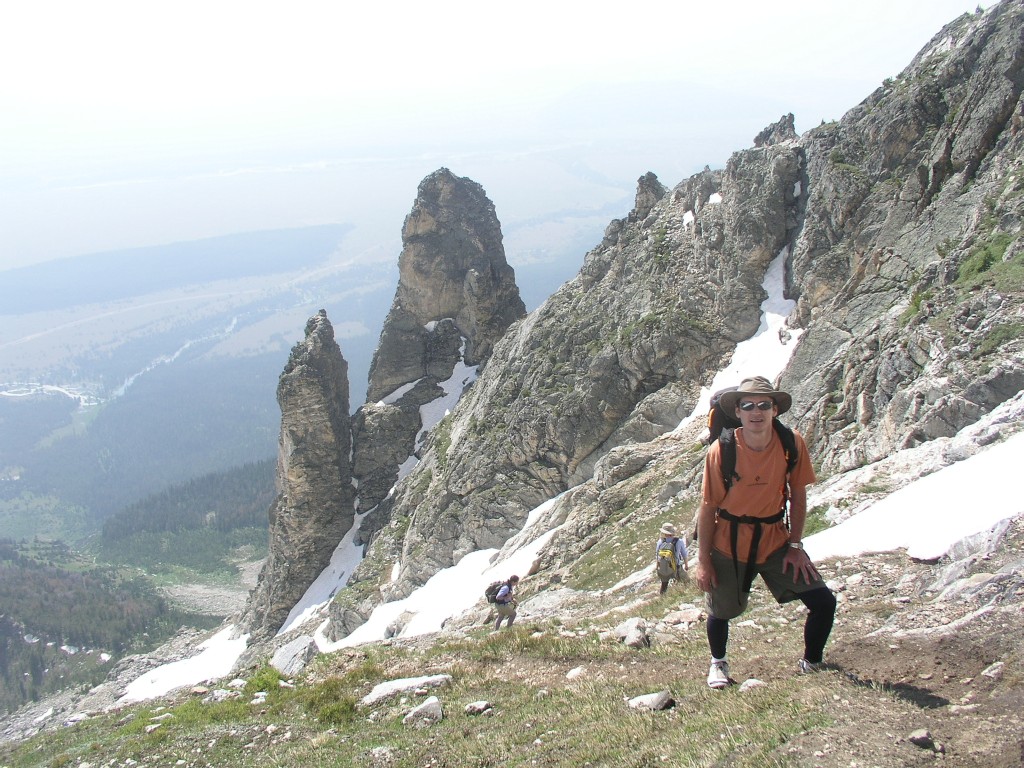 The Idol and the Worshiper
The higher we went, the poorer and less obvious the trail became. It looked easier to head right, but the ranger had told Rita to avoid going right. At this point I started to recall how at least half of the trip reports I had read online for this hike ended without summiting – no one could find the trail up, and we were now having the same problems. I was totally spent – I was no longer my talkative self. Kent even had issues finding the route, and we were having problems following him. The route was clearly at least class 4, and it got steeper and harder to find.
Kent took this picture. Rita is on the right, I am on the left, Kathy is in back of me.
Kent's video of us climbing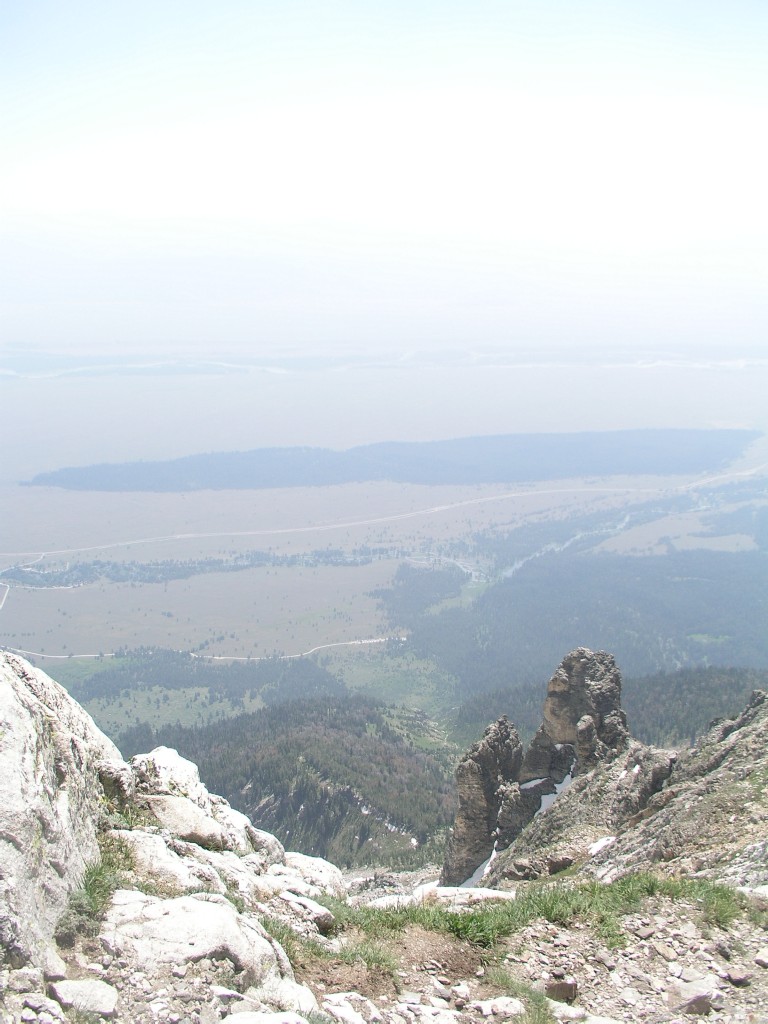 The view was really hazy.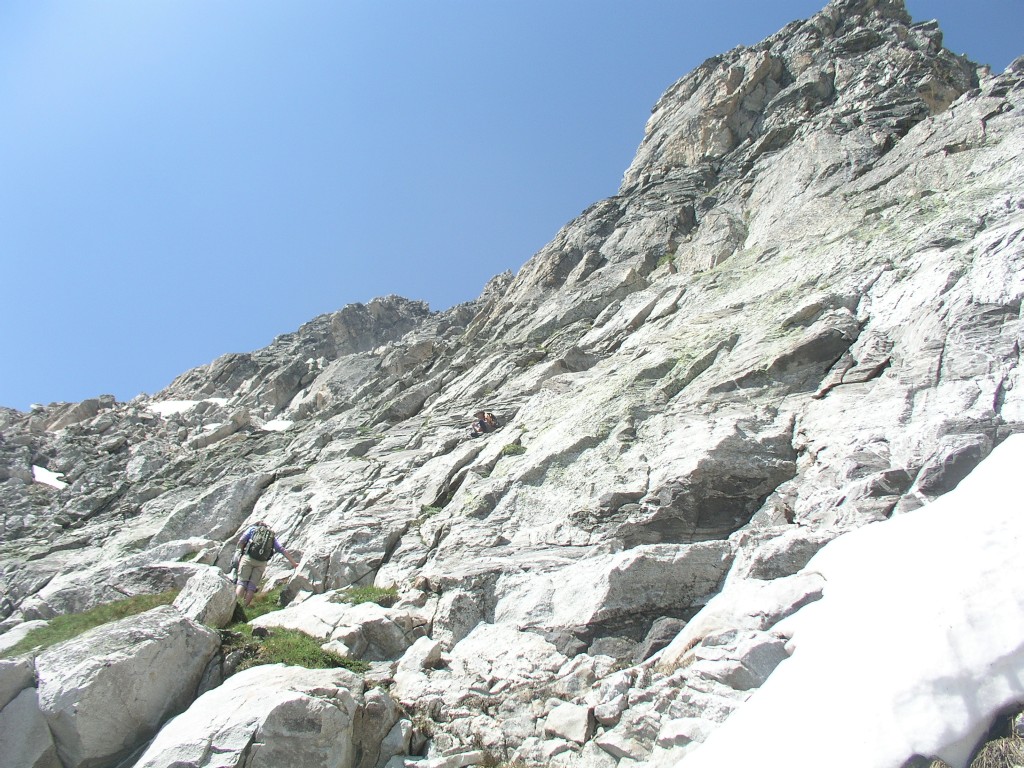 We didn't see a trail here either. This was about as high as we got.
The impasse is just out of the frame in the top right corner of the picture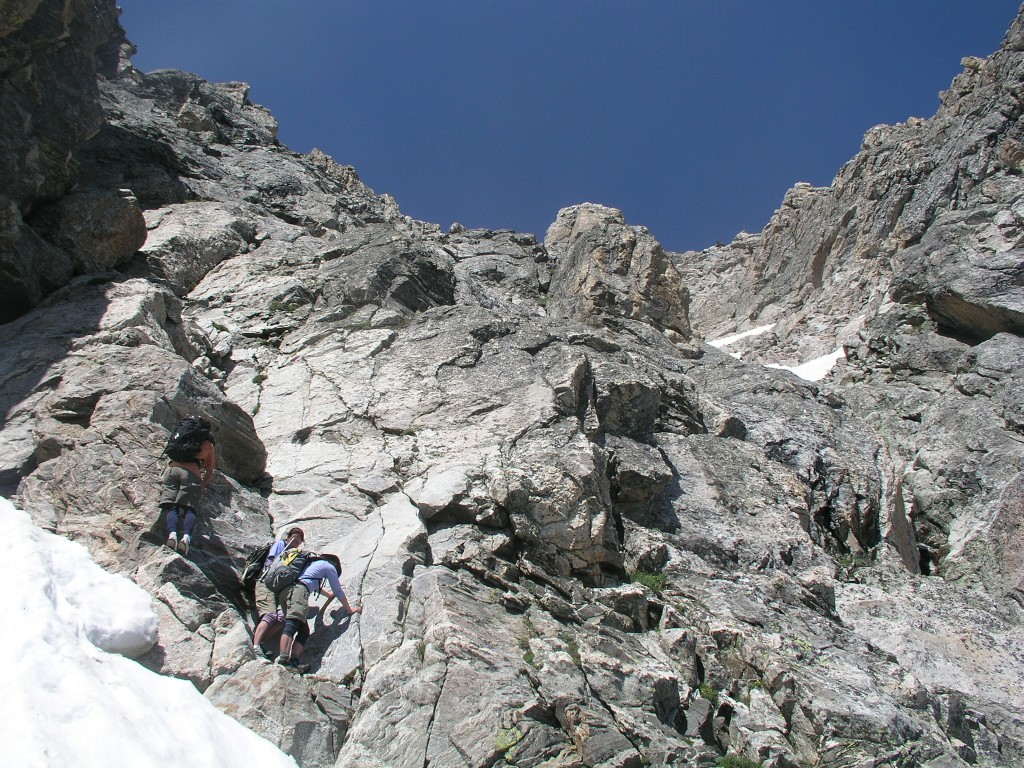 Teewinot crux
The way up is to the far left up a short crack that appears to be well beyond 'class 3'
Eventually we (actually, they) crossed another short snowfield, but then had serious issues moving forward. I decided to wait on Kent to find a route up before crossing the snowfield. Kent spent at least 20 minutes searching for a reasonable path forward. Kathy, Rita, and I finally decided to turn around, and Kent pushed on. We were disappointed that we weren't summiting, but were happy Kent was pushing on. I was quite concerned with getting down. I was way too tired to think clearly, was quite frankly scared out of my mind at this point, and was having trouble following Rita's lead down. I was making poor time. We were over 11,500', and we had to downclimb a snowfield that had been under a nice hot sun for several hours. After half an hour or so we heard Kent yell down from the summit – he'd made it!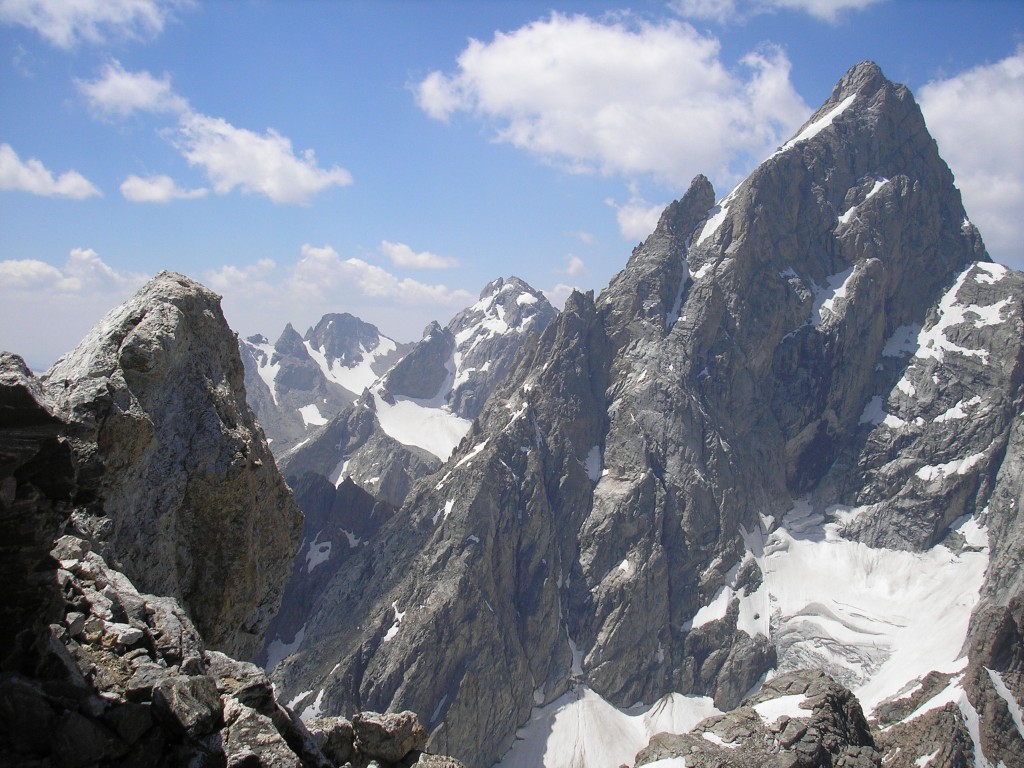 Kent's picture of Teewinot peak (left foreground) with Grand Teton in the background
Kent later explained that the trail had crossed yet another large snowfield, and that the summit itself has several hundred feet of exposure. I could tell by watching his video below - he would never be so cautious unless a fall meant certain death.
Kent's video of Kent summiting Teewinot
I continued to flounder down. Kent caught up to us as we were deciding where to enter the snowfield. I was sure we'd entered the snowfield lower, but the downclimb looked quite hairy. Kent simply walked out onto the field and made it look quite easy, so I followed. I triple plunged the ice axe every time I moved it – it was not going to come free. I was able to move quite slowly and deliberately down the snowfield, but I was completely exhausted both mentally and physically. I couldn't relax. I could barely think straight. Every 10 minutes or so I would lean forward, holding onto the ice axe with both hands, to regain my composure. When I looked up, I realized I had barely made any progress. When I looked down, I realized how much slower I was going than the rest of the party – I was really lagging. I didn't dare go faster because one slip could be fatal.
Kent's video of us downclimbing the Teewinot snowfield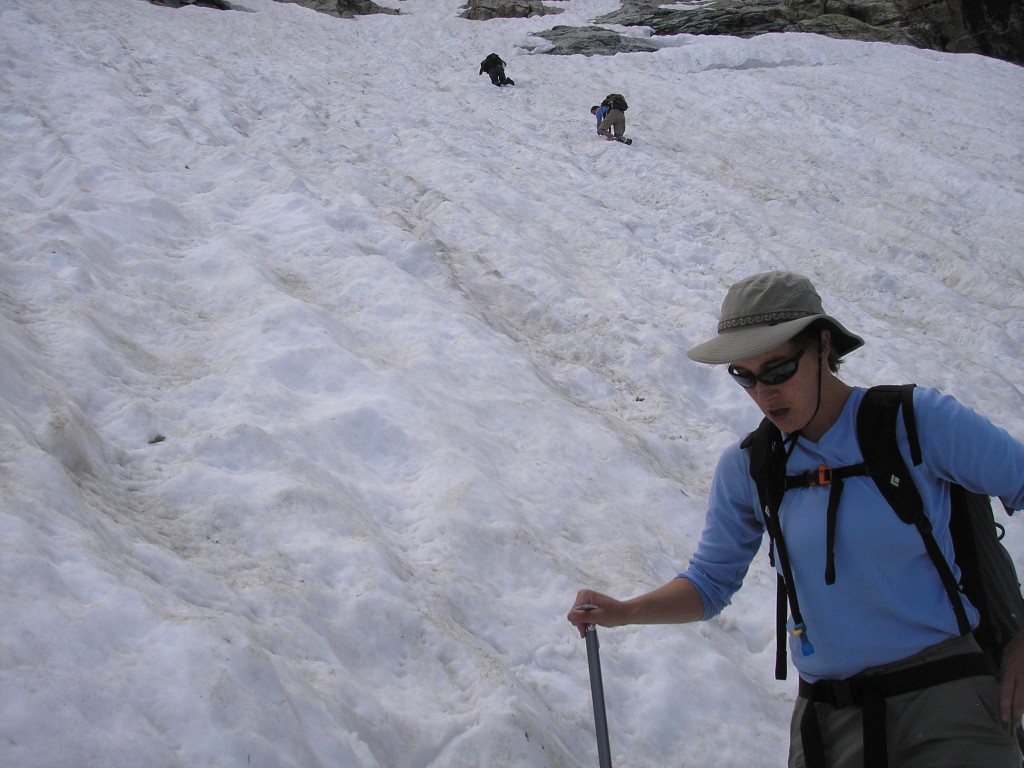 Kent's picture of the downclimb - I'm on top (last) moving very slowly.
After 45 minutes or so I was still way too high up on the snowfield. Kent and Rita were down, and Kathy was way below me. I was looking down when suddenly Kathy slipped, taking her ice axe with her. I heard her yell briefly as she put the ice axe into the snow, trying to stop herself, but she picked up speed quickly. She was going down faster and faster, and I was sure I was watching her fall to her death. After she slid over 50 yards she went airborne and I lost sight of her briefly. I saw her fly off the end of the snowfield onto the talus below, and she almost immediately sat up. She had fallen about 100 yards, taking perhaps 8 seconds. Kent yelled 'Oh my God!' and ran over to her, reaching her in less than 30 seconds. I called out 'Are you ok?' but didn't get a response (I knew it was a stupid question, but had no idea what else to say). I could not understand how she was sitting up- how could anyone have managed to survive such a fall unscathed? I assumed she was hurt badly, but neither she nor Kent said a word.
I wasn't doing well before I saw her fall, and I wasn't doing better now. I assumed that at best she would need a helicopter ride off the mountain. I was still probably only half way down the snowfield. I wasn't loosing it, but I was exhausted and scared out of my mind. I took a break for a minute or two, then resumed my snaillike descent. I wasn't more careful than before – every step was slow and steady. Fortunately I wasn't slipping.
Kathy is a nurse, and she immediately began doing a self assessment. Kent later pointed out that her path down the mountain had taken her between two boulders – hitting either of them would have done considerable damage. She had bashed her elbow, hit her lower back quite hard, and was shaken, but was otherwise ok. After 5 or 10 minutes she stood up and Kent walked over to the talus where Rita was waiting. Rita had been prepared to dial 911 on her cell, but never made the call since neither Kent nor Kathy had said anything. Rita and Kathy crossed the talus and the lower snowfield out of my sight, and Kent came back up to let me know Kathy was ok. I was ready to lose it when they were all out of sight on the mountain – I knew Kathy needed attention, and I knew they wouldn't leave me, but I spent physically, mentally, and emotionally. Kent pointed out where Kathy had fallen – it was quite obvious – she left a trail through the snow.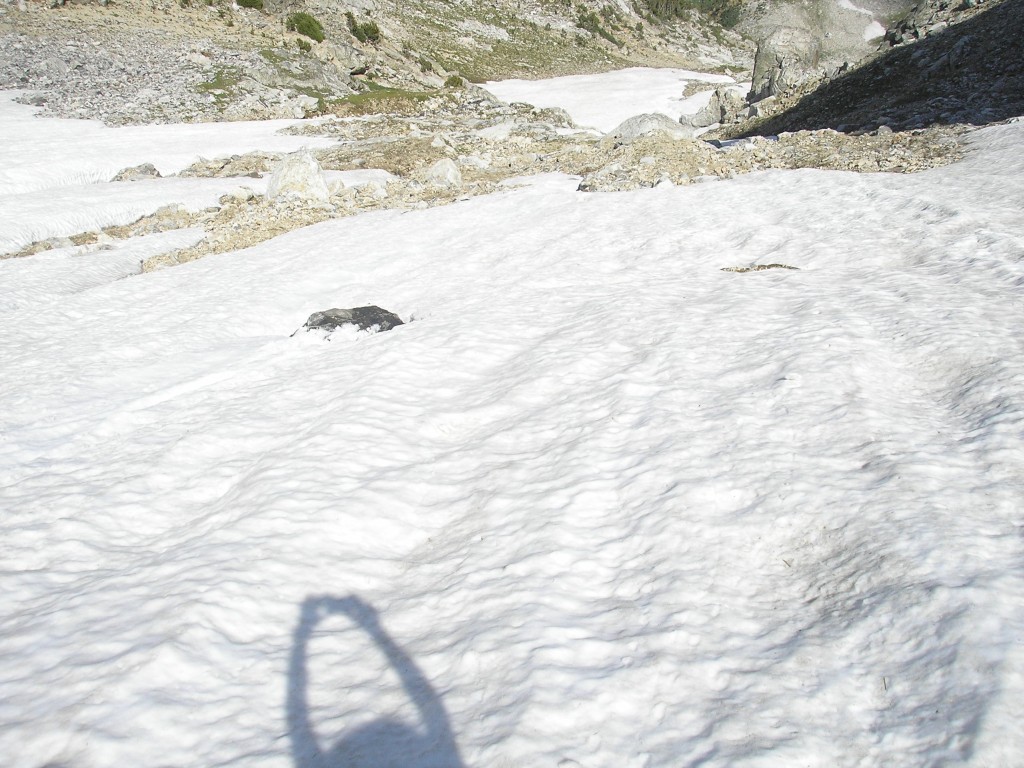 Kent's picture taken at the approximate site of Kathy's fall.
I believe this picture was taken before the fall, and that the site of the fall was higher than this.
After about an hour and a half I finally got down where I could walk on the snow easily, and I crossed the talus and the small snowfield. They were all waiting on me. We were all still in shock at the turn of events, and equally shocked that Kathy was walking and talking with no serious injuries. Rita left a voicemail for Kent's parents. Kathy thought that she might have damaged a kidney on the fall. Soon she and Rita started down the mountain as I changed out of my soaked hiking boots and into my sneakers. My jeans were also soaked from kneeling in the snow, but later dried within an hour or so. I had brought a change of socks thanks to Kent's sage advice.
Kent felt guilty about taking one (or two, including me) inexperienced climbers into such an environment. Kathy wouldn't hear it, insisting that she wanted to do the hike and that her fall wasn't his fault.
It was about 3:30pm. While I had never told Kathy when we expected to finish the hike, I left a voicemail for Kathy telling her I was ok, we were back down below the snowfield, and it would be another couple of hours before we were down the mountain.
We made our way down the mountain uneventfully at a reasonable pace, getting back to the car at 6:45pm. On the ride back to Jackson Kathy realized she could feel something clicking when she moving it on her side, which I quickly diagnosed as a broken rib. (I broke a rib in 1989 falling on a climb aptly name Suicide on Camelback Mountain in Phoenix.) A broken rib was much better news than a bashed kidney. We decided Kathy was the luckiest person in Wyoming and should buy lottery tickets that evening. Instead she ended up going to the clinic, where the broken rib was confirmed but no additional problems were found.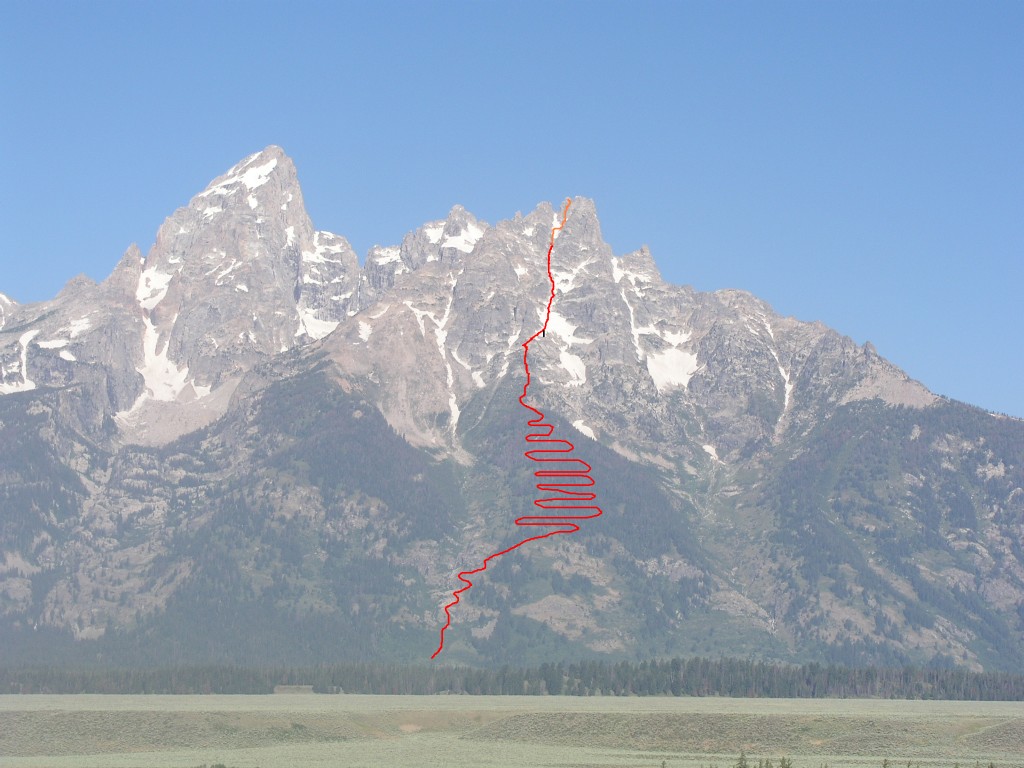 Teewinot Trail Route
Teewinot evelation 12165'
Lubine Meadow trailhead eleveation 6732'
I believe the three of us turned back at around 11500'
There are perhaps 20 switchbacks in the forest.
The orange line at the top indicates the route where Kent went on alone to the summit
The black vertical line in the snowfield is the approximate site of Kathy's fall

For my birthday dinner we headed to Mountain High Pizza Pie, then celebrated back at Cowboy Village.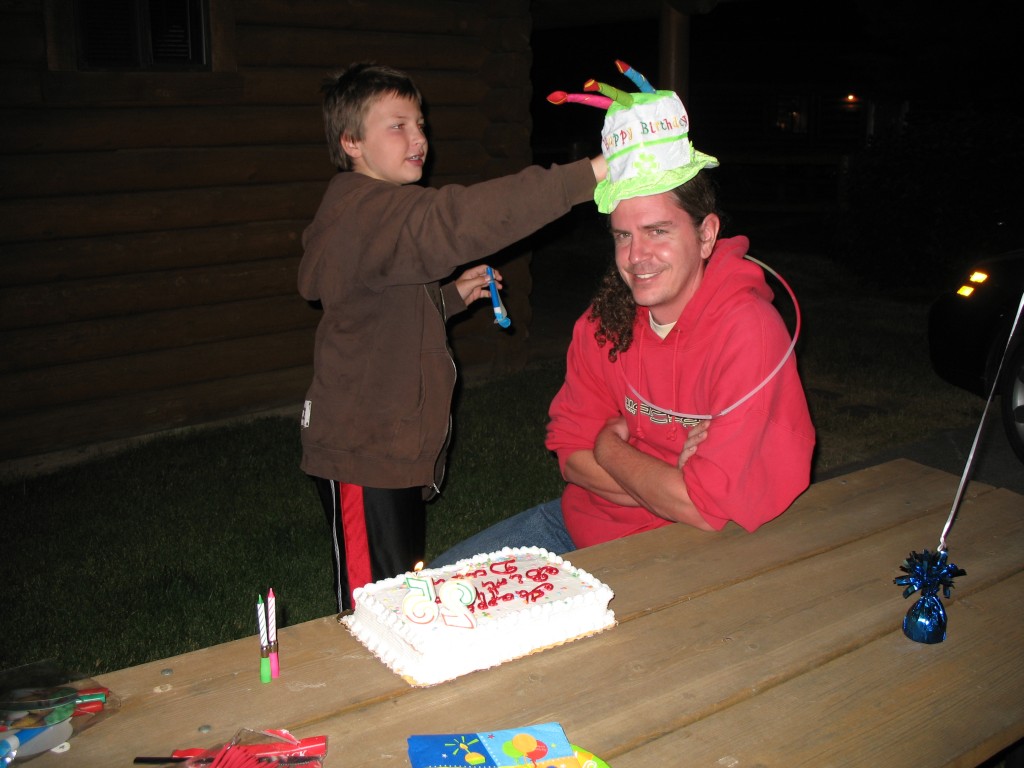 Next
Sunday July 27, 2008
Day 2 - Jackpot, Nevada to Jackson

Monday July 28, 2008
Day 3 - Teewinot

Next

Tuesday July 29, 2008

Day 4 - Jackson to Tetons