Prev

Wednesday August 9, 2006
Day 5 - Yellowstone

Thursday August 10, 2006
Day 6 - Yellowstone

Next
Friday August 11, 2006
Day 7 - Yellowstone to Helena, Montana
Dusty again woke up early again and went to the visitor center again. He wrote down the times of the 5 predictable geysers again and reported the rangers at the visitor center that he'd seen moose yesterday, and pointed on the map to their location. The ranger was fairly incredulous… was I sure they weren't elk? She continued on, telling me at some length that moose are rarely seen in that location… Who knows how many moose sightings there really were in Yellowstone, if they treat all tourists as idiots…
I hiked around the geyser basin again, taking the other loop. I quickly caught up to a ranger lead tour and started walking with them. The ranger was 70, and obviously knew what he was talking about. I learned that Behive Geyser had an indicator, and that it should go off between 1 and 2 today, though this is not a 'predicted' geyser.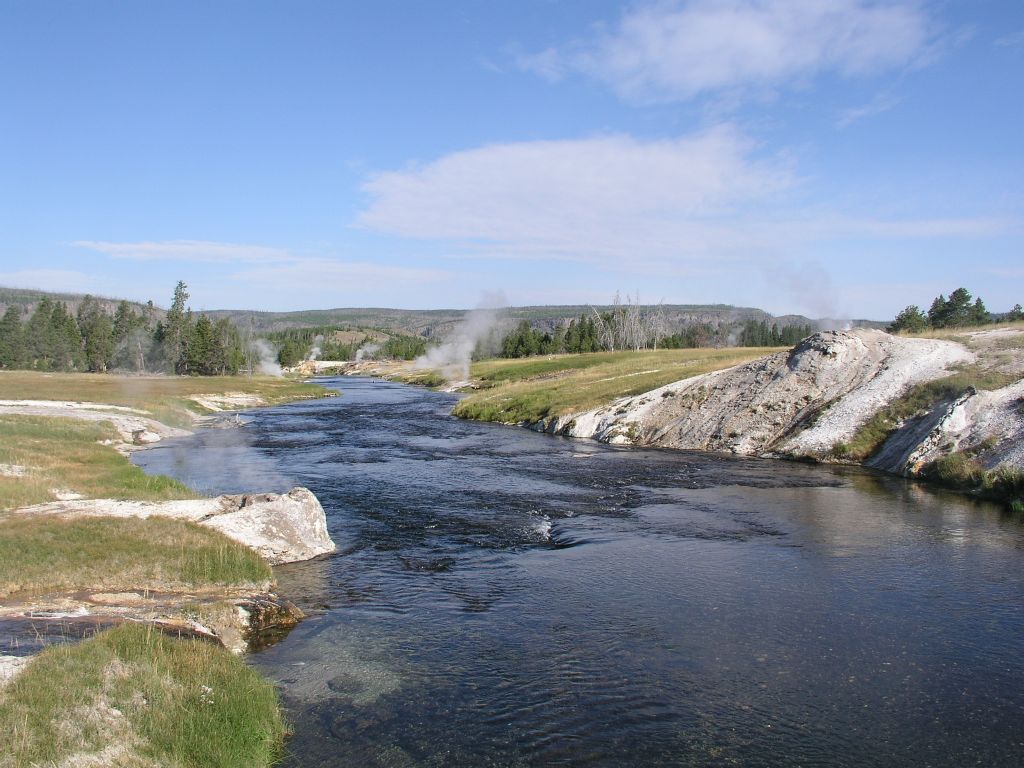 Firehole River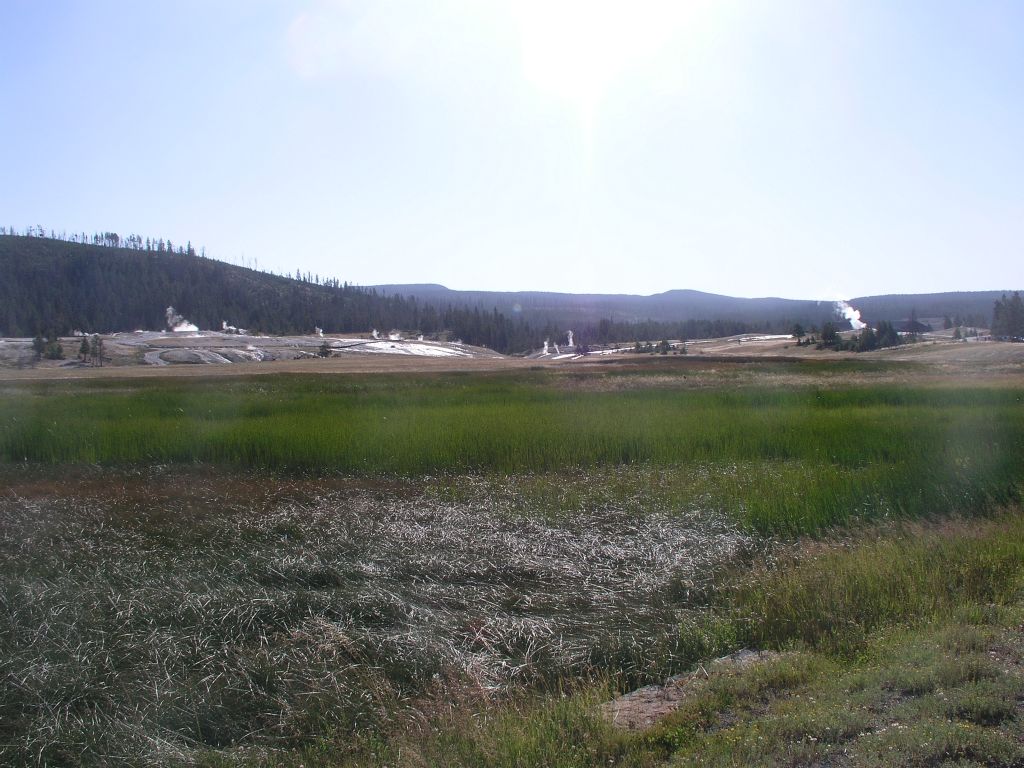 Upper Geyser Basin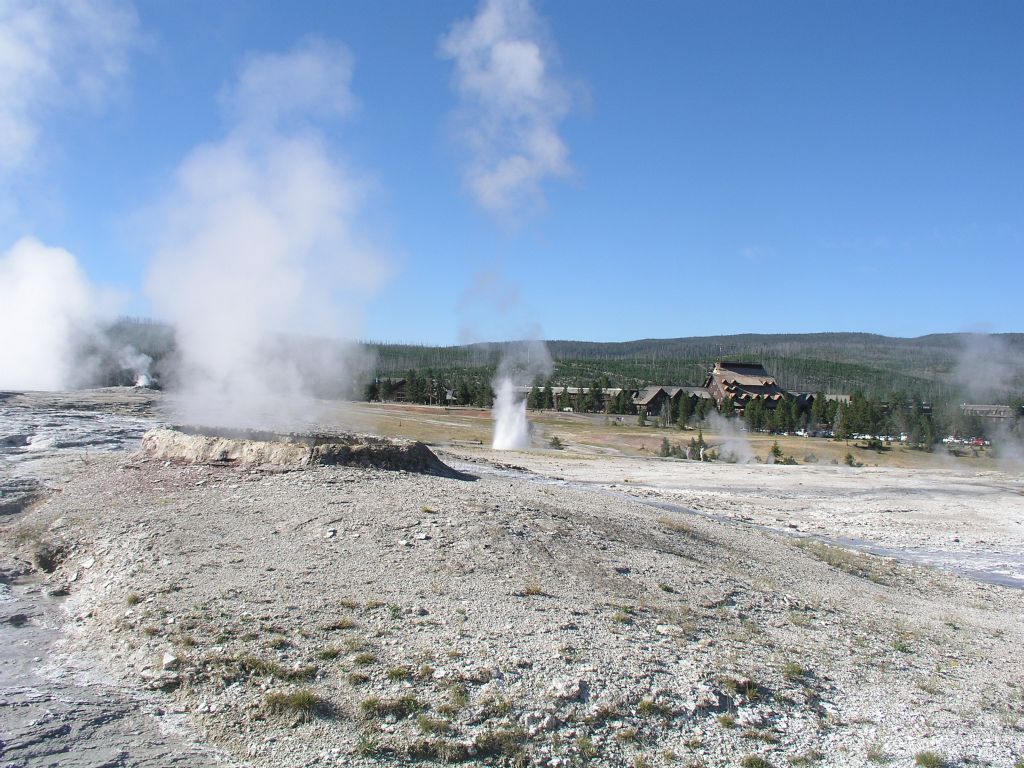 Plume Geyser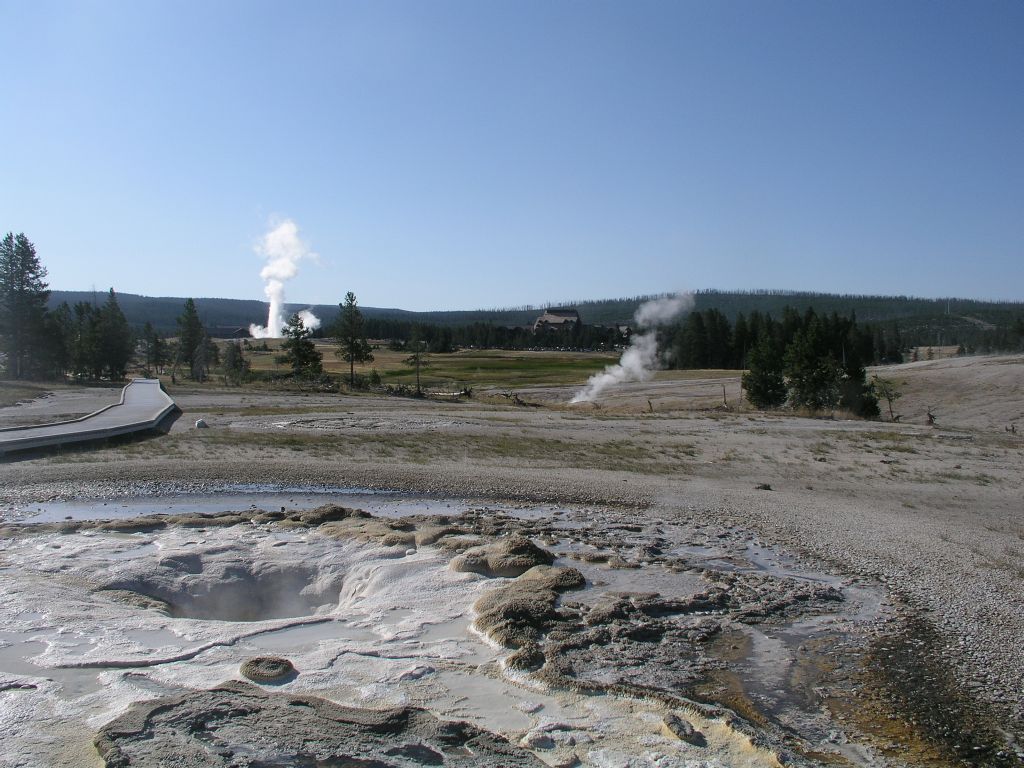 Old Faithful erupting in the distance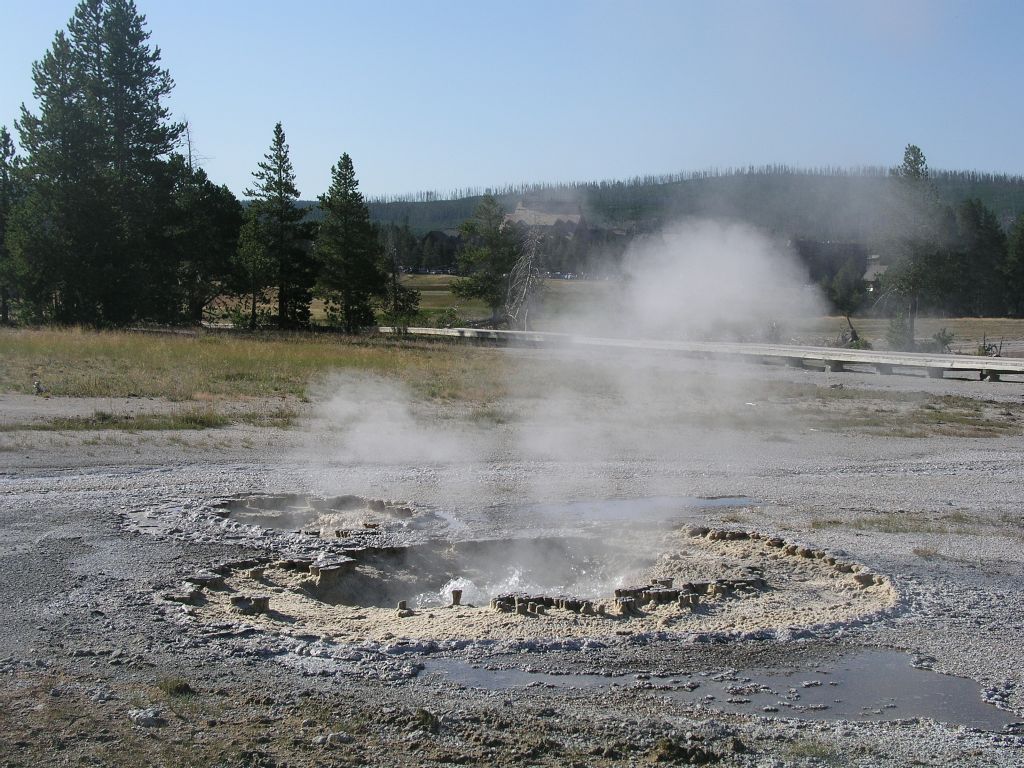 A geyser near Spasmodic Geyser

After breakfast we all went on a walk through the geyser basin

.

We got to Grand Geyser, and learned that the pool there has a 20 minute cycle, and that Turban Geyser always goes off when the pool fills every 20 minutes, and that Grand can only go off a minute after Turban starts.

We waited for one eruption of Turban, then CJ and Dusty continued onward while Robby and Kathy headed back to the Inn.

CJ & Dusty went all the way to the end.

Grotto Geyser was quite noisy and interested – the ranger paining the park benches indicated Grotto may be a bit more noisy then usual, but this was about average behavior.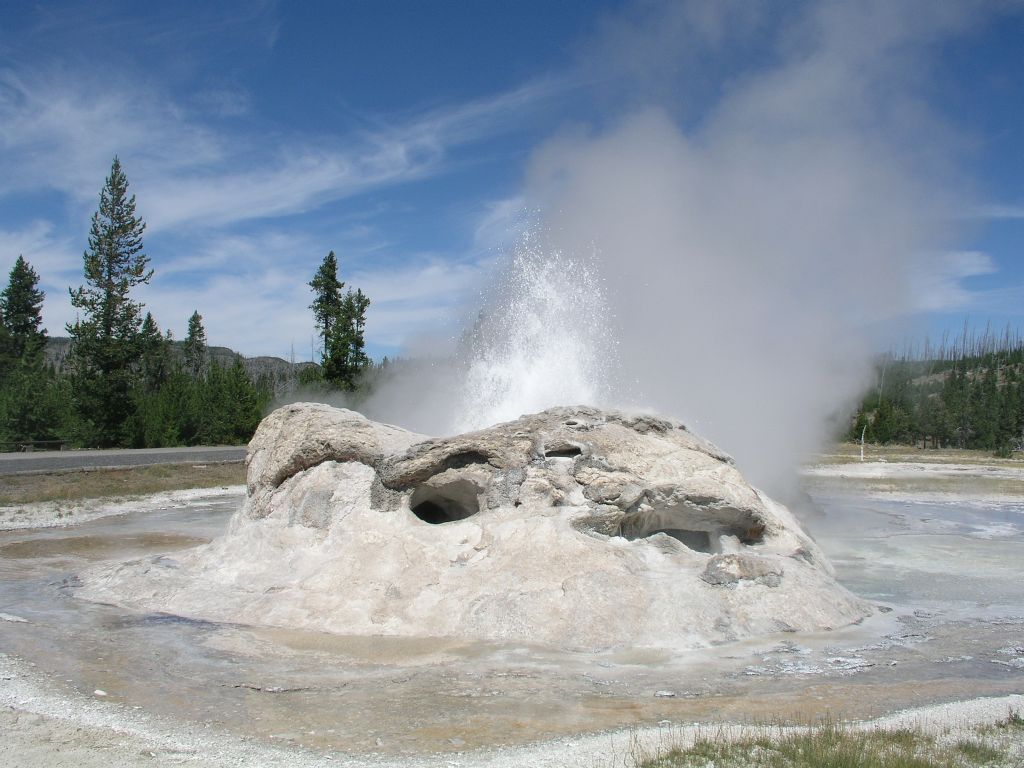 Grotto Geyser
Riverside was due to go off between 1:20 and 2:20. It started to overflow into the river a few hours before it erupted. We saw the overflow, but kept walking back. Morning Glory pond was beautiful – we could see sunlight on the bottom of the pool at least 20' down.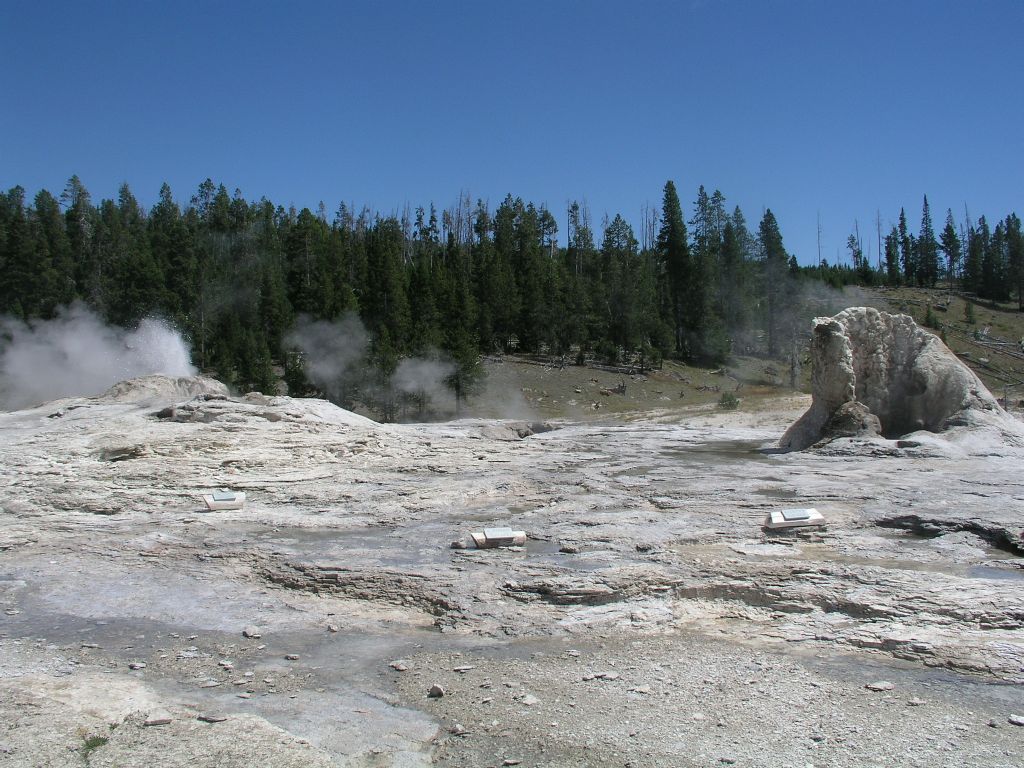 Giant Geyser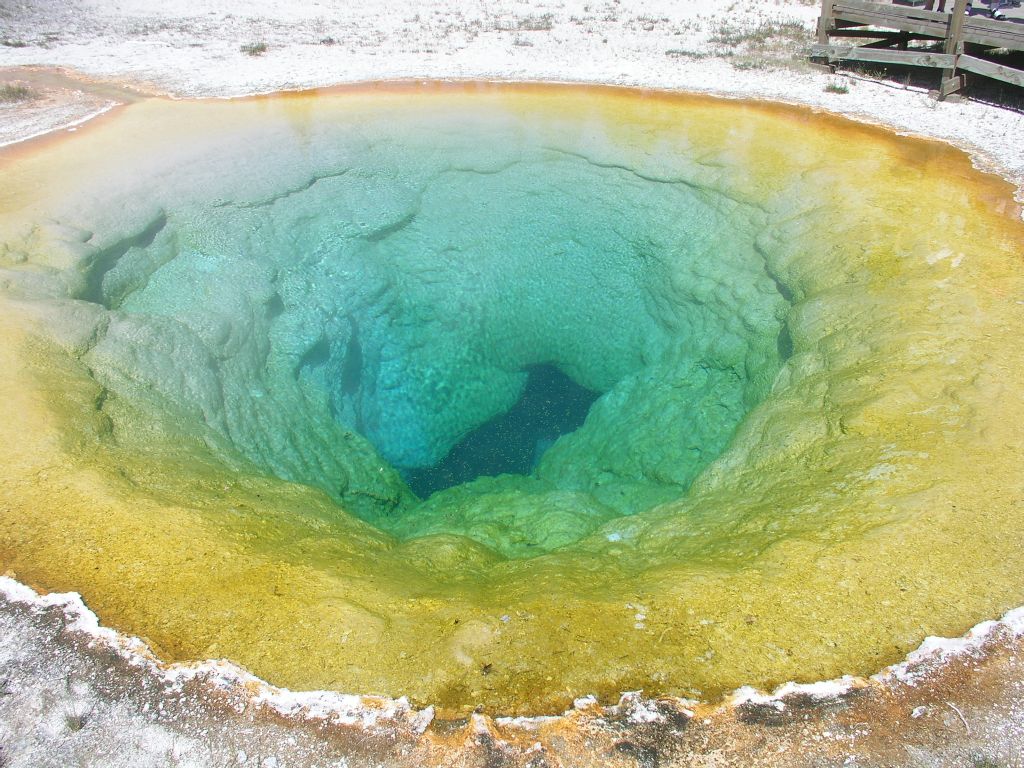 Morning Glory Pool
We started back, then saw a huge eruption in the distance – Grand had gone. We took pictures – it was a spectacle even from half a mile away.
While watching Giant Geyser, we heard over the walkie talkies 2 women were carrying 'water in the indicator…. Water in the indictor at beehive.' I asked the women how long before an eruption, and they guess maybe 15 minutes. We walked as fast as we could. By the time we reached Grand, we could see Vent going off, and also Beehive in the distance. Beehive was also impressive. CJ and I were pretty tired by the time we got back to the room.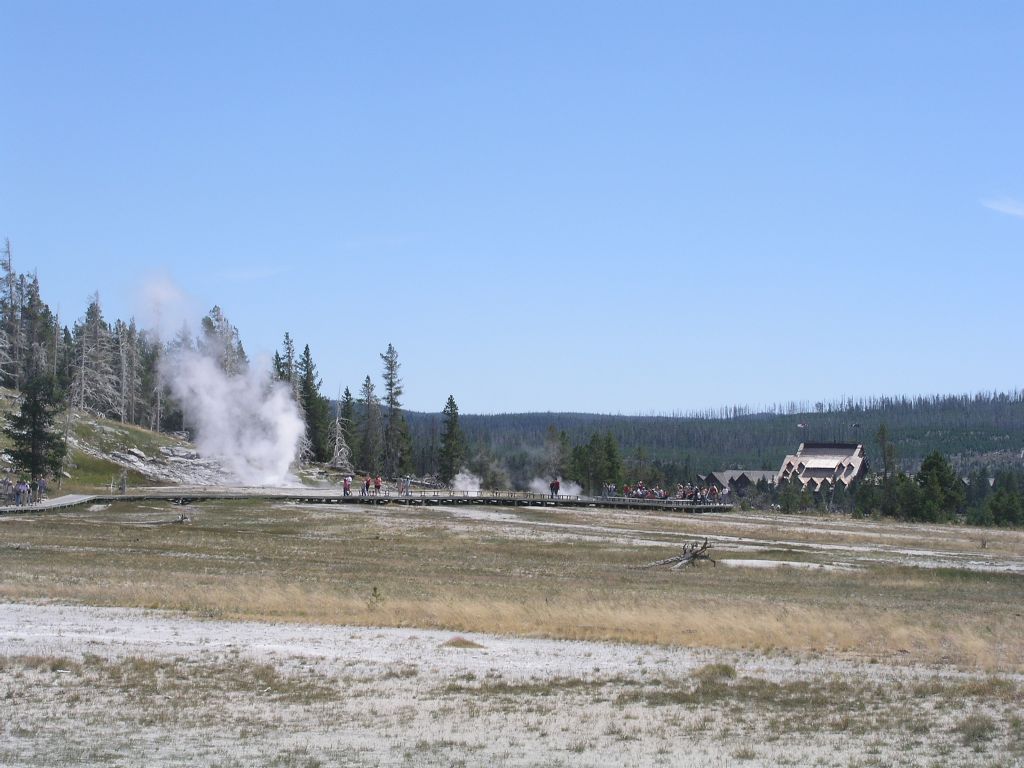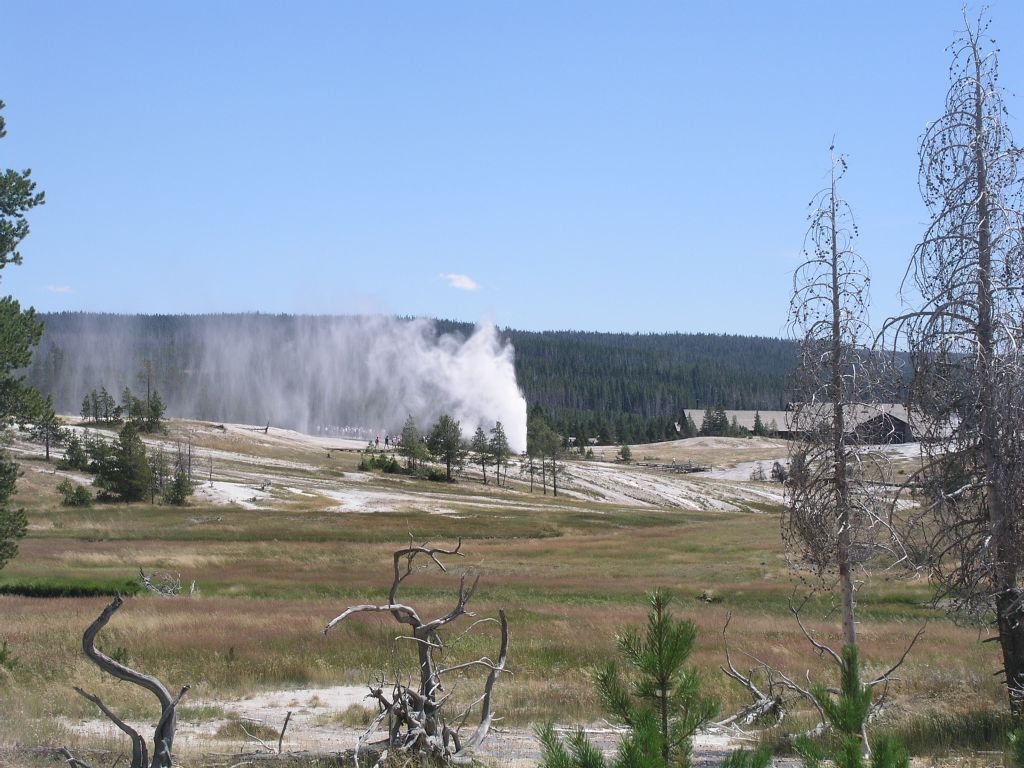 Beehive Geyser
I managed to get reservations at the Inn's dining room. The kids decided to stay in the room and play Gameboy while Kathy and I ate dinner alone. Kathy had the chicken, which was pretty ordinary. Dusty had the Elk Medallions and Trout. I'd never had elk – it was a little chewy, and after a while I noticed it was a little gamey. It was a great meal though. After we had dinner we took the kids to the cafeteria, and eventually we all went one last time up to the 3rd floor of the lobby to play 20 questions, listen to the piano, and watch people.
Prev

Wednesday August 9, 2006
Day 5 - Yellowstone

Thursday August 10, 2006
Day 6 - Yellowstone

Next
Friday August 11, 2006
Day 7 - Yellowstone to Helena, Montana