Prev

Thursday August 10, 2006
Day 6 - Yellowstone

Friday August 11, 2006
Day 7 - Yellowstone to Helena, Montana

Next
Saturday August 12, 2006
Day 8 - Helena, Montana to Glacier
Friday morning I dragged the family out of bed early. We packed the van and left just after nine. Once we turned the corned at Madison towards West Yellowstone we were in uncharted territory – I'd never been this way before. While driving along the river I spotted a large brown and white animal though the trees on the opposite bank – it was a bald eagle, but there was no place to stop safely on the road. This was the first animal we had found, as opposed to seeing an animal others had found and then stopped. I turned around, came back, and parked as someone else stopped – they weren't worrying about whether they were off the road or not. We got plenty of pictures, and saw a cyclist had pulled off. I found out he had biked here from British Columbia, averaging 100 miles a day.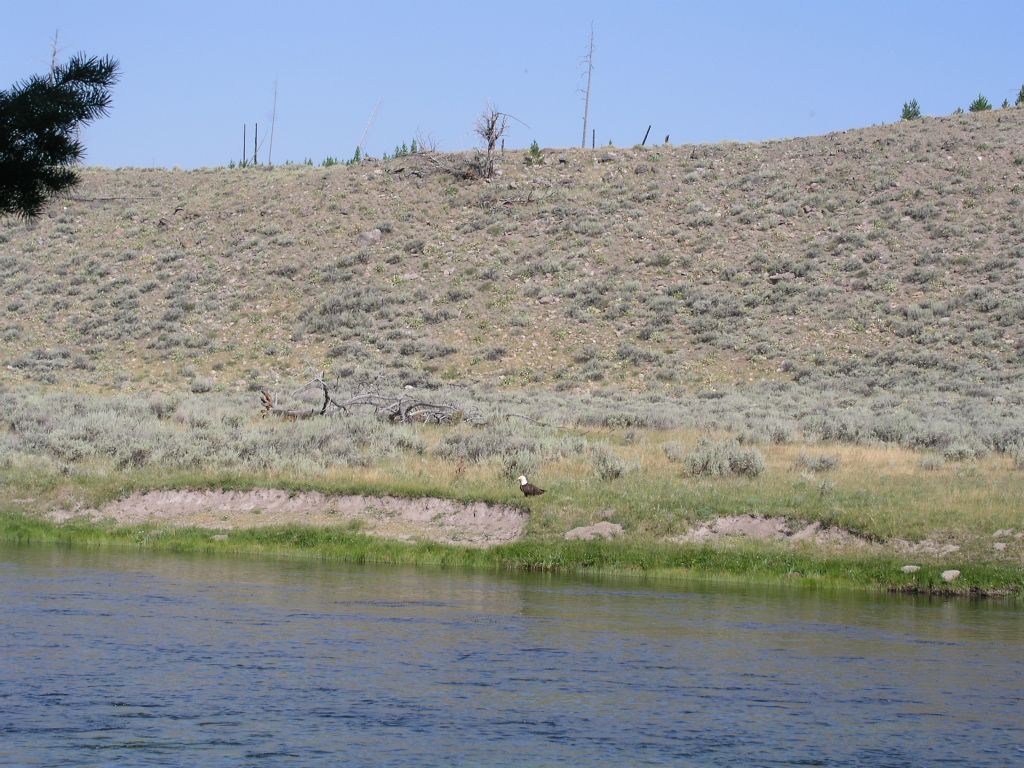 We continued on to Montana. As near as I could tell there are only a few industries in Montana – fishing, more fishing, and a little ranching. We stopped briefly at the 1959 Earthquake site and Quake Lake, when the entire side of the mountain had collapsed damming the river to form a new lake. There are still snags standing in the water, nearly 50 years later.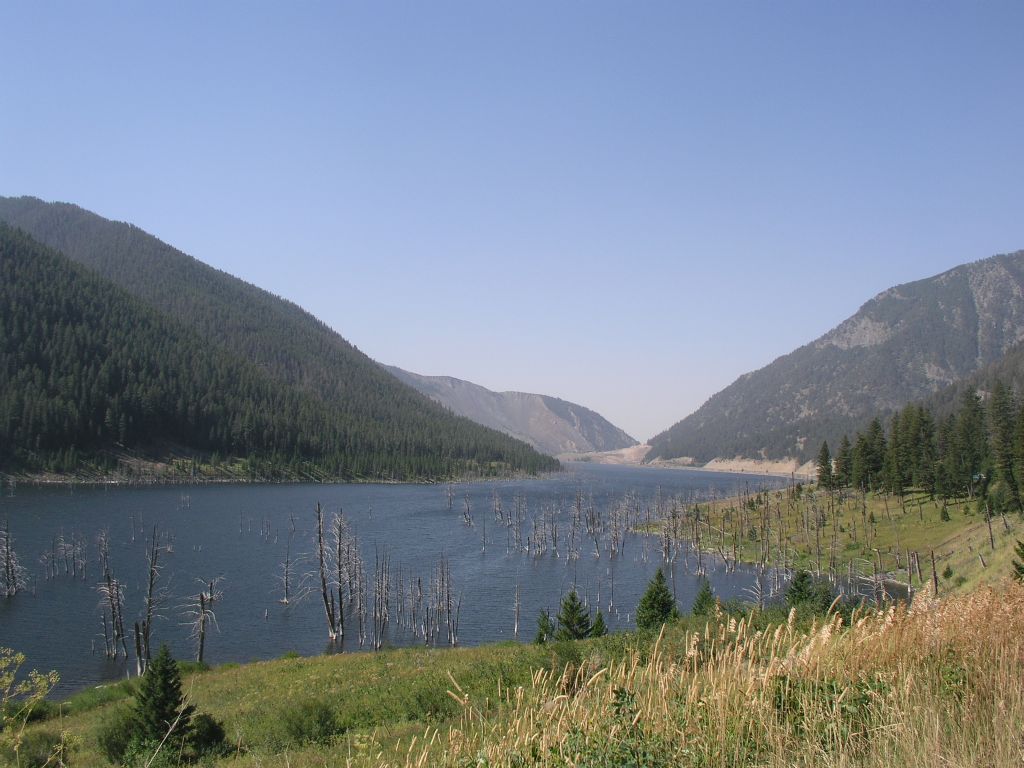 We arrived in Virginia City and looked around. Many of the shops are in amazing shape – they've done a pretty good job of restoring Virginia City for nearly 100 years. A history buff could spend all day looking around. We had lunch at the café, listening to a pair of local country music guitar players. Their guitar playing was pretty good, and their singing wasn't bad. The local brewery follies performed a chorus line to drum up business for the evening show. I stopped by the brewery for a wooden 6 pack holder, which I'd seen at the cave. Turned out the brewery hadn't been a brewery since prohibition started. We drove on and got to Lewis and Clark Caverns. The kids had never been in a cave, having grown up in Arizona and California, 2 relatively cave free states. We walked ¾ of a mile up the to cave entrance, then were guided down through the cave. We were all quite impressed with the cave and the guide. The cave had been abused before the state took over the cave in the 1930s, and thousands of small formations had been broken and taken as souvenirs. After the state took over the cave the installed lights and paths, but they hadn't been too careful, running obvious lights and wires everywhere, and built stairs all over. The cave was still quite impressive, and it was the highlight of the day.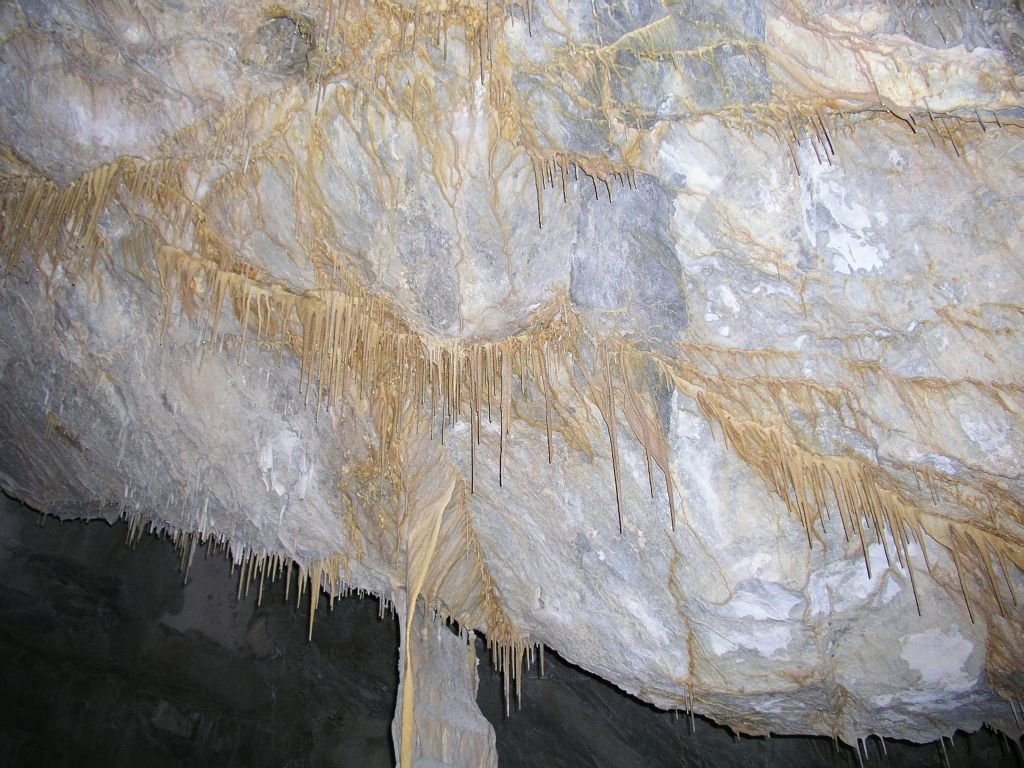 If I recall correctly these formations are very rare outside this cave, but relatively common here.
After the cave Dusty found Missouri Headwaters – it was a few miles out of the way, and it was perhaps worth it to a history buff, but had nothing exciting. We drove on to Helena and found our Best Western. The hotel was only a few years old and had an indoor pool, its 2 main benefits. The kids swam in the pool until nearly 10pm, then we watched the 2nd Harry Potter moving on TV – we hadn't seen a TV in days, so this was a treat. We neglected to get dinner, charge the Gameboys, transfer pictures to the computer, or document the trip that evening.
Prev

Thursday August 10, 2006
Day 6 - Yellowstone

Friday August 11, 2006
Day 7 - Yellowstone to Helena, Montana

Next
Saturday August 12, 2006
Day 8 - Helena, Montana to Glacier