Prev
Saturday, August 14

Sunday, August 15

Next
Monday, August 16
Sunday morning everyone else headed back to the Half Moon Bay while I drove all the way through Yosemite to meet Kent and Rita. We planned to meet at the Mobil station in Lee Vining at noon. This meant I'd need an early start to pack up, shower, and drive about two hours to meet them.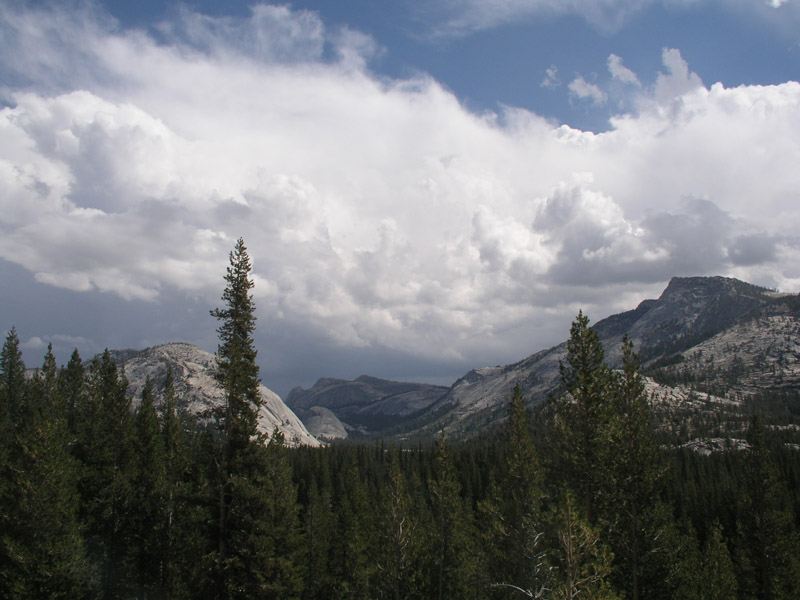 Tenaya Lake
The weather started to look interesting as I drove further east.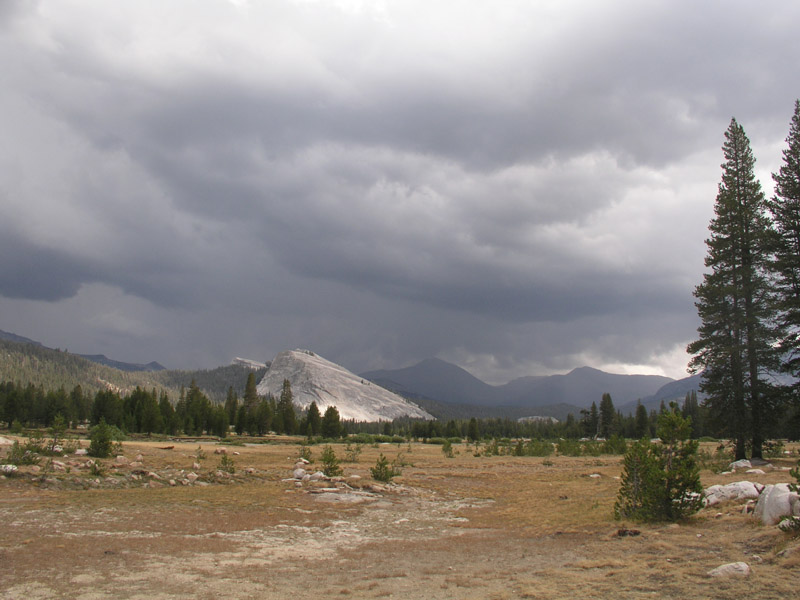 Lembert Dome and Mount Dana from the Tuolumne Visitor's Center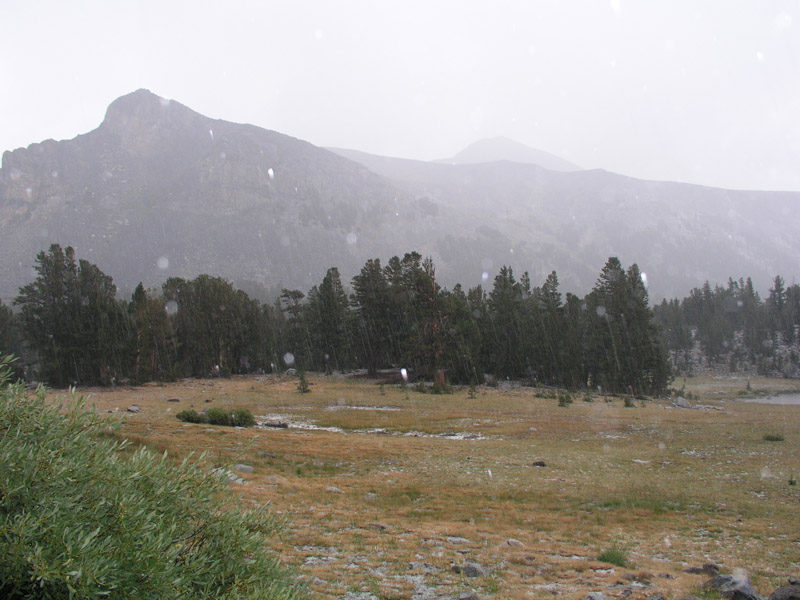 Hail at Tioga Pass
It was nearly noon in the middle of August, and it was frigid. It was raining buckets, and there was a white layer of hail on the ground and roadway.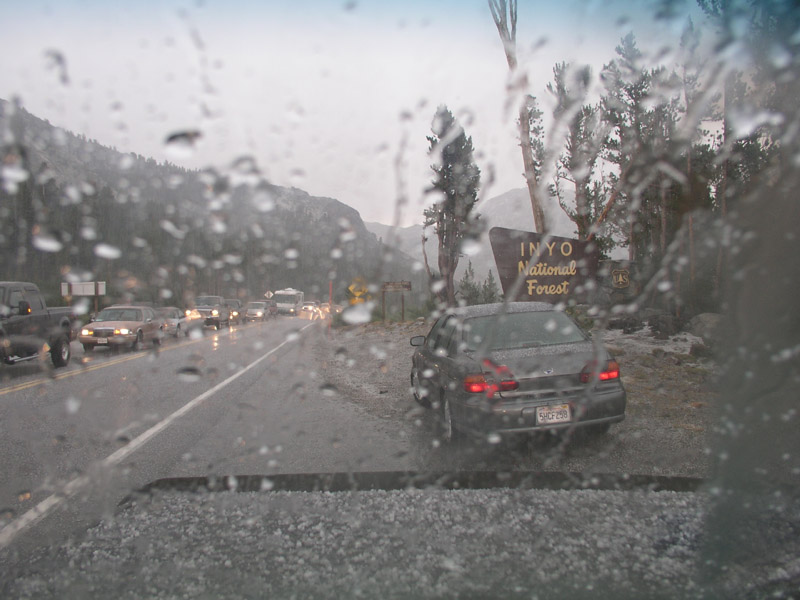 At the peak of the storm the hood of my Blue Ford Exploder was nearly white with hail.
I shifted into 4 wheel drive in an attempt to improve traction as I headed down Tioga Pass. Did you know that there are no guardrails for nearly all the way down the steep mountain road into Lee Vining, with thousand foot drop-offs into the valley below? It's much more interesting if you are hydroplaning on rivers of water and hail the whole way down.
It was a relief to find Kent's new red 1985 Porsche 944 in the Tioga Gas Mart's parking lot. We had lunch and shared wild weather stories as the storm followed me down the mountain. Several dozen people were at the Gas Mart, eating lunch and taking shelter from the storm. Eventually it started raining and hailing, then lightning struck the power pole just outside the Gas Mart and knocked out power for a few minutes.
Kent had a tire blowout approaching Beatty, Nevada. The service station in Beatty didn't have a tire his size, but they had one that was close. Outside Beatty his spare blew, so he was riding on the lucky tire from Beatty.
(Gas at the Tioga Gas Mart was a steep $2.59 per gallon for the cheap stuff. While this was less than the $2.79 in another station in Lee Vining, it was considerably more than the $2.32 in Mammoth.)
After a while we decided to head out to Bodie. We seemed to follow the storm out there, but we arrived just as the rain let up. It was quite cool and windy, and it seemed most sensible people were leaving as we got there. The clouds made for poor picture taking, and I was disappointed by the poor lighting, since I'd been looking forward to a return trip to Bodie since I first (and last) visited with Dave Anderson in my 71 Camaro in 1990.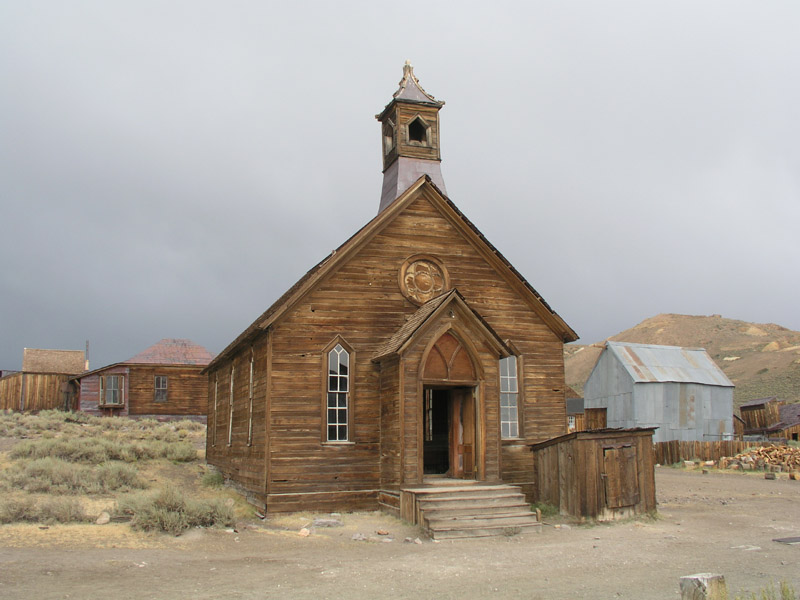 The Methodist Church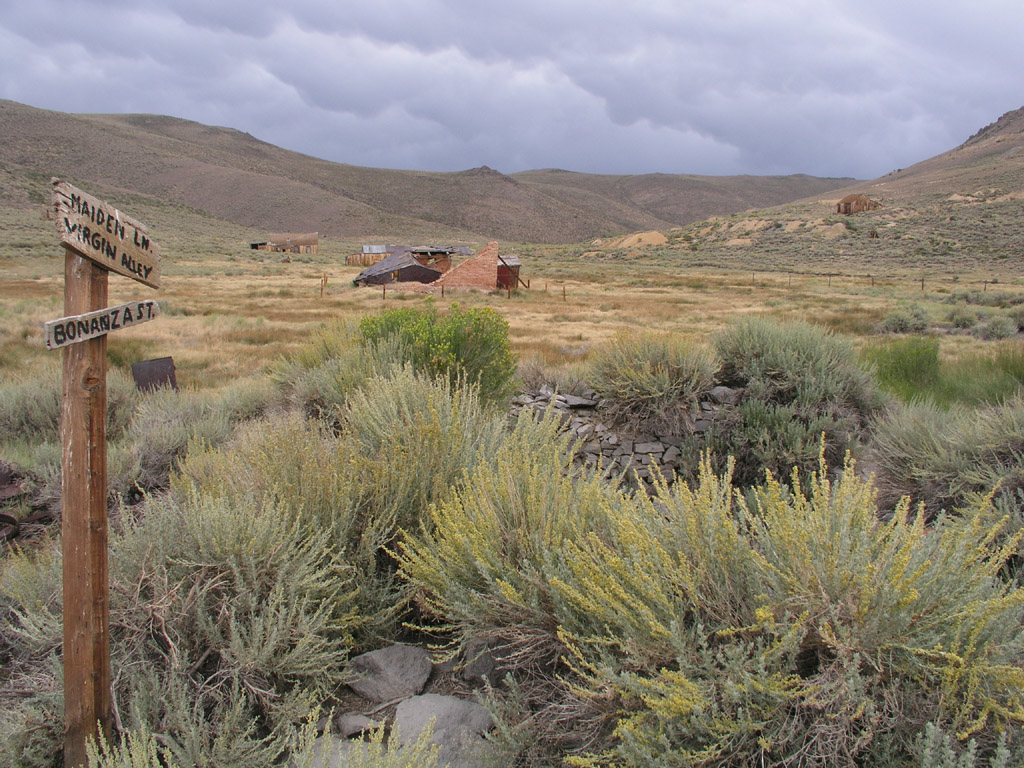 Looking east into the hills from the edge of town, near the jail.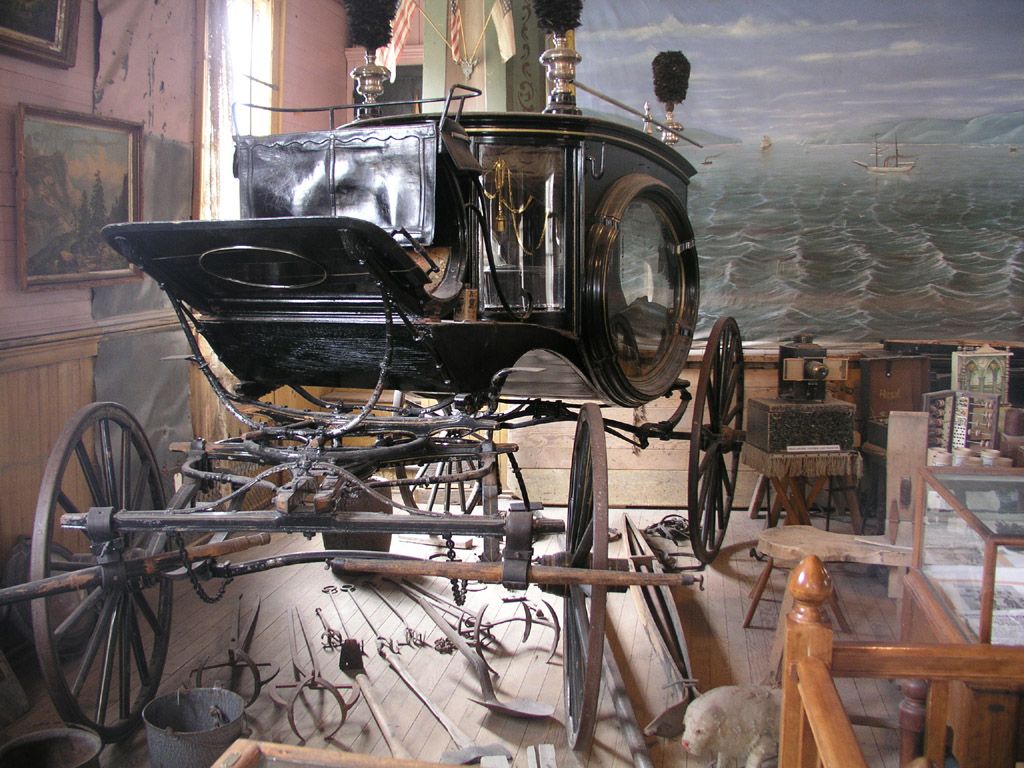 Inside the museum, formerly the Miner's Union Hall, built in 1878. There are still two perfect hearses, which is an indicator of how much death they had to deal with.
That evening we headed to Devil's Postpile. There are about five different campgrounds along the road near the Postpile. At the entrance station I asked if there was any advantage to any of the campgrounds, and they told me that the Devil's Postpile campground is the only one where all sites have bear boxes. This was a good enough reason to choose that campground as far as I was concerned.
Prev
Saturday, August 14

Sunday, August 15

Next
Monday, August 16